It's so exciting to make your own Homemade Sourdough English Muffins and break them open to see all the beautiful nooks and crannies! It's also a great way to use your sourdough discard.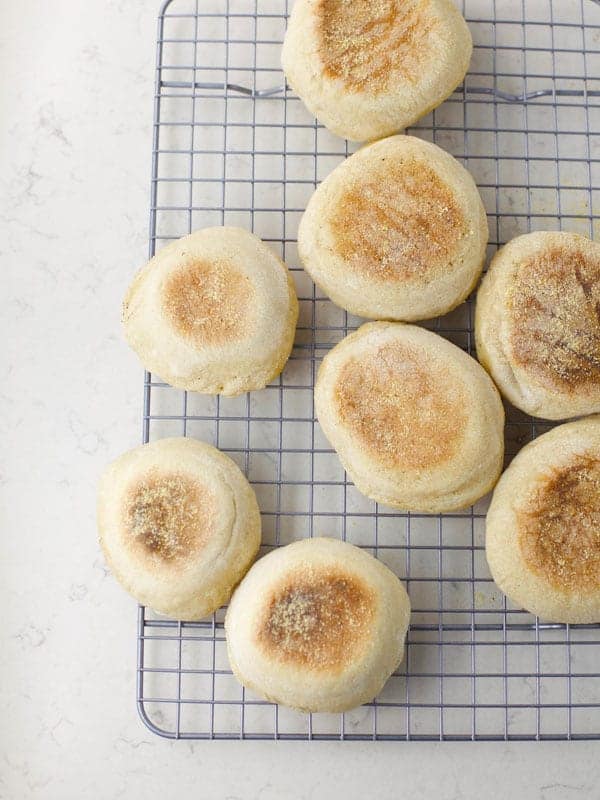 Here I go again with a sourdough discard recipe post. I just had to share this one because it was the most fun I've had in maybe 5 months (the amount of time we've been in this covid thing)! I never in a million years dreamed that I could actually make my own English muffins. I assumed they were super difficult to make but I was so wrong. They're actually quite simple to make.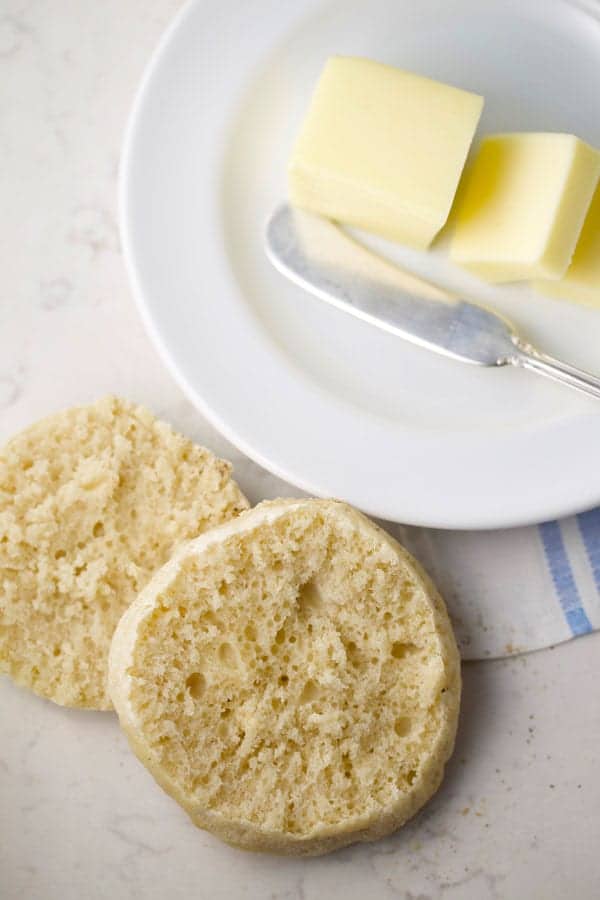 Look at those nooks and crannies! It was so satisfying to make these Homemade Sourdough English Muffins. And I promise you, they were not hard to make. It was also a great way to use my sourdough discard. I got the recipe from the fabulous Heather Currier over at Leavenly.com.
Why You Should Make Homemade Sourdough English Muffins
1) They are a delicious way to use your sourdough starter discard.
2) Very easy to make.
3) You will be so proud of yourself.
4) They're so much better tasting than store bought English muffins!
How to Cut your Sourdough English Muffins
You should use the "fork method" to cut your English muffins in half. That way, you'll still see all the wonderful nooks and crannies. Simply take a fork and stab the middle edge of the muffin all the way around, then use your fingers to pull the two halves apart. If you use a knife to cut them in half, then you will lose the wonderful texture that makes it a classic English muffin.
Tips on Making English Muffins
1) Make sure to read all of the instructions before starting.
2) You will need to start the recipe the night before you actually make them.
3) Once you roll out the dough and cut it with a biscuit cutter, place on a pan with plenty of cornmeal sprinkled on it. This will keep them from sticking to the pan.
4) When you're "frying" them in a cast iron pan, keep the heat on low. You don't want them to burn! I say "frying" because there is no oil in this recipe.
After you roll out the dough and cut with a biscuit cutter, then you let them rest for about an hour on a sheet pan covered with cornmeal. Note: I prefer a large (3.5") biscuit cutter. If you use the large cutter, then you will get about 9 English muffins from Heather's recipe (instead of 12).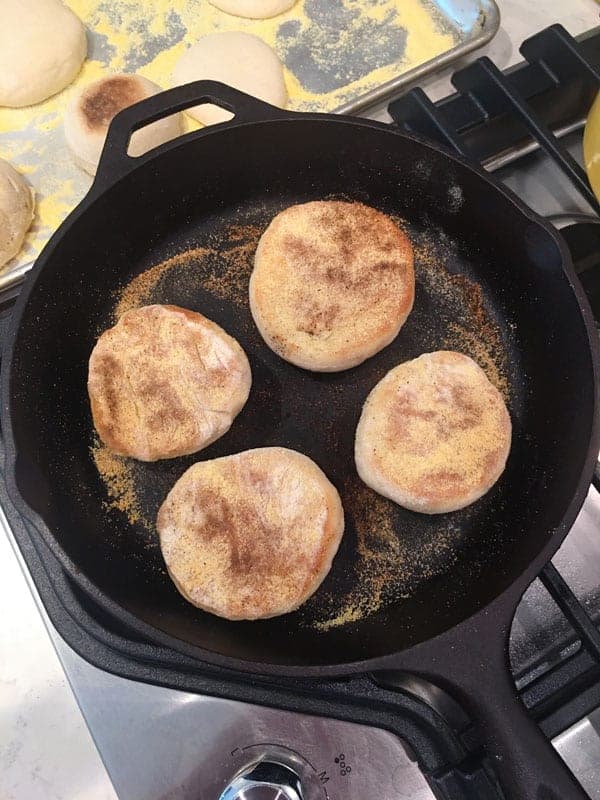 I think it's so interesting that English muffins are cooked in a frying pan or cast iron skillet. And there is no oil involved. Just a dry pan.
I sure hope you will try these Homemade Sourdough English Muffins. They're simply marvelous when toasted, then topped with softened butter and your favorite jam.
This post is a little different from my others because I'm not sharing the recipe here on my page. I just wanted to share with you the photos of my English muffin experience and some tips that I learned along the way. You can find the recipe over at leavenly.com.
Let me know if you try them!
xo,
Lise
Tools for success
Quart Sized Mason Jars - set of 2 for your sourdough discard
Pyrex Glass Measuring Cups - set of 3
Stainless Steel Measuring Cups and Measuring Spoons - set of 8*
Half Sheet Pan - set of 2 (like a cookie sheet with raised edges, I use these SO much!)
Cast Iron Skillet - 10.5" (pre-seasoned)
*Note: I use the glass measuring cups for liquid and the stainless steel measuring cups fro dry ingredients.
Want even more? Subscribe to Mom Loves Baking to get new recipes and a newsletter delivered to your inbox. And stay in touch on Facebook, Pinterest, Twitter, and Instagram for all my latest updates. If you make this recipe, share a photo on social media tagging @momlovesbaking and using the hashtag #momlovesbaking.
You might also like Fluffy Homemade Dinner Rolls
Or Sloppy Joe's with Homemade Buns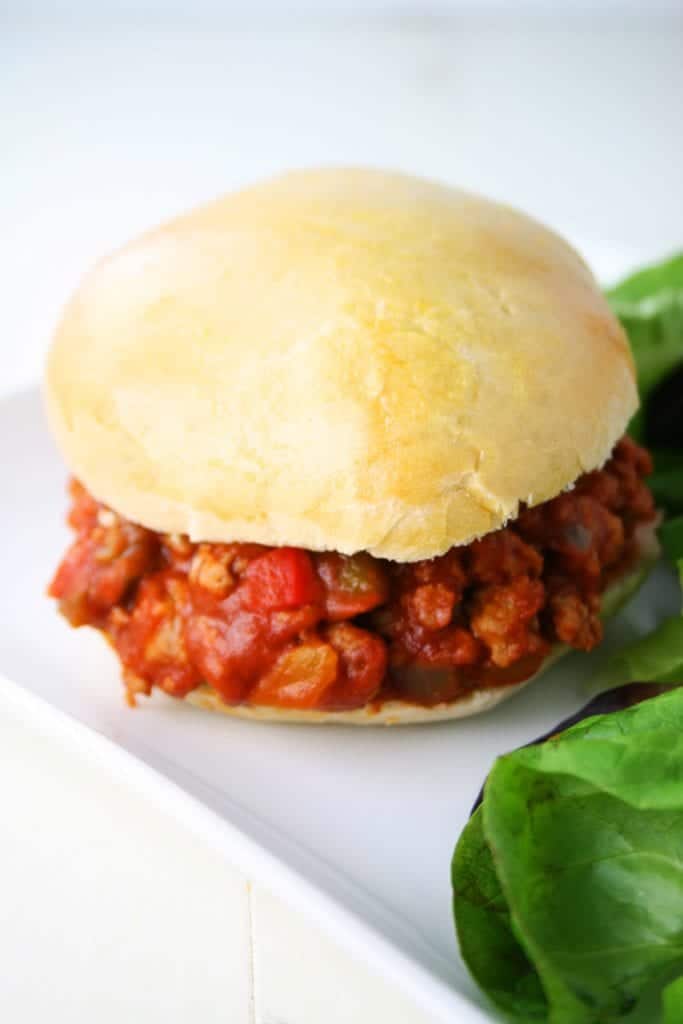 This recipe post - Homemade Sourdough English Muffins - is featured on Meal Plan Monday #226 Julia's Simply Southern blog.
All text and images © Lise Ode for Mom Loves Baking. Please do not use my images without prior permission. If you want to republish this recipe, please re-write the recipe in your own words, or link back to this post for the recipe. Disclaimer: Nutrition information shown is not guaranteed to be accurate. This post may contain affiliate links.