Marbled Red Velvet Cake Pops are red velvet cake balls dipped into a combination of melted chocolate and colored candy melts to give them a marbled effect.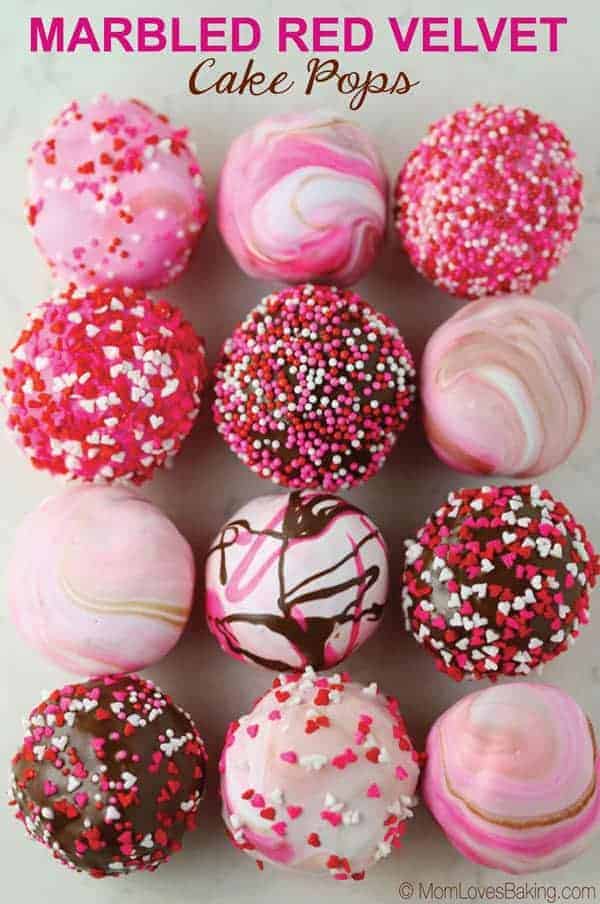 I saw these cake balls on the cover of a magazine and just had to make them! I especially love the idea of the marbled candy melts because no two cake balls are the same.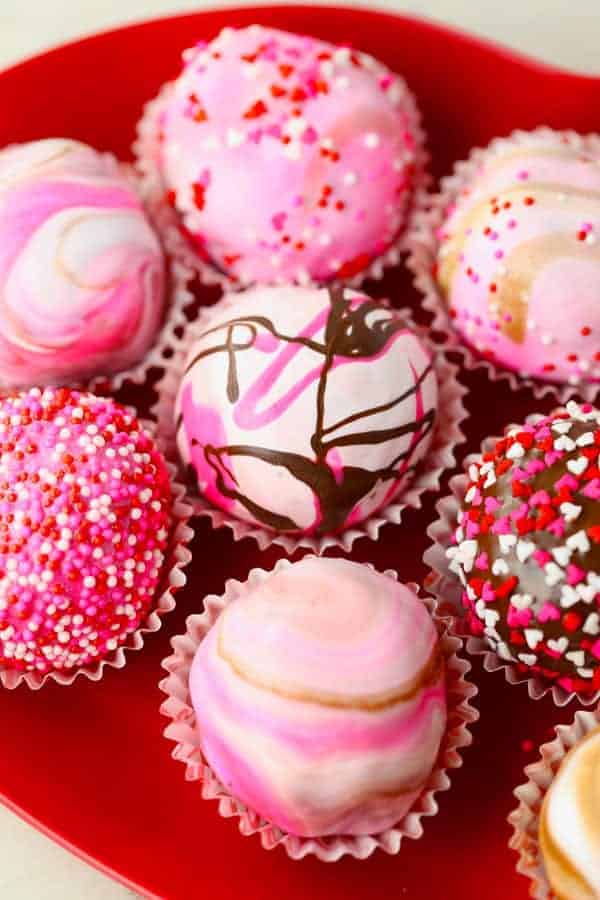 It's fun to create a variety of color combinations by dipping some into a solid color and adding sprinkles.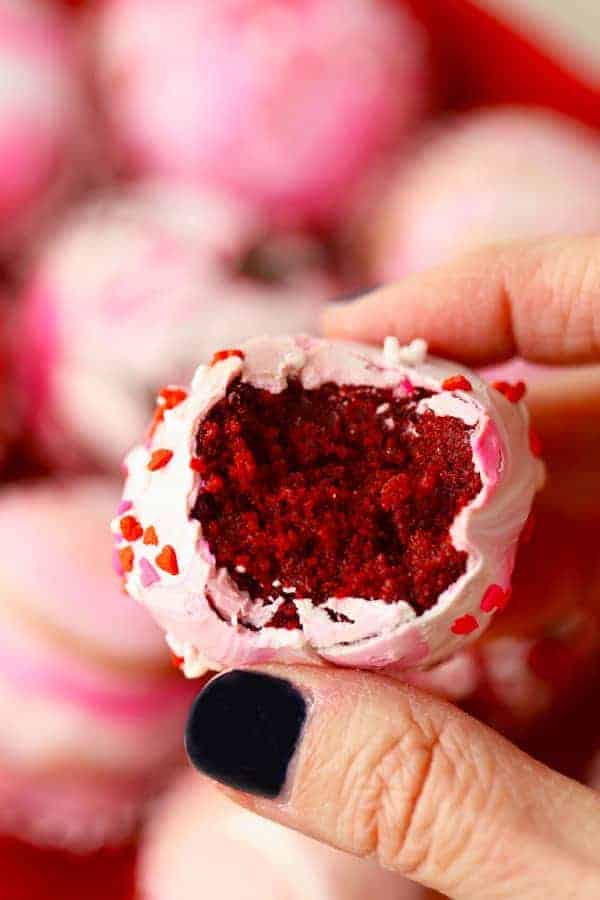 My mom suggested making the cake balls out of red velvet cake, perfect for Valentine's Day!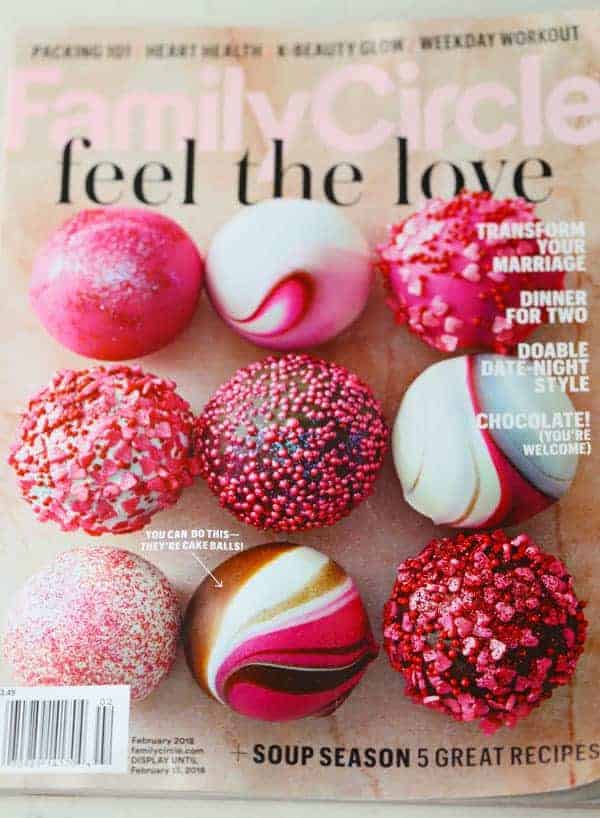 Here's the magazine that was my inspiration for these cake balls. I'm feelin' the love for these Marbled Red Velvet Cake Pops!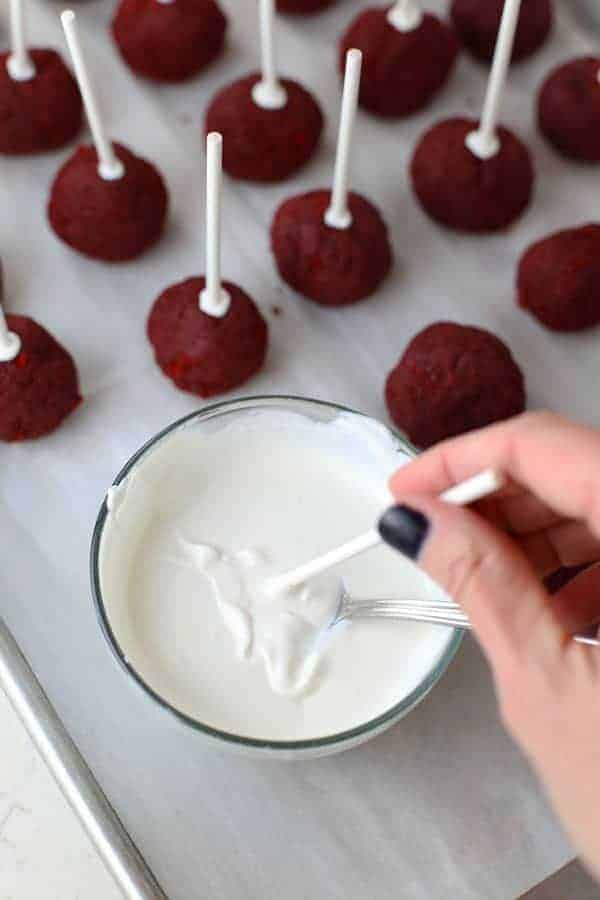 Making the cake balls is easy with a cake mix and store bought frosting. Scroll down for the complete recipe.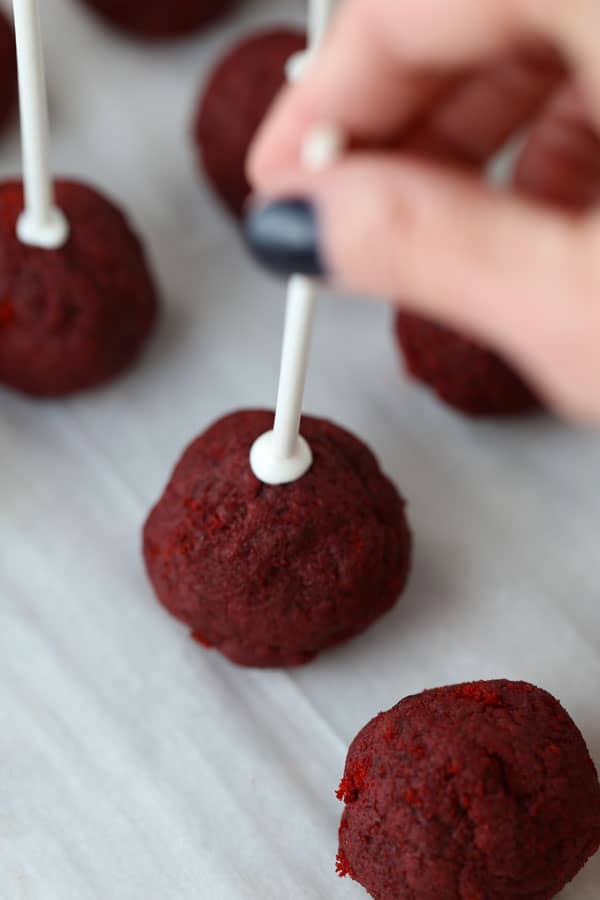 Before dipping, I dipped a lollipop stick into melted candy melts and then 3/4 of the way down into the cake
ball. Then I let them set for about 20 minutes on a parchment lined half sheet pan like this one (affiliate):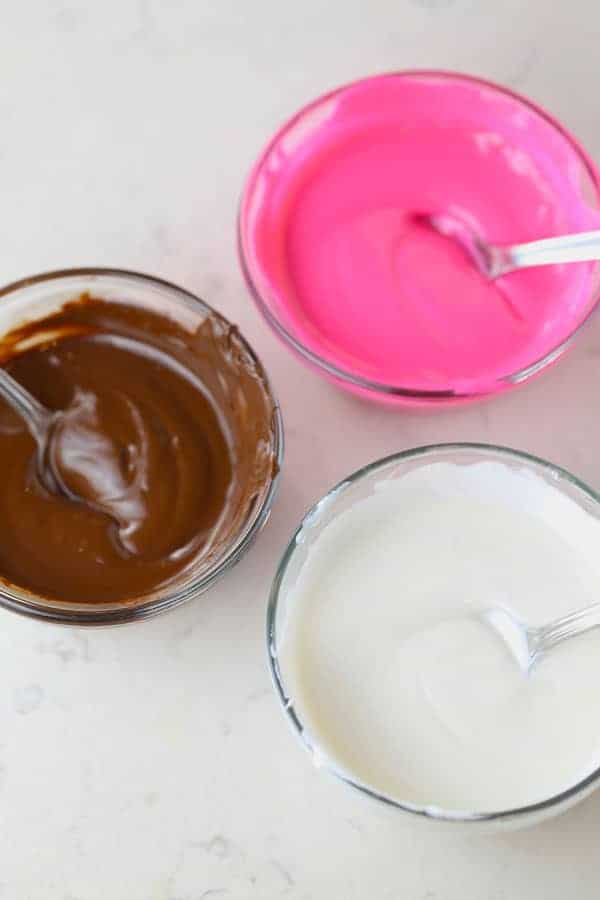 I melted semi-sweet chocolate chips in one bowl, pink candy melts in a second bowl and white candy melts in a third bowl. I used the microwave to melt the chips and candy melts. See below for full instructions.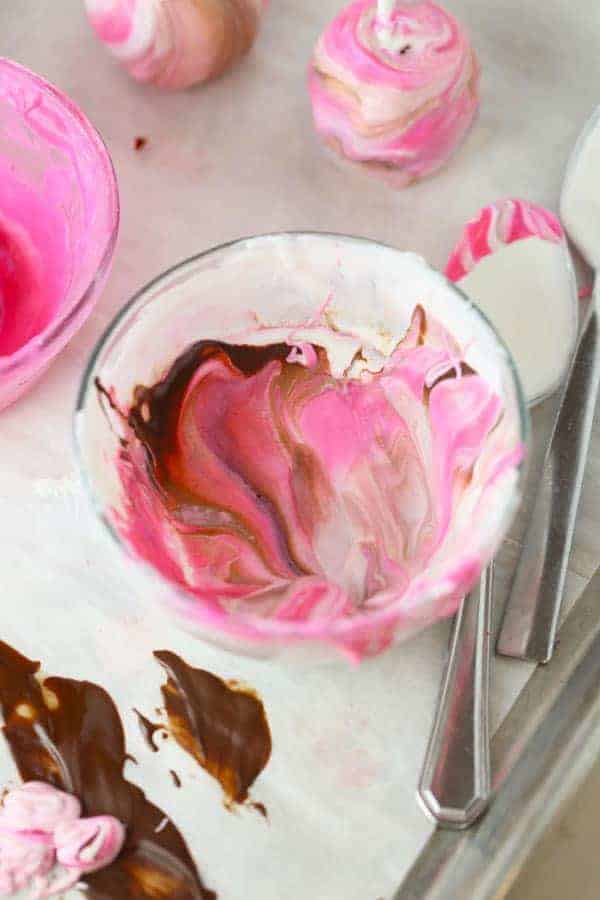 Before dipping each cake ball, I scooped a little bit of melted pink candy melts and a little bit of melted chocolate into the melted white candy melts. Then I dipped the cake ball in and swirled it around to get a nice marbled pattern.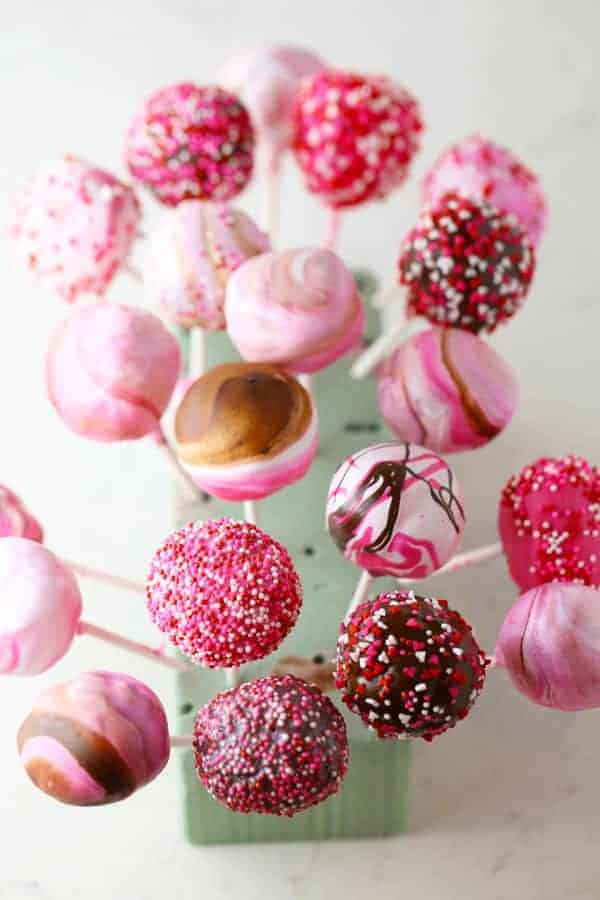 For some of the cake balls, I dipped them in one color, then added sprinkles.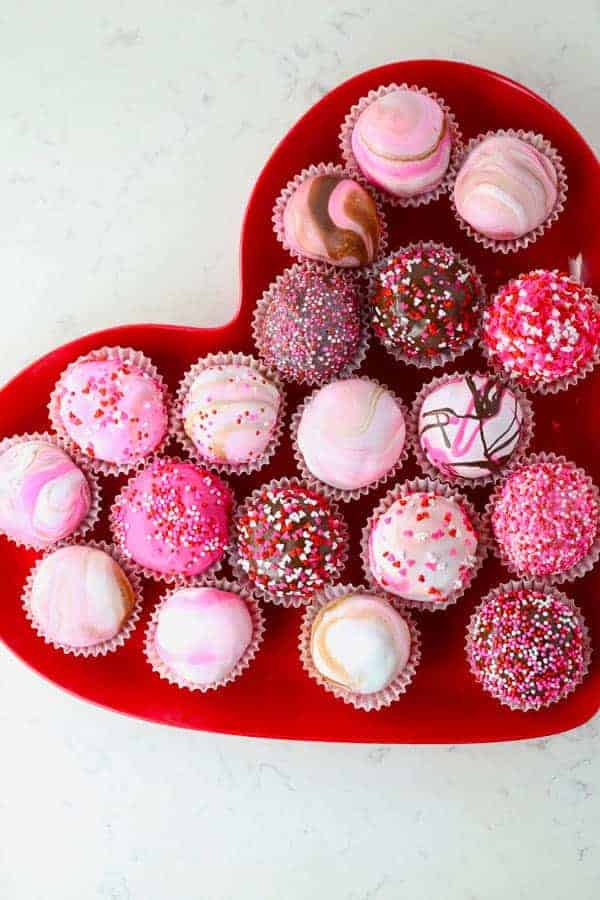 You could also brush them with pink or gold edible luster dust for an extra shimmer.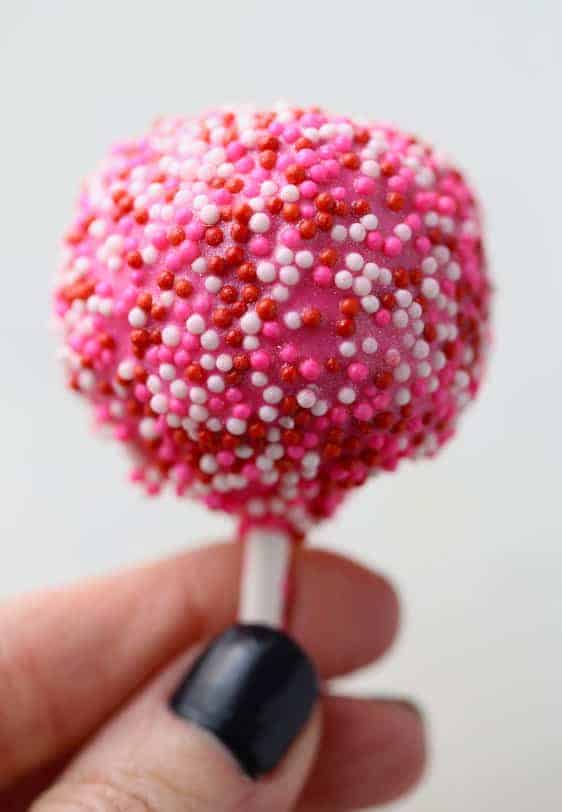 I stuck the dipped cake balls into a styrofoam block until they were set, about an hour.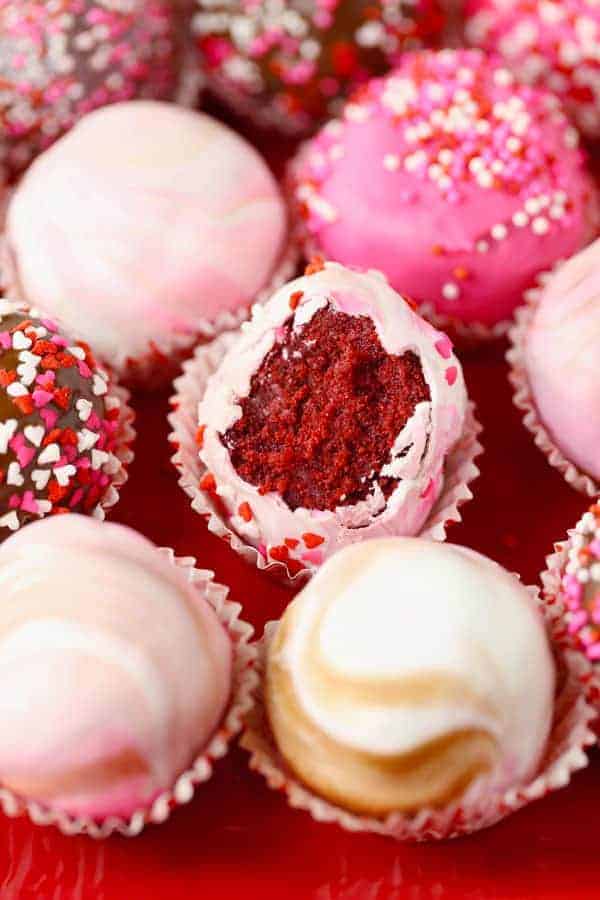 Then I removed the sticks and put the cake balls in mini cupcake liners for a fancy presentation.
Marbled Red Velvet Cake Pops are great for a party or you could put them in a pretty box as a gift for Valentine's Day!
Happy Valentine's Day everybody!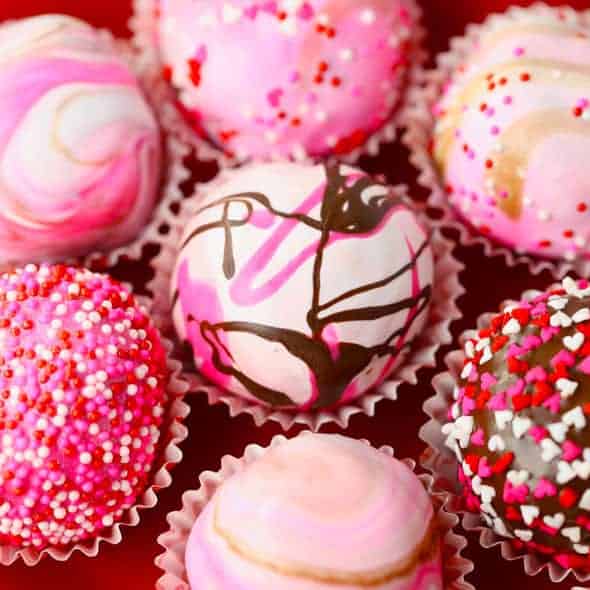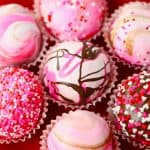 Print Recipe
Marbled Red Velvet Cake Pops
Servings:
24
-30 cake balls
Ingredients
1

15.25 oz red velvet cake mix, prepared according to package instructions

1 1/4

cup

of store bought vanilla frosting

2

cups

semi-sweet chocolate chips

1

cup

white candy melts

or more if needed

1

cup

pink candy melts

or more if needed

Vegetable oil

Sprinkles

Lollipop sticks

about 30
Instructions
Preheat oven to 350°F. Spray a 13"x9" cake pan with non-stick cooking spray. Set aside.

Prepare cake batter according to package instructions. Pour into prepared pan. Bake according to package instructions (about 25 minutes or until a toothpick inserted into the middle of the cake comes out clean). Let cool.

Crumble cake into a large bowl. Add frosting. Stir until completely combined. It's easiest to use your hands at the end of this process to work the icing into the cake crumbs. Form into 1" balls and place on a cookie sheet with raised edges such as a half sheet pan. Refrigerate for 1 hour.

Melt one cup of white candy melts according to package instructions. I microwaved it on high for 15 seconds. Stirred. Then another 15 seconds and stirred until completely smooth. Do NOT over heat or it will burn. Add about a tablespoon of vegetable oil and stir well. Place a lollipop into melted candy melts about 1/4" down, then stick into cake ball a little more than halfway down. Repeat for remaining sticks and balls. Let set for 20 minutes.

Melt the chocolate and pink candy melts according to package instructions. Add 1-2 tablespoons of vegetable oil to each and stir well (this makes it easier to dip cake balls in). And heat the white candy melts again for another 10 seconds. Working quickly, add a little bit of pink and a little bit of chocolate to the white, then dip a cake ball in and swirl around to create a marbled pattern. Repeat with as many as you want to be marbled. You can also make some a solid color and add sprinkles for a different look. Place dipped cake balls into a styrofoam block until set (about 1 hour). Once the chocolate has hardened, you can remove the sticks and place into a mini cupcake liner. If you want them to set faster, place them in the refrigerator for an hour. Store covered for up to 3 days at room temperature or up to one week in the refrigerator.
You might also like Tagalong Pound Cake Bites.