Pink Painted Buttercream Drip Cake is a yellow cake with buttercream frosting, chocolate ganache drizzles, edible gold paint splattered on the sides with fresh flowers on top.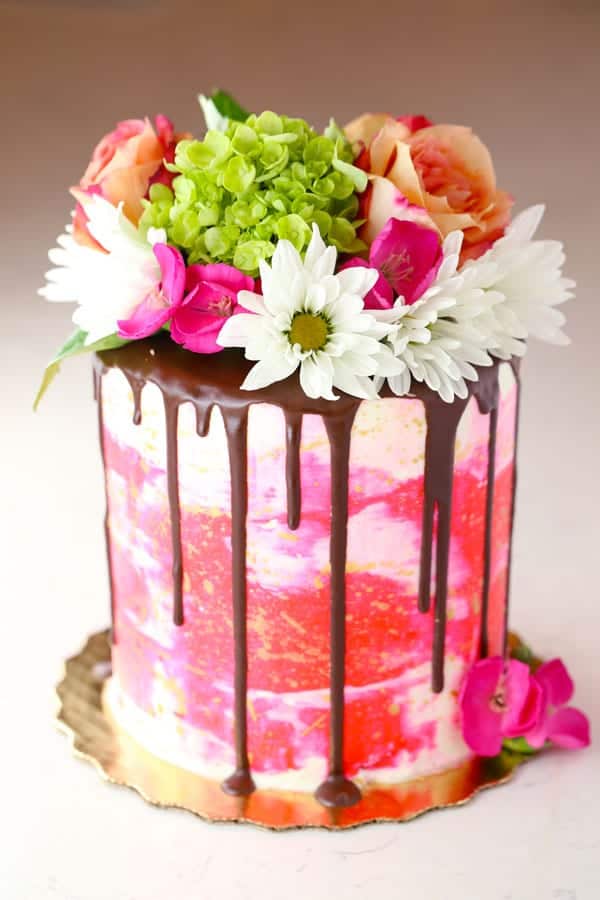 I created this Pink Painted Buttercream Drip Cake for a special occasion but it's not what you would expect. I was honored to be interviewed by our local paper - the Forsyth County News - and of course I wanted to bake them a cake!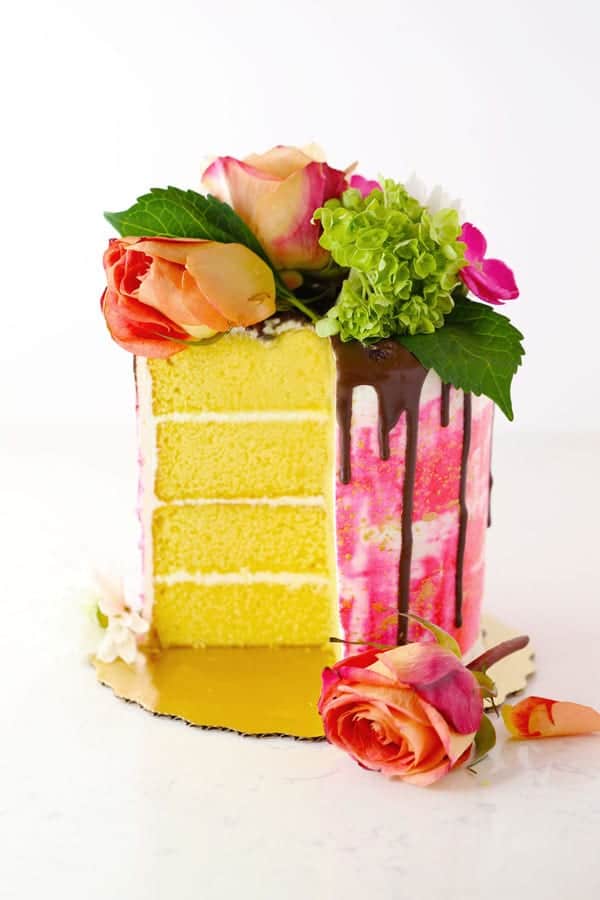 They came to my house a few weeks ago to interview me and take photos. It was a lot of fun! I look forward to sharing the article with you soon. Stay tuned for that!
In the meantime, I couldn't wait to share this unique cake with you and tell you how I made it!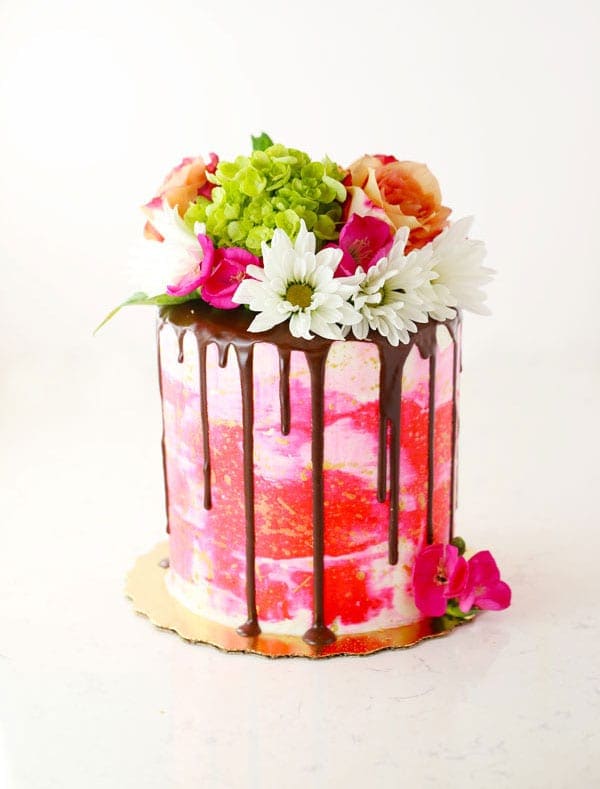 As you might know, I spend a lot of time on Instagram where I share lots photos to provide you with cake and baking inspiration! Searching through countless numbers of cake photos, I've noticed a trend - these beautiful cakes that look like they are painted with watercolors, then adorned with gold leaf or splattered with edible gold paint and of course drizzled with chocolate ganache and topped with either fruit or flowers!
Making this Pink Painted Buttercream Drip Cake was not as challenging as I thought it would be. If you have ever used a bench scraper and a turntable to get a smooth finish on your cakes, then you can absolutely achieve this technique.
Here's the bench scraper I use on Amazon (affiliate):

First I frosted the cake with white buttercream. I frosted it smooth and let a chill in the refrigerator for a couple of hours. Meanwhile, I colored some left over frosting in two shades of pink. Once the cake was chilled, I used a spatula to gently "brush" on small amounts of both shades of pink frosting in random spots all over the sides of the cake. Then I simply, smoothed it with my bench scraper while turning the turntable.
Here's the revolving cake decorating turntable that I use on Amazon (affiliate):

Then I made an edible gold paint with a mixture of edible gold luster dust (available in the cake decorating section at a craft store or department store) and lemon extract which I splattered onto the cake with a paint brush. It was sort of messy but I had a ball doing it and the results were beautiful, don't you think?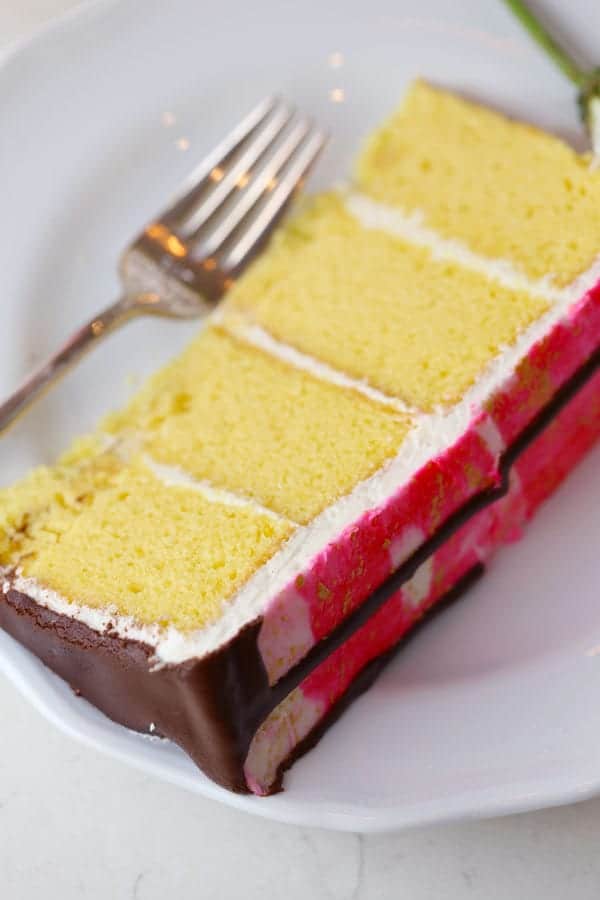 To make life a little simpler, I just used a cake mix for the cake part. Actually, two mixes and I used a gluten free mix so my daughter could eat it too.
The chocolate drizzles are incredibly simple - just two ingredients. I mixed melted chocolate chips and olive oil, then drizzled onto the cake and covered the top, let it set in the refrigerator for about 30 minutes and added the flowers (make sure to ask your florist if the flowers you choose are food safe).
It was a pleasure meeting the Forsyth County News Editor, Brian Paglia (on the right) and photographer, Bradley Wiseman. They were so easy to work with and were so professional! I look forward to seeing the article they put together in the September issue of 400 Life which is a magazine insert in the Sunday edition of the Forsyth County Newspaper that comes out the last Sunday of each month!
It's a battle of the cameras. Just kidding! Bradley and I thought this would be a funny photo!
Also, this is my newly renovated kitchen. Well, still new to me. We did a complete renovation last Fall and I'm loving my giant island and spacious kitchen. We knocked out a wall to double the size and I'm so glad we did! My husband's fantastic idea!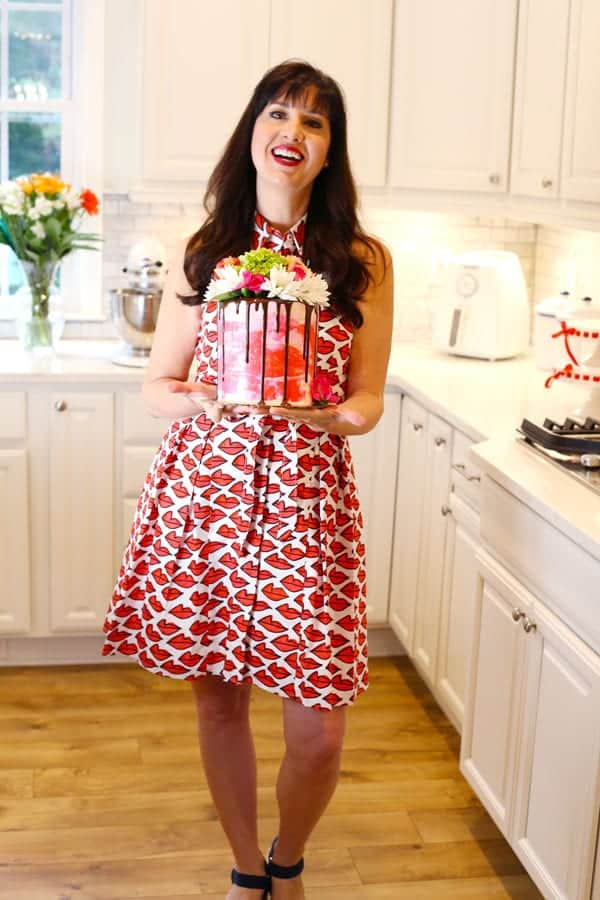 Speaking of my husband, he took this photo. He makes me laugh. All the time. Every day! Thank you, Jay!
And thank you to Brian and Bradley for a great interview experience.
I will be sure to share the article on my social media as soon as it comes out.
I hope you will make this very special Pink Painted Buttercream Drip Cake!
Be sure to take a photo, share to Instagram and tag @momlovesbaking if you make it! I love to see what my readers are making!
Comment below if you've ever made a cake like this or if you've ever seen one.
Click here to read the article they published about me in the Forsyth County News - our local newspaper here in Cumming, GA.
Scroll down to see the magazine cover...
Pink Painted Buttercream Drip Cake
Pink Painted Buttercream Drip Cake is a yellow cake with buttercream frosting, chocolate ganache drizzles, edible gold paint splattered on the sides with fresh flowers on top.
Print
Pin
Rate
Ingredients
For the cake
2

boxes

yellow cake mix (prepared according to package instructions)

I used Pillsbury Gluten Free cake mix
For the buttercream
2

cups

unsalted butter, softened to room temperature

4 sticks

2

pound bag

powdered sugar

approximately 8 cups

½

cup

heavy whipping cream

2

teaspoons

vanilla
For the decoration
pink food coloring

edible gold luster dust

lemon extract

½

cup

semi-sweet chocolate chips

3

tablespoons

olive oil

non-toxic fresh flowers

ask your florist which flowers are safe to put on cake
Instructions
For the cake
Prepare both cake mixes according to package instructions. Pour batter into four (6-inch round) cakes pans lined with parchment paper and sprayed with non-stick cooking spray. Bake according to package instructions or until a toothpick placed in center comes out clean. Let cool. Once cooled, slice off the domed top of cakes (horizontally) to make all of the cakes level on top.

For the frosting
Beat softened butter on medium speed with an electric or stand mixer. Beat for 3 minutes until smooth and creamy. Add powdered sugar, cream, and vanilla extract with the mixer running on low. Increase to high speed and beat for 3 minutes. Note: If the frosting is too thick, you can add a little more cream. Just add one tablespoon at a time, then mix thoroughly until you get the consistency you like.

Fill and frost the cake smooth, reserving about 2 cups of frosting which you will color pink later. Refrigerate for 1-2 hours. Meanwhile, separate the remaining frosting into 2 bowls, 1 cup of frosting in each. Color one a dark pink and the other a lighter pink. Take cake out of the fridge and place on a turntable. Use a spatula to gently "brush" on small amounts of pink icing in random spots all over the cake, some dark pink and some light pink. Then take a bench scraper and smooth the frosting as you turn the turntable.

For the gold
Mix a tablespoon of luster dust with a teaspoon of lemon extract. Stir well. If it's too thick, add more lemon extract. This is your gold "paint" so it should be soupy. Dip a paint brush into your gold paint and splatter the cake all over with gold.

For the chocolate drips
Place chocolate chips in a microwave safe bowl and microwave on high for 30 seconds. Stir. Microwave another 30 seconds. Stir well and add olive oil. Stir to combine. It should be soupy. If it's too thick, add a little more oil. Drizzle the chocolate over the edges of the cake, then fill in the top. Place in refrigerator for 30 minutes. Add fresh flowers. Serve cake. Store covered in refrigerator for up to 5 days.

Nutrition
Calories:
496
kcal
|
Carbohydrates:
75
g
|
Protein:
2
g
|
Fat:
22
g
|
Saturated Fat:
13
g
|
Polyunsaturated Fat:
1
g
|
Monounsaturated Fat:
7
g
|
Trans Fat:
1
g
|
Cholesterol:
48
mg
|
Sodium:
452
mg
|
Potassium:
51
mg
|
Fiber:
1
g
|
Sugar:
57
g
|
Vitamin A:
547
IU
|
Vitamin C:
1
mg
|
Calcium:
101
mg
|
Iron:
1
mg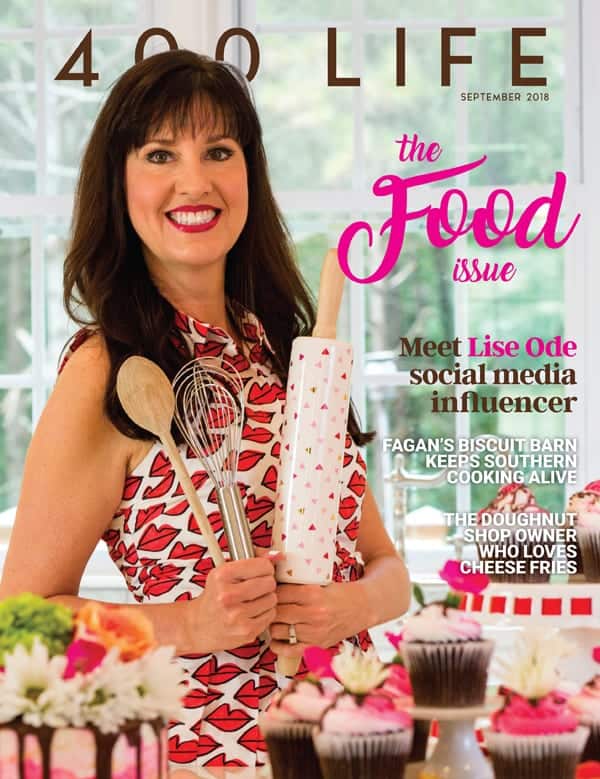 If you can't find gold luster dust, you can order it from Amazon (affiliate):

You might also like this Peanut Butter Swiss Meringue Chocolate Cake
Or this Chocolate Drizzled Semi-Naked Rose Cake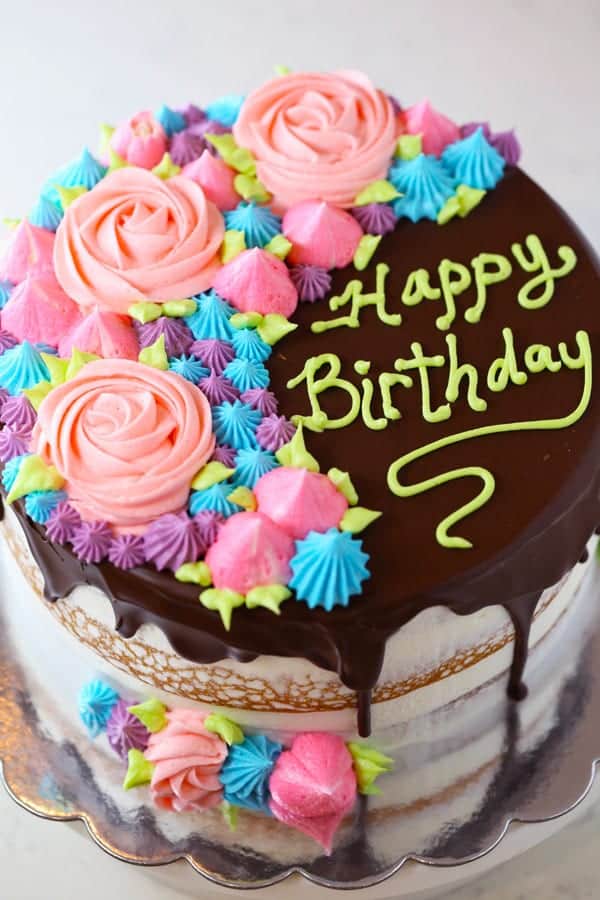 Or Upside Down Ice Cream Cone Cake