Chocolate Drizzled Semi-Naked Rose Cake is a classic vanilla cake with buttercream filling and chocolate ganache dripping down the sides.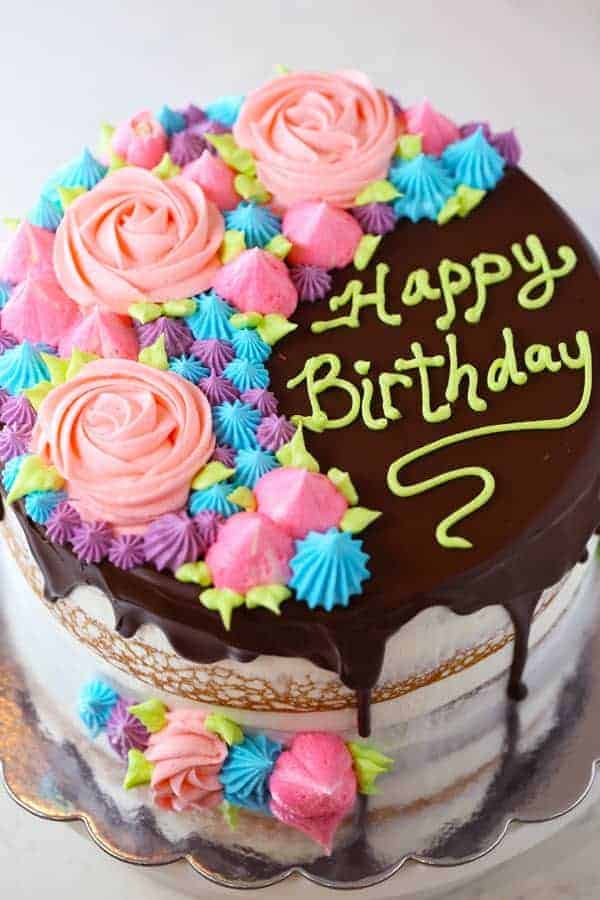 I've been spending a lot of time on Instagram lately and there are SO many talented bakers posting the most beautiful cakes I've ever seen! This cake is a conglomeration of some nifty cake decorating techniques that I've wanted to try out for awhile now.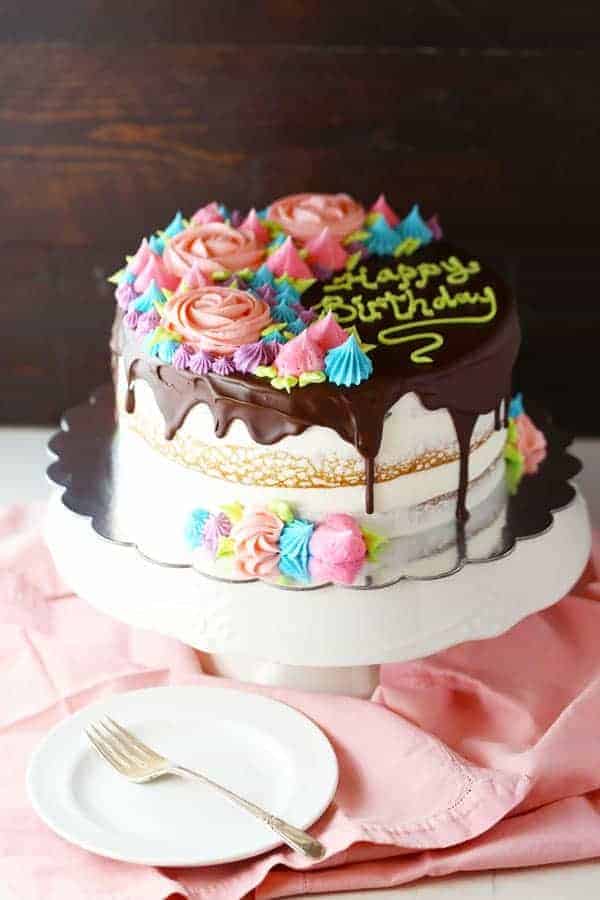 First of all, it's a semi-naked cake which means it only has a very thin layer of frosting as opposed to a completely naked cake which has no frosting on the sides of the cake. I love the rustic look of both! But there's something extra special about the semi-naked cake. I call it shabby chic!
Then there's the 1M rose cake which is quite popular these days. It looks pretty when you cover the entire cake with 1M roses but it also looks nice when you add just a few here and there, plus several other varieties of buttercream fantasy flowers.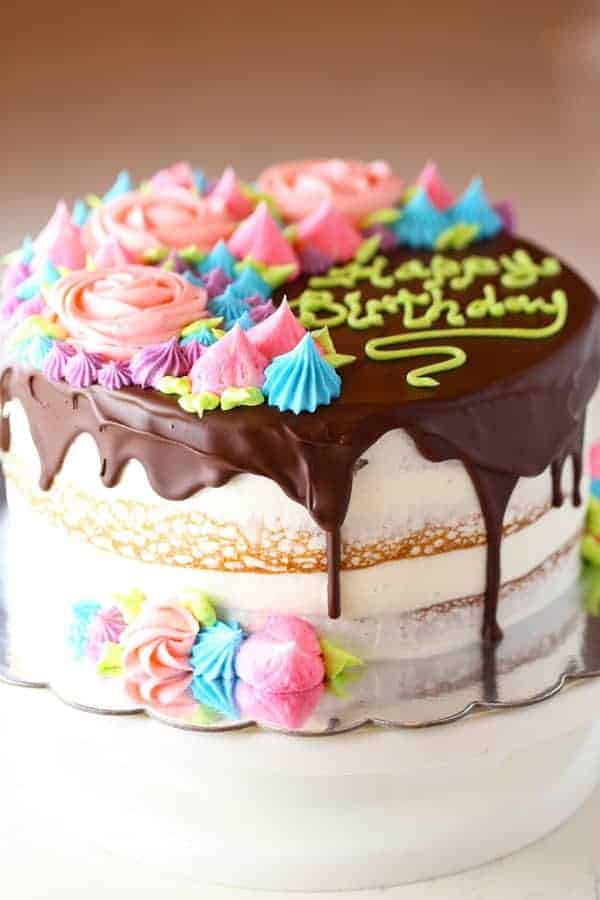 I also used a French star tip in two sizes (32 & 4B), plus a Russian pastry trip in the rose pattern. Please note: my Russian pastry tips didn't turn out right. They're the pink dollops of icing that look sort of like meringue kisses. Not sure why it didn't work but it still looks cute, don't you think? I would recommend using the #12 round tip instead of the Russian pastry tip to create the darker pink dollops.
All the pastry tips and pastry bags are included in this set (affiliate):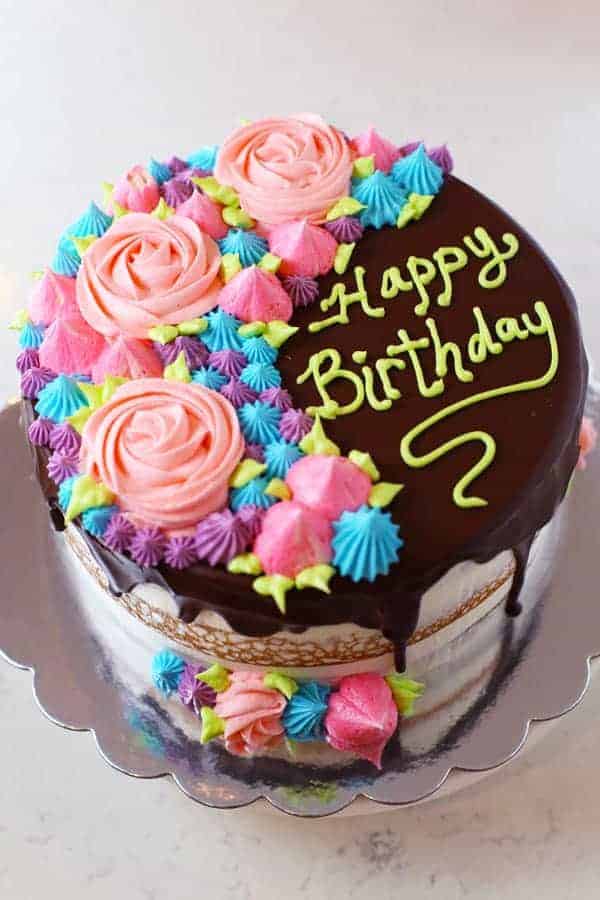 The drizzled chocolate ganache method I used was something I learned from listening to a wonderful podcast called Flour Hour - A podcast completely dedicated to baking. It's co-hosted by bakers Amanda Faber and Jeremiah Duarte Bills. Flour Hour features interviews, baking show reviews, baking tips, gossip and more!
Anyway, a few weeks ago, they interviewed Calli Marie of CalliMarieBakes.com. Calli talked about her quick and easy way of doing a chocolate drizzle. She had me at "EASY". That's always my favorite! She said she simply grabs a handful or so or chocolate chips, puts them in a bowl, adds some olive oil and heats in the microwave. Say what?! No exact measurements? Very unusual for us bakers who love to be very precise. I loved the idea! And, you don't need a squeeze bottle to drizzle it on the cake. Just use a spoon to spread it and push it over the sides to drip down. It's not perfect, but remember, you're going for a rustic look with this one. (Scroll down to the recipe for more details and I did come up with some measurements for you.)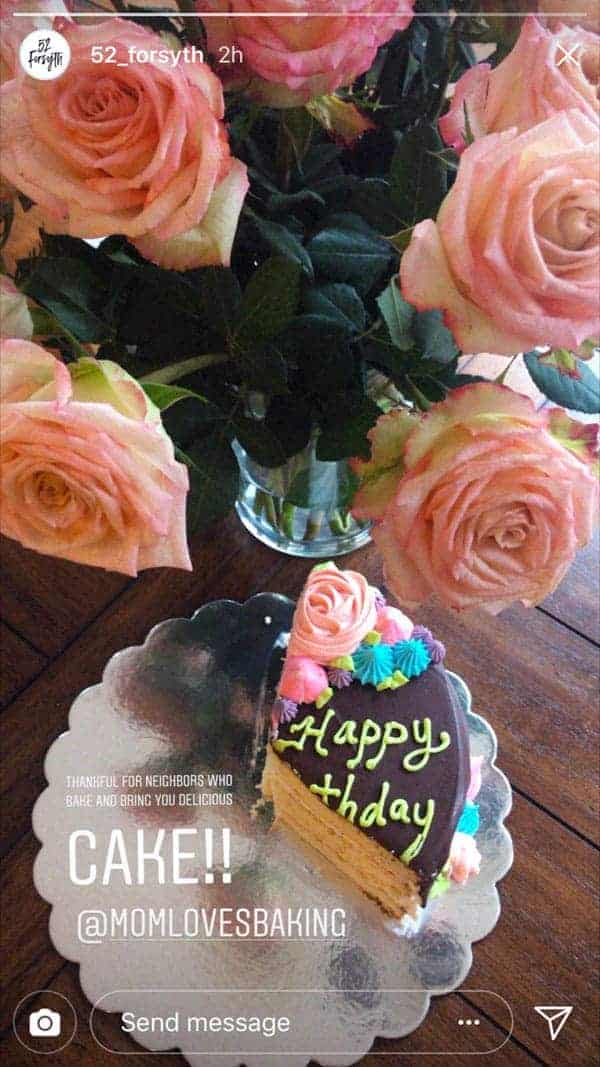 So you might be wondering, who's birthday was this anyway? And the answer is, no ones. LOL! I just made the cake for fun because I'm kinda crazy like that. I ended up giving away most of the cake to several of my neighbors. The photo above was taken by my friend, Sarah Johnson. She has a neat website called 52 Forsyth which is a great resource for anyone that lives in Forsyth County, Georgia. Check it out!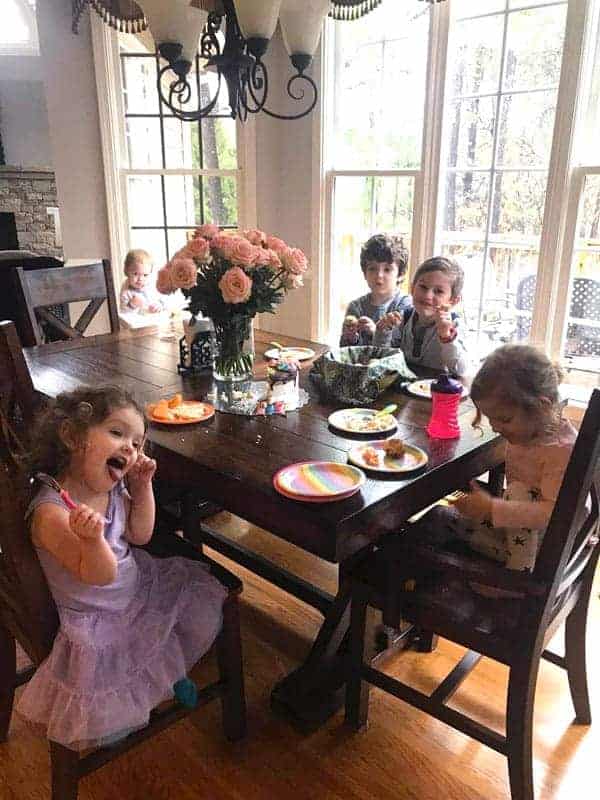 And this is my favorite picture of all, these sweet kids enjoying some of my cake. This photo was also taken by Sarah.
I hope you'll try this Chocolate Drizzled Semi-Naked Rose Cake soon! Enjoy!
Chocolate Drizzled Semi-Naked Rose Cake
Chocolate Drizzled Semi-Naked Rose Cake is a classic vanilla cake with buttercream filling and chocolate ganache dripping down the sides.
Print
Pin
Rate
Ingredients
For the Classic Vanilla Cake:
For the frosting
2

cups

unsalted butter, softened to room temperature

4 sticks

8

cups

powdered sugar

if you buy it in the plastic bag, you don't have to sift it

½

cup

heavy cream

2

teaspoons

vanilla

Pink, purple, blue and green food coloring
Instructions
For the cake:
Preheat oven to 350°F. Grease 3 (9-inch) round cake pans and line with parchment paper. Grease again or spray with non-stick cooking spray. Set aside. Place all ingredients in a large bowl. With an electric mixer, stir on low speed to combine (30 seconds). Then turn mixer up to medium and beat for 2 minutes. Divide batter evenly into the 3 prepared cake pans. Bake in preheated oven for 25-30 minutes or until a toothpick stuck in the middle of the cake comes out clean. Let cool.
For the frosting
Beat softened butter on medium speed with an electric or stand mixer. Beat for 3 minutes until smooth and creamy. Add powdered sugar, cream, and vanilla extract with the mixer running on low. Increase to high speed and beat for 3 minutes.

To decorate cake, fill and frost cake with a thin layer of frosting. Place in refrigerator to chill for 1-2 hours. Meanwhile, divide the remaining frosting into 5 separate bowls. Add food coloring to each - dark pink, light pink, purple, blue and green. Prepare 5 pastry bags with the following pastry tips: 4B (blue). 32 (purple), 1M (light pink), Russian pastry tip (dark pink), and use a coupler for the green frosting, so you can use 2 different pasty tips - #3 and #352. Take the cake out of the fridge and prepare the ganache. Place the chocolate chips and oil in a microwave safe bowl. Heat on high for 30 seconds. Stir. Repeat. Stir until smooth. Add more oil if it's too thick. Spread on top of the cake and push over the edges with a spoon to create the drizzles. Let it set in the refrigerator for 20 minutes. Next, pipe the flowers and leaves on top of the cake. Use the green frosting with the #3 tip to write the birthday message.

Note: This recipe makes more frosting then you will actually need for this cake but it's nice to have extra to practice your piping skills or add more flowers if you wish.
Nutrition
Calories:
824
kcal
|
Carbohydrates:
111
g
|
Protein:
5
g
|
Fat:
41
g
|
Saturated Fat:
23
g
|
Polyunsaturated Fat:
2
g
|
Monounsaturated Fat:
13
g
|
Trans Fat:
1
g
|
Cholesterol:
114
mg
|
Sodium:
567
mg
|
Potassium:
141
mg
|
Fiber:
1
g
|
Sugar:
90
g
|
Vitamin A:
963
IU
|
Vitamin C:
1
mg
|
Calcium:
113
mg
|
Iron:
2
mg