Skinny Shamrock Shake
This Skinny Shamrock Shake post was sponsored by Hood as part of an Influencer Activation for Influence Central and all opinions expressed in my post are my own.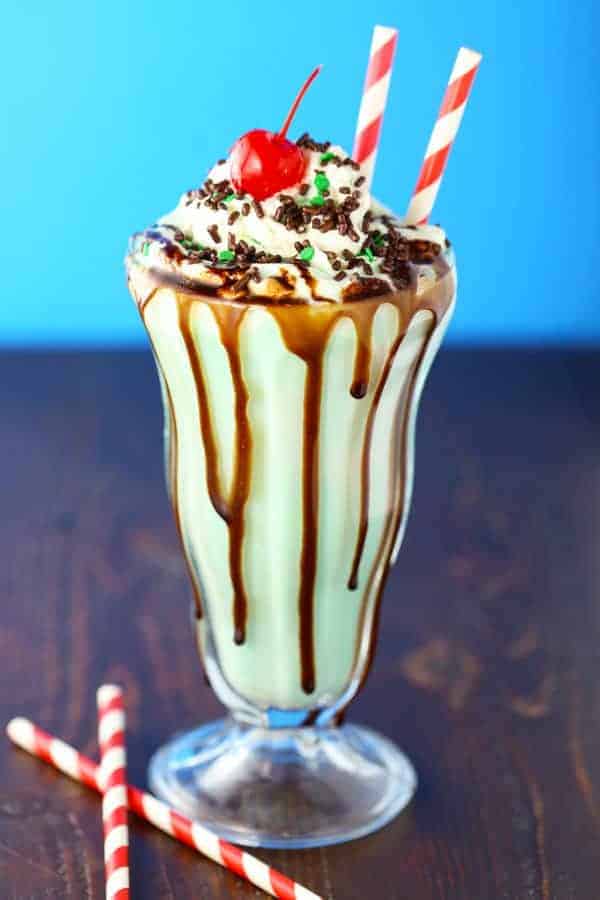 It's almost St. Patrick's Day, so I thought I'd share a festive treat with you today. Whether you're Irish or not, it's always fun to drink something green on March 17, right?! And here's a yummy green drink that's actually low in calories which is great for those of us that are still trying to stick to our New Year's resolutions to get in shape (that's me for sure, how about you?).
If you're a fan of the chocolate mint flavor combo, you're going to love this Skinny Shamrock Shake!
What I love about this Skinny Shamrock Shake is that it's so delicious but with less calories than a traditional shake. I used Hood Calorie Countdown Whole Dairy Beverage as the base of this shake which is just 100 calories and 33% fewer calories than traditional whole milk! Same creamy taste of whole milk with fewer calories, fewer carbs and less sugar! One cup of Hood Calorie Countdown Whole has just 3 grams carbs and only 3 grams sugar (75% fewer carbs and sugar than traditional whole milk)! That's a win win if you ask me!
I used Hood Calorie Countdown Whole for this Skinny Shamrock Shake recipe but it also comes in 2% Reduced Fat and 2% Reduced Fat Chocolate.
They were both easy to find in the Dairy section at Walmart and guess what, I've got a coupon for you. Click here for $0.75 off your favorite Hood Calorie Countdown!
Another thing I love, Calorie Countdown is made with milk from farmers who pledge not to use artificial growth hormones which is very important to me and my family.
My husband really loves the chocolate Calorie Countdown. It's a tasty, low calorie alternative to traditional chocolate milk.
Making this Skinny Shamrock Shake is super easy. All you need is a blender and a few ingredients. First add a cup of Hood Calorie Countdown Whole Dairy Beverage to the blender. Then add ice, mint extract, your favorite low calorie sweetener (to taste), a few drops of green food coloring, pinch of salt and a handful of mini chocolate chips (I used sugar free chocolate chips). Put the lid on and blend until smooth!
Pour into a tall glass, then garnish as desired or just stick a straw in an enjoy the minty, chocolate goodness! Cheers and Happy St. Patrick's Day!
I hope you'll try my Skinny Shamrock Shake! Leave a comment and let me know how you like it!
Click here for more Hood Calorie Countdown recipes. You can also find them on Facebook, Twitter, Instagram and Pinterest.
Ingredients
1 cup Hood Calorie Countdown Whole Dairy Beverage
1 cup ice
1/2 teaspoon mint extract
Low calorie sweetener to taste
Pinch of salt
Few drops green food coloring
Handful mini chocolate chips, optional
Fat free whipped topping for garnish, plus a cherry, chocolate syrup and sprinkles, if desired
Instructions
Place all ingredients (except for the whipped topping, chocolate syrup, cherry and sprinkles) in a blender and blend until smooth. Garnish as desired.
https://www.momlovesbaking.com/skinny-shamrock-shake/
You also might like my Easy Triple Berry Fruit Smoothie which is also made with Hood Calorie Countdown Whole Dairy Beverage.