UPDATE: I adjusted the ingredients since the original post. I forgot to double the recipe for the cake. Oops! Sorry about that! (I first published on June 1 and just caught the mistake today on June 3, so hopefully no one tried to make this cake yet.)

Rainbow Tie Dye Surprise Daisy Cake is a classic vanilla cake with a tie dye pattern, yellow buttercream frosting and fondant daisies.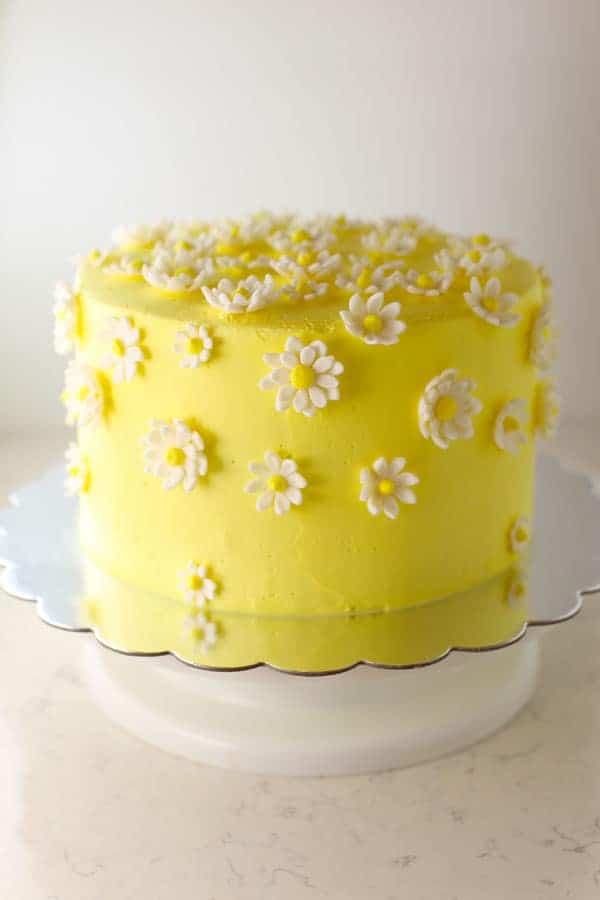 I made this cake for a "client". That's something I haven't said in a long time. It's been at least 10 years since I had a cake business, but my friends (Amy and Melissa) needed a cake for their daughters' graduation party and I thought it would be fun!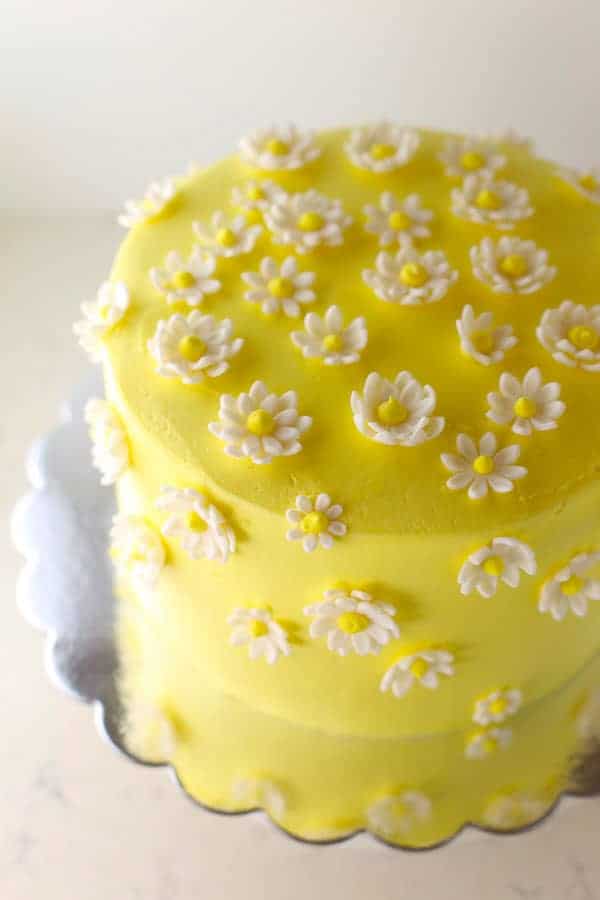 I'd never made a daisy cake, so I was up for the challenge.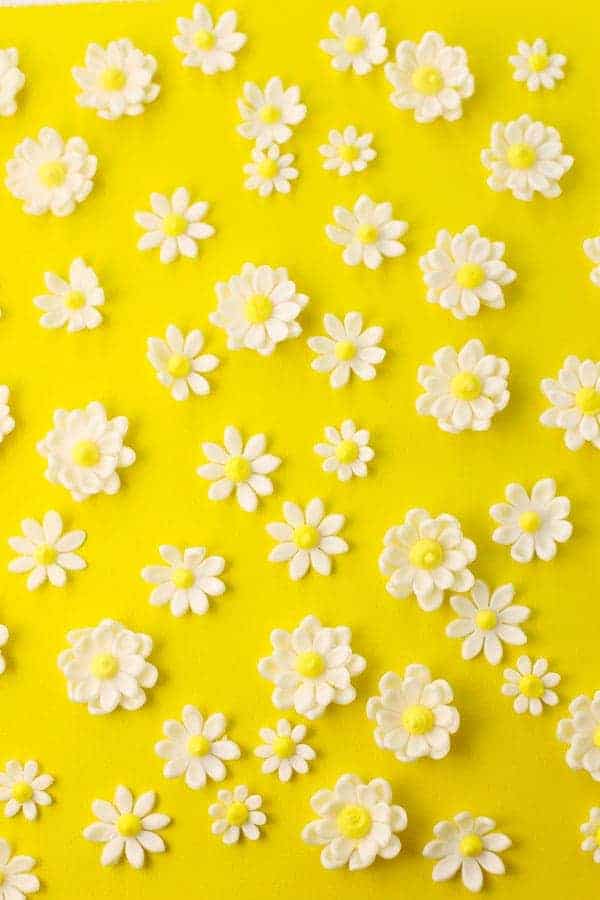 So I ordered some daisy fondant cutters from Amazon and got to work. I started making the flowers about 5 days before the cake was due, just to make sure I had plenty of time in case something went wrong. They were easier to make then I thought, just a bit time consuming. I made a video of how I made the flowers which you can see on my Instagram page.
Here are the cutters I used from Amazon (affiliate):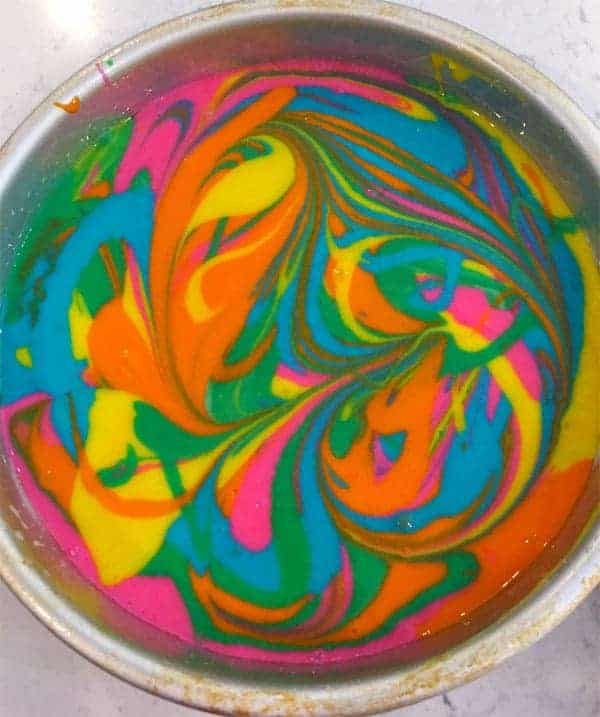 For the cake, I made my classic vanilla cake recipe which was my most popular cake recipe when I did have a cake business. It actually has a hint of almond flavor in it as well. I thought it would be extra special to make the cake in a tie dye pattern, that way it's an exciting surprise when they cut into it at the party.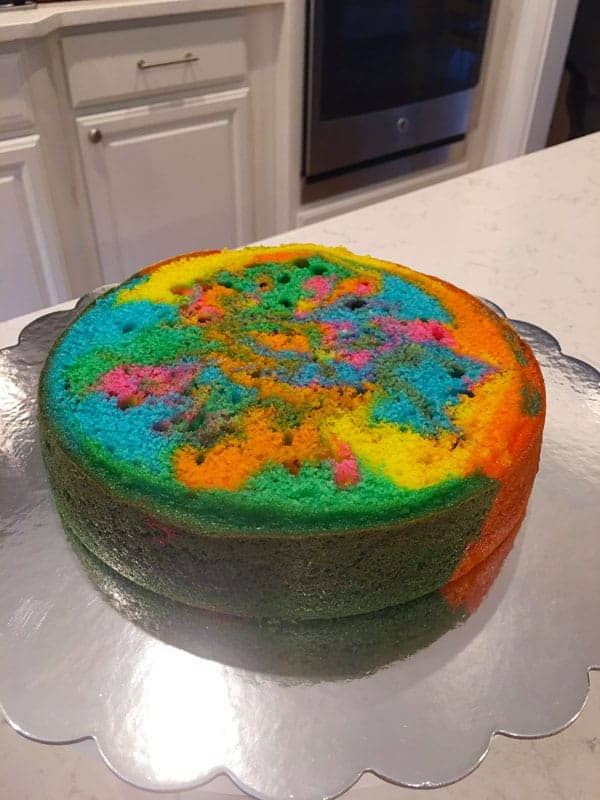 I baked 3 (8-inch round) cake layers, let them cool, then sliced off the tops to make the cakes level. I like to use a leveler to level my cakes like this one (affiliate):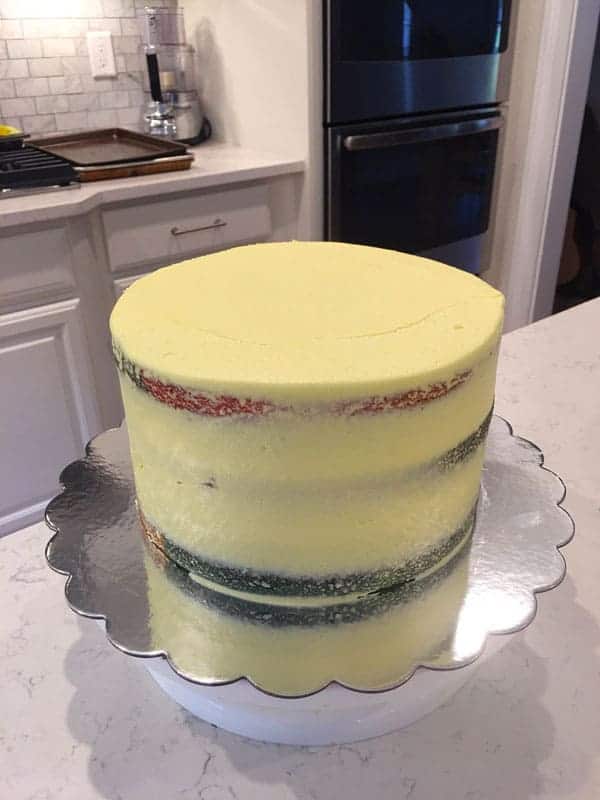 Then I made my Classic Vanilla Buttercream frosting to fill and frost the cake. This shows the cake after I did the crumb coat which is a thin layer of icing to seal in the crumbs. I let it chill in the fridge for a couple hours, then did the final layer of frosting.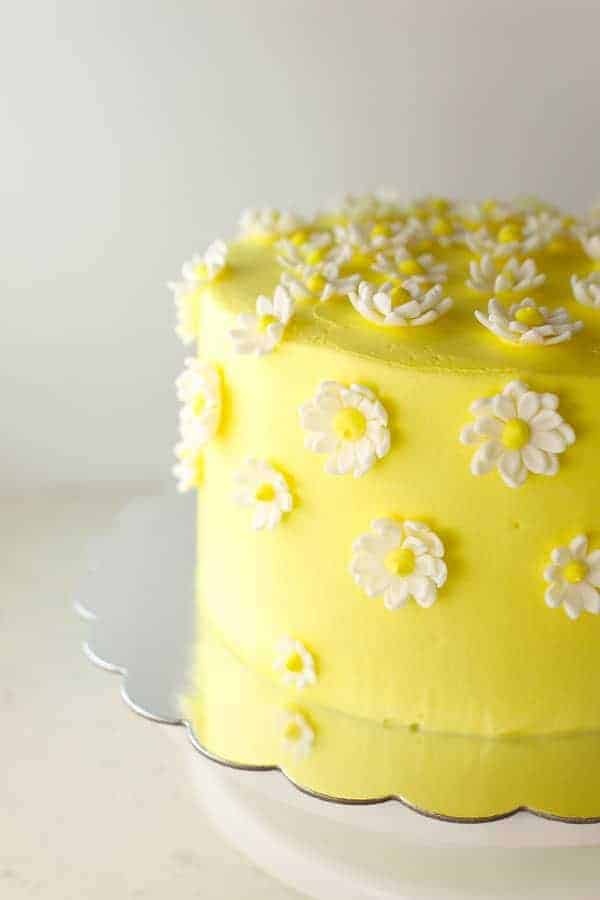 Once the cake was chilled, I used some extra frosting in a piping bag fitted with a small round tip (Wilton #5) to pipe a bit of frosting, then "glue" the flowers onto the cake.
The finished cake was so cute! And my "clients" were very happy!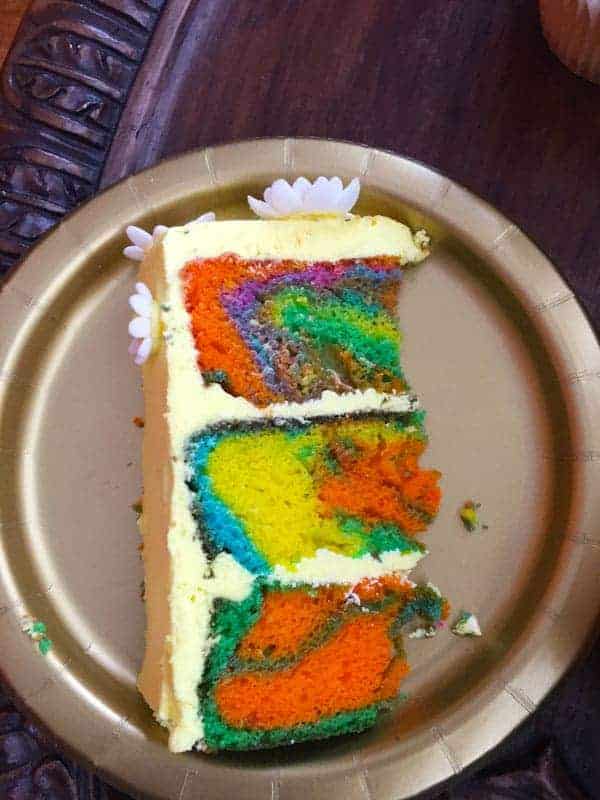 I was at the party and had the honor of cutting the cake which was quite ceremonial with the big reveal of the rainbow tie dye interior. It was very exciting and the crowd responded with lots of oohs and ahhs! Click here to see the cake cutting video.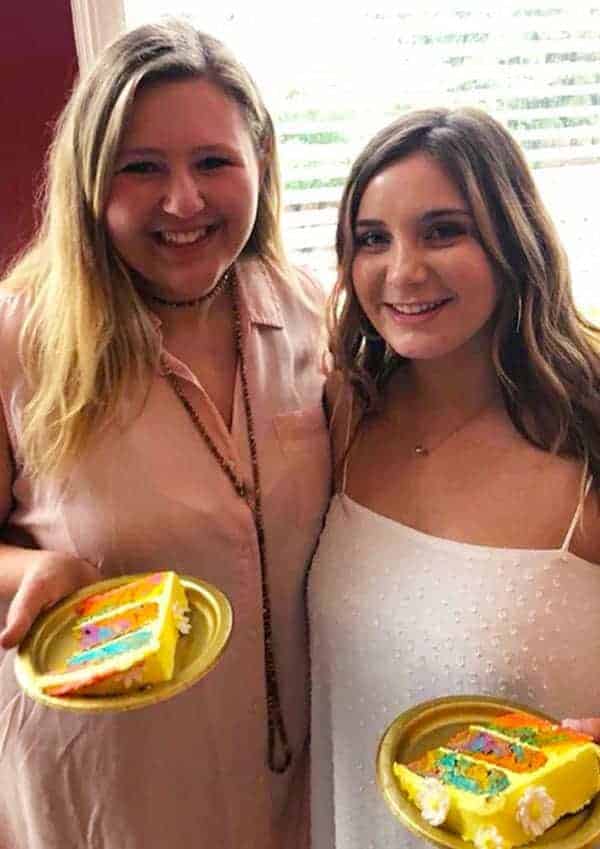 Here's Grace and Madison - it was their graduation party and they loved the cake! Congratulations, girls!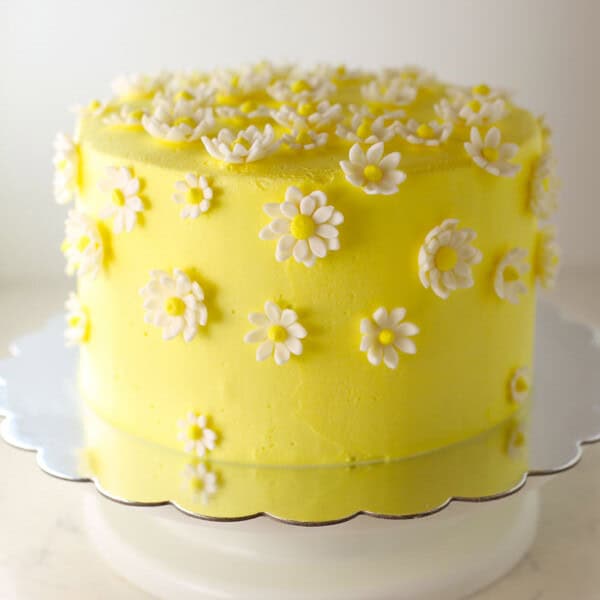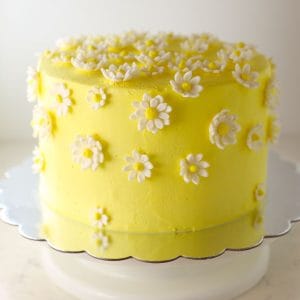 Rainbow Tie Dye Surprise Daisy Cake
Classic Vanilla Cake in a tie dye pattern with yellow buttercream frosting and fondant daisies.

Print
Pin
Rate
Instructions
For the daisies:
Grease a clean pan or counter top with vegetable shortening. Knead the fondant until it's easy to manage. Add the tylose powder and work it into the fondant with your hands. Roll out the fondant to about 1/16 of an inch. Use a little corn starch on the counter to keep from sticking. Using a daisy fondant cutter in two sizes, cut out about 75 daisies. Use a fondant smoothing tool to flatten out the petals a bit. Place in a clean egg carton to let dry in a rounded shape. It's best to let them dry overnight.
For the cake:
Preheat oven to 350°F. Grease 3 (8-inch) round cake pans and line with parchment paper. Grease again or spray with non-stick cooking spray. Set aside. Place all ingredients in a large bowl. With an electric mixer, stir on low speed to combine (30 seconds). Then turn mixer up to medium and beat for 2 minutes. Divide batter evenly into 5 bowls. Color each with a different color. Place scoops of different colors in each pan, so that there are 5 different colors in each pan. Divide evenly between the 3 pans. Swirl colored batter with a butter knife. Bake in preheated oven for 40-50 minutes or until a toothpick stuck in the middle of the cake comes out clean. Let cool. Level the cakes by cutting horizontally to remove the domed tops.
For the buttercream:
Beat softened butter on medium speed with an electric or stand mixer. Beat for 3 minutes until smooth and creamy. Add powdered sugar, cream, and vanilla extract with the mixer running on low. Increase to high speed and beat for 3 minutes. Note: If the frosting is too thick, you can add a little more cream. Just add one tablespoon at a time, then mix thoroughly until you get the consistency you like. Add yellow food coloring and stir to combine.

Fill and frost cooled cakes with a crumb coat. Let it chill in the refrigerator for two hours. Add the last layer of frosting. Place in refrigerator to chill for an hour. Reserve remaining frosting. Place about 1 cup of remaining frosting into a pastry bag fitted with a #5 round tip (you will use this to "glue" the daisies to the cake).
Make the royal icing
Place the remaining powdered sugar, meringue powder and water in a large bowl. With an electric mixer, mix on low for 6 minutes. Scoop royal icing into a plastic container with lid. If icing is too thick, add a few drops of water and stir until it is like the consistency of toothpaste. Add yellow food coloring. Add about 1-2 cups of frosting to a pastry bag fitted with a #5 round tip. Then place the lid on remaining frosting so it doesn't dry out. Pipe a little frosting in the large daisy. Add the small daisy, then add another dot of frosting for the flower center. Keep a damp paper towel around the pastry tip in between decorating, so it doesn't dry out. Royal icing dries out really fast! Use extra icing to frost cookies on another day. It lasts a few weeks at room temperature.
Decorate the cake.
Use the buttercream in the piping bag to "glue" the daisies to the cake. Serve immediately or store in refrigerator for up to 3 days.
Nutrition
Calories:
635
kcal
|
Carbohydrates:
107
g
|
Protein:
6
g
|
Fat:
21
g
|
Saturated Fat:
13
g
|
Polyunsaturated Fat:
1
g
|
Monounsaturated Fat:
5
g
|
Trans Fat:
1
g
|
Cholesterol:
96
mg
|
Sodium:
577
mg
|
Potassium:
106
mg
|
Fiber:
1
g
|
Sugar:
77
g
|
Vitamin A:
550
IU
|
Vitamin C:
1
mg
|
Calcium:
155
mg
|
Iron:
2
mg