Classic Vanilla Buttercream Frosting is my go-to frosting recipe for cakes and cupcakes; it's simple and delicious.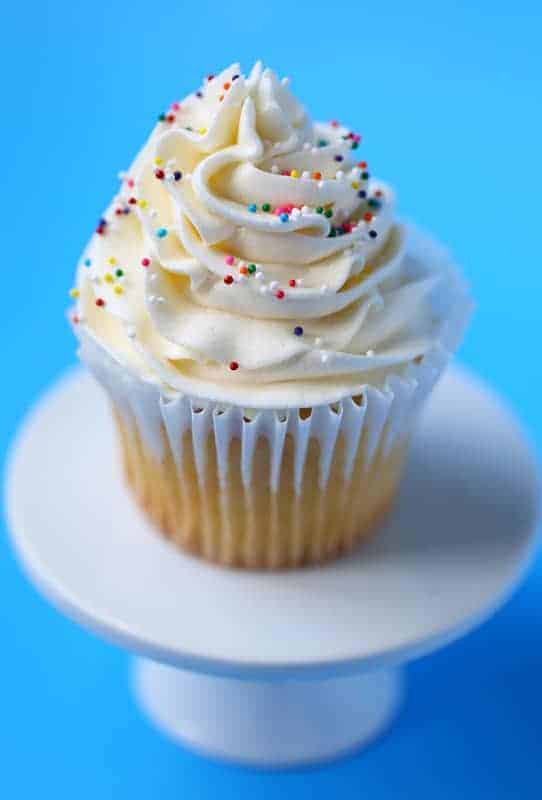 I'm baaackkkk! Well, almost. If you hadn't noticed, I have been a bit of a stranger to my blog over the last few months. That's because we moved to a new house and decided to do a complete kitchen renovation. And subsequently, I've been without a full kitchen for almost 3 months. But the good news is, it's finished! Whew! That was really hard for me, since I LOVE baking.
My new kitchen is so nice and I can't wait to show you pictures. Stay tuned. That will be another blog post in the very near future. I want to show you all the before and after photos too. But first, let's talk about FROSTING!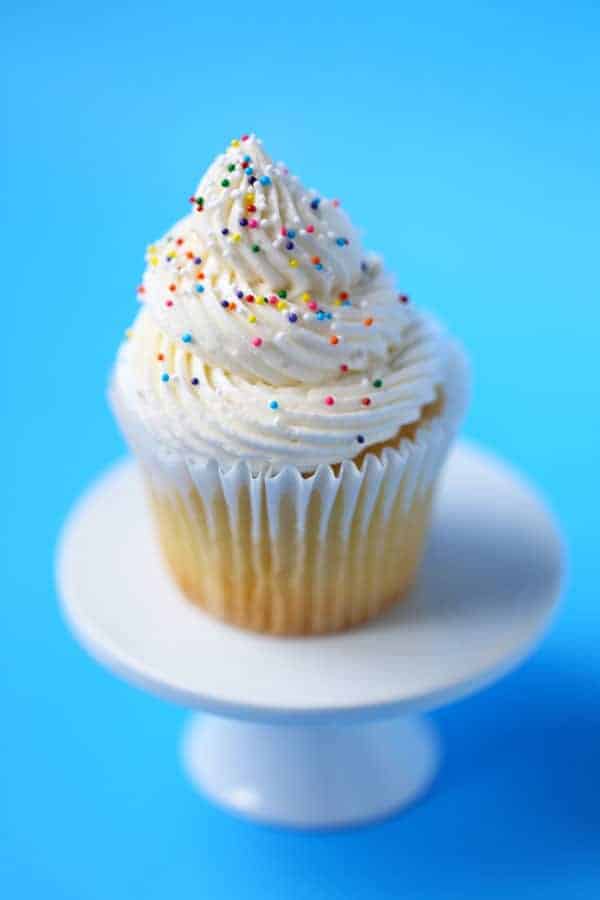 I've been wanting to do a blog post on my favorite frosting for the longest time. Of course, you might have already seen it paired with some of my most popular recipes like Baseball Cupcakes or Red Velvet Cupcakes or my famous Ugly Sweater Cake. My Classic Vanilla Buttercream Frosting is the one I make the most of all my icing recipes. It's like old faithful. I can really depend on it coming out perfect every time and it's only 4 ingredients!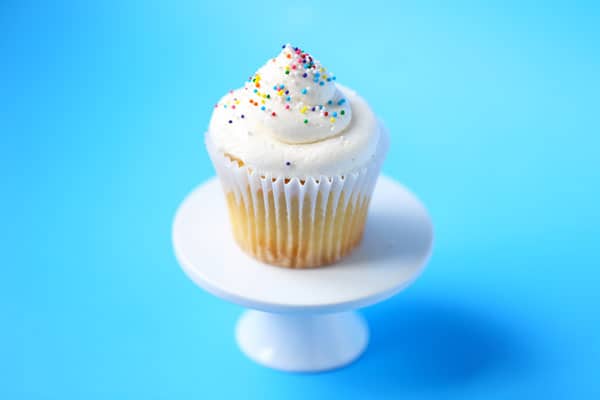 The main ingredient, of course, is butter. Plus, lots of powdered sugar, a little cream and some vanilla extract. The real key to this recipe is to start with room temperature butter, then beat it with an electric mixer for 3 minutes. This is an important step. The butter changes in those 3 minutes. It gets light and fluffy.
I always use my KitchenAid Mixer to make all of my frosting recipes. Here's the one I have (affiliate):

You could also use a hand held mixer like this one:

Then you gradually add the sugar, cream and vanilla. Once that is completely combined, turn up the mixer and beat again for 3 minutes. That's it! You're done.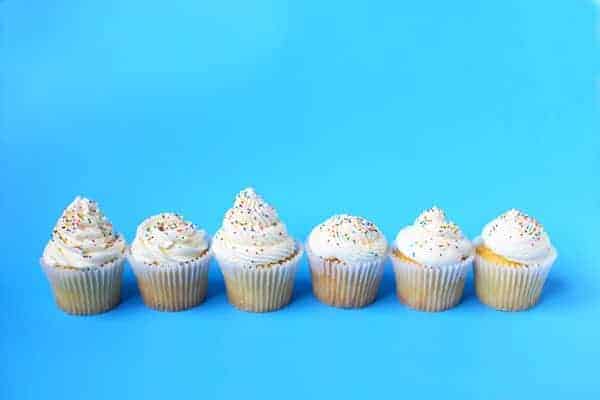 The frosting is ready to use. It's perfect for cupcakes. This recipe is enough for 12-18 cupcakes, depending on how high you pipe it. Pour the frosting into a large pastry bag fitted with your favorite pastry tip. I used a large star tip, a French star and a round tip on the cupcakes in the above photo to show you all the different looks you can get. In the above photo, starting from the left, the first two cupcakes have frosting piped with a large star pastry tip (1M). The next two cupcakes have frosting piped with a French star pastry tip. And for the last two cupcakes, I used a large round pastry tip.
I've included some links to the tools I used to decorate these cupcakes. First, I scooped the Classic Vanilla Buttercream Frosting into these Wilton Pastry Bags, fitted with the pastry tips below (affiliate):

Here is a set of pastry tips that includes all of the ones I used:

You could also use this Classic Vanilla Buttercream Frosting for a cake. It's enough to frost a 8-inch or 9-inch round layer cake.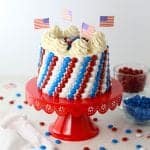 Red, White and Blue M&M'S® Candy Cake
This Red, White and Blue M&M'S® Candy Cake - a vanilla cake with buttercream frosting, covered on all sides with M&M'S® candies - is easy to make with the Red, White and Blue M&M'S® Milk Chocolate candies Pantry Jar!

Ingredients
1

(15.25oz)

yellow cake mix of choice

1

cup

unsalted butter, softened to room temperature

4

cups

powdered sugar (or 16 ounces)

1/4

cup

heavy whipping cream

1

teaspoon

pure vanilla extract

1

cup

Red, White and Blue M&M'S® Milk Chocolate candies, divided

(or more, if needed)
Instructions
For the cake:
Prepare mix according to package instruction. Bake in 2 (6-inch) round cake pans lined with parchment paper and sprayed with cooking spray. Bake at 350°F for 35-40 minutes or until a toothpick inserted in the middle comes out clean. Let cool.
For the frosting:
Beat softened butter on medium speed with an electric or stand mixer. Beat for 3 minutes until smooth and creamy.


Add powdered sugar, cream, and vanilla extract with the mixer running on low. Increase to high speed and beat for 3 minutes.


Note: If the frosting is too thick, you can add a little more cream. Just add one tablespoon at a time, then mix thoroughly until you get the consistency you like.


Fill and frost the cake, reserving about 1 1/2 cups of frosting to decorate the top of cake. Smooth the sides of the cake with an offset spatula or bench scraper.
For decorating the cake:
Divide the Red, White and Blue M&M'S® Milk Chocolate candies by color. Place M&M'S® candies on side of cake in diagonal stripes. Start with red, then white, then blue. Repeat. Place remaining frosting in a pastry bag fitted with a 1M tip. Pipe frosting on top of cake, then add a few more M&M'S® candies on top. Add paper flags, if desired.
Recipe Notes
Note: If you don't have heavy cream, you can use milk or water instead. If using milk or water, I would try 3 tablespoons instead of 1/4 cup. If it's too thick, add another tablespoon.
Nutrition Facts
Red, White and Blue M&M'S® Candy Cake
Amount Per Serving (1 g)
Calories 397
Calories from Fat 189
% Daily Value*
Fat 21g32%
Cholesterol 50mg17%
Sodium 150mg7%
Potassium 8mg0%
Carbohydrates 52g17%
Protein 1g2%
Vitamin A 585IU12%
Vitamin C 0.1mg0%
Calcium 28mg3%
Iron 0.2mg1%
* Percent Daily Values are based on a 2000 calorie diet.