Best Ever Pumpkin Spice Bread - a tried and true recipe for the most delicious and moist homemade pumpkin bread with all the cozy flavors of Fall. The recipe makes two loaves, just enough for the family! Who doesn't love pumpkin bread? A simple and easy recipe made from scratch (which is the best) filled with all your favorite spices.
If you love yummy, cozy fall pumpkin bread, try out my Pumpkin Spice Bundt Cake with Brown Sugar Glaze. If you are looking for something similar bread wise there's Nana's Gluten Free Pumpkin Gingerbread Cake for a similar taste and Grandma's Best Ever Banana Bread if you want moist bread, but no fall flavors. Note: Optional lower sugar recipe and a gluten-free option is included below. You can make it the traditional way or replace some sugar with granulated stevia.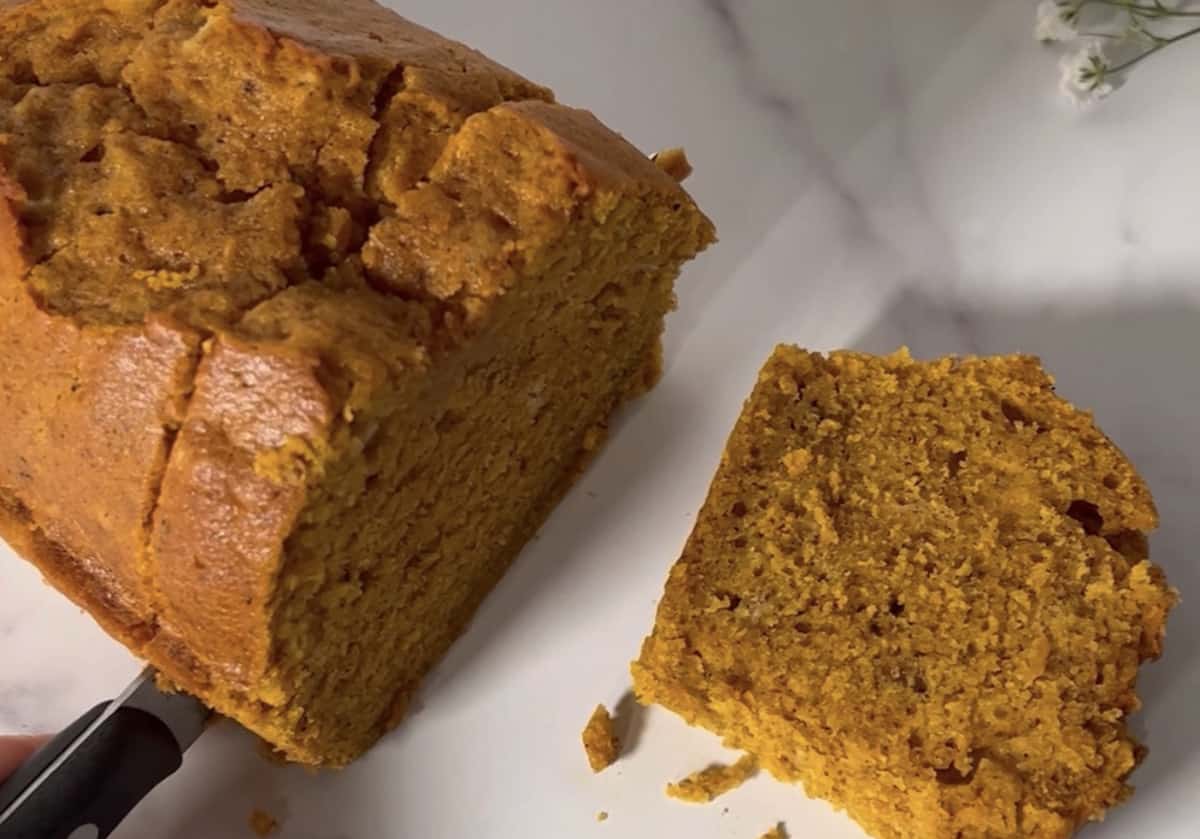 WHY I LOVE THIS PUMPKIN BREAD RECIPE
• The Best Pumpkin Bread recipe, it's moist and the perfect amount of sweet!
• The perfect dessert to eat while watching Gilmore Girls and having a cup of coffee or tea.
• Made from scratch; this loaf of pumpkin bread is so yummy and anyone could make it!
• Easy and quick bread recipe for the Fall season.
• If you're craving pumpkin spice and everything nice, you can't go wrong with this moist pumpkin bread recipe. It's just so delicious. And the recipe makes two loaves so you can freeze one for later or give it to your neighbor.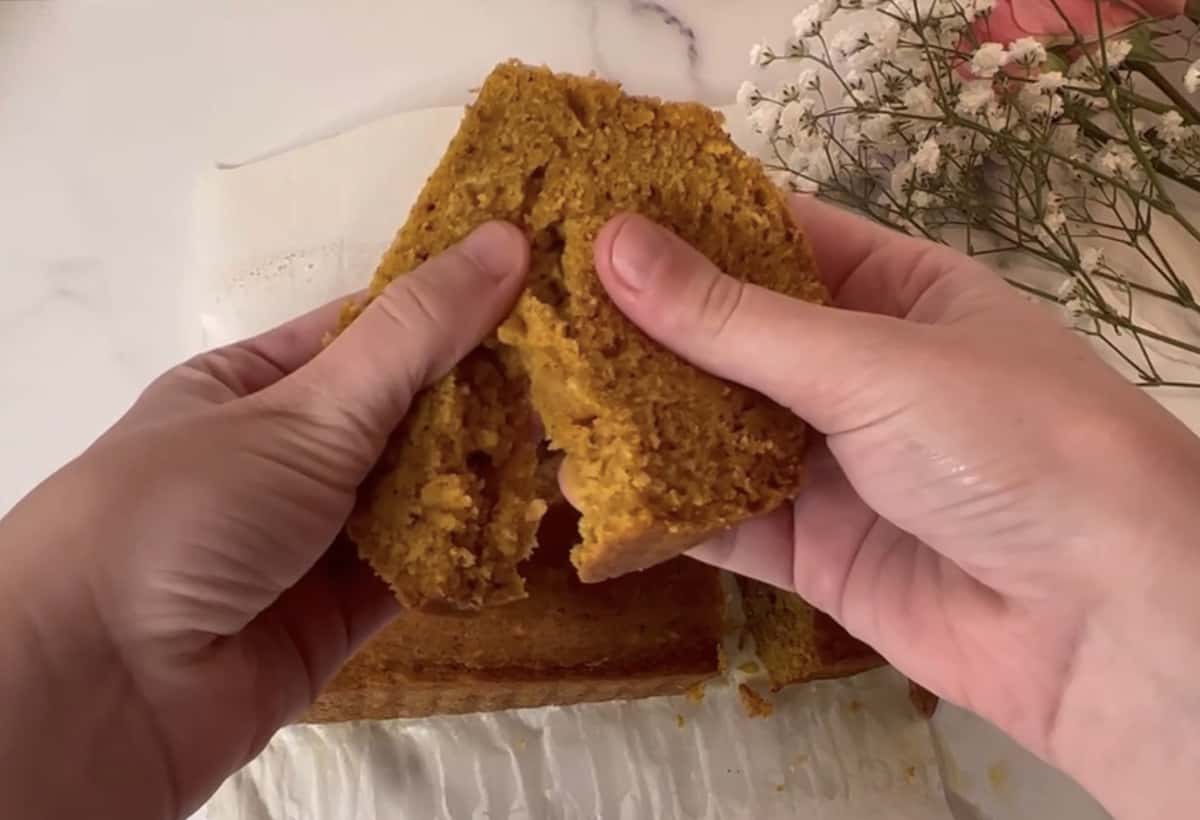 THE STORY BEHIND THIS RECIPE
If you've been reading my blog for a while, you know that I absolutely love pumpkin recipes. I've been making this Best Ever Pumpkin Spice Bread for many years. I still remember the first time I made it. My son was in pre-school and I was chosen to make the dessert for the holiday party. The teacher actually didn't give me a choice of what to make. She told me to make Pumpkin Bread. I did a quick search online and found a terrific recipe. It was in the days before people had food blogs, so I'm not sure exactly where it came from. I made the pumpkin bread and it was wonderful. Everyone in his class, including my son loved the bread. Very moist and has just the right amount of pumpkin spices.
What you need
INGREDIENT NOTES
• Pumpkin: Libby's pumpkin in a can works great, for a cheaper option you could also use store-brand pumpkin puree.
• Flour: Use your favorite brand of all-purpose flour or unbleached all-purpose flour. Make sure you DON'T use self-rising flour. If you are gluten-free like me, you can substitute all-purpose gluten-free flour (I used King Arthur).
• Sugar: If you want a loaf of low-sugar pumpkin bread, use granulated stevia instead of granulated white sugar.
• Oil: You can use vegetable oil, olive oil, or canola oil for moist bread. You could also use coconut oil.
• Eggs: Make sure your eggs are at room temperature before cracking them into your batter. Room-temperature eggs help soften the batter and cold eggs can make the batter lumpy and takes longer to bake (no thank you!).
• Spices: Cinnamon, nutmeg, ground cloves, and allspice gives the pumpkin bread its perfect fall, cozy flavor.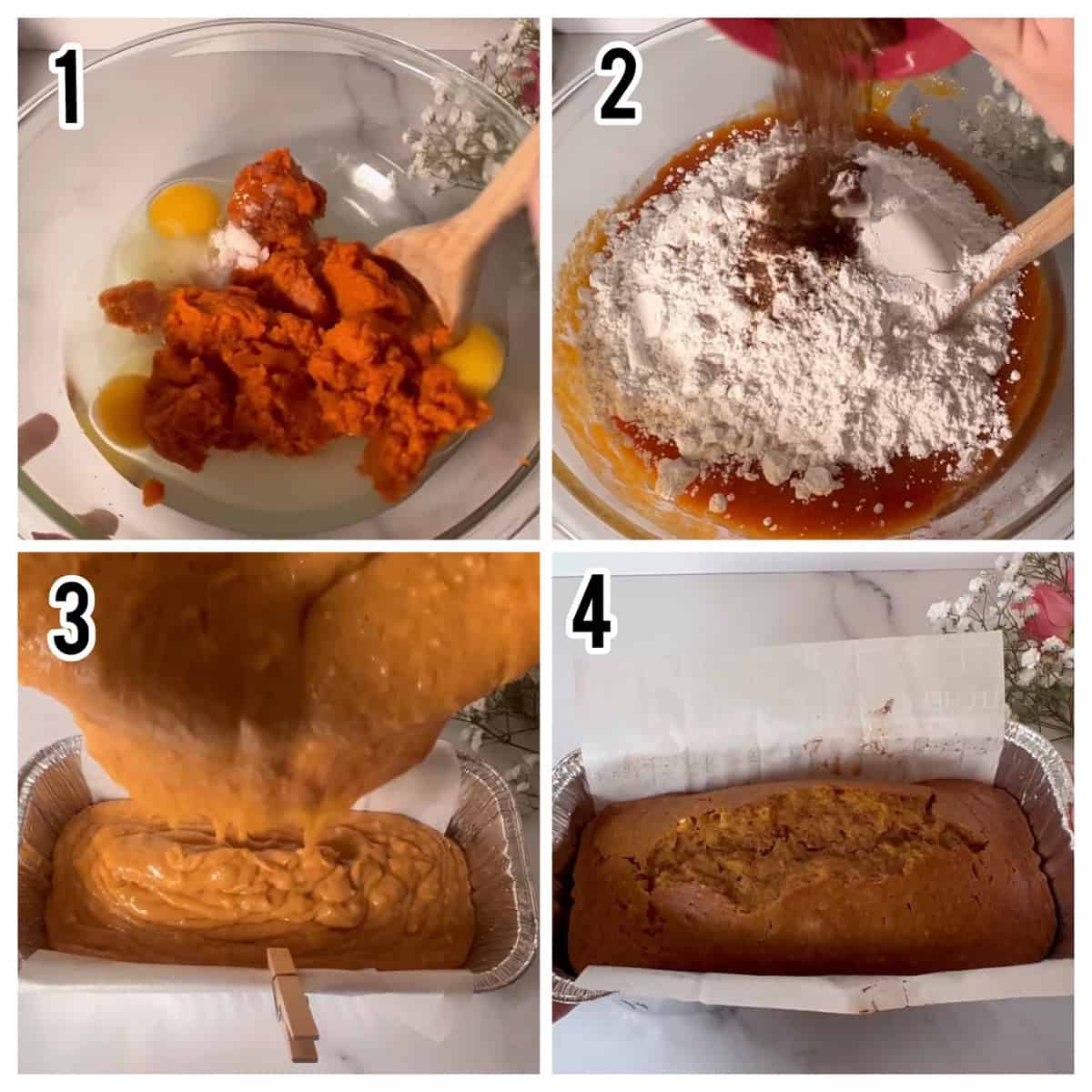 HOW TO MAKE BEST EVER PUMPKIN SPICE BREAD
In a large mixing bowl, mix together wet ingredients plus sugar (16 oz. pumpkin, 1 cup vegetable oil, 4 large eggs, and 2 cups sugar) until fully combined using a whisk or spatula.
Add of all the dry ingredients and ½ cup of water to the pumpkin mixture. Stir by hand until completely combined and smooth.
Pour pumpkin batter into prepared 9x5 loaf pans lined with parchment paper (you'll need 2 pans) and sprayed with non-stick spray. (Make sure you spray the bottom, then place the paper, and spray again plus all over the inside of the pan)
Bake on 350 degrees F for one hour. Place in the middle of the oven wire rack - use a toothpick test to check if it is completely clean. Let it cool for about 30 minutes then slice and serve!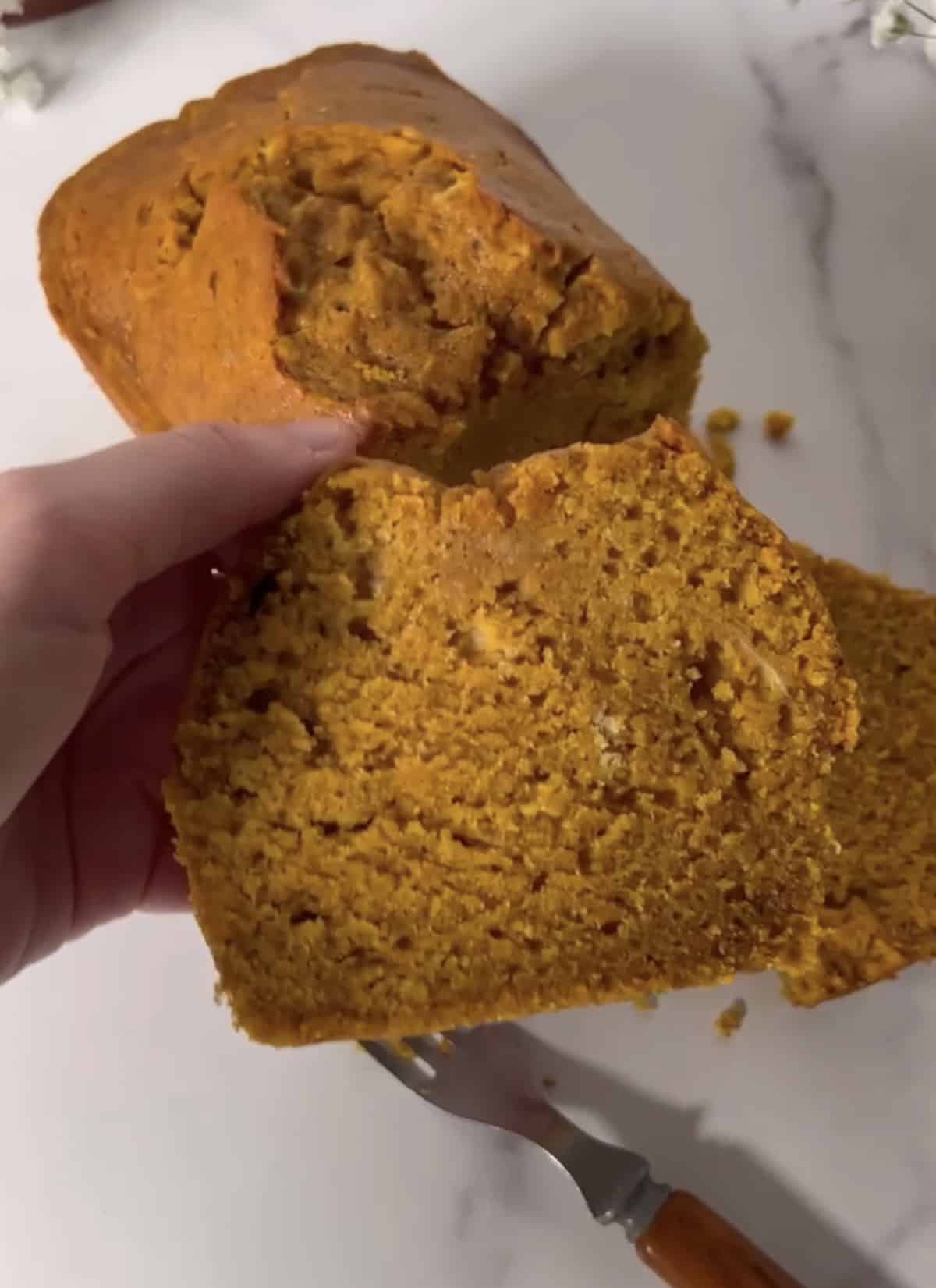 EXPERT TIPS
• To make the baking process easier, have your ingredients measured and ready.
• If you want a crunch when you bite into the pumpkin bread, add pecans, walnuts, or pumpkin seeds (amount). If you want more chocolatey flavor, add chocolate chips or Nutella!
• Brown Sugar Glaze: For added flavor, drizzle a glaze over cooled bread. Here is a great recipe - Bring brown sugar, water, corn syrup, and melted butter to a boil. Drizzle this on top of the bread. Reduce heat to medium and cook for 1 minute. Remove from heat. Add powdered sugar and whisk for 1 minutes. Let cool and drizzle over your pumpkin bread. For details on the full recipe click: (Pumpkin Bundt Cake).

FREQUENTLY ASKED QUESTIONS
How do I store my pumpkin bread? It can be left out for 24 hours in room temperature wrapped in plastic wrap or aluminum foil. OR it can be wrapped and will stay good in the fridge for up to 5 days.
Can I freeze this pumpkin bread? Yes, it freezes well, up to 2 months. Make sure you wrap it in plastic wrap AND put it in a sealed ziploc bag to avoid freezer burn.
Can I use pumpkin pie spice? Yes. Omit the cinnamon spice, nutmeg, cloves, and allspice. Use two teaspoons of pumpkin pie spice.
What is pumpkin puree? Cooked pumpkin that has been mashed or pureed. Available in the can like Libby's pumpkin or you can make homemade pumpkin purée.
Can you make this recipe gluten free? Yes! Just substitute all purpose gluten free flour (I used King Arthur).
Best Ever Pumpkin Spice Bread
Best Ever Pumpkin Spice Bread is moist, delicious and satisfying with all the cozy flavors of Fall.
Print
Pin
Rate
Instructions
Preheat oven to 350°F. Spray two (9"x5") loaf pans with cooking spray, line with waxed paper, then spray again. Set aside.

In a large bowl, stir together pumpkin, sugar, oil and eggs. Add all of the dry ingredients and the water. Stir by hand until completely combined and smooth. Pour batter into prepared pans.

Bake for one hour or until a toothpick inserted in the middle comes out clean. Let cool.

Slice and serve. Store in an air tight container at room temperature for a few days or in the refrigerator for up to a week. You can also freeze for longer storage. Recipe makes two loaves.
Notes
For a lower sugar version of this recipe, use 1 cup of granulated sugar plus 1 cup granulated stevia (such as Stevia in the Raw). Follow the rest of the recipe as stated above.
Nutrition
Calories:
206
kcal
|
Carbohydrates:
27
g
|
Protein:
3
g
|
Fat:
10
g
|
Saturated Fat:
2
g
|
Cholesterol:
27
mg
|
Sodium:
154
mg
|
Potassium:
38
mg
|
Fiber:
1
g
|
Sugar:
13
g
|
Vitamin A:
46
IU
|
Calcium:
11
mg
|
Iron:
1
mg
Looking for more low sugar or now sugar recipes?