Solar System Cupcakes
Solar System Cupcakes are made with Funfetti® cake mix and Pillsbury™ Filled Pastry Bags with vanilla frosting, then topped with a paper planet on a toothpick. Ad – This is a sponsored conversation written by me on behalf of Pillsbury. The opinions and text are all mine.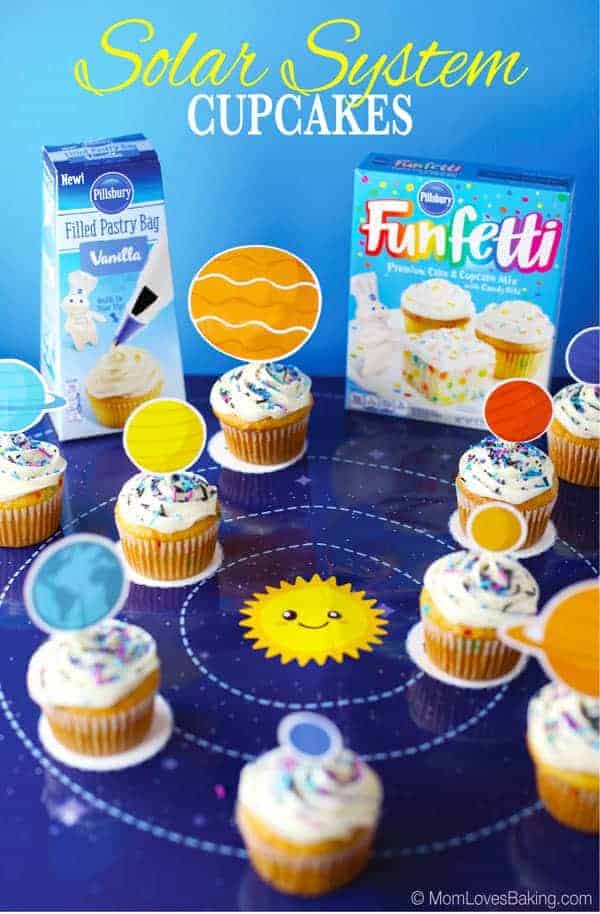 I'm so excited to share this fun and educational treat with you. Y'all know I love to bake for the holidays, right? Did you know that today is Space Exploration Day?! These Solar System Cupcakes are the perfect way to celebrate. Also a neat way to teach the kids about the planets and outer space. And so yummy too!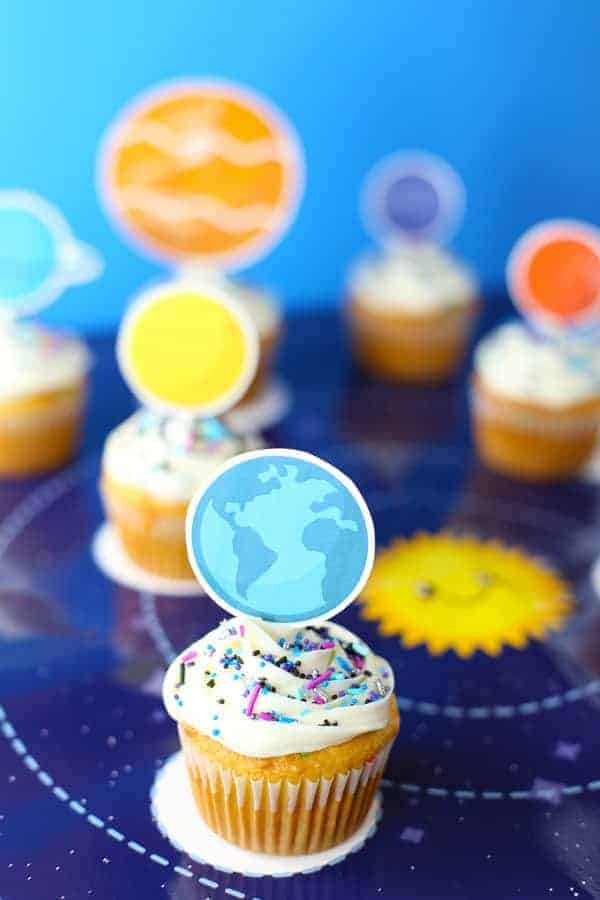 I've always been so fascinated with our space program and it's history. There have been some excellent movies on the subject, such as The Right Stuff, Apollo 13 and most recently, Hidden Figures. Years ago, I went to Cape Canaveral and took the space tour. It was fascinating!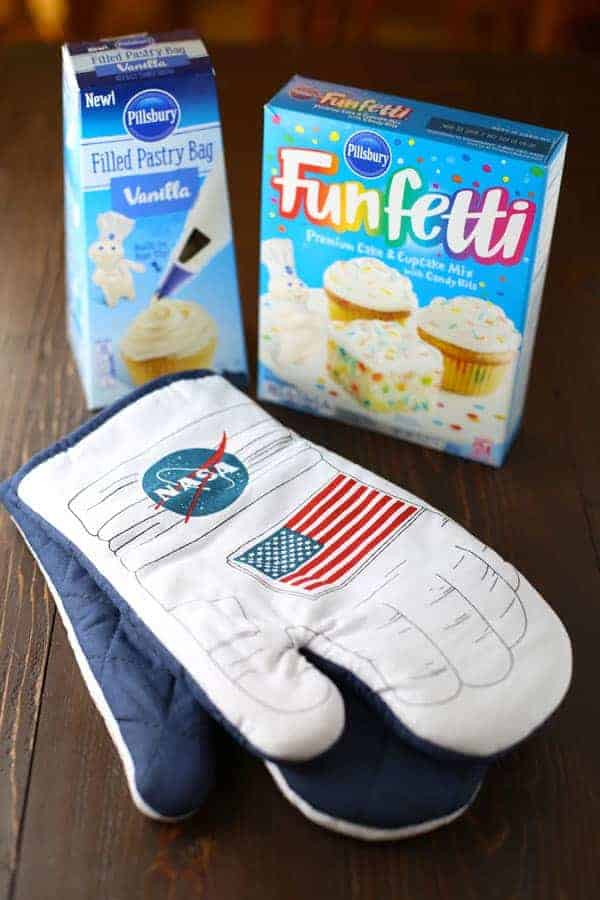 I'm thrilled to share that I've been chosen to be a Pillsbury Brand Ambassador. As you may or may not know, I was a two-time finalist in the Pillsbury Bake-off in 2013 and 2014. I'm obviously a big fan of their products and so happy to join forces with Pillsbury to help spread the word about Operation Celebration. I love that name. Isn't it cute?! And honestly, I think it's very appropriate because I taking celebrating very seriously! So what is Operation Celebration, you might ask? It's a way of inspiring families to get together in the kitchen and celebrate special days with sweet treats. That's right down my alley. I'm all in for Operation Celebration!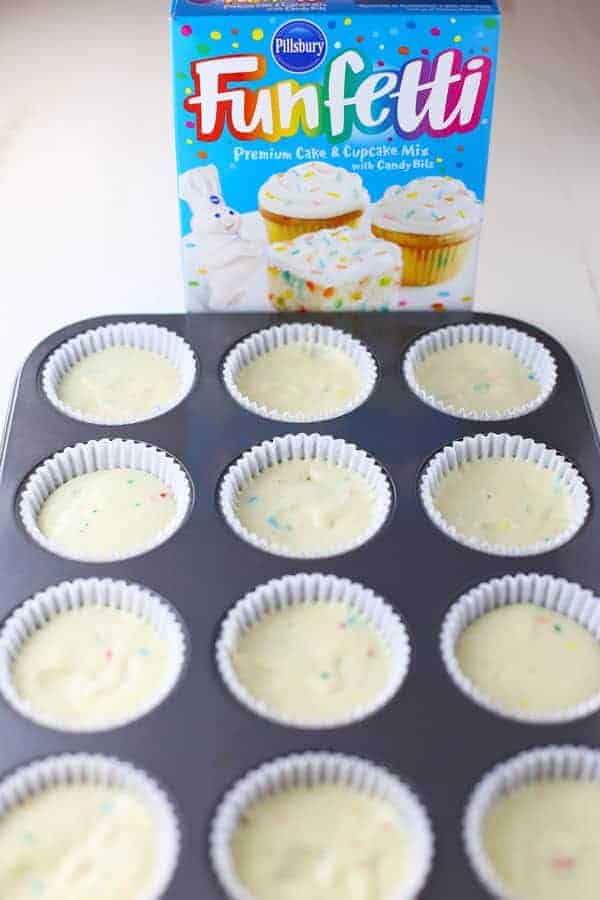 Making these Solar System Cupcakes is easy with a Pillsbury Funfetti® Premium Cake & Cupcake Mix. Simply mix up the batter according to the package instructions. Line two muffin pans with 24 cupcake liners and bake as directed. Let cool.

Pillsbury Funfetti® Premium Cake & Cupcake Mix
My son got a kick out of using these astronaut glove pot holders. He loves Funfetti® cupcakes as you can see from the photo above.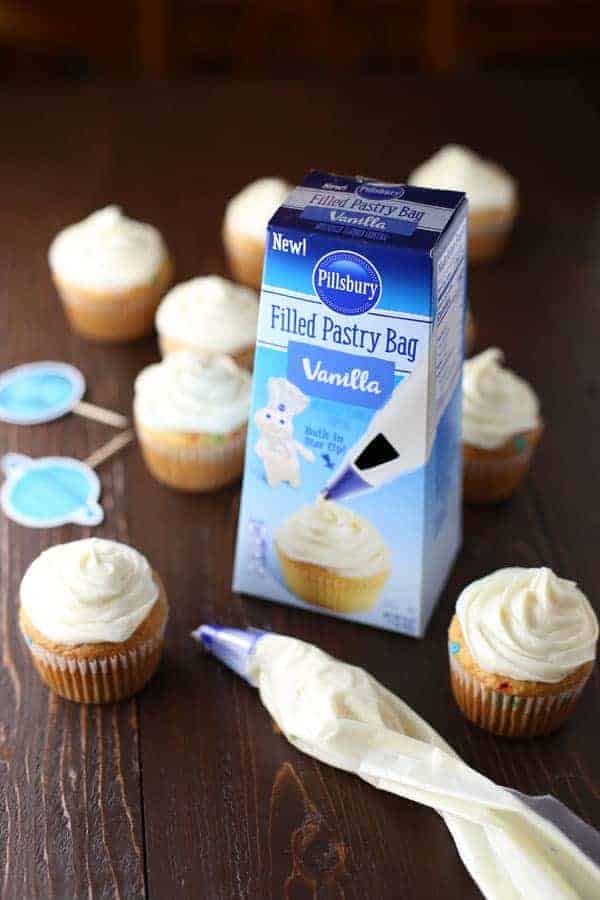 We used the NEW Pillsbury Filled Pastry Bag in Vanilla to decorate the cupcakes and it worked great! It's the first-ever pre-filled pastry bag which makings frosting an easy task for bakers of all skill levels.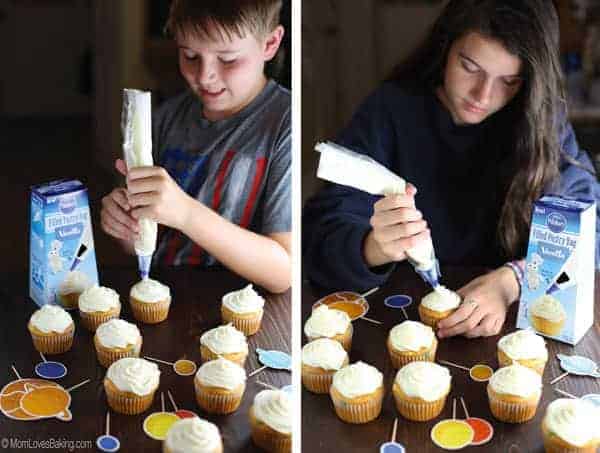 It was so convenient to have a pastry bag already filled with icing to pipe the frosting onto the cupcakes. The kids did a nice job of frosting the cupcakes. Then they added sprinkles.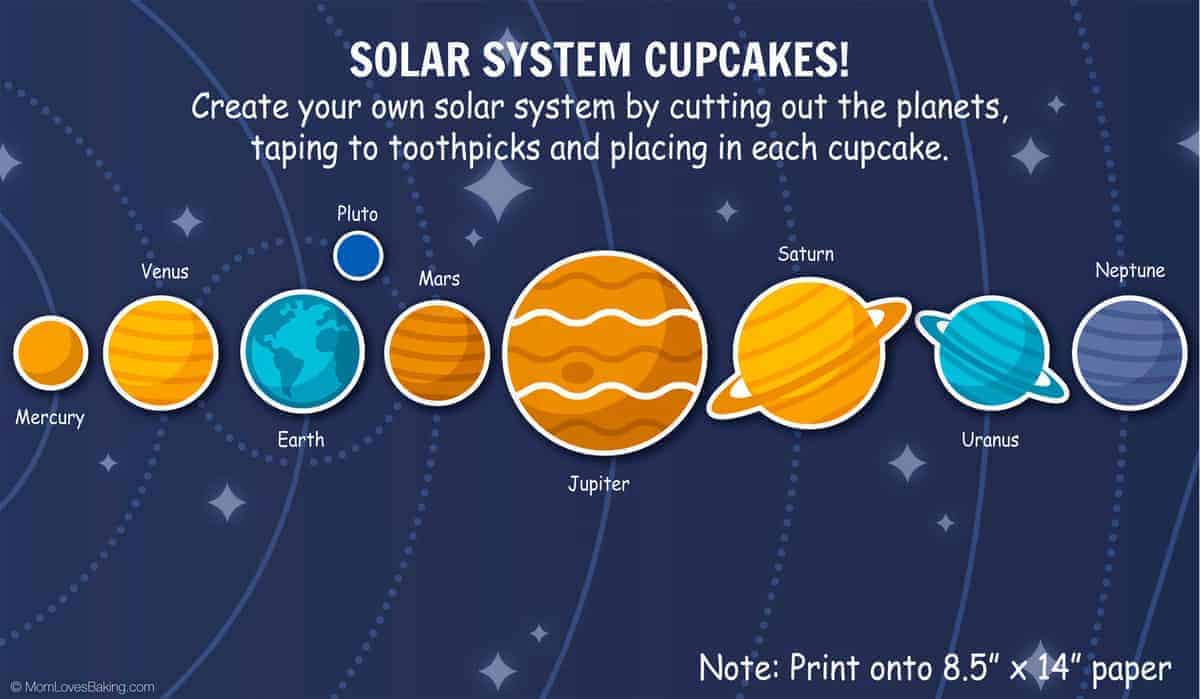 I created a this FREE printable so you can recreate these cupcakes at home. Simply print it and cut out the planets. Then tape a toothpick onto each planet. Click here to download FREE printable.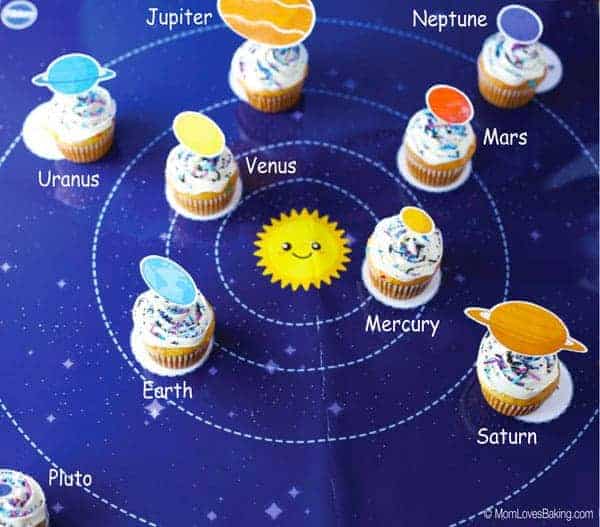 Add the planet picks to nine of the cupcakes. Then use this solar system as a guide to arrange your cupcakes on a table with your child. Learning about outer space has never been so fun! My kids really enjoyed this project. It was out of this world!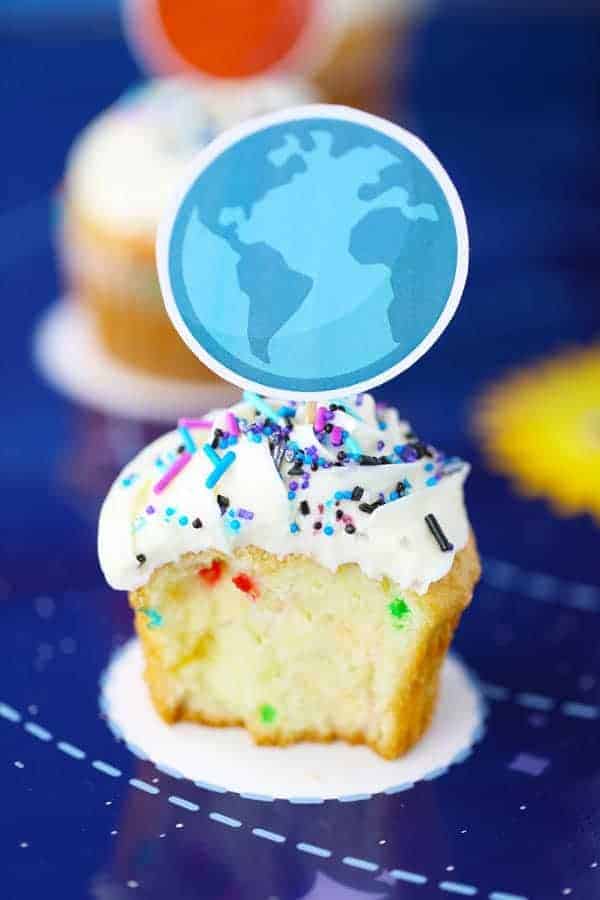 But the best part of all is definitely eating the planets. Ha ha. That sounds funny! Not the paper and toothpick of course.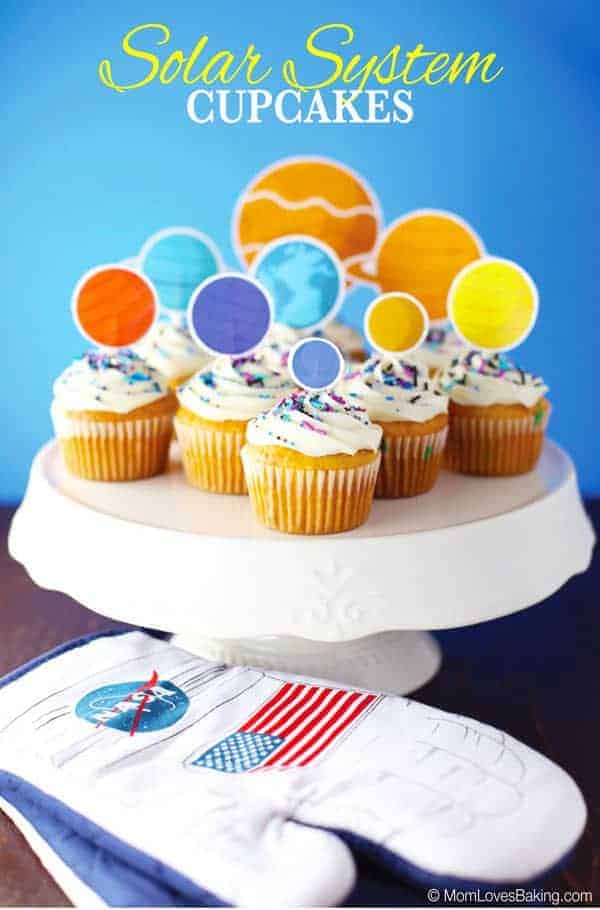 Solar System Cupcakes also look pretty served on a cake stand after you have done the solar system exercise. I hope you will try this nifty project with your family. Pillsbury and the Pillsbury Doughboy want to inspire YOU to join Operation Celebration. Click here to sign up for the Pillsbury Operation Celebration Newsletter to receive baking ideas.
Ingredients
1 Pillsbury Funfetti Cake Mix (prepared according to package instructions)
1 Pillsbury Pre-Filled Pastry Bag in Vanilla
Sprinkles
Toothpicks and tape
Printed planets
Instructions
Preheat oven to 350°F. Line two muffin pans with 24 cupcake liners. Set aside.
Prepare cake mix according to package instructions. Pour into prepared muffin pan and bake as directed. Let cool.
Pipe frosting onto cooled cupcakes. Add sprinkles.
Cut out paper planets and attach a toothpick with tape. Place a planet in each of 9 cupcakes. Display cupcakes on a table in the pattern of our solar system. Use the photo in this blog post as a guide.
https://www.momlovesbaking.com/solar-system-cupcakes/

Ad – This is a sponsored conversation written by me on behalf of Pillsbury. The opinions and text are all mine.
Comments submitted may be displayed on other websites owned by the sponsoring brand.