Wacky Chocolate Basketball Theme Cake
Wacky Chocolate Basketball Theme Cake is a chocolate cake that contains no eggs or milk.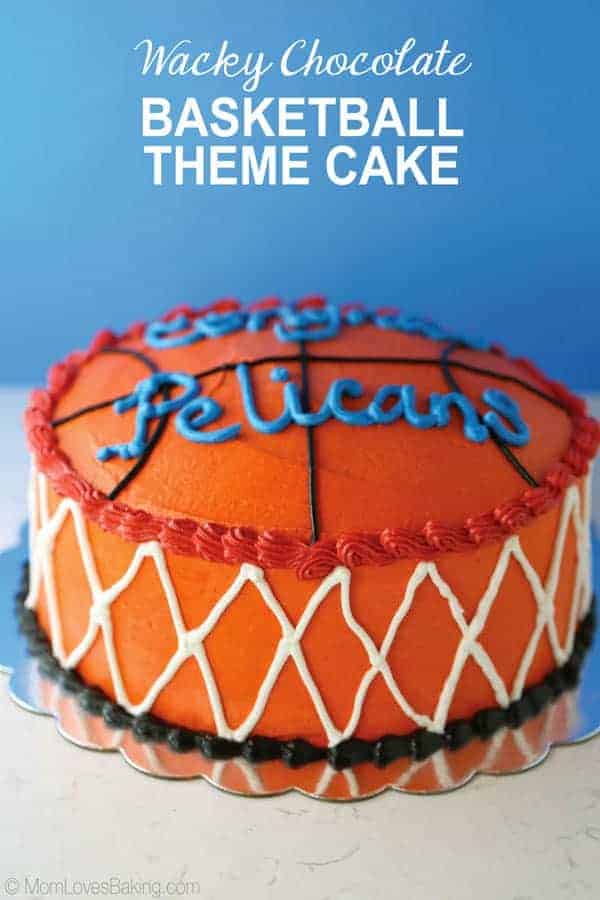 I made this cake a few weeks ago for my 12 year old son's basketball team. It was their last game of the season and it was a championship game, so I wanted to do something special to celebrate! The boys loved it!
Are you a basketball fan? If so, you probably know that it's the last week of March Madness! This cake would be perfect to make if you're having a March Madness party. Just add the name of your favorite team.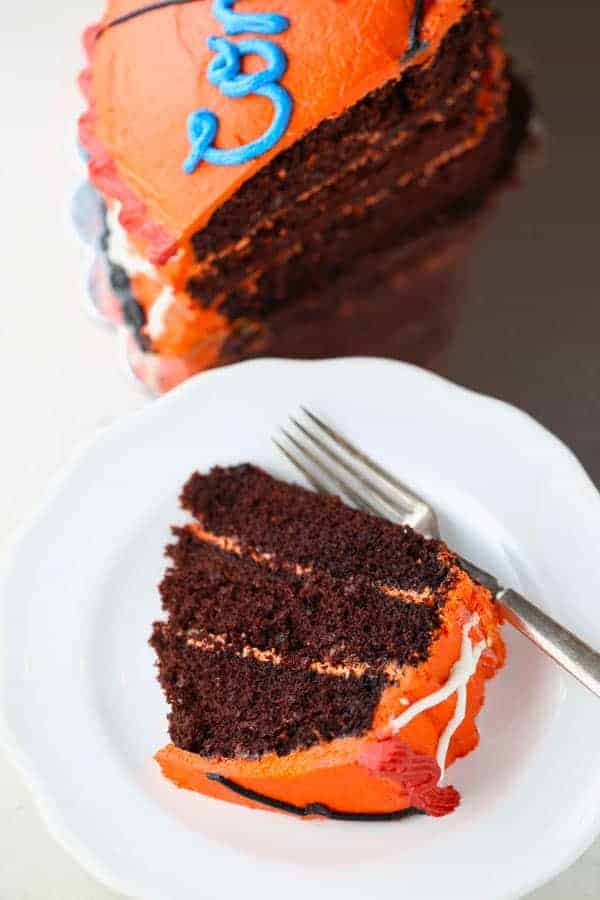 Have you ever heard of a "Wacky Cake"? It's wacky because it's made with absolutely no eggs, no milk and no butter! According to Wikipedia, it's also been called Depression Cake, Crazy Cake, Joe Cake and World War II Cake. During the Great Depression and again during World War II, certain ingredients were scarce or hard to come by including eggs, milk and butter. It's a great cake to make if you can't have dairy or if you're vegan. I made it because I think it's very tasty, plus I was out of eggs and it's also very simple to make!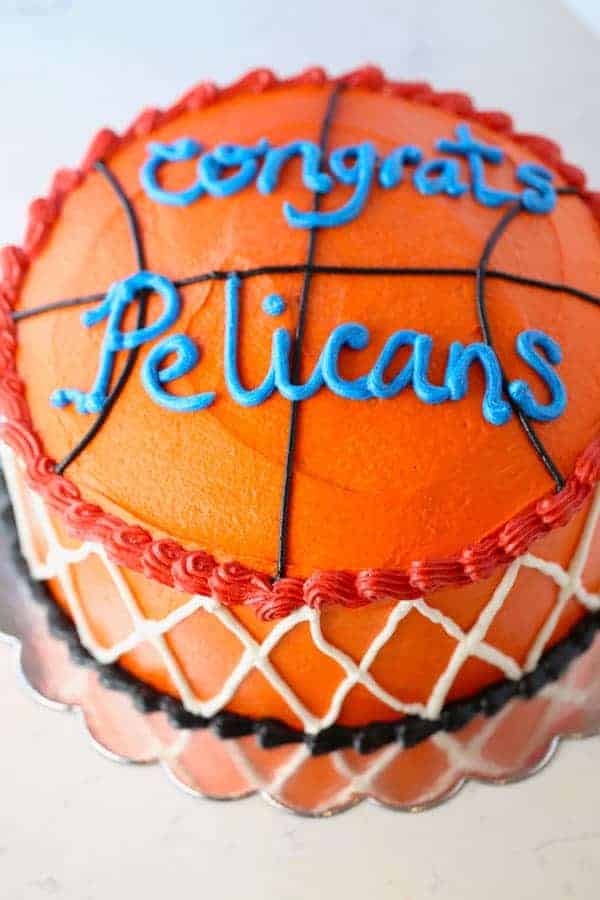 For the frosting and decorations, I did use buttercream. If you wanted to keep the entire cake dairy free, you could substitute vegetable shortening instead of butter to make the frosting. I've included this option in the recipe below.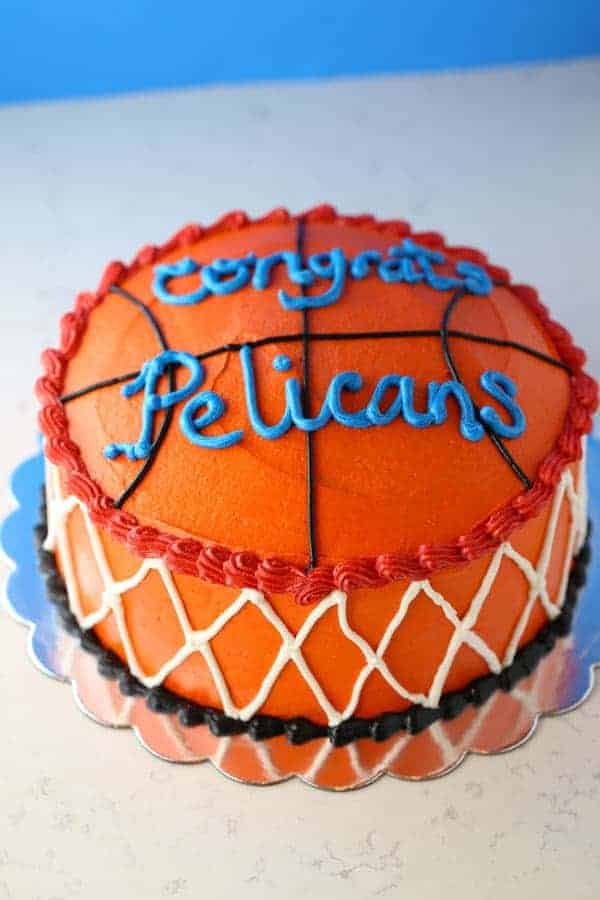 I was really happy with how the cake came out. I like how simple the design is yet it really looks like a basketball sinking down into the net.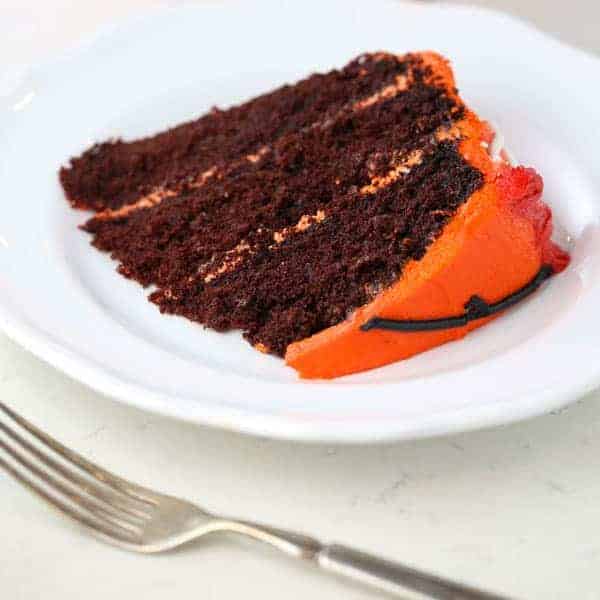 And it tasted so delicious too!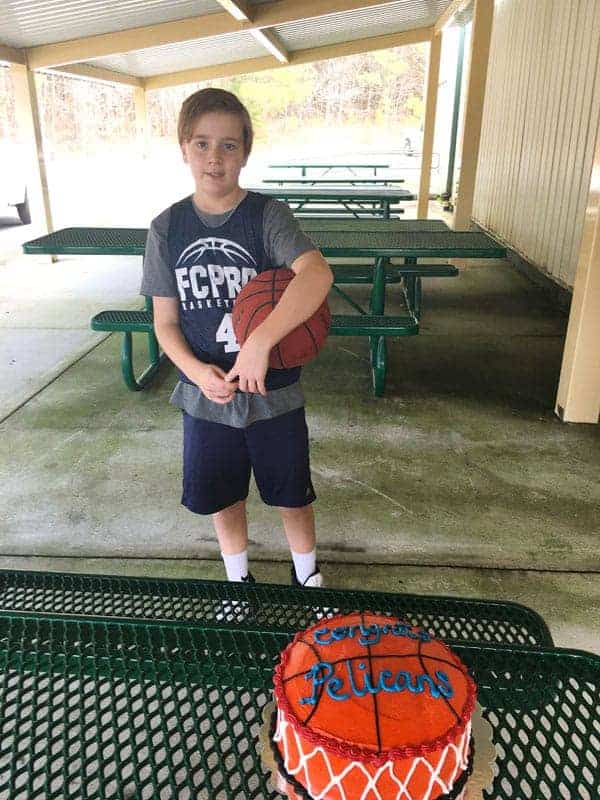 My son's team, The Pelicans, won the championship game which was very exciting! I'm so glad we had this fun cake to celebrate!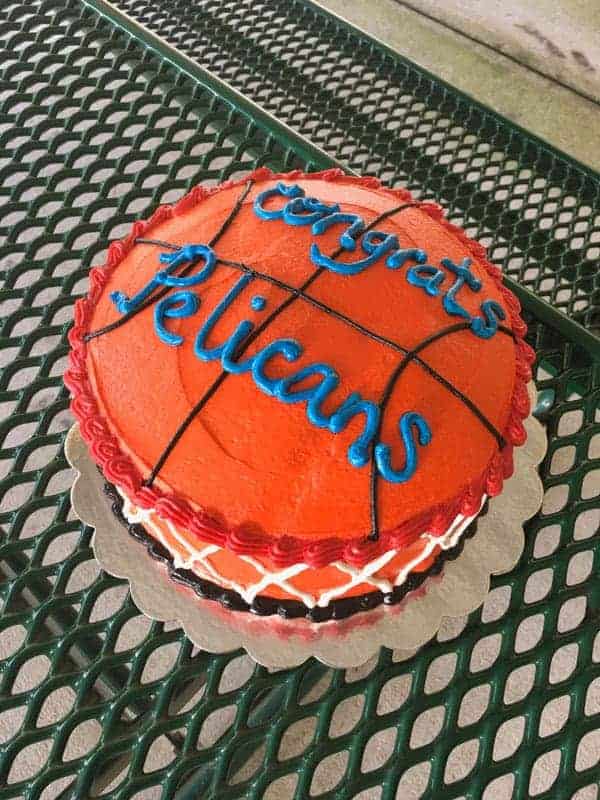 See the recipe below for instructions on decorating this Wacky Chocolate Basketball Theme Cake!
Happy March Madness week!
Wacky Chocolate Basketball Theme Cake
Ingredients
For the cake
4 1/2 cups (564g) unbleached all-purpose flour
2 1/4 cup (450g) granulated sugar
1 1/2 teaspoons salt
3 teaspoons baking soda
3/4 cup (90g) unsweetened cocoa powder
4 1/2 teaspoons vanilla extract
1 cup (240mL) canola oil
3 tablespoons (45mL) apple cider vinegar
3 cups (705mL) cold water or brewed coffee (cooled)
For the frosting
1 1/2 cups (3 sticks) unsalted butter, softened to room temperature*
6 cups powdered sugar (if you buy it in the plastic bag, you don't have to sift it)
1/4 cup, plus 2 tablespoons heavy cream**
1 1/2 teaspoons vanilla extract
Food coloring - orange, red, black, blue
*Use vegetable shortening instead of butter if you want it to be dairy free.
**Use almond milk instead of heavy cream if you want it to be dairy free.
Instructions
For the cake
Preheat oven to 350°F. Lightly oil 3 (9-inch round) cake pans and line with parchment paper.
Combine the flour, sugar, salt, baking soda, and cocoa powder in a bowl until thoroughly combined. Create a well in the center of the dry ingredients, and add the vanilla, oil, vinegar, and water. Mix until just combined. Pour into your prepared pans, and bake in the preheated oven for 30 minutes, or until a toothpick inserted into center comes out clean.
Cool on wire rack. To remove the cake from the pan, run a sharp knife around the inside of the pan to loosen cake. Cool completely before frosting.
For the frosting
Beat softened butter on medium speed with an electric or stand mixer. Beat for 3 minutes until smooth and creamy. Add powdered sugar, cream, and vanilla extract with the mixer running on low. Increase to high speed and beat for 3 minutes. Note: If the frosting is too thick, you can add a little more cream. Just add one tablespoon at a time, then mix thoroughly until you get the consistency you like.
For the decoration
Divide icing. Place 1 cup of frosting into a small bowl to leave white. Place 1/2 cup into a small bowl to color blue, 1/2 cup into another small bowl to color red and finally 1/2 cup into another small bowl to color black. Color remaining frosting orange. Fill and frost the cake with orange frosting by first putting a thin layer of frosting between the layers then frosting top and sides with a thin layer of orange frosting. Place cake in refrigerator for 2 hours or overnight to firm up. Then frosting cake with remaining orange frosting. Place the white frosting into a pastry bag fitted with a Wilton #5 round tip. Place the red frosting into a pastry bag fitted with a Wilton #16 star tip. Place the black frosting in a pastry bag fitted with a coupler, so you can use two different tips - first a Wilton #3 round tip, then a Wilton #16 star tip. Lastly, place the blue frosting into a pastry bag fitted with a Wilton #6 round tip.
To decorate, pipe a white diamond pattern on the sides of the cake to represent the net. Then pipe black lines on top with the #3 tip to look like a basketball. Pipe a black shell border around the base using the #16 tip. Pipe a red shell border around the top using a #16 tip. Pipe your message of choice on top using the blue frosting.
Serve immediately or store in refrigerator until read to serve. Store in refrigerator up to 3 days.
https://www.momlovesbaking.com/wacky-chocolate-basketball-theme-cake/

You might also like Baseball Cupcakes…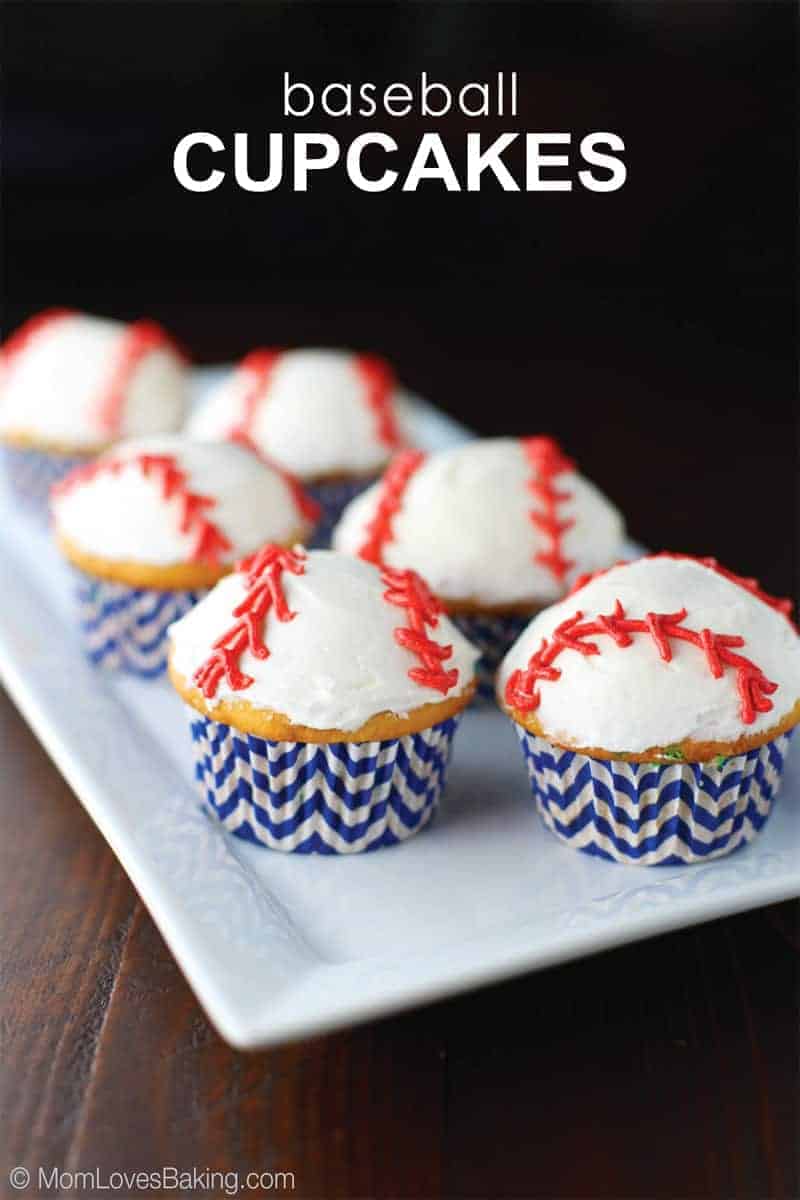 Or maybe you would like Football Cupcakes…