This adorable and delicious Cake Roll with Cherry Design is a vanilla sheet cake filled with whipped cream and fresh strawberries. It's the perfect sweet treat!
Looking for more cake roll recipes? You might also like this Classic Pumpkin Roll or my Yule Log Cake (Buche de Noel).
Why I love this cake recipe
It's so fun to create the cherry pattern in cake form, plus it's a delicious dessert.
Impress your guests with this beautiful cherry design.
The homemade sheet cake is light and airy.
Fresh whipped cream filling with chopped strawberries makes it even more delicious.
It tastes like a vanilla flavored Swiss cake roll.
What you need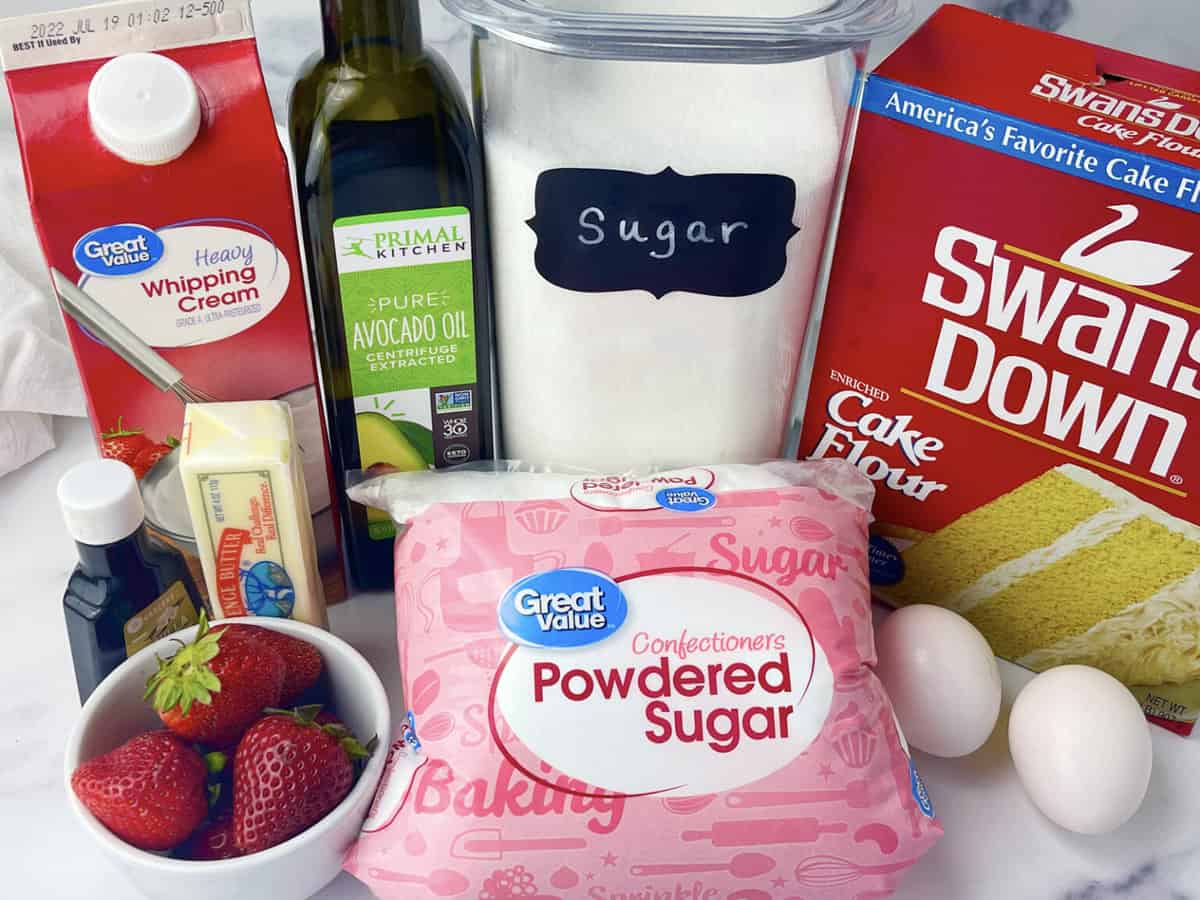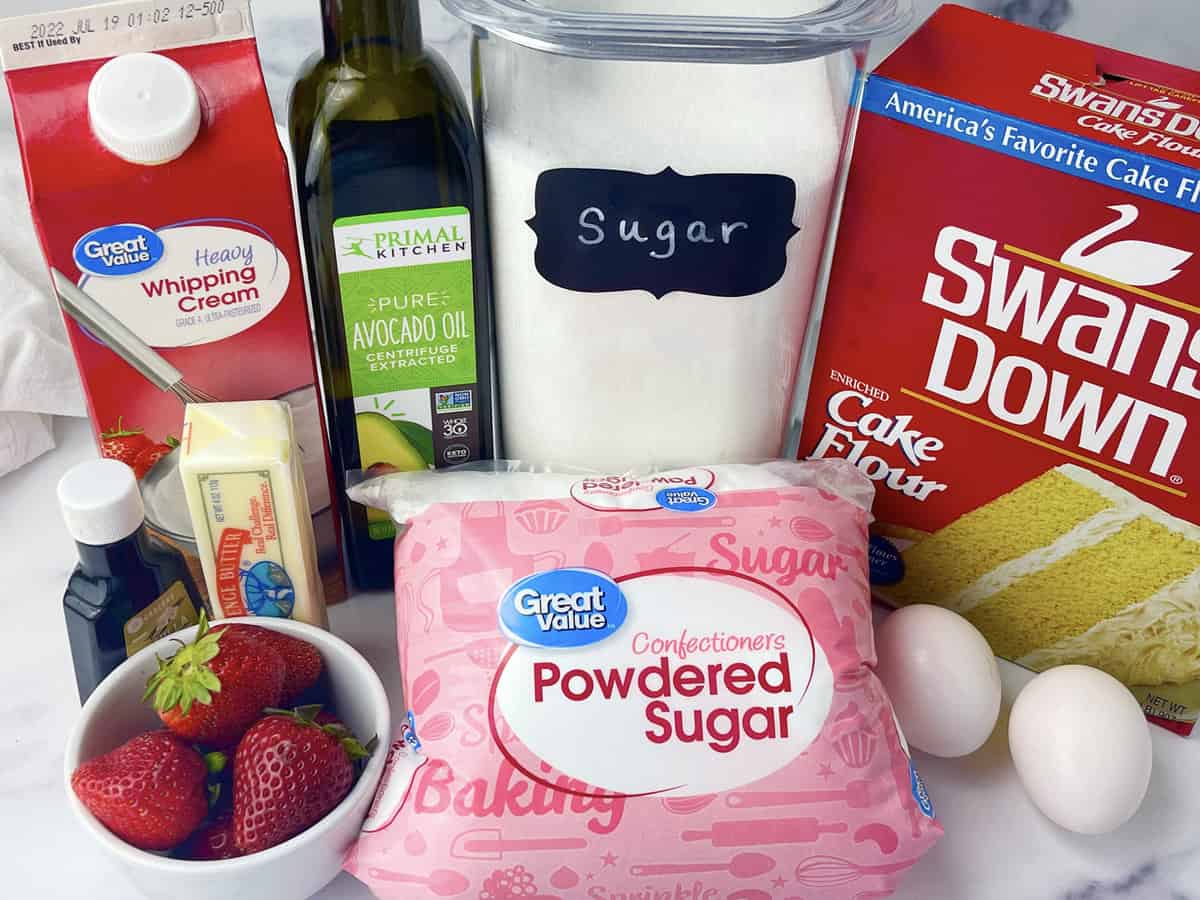 Ingredient notes
• Cake Flour - You need cake flour, not all purpose flour. I used Swans Down brand.
• Vegetable Oil - Use your favorite oil. I used Avocado oil because that's what I had and it's good for you.
• Eggs - Large eggs at room temperature work best. You will need a hand mixer or electric mixer for beating the egg whites to stiff peaks.
• Whipping Cream - Look for heavy whipping cream or regular whipping cream will work as well.
How to make this recipe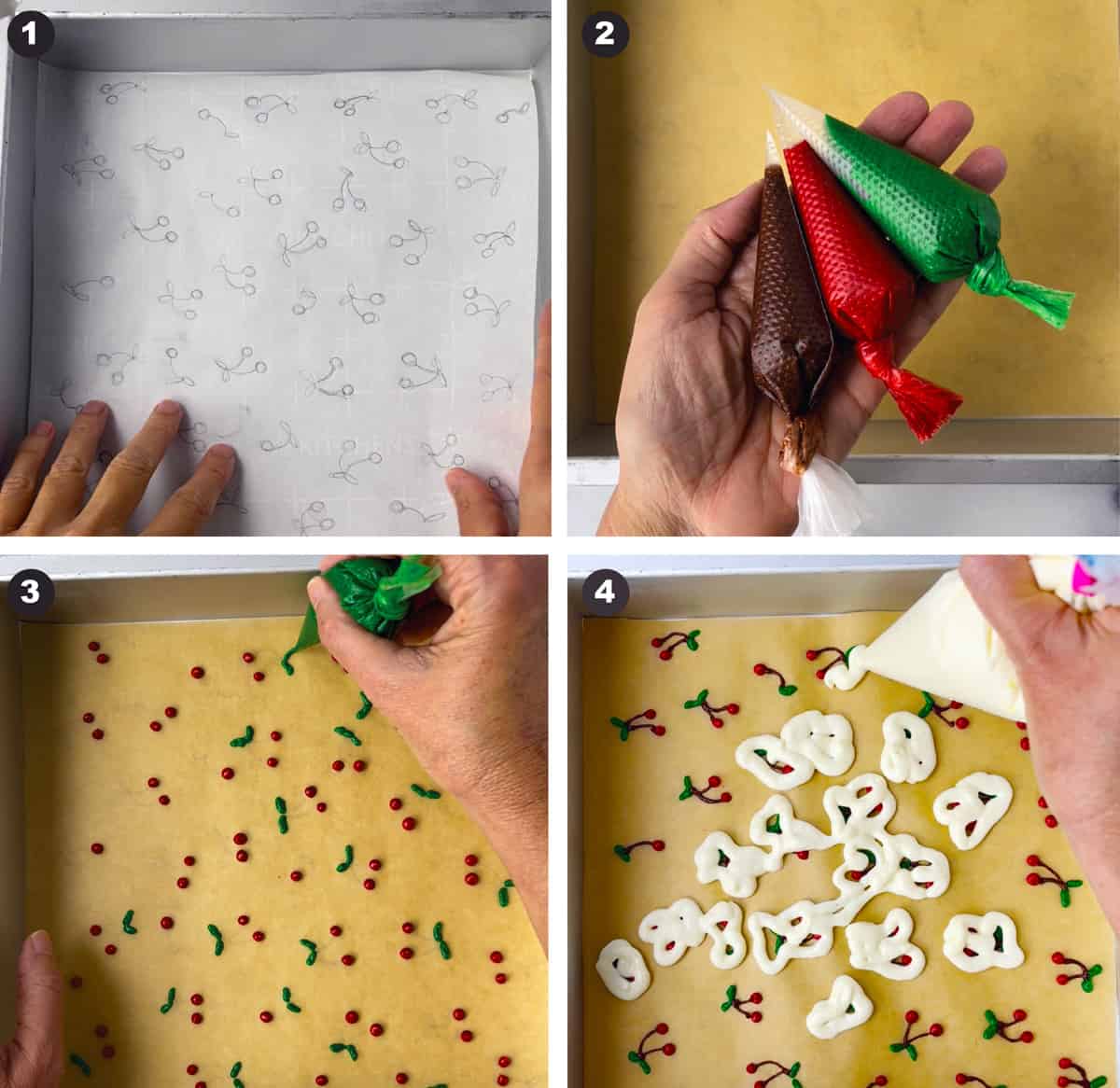 1. Create design by drawing small cherries with a ball point pen onto a piece of 10" x 10" piece of parchment paper, then place on bottom of a 10" x 10" cake pan. Place a clean sheet of parchment paper on top.
2. Make a small amount of cake batter specifically for the cherry design (recipe follows). Divide into 3 bowls, add food coloring to each (red, green, brown). Stir and pour into pastry bags. Secure bags with a rubber band or tie in a knot.
3. Cut a tiny corner off the red bag and pipe tiny cherries. Then cut a tiny corner of the green and pipe the green leave. Refrigerate for five minutes. Finally cut tiny corner of the brown bag and pipe the cherry stems.
4. In a large mixing bowl, mix up the cake roll batter, place about half into a large pastry bag. Cut a small corner and carefully pipe around the cherries.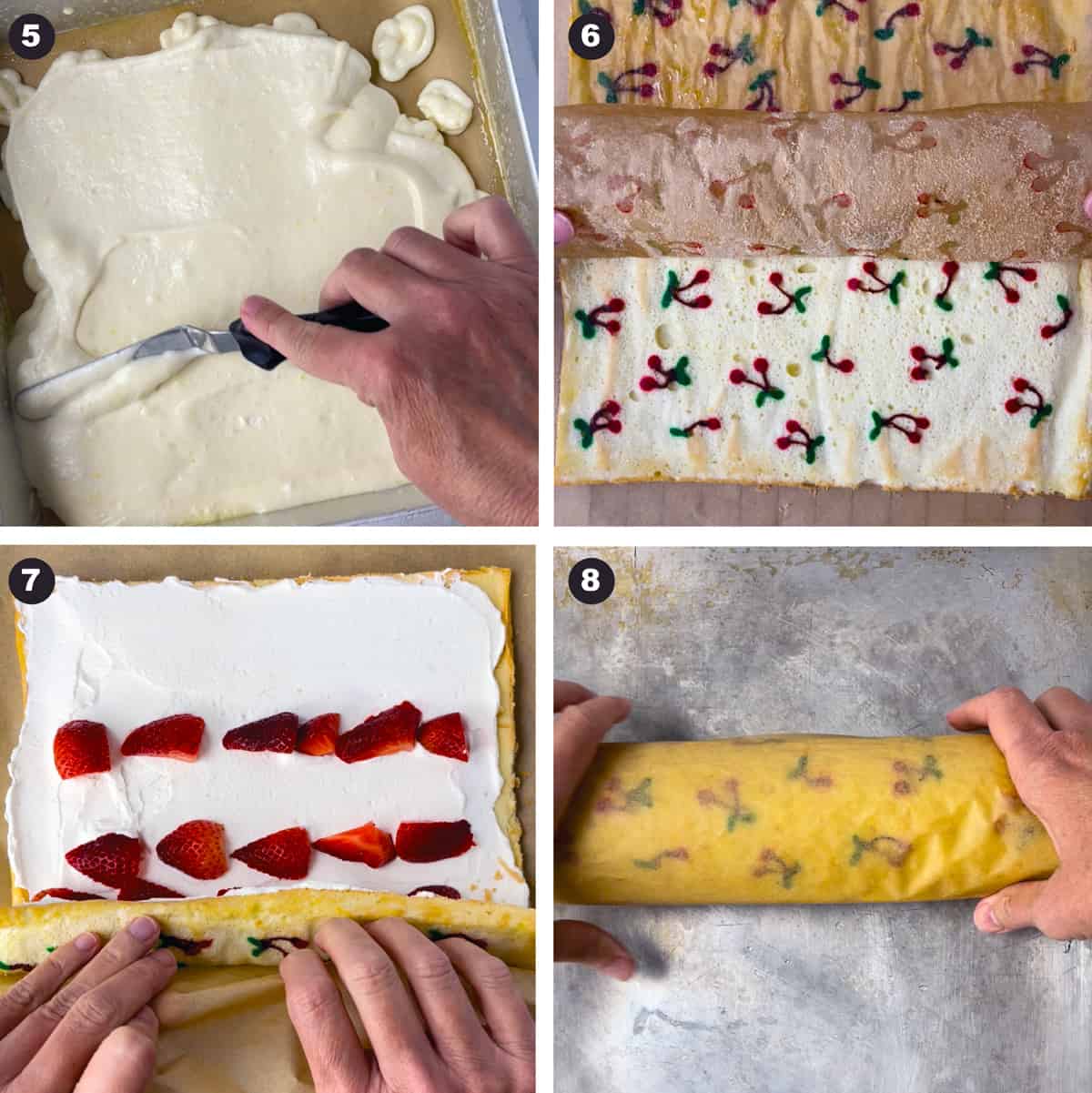 5. Pour the rest of the batter and carefully smooth with a offset spatula, making sure not to press to hard as you don't want to disturb the cherry pattern. Bake as directed.
6. Immediately invert warm cake onto parchment paper after removing from oven. Peel off the paper to reveal pattern.
7. Turn cake over and gently score with a knife ever 2 inches. In a large bowl beat whipping cream with hand mixer or electric mixer on high speed. Spread whipped cream to the edges of the cake, then place slice strawberries. Carefully roll up cake.
8. Wrap cake in parchment paper and refrigerate for an hour. Transfer to a serving plate. Slice and serve.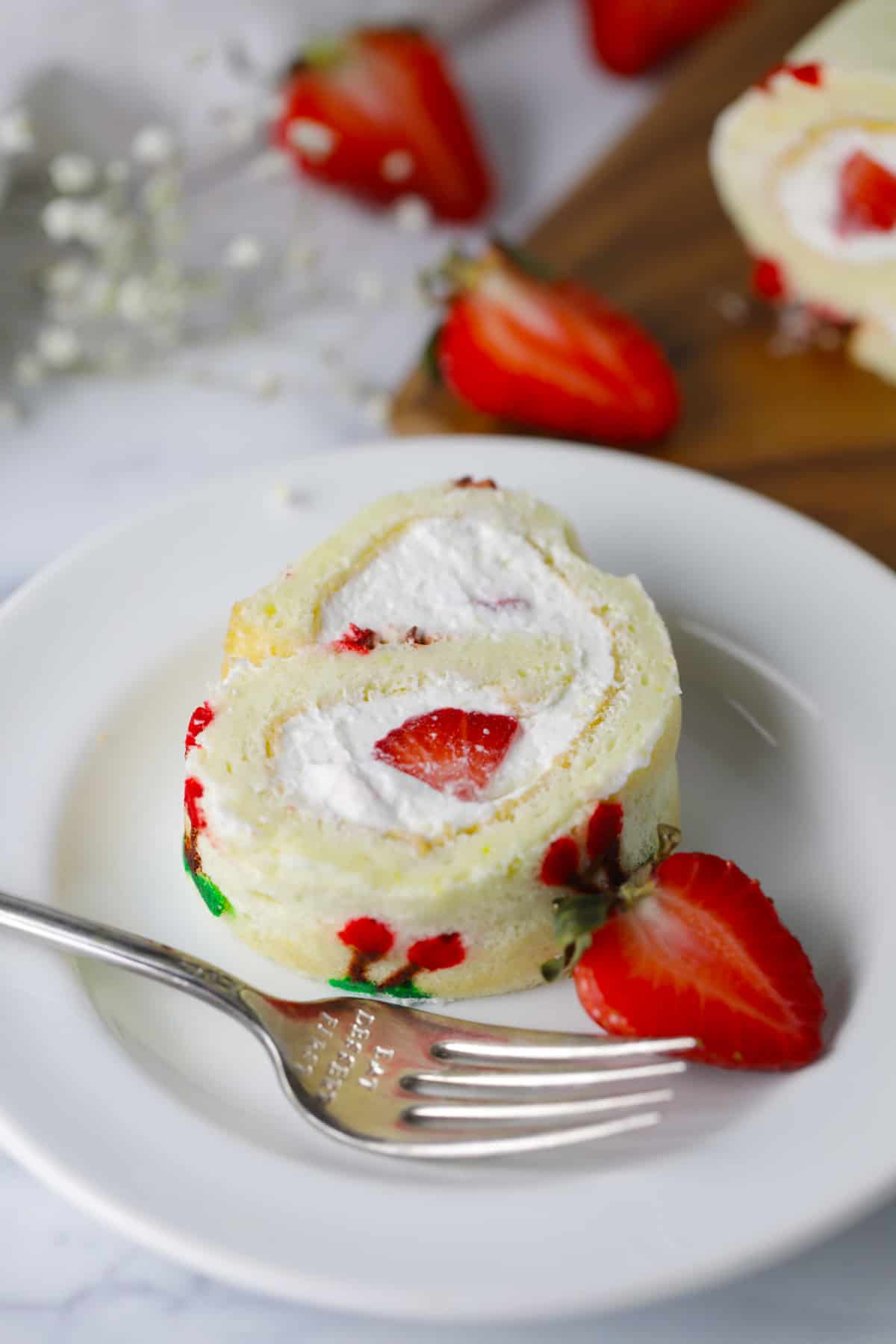 Frequently asked questions
Why didn't you use cherries for the filling? I actually couldn't find any when I was making this recipe, so I used strawberries. Feel free to use fresh cherries, pitted and chopped (if you wish).
Why don't you use a jelly roll pan? This recipe is for a smaller cake than the traditional cake roll, so it uses a smaller pan (10" x 10" cake pan).
How do I store my cake roll? Store in an airtight container in the refrigerator up to 3 days.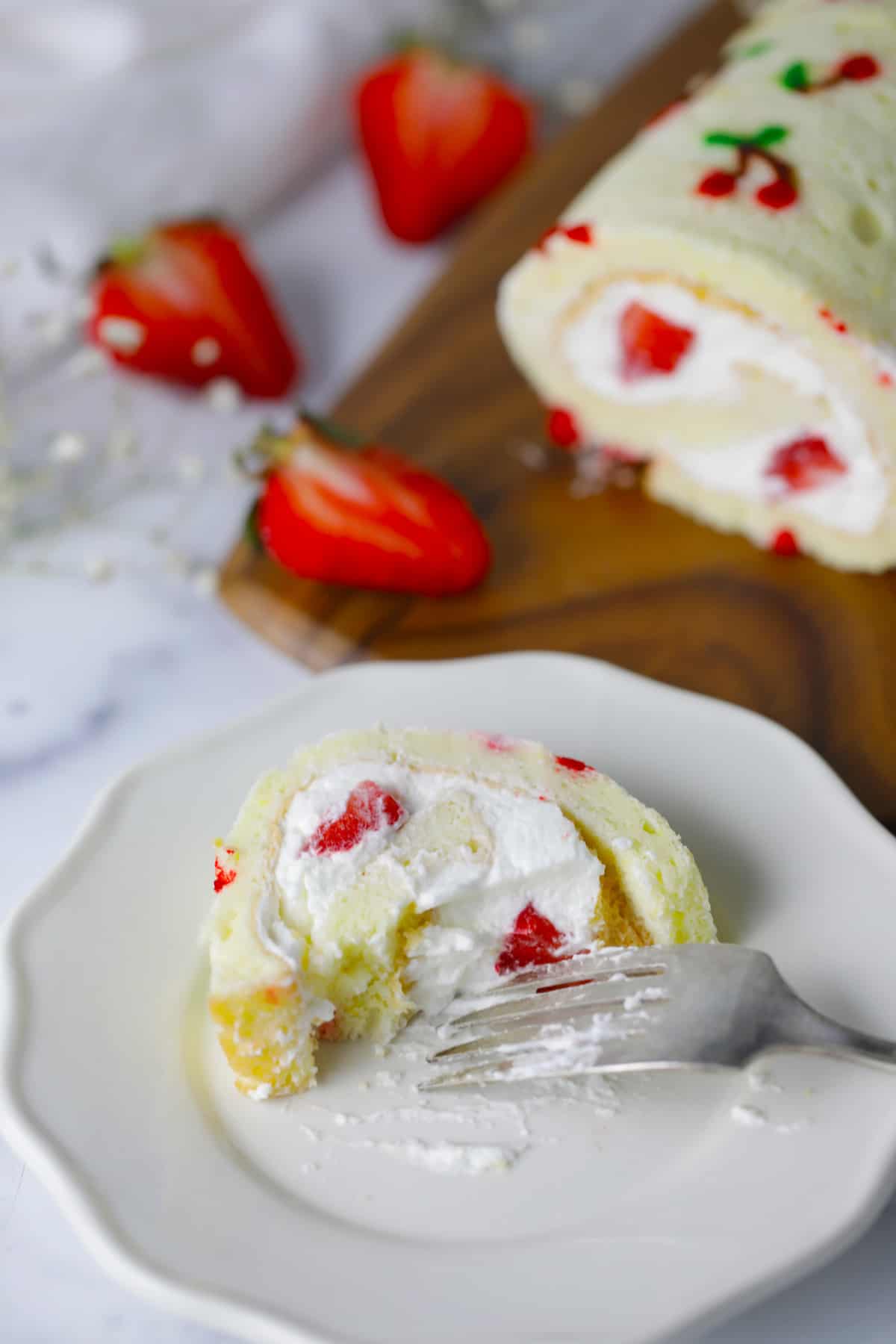 Expert Tips
Separating eggs - It's important to not get any yolk into your egg whites (because the fat can prevent the egg whites from fluffing up when you beat them), so make sure to separate the eggs one at a time. You can do this by using two small bowls and one large bowl. Separate the first egg, letting the egg white fall into the first small bowl. Carefully drain the egg white, while keeping the yolk in the egg. Then place the yolk in the second small bowl. Take the egg white in the small bowl and pour into large bowl. Repeat this process three more times (you need 3 egg whites and 2 yolks for the cake roll batter, plus 1 ½ tablespoons egg white for the cherry design cake batter).
Baking Tips - Do not overbake as it will make it harder to roll.
For Added Flavor - Try adding ½ teaspoon of almond extract to the cake batter.
Tips on Cutting your Cake Roll - Use a serrated bread knife for best results.
Related recipes
Love this recipe? If you try it, be sure to tag me on @Instagram! You can also find me on Pinterest, YouTube and Facebook.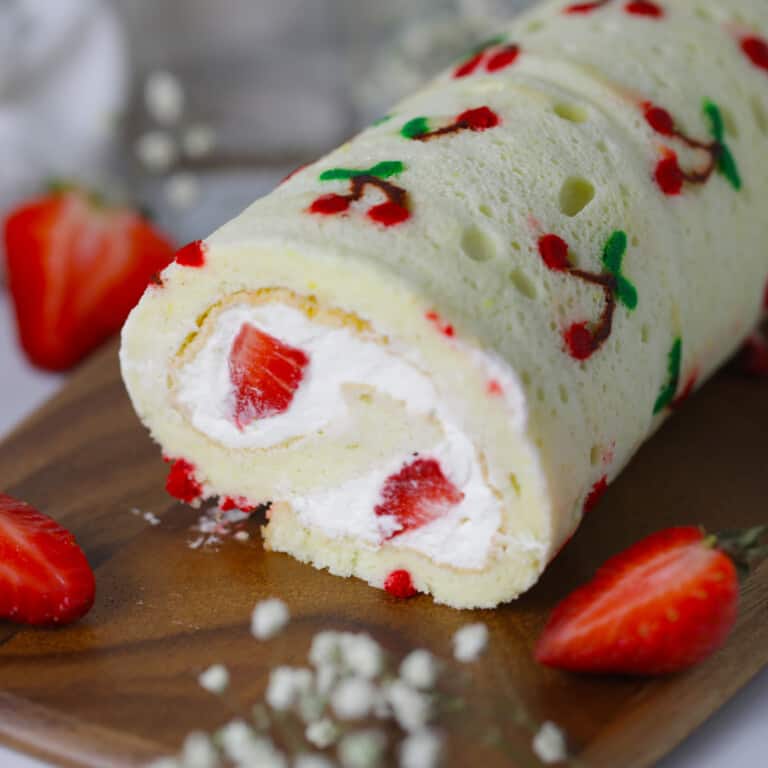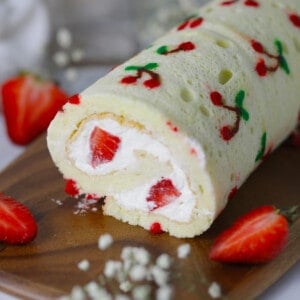 Cake Roll with Cherry Design
This adorable and delicious Cake Roll with Cherry Design is a vanilla sheet cake filled with whipped cream and fresh strawberries.
Print
Pin
Rate
Instructions
For the cherry design
Mix all cherry design ingredients until smooth. Divide batter into 3 small bowls. Color one red, one green and one brown. Place into 3 separate pastry bags. Line a 10" x 10" pan with parchment paper and grease with a small amount vegetable oil using a paper towel. Gently rub onto parchment. Snip off pastry bag points (make sure the brown one is a very tiny hole) and pipe tiny cherries and leaves onto parchment. Use a template underneath, if needed. Place in fridge for 5 minutes. Then pipe very thin lines for the brown stems. Put back in fridge while you make the cake batter.
For cake roll batter
With an electric mixer, beat the egg yolks and 2 T. sugar until pale yellow. Add water, oil and vanilla. Mix to combine. With mixer on low, gradually add the cake flour. In a separate bowl, beat the egg whites and remaining 2 T. sugar until stiff peaks. Fold into cake batter mixture. Pour into a pastry bag. Pipe batter carefully around the cherries. Tap pan gently to release bubbles. Bake at 350°F for 12 minutes.

Flip the pan immediately after baking onto a fresh sheet of parchment paper. Peel off the paper to reveal pattern. Flip over again and peel of paper. Add a fresh piece of parchment and let cool. Score the cake by very gently dragging knife across cake every 2 inches, not pressing down. Note, you will not actually cut the cake. This just makes it easier to roll.

Beat whipping cream with 2 tablespoons sugar. Spread onto cake. Add chopped strawberries. Gently roll cake. Refrigerate for an hour. Trim edges. Slice and serve.
Notes
Cherry template: Draw cherries on a 10" x 10" piece of paper. Then slip that piece of paper under the parchment paper before you pipe the cherries.
Nutrition
Calories:
157
kcal
|
Carbohydrates:
17
g
|
Protein:
3
g
|
Fat:
9
g
|
Saturated Fat:
5
g
|
Polyunsaturated Fat:
1
g
|
Monounsaturated Fat:
2
g
|
Trans Fat:
0.1
g
|
Cholesterol:
59
mg
|
Sodium:
40
mg
|
Potassium:
72
mg
|
Fiber:
1
g
|
Sugar:
11
g
|
Vitamin A:
337
IU
|
Vitamin C:
10
mg
|
Calcium:
20
mg
|
Iron:
0.3
mg