Easter Egg Cupcakes
This shop has been compensated by Collective Bias, Inc. and its advertiser. All opinions are mine alone. #EasterSweets #CollectiveBias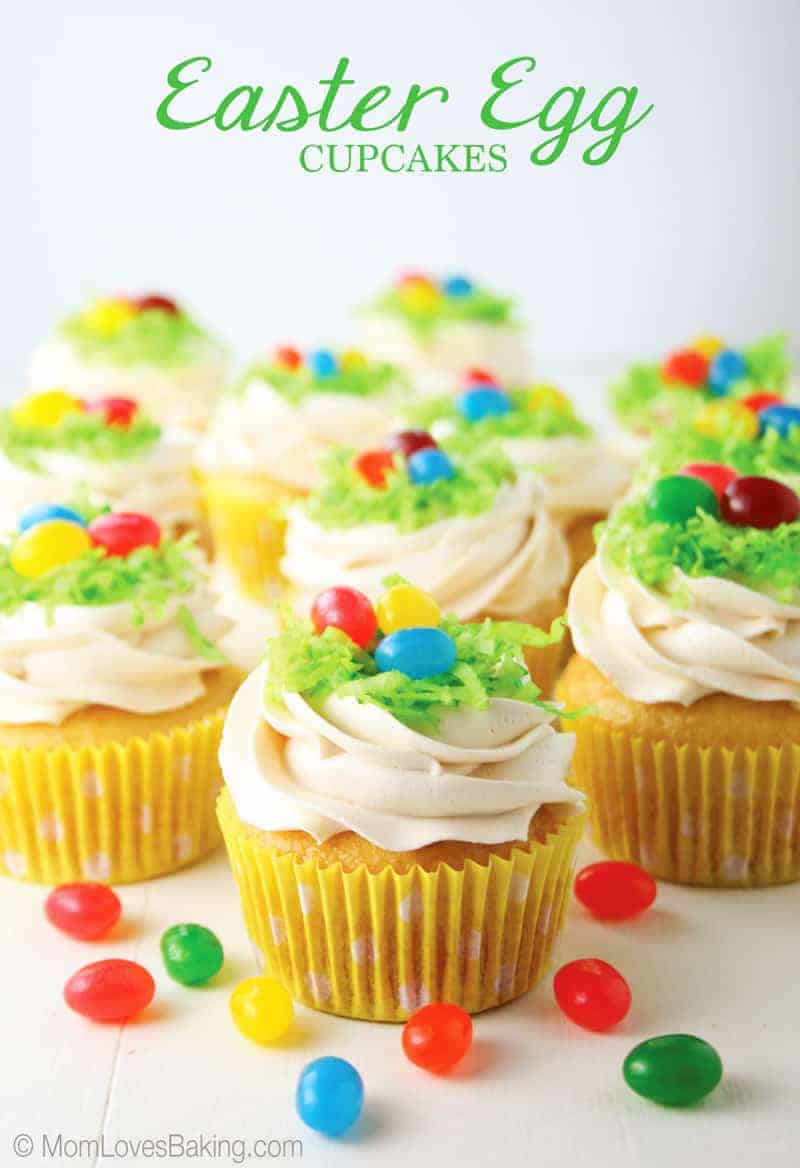 It's almost Easter, can you believe it! We went to an Easter egg hunt at our church yesterday. It's so sweet to see all the children running around collecting their colorful eggs. We had a great turn out, so there were a ton of kids. My son and daughter have passed the hunting age, so we helped my five year old goddaughter collect her eggs. We live in Georgia and luckily the weather was absolutely perfect. Blue skies and temperature in the low 70s!
These Easter Egg Cupcakes are a delicious and festive treat to add to your holiday table this Sunday. A moist lemon cupcake topped with Swiss-Meringue buttercream, green coconut and colorful jellybeans.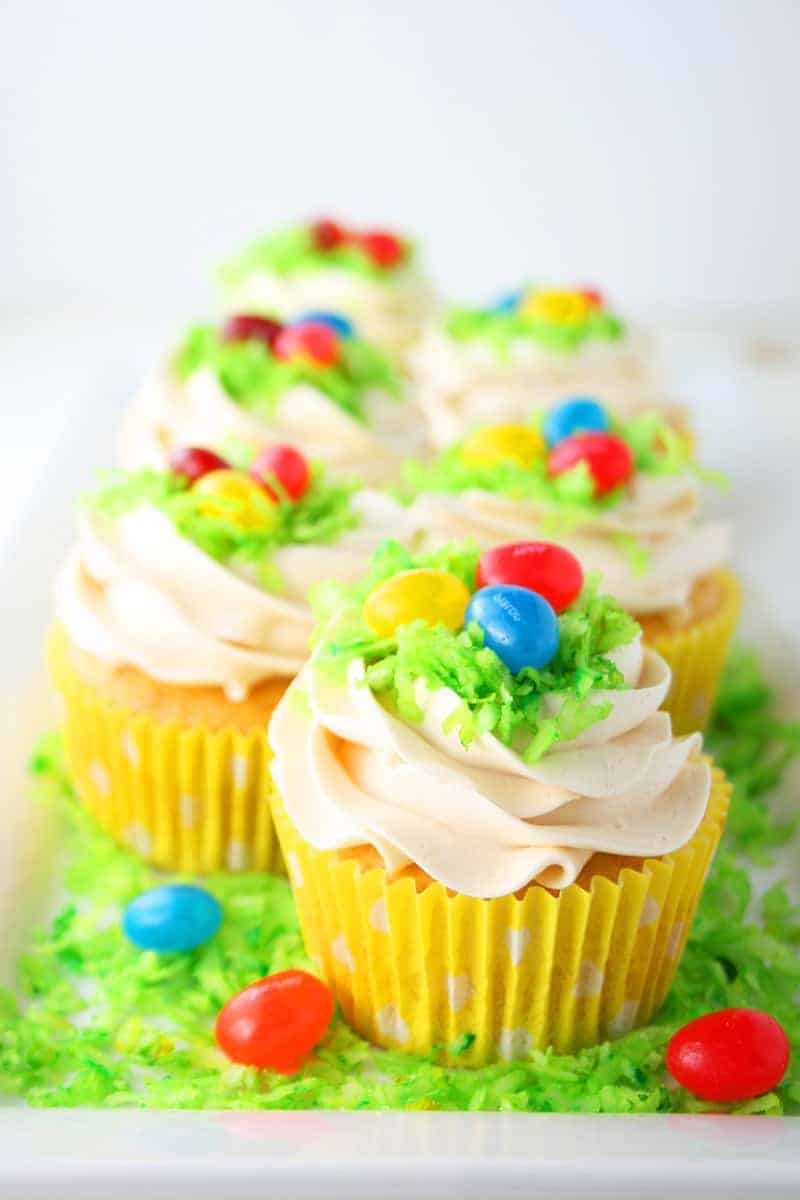 I used to make wedding and party cakes as a little home business years ago and these lemon cupcakes were very popular with my customers. The Swiss meringue buttercream was also everybody's favorite!
I've included the step-by-step photo instructions on how to make Easter Egg Cupcakes in this post which you'll see as you scroll down.
I used Starburst Sweet & Sour Jellybeans for my Easter Egg Cupcakes. They were easy to find in the Holiday Candy section at Target along with lots of other great candies to fill your Easter basket such as M&M's White Strawberry Shortcake, a DOVE Milk Chocolate Bunny or Easter DOVE Milk Chocolate.
Save 35% on DOVE Chocolate Peanut Butter Eggs & Easter M&M's Chocolate Candies, plus Save 20% on Starburst Jellybeans at Target now.
I headed down last Sunday for a special Easter Sampling Event at my local Super Target. I got everything I needed not only to whip up some sweet Easter Egg Cupcakes, but also #EasterSweets to fill our Easter baskets!
I selected a fun assortment of candy to fill my children's Easter baskets like a Starburst Carrot, Starburst Egg, Skittles Egg and Easter DOVE Milk Chocolate Peanut Butter as well as the M&M's White Strawberry Shortcake and Starburst Sweet & Sour Jellybeans.
M&M's White Strawberry Shortcake are only being sold for a limited time and exclusively at Target. I found this adorable little bunny at Target. Isn't it cute! Target has so many fun things your kids will love in their Easter basket including all kinds of awesome baskets.
I chose this pretty pink plastic basket from Target and filled it with Easter grass, plastic eggs and lots of yummy candy! I'm so happy with how it turned out!
Now for the step-by-step instructions…
I'm letting you in on a little secret which I never told my customers when I had a cake business. These cupcakes are made with a yellow cake mix, prepared according to package instructions. But you also add a secret ingredient which makes them so moist and lemony. The secret ingredient is… drumroll please…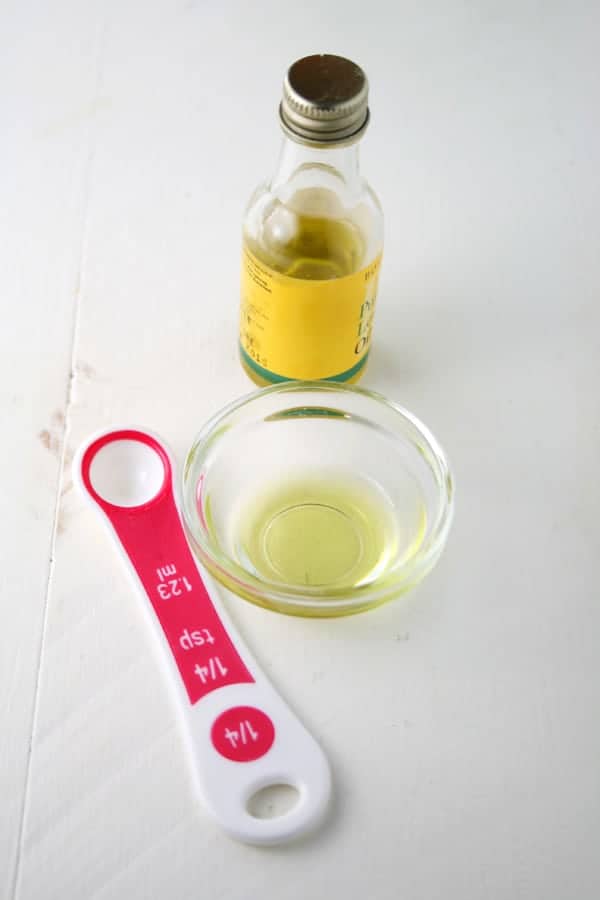 Lemon oil! The lemon oil is what makes these cupcakes extra special. It's available at most gourmet or health food grocery stores. You can also order it online.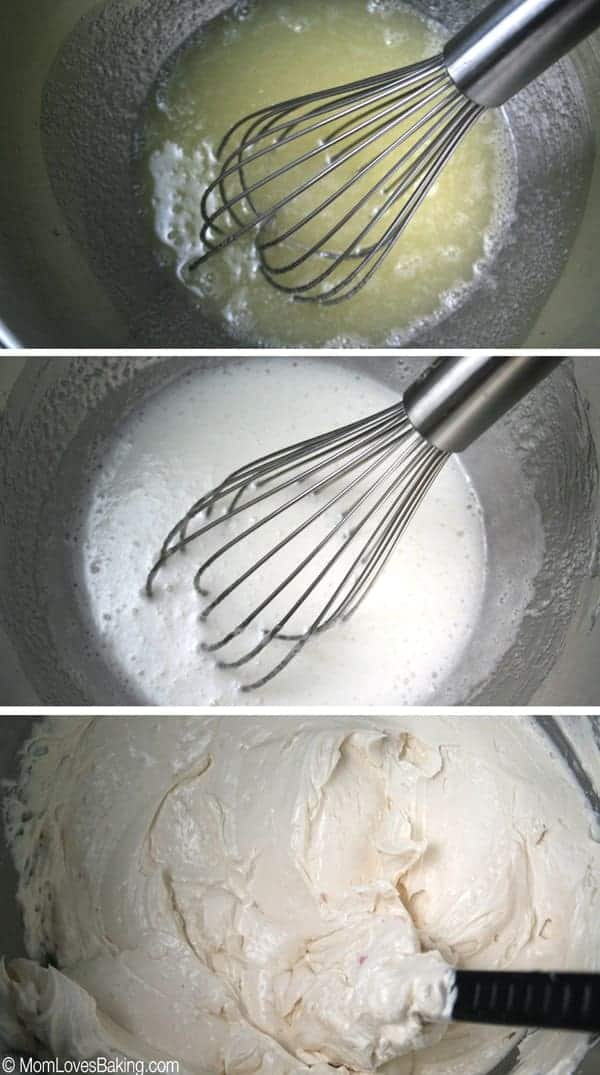 For the Swiss-Meringue Buttercream…
Making this buttercream is a little tricky but totally do-able! Let me break it down for you.
First you measure your egg whites and sugar into a stainless steel bowl. I use my mixer bowl. Place the bowl over a pot of simmering water and whisk by hand constantly for one and a half minutes. The first photo shows the egg whites before heating and the second photo shows the egg whites/sugar mixture after whisking over the heat.
Next, beat on medium high with an electric mixture for 10-20 minutes or until bowl is cool to the touch.
Turn the mixer on low and add you butter and vanilla. Beat for a few minutes or until smooth and creamy.
Color sweetened coconut with green food coloring. Then assemble your cupcakes. Pipe the Swiss-Meringue buttercream onto the cupcake using a 1M pastry tip.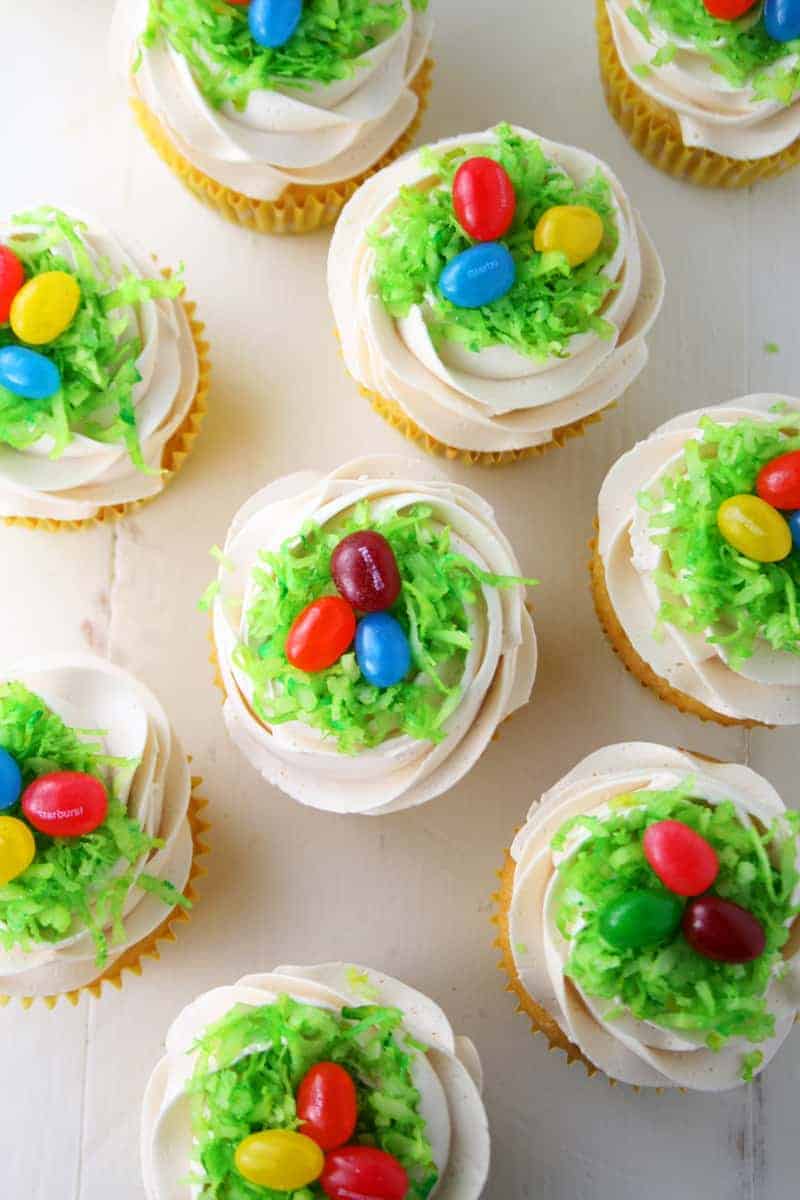 Add green coconut and Starburst Sweet & Sour Jellybeans on top.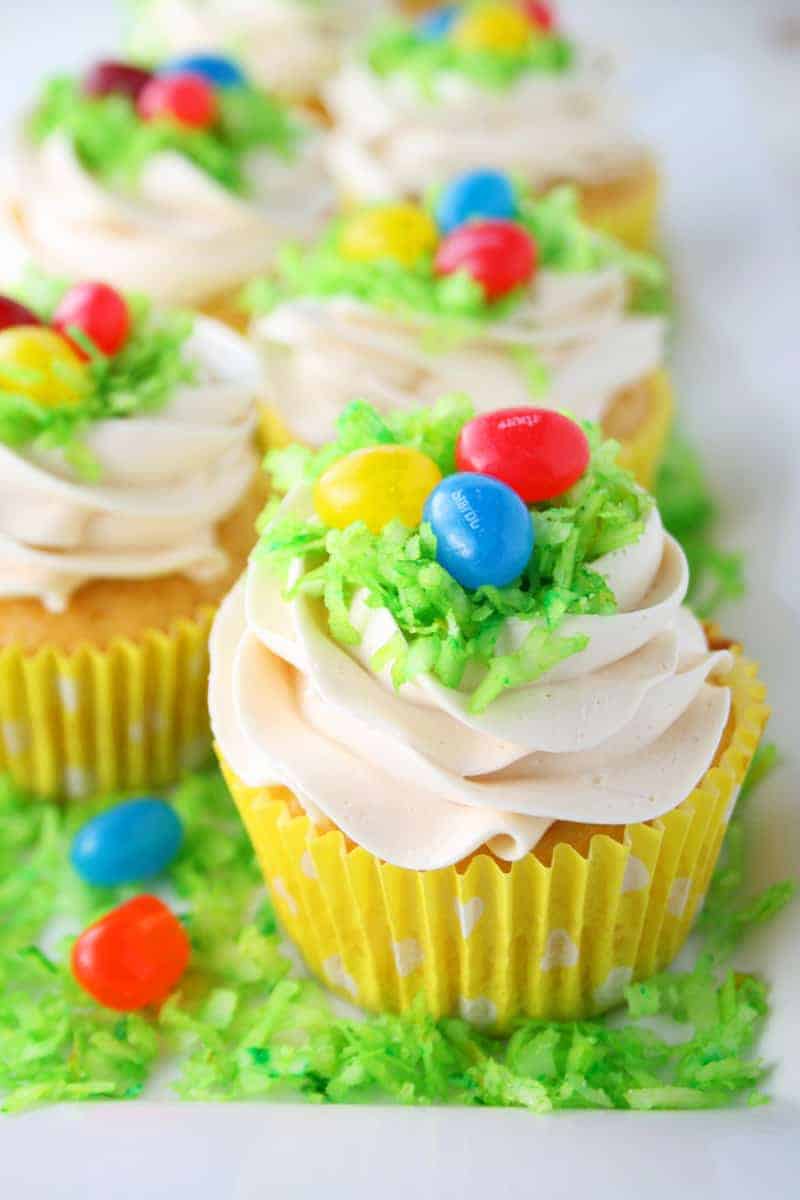 Serve for dessert at your Easter celebration. Enjoy!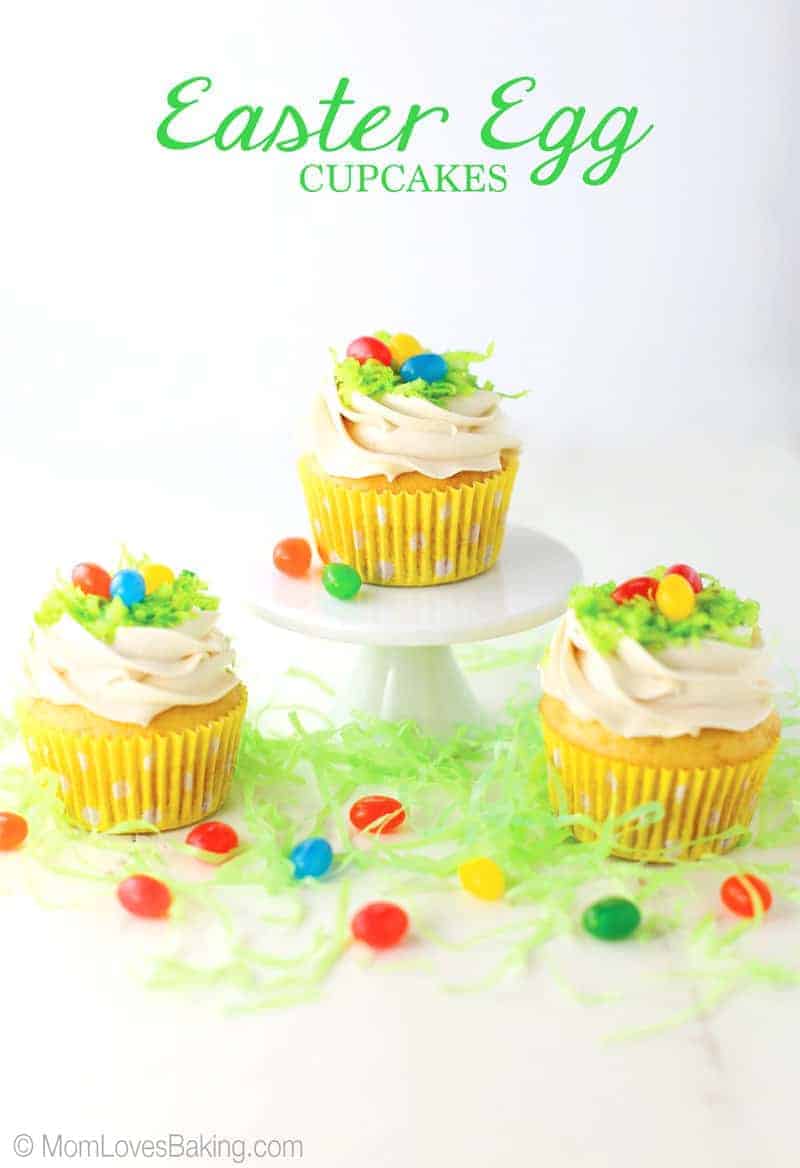 Find everything you need this Easter at Target.
Ingredients
For the cupcakes -
1 yellow cake mix, prepared according to package instructions
1 teaspoon lemon oil
For the Swiss-Meringue Buttercream -
1 1/4 cups granulated sugar
5 large egg whites
2 1/2 sticks of salted butter, softened
3 tablespoons vanilla extract (use clear vanilla flavoring if you want it pure white, otherwise it will be beige)
For the topping -
1 cup sweetened coconut flakes, colored with green food coloring
Starburst Sweet and Sour Jellybeans
Instructions
Preheat oven to 350°F. Line 20 muffin pan cups with cupcake liners. Set aside.
Prepare cake batter according to package. Stir in lemon oil. Spoon into prepared pans. Bake for 20-23 minutes or until a toothpick inserted into the middle of a cupcake comes out clean. Let cool completely.
Meanwhile prepare your frosting. In the bowl of a standing mixer, thoroughly whisk together sugar and egg whites.
Set the bowl over a pot of boiling water. Whisking constantly, heat the mixture for 1.5 minutes. Don't ever stop whisking or you will have scrambled eggs. Remove from heat.
Place bowl back in the mixer fitted with a whisk attachment. Beat on high speed until mixture forms a stiff meringue and the bowl comes to room temperature, 10-20 minutes.
Stop the mixer and replace the whisk attachment with the paddle attachment.
Set mixer to low and add the butter. When all of the butter is incorporated, turn the mixer to medium and beat until fluffy. Turn mixer down to low and add vanilla. Mix until smooth and creamy.
Serve immediately or store in an airtight container for 2 days at room temperature or 10 days in the refrigerator.
For the cupcakes, you will scoop buttercream into a large pastry bag fitted with a 1M pastry tip. Pipe buttercream onto cupcakes. Add green coconut and jellybeans. Serve immediately or store covered for up to 2 days at room temperature or in the refrigerator for 5-7 days.
https://www.momlovesbaking.com/easter-egg-cupcakes/