In this tutorial, I will show you step-by-step how to make a Striped Buttercream Cake and you don't even need a cake comb. This stunning vanilla cake with chocolate drizzles and gilded cherries is the perfect party cake. It's beautiful and delicious!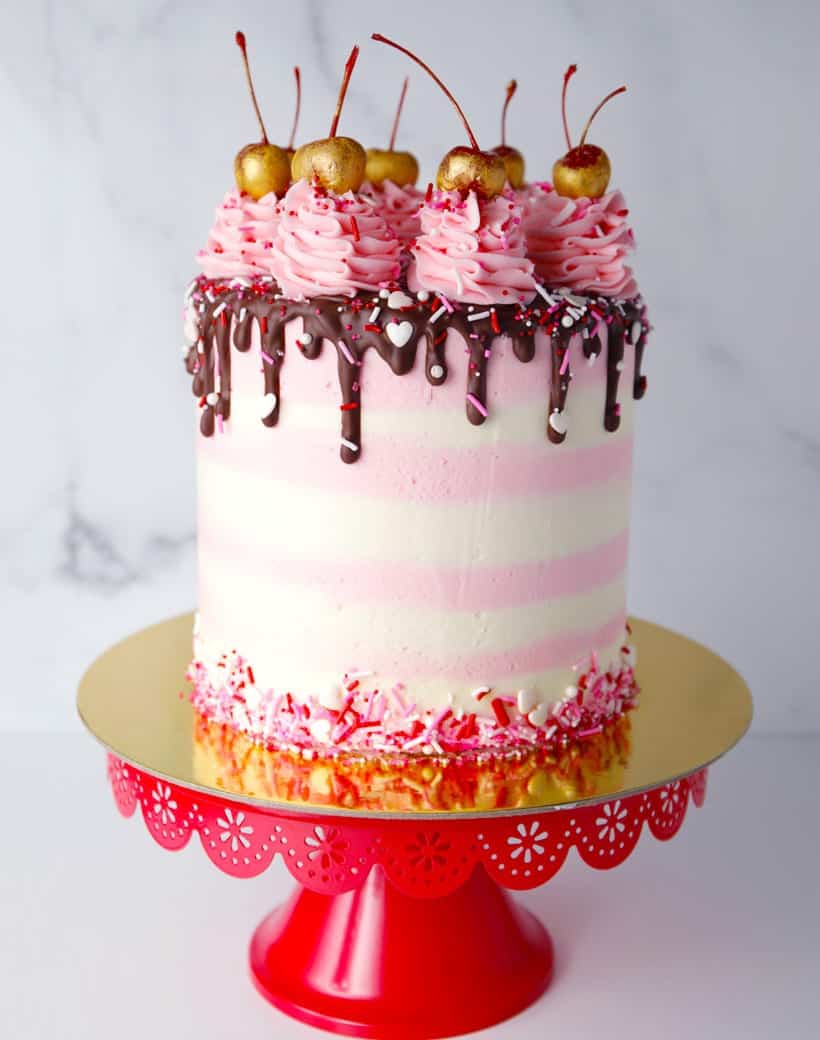 The best "Doctored Up" Cake Mix recipe
Whenever I make extra fancy cakes like this, I like to use a "doctored up" cake mix recipe because it's much easier for me than a made from scratch cake. The cake recipe I'm sharing today is actually the exact recipe that I used for my wedding cakes when I had a cake business years ago. My clients always loved it and they never knew it all started with a boxed cake mix. It was my little secret. My cupcakes (using the same recipe) were voted "Best Cupcakes in Palm Beach County, Florida!" So I promise this cake is tasty. If you prefer making it from scratch, try my Classic White Cake Made from Scratch.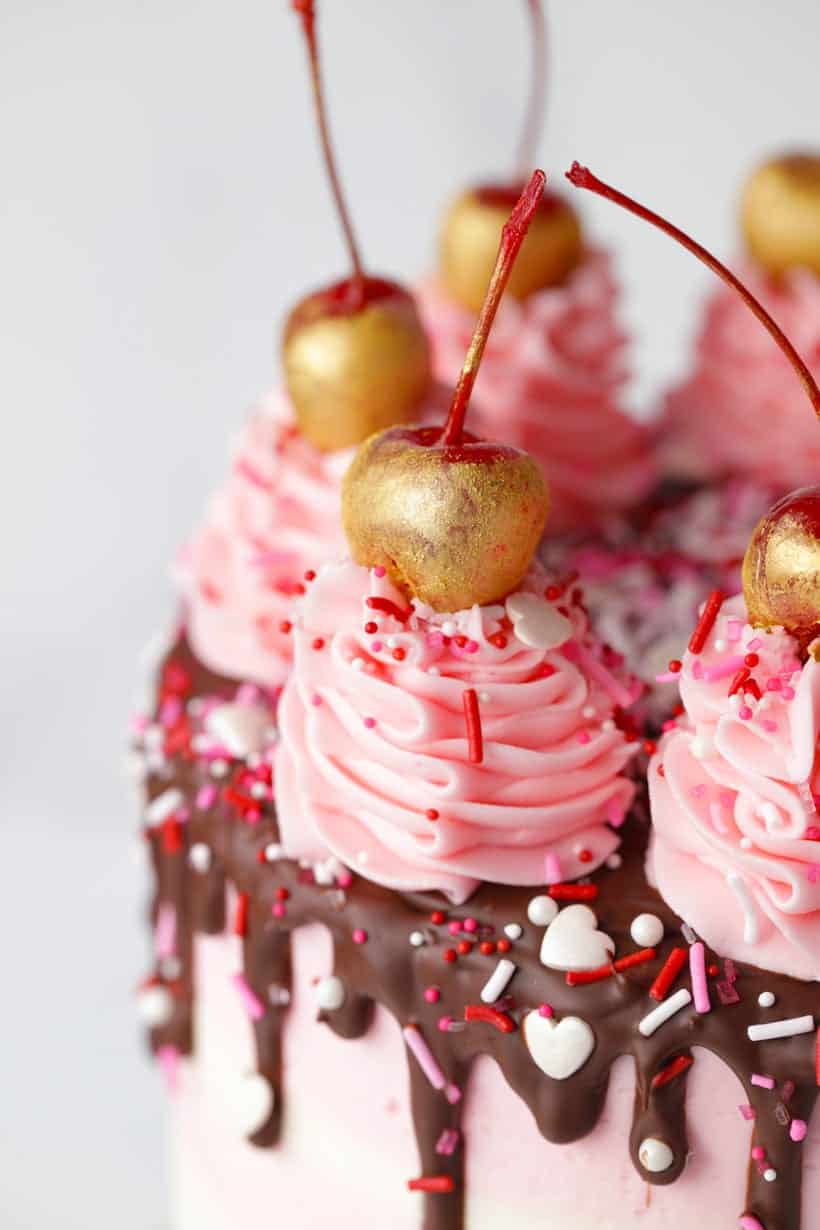 I made this cake for Valentine's Day but it would also be great as a birthday cake, anniversary cake, baby shower cake, graduation cake or any other celebration of your choice.
What You Will Need:

Step 1: frost & smooth the cake (CRumb coat)
Once the cake has been baked and cooled (recipe follows), then you will frost and smooth the cake with a thin layer of frosting on the outside (also called a crumb coat). Before frosting, place the first layer of cake onto a cake board, and then place the cake board on top of a revolving cake stand that has a non-stick drawer liner (cut into a circle to fit top of cake stand) on it to prevent slipping. To fill the cake, spread about ½ cup to ¾ cup of frosting to achieve a ¼" thickness of frosting. Place next layer of cake on top and repeat steps above. Top with remaining third layer. Frost cake with a thin layer of frosting. Scrape off extra frosting using a bench scraper, turning the revolving cake stand as you drag the bench scraper on the side of the cake. Smooth top with offset spatula, moving from outside edge in towards the center. Note: The bench scraper is shown in the photos below.
Step 2: Chill For 30-60 Minutes
Place your crumb coated cake in the refrigerator to chill for an hour (or at least 30 minutes if you're in a hurry).
Step 3: Pipe "Stripes" of Buttercream
Take the remaining buttercream and divide in half. Color one half light pink. Place pink frosting into a large pastry bag fitted with a coupler. (You actually don't need a pastry tip for this. The recommended Ateco brand couplers have a smooth round edge and a ½" opening that's perfect for this technique.) Close up the bag by twisting and securing a pastry bag tie. Place the remaining white buttercream in another large pastry bag fitted with an Ateco coupler. Holding the bag parallel to the cake and starting at the bottom edge, Pipe a continuous line of pink frosting as you turn the revolving cake stand. Stop piping when you have gone all the way around the cake. Create a white stripe of buttercream just above the pink in the same fashion. Repeat process until you reach the top of the cake.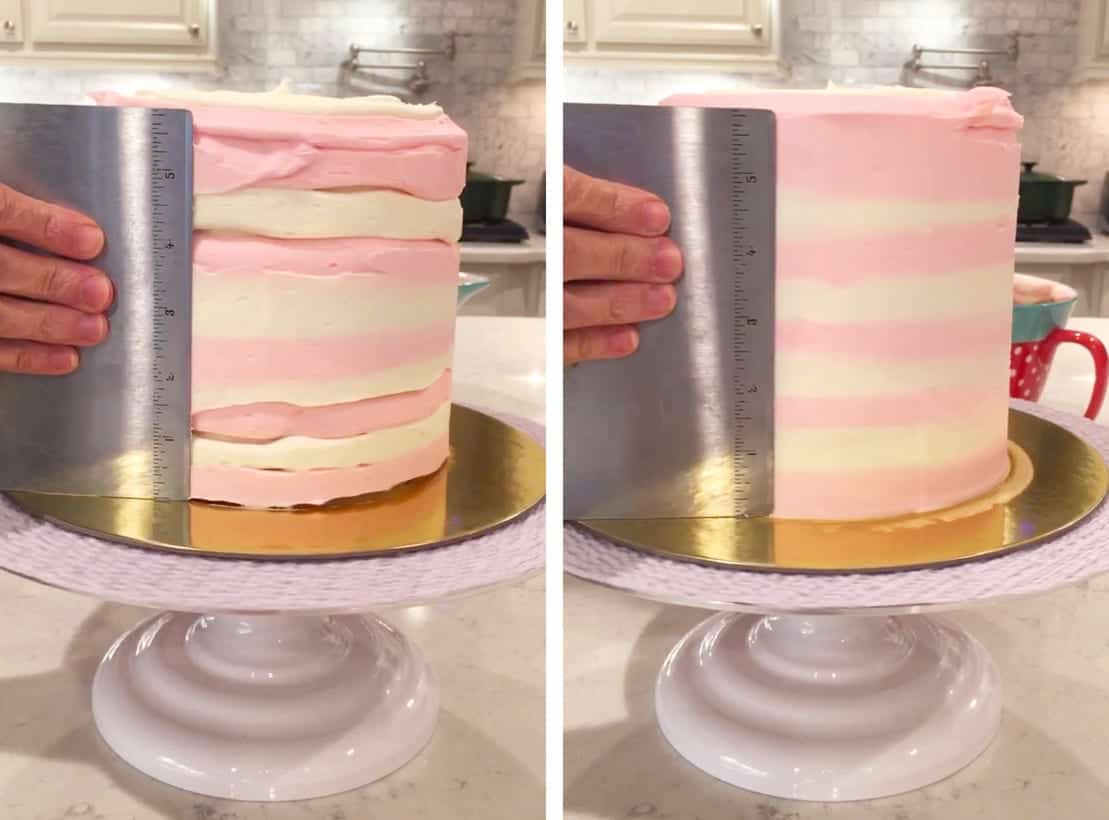 Step 4: Smooth the Stripes
Using a bench scraper, smooth the side edges of the buttercream stripes by turning the revolving cake stand with one hand as you drag the bench scraper with the other hand. You might need to fill in some gaps with extra buttercream, then smooth again. Keep smoothing until you are happy with the stripes. Carefully add sprinkles to base of cake, if desired.
Step 5: Decorate the Cake/Add Finishing Touches
Let the cake chill for another 30 minutes. Then you will do the chocolate drizzles, recipe follows. Place the chocolate drizzle mixture into a large pastry bag (without a tip or coupler), then twist and secure with a pastry bag tie so the chocolate doesn't fall out the bag end. Cut off the tiny corner (about an ⅛" inch) and carefully drizzle the chocolate down the top edge of the chilled cake. Add sprinkles. Let the chocolate set for about 20 minutes.
Fill another pastry bag fitted with a 1M tip with the remaining pink buttercream. Pipe dollops of buttercream on top of chocolate.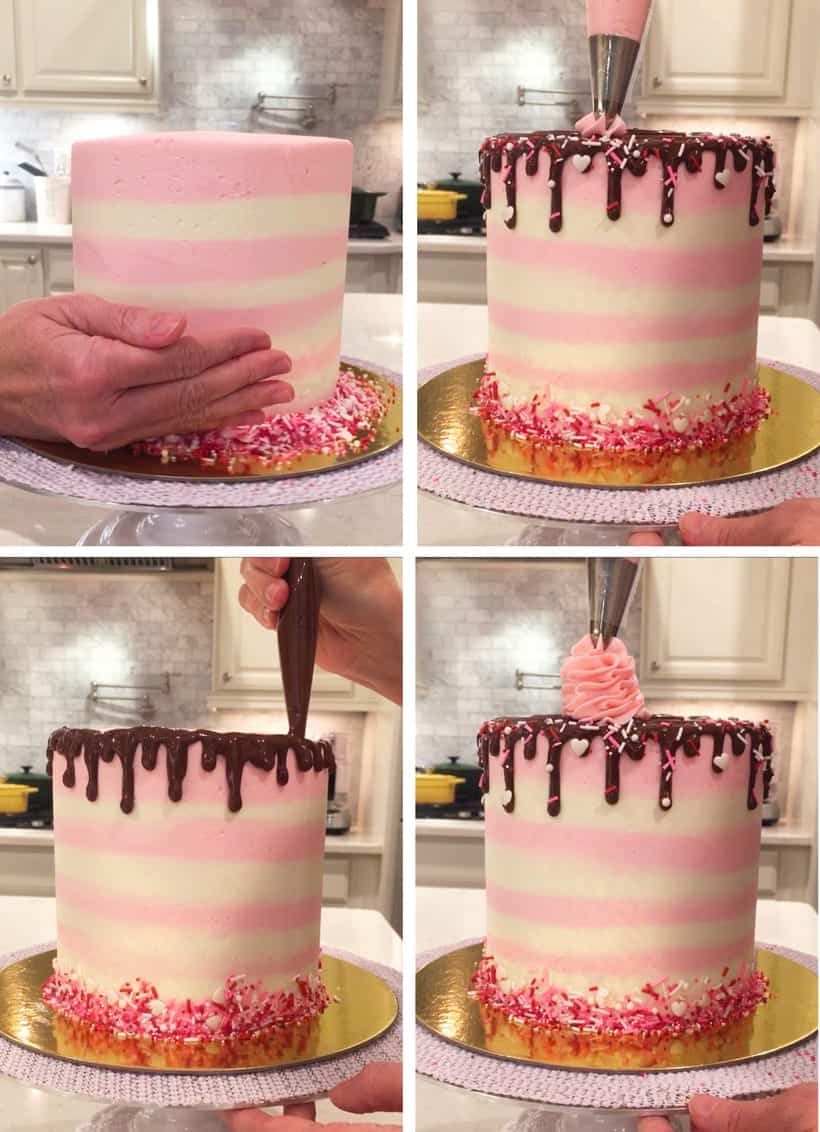 Step 6: Make the Gold Cherries for the Top
Drain cherries and let dry on a paper towel for about 10 minutes. Then dip into edible gold luster dust until cherry is covered. Place on top of dollops of buttercream on top of cake.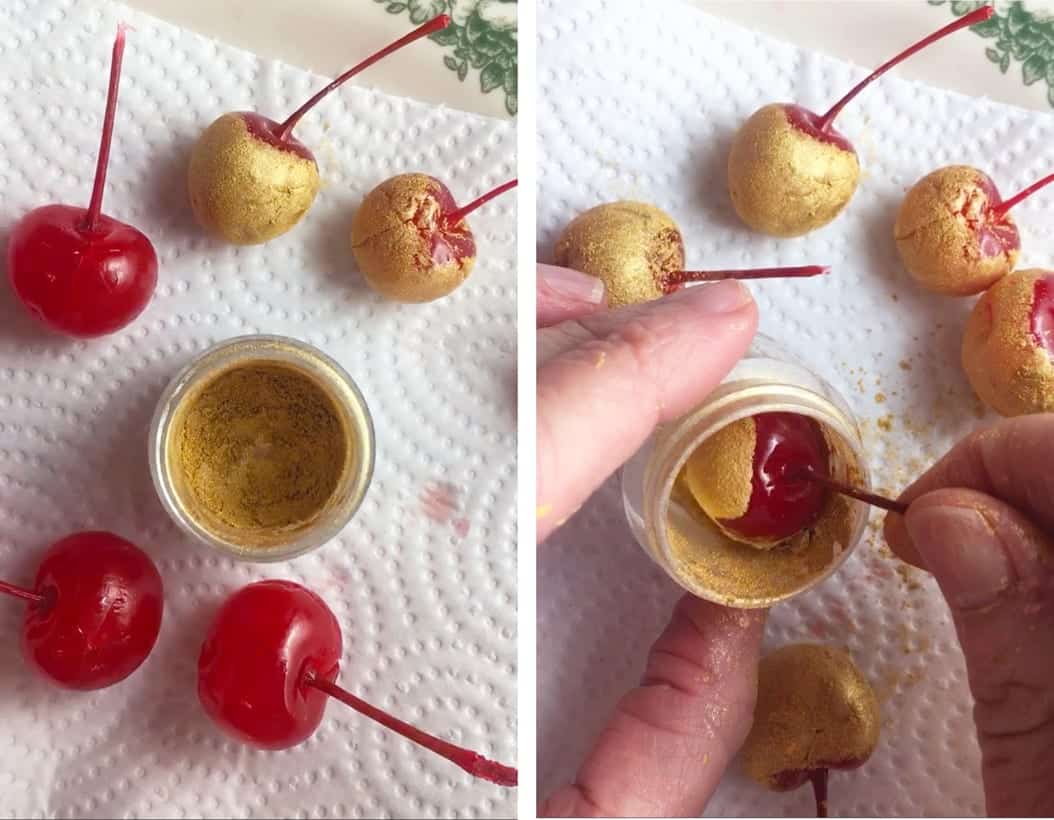 And that's it! You just learned How to Make a Striped Buttercream Cake! I hope you enjoyed this DIY tutorial. Please let me know if you have any questions. Also, tell me if you made this cake and what occasion you made it for. Feel free to post a photo of your magnificent cake creation over on Instagram. Make sure to include the hashtag #momlovesbaking and also to tag my page @momlovesbaking which you can find here.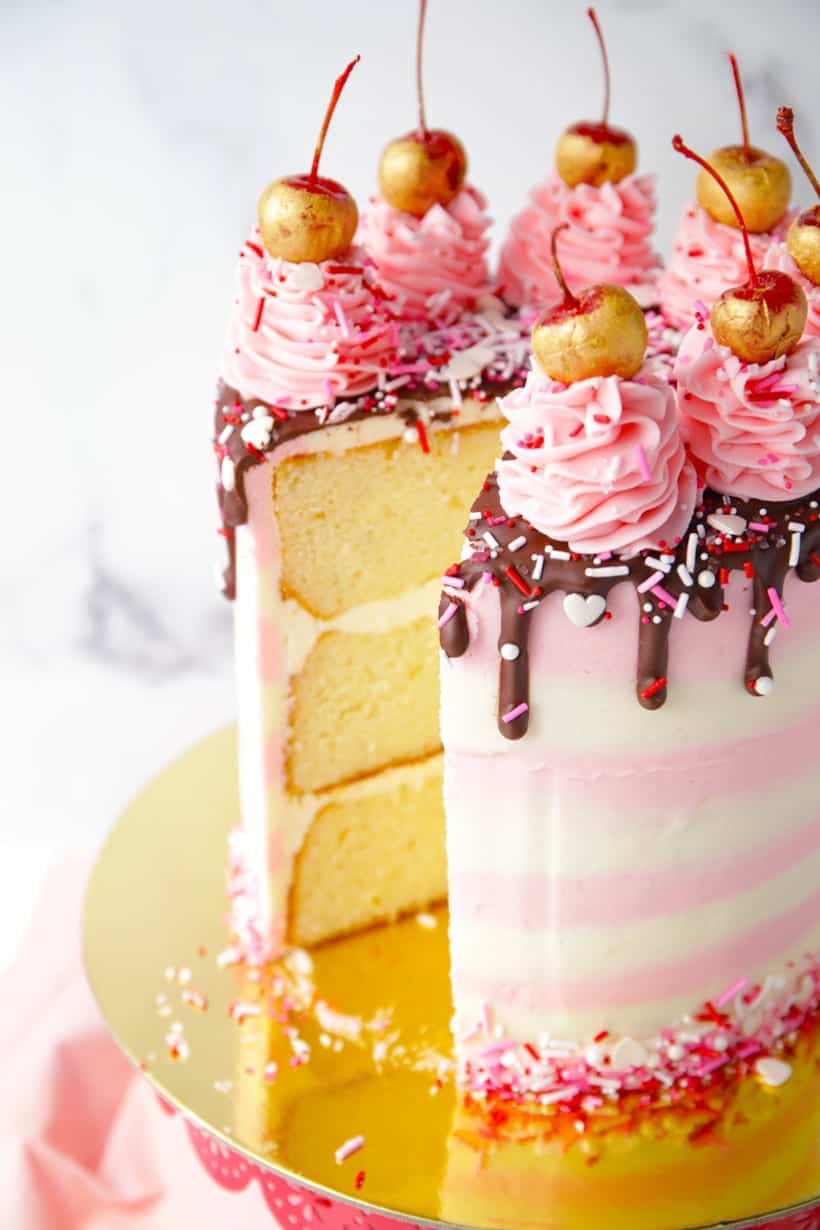 Helpful Hints on How to Make a Striped Buttercream Cake
Print out the recipe and read all of the instructions first.
To make your life easier, you can start this project a couple days in advance.
Bake the cakes two days ahead and store covered in the refrigerator.
Make the buttercream one day ahead and store covered at room temperature.
With any baking project, it's always good to make sure you have all the supplies and ingredients you need BEFORE you start.
When it's time to add buttercream to your pastry bags, make sure you cut the corner of the bag to fit the coupler. Here's a video to show you how. (This video is from Wilton, but I actually prefer Ateco couplers because they have a smooth edge.) Prepare two pastry bags with the Ateco couplers.
Here's a video to show you how to prepare a pastry bag for your 1M pastry tip WITHOUT a coupler.
Lastly, you will need a fourth pastry bag for the chocolate drizzle which you will simply cut the tip off to drizzle (without a coupler or a pastry tip)
When doing the chocolate drizzles, go very slowly and only squeeze a little bit of the chocolate over the edge so that it rolls down a little. You can add more if you want it to be a longer drip.
If the chocolate drizzle is too thick, you can add more oil. Try a teaspoon.
Have fun making this absolutely gorgeous party cake. Your friends and family will be so impressed.
Happy Baking and Cake Decorating!
Lise
xoxo
Tools for success




6-Inch Round Cake Pans (Set of 4)
Ateco Disposable Pastry Bags 21-Inch (Pack of 100)
Ateco Plastic Couplers (Set of 4) - For piping the stripe on the cake
Large Bench Scraper for Tall Cakes
Revolving Cake Stand Turn Table (12-Inch)
10-Inch Cake Boards (Pack of 25)
Duck Brand Drawer Liner (I use a piece of this on top of the turntable, under the cake board to keep it from slipping.)
Note: The above items are affiliate links.
Want even more? Subscribe to Mom Loves Baking to get new recipes and a newsletter delivered to your inbox. And stay in touch on Facebook, Pinterest, Twitter, and Instagram for all my latest updates. If you make this recipe, share a photo on social media tagging @momlovesbaking and using the hashtag #momlovesbaking.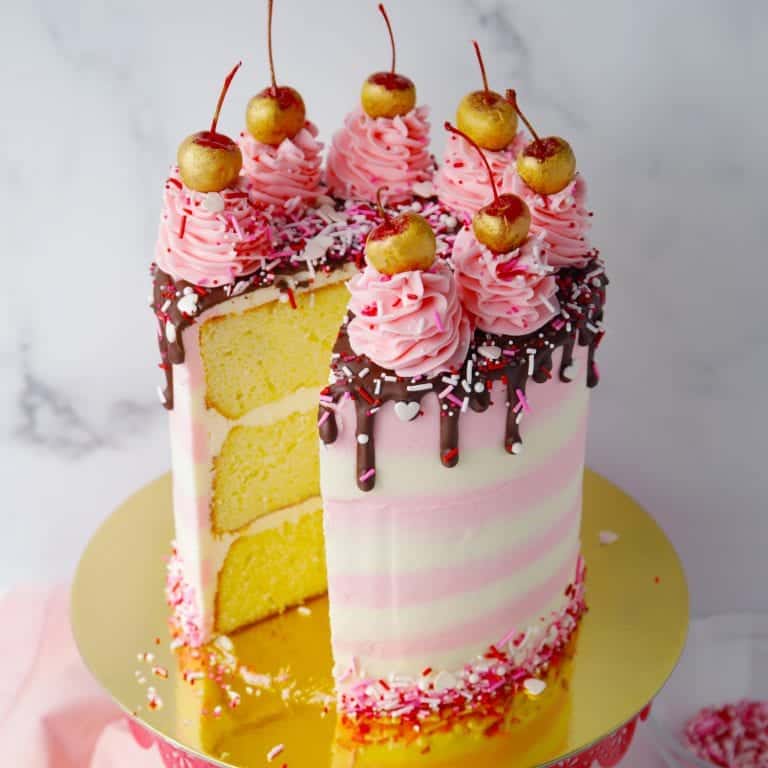 How to Make a Striped Buttercream Cake
This stunning vanilla Striped Buttercream Cake with chocolate drizzles and gilded cherries is the perfect party cake. It's beautiful and delicious!
Print
Pin
Rate
Ingredients
For the chocolate drizzle
For the gold cherries
8

maraschino cherries

drained

1

teaspoon

edible gold luster dust
Instructions
For the cake
Preheat oven to 350°F. Grease and line three round 6-inch cake pans with parchment paper. Set aside.

Place all ingredients in a large bowl. With an electric mixer on low speed, mix until ingredients are just combined. Then turn mixer up to medium and beat for 2 minutes. Pour into prepared pans, dividing equally.

Bake for 40-45 minutes or until a toothpick inserted in middle of cake comes out clean. Let cool in pans.
For the buttercream
Beat softened butter on medium speed with an electric mixer. Beat for 3 minutes until smooth and creamy.

Add powdered sugar, salt, cream and vanilla extract with mixer running on low. Increase to high speed and beat for 3 minutes. Divide frosting evenly into two bowls. Color one bowl pink. Leave the other white. Cover with plastic wrap until ready to use. Frosting can stay at room temperature for 24 hours. After that, store in refrigerator for up to two weeks.
Filling, frosting and decorating the cake
Place first cake layer on a cake board or platter. Fill and frost the cake with a thin crumb coating of the white frosting. Refrigerate for an hour or overnight. Place remaining white frosting in a large pastry bag with ½" round pastry tip. Also place the pink frosting in a large pastry bag with ½" round pastry tip. Place cake board on a turntable and pipe a line of pink frosting around the base. Next pipe a white line of frosting just above the pink. Repeat until you get to the top. You should end with pink. Then frost the top with pink. Use a bench scraper to smooth the edges of the cake. Refrigerate for an hour or at least 30 minutes. Drizzle cake with chocolate mixture as directed below. Pipe pink dollops on top using a 1M pastry tip. Add sprinkles.
For the chocolate drizzle
Note: Do this step AFTER you have filled and frosted the cake.

In a medium sized microwave safe bowl, microwave the chocolate chips on high for 30 seconds. Stir. Heat for another 30 seconds. Stir until smooth, then stir in oil. Mix until completely combined. Place in a disposable pastry bag or zip-top baggie, twisting and secure with a twist tie. Cut off the pointed edge of the bag, so that you have a tiny hole to drizzle chocolate. It should be about the size of a #4 round pastry tip. Carefully drizzle chocolate mixture over the top edge of the cake, all the way around and then drizzle on top of the cake and spread with a butter knife or offset spatula.
Nutrition
Calories:
765
kcal
|
Carbohydrates:
110
g
|
Protein:
4
g
|
Fat:
36
g
|
Saturated Fat:
20
g
|
Polyunsaturated Fat:
2
g
|
Monounsaturated Fat:
11
g
|
Trans Fat:
1
g
|
Cholesterol:
114
mg
|
Sodium:
439
mg
|
Potassium:
109
mg
|
Fiber:
1
g
|
Sugar:
89
g
|
Vitamin A:
961
IU
|
Vitamin C:
1
mg
|
Calcium:
111
mg
|
Iron:
2
mg
You might also like this Happy Birthday Polka Dot Cake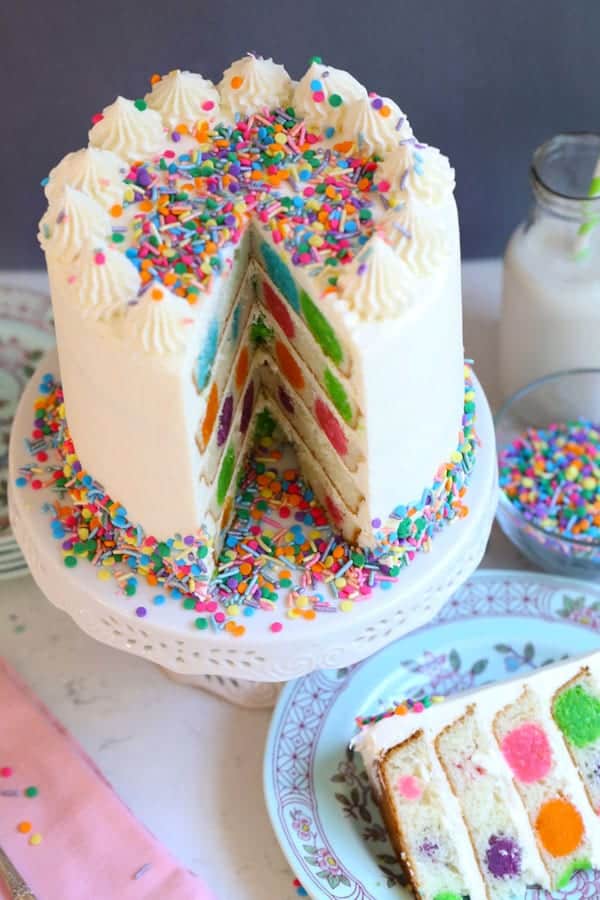 All text and images © Lise Ode for Mom Loves Baking. Please do not use my images without prior permission. If you want to republish this recipe, please re-write the recipe in your own words, or link back to this post for the recipe. Disclaimer: Nutrition information shown is not guaranteed to be accurate. This post contains affiliate links.