Jessica Day's Birthday Cake from New Girl is a birthday cake that looks like Zooey Deschanel's character, Jess, on the tv show called New Girl on FOX.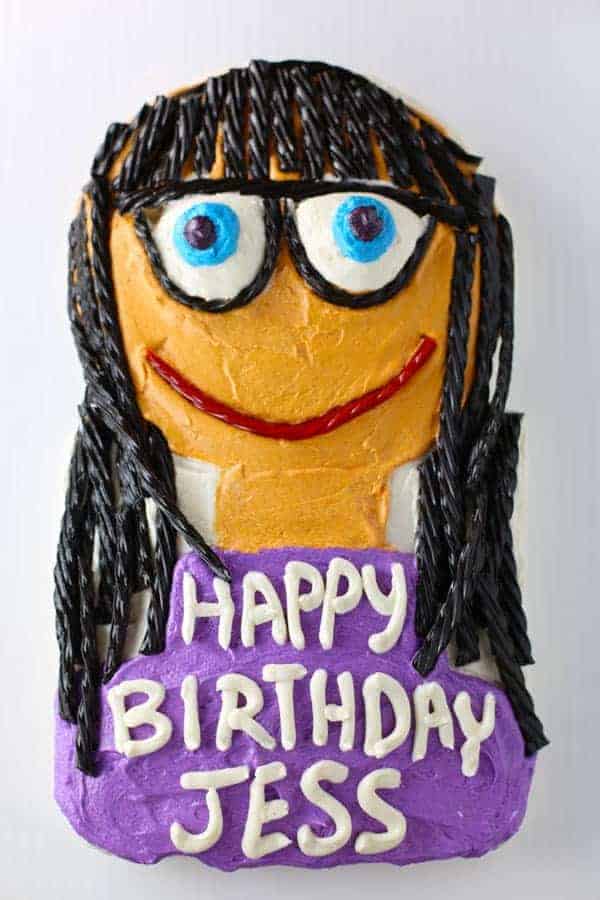 I have a confession to make. I might be slightly obsessed with a tv show. It's called New Girl on FOX. Have you ever heard of it? It's a sitcom about a 30 something single girl that moves in with 3 guy roommates. It is currently in the sixth season. The other five seasons are available to watch on Netflix, so I've watched all of the Netflix episodes several times. It's just a good show, ok? It's funny and of course there's a love story too. Zooey Deschanel plays Jess aka the New Girl. She's quirky and cute, has the most gorgeous hair and the coolest retro/vintage wardrobe. As Max Greenfield's character, Schmidt, describes her, "she looks like a drawing of a best friend that an 8 year old would make." I love that line! I even have a Pinterest board dedicated to Zooey Deschanel's style. Check it out! (Total fan girl.)
Now for the sad part. The show is coming to an end and the final episode will air this Tuesday. As far as I know, Fox has not renewed them for a seventh season. Hopefully I'm wrong about that, but since it might be the last New Girl episode ever, I thought it would be fun to make Jessica Day's Birthday Cake!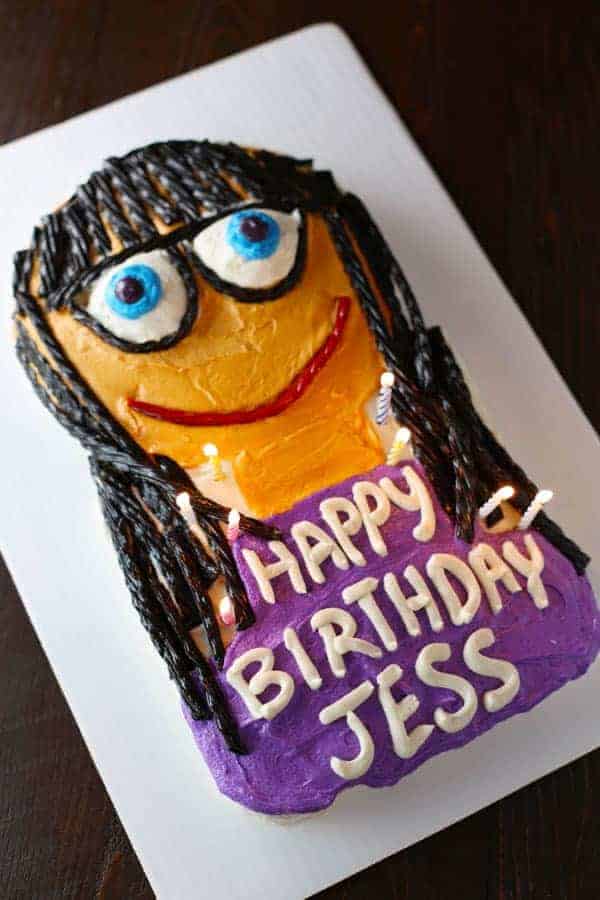 They actually had a cake very much like this one on the show. It was the episode where her boyfriend, Nick (Jake Johnson), throws her a surprise party and her roommates make her this adorable cake that looks like her with the glasses, big blue eyes and dark hair. They even show the guys, Winston (Lamorne Morris) and Coach (Daman Wayans Jr.), in the kitchen baking the cake with aprons on and flour going everywhere. They have a competition to see who can make the best cake. It's hilarious to watch the two unskilled, male bakers working in the kitchen while they move between the kitchen island and oven, bumping into each other every time saying, "behind!" It's a great scene to watch for anyone that loves baking. At the end of the episode, they bring out the cake and sing Happy Birthday. So sweet!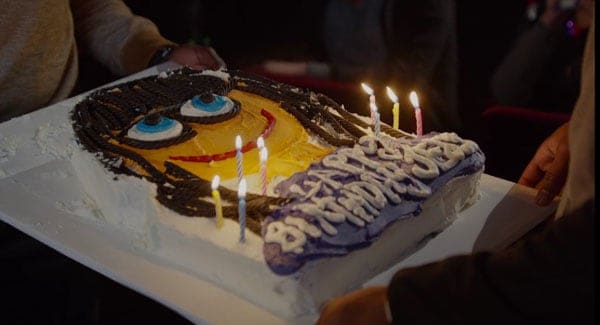 Here's the cake from the show. How did I do? Not bad, right?
This cake was really a lot of fun to make. It was supposed to have been made by two guys that never bake, so it was purposely sort of messy with the look of a child's drawing of a girl. So I wasn't worried about making it too perfect (which is not like me).
I used this gluten free cake mix because it's what I had in my pantry and I also just happen to like it!
I prepared two cake mixes according to the package instructions and poured the batter into two greased pans. One square pan and a round pan. I let them cool after baking the cakes.
Then I made a batch of buttercream frosting and colored some of it.
I frosted the whole cake in white, then came back and added the colored icing. I added black licorice for hair and one piece of red licorice for her smile.
This isn't the first time I've been obsessed with a tv show. When I was in middle school, I loved the Bionic Woman and was totally obsessed with Lindsay Wagner. I thought she was so beautiful and had the coolest job. I wanted to be her. I watched every show that I could, but back then, I had to wait for it to come on television. I didn't have the luxury of streaming it on Netflix any time I wanted. I also thought Olivia Newton John was the greatest. I wished that I could sing like her. Then, in college, I became obsessed with The Who. Roger Daltrey was my favorite and I was crazy about all things British. I even did a semester in college in London. It was a wonderful experience!
What's your favorite tv show or who's your favorite singer?
Have you ever seen New Girl? Are you hoping they will renew the show for Season 7? If so, let them know on social media. You can find them on Twitter or Facebook.
UPDATE: The show has been renewed for a 7th Season with 8 episodes. Yay! So excited!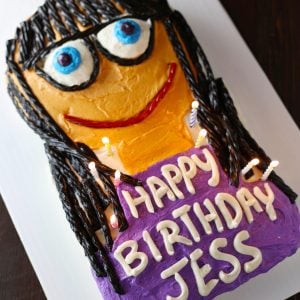 Jessica Day's Birthday Cake from New Girl
Jessica Day's Birthday Cake from New Girl is a birthday cake that looks like Zooey Deschanel's character, Jess, on the tv show called New Girl on FOX.
Print
Pin
Rate
Ingredients
2

boxes

gluten free yellow cake mix

I used Betty Crocker, prepared according to package

1

cup

unsalted butter, softened

2 sticks

4

cups

powdered sugar

¼

cup

heavy cream

1

teaspoon

vanilla extract

Food coloring

Black licorice and red licorice
Instructions
Preheat oven to 350°F. Grease a 9-inch square pan and an 8-round pan. Line with parchment paper. Set aside.

Prepare cake mixes according to package instructions. Pour into prepared pans. Bake according to package instructions. Let cool. Place cakes on a cake board. Cut a little rounded piece off of square cake, so you can fit the round cake right next to it (like a head on top of shoulders).

Meanwhile, make the frosting. Place butter in large bowl, beat with an electric mixer on medium for 2 minutes. Turn mixer to low and gradually add sugar. Add cream and vanilla. Turn up to medium and beat for 2 minutes. Reserve 1 ¾ cups of icing, Frost cake with remaining icing. Then color ½ cup lavender, ½ cup peach, 1 tablespoon black, 2 tablespoons blue and leave remaining icing white. Make a face and neck with peach icing. Create a shirt with the lavender. Place remaining white icing in a small ziptop bag. Cut a tiny corner off and write Happy Birthday. Then create the eyes with the rest of the white. Add blue and black. Create hair and glasses with black licorice. Make a smile with red licorice.
Nutrition
Calories:
155
kcal
|
Carbohydrates:
20
g
|
Protein:
1
g
|
Fat:
9
g
|
Saturated Fat:
5
g
|
Polyunsaturated Fat:
1
g
|
Monounsaturated Fat:
2
g
|
Trans Fat:
1
g
|
Cholesterol:
24
mg
|
Sodium:
69
mg
|
Potassium:
5
mg
|
Sugar:
20
g
|
Vitamin A:
273
IU
|
Vitamin C:
1
mg
|
Calcium:
4
mg
|
Iron:
1
mg