Making 300 Sandwiches for Hungry Kids in Atlanta is a blog post about a Summer lunch ministry which our church contributes to.

Every Summer, there are children in the Atlanta area who don't have lunch to eat because they depend on the school lunches that are provided during the school year. That's where MUST Ministries comes in. With the help of many volunteers, they provide a sack lunch to thousands of kids in 7 counties each weekday during the Summer.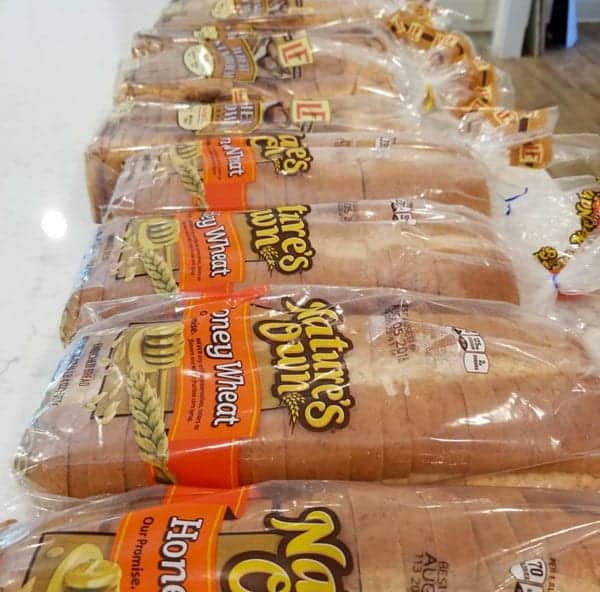 Our church, Alpharetta First United Methodist Church, participates in this program each year, providing thousands of lunches each week.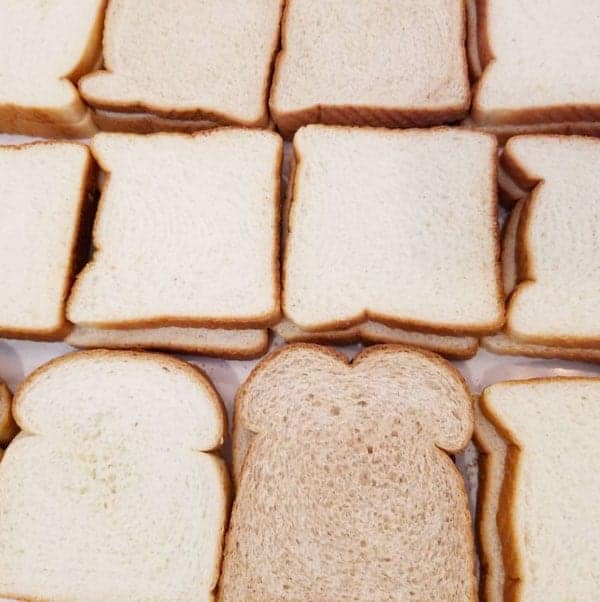 I think it's such a wonderful program. No child should ever be hungry and especially right here in our own community.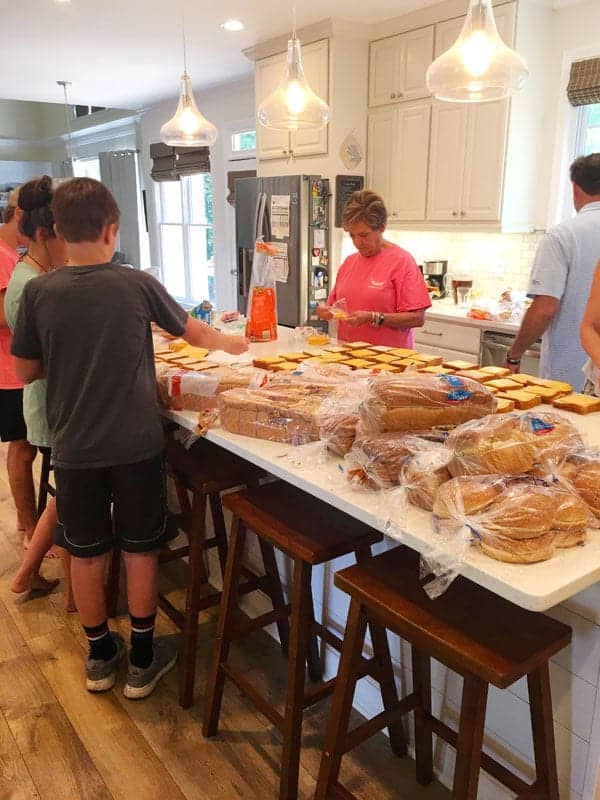 I've been helping out with this program for the last few years. And this Summer, I thought it would be fun to get some friends together and do some serious sandwich making.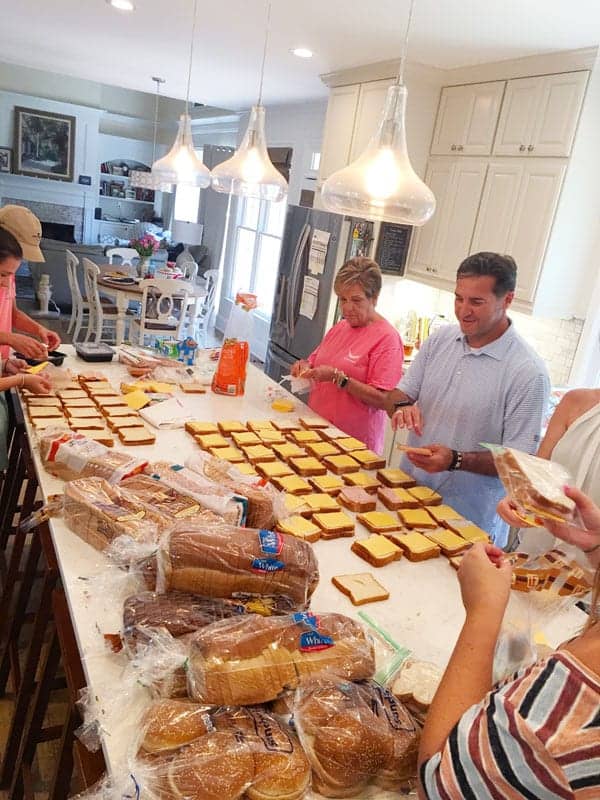 I volunteered to make 300 sandwiches and deliver them to Roswell United Methodist Church on Monday, July 30, so I planned on having the sandwich making day on the Sunday before that.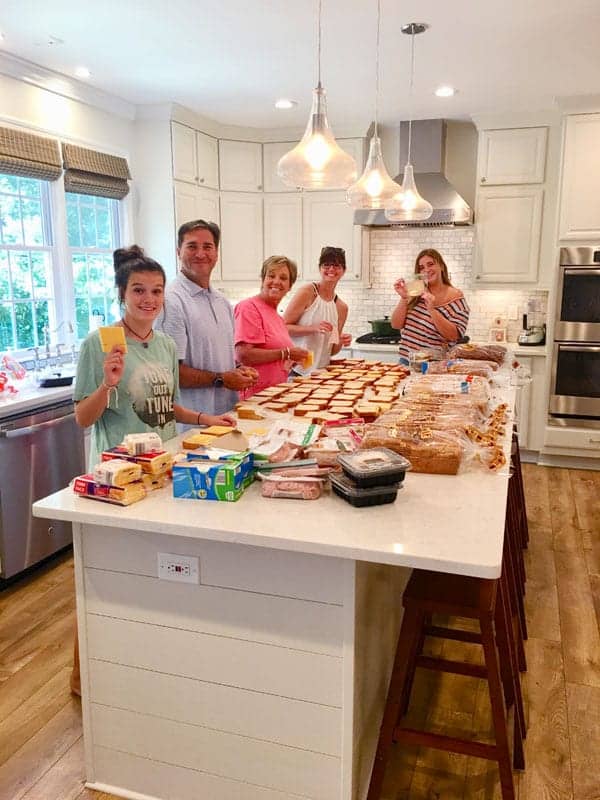 I signed up to make the massive number of sandwiches BEFORE I actually asked anyone if they could help me! Then I created a post on Facebook and started asking friends if they could help. Summer is a busy time for everyone and especially the last weekend before school started! Lots of friends already had plans or were going to be out of town that day. Yikes!
I had a hard time finding people that were available and started to worry that I might have to make 300 sandwiches all by myself. But luckily, there were helpers aplenty when the sandwich making day rolled around.
I'm so thankful for everyone that donated and helped out that day. There ended up being 9 of us that reported for duty. We used my kitchen island as our work space and went about our task. We had a fantastic assembly line going and to my surprise, the 300 sandwiches were all completely done in just under 45 minutes! It went faster than I thought! It's amazing what you can do when you get together and work as a team.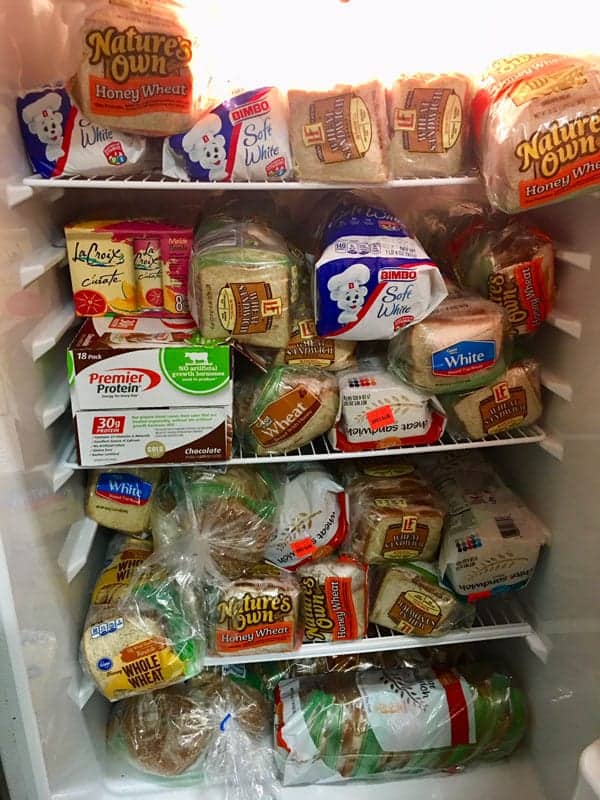 Each sandwich was 2 slices of bread with turkey and cheese in the middle (no mayonnaise), placed in a ziptop bag, then all the bags placed inside the original bread bags. Here they are in my garage refrigerator but that's not all. I had 7-8 more bags in my regular refrigerator. Then we delivered them the next day to Roswell United Methodist Church where they were added to sack lunches and delivered to the children in need. Such a special way to show the love of Christ.
"Feed the hungry, and help those in trouble. Then your light will shine out from the darkness, and the darkness around you will be as bright as noon." Isaiah 58:10 (NLT).
Thank you to everyone that helped: Amy Lyle, Peter Lyle, Madison Lyle, Savannah Ode, Carson Scott, Luke Ode, Cindy Carrington, Jennifer Burrell, Stacey Krsulic, Barbara Leonard and Rosalyn Daniels!
Now that the Summer is over, I'll be helping out with our church's Cupcake Ministry. Baked with Love cupcakes are made by Alpharetta Methodist members and delivered to shelters. Cupcakes, brownies or cookies are delivered each week to the Drake House in Roswell, GA.
Do you have a church home? If you live in the Alpharetta, GA area, why not try out Alpharetta First United Methodist Church. We have several services each Sunday. Check the website for details. Hope to see you there!
This Making 300 Sandwiches for Hungry Kids in Atlanta blog post is part of my new Christian Living blog series.