Mardis Gras Mask Sugar Cookies - classic sugar cookies baked on a stick in the shape of masquerade ball masks, then decorated with royal icing in Mardis Gras colors of green, yellow and purple.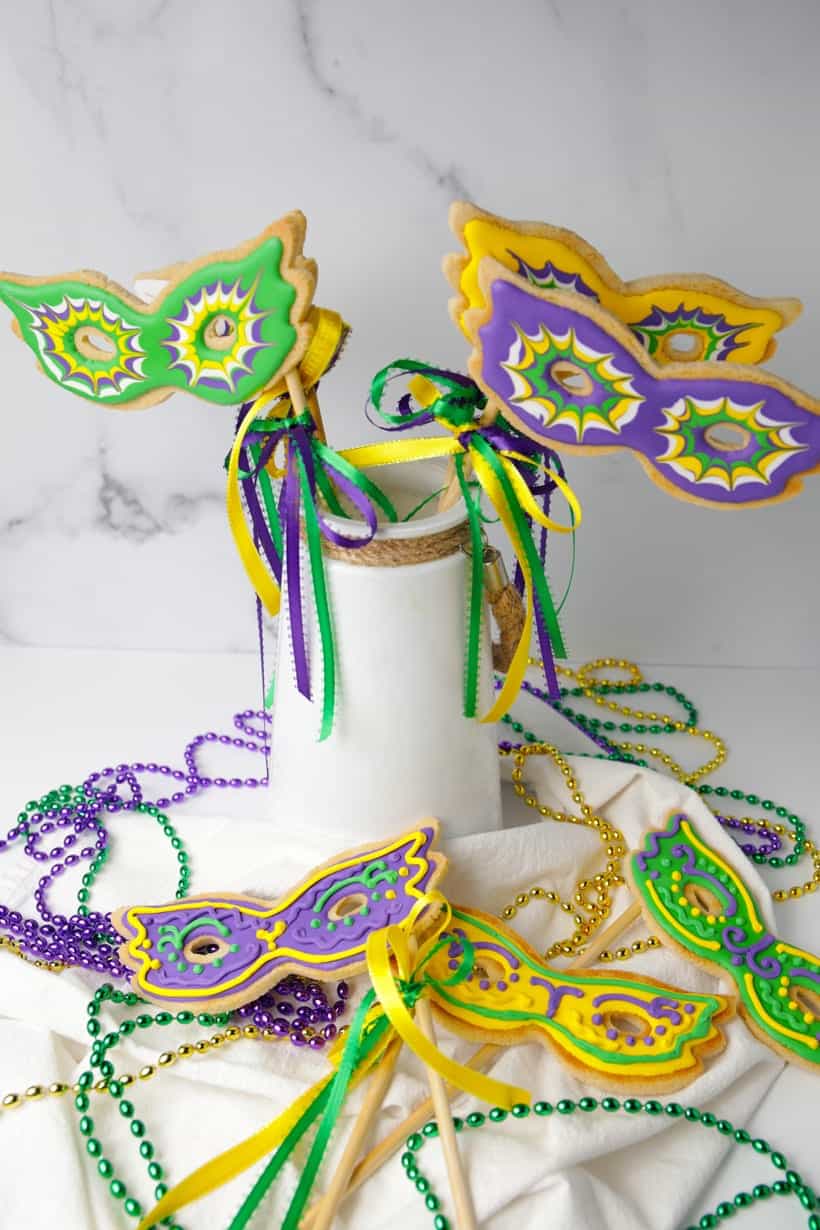 Do you celebrate Mardis Gras?
If you live in Louisiana, the answer is probably yes! Although it is celebrated in other regions, that is the place that comes to mind when I think of Mardis Gras which is actually the French word for "Fat Tuesday" or the last feast before the Lenten season begins when many Christians fast for a day, then give up something (like sugar or alcohol) for 40 days before Easter. I've never been to Mardis Gras in New Orleans but I've heard it's pretty wild and crazy. I'm a big fan of baking for all the holidays, so this one is no exception. My cousin, Kelly Sullivan, gave me the idea for these adorable Mardis Gras Mask Cookies. Once I saw the picture she sent me, I just had to make them!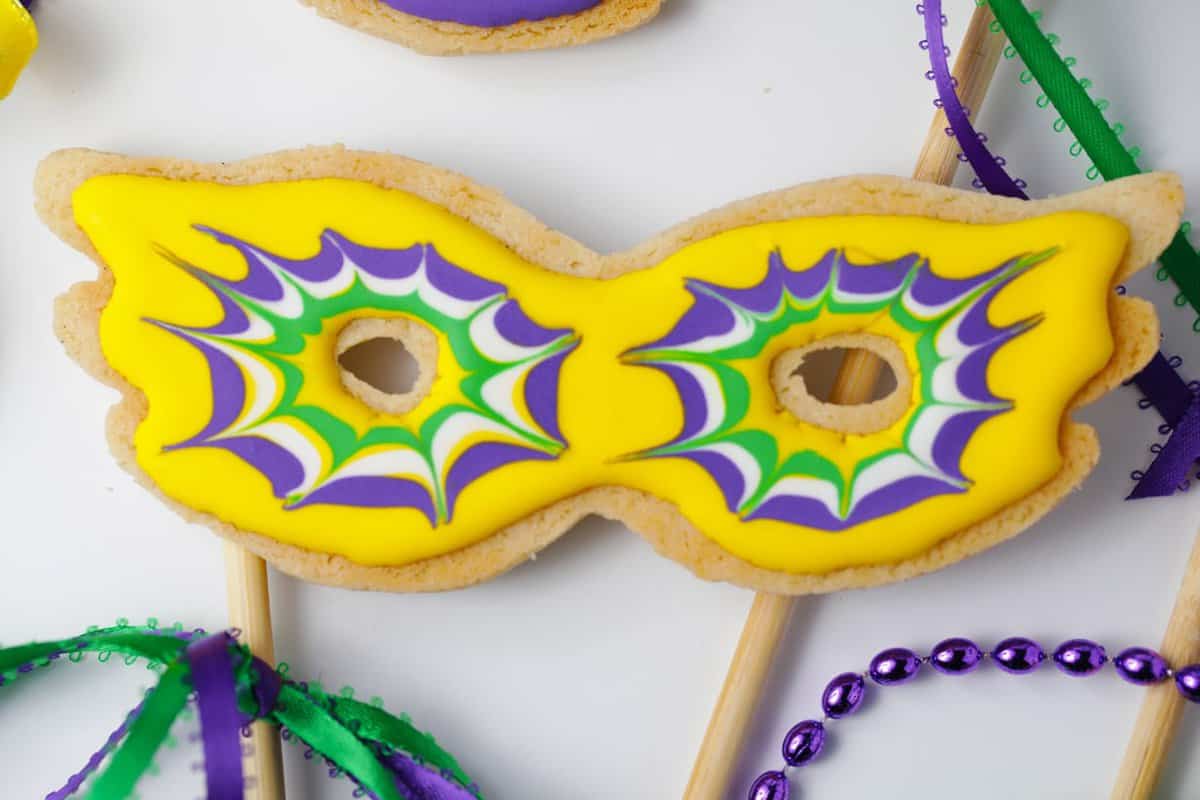 Why I love this Sugar Cookie Recipe
Starting with a firm cookie is crucial to your design. I love that these classic sugar cookies are sturdy enough to hold the royal icing yet soft in the middle. They have a lovely flavor with the addition of vanilla bean paste which gives it that extra special something. I've been making this same exact cut-out sugar cookie recipe for over ten years. I used it to make THOUSANDS of cookies in all kinds of shapes when I used to have a wedding cake & cookie business. I'll never forget making 250 "high heel shoe" cookies for a client years ago. I got behind on the order and only had one night to finish them. I ended up recruiting my neighbor to help me make them until 3 am in the morning! Good times. Thanks, Susan Edwards!
Tips on decorating Sugar cookies with royal icing

You will need two different consistencies: medium and flood.
Medium consistency icing is similar to the consistency of toothpaste.
Flood consistency icing is like the consistency of Elmer's glue.
You can achieve these consistencies by adding water to the prepared icing.
Add a little bit of water for medium and a bit more for flood. See recipe below.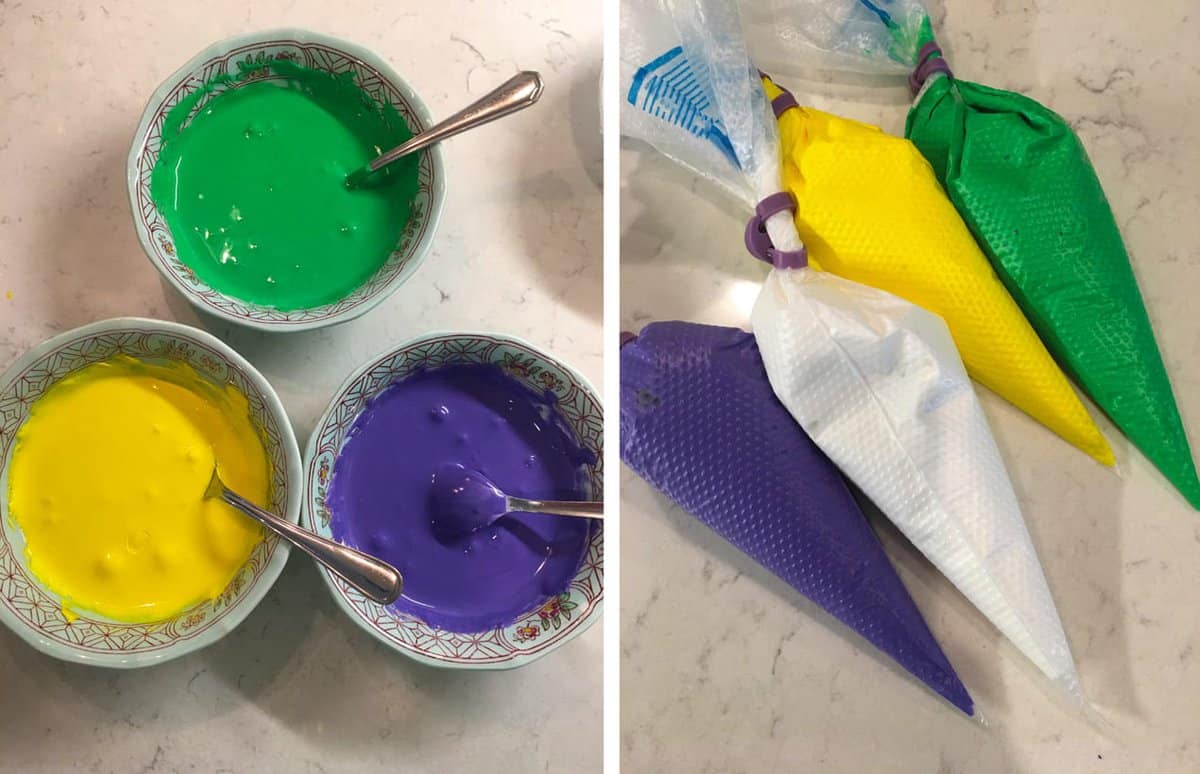 To make it easier, I used flood consistency frosting to pipe the borders of the mask cookies and then filled in with more flood icing. I used tipless pastry bags which are my absolute favorite!
What is a Tipless Pastry Bag?
1) You don't need a pastry tip with a tipless pastry bag.
2) No coupler or pastry tip needed.
3) Simply fill the bag, snip off the tip and start piping.
4) Easy peazy!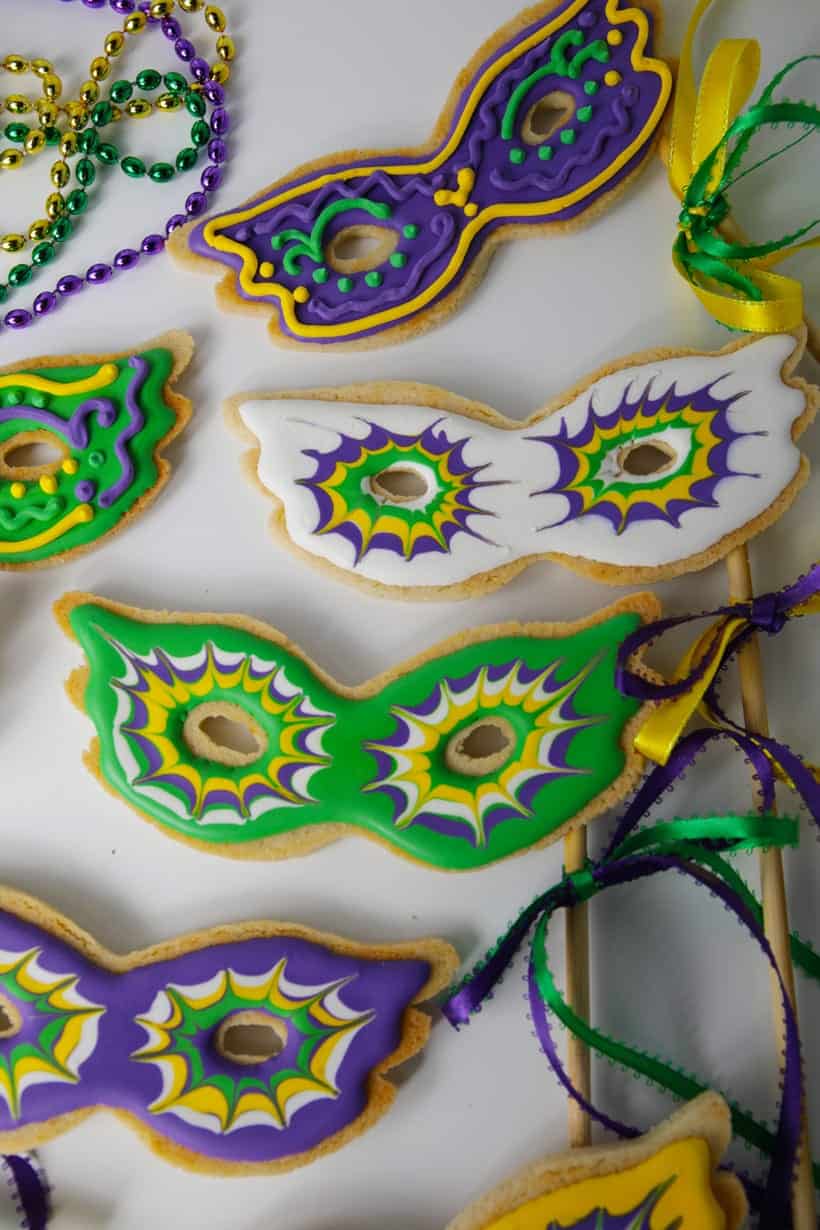 Decorating Sugar Cookies with Medium Consistency Icing
Medium consistency royal icing is a bit thicker than flood consistency. As mentioned above, I would compare it to the consistency of toothpaste.
If you want a raised design, you can frost the cookies with the flood consistency first in one solid color, then let it dry completely. Once it's dry, pipe your designs on top with a medium consistency royal icing. That way, the design won't sink into the wet icing because you are piping on icing that's already dry.
I hope you enjoy making these Mardis Gras Mask Sugar Cookies as much as I did. They would be a hit at your Fat Tuesday dessert table for sure! If you want to see some videos of me decorating these masquerade sugar cookies, head on over to my Instagram page.
The photo that started it all. These are the cookies made by my cousin. She's so talented. Thanks for the inspiration, Kelly!
Happy Mardis Gras everybody!
xo,
Lise
Tools for success
Mardis Gras Mask Cookie Cutter
Wilton Bamboo Dowel Rods - 12 Inches
Nielsen-Massey Madagascar Pure Vanilla Bean Paste
Note: The above items are affiliate links.
Want even more? Subscribe to Mom Loves Baking to get new recipes and a newsletter delivered to your inbox. And stay in touch on Facebook, Pinterest, Twitter, and Instagram for all my latest updates. If you make this recipe, share a photo on social media tagging @momlovesbaking and using the hashtag #momlovesbaking.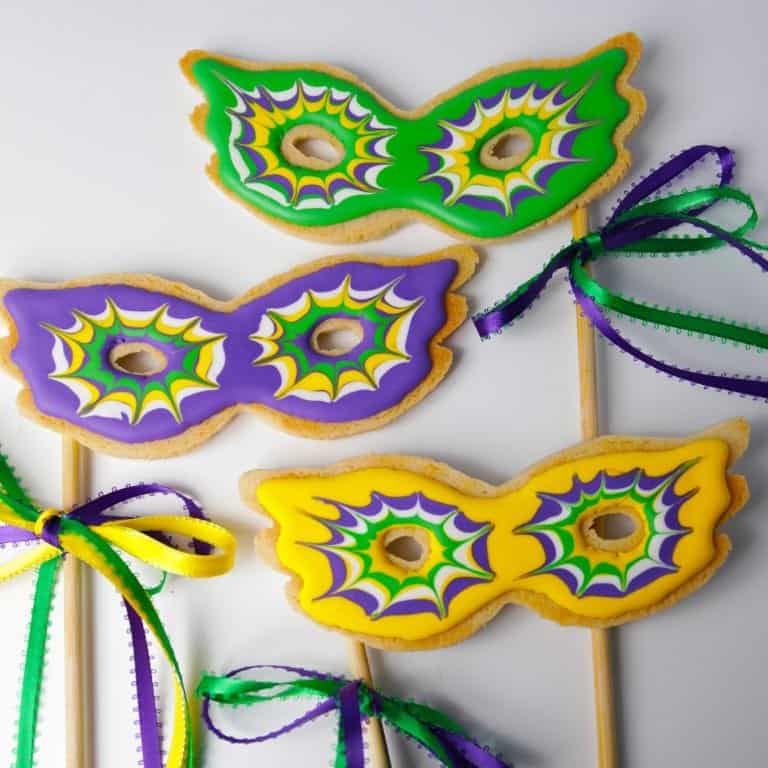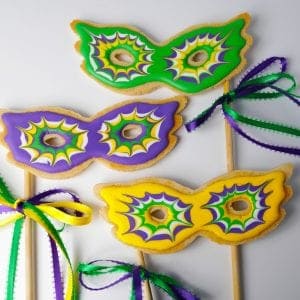 Mardis Gras Mask Cookies
A classic sugar cookie baked on a stick in the shape of masquerade ball mask, decorated with royal icing in Mardis Gras colors of green, yellow and purple.
Print
Pin
Rate
Ingredients
For the royal icing
16

ounces

powdered sugar

¼

cup

meringue powder

⅓

cup

water

Food grade dowels

found in cake decorating section of department stores or online
Instructions
For the cookies
Preheat oven to 350°F. In a medium bowl, add flour, baking powder & salt (measuring the flour with a scale is the most accurate). Using a whisk, stir to combine and get the lumps out. Set aside.

In a large bowl, add butter and beat with an electric mixer for 1 minute on medium. Turn to low and gradually add sugar. Turn to medium and beat 3 minutes. Add the egg and vanilla and beat another minute. With the mixer on low, gradually add the flour mixture.

Blend until the dough begins to pull away from the sides of the bowl. Take the dough out of the bowl and place on a large piece of parchment paper. Use your hands to knead the dough for a few minutes. Divide the dough into two sections and wrap with parchment paper. Let chill in the refrigerator for about 30 minutes.

To roll dough, place dough on a piece of parchment paper, then place another piece on top and roll with a rolling pin until the dough is between ⅛" and ¼" thick. (To hold the paper in place while you roll, let the edge hang off counter slightly, then lean against the paper with your body to keep it from slipping as you roll the dough out.) Cut into 3" masks and remove the excess dough. CAREFULLY, transfer cookies to a half sheet pan lined with silicone mat or parchment. Place a dowel on one end of mask and press gently. Use two small pieces of dough over the dowel to secure it to the cookie. Press gently to blend the pieces into cookie. You can fit 3 masks per pan. Bake for 10-12 minutes or until slightly golden brown around the edges. Let them cool and decorate with royal icing (or you can freeze them before decorating and keep them for several months). Makes 20 mask cookies.
For the icing
Place all ingredients in a large bowl and beat with an electric mixer on low for 6 minutes. It will be very thick and fluffy. Add 2 tablespoons of water and mix to combine. That's your medium consistency (it should be like toothpaste). Take half the icing and put in another bowl. Add another tablespoon of water to remaining icing. It should run off the spoon like Elmer's glue. That is your flood consistency. (If it seems too thick, add a little more water. Make sure you only at ¼ teaspoon at a time until it runs easily off the spoon but you don't want it too liquidy either.) Divide and color as desired to decorate the cookies. Please note: Always keep the icing covered when not using as it will dry out quickly.

For these cookies, I divided the icing as follows. Medium consistency: one third of the icing purple, one third green, and the remaining third yellow. Flood icing: I divided equally into 4 bowls - purple, yellow, green and white. Note: I used Americolor food coloring.
Decorating the cookies
Place icing into tipless pastry bags (you will need 7 bags total - I ordered them from Amazon, see below). Tie the ends, so icing doesn't leak out the back. Do not cut the tiny tip off until you're ready to pipe. Once you do cut the tips off, just cut a very small hole (about 3/16"). Note: When you're not piping, keep the tips wrapped in a damp paper towel to keep the icing from drying out.

For the "tie dye eyes" design, you will be working with one cookie at a time because you will be using flood on flood icing. For example, pipe the entire cookie with purple, then quickly add circles around the eyes in each of the remaining three colors - white, yellow, green. Immediately drag a toothpick from inside the circle out, creating spokes like a bicycle wheel. Set aside to let dry. Continue with as many as you want to make in this design.

For the freehand designs, pipe a solid background color onto cookie with the flood icing. Let dry completely. Then use the medium consistency icing to pipe the designs of your choice. Let your creative juices flow.
Nutrition
Calories:
293
kcal
|
Carbohydrates:
47
g
|
Protein:
5
g
|
Fat:
10
g
|
Saturated Fat:
6
g
|
Trans Fat:
1
g
|
Cholesterol:
34
mg
|
Sodium:
240
mg
|
Potassium:
80
mg
|
Fiber:
1
g
|
Sugar:
33
g
|
Vitamin A:
297
IU
|
Calcium:
18
mg
|
Iron:
1
mg
Here are some more Mardis Gras themed desserts you might like...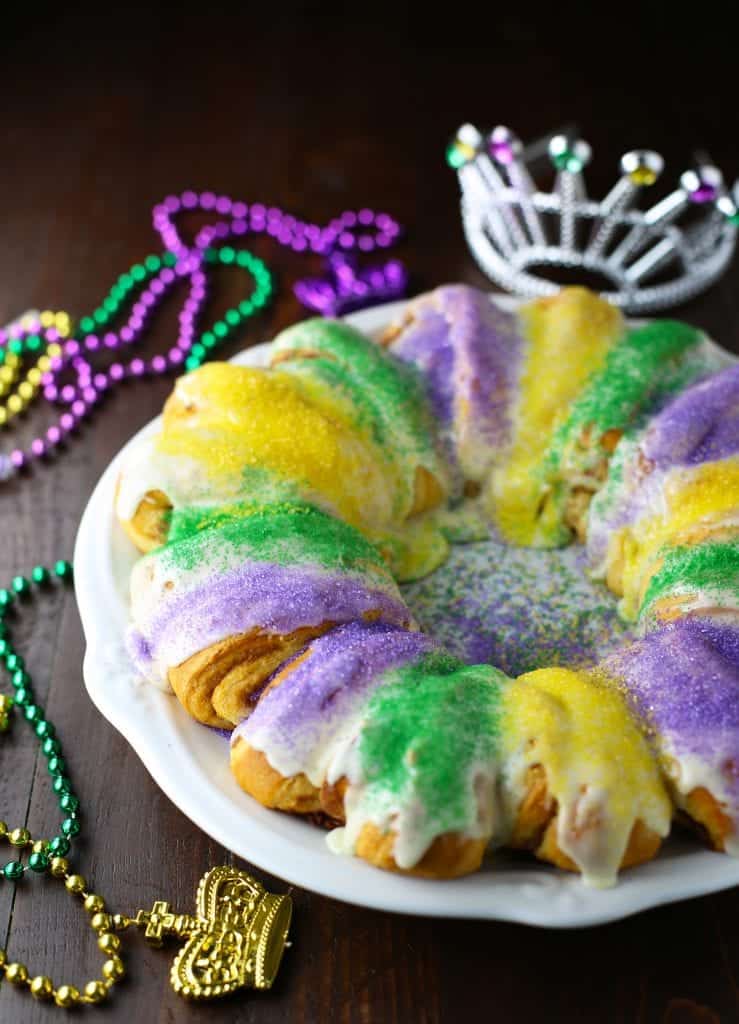 These Easy Mardis Gras Cookies are made with store bought cookie dough if you need a fun project to make with the kids.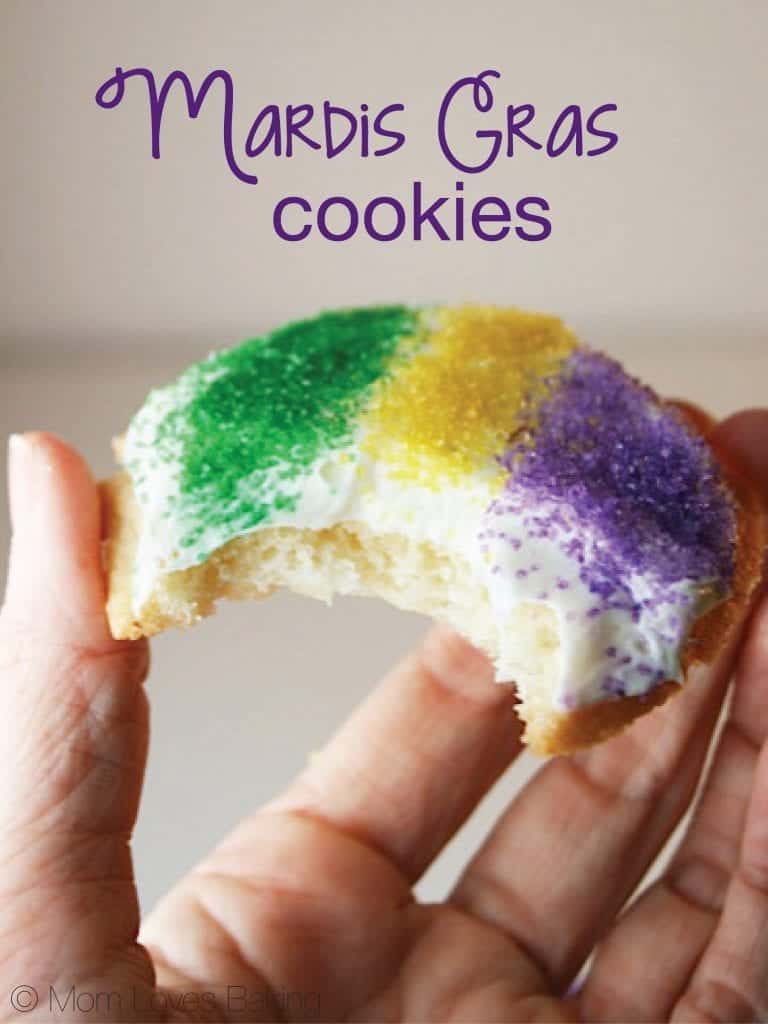 From my blog archives, try this Mardis Gras Party Cake which was a winning recipe in the historic Pillsbury Bake-Off back in 1959.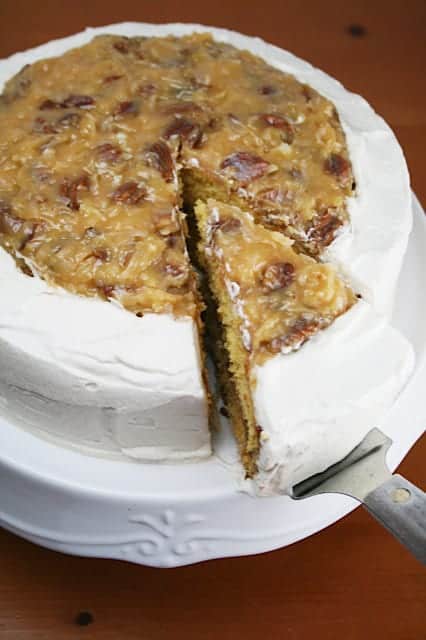 All text and images © Lise Ode for Mom Loves Baking. Please do not use my images without prior permission. If you want to republish this recipe, please re-write the recipe in your own words, or link back to this post for the recipe. Disclaimer: Nutrition information shown is not guaranteed to be accurate. This post may contain affiliate links.