Easy King Cake is a semi-homemade version of the traditional Mardis Gras dessert, made with canned cinnamon rolls and colored sugar.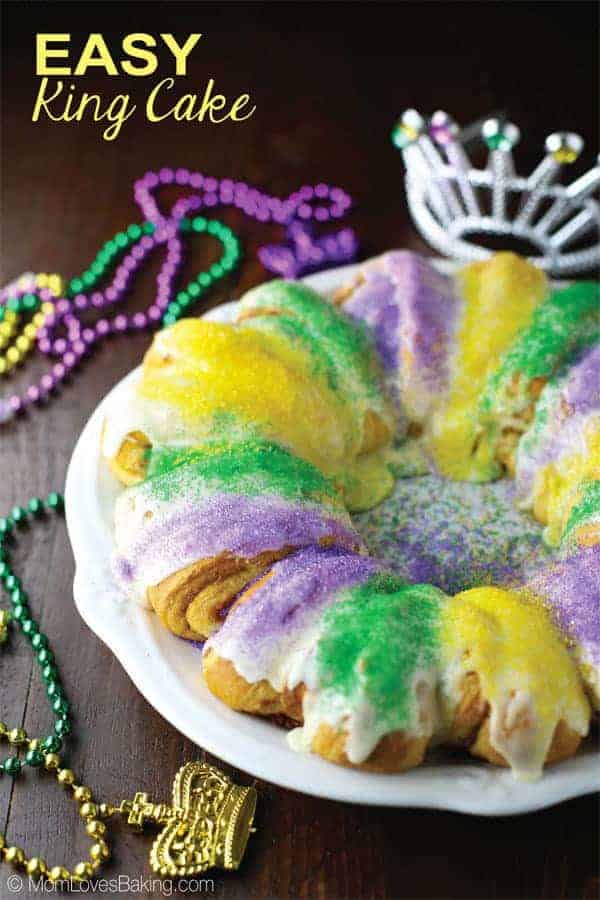 If you're a fan of Mardis Gras, then you've most likely heard of the famous King Cake. For those of you that aren't familiar, let me explain. Mardis Gras actually means Fat Tuesday in French and it's the day before Ash Wednesday when the Christian Lenten season of fasting begins. If you take part in Lent, then you will be "fasting" or giving up fatty foods until Easter. Mardis Gras is the last day to indulge in extravagant foods and many people like to enjoy King Cake. Especially in New Orleans.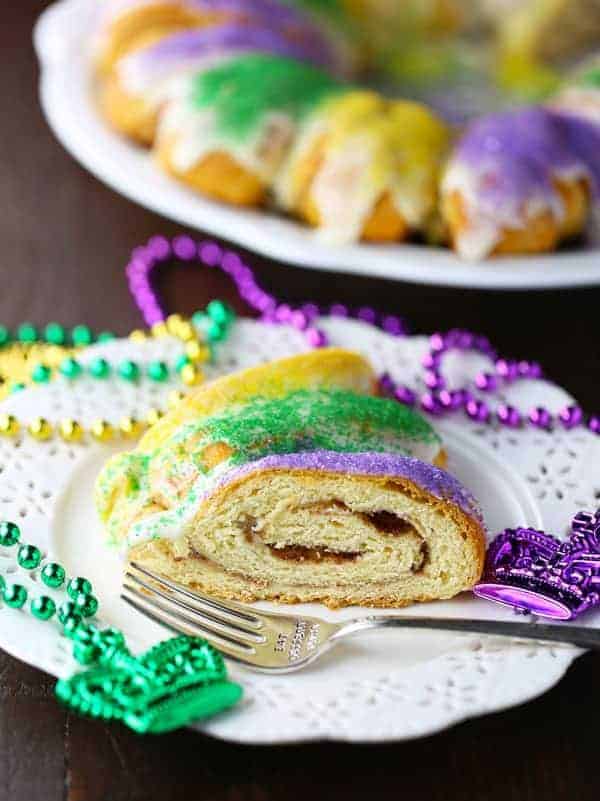 I love making homemade yeast breads since baking is my passion, but I'm also a busy mom and sometimes (a lot of the time), I simply don't have the time. This Easy King Cake is a quick and simple version. But I promise, it is still just as tasty! My kids absolutely LOVE it and I've been making it this way for many years.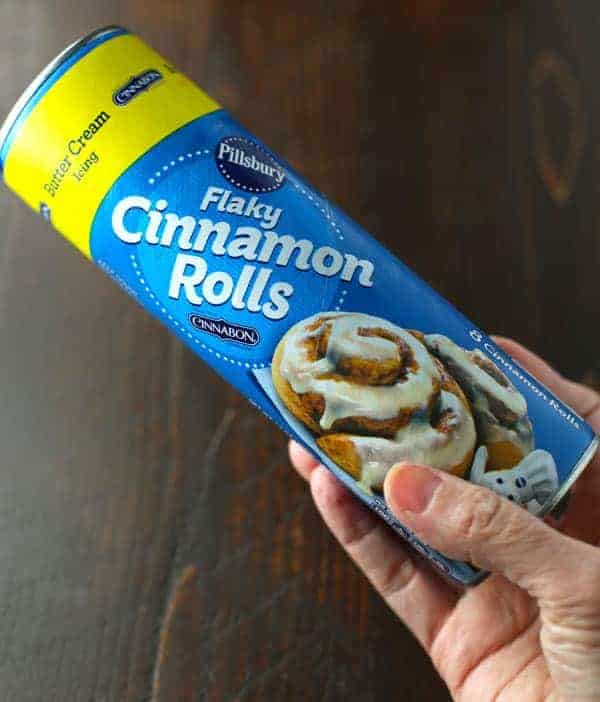 The secret to this recipe is that I used canned cinnamon rolls which includes the frosting. So there are actually just 2 ingredients when you add the colored sugar!
I used Pillsbury Flaky Cinnamon Rolls with Butter Cream Icing. Although this is not a sponsored post, it's important to use this kind, if you can find them because they are actually rolled cinnamon rolls. The other ones on the market are more like biscuits with cinnamon sugar topping and they won't work as well for this recipe.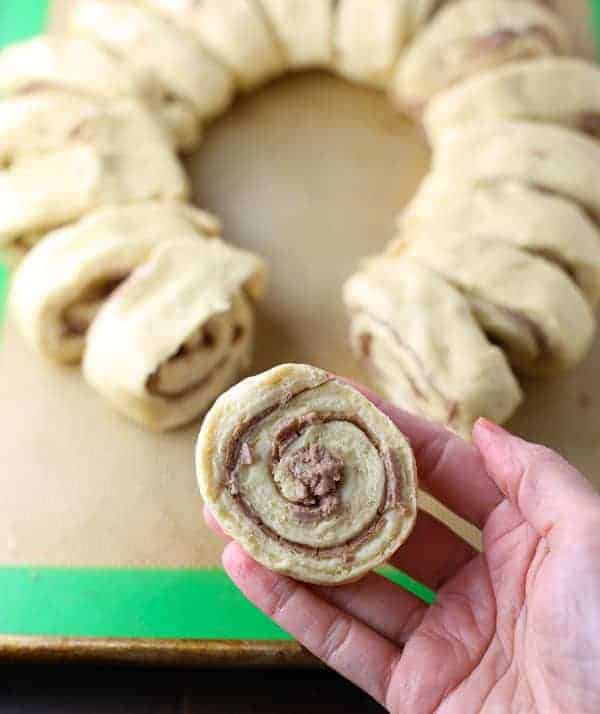 This is how the cinnamon rolls looks when you first take them out of the package.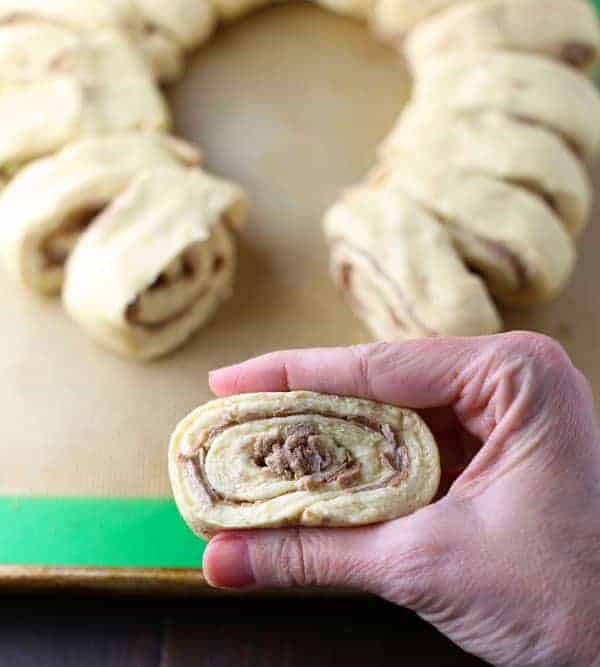 Then you will simply press them down, so they look more like flattened oval shapes.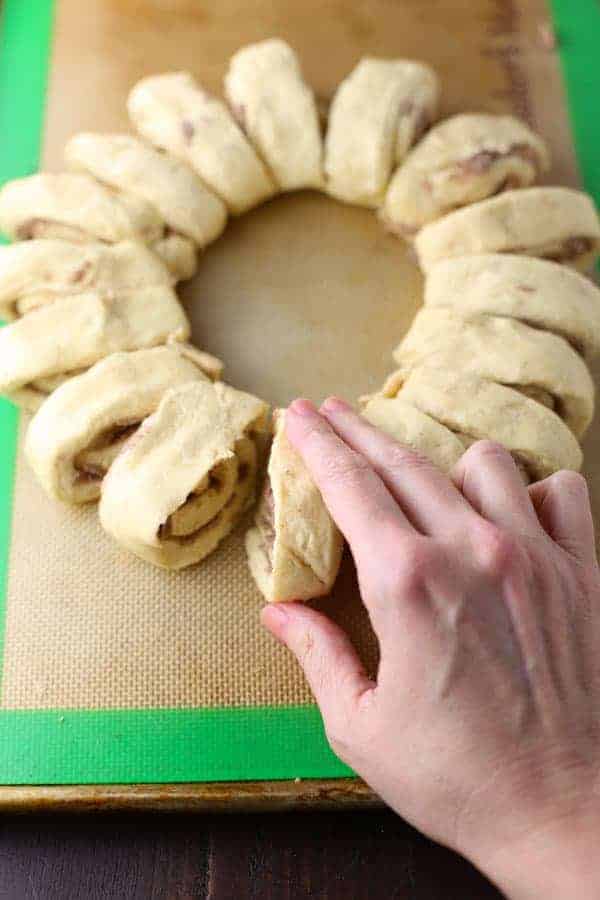 Place the flattened cinnamon rolls on their sides in a circular pattern on a greased or silicone mat lined, large cookie sheet.
Here are silicone mats similar to the one I used on Amazon (affiliate):

And here's the type of pan I used (affiliate):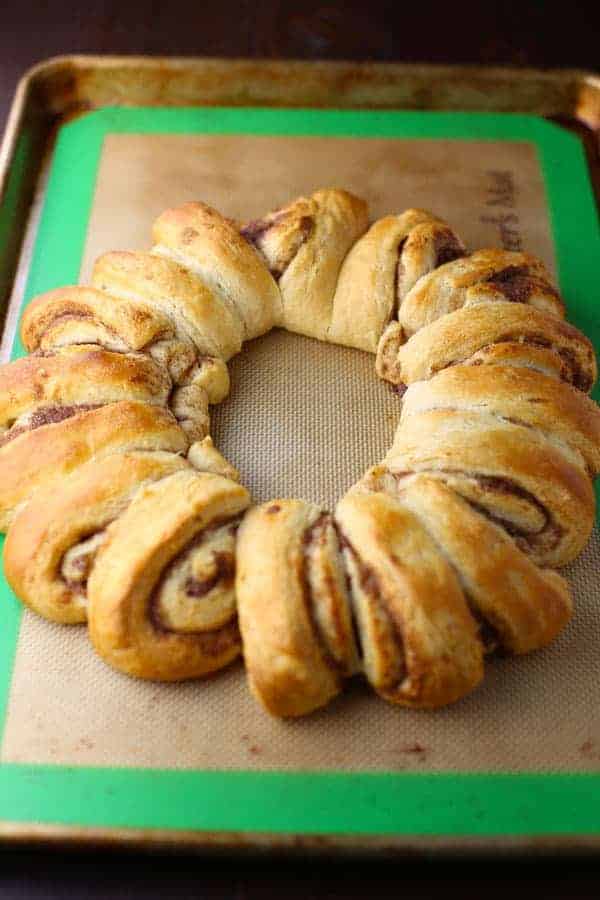 Bake according to package instructions. I baked mine at 375°F for about 12 minutes. Let it cool.
Note: Some people like to hide a little plastic Baby Jesus somewhere inside their King Cake. When I made this cake, I didn't have a baby to put inside. But if you do have one, then you can cut a little hole somewhere in the baked King Cake and stick the plastic baby inside. It's fun when you serve it to see who will get the Baby Jesus. There are different theories on the meaning of this. Some say the person who gets the baby will have good luck all year. I also read that, in New Orleans, it means that you will be the person to make the King Cake next year.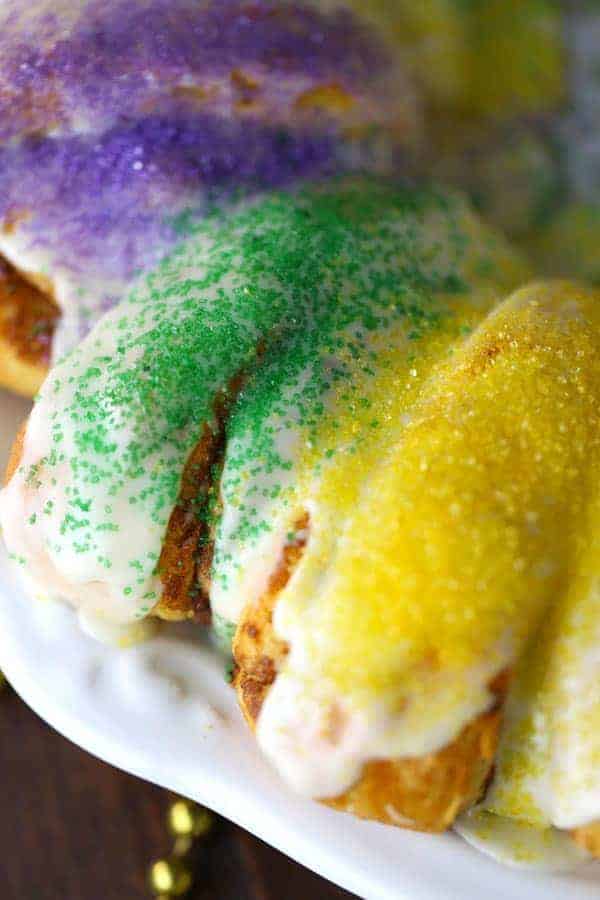 Frost with the butter cream icing that comes with the cinnamon rolls. Then add colored sugar in green, yellow and purple – the colors of Mardis Gras.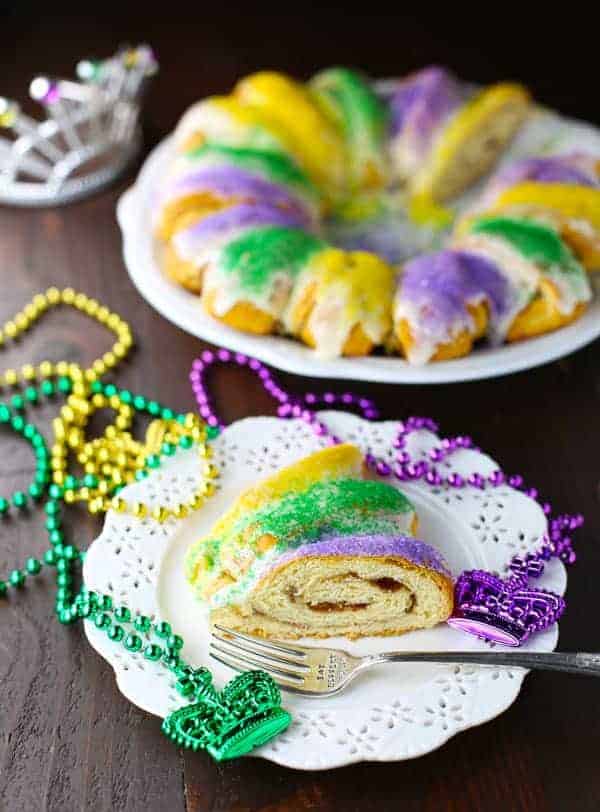 Slice and enjoy!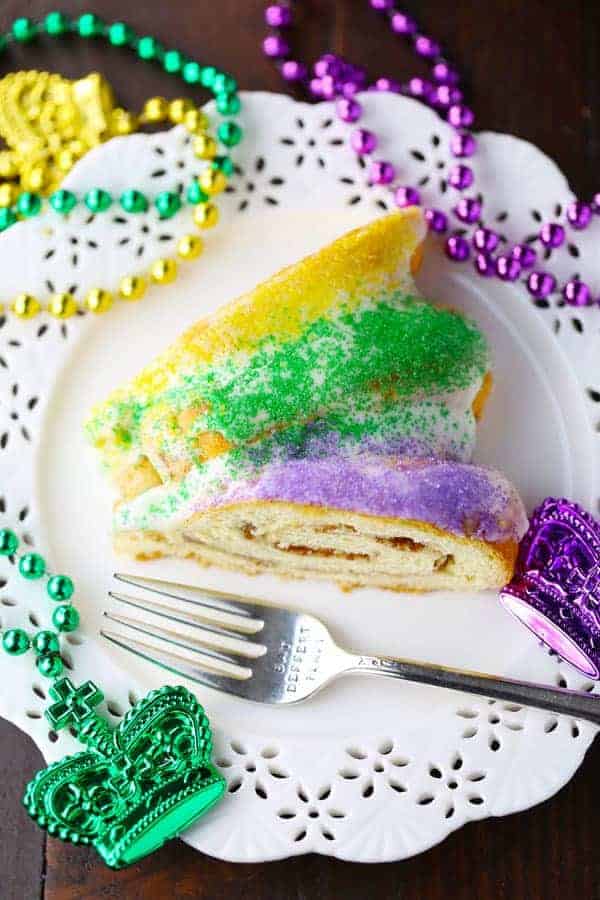 Isn't it pretty? I just love colorful, sweet foods!
Are you celebrating Mardis Gras this year? If so, I highly recommend this Easy King Cake! And if you want to add a baby, you can probably find one at your local craft store. You could also ask your grocery store bakery if they have one you could buy.
Does anyone know the meaning of the Baby Jesus in the King Cake? I would love to hear your thoughts. What does it mean if you get the baby in your slice of King Cake? Let me know in the comments and Happy Mardis Gras!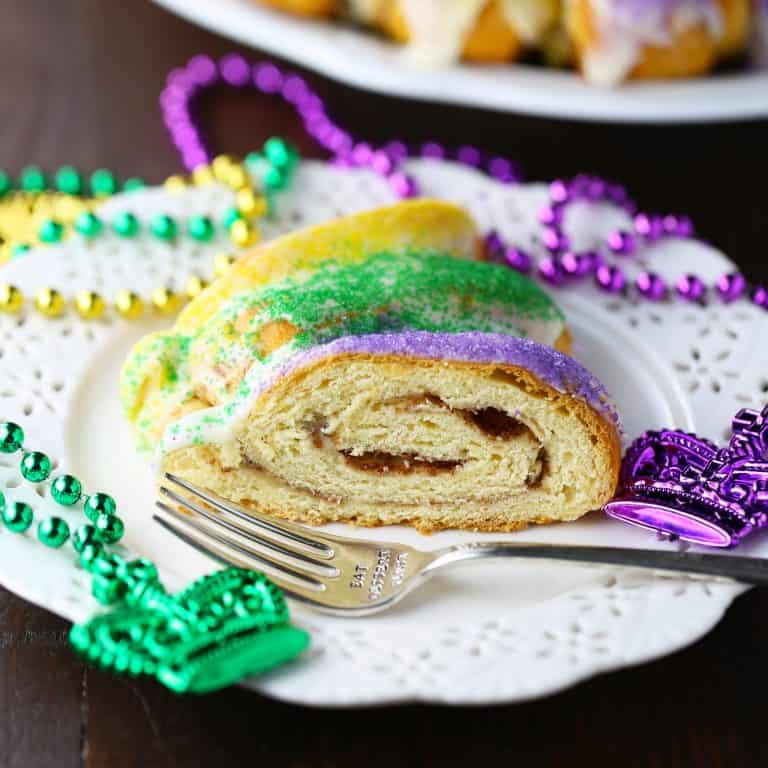 Print Recipe
Easy King Cake
Ingredients
2

cans store-bought cinnamon rolls

I used Pillsbury Flaky Cinnamon Rolls with Butter Cream Icing

Yellow

green and purple sugar

1

plastic toy baby

if desired
Instructions
Preheat oven to 375°F.

Place cinnamon rolls sideways on a large cookie sheet that has been greased or lined with a silicone mat. Arrange cinnamon rolls in a circular pattern. It should look like a flower when you're done. Press down on cinnamon rolls with your hand to flatten them slightly.

Bake according to package instructions. Let cool.

Frost with the buttercream that comes with the cinnamon rolls. Add yellow, green and purple sugar. Serve immediately or store covered for up to 24 hours at room temperature. It is best when eaten the first day.