Orange Glazed Cranberry Scones are light, fluffy cranberry orange scones with apricots and an orange icing drizzle.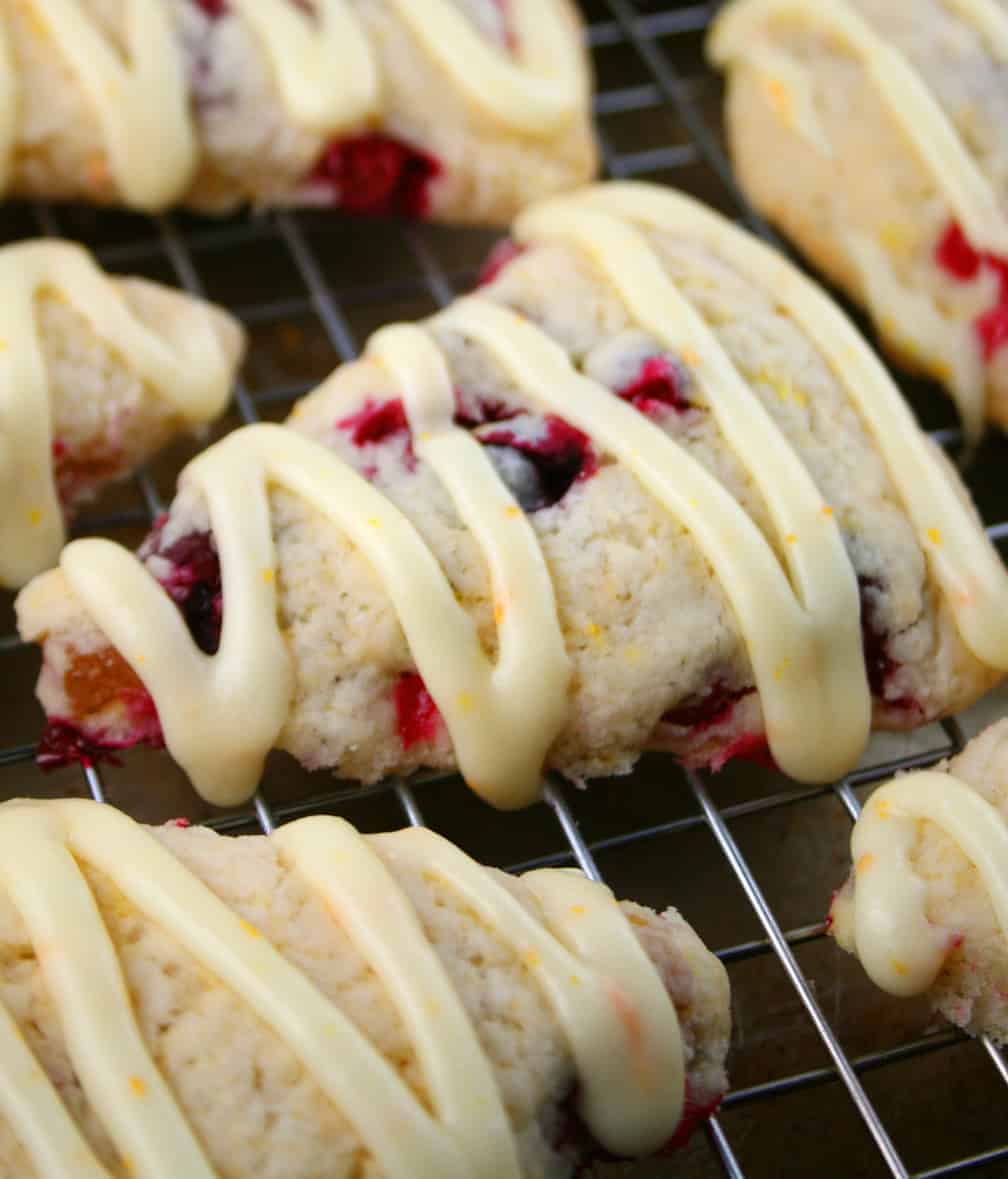 Can you believe this weather? It's been really chilly. And it's only November! My answer to that, just bake it off. Ha! Sounds like a song, doesn't it. Anyway, if you want to bake it off, you've come to the right place. How about this fabulous scones recipe to warm up your kitchen.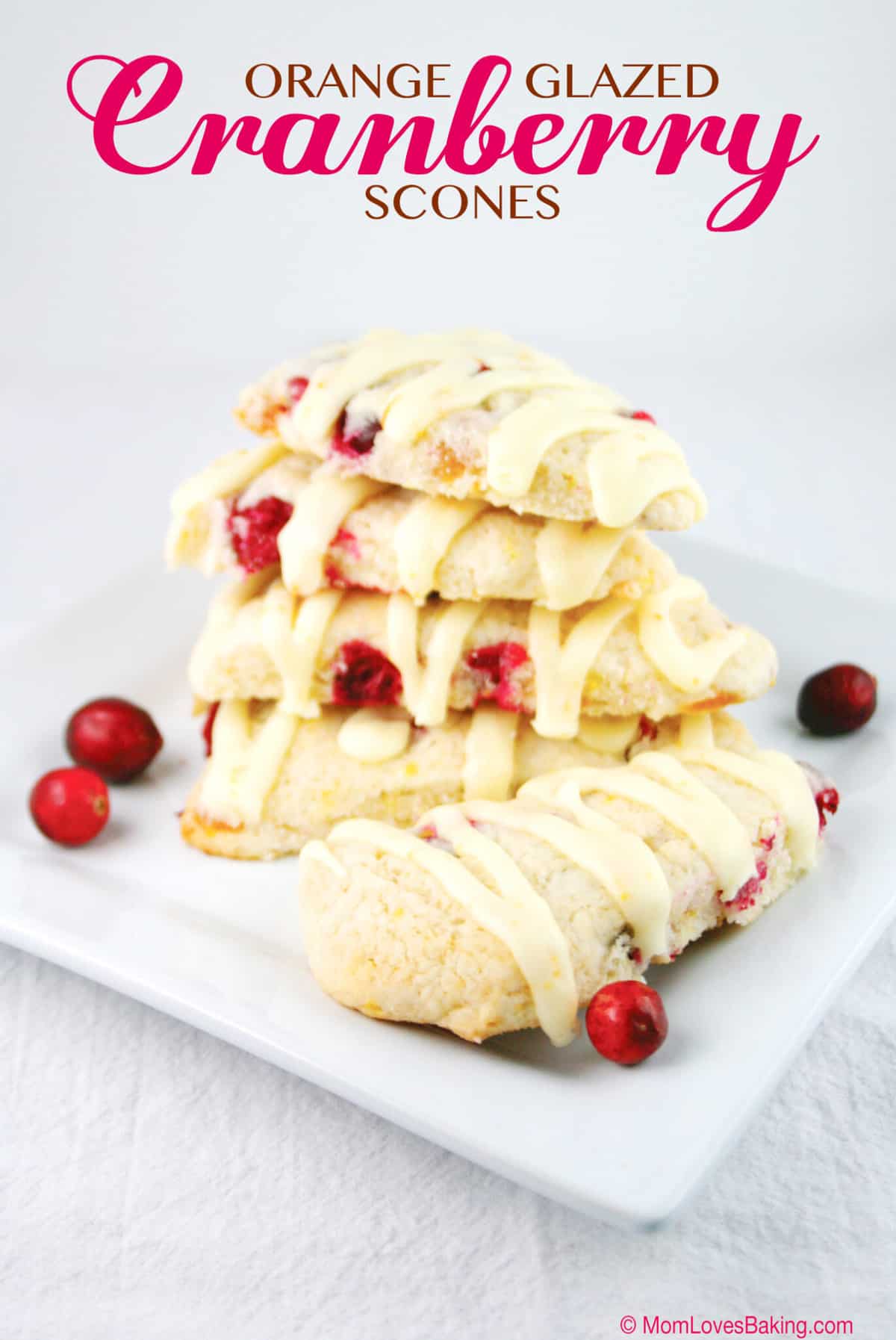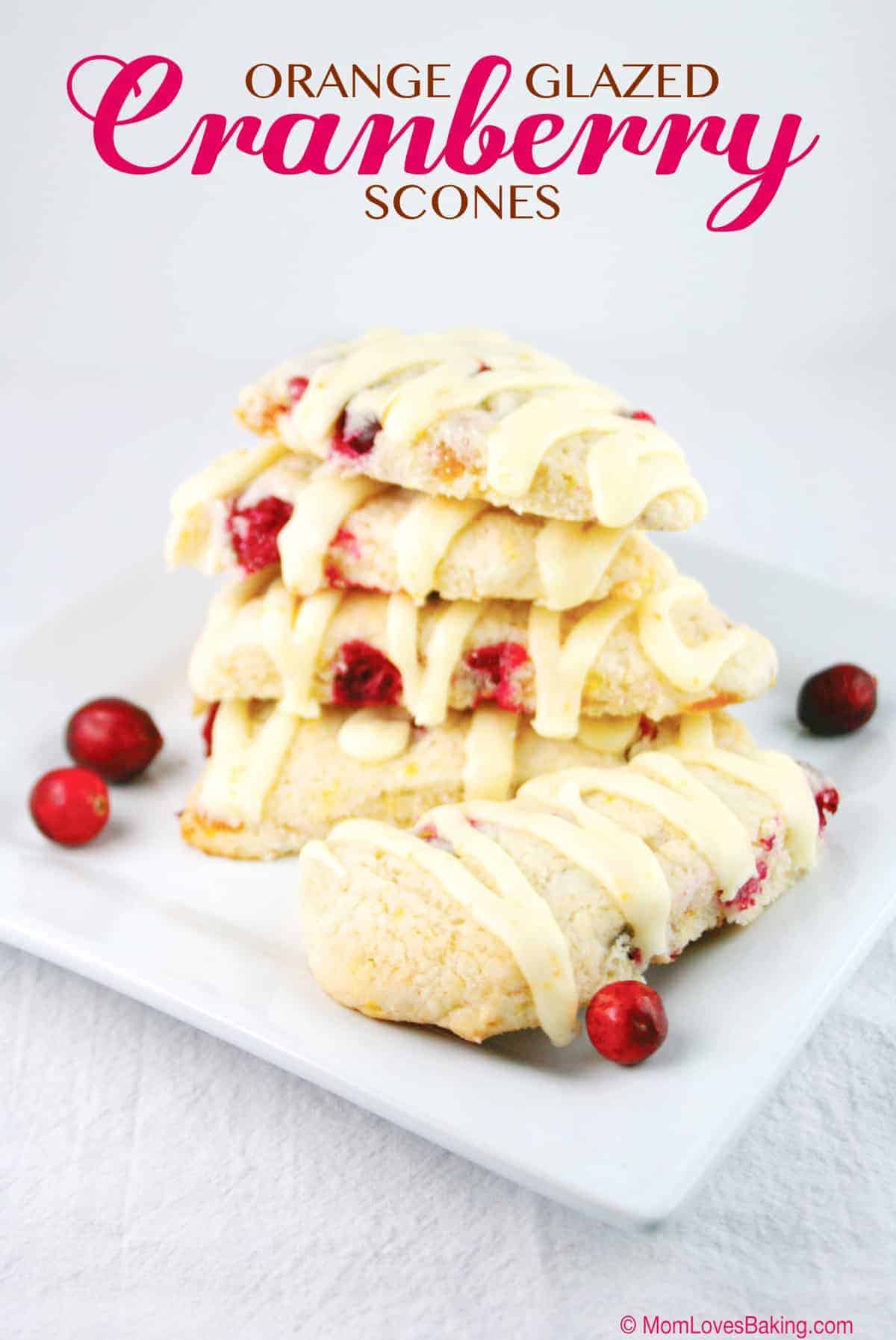 Scones can be tricky. I've found that they can be dry and dense or just too bready. Do you know what I mean? This recipe is nothing like that. These scones are soft and delicate. They're actually light and airy. And in addition to the awesome cranberry orange combo, they also have apricots which is an unexpected surprise as you bite into these beauties.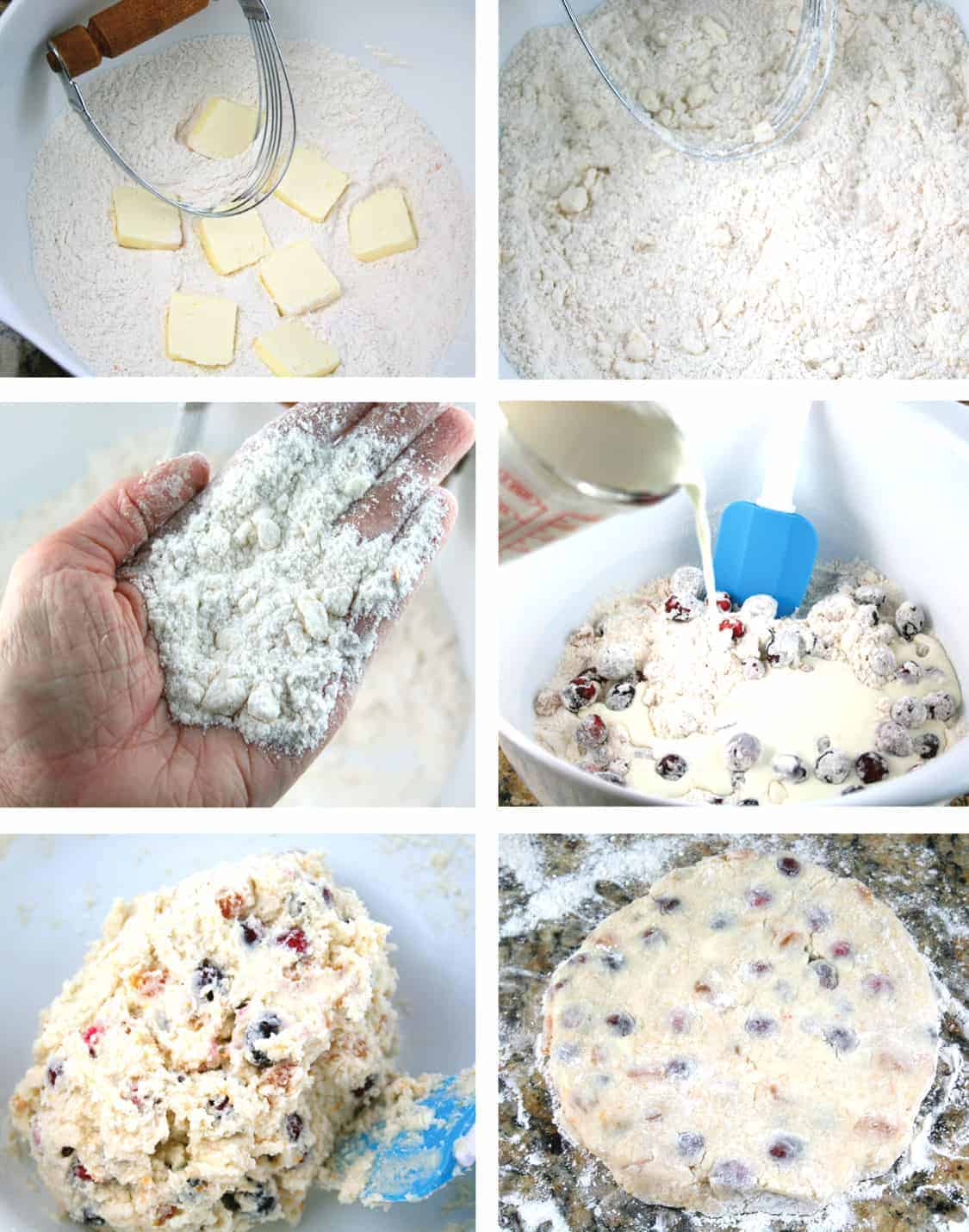 So let's get started with the step-by-step. After you whisk together your dry ingredients and orange zest, you will cut in some very cold butter. I keep it in the fridge until right before I'm going to use it. One of my favorite tools is my pastry blender. See photo above. It makes cutting in butter super easy. If you don't have one, you can use a fork or 2 butter knives. Once you've achieved a coarse meal, then you're done with the cutting in business. Stir in berries and apricots. Next, add your cream and stir until just combined. You don't want to over beat. Divide the dough in half. On a floured surface, press each portion into a 7" disc (or disk, apparently the 2 words are interchangeable). The dough will be sticky so you will need to handle it with floured hands. You can sprinkle a little extra on the dough, if needed.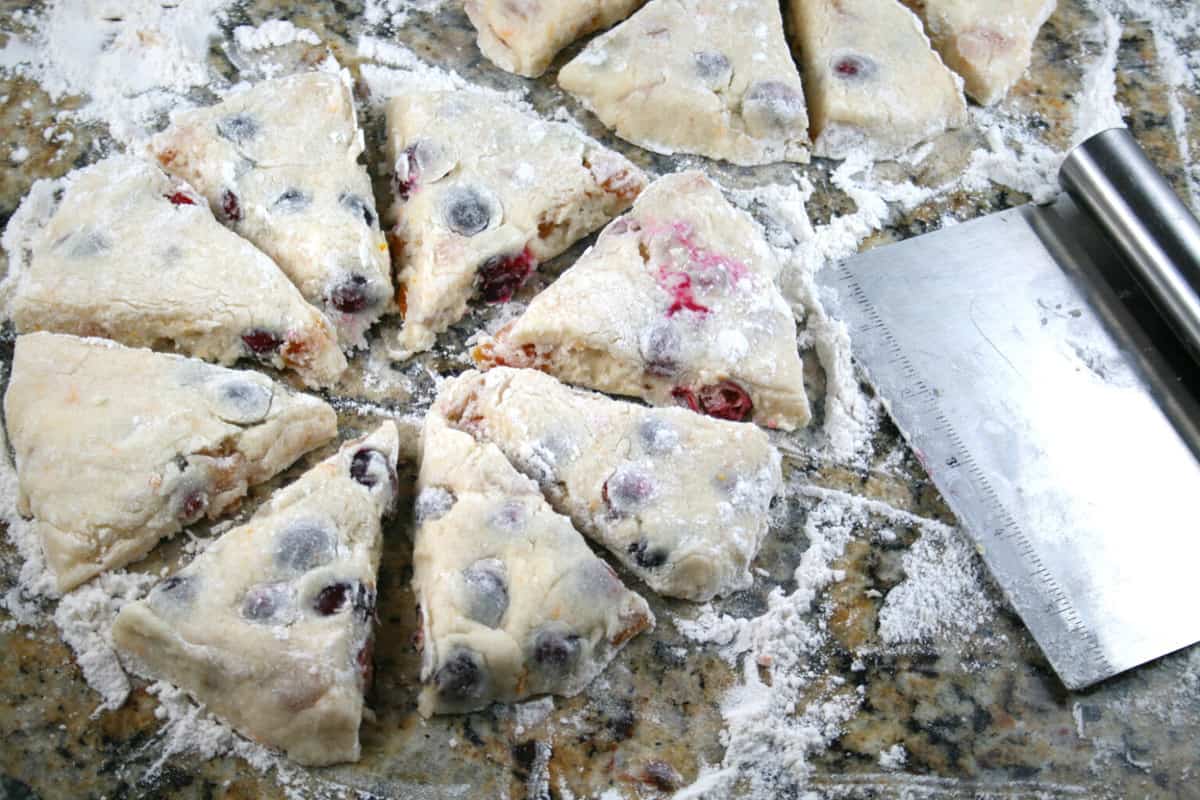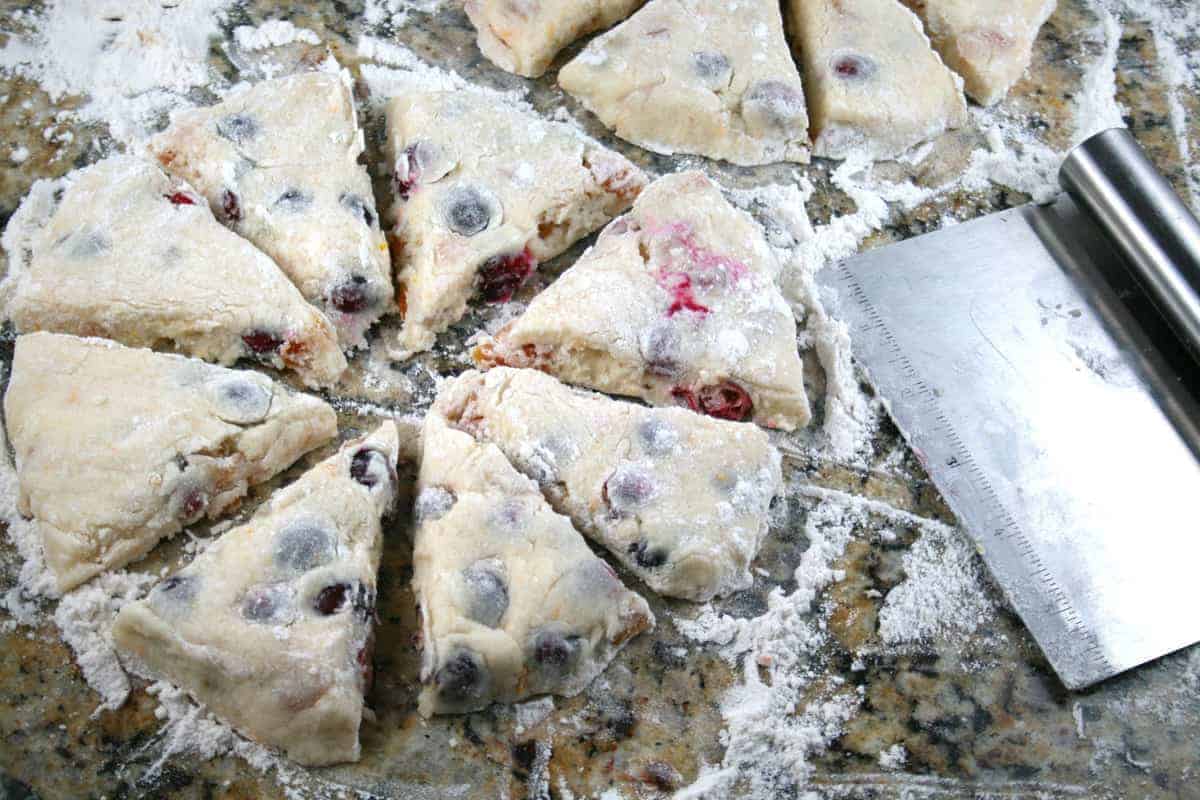 With a floured bench scraper, cut each disc into 8 pie-shaped portions and place on parchment lined cookie sheets. You can also use a silicone mat like this one (see below).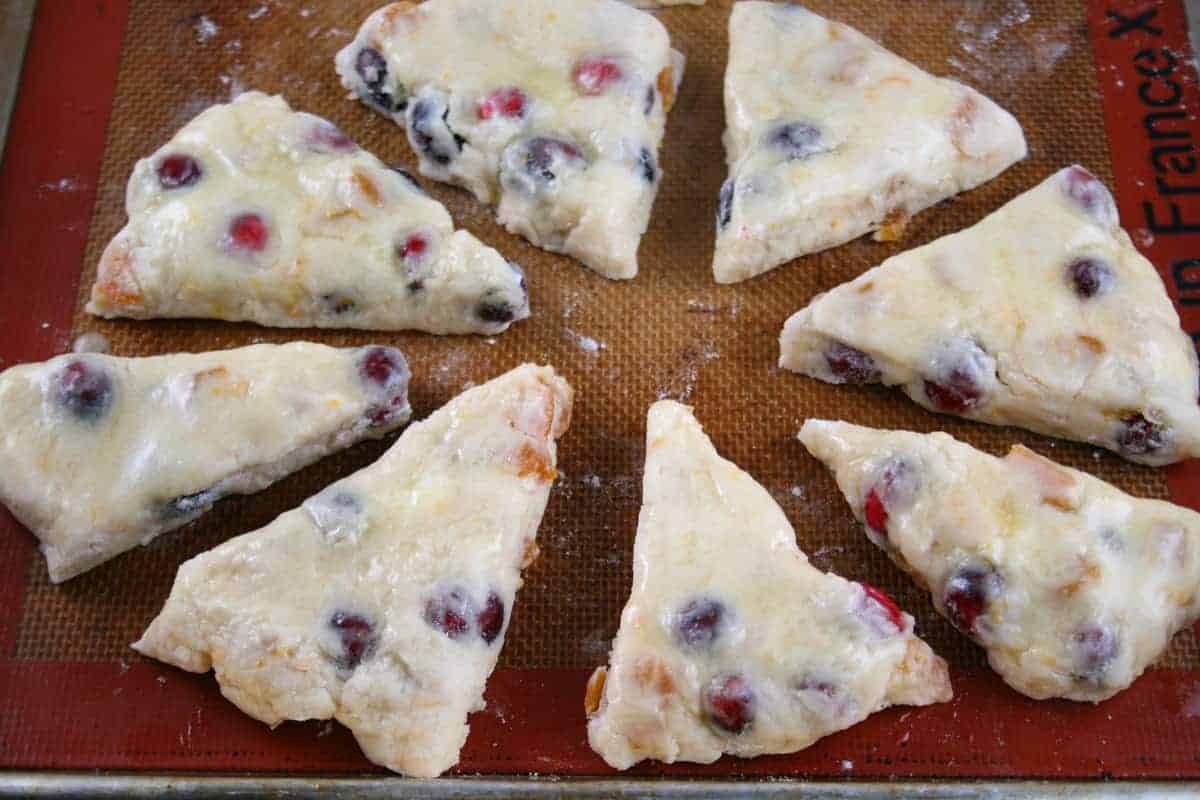 Brush with melted butter and bake at 425°F for 13-16 minutes or until just golden brown around the edges.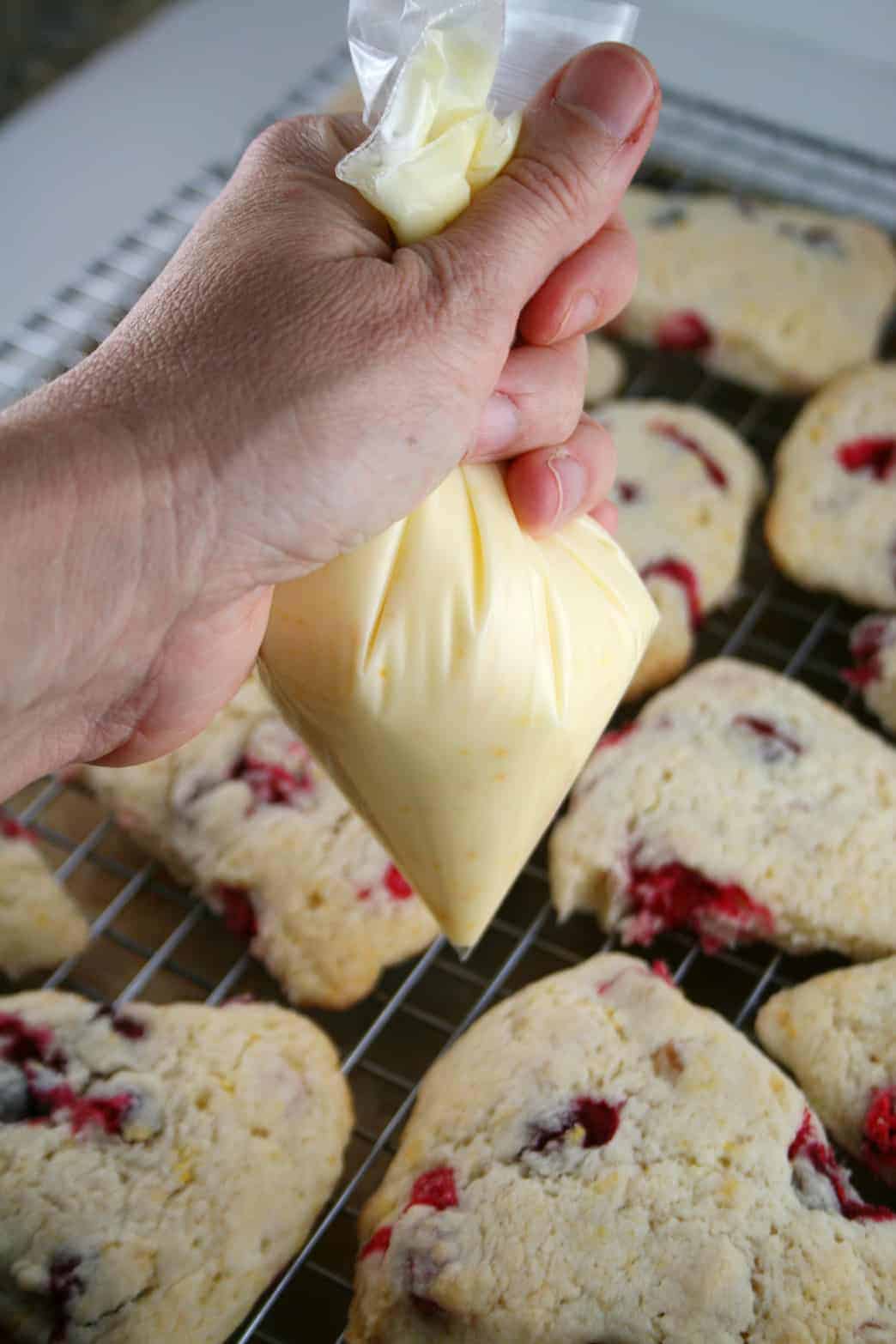 Let them cool for 10 minutes then transfer to a cooling rack. Meanwhile, make your orange glaze and place in a clear plastic sandwich bag. Seal the bag and cut a tiny hole in the corner. Drizzle icing over scones. I love using orange zest, don't you? Not only does it taste wonderful but it makes your kitchen smell so sweet and citrus-y.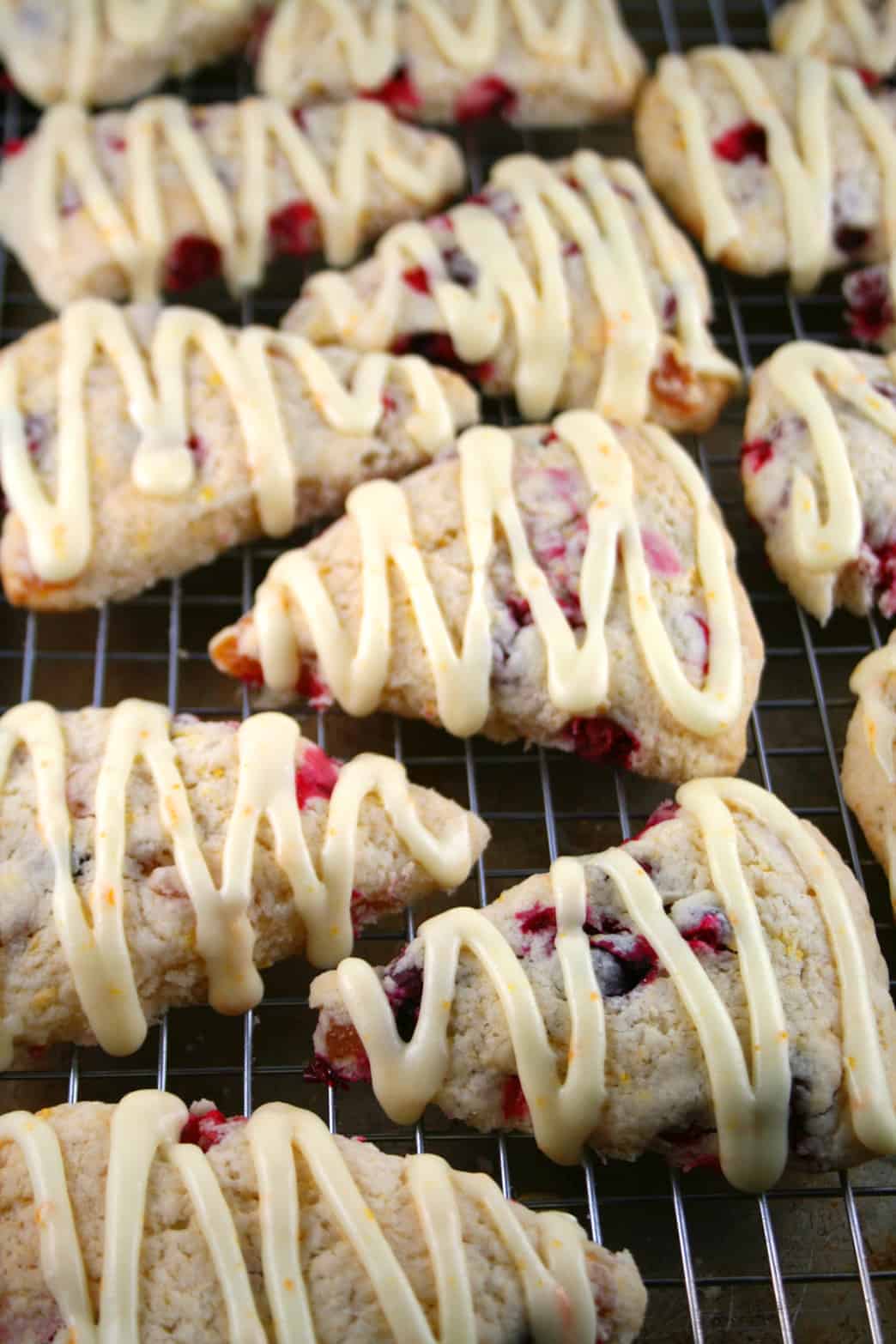 And there you have it. Lovely little Orange Glazed Cranberry Scones with apricots.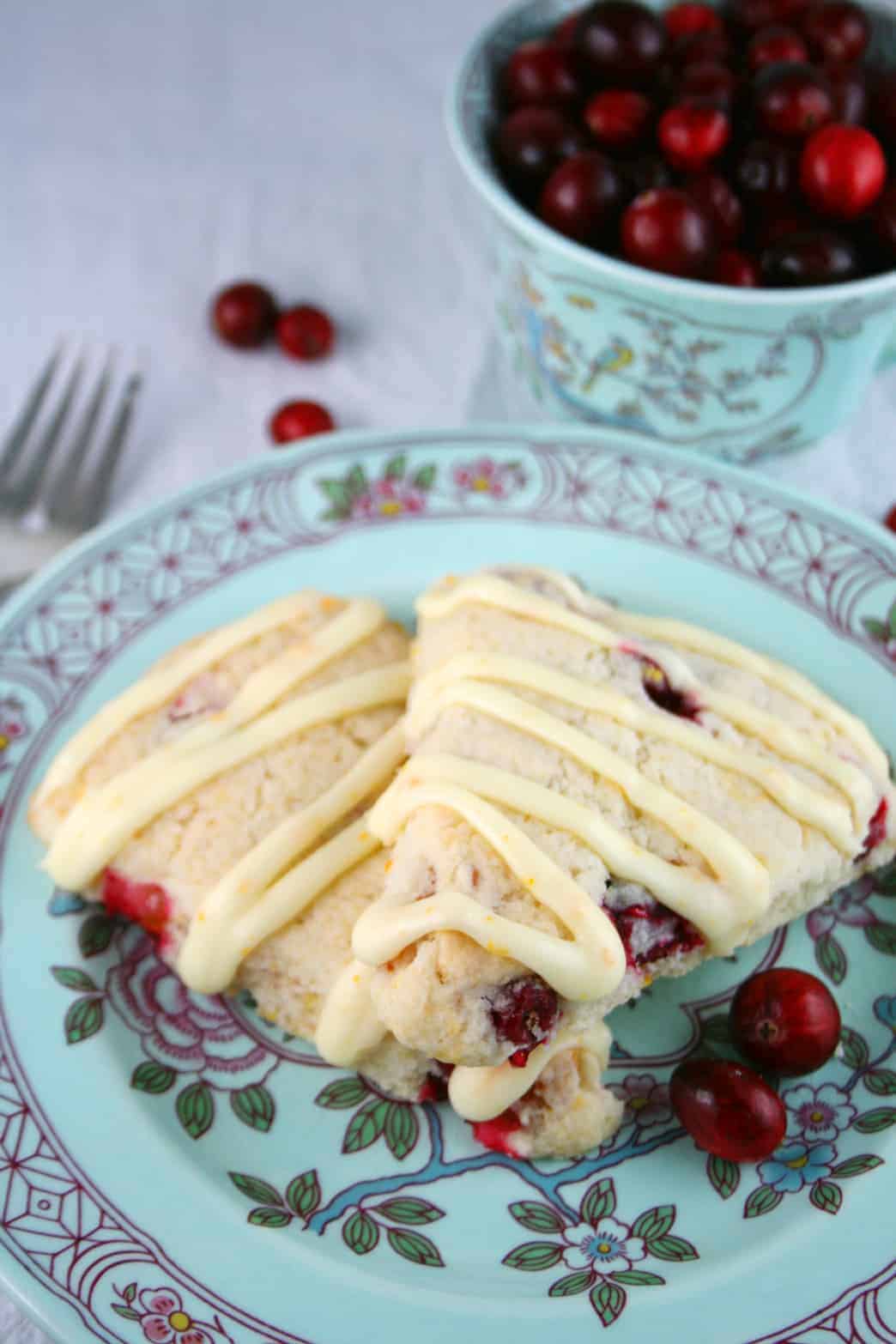 The perfect cure for your cranberry orange cravings. All you need is a spot of tea (said she with a British accent).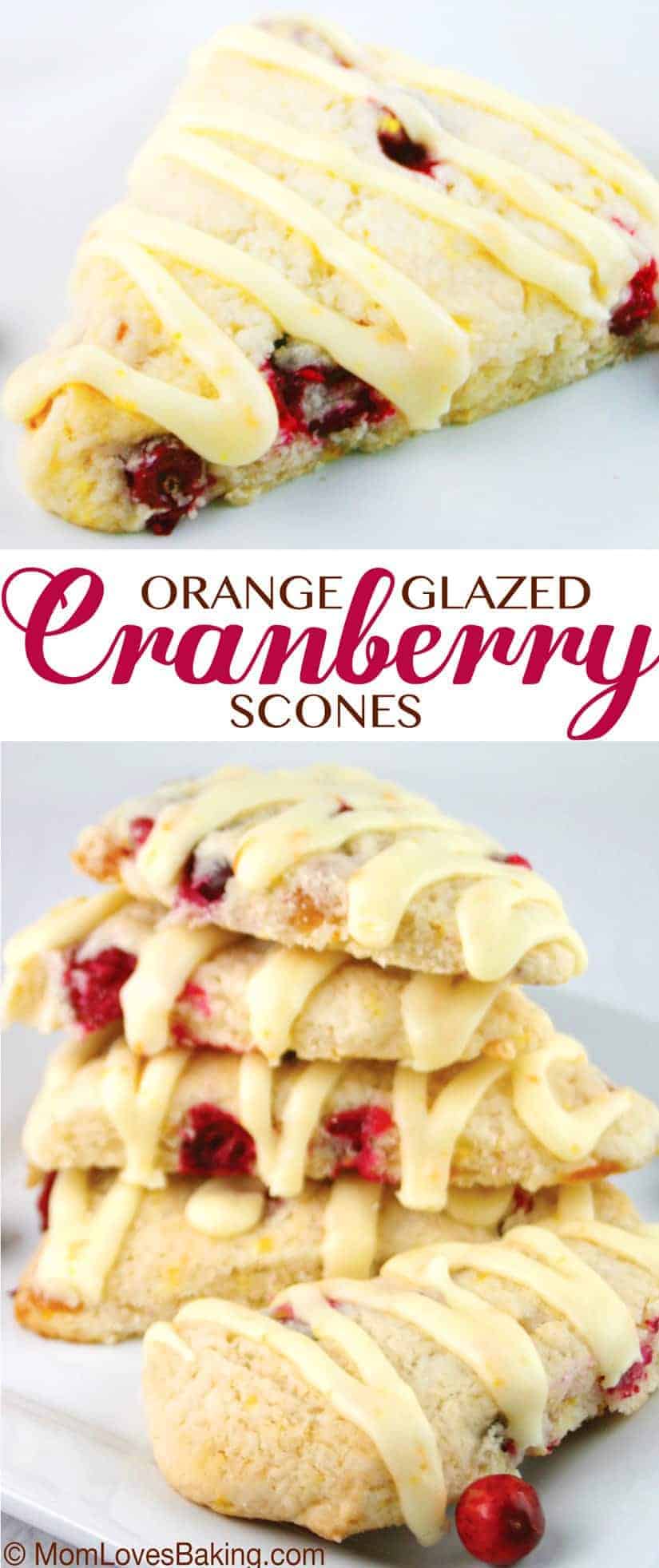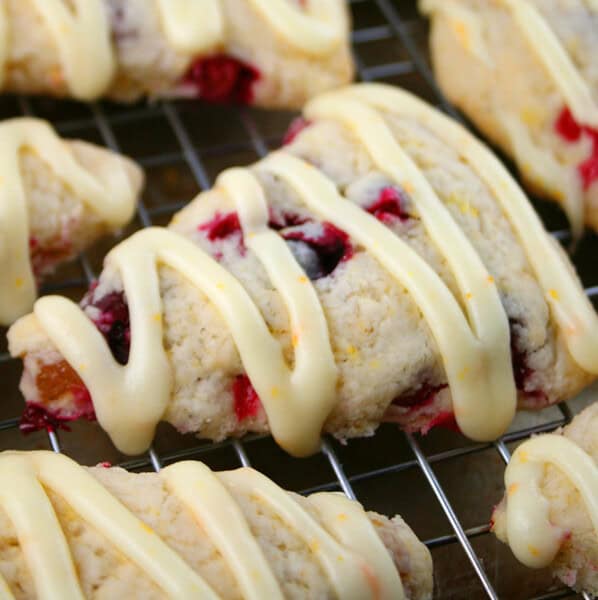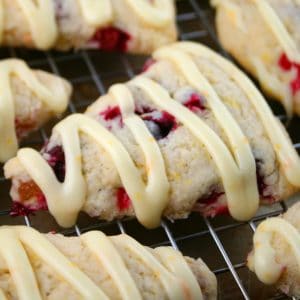 Orange Glazed Cranberry Scones
Orange Glazed Cranberry Scones are light, fluffy cranberry orange scones with apricots and an orange icing drizzle.
Print
Pin
Rate
Instructions
Preheat oven to 425°F.

In a large bowl, whisk together the flour, baking powder, granulated sugar, salt and 1 ½ teaspoons of the orange zest. Using two knives or a pastry blender, quickly cut in the cold butter until mixture resembles a coarse meal.

Stir in cranberries and apricots, then add cream. With a rubber spatula or fork, stir until dough begins to form.

Divide dough in half. On a floured surface, shape each half into a 7" disc. The dough will be sticky. You can sprinkle it with a little extra flour, if needed. Using a floured knife or bench scraper, cut into 8 wedges. Transfer to large cookie sheet lined with parchment paper or silicone mat. Brush with 1 ½ tablespoons of the melted butter. Bake 13-16 minutes or until the edges are light golden brown. Cool for 10 minutes, then transfer to wire rack.

Meanwhile, prepare the orange glaze. Place powdered sugar, remaining ½ teaspoon orange zest , 1 ½ tablespoons melted butter and 2 tablespoons orange juice in a medium bowl. Stir until smooth. Add more juice, if needed. Pour glaze into 1 quart resealable food storage bag. Cut off tiny corner of bag; squeeze bag to drizzle icing over scones. Store in airtight container. They will keep for several days or freeze for longer life.
Nutrition
Calories:
230
kcal
|
Carbohydrates:
31
g
|
Protein:
2
g
|
Fat:
11
g
|
Saturated Fat:
7
g
|
Polyunsaturated Fat:
1
g
|
Monounsaturated Fat:
3
g
|
Trans Fat:
1
g
|
Cholesterol:
35
mg
|
Sodium:
99
mg
|
Potassium:
166
mg
|
Fiber:
1
g
|
Sugar:
17
g
|
Vitamin A:
551
IU
|
Vitamin C:
3
mg
|
Calcium:
50
mg
|
Iron:
1
mg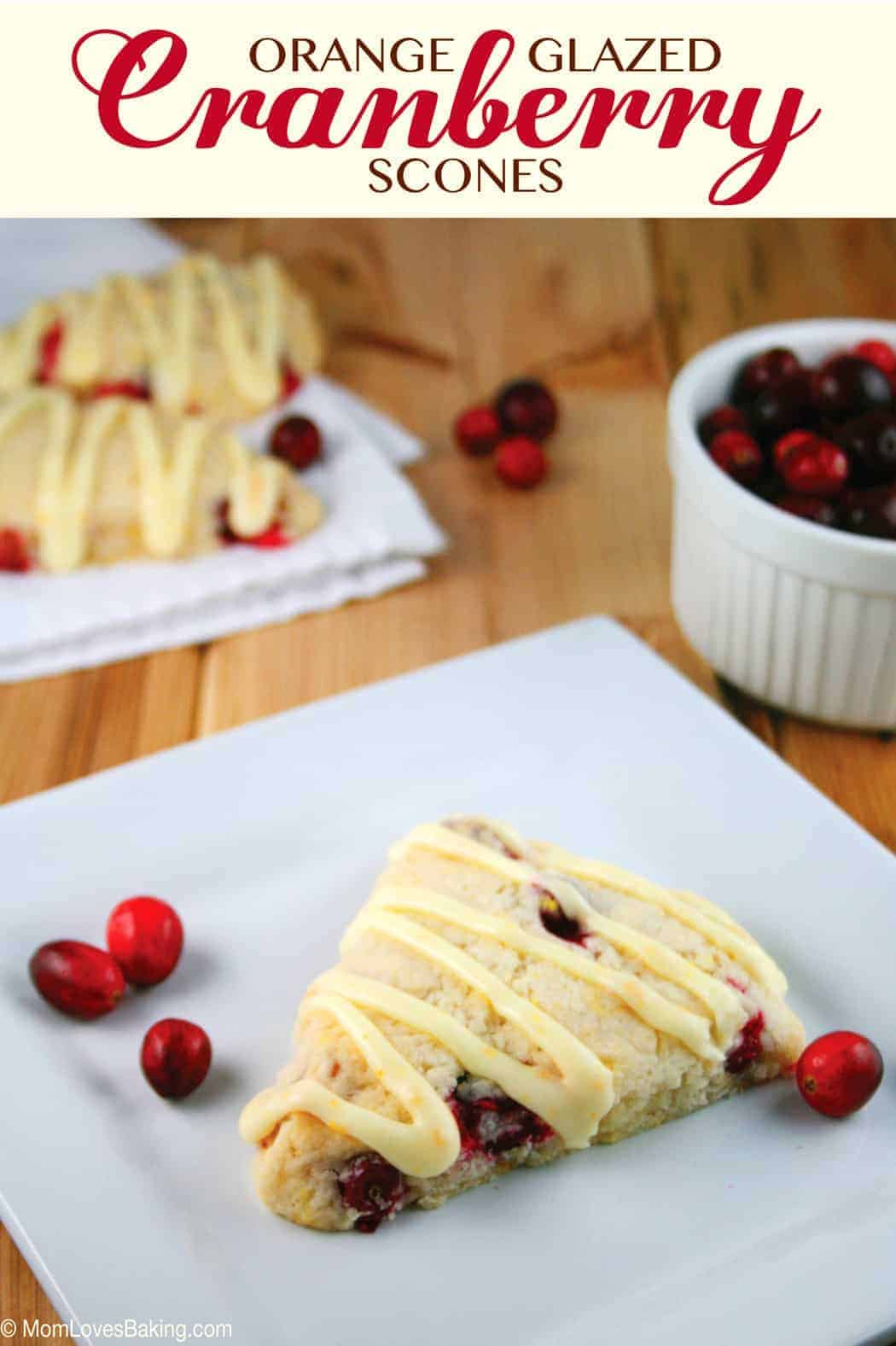 As you might know, I was a finalist in the Pillsbury Bake-Off a few weeks ago. One of the many benefits of being in the contest is that you get to sample 100 delicious recipes. One of the finalist recipes was for Orange Glazed Cranberry Biscones. They were made with canned biscuits which is quick and easy. They were really good, but I thought I would create a similar recipe from scratch. These take a little more time but I think they are so worth it!
Note: This recipe is featured on Meal Plan Monday over at the Southern Plate.