This Patriotic American Flag Layer Cake is the perfect dessert for any July 4th, Memorial Day or Labor Day party and it's super fun to make too!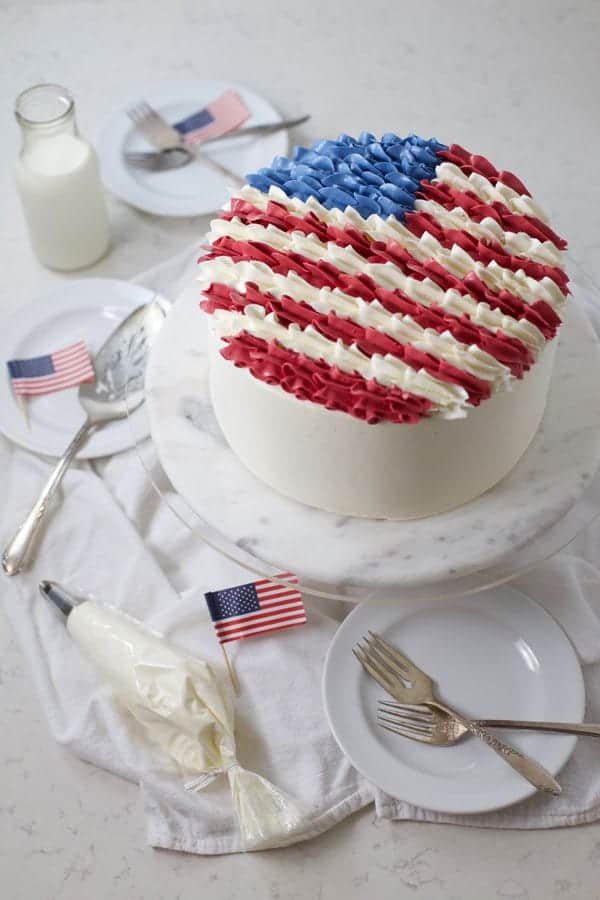 Happy July 4th! I hope you're enjoying a fun filled day with family and friends. Are you bringing dessert? Why not make this Patriotic American Flag Cake! If you're in a hurry, you can make your favorite cake mix into 3 (8-inch) round layers and mix up a batch of my easy Classic Vanilla Buttercream Frosting. Or you can follow the recipe that follows. I made a homemade funfetti cake with the most amazing Swiss Meringue Buttercream. It's a little "extra" but well worth the trouble.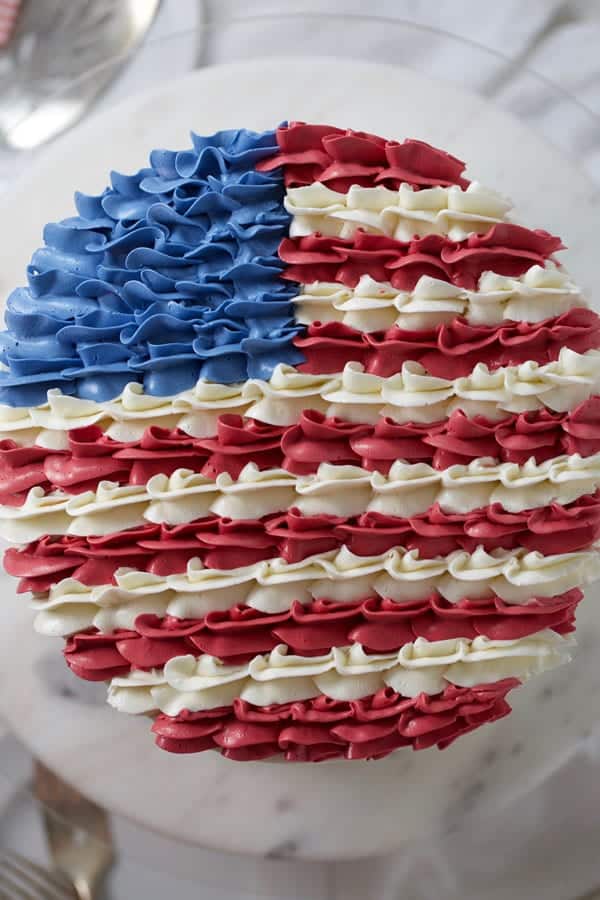 How to Decorate your Flag Cake
1) First you want to fill and frost your cake with white frosting.
2) Divide remaining frosting into 3 bowls. Color one red and another blue. Leave the last one white.
3) You will need 3 (Wilton 1M) pastry tips for this design.
4) Pour each color of frosting into a separate pastry bag fitted with the 1M tip.
5) Start with blue, pipe a sideways shell border in lines to fill the upper left quarter section on top of your cake.
6) Next, alternate with red and blue sideways shell borders to create your flag stripes.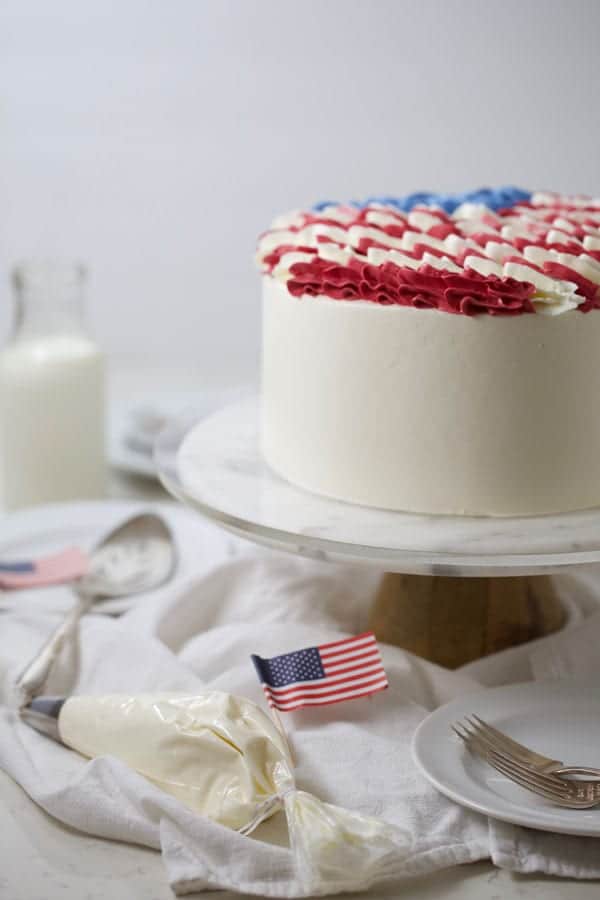 I used Swiss Meringue Buttercream to make this cake which is a very special frosting to me. I used to make wedding cakes and this was my favorite buttercream for all occasion cakes.
Why I Love Swiss Meringue Buttercream
1) It's silky, smooth and fluffy
2) Not too sweet because it's made with granulated sugar that's dissolved in egg whites
3) Does not contain any powdered sugar
4) Great for cake decorating
5) My favorite part is that it has the most beautiful sheen to it
Please note: It is best to make your Swiss Meringue Buttercream ONE DAY AHEAD as it needs to be refrigerated overnight.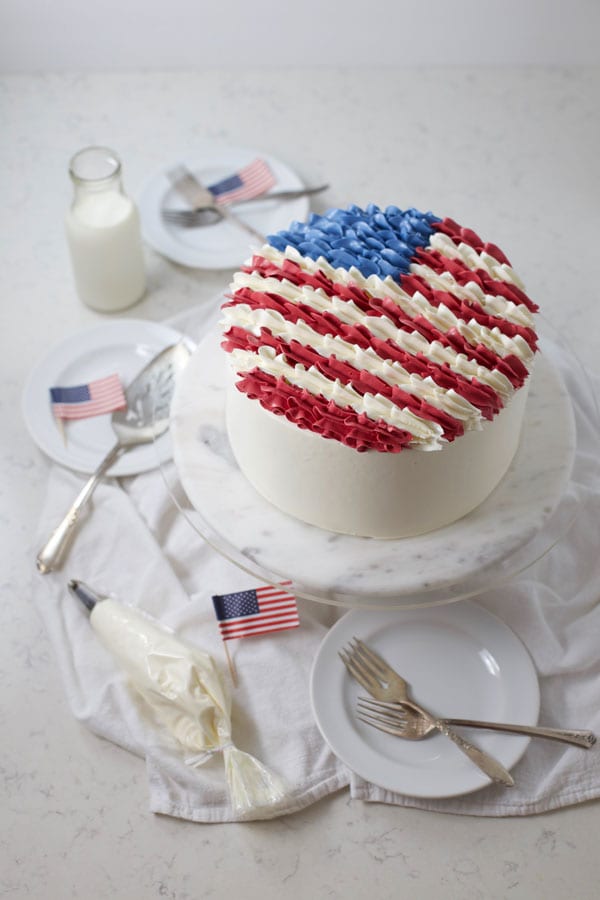 What is the best food coloring to use?
1) Do not use liquid food coloring from the grocery store
2) Always use food coloring gel for your cake decorating projects
3) Select a trusted brand of food coloring. I prefer Americolor or Wilton brand food coloring gels.
4) You can find good quality food coloring gels at a craft store in the cake decorating section or online.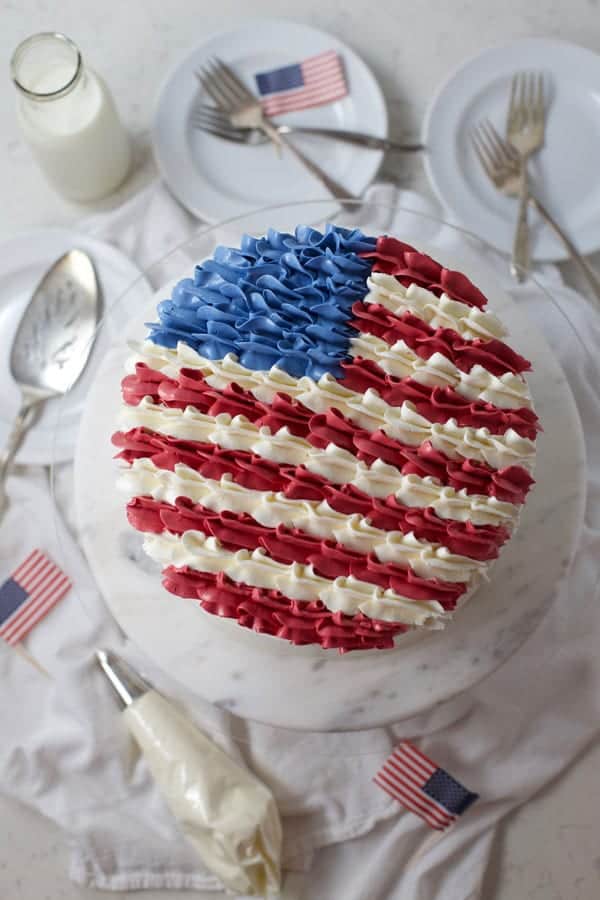 Watch me decorate the cake in this YouTube video.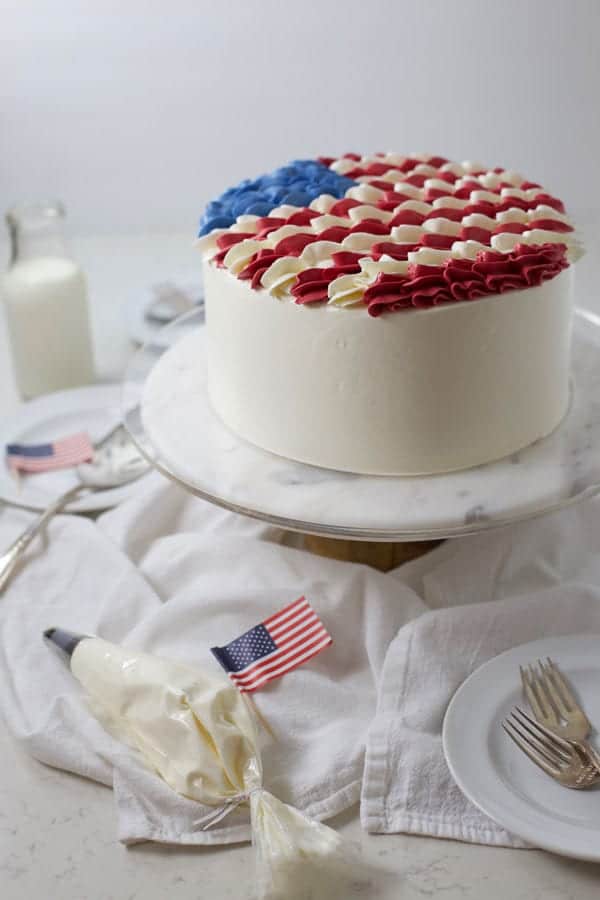 If you want to give this a go, it is crucial to have the right tools. I could not produce a cake like this if I didn't have my trusty bag of tricks. I've included links to these items below if you want to purchase them from Amazon (affiliate). Or you can find most of these items at a craft store or department store.
Tools I Used to Make this Patriotic American Flag Layer Cake
Kitchenaid Tilt-Head Stand Mixer, 5-Quart - This is the best tool for making Swiss Meringue Buttercream
Wilton 8-Inch Round Cake Pans (I used 3)
Ateco Cast Iron Rotating Cakestand
12-Inch Cake Drum - This is what your put your cake on
Wilton Large Offset Spatula - For frosting the cake
Bench Scraper - For the smoothing the frosting
Wilton or Americolor Food Coloring Gels
Wilton 1M Pastry Tip - You need 3 for this cake
Large Disposable Pastry Bags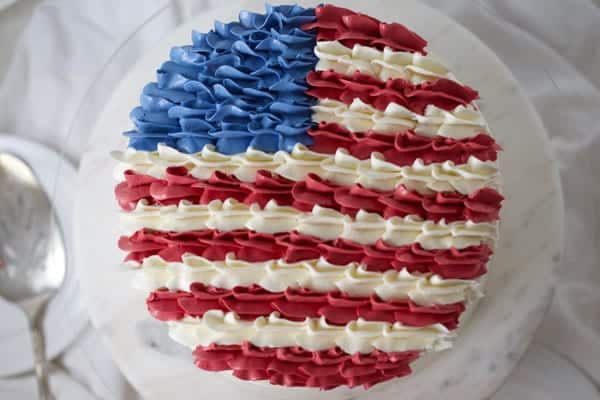 Cutting the Cake
You may have noticed that I don't have any photos of the inside of the cake. That is because I brought my Patriotic American Flag Layer Cake to a July 4th party hosted by our friends that live on Lake Lanier in Cumming, GA. It was so nice to be with friends to enjoy the holiday. We cut the cake just as the fireworks started. I love the red, white and blue sprinkles in the batter that give the cake it's funfetti slices. The kids especially loved that. I think my biggest fan that day was the sweetest 3 year old girl, daughter of one of our friends. She enjoyed every bite. So cute!
Side Note: This project is more of an advanced level but it's totally do-able. Don't forget, practice makes perfect. And don't worry if it doesn't come out exactly as you wanted the first time you try it. Your family will be proud of you no matter what and it will be yummy to eat! Let me know if you try this Patriotic American Flag Layer Cake and also if you have any questions.
Happy Baking,
Lise
xo
Tools for success
8-Inch Round Cake Pans (Set of 2)
Americolor Food Coloring Gel Set
Ateco Cast Iron Rotating Cakestand
Bench Scraper for Smooth Frosting Finish on Cake
Wilton Offset Spatula (Set of 3)
Cake Drums (12-Inch) - This is what you put your cake on
Note: The above items are affiliate links.
Want even more? Subscribe to Mom Loves Baking to get new recipes and a newsletter delivered to your inbox. And stay in touch on Facebook, Pinterest, Twitter, and Instagram for all my latest updates. If you make this recipe, share a photo on social media tagging @momlovesbaking and using the hashtag #momlovesbaking.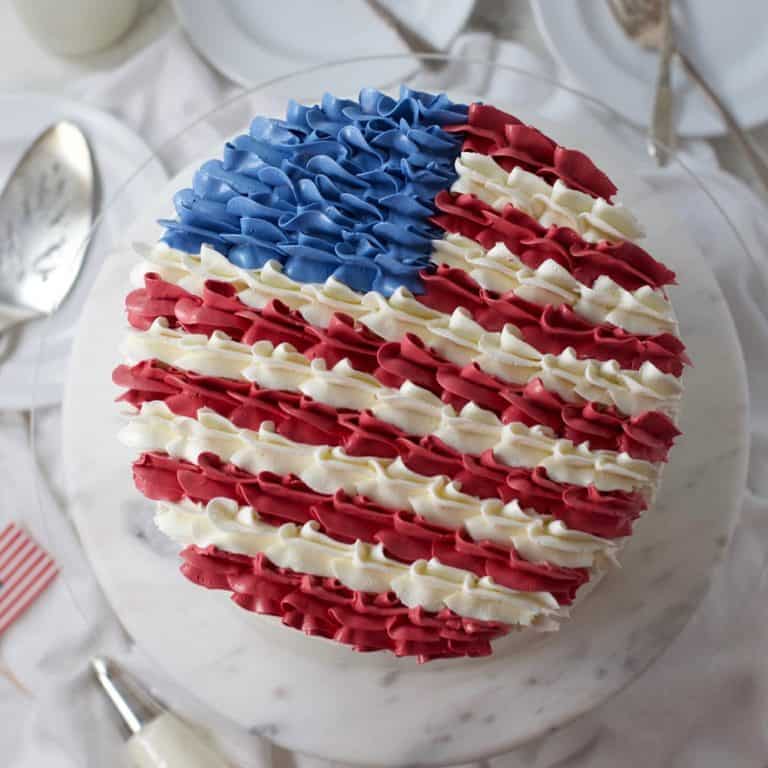 Patriotic American Flag Layer Cake
The perfect dessert for any July 4th, Memorial Day, Labor Day or ANY patriotic themed party and it's super fun to make too!
Print
Pin
Rate
Ingredients
For the Swiss Meringue Buttercream
Instructions
For the cake
Preheat oven to 350°F. Line 3 (8-inch) round cake pans with parchment paper, spraying with non-stick cooking spray before and after place parchment in pans. Set aside.

Place all of the cake ingredients (except sprinkles) in a large bowl. With an electric mixer, beat on low for 10-15 seconds, then turn up to medium and beat for 2 minutes. Stir in sprinkles by hand. Divide batter equally into the 3 prepared pans. Bake for 30-35 minutes or until a toothpick inserted in middle of cake comes out clean. Let cool.
For the Swiss Meringue Buttercream
Note: You really need an ELECTRIC MIXER for this recipe. Place egg whites and sugar in a large bowl (I used the Kitchenaid bowl that comes with the mixer). Whisk until combined. Place the bowl over a pot of simmering water and whisk like crazy for 2 minutes or until the sugar has dissolved. DO NOT STOP whisking or you will have scramble eggs. Remove from heat and beat on high for 20 minutes with the whisk attachment of your mixer.

Once your egg whites and sugar mixture have been beaten for 20 minutes, you should have stiff peaks of meringue that has just about come to room temperature. Now you're ready for the butter. With the mixer on low, add your butter 2-3 tablespoons at a time. Once you've added all the butter, then add your vanilla extract and flavoring. Mix until combined. Your mixture will be a bit soupy at this point, so you will need to refrigerate for 2 hours or overnight.

After the buttercream has been chilled, take it out of the refrigerator and let it sit for an hour or so. You don't want it TOO cold. I know, this is a bit fussy, but I promise it's worth it. Now you can beat your buttercream again on medium high and watch the magic. At first it might look sort of curdled but don'w worry, just keep beating it. After a few minutes, it will turn into a light and fluffy buttercream. This could take anywhere from 1-4 minutes. Now you're ready to frost your cake.
Assembling cake and decorating
Fill and frost your cooled cake with an offset spatula. Smooth the sides with a bench scraper and a rotating cakestand (if you have it). Let it chill in the fridge while you prepare the colors. Take the remaining frosting and divide into 3 bowls. Color one bowl red and the other blue. Place into large pastry bags fit with a 1M pastry tip. You will need 3 bags and 3 tips. Start with the blue frosting and pipe a sideways shell border in the upper left quarter of the cake to create the blue part of the flag. Then start at the top with red and pipe another sideways shell border horizontally. Then white and keep alternating red and white until you've covered the entire top of the cake. That's it! You did it! Now serve and enjoy. Store cake in the refrigerator for up to 3 days. Serve at room temperature. Note: This buttercream frosting gets very hard when it is chilled but is just perfect at room temperature.
Notes
It's a good idea to make the Swiss Meringue Buttercream ONE DAY AHEAD as it should be refrigerated over night for best results.
Nutrition
Calories:
504
kcal
|
Carbohydrates:
64
g
|
Protein:
4
g
|
Fat:
26
g
|
Saturated Fat:
16
g
|
Cholesterol:
86
mg
|
Sodium:
287
mg
|
Potassium:
75
mg
|
Fiber:
1
g
|
Sugar:
50
g
|
Vitamin A:
747
IU
|
Vitamin C:
1
mg
|
Calcium:
75
mg
|
Iron:
1
mg