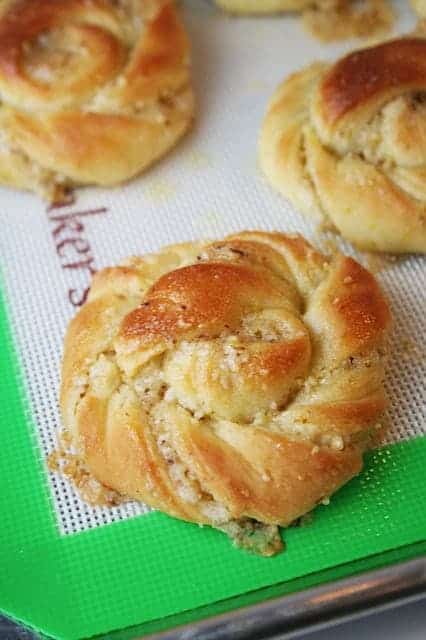 Ring-A-Lings won the 7th Pillsbury Bake-Off in 1955. Recipe on Pillsbury.com by Bertha Jorgensen of Portland, Oregon.
Think of a butter and nut filled sweet yeast roll with a hint of orange.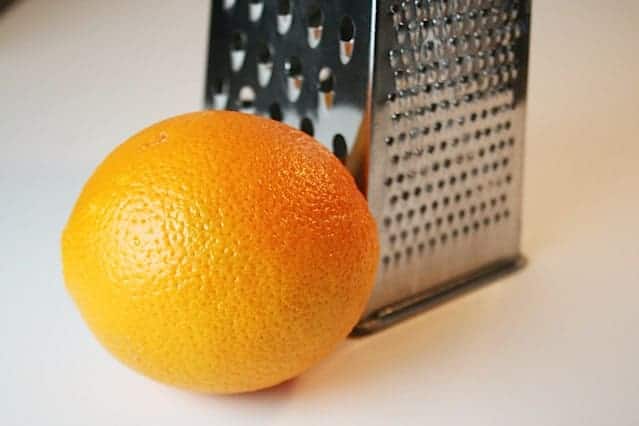 Start by zesting an orange and reserving 1/4 cup of the juice.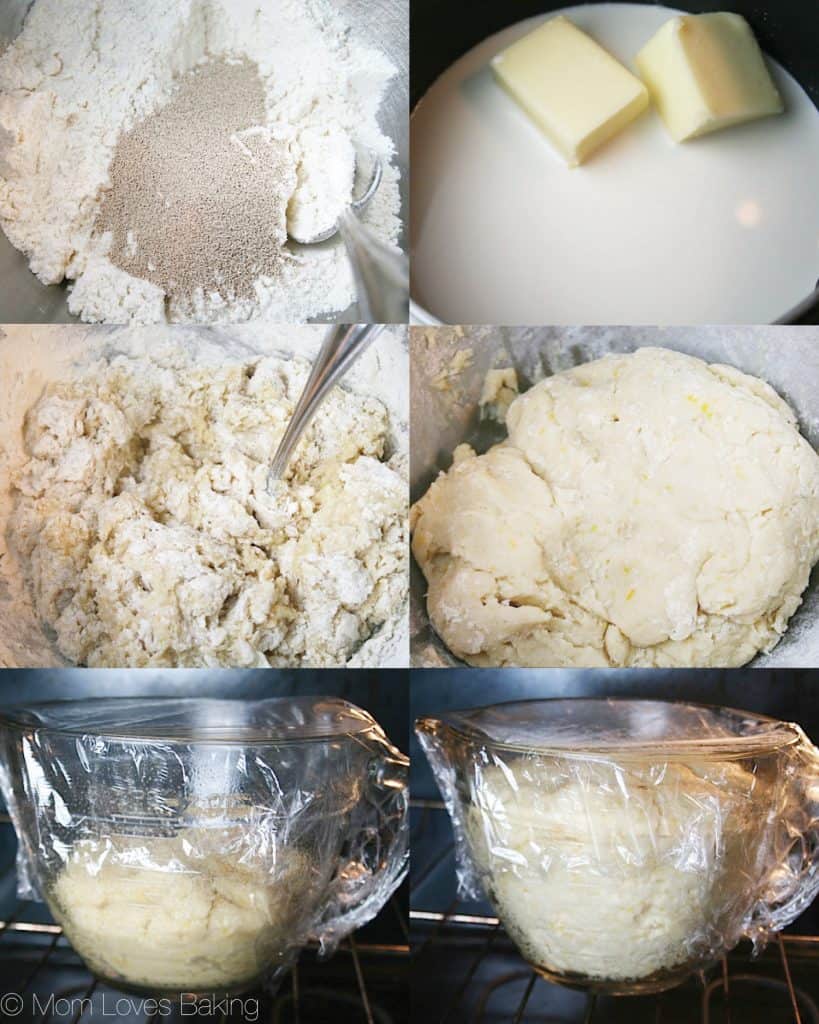 Heat milk and butter until very warm. Add to a mixture of flour, sugar, salt, orange peel and yeast, along with 2 eggs. Beat 3 minutes at medium speed. Then add more flour. Place in greased bowl and let rise in a warm place for about 45 minutes. I used the oven that had been heated to 100°F and then turned off. To my surprise, it actually doubled in size. Yay!
Roll the dough out to 22″x12″ on a floured surface. On half of it, spread a mixture of ground nuts, butter and sugar. Then fold over and cut in 1 inch strips. Twist the strips and roll them up.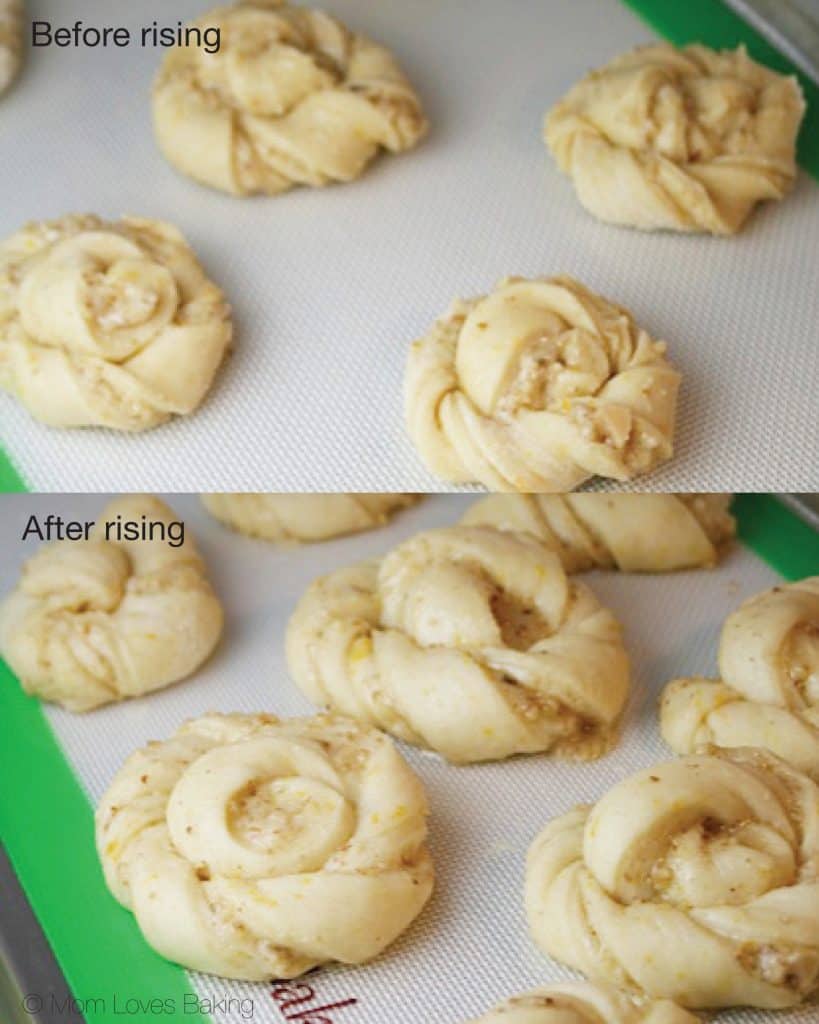 Place rolls on greased cookie sheet or use a Baker's Mat like I did. Let rise in warm place for about 45 minutes. Bake about 10 minutes. Brush with a mixture of orange juice and sugar. Bake for 3-5 minutes more.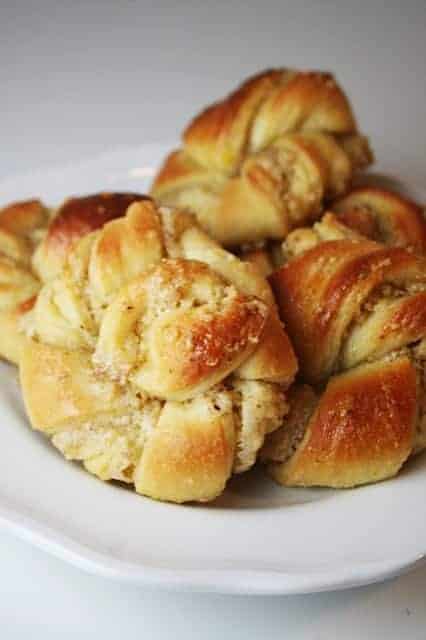 Wow, that was a lot of work! But I have to say, I think it was worth it. These Ring-a-Lings are so good. Soft, yet crunchy. Creamy, yet nutty and just a hint of orange. Perfect for a special occasion when you don't mind taking a little extra time. P.S. I have a little confession to make. I forgot the eggs. Oops! They still turned out fine somehow. Shhhh… don't telll!
Next week's recipe in the baking project is called California Casserole. Stay tuned…
Print Recipe
Ring-a-LIngs
Ingredients
Recipe courtesy of Pillsbury®

Dough

4 to 4 1/2

cups

Pillsbury BEST® All Purpose or Unbleached Flour

1/3

cup

sugar

2

teaspoons

salt

2

teaspoons

grated orange peel

2

pkg. active dry yeast

1

cup

milk

1/3

cup

margarine or butter

2

eggs

Filling

1

cup

powdered sugar

1/3

cup

margarine or butter

softened

1

cup

filberts

pecans or walnuts, ground

Glaze

3

tablespoons

sugar

1/4

cup

orange juice
Instructions
Lightly spoon flour into measuring cup; level off. In large bowl, combine 2 cups of the flour, 1/3 cup sugar, salt, orange peel and yeast; mix well.

In small saucepan, heat milk and 1/3 cup margarine until very warm (120° to 130°F.). Add warm liquid and eggs to flour mixture; blend at low speed until moistened. Beat 3 minutes at medium speed. By hand, stir in remaining 2 to 2 1/2 cups flour to form a stiff dough. Place dough in greased bowl; cover loosely with plastic wrap and cloth towel. Let rise in warm place (80° to 85°F.) until light and doubled in size, 35 to 50 minutes.

In small bowl, blend podered sugar and 1/3 cup margarine until smooth. Stir in filberts; set aside. In second small bowl, blend glaze ingredients; cover and set aside.

Grease 2 large cookie sheets. Stir down dough to remove all air bubbles. On floured surface, roll dough to 22x12-inch rectangle. Spread filling mixture lenghtwise over half of dough. Fold dough over filling. Cut crosswise into 1-inch strips; twist each strip 4 to 5 times. To shape rolls, hold folded end of strip down on greased cookie sheet to form center; coil strip around center. Tuck loose end under. Repeat with remaining twisted strips. Cover; let rise in warm place until light and doubled in size, 30 to 45 minutes.

Heat oven to 375°F. Uncover dough. Bake 9 to 12 minutes or until light golden brown. Brush tops of rolls with glaze. Bake an additional 3 to 5 minutes or until golden brown. Immediately remove from cookie sheets; cool on wire racks. Serve warm.