Rose Cupcakes with Russian Pastry Tips are chocolate cupcakes with buttercream roses made with a Russian pastry tip.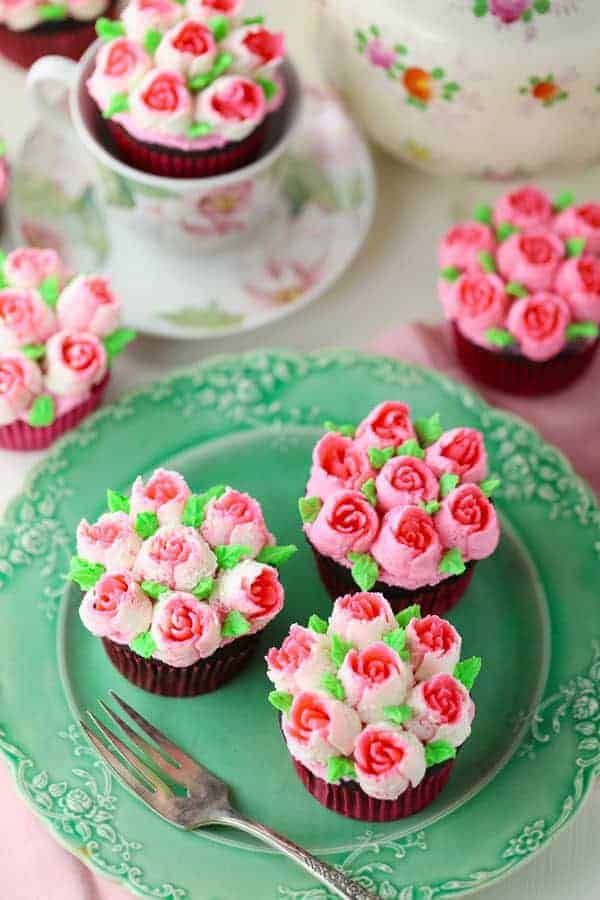 Aren't these the prettiest little rose cupcakes you ever did see! And the buttercream roses look like they would be so tricky to make, right? Wrong. I used a Russian pastry tip to create these buttercream roses and it is much easier than you think!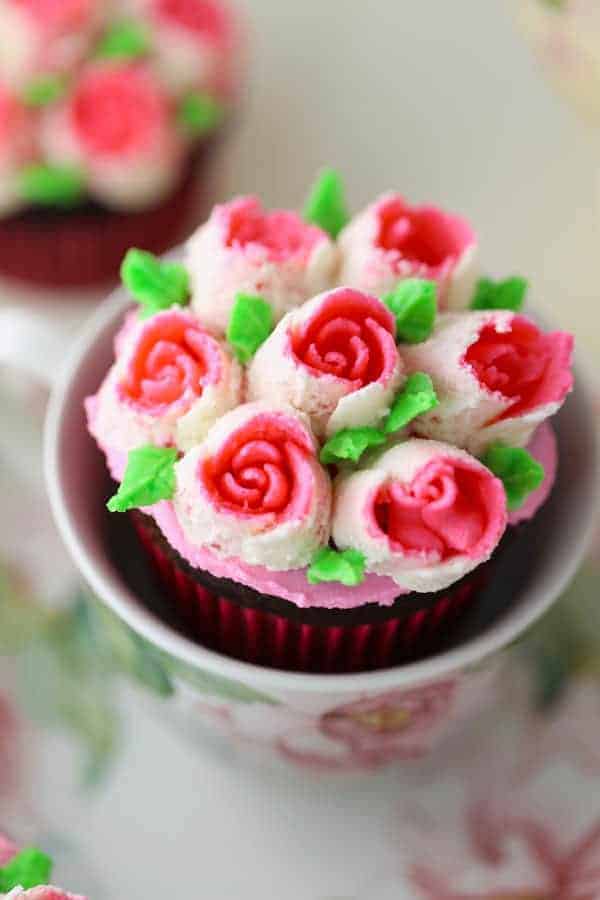 I've known about these Russian pastry tips for awhile. I've seen them on Facebook, Pinterest and YouTube and have often wondered what all the fuss is about. And why are they called Russian pastry tips? That part is a bit of a mystery. All I do know is that they are a great way to make beautiful buttercream roses on your cupcakes or cakes.
I ordered them from Amazon and received a box with seven different pastry tips. This is the one I decided to try. It's called a seven petal tip because it creates a rose with seven petals. I cut a small piece off the end of the pastry bag and placed the tip inside.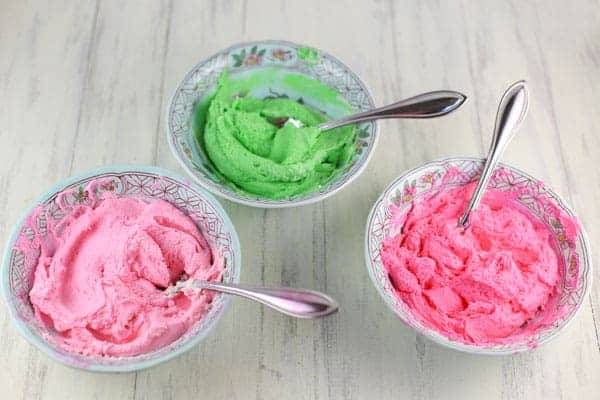 To make the cupcakes, first I baked a batch of gluten free chocolate cupcakes and let them cool. I made the Rose Cupcakes with Russian Pastry Tips for Mother's Day and my mom can't have gluten or dairy. My daughter can't have gluten or dairy either, so that's why I chose to make them this way. You can use any cake mix you want to.
I made a batch of buttercream frosting (dairy free), divided it into three bowls and added the coloring. I chose two kinds of pink for the roses and green for the leaves. I also did another batch where I used white and pink for the roses.
I placed a piece of plastic wrap on the counter, then spread some of the lighter pink right on the plastic. I then added some of the darker pink on top and spread it around the middle. Then I rolled it up. I rolled up the ends, then cut the rolled plastic wrap off one side, so there was an opening. Then I placed the wrapped frosting (cut side down) into the prepared pastry bag.
I spread some frosting on each cooled cupcake before piping the roses.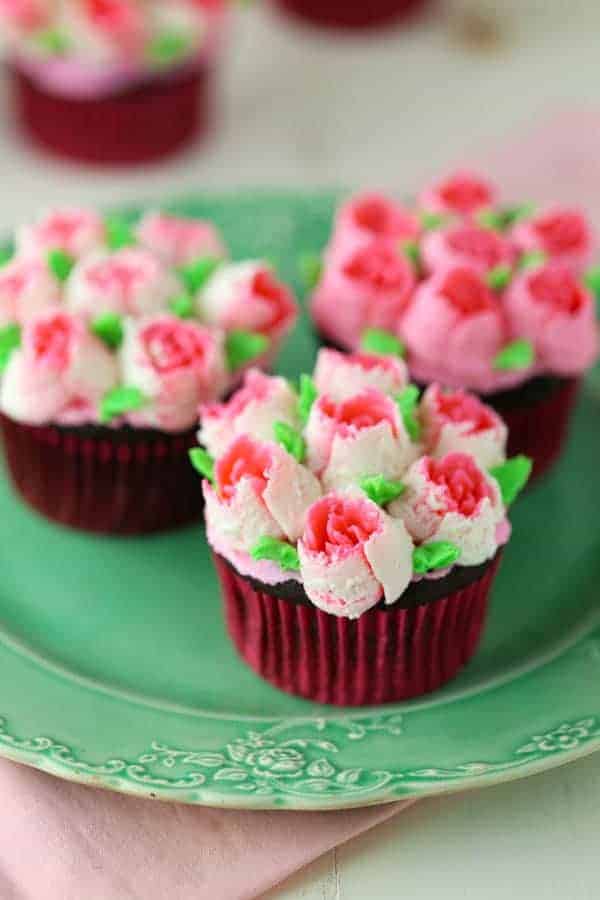 Now for the FUN part. You can practice on a plate a few times if you want. Or pipe right onto the cupcake and wipe off the icing if you don't like it at first (you can reuse the wiped off frosting). Place the tip just above the cupcake and gently squeeze out a little bit of frosting. You don't want too much or the rose will look weird.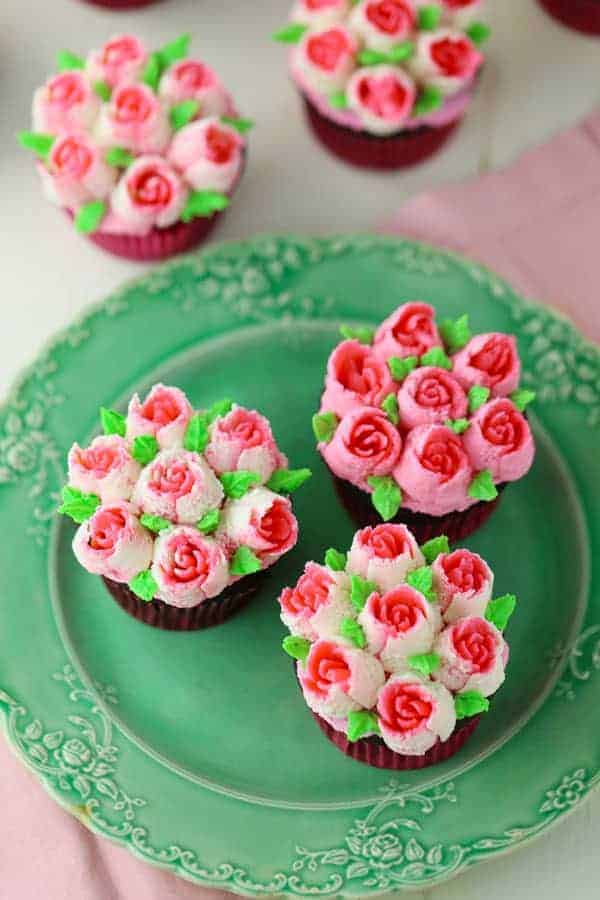 Keep squeezing out the roses until you have seven roses. It's so exciting to see your roses forming for the first time. It's very satisfying!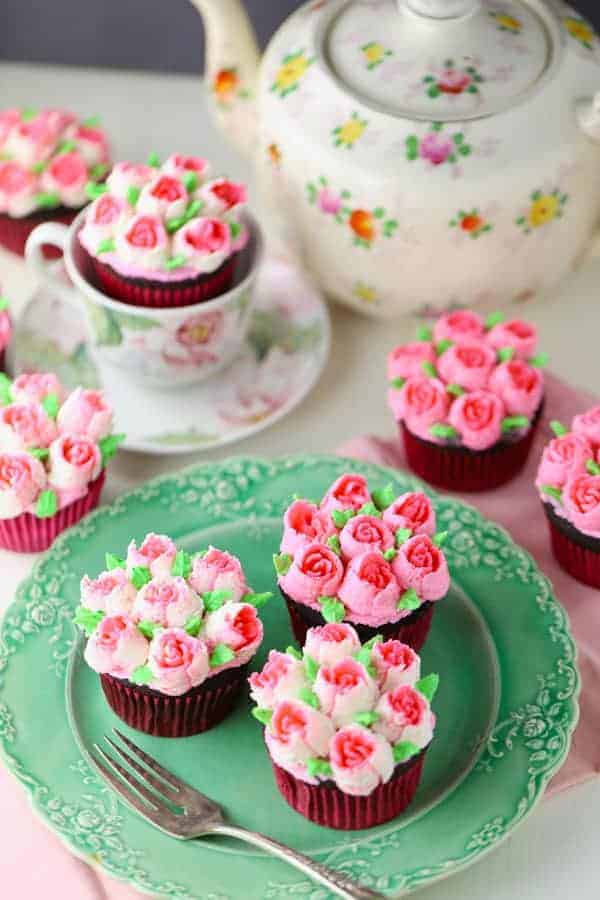 For the leaves, pour the green frosting into a pastry bag fitted with a leaf tip #352. Pipe the leaves next to the roses. You can do just a few leaves or you can do lots of leaves. Your choice!
I hope you will try these lovely little Rose Cupcakes with Russian Pastry Tips. You can see me demonstrating how to make them if you hop on over to my Facebook page. I made them LIVE on Facebook last week, but the video is still there and you can watch it anytime. I do weekly Facebook LIVE videos on Thursdays at 11:30am EST.
My daughter and my mom loved these cupcakes. And so did my husband, my son and my stepdad. They couldn't even tell that they were gluten free and dairy free. They just tasted delicious!
Rose Cupcakes with Russian Pastry Tips
Rose Cupcakes with Russian Pastry Tips are chocolate cupcakes with buttercream roses made with a Russian pastry tip.
Print
Pin
Rate
Ingredients
For the cupcakes
1

box

gluten free chocolate cake mix

I used Betty Crocker

1

cup

water

½

cup

dairy free buttery spread

I used Earth Balance

¾

cup

unsweetened apple sauce*

1 ½

teaspoons

baking powder*
Instructions
Preheat oven to 350°F. Place cupcake liners in a 12-cup muffin pan. Set aside.

Prepare cake mix according to package instructions with the above substitutions (buttery spread instead of butter/apple sauce and baking powder instead of eggs). Don't forget the water.

Use a muffin scoop or ice cream scoop to divide batter into the 12 cupcakes. Bake according to package (I baked mine for 22 minutes). Let cool.

Meanwhile make the frosting. Place shortening in a large bowl and mix on medium with an electric mixer for 3 minutes. Turn mixer to low, then gradually add the sugar, milk and vanilla. Once all is combined, turn mixer up to medium and beat for 3 minutes. Divide frosting into 3 bowls. You only need a small amount for the leaves, so most of the frosting can be in 2 bowls. Color the smaller amount green and the other 2 bowls your colors of choice. Place green frosting in pastry bag fitted with a #352 tip. Set aside. Place a large piece of plastic wrap on the counter. Spread some of one color onto it, the spread some of another color on top. Roll up the icing and twist the ends of plastic. Cut about ½" off one side of the plastic roll. Place that into a pastry bag fitted with the 7-petal Russian pastry tip. Spread a little bit of icing onto each cupcake, then pipe roses. Pipe leaves next. Serve immediately or store in the refrigerator for up to 4 days. Let them come to room temperature before eating.
Notes
Use your favorite cake mix for this recipe. It doesn't have to be gluten free.
*

Note: the package called for 3 eggs, so I substituted the applesauce and baking powder for the eggs. If you want to use eggs, just omit the apple sauce and baking powder.
Nutrition
Calories:
507
kcal
|
Carbohydrates:
74
g
|
Protein:
2
g
|
Fat:
24
g
|
Saturated Fat:
6
g
|
Polyunsaturated Fat:
7
g
|
Monounsaturated Fat:
10
g
|
Trans Fat:
2
g
|
Sodium:
270
mg
|
Potassium:
66
mg
|
Fiber:
1
g
|
Sugar:
60
g
|
Vitamin A:
364
IU
|
Vitamin C:
1
mg
|
Calcium:
51
mg
|
Iron:
2
mg
Featured on the Southern Plate Meal Plan Monday!