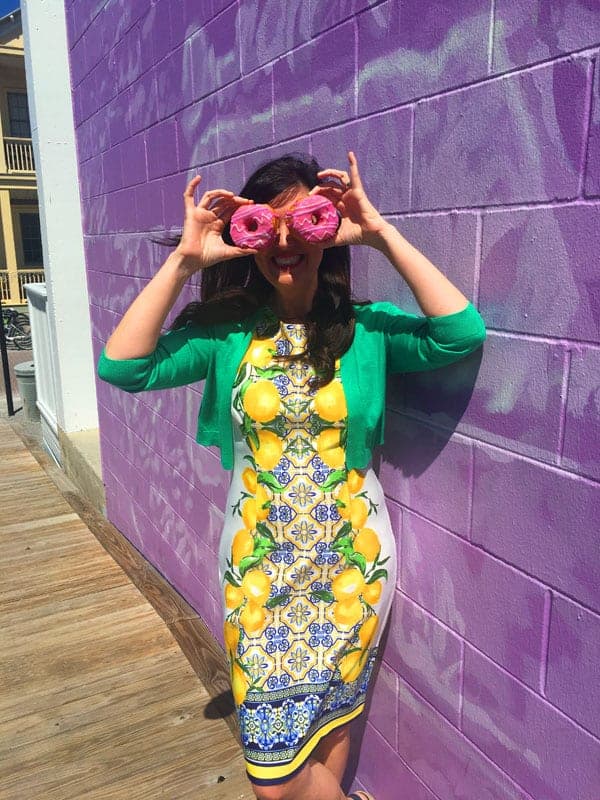 We went to Grayton Beach on 30A for Spring Break this year. Here I am looking at my favorite beach through rose colored donuts (from Five Daughters Bakery at Seaside). Very good, by the way!
Have you ever heard of Grayton Beach? It's a bit of a hidden gem, tucked away on the Gulf coast of Florida, nestled in between Destin and Panama City Beach on a lovely stretch of beach front highway called County Road 30A. It has grown quite a bit in the last 25 years or so. But to me, it will always be my childhood Summer getaway. My grandparents had the cutest little cottage there. My granddad and uncle bought the property back in 1952 and built a simple concrete block cottage.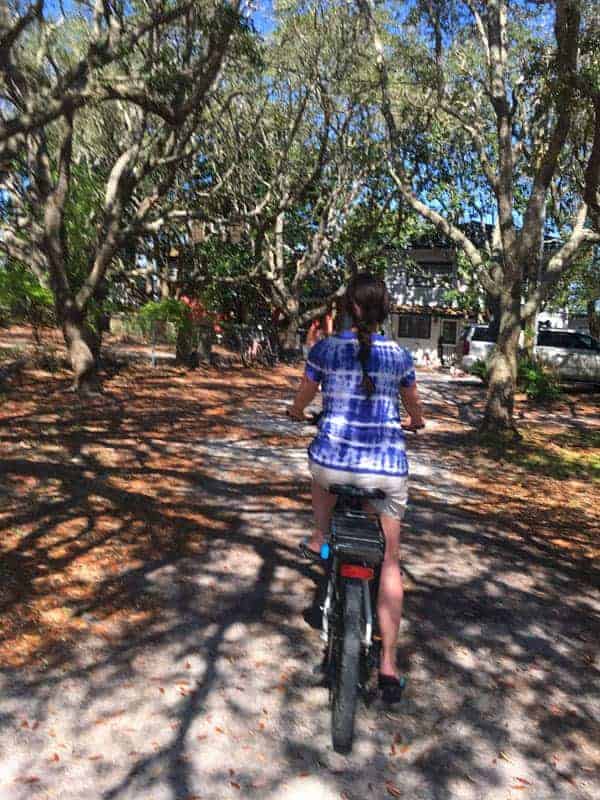 The little cottage (photo above) sat on a lake with a dock that looked over the sand dunes to the right and the Gulf of Mexico beyond that. We did so many fun things on that lake. We water skiied, we fished, we crabbed, we sailed, we swam and played on the shore. I was an only child back then but my cousins were there at the same time and we had a ball. I looked forward to those Summers every year. The cottage is still there and now owned by my cousins who are keeping it up in ship shape. Click here for information on renting it.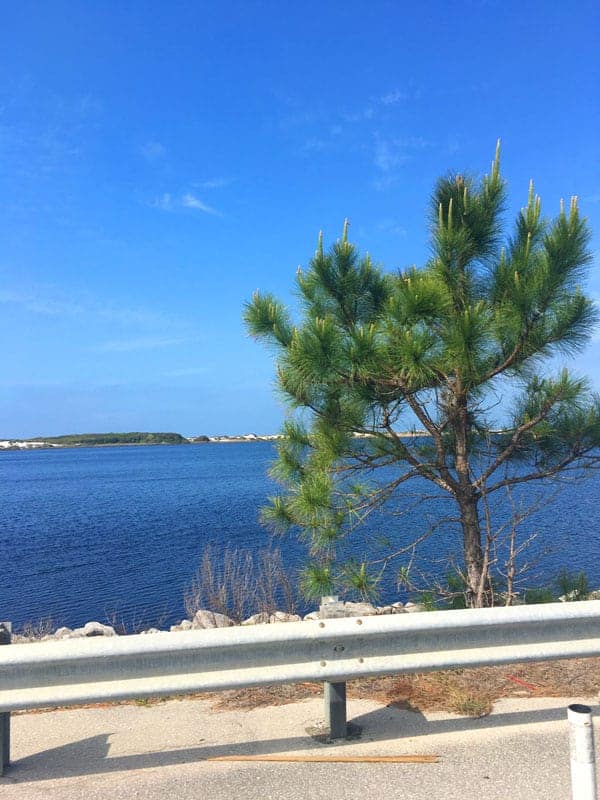 Here's a picture of the lake. I believe it's called Western Lake (at Grayton Beach in South Walton County, Florida). I think it's just amazing to see a beautiful lake like this with SAND DUNES on the other side and the Gulf of Mexico just beyond that. Lake and sea. So cool!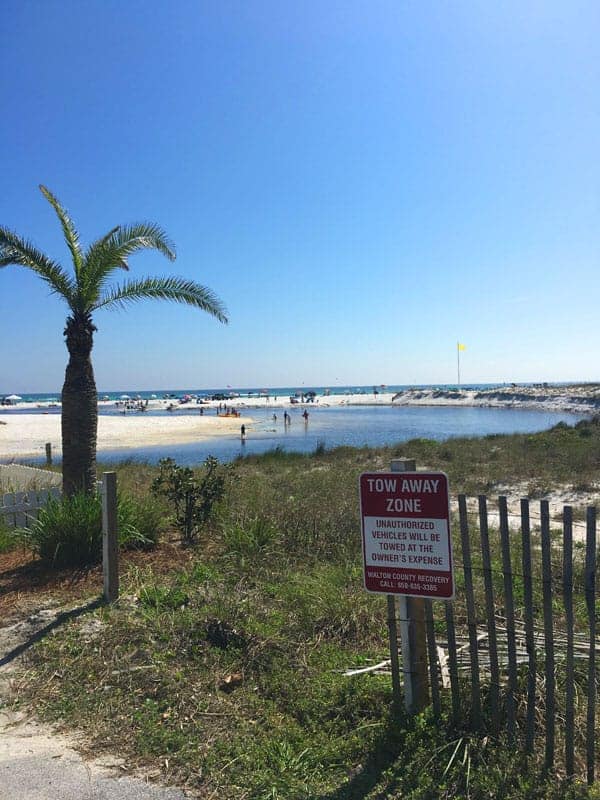 Here's a shot of where our little lake meets the sea. We used to float on rafts from our dock all the way out to the beach.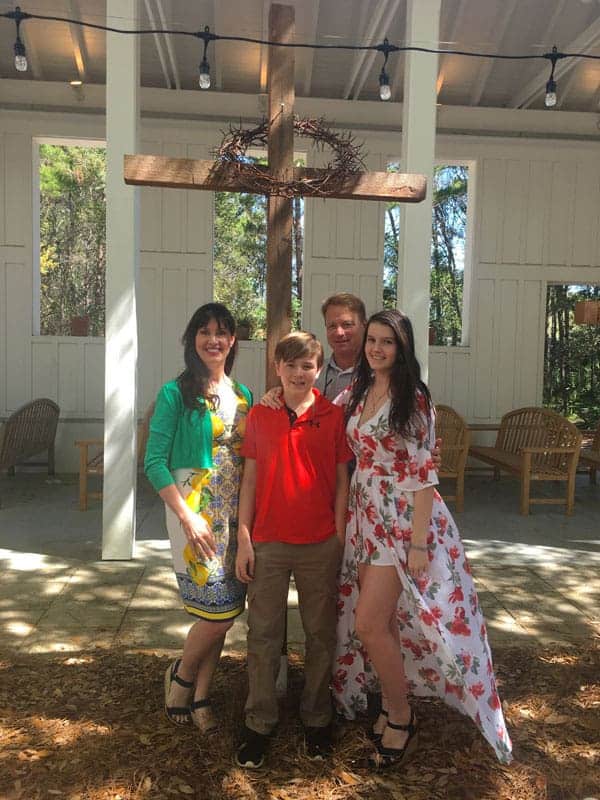 This year, Spring Break fell on Easter weekend. Going to church on Easter Sunday at my favorite beach was a dream come true.
What makes it so special for us to be here? After college, I moved to South Florida which is about a 10 hour drive from Grayton Beach, so it was really too far to drive. Plus, South Florida had a beach of it's own. The Atlantic Ocean. But it was never the same to me. I lived there for over 20 years. That was a long time to not go to my FAVORITE beach. We moved to Georgia about 7 years ago and now we are actually closer to Grayton. We get to go there every Spring and Fall Break! And my children are getting to know the beach that I grew up with and have treasured for so long. It's also the beach that MY mom grew up going to!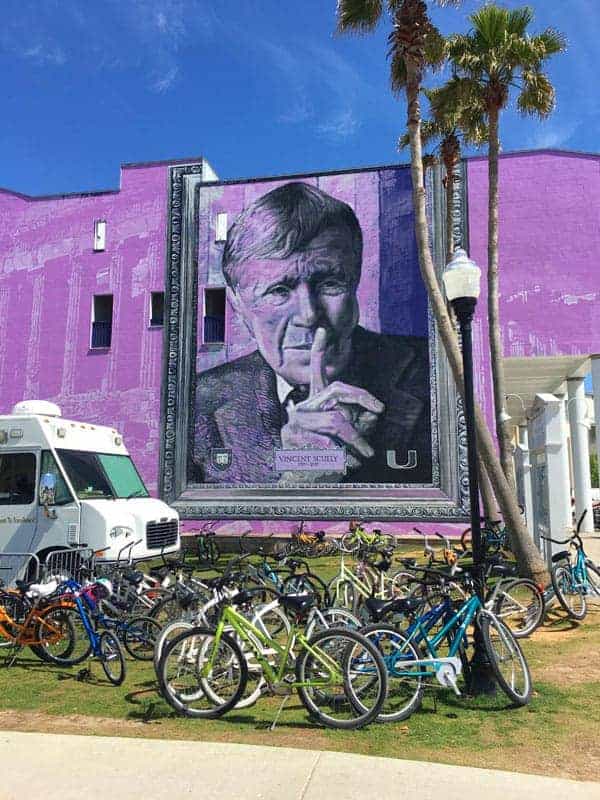 While I was away for 20 years, something happened to my beloved beach. Lots of new towns were built, including this one. Seaside. New town, old ways. It's such a neat little planned community. It was designed as a bicycling community and this mural shows one of the original architects, Vincent Scully.
While having breakfast at The Great Southern Cafe, I made a new friend. His name is Billy. I told him that I was part McGee and he told me my uncle founded Seagrove Beach (which is just a couple miles down the road from Grayton). What?!?! I had no idea! His name was Cube McGee and he bought 160 acres of beach front property back in 1949 for $75,000. There was nothing there. No electricity, no houses, no stores, nothing. He built 5 or 6 houses and a general store which is still there today. Cube McGee is known as the pioneer of Seagrove Beach. Here's an article with all the details if you want to read more about it.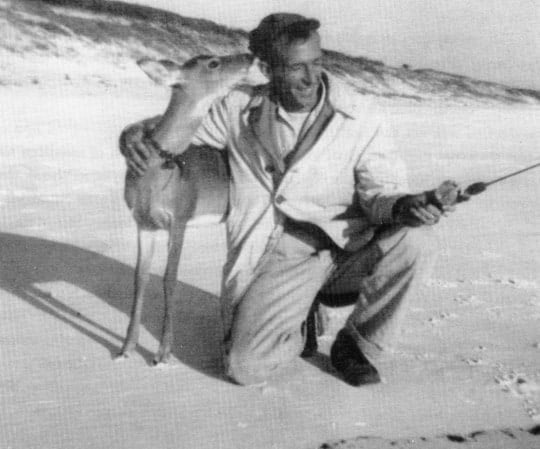 Cube McGee at the beach in the early 1950s with his pet deer, Bambi. (Photo credit: Cube McGee, my great uncle.)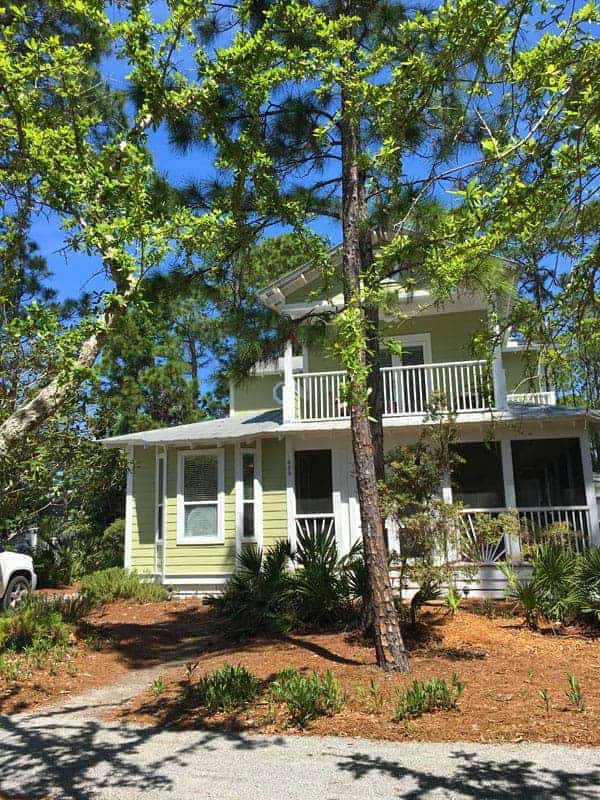 My husband and I got married in this house in Seagrove Beach, so finding out that my great uncle founded the place was even more special!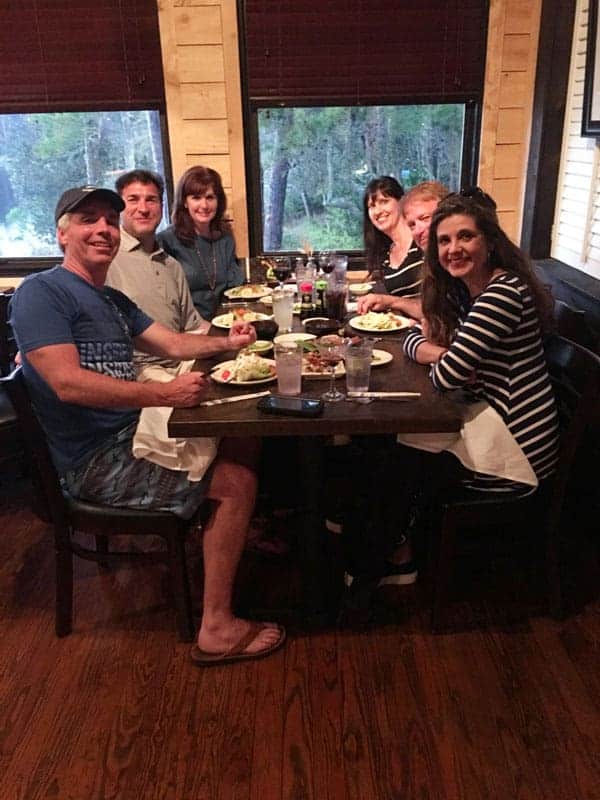 We met up with some of our Georgia friends and had a lovely dinner at the Old Florida Fish House at Seagrove Beach. (Left side of table: (Amy Lyle, Peter Lyle, and Shaun Swedenberg. Right side: Me - Lise Ode, Jay Ode, and Richane Swedenberg.)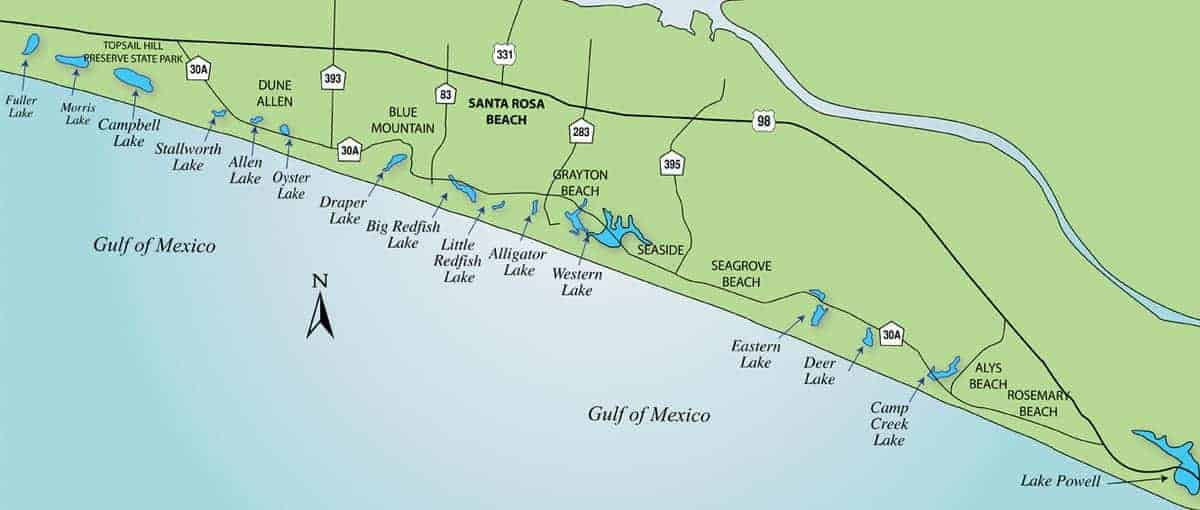 I feel like you need to see a map to get a better idea of what I'm talking about here. Grayton Beach, Seaside and Seagrove Beach are all along County Road 30A. They're all technically considered Santa Rosa Beach. It gets a bit confusing because that's what you have to put in the GPS.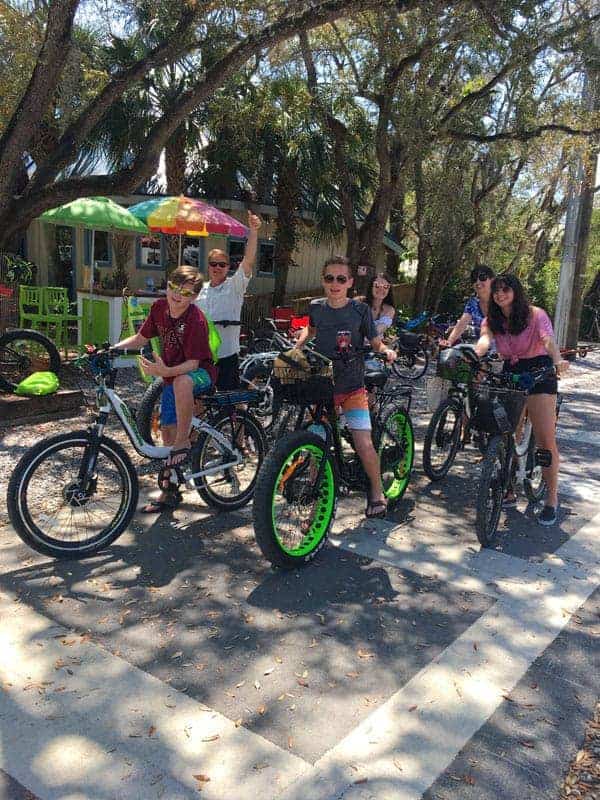 We rented electric bikes for the first time ever and had such a blast! Our two children each had a friend with them, so there were six of us on bikes. It was so great because you could either pedal like a regular bike or if you were tired, you could just turn the handle and the bike would just zoom, zoom, zoom all by itself. Totally awesome! Renting electric bikes was the best thing we did on our trip! We biked all over Grayton Beach, Seaside and Seagrove for about 6 hours without getting tired. And what a fun way to see the sights!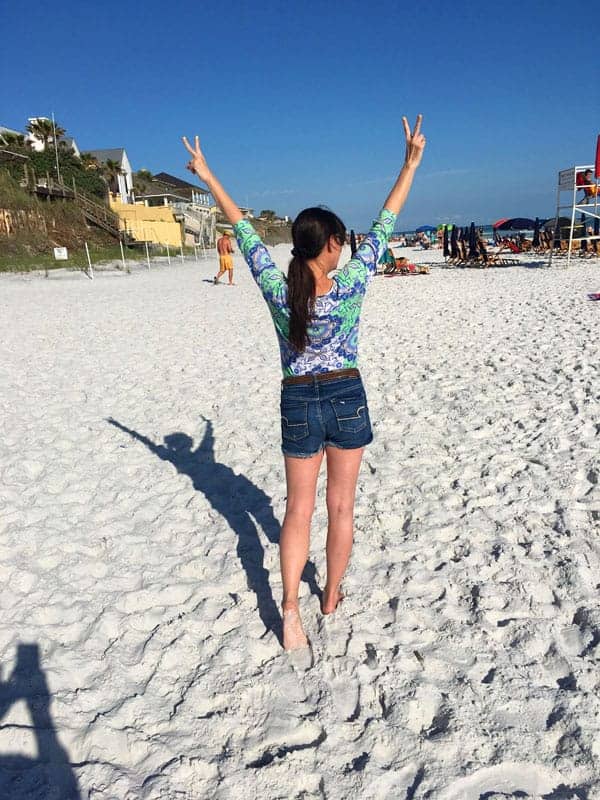 Until next time, Grayton Beach. Peace out!
Note: We stayed at a lovely place called Red Fish Village in Blue Mountain Beach which is actually 1 mile from Grayton Beach on 30A.
p.s. I thought it would be fun to share a couple of photos from the past. Here I am at Grayton Beach in 1967. Look how white the sand was!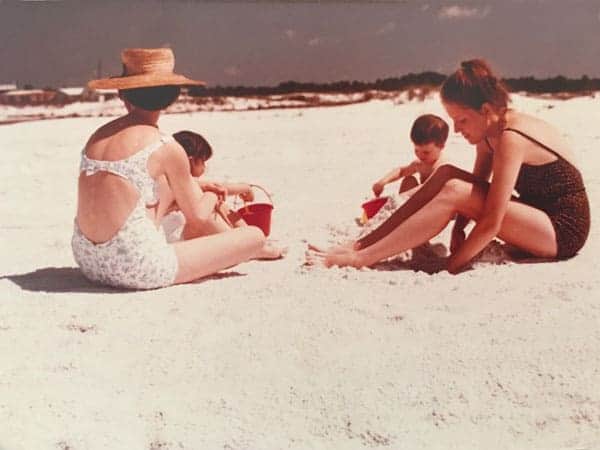 My mom and I are on the left. Cousin Lawrence and aunt Gayle on the right.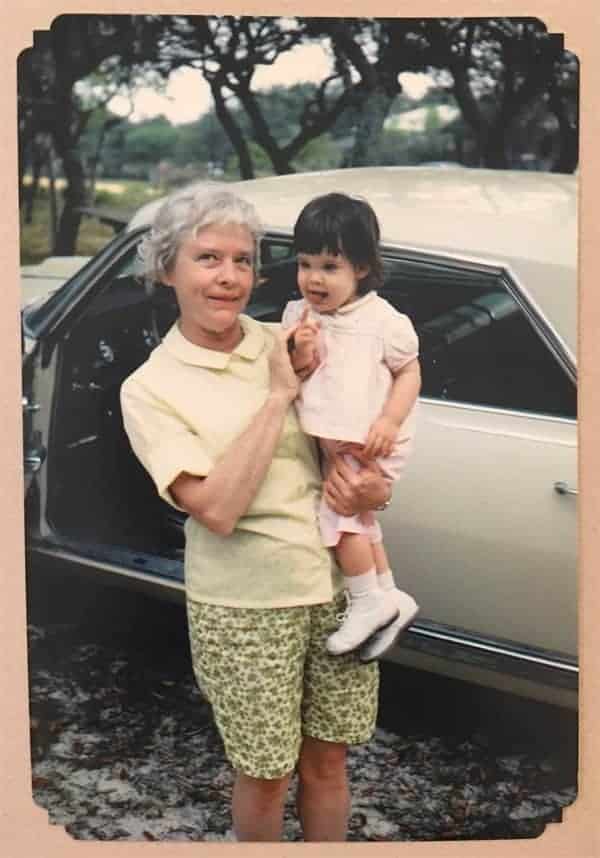 Me and my grandmother at Grayton Beach (1966).
From left, cousins Lawrence and Catherine, grandmother Dorothy, granddad Glenn and me at Grayton Beach in 1977.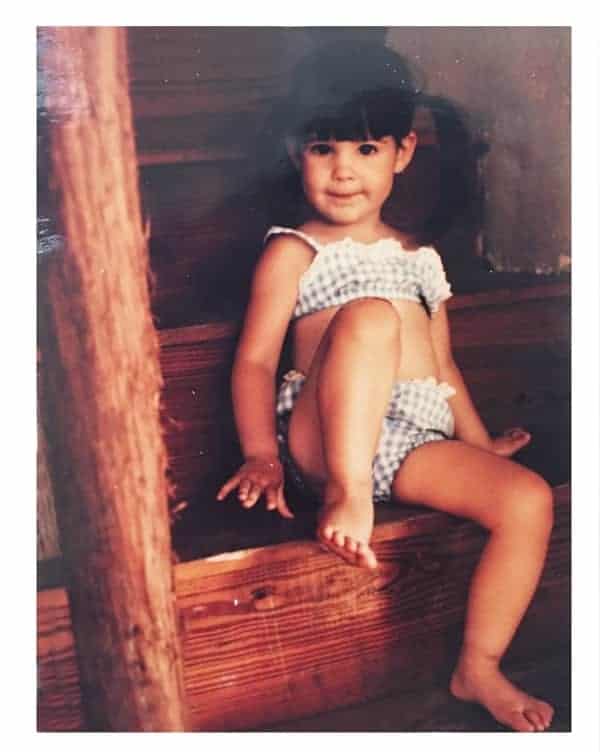 Me on the stairs of the McGee cottage at Grayton Beach in 1969.