Banana Split Cobbler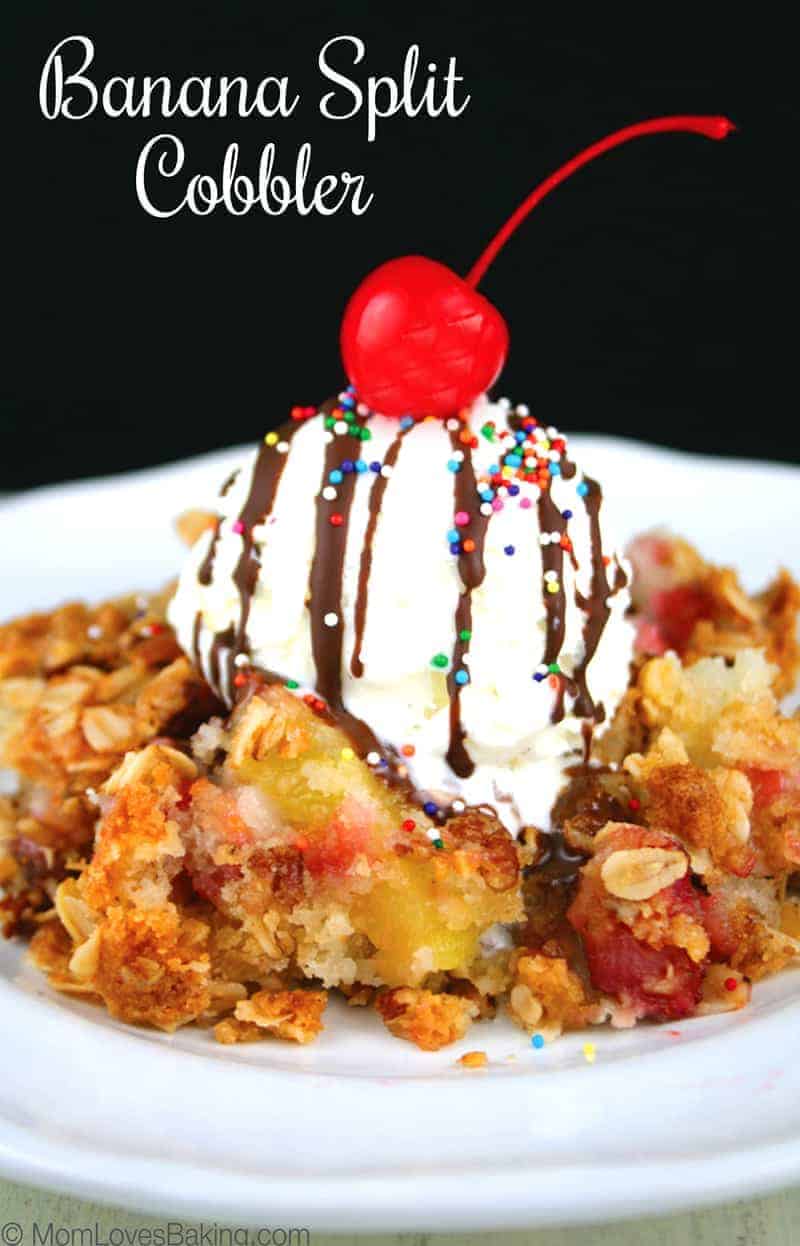 I took another baking class at Whole Foods recently. It was a Spring Pies and Cobblers class. It was so much fun! You should take a class there if you love baking or cooking. They offer both. Anyway, we made a Banana Bread Cobbler which was very good and the inspiration for this recipe. Banana Split Cobbler has fresh strawberries, pineapple, bananas, pecans, old fashioned oats and chocolate chips all wrapped up in a comforting cobbler. Then topped with vanilla ice cream, hot fudge and sprinkles. Don't forget the cherry on top!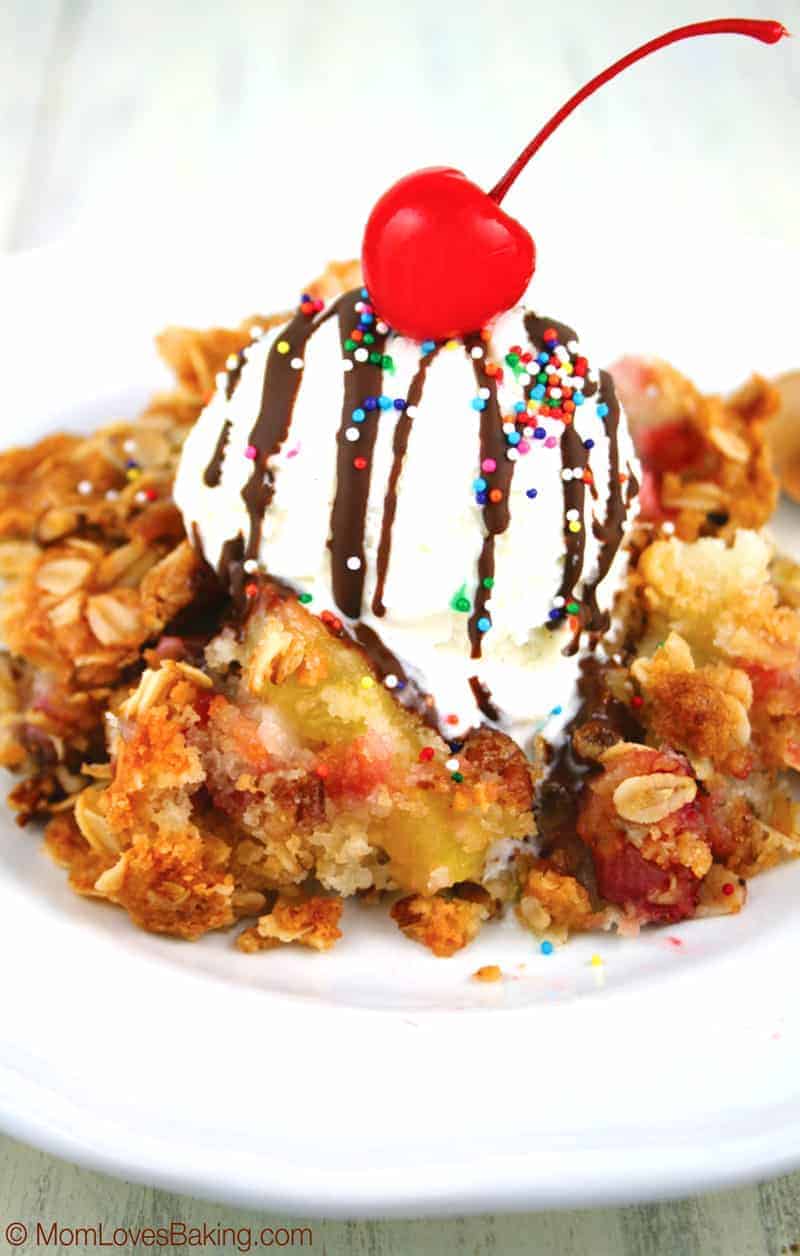 Banana Split Cobbler is a new twist on everyone's favorite frozen treat. I'm lovin' this dessert! And it's so easy to make.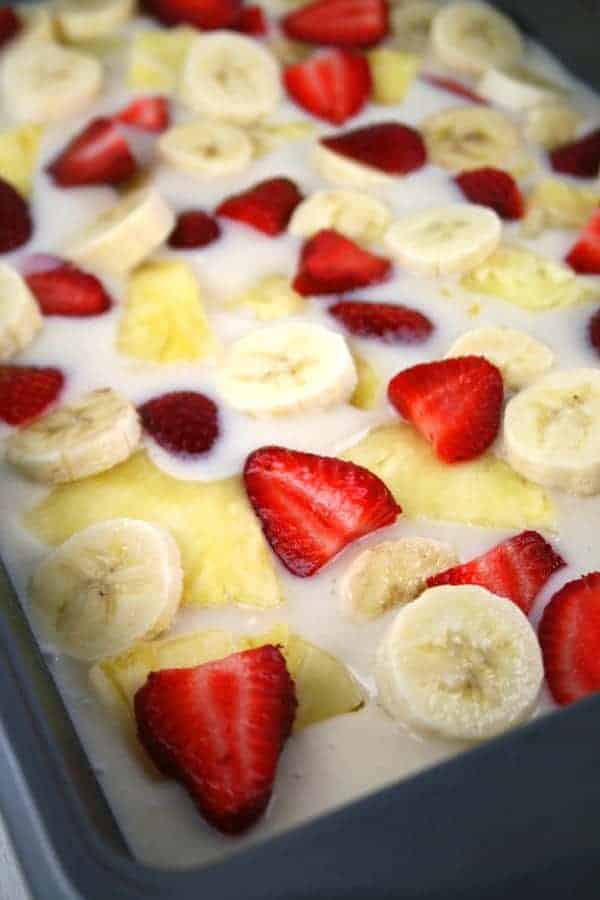 First you mix up a simple batter of self-rising flour, sugar, milk and butter. Pour into a greased 13″ x 9″ pan. Top with fresh fruit: strawberries, bananas and pineapple.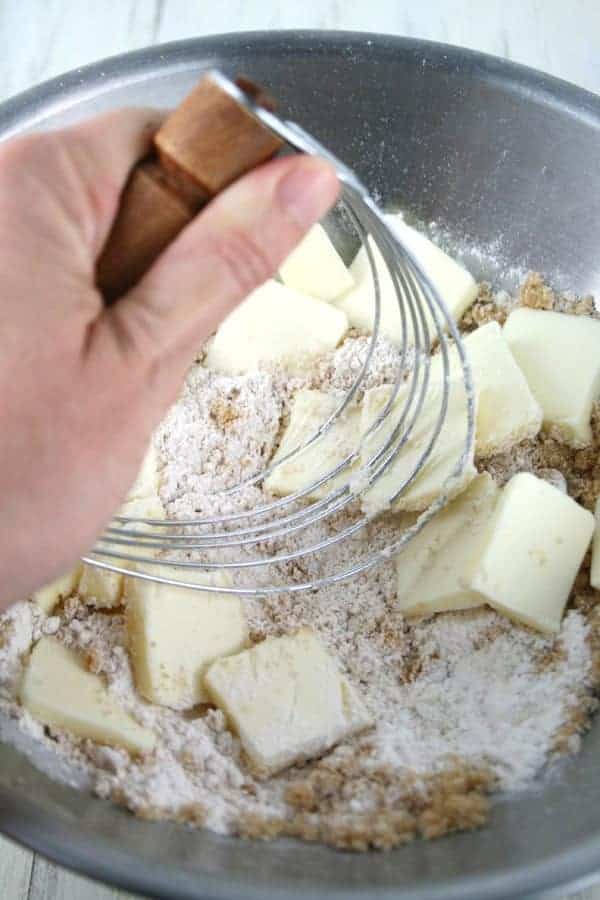 Next make the topping. Cut butter into a mixture of flour and brown sugar. You can use a pastry blender if you have one or a fork and knife. You could also use your fingers.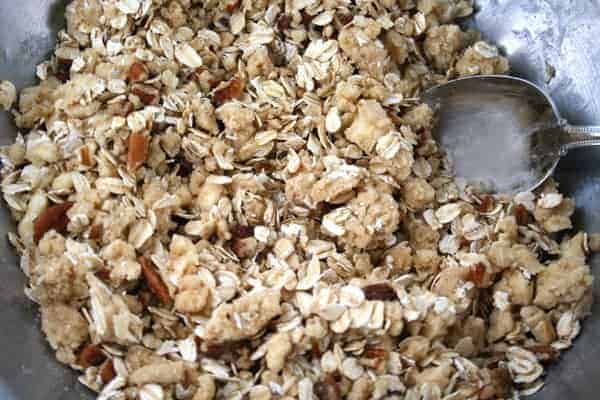 Stir in chopped pecans. The topping should look like this when you're done.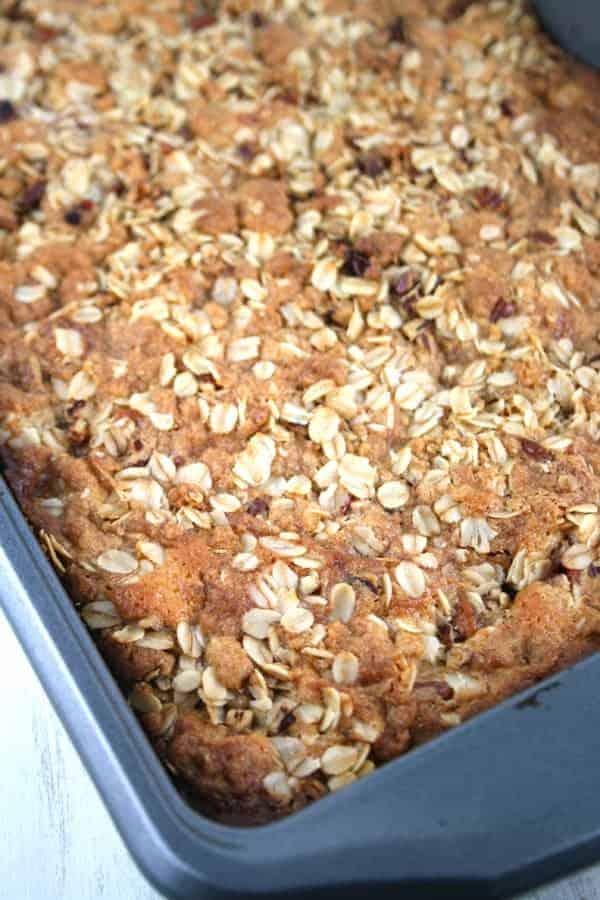 Spread topping over fruit. Bake for 40-45 minutes at 375°F.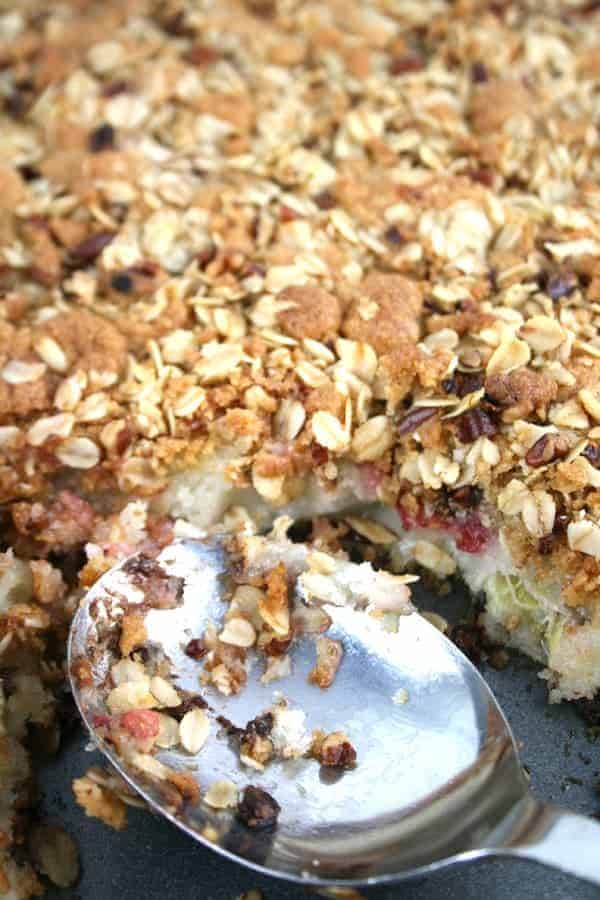 Let cool slightly, if you can wait that long.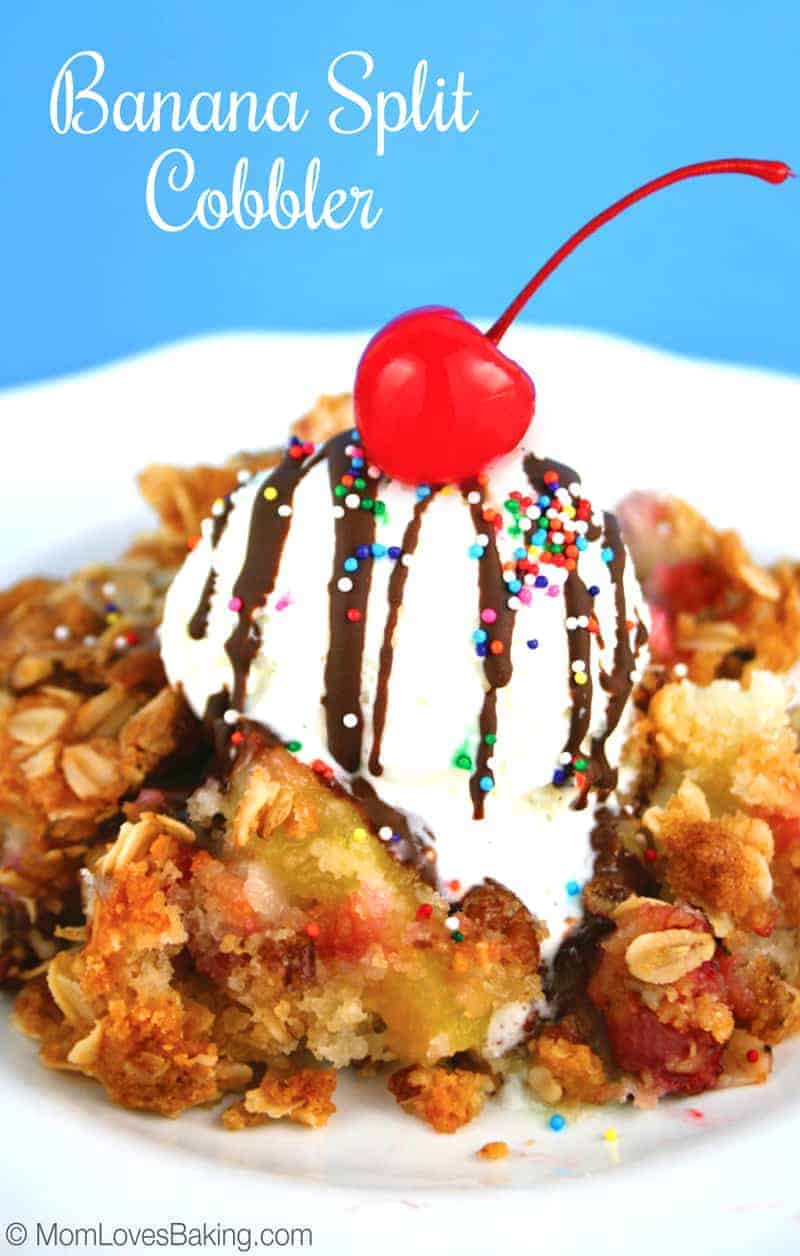 Top with vanilla ice cream, hot fudge, sprinkles and of course a cherry on top!
You might want to add extra hot fudge! Hmmmmm…. good!!
Ingredients
1 3/4 cup (238g) self-rising flour, divided
1 cup (200g) granulated sugar
1 cup (250 mL) milk, room temperature
1/2 cup (113g) unsalted butter, melted
1/2 cup (100g) light brown sugar
1/2 cup (113g) unsalted butter, cold and cubed
1 cup (100g) old fashioned oats
1/2 cup (50g) chopped pecans
2 ripe medium bananas, sliced
1 cup (170g) fresh pineapple, choppped
1 cup (130g) fresh strawberries, sliced
1/2 cup (75g) semisweet chocolate chips
Vanilla ice cream, hot fudge, sprinkles and cherries for garnish
Instructions
Heat oven to 375°F. Spray 13" x 9" baking pan or glass dish with cooking spray.
In medium bowl, mix 1 1/4 cups of the flour, granulated sugar, and milk with whisk just until blended. Stir in melted butter. Pour batter into baking pan or dish.
In small bowl, mix brown sugar and the remaining 1/2 cup flour. Cut in the cold cubes of butter with a pastry blender or fork until crumbly. Stir in oats and pecans.
Arrange the fresh fruit over batter; sprinkle with oat mixture.
Bake for 40-45 minutes or until golden brown (do not overbake), covering with foil during the last 10-15 minutes to prevent excessive browning, if necessary.
Serve warm with ice cream, hot fudge, sprinkles and cherries.
Recipe adapted from Salud Cooking School at Whole Foods Market
https://www.momlovesbaking.com/banana-split-cobbler/