Chocolate Birthday Cake is a classic 1-2-3-4 cake with an amazing chocolate frosting and sprinkles.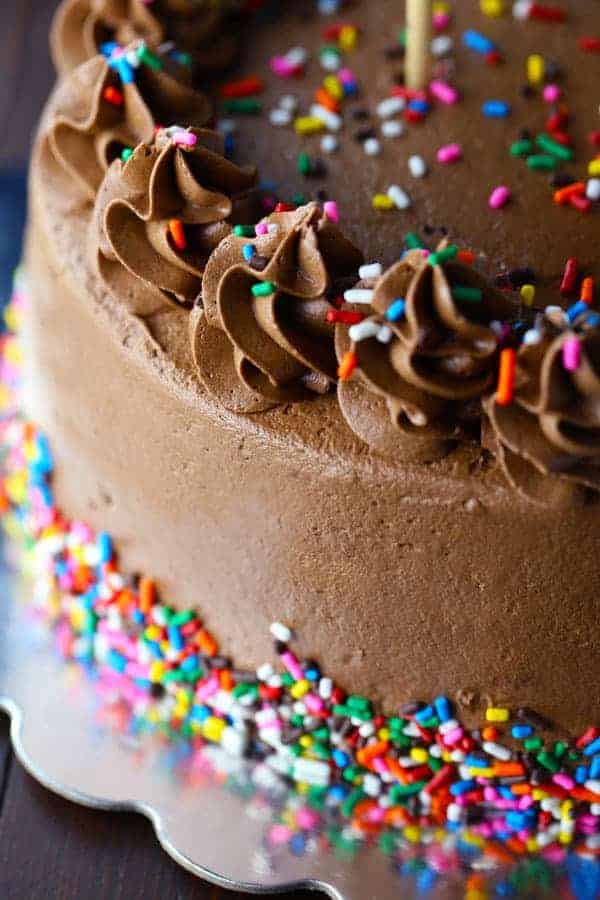 We've had a lot of birthdays lately! My birthday was December 11th and my blog turned 3 on December 8th. Plus, my daughter had a surprise birthday party for two of her good friends a few weeks ago. They turned 14! And this is the Chocolate Birthday Cake I made for them.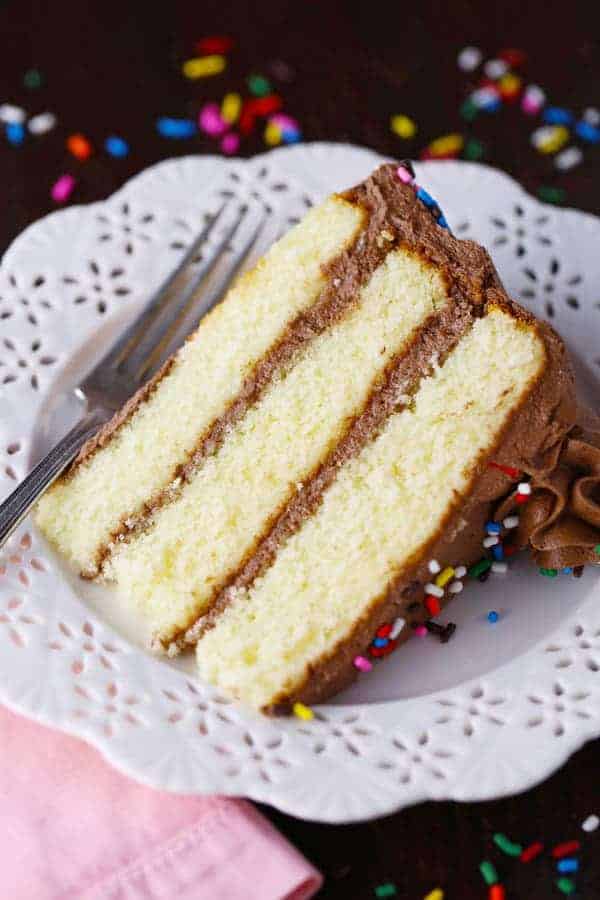 But first, I wanted to talk about my blog's birthday for a minute. I can't believe I've been blogging for 3 years already. I'm not sure if you know this, but this blog is my full time job. And it's a lot of work. I literally work on it every day. At first it was a little scary because I was making no money. None. But as it grew, I slowly began to earn some income.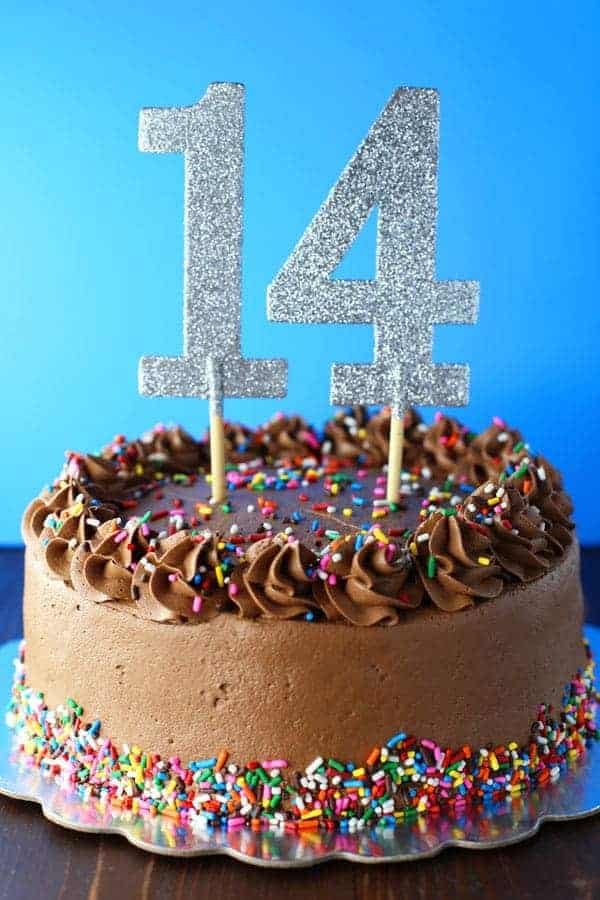 My husband gave me the idea about 10 years ago. I had a cake business and he had read about people earning incomes by simply writing about and documenting their passions in life. He thought it would be great if I wrote about my baking projects. But I didn't take his advice. It sounded neat but I didn't have the first clue as to how to start something like that.
It wasn't until 2013 that I finally decided I would give it a try and I'm so glad I did. I've learned SO much in the last 3 years. I've improved my food photography skills and learned how to navigate social media. I've met lots of bloggers online and have come to feel like I actually belong in this little blogging community.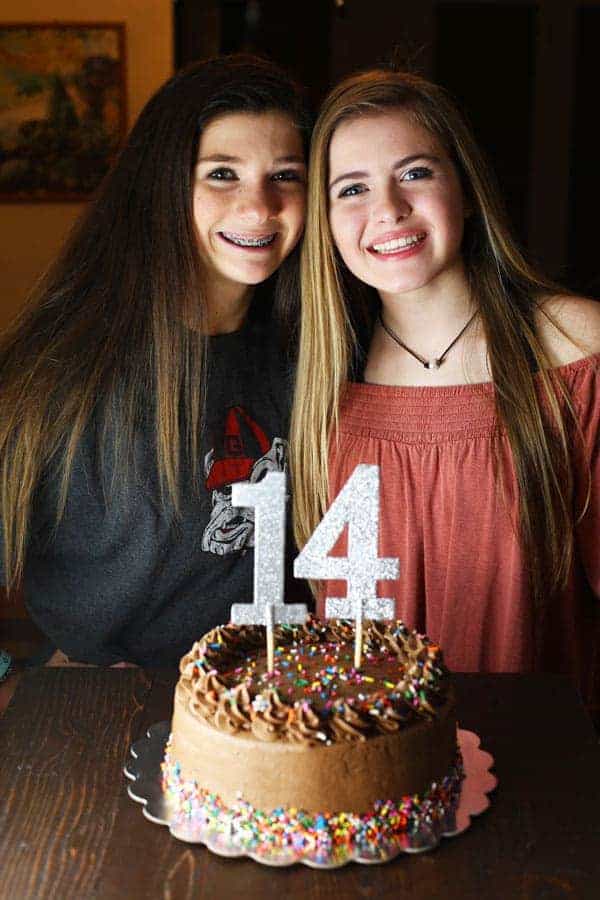 I'm excited about the upcoming year and look forward to lots of fun baking projects! I also look forward to getting to know my readers and I want to hear from you. Tell me what you would like to see on Mom Loves Baking!
ANYWAY! Back to this blog post. These lovely young ladies are friends of my daughter, Savannah. Dustin (on the left) and Ava. Savannah planned a fun party for them which included a mannequin challenge and of course, this lovely Chocolate Birthday Cake!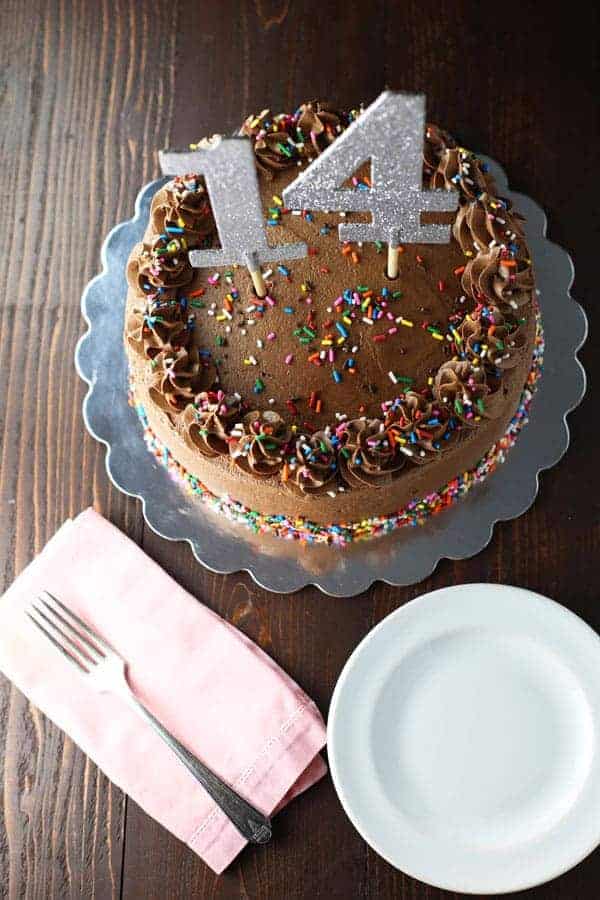 I normally give you step-by-step photos of how to make my recipes, but this is a cake I've already showed you. The cake itself is a 1-2-3-4 cake and if you click here, you will see the step-by-step photo instructions. And there's even a video!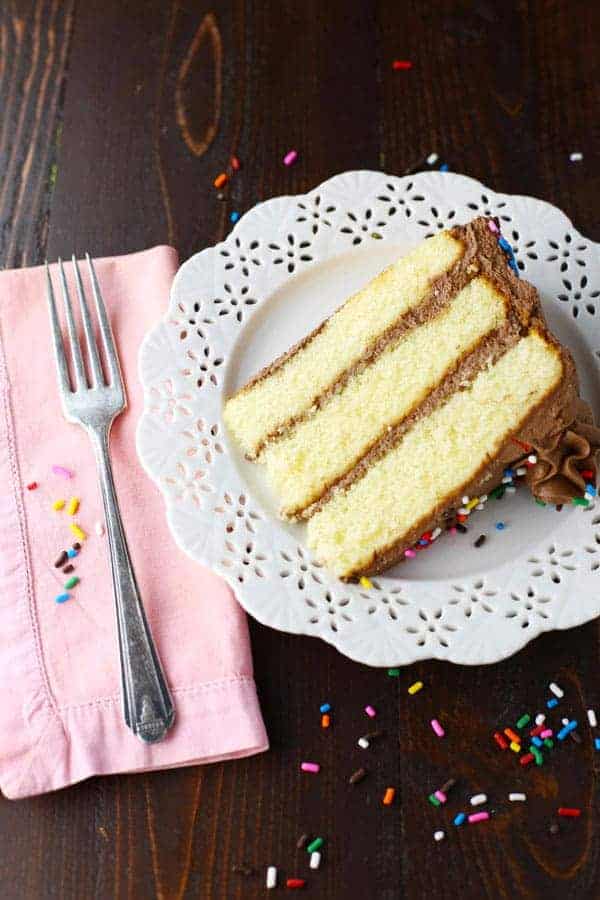 The chocolate frosting recipe comes from a fabulous book called Simply Beautiful Homemade Cakes, written by my friend, Lindsay Conchar. She's also the author of the blog, Life, Love and Sugar. You will have to check it out. She makes the most amazing cakes and so much more.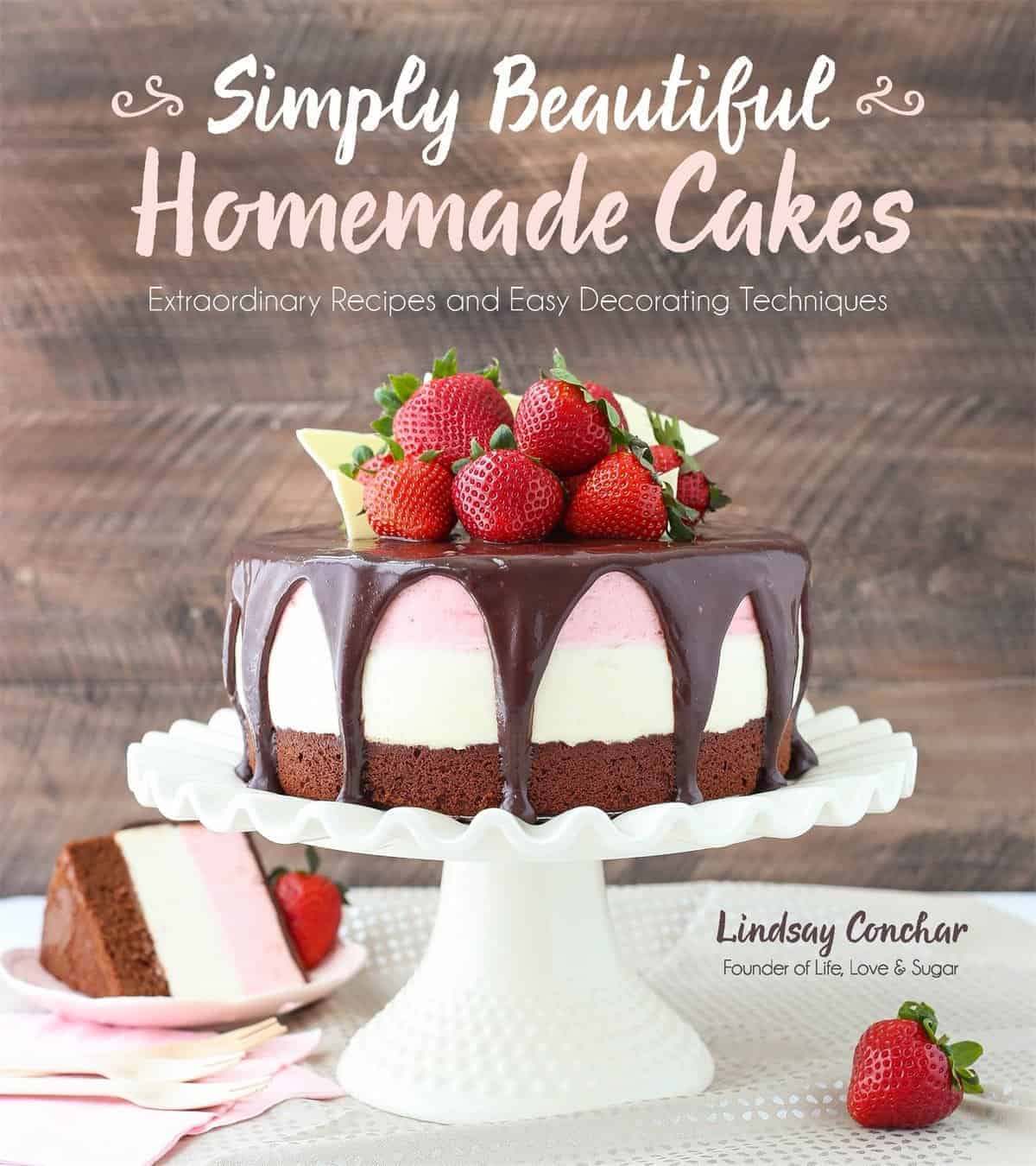 I had the honor of attending Lindsay's book release party since she just happens to live about 3 miles from me. I was so excited to sample all kinds of scrumptious cakes she made that were all from her book. I got to try her Red Wine Chocolate Cake, Bourbon Spice Toffee Layer Cake, Caramel Popcorn Cake, and Cannoli Cupcakes. All fabulous!!!
Simply Beautiful Homemade Cakes is a book that you don't want to miss. You can find it here on Amazon (affiliate):

The most important birthday of all is Christmas day when we celebrate the birth of our Lord and Savior, Jesus Christ. Wishing you and yours a very Merry Christmas and the happiest of New Years!
See y'all back here in 2017!
God bless you,
Lise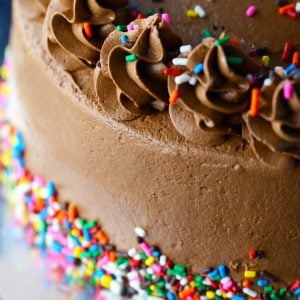 Chocolate Birthday Cake
Chocolate Birthday Cake is a classic 1-2-3-4 cake with an amazing chocolate frosting and sprinkles.
Print
Pin
Rate
Ingredients
For the 1-2-3-4 cake:
1

cup

unsalted butter, at room temperature

2 sticks

2

cups

granulated sugar

384g

3

cups

cake flour (I used Swans Down)

336g

4

large

eggs

at room temperature

1

cup

whole milk

at room temperature

2

teaspoons

baking powder

¾

teaspoon

salt

1

teaspoon

vanilla

Plus, extra butter to grease pans
For the frosting: *
1 ½

cups

salted butter, room temperature

336g

1 ½

cups

vegetable shortening

284g

10

cups

powdered sugar, divided

1150g

2

teaspoons

vanilla extract

10mL

1

cup

dark cocoa powder blend, such as Hershey's Special Dark (I used regular cocoa)

113g

5

tablespoons

water or milk

75mL

For topping

1-2

cups

sprinkles
Instructions
For the cake:
Brush 3 (9-inch) round pans with melted butter and line with parchment paper. Brush with more butter. You could also use non-stick cooking spray. Set aside.

In a medium bowl, measure out flour, baking powder and salt. Whisk together. Set aside.

In a large bowl, cream butter with an electric mixer until smooth. Add sugar and mix. Add eggs and mix until combined. Add half of the flour mixture and half of the milk, plus the vanilla. Mix on medium low until combined. Repeat with remaining flour and milk. Mix until combined, then continue mixing on medium low for 30 seconds. Divide batter between the three prepared pans. Bake on the middle rack of your oven for 22-25 minutes. At 22 minutes, test one of the cakes by inserting a toothpick. If it comes out clean, they are done. If not, continue to bake for just a few minutes more. Let cool completely.
For the frosting
To make the frosting, mix together the butter and shortening until combined. Slowly add 5 cups (575g) of the powdered sugar, mixing between additions until smooth. Add the vanilla extract, cocoa powder and water or milk. Slowly add the remaining 5 cups (575g) and mix until smooth.

To put the cake together, use a large serrated knife to remove the domes from the tops of the cakes so they are flat. Place the first cake on a serving plate or a cardboard cake round. Spread one cup (284g) of frosting in an even layer on top of the cake. Repeat this process with the second layer of cake and frosting, then add the final layer of cake on top.

Smoothly frost the cake. Add sprinkles to the lower half of the side of the cake. Place 2 cups of frosting in a large pastry bag fitted with a 1M pastry tip. Pipe swirls of icing around the top of the cake. Add sprinkles. Store remaining icing in an airtight container in the refrigerator for up to 10 days. Store the cake at room temperature for one day or covered in the refrigerator for up to 3 days.
Notes
*Note: Lindsay's frosting recipe was designed for a larger chocolate cake, so I made half of this frosting recipe to frost the 1-2-3-4 cake.
Frosting recipe from the book, Simply Beautiful Homemade Cakes by Lindsay Conchar
Nutrition
Calories:
982
kcal
|
Carbohydrates:
131
g
|
Protein:
6
g
|
Fat:
51
g
|
Saturated Fat:
25
g
|
Polyunsaturated Fat:
7
g
|
Monounsaturated Fat:
16
g
|
Trans Fat:
4
g
|
Cholesterol:
124
mg
|
Sodium:
391
mg
|
Potassium:
205
mg
|
Fiber:
2
g
|
Sugar:
109
g
|
Vitamin A:
979
IU
|
Calcium:
66
mg
|
Iron:
1
mg