Easy Marshmallow Snowman Cupcakes
Easy Marshmallow Snowman Cupcakes are chocolate cupcakes with vanilla frosting, decorated to look like the cutest little snowmen with a marshmallow head and fruit roll-up scarf.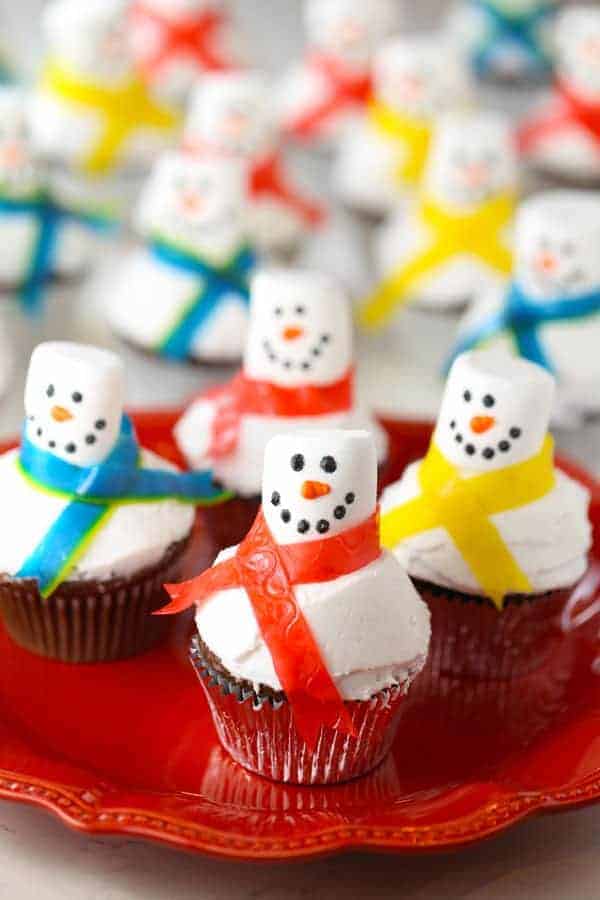 Years ago, in early December, we hung the lights outside and our son who was just four at the time came running out of the house with so much excitement, yelling, "it's Christmas time, it's Christmas time!!!" I'll never forget that! It truly is an exciting time of year for children and one of my all time favorite decorations for the holiday is a snowman. Maybe it's because I grew up in Florida and it never snowed where I lived. But luckily, you don't need snow to make these adorable Snowman Cupcakes!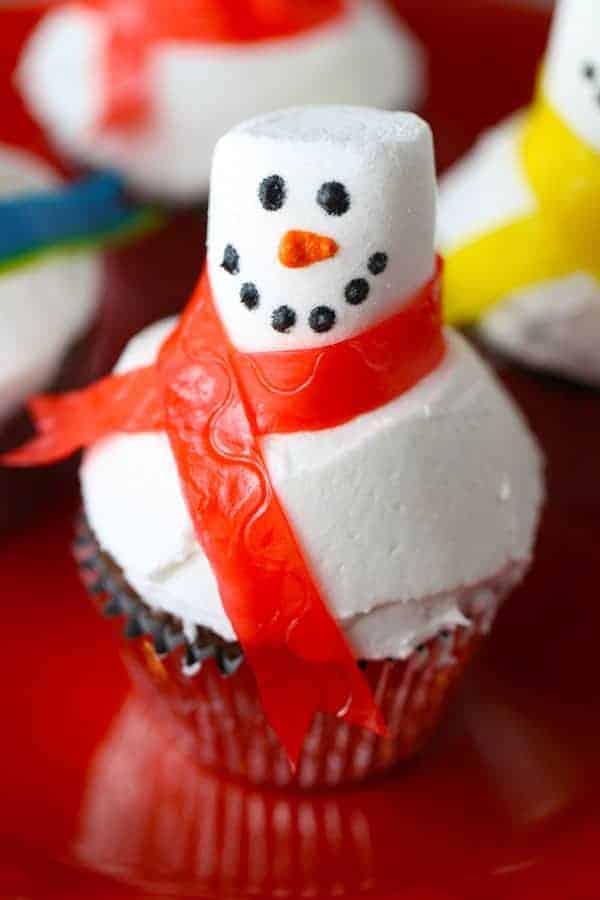 Need a nifty Christmas craft for the kids during the break? Get them to make these Easy Marshmallow Snowman Cupcakes! They're super simple to make and it will give them something to do that's not on a hand held electronic device! Can I get an amen on that?! And what's more fun than a craft you can EAT when you're done!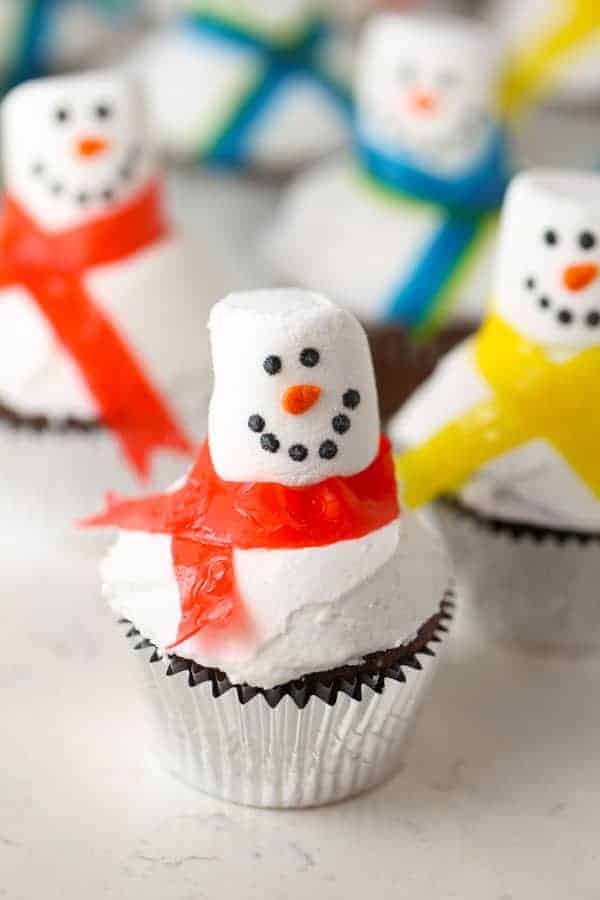 Once they're done, send them outside to build a real snowman or if you're in the South, hide and seek! I just love to see the kids playing outside for some good old fashioned play time (not the kind that involves staring at a screen).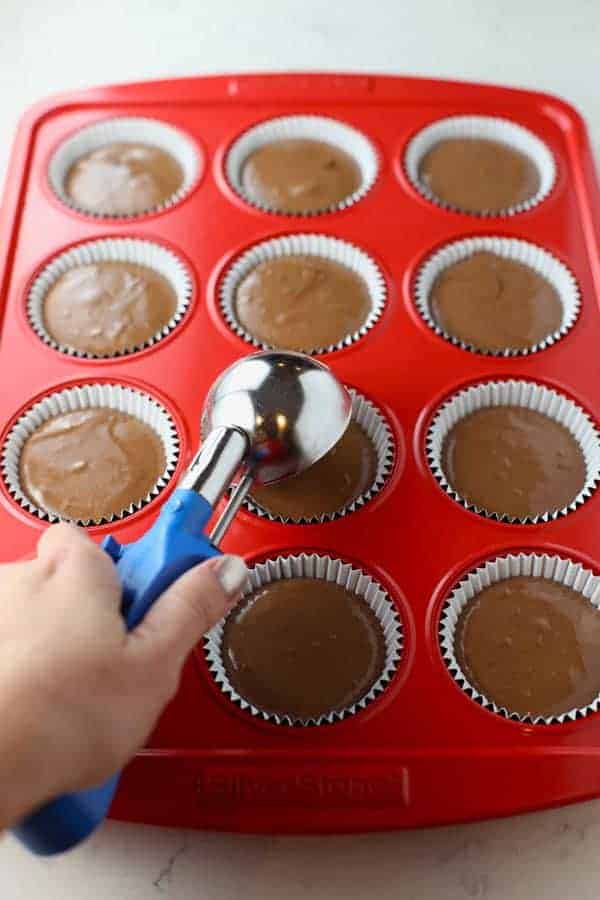 Before you set the kids up with their edible snowman project, you can do the prep work. Simply use your favorite cake mix, prepared according to package instructions. Pour into muffin pans lined with cupcake liners. Bake according to package instructions. I used a Pillsbury chocolate cake mix that made 20 cupcakes which I baked at 350°F. for about 23 minutes. Let them cool.
Meanwhile, make the frosting. Years ago, I read a great cookbook called The Cake Mix Doctor by Anne Byrne. I can still "hear" her saying something like this, "there's no shame in using a cake mix, as long as you make HOMEMADE frosting. Homemade frosting is a MUST!" Well said, Anne.
Here's the book, if you wanted to see what I'm talking about. It's on Amazon:

I wanted my frosting to be pure white, so I used Crisco vegetable shortening, but you could use butter if you wanted to. I beat it for 3 minutes with an electric mixer, then gradually added powdered sugar, milk and vanilla with the mixer on low. Once combined, turn it up to medium and beat for another 3 minutes. See full recipe below.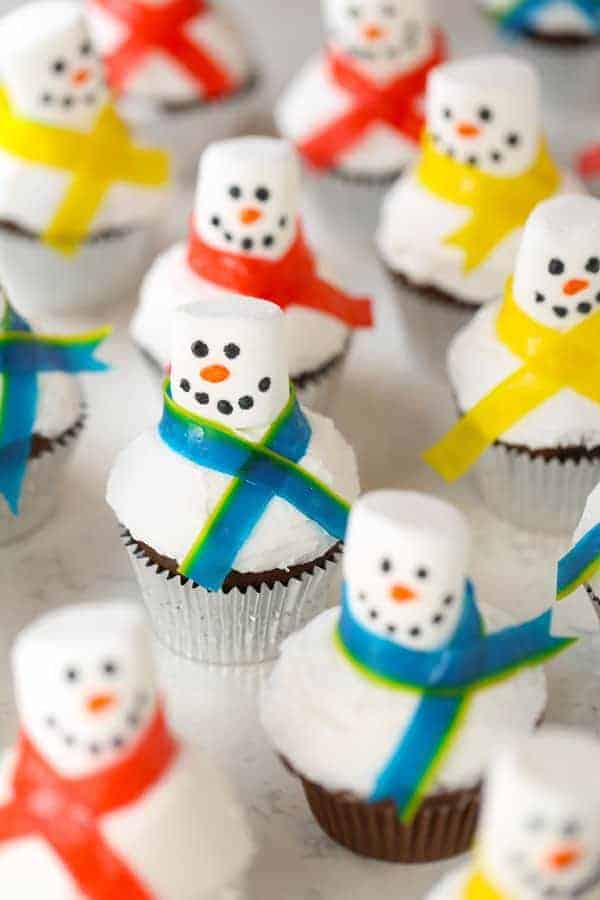 To decorate these frosty treats, frost each cupcake generously so you'll have a nice mound to resemble the base of the snowman. Depending on the ages of your children, you can let them do this part, or you can do it together.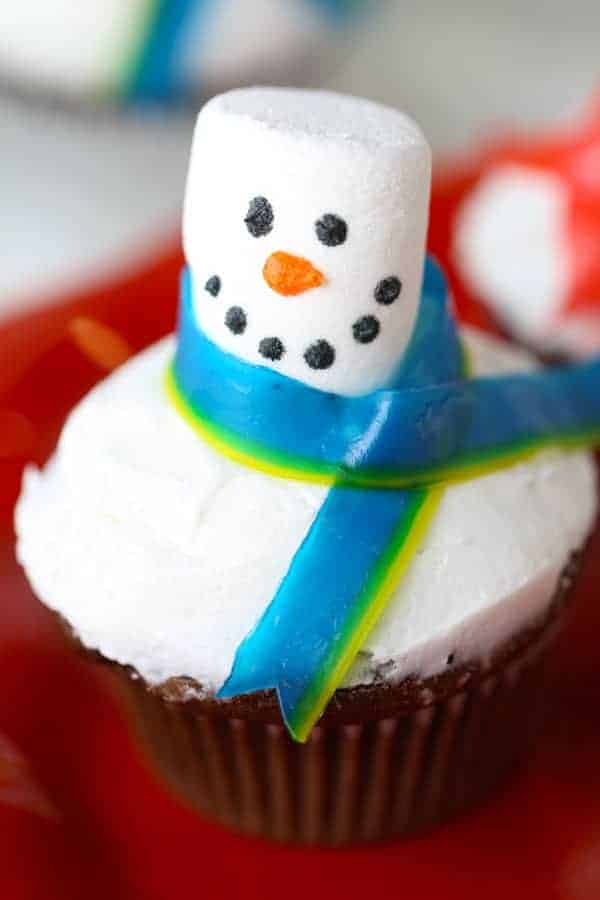 Pipe black frosting on the marshmallows to create the eyes and mouth of each snowman. Pipe orange frosting to create the carrot noses. Place the marshmallow head onto each frosted cupcake. And to finish him off, add a long, narrow piece of fruit roll-up for his scarf. So cute!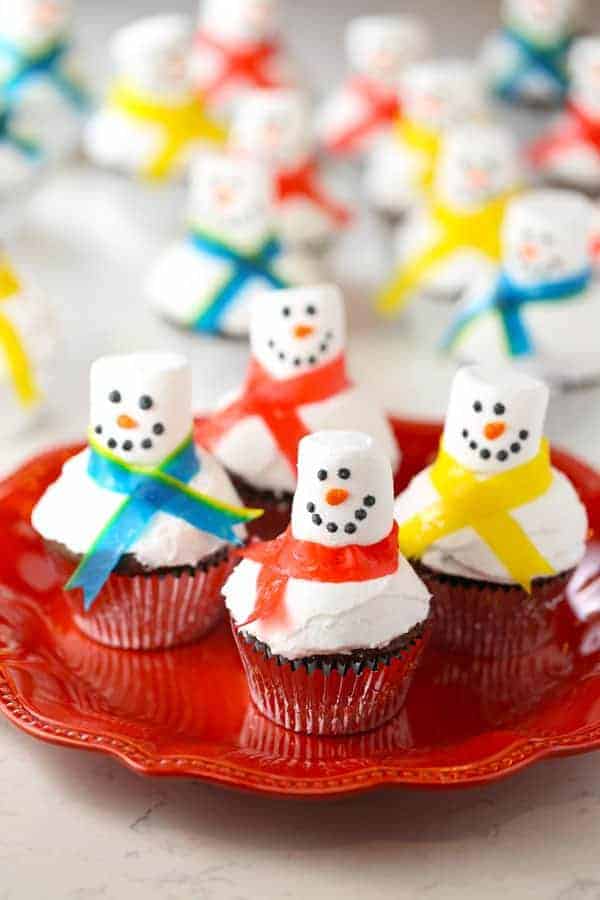 Aren't these SNOW much fun?! I hope you'll make these Easy Marshmallow Snowman Cupcakes with your children!
If you read my last post, you know we just had a big blanket of snow fall on us in Georgia. It was so beautiful, but alas, it's melting quickly. Now all I have to say is this: Let it snow, let it snow, let it snow!
Easy Marshmallow Snowman Cupcakes
Ingredients
For the cupcakes
1 (15.25 oz) chocolate cake mix (prepared according to package instructions, I used Pillsbury)
For the frosting
1 cup vegetable shortening or softened butter (I used Crisco, so it would be pure white)
4 cups powdered sugar (if you buy it in the plastic bag, you don't have to sift it)
1/4 cup heavy cream
1 teaspoon vanilla extract
For the decoration
Marshmallows
Fruit roll-ups (I used Fruit by the Foot)
Black and orange food coloring (OR you can buy a small tube of black frosting and orange frosting)
Instructions
For the cupcakes:
Preheat oven to 350°F. Place cupcake liners in muffin pans.
Prepare cake mix according to package instructions. Fill cupcake liners with batter about 2/3 full. Bake according to package instructions.
For the frosting:
Beat vegetable shortening or softened butter on medium speed with an electric or stand mixer. Beat for 3 minutes until smooth and creamy. Add powdered sugar, cream, and vanilla extract with the mixer running on low. Increase to high speed and beat for 3 minutes. Note: If the frosting is too thick, you can add a little more cream. Just add one tablespoon at a time, then mix thoroughly until you get the consistency you like. Separate 1/4 cup of frosting to color orange and 1/4 cup of frosting to color black. Place orange frosting in a pastry bag fitted with a #4 round tip and place black frosting in a pastry bag fitted with a #4 round tip. (OR if using store bought orange and black tubes of frosting, you can skip this step.)
For the decoration:
Frost cupcakes with white frosting.
Pipe eyes and mouth onto marshmallow with black frosting. Pipe a carrot nose with orange frosting. Make as many as you need, depending on how many cupcakes you have. I made 20. Place one marshmallow on top of each frosted cupcake.
Cut strips of fruit roll-up and place around marshmallow to look like a scarf.
Store covered at room temperature for up to 3 days. You can store them longer in the refrigerator but the marshmallow might get dried out.
https://www.momlovesbaking.com/easy-marshmallow-snowman-cupcakes/

Featured on Meal Plan Monday over at the Southern Plate.