Have you ever wanted to create a vision board? Let me show you How to Create a Vision Board in 5 Easy Steps. (If you're in a hurry, you can scroll all the way down for the 5 easy steps.)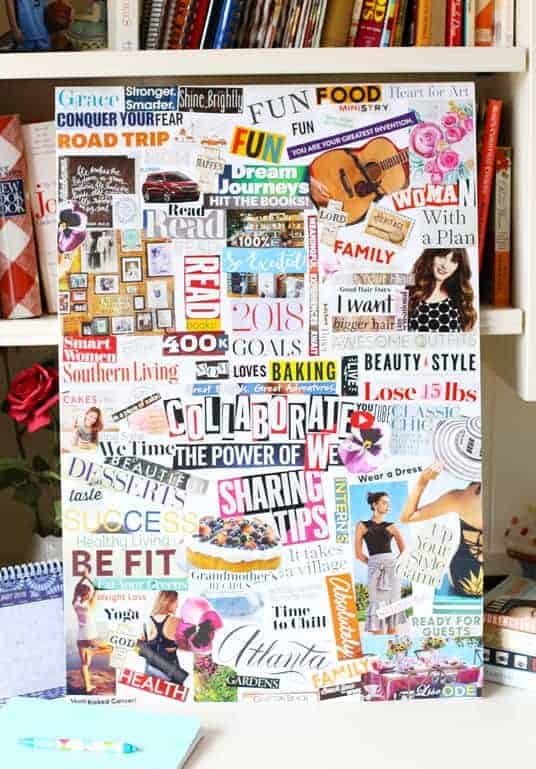 Here's the vision board I made for my 2018 goals. I'm really happy with how it came out and excited about the new year with all of it's potential. I'm a new believer in the concept of making a vision board and can't wait to show you how, but first let me tell you how I learned about it.
I heard about vision boards last year. A blogger friend of mine was encouraging the members of her private group to make one for the new year. Her name is Jocelyn Delk Adams and her blog is called Grandbaby Cakes. She did a live video and showed us her board from the previous year. One of the words she put on her board was "Today." She wanted to be on the Today show and by the end of the year, she had been a guest baker on the show SEVERAL times. I thought, "that's so cool!" She had a goal, she pasted it onto her vision board and it actually happened! Thanks for the inspiration, Jocelyn!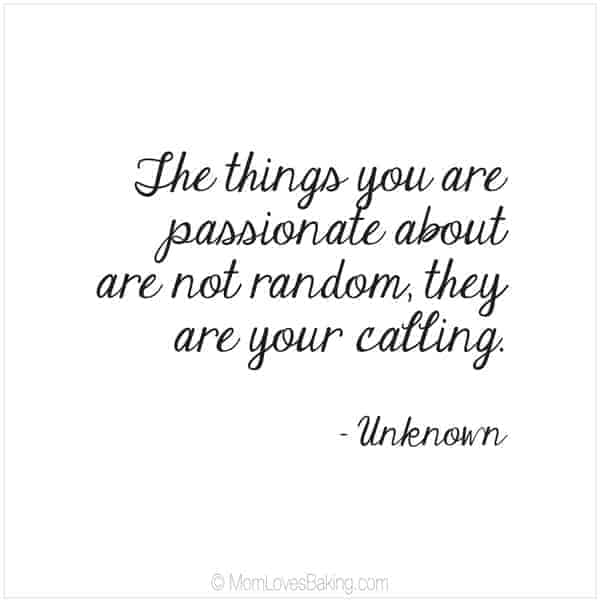 I recently heard that Ellen and Oprah have used vision boards for years with great success. When you create a vision board, it helps you reach your goals by visualizing them, putting them on paper (so to speak) and then following through with them.
So you would think that I would've done a vision board last year as soon as I heard about it, right?! But no. It took me a whole year to decide that I should make one for myself! And I can thank my mom for that. She inspired me to make one this year. I had the thought in the back of my mind, then last week I was talking to her on the phone and she said, "I'm going to my yoga class today and we're making vision boards." I instantly thought, this is such a neat idea. I have to finally do one!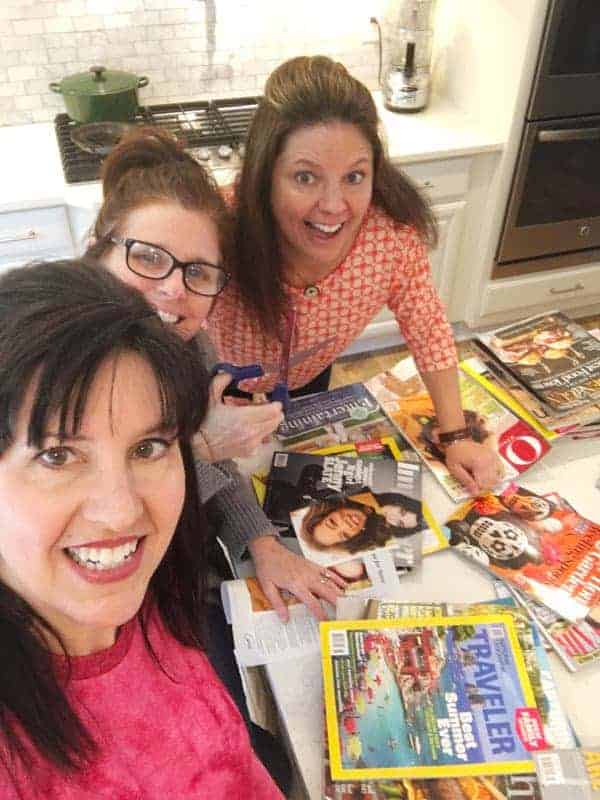 So I set a date and asked some of my friends to come over for my vision board making party. I bought about a dozen boards at the dollar store, plus lots of glue sticks and some scissors. I provided the coffee and donuts and all I asked was for everyone to bring some of their old magazines. Granted I planned this about one day in advance, so I didn't have a lot of people that could make it but there were three of us and that was just as fun! My friends Amy and Gretchen joined me for a productive morning of vision board making (pictured above, from left: me, Amy, Gretchen).
It was a hoot! Of course, we did a lot of talking too which sort of slowed down the process but getting together with friends is always a good thing and it got us started on the project. Sometimes you just need someone to get you started and then you're on your way. We worked on it for a few hours, then had to call it a day. Gretchen had somewhere to be, but actually finished hers at home later that day (very impressive)! I, however, took a little longer. I ended up working on it for the next three days straight. I might have mentioned before that I'm a graphic designer, so I enjoyed going through magazines for days, searching for the perfect words and photos to describe my goals. I'm a bit of a perfectionist too but I'm working on that. Amy came back and finished hers up in just a few hours!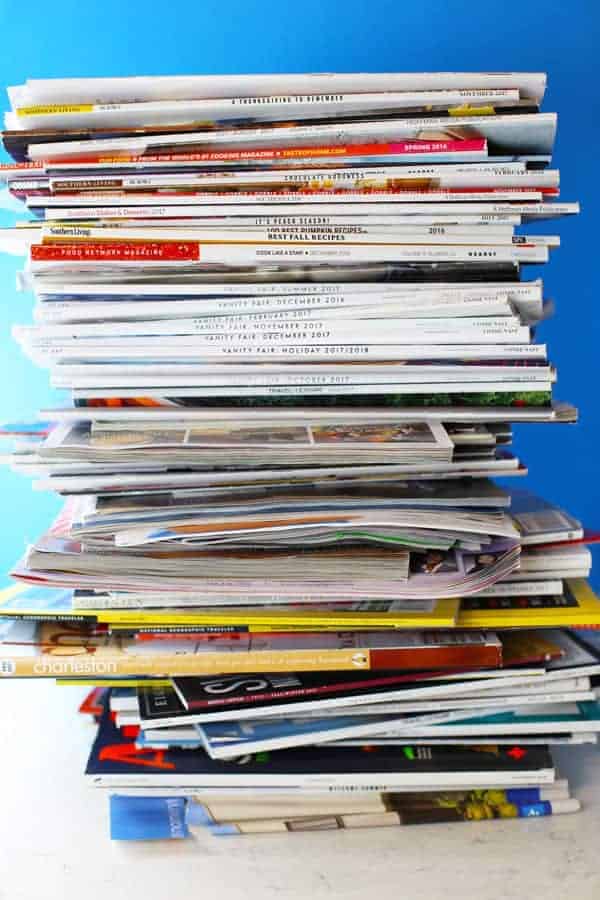 Would you like to make a vision board? It's so easy and I'd encourage you to do it! It's such a great way to get your goals on paper! And although the beginning of the new year is a perfect time to make one, I don't think you have to only do it in January. I think you could make one any time of year! Any day is the perfect day to write down your goals, but there's no better time than the present!

How to create a vision board in 5 easy steps:
1) Buy a board - sturdy poster board such as foam core. (I used a 20"x30" white foam core board from the dollar store)
2) Visualize your future: Make a list of goals for the year or things you would like to see happen.
3) Go through magazines and find photos/words that illustrate your goals and cut them out.
4) Paste your photos/words to the board using a glue stick.
5) Take inspired action and be grateful.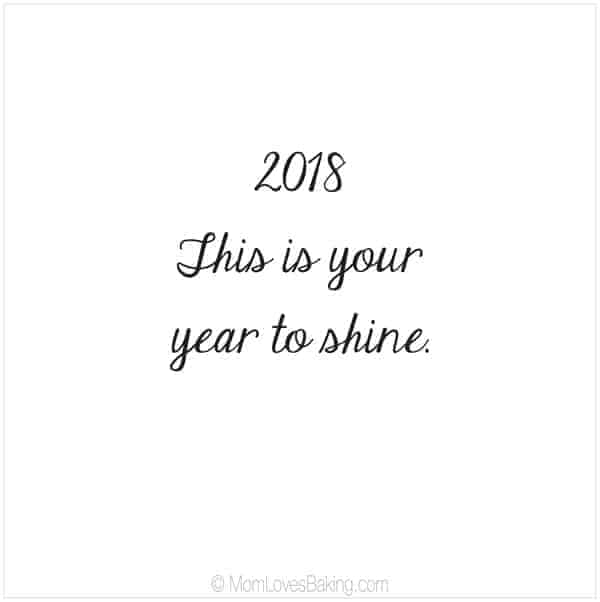 Here's Gretchen's board. Isn't it pretty! I love the photos she used and all very inspiring words too!
Gretchen's bio:
Gretchen Howard aims to connect her life interests and values with her work. She shares others' stories to gain media exposure and real results through her business Gretchen Howard Public Relations (makeover and new services coming soon!).
From Asheville, North Carolina to Jackson Hole, Wyoming to the Atlanta suburbs, Gretchen is a Southerner at heart with an adventuresome spirit. She revels in a long run, hike or bike ride… digging in the garden, cooking nourishing foods or reading a favorite author. She blogs about everyday life, health and wellness at Rooted and Whole.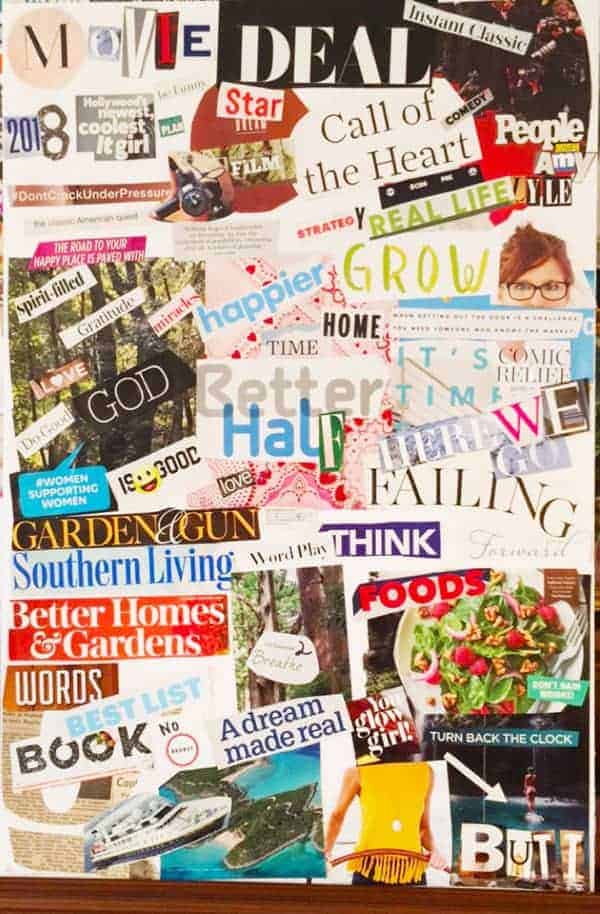 Here's Amy's board! I was so impressed that she got it done so fast and it came out so cute!
Amy's bio:
Amy Lyle is a playwright, actor and screenwriter living in Atlanta with her second husband, Peter, four teenagers and a very large dog. She's the author of THE AMY BINEGAR-KIMMES-LYLE BOOK OF FAILURES, a funny memoir. If you have ever failed at love, finances, been fired, not fit in, self-diagnosed yourself with disorders and conditions and/or said "I really need to get my s*** together," this is the book for you. She's currently working on getting her first screenplay made into a film this Summer. Find Amy on Facebook, Twitter or Instagram.
Find Amy's book here on Amazon (affiliate):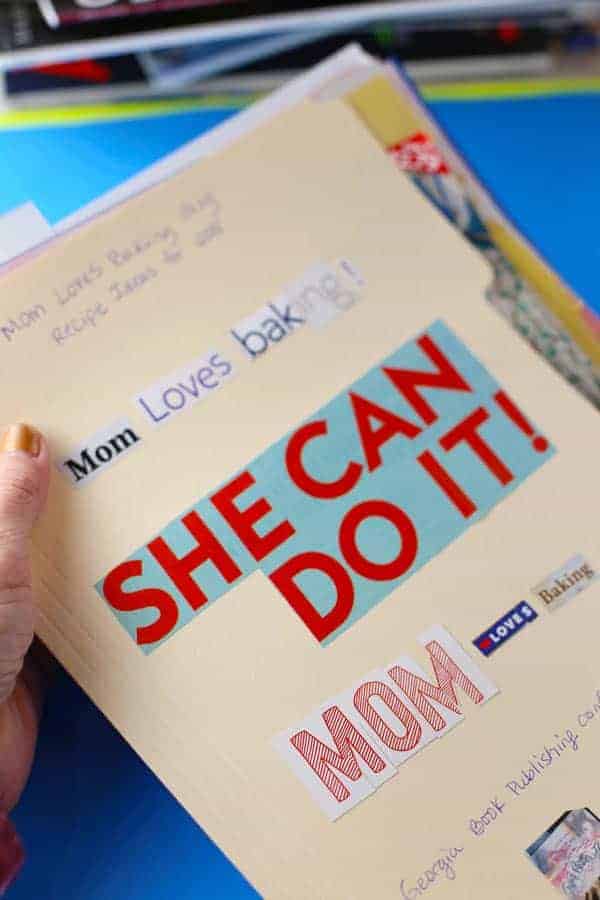 I actually made two boards. One for my personal/professional goals and another one just for my blog which is all of my recipe ideas for the year! I created a folder to go with that board with more details on the recipes I plan on making. I also want to publish a cookbook, so that's on my list of goals too.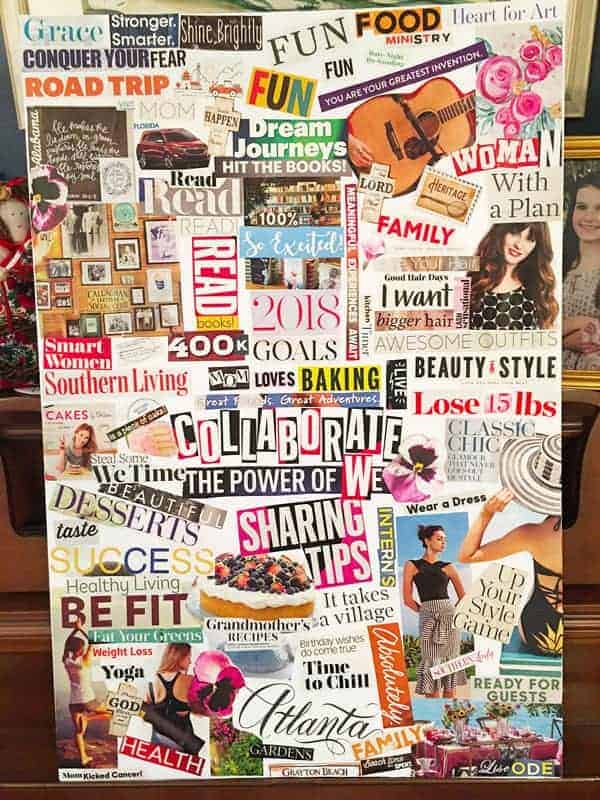 Here's another photo of my vision board. I found it very helpful to write my goals on a piece of paper first, then try to find the pictures and words to match. I used my board for personal and professional goals. You could use it for any goals you choose. Here are some of the bullet points:
1) Conquer my fear of driving to visit my mom (I've written a whole blog post on this one)
2) Have fun! This one means many things to me. I pasted this word three times at the top of my board. After blogging (mostly by myself) for four years, I've decided I want to have more fun with it by collaborating with friends and supporting other women in my field. (Collaborate is also a big word on my board.) Blogging can be a lonely business and I'm going to try and change that a bit. Girls just wanna have fun!
3) Learn guitar.
4) Read, read, read, read. The word is pasted on my board four times! I think I need to read more. Less screen time, more book time.
5) Grow my Instagram account to 400K.
6) Get published in Southern Living Magazine and also publish a cookbook
7) Lose Weight
8) Yoga
9) Entertain more
10) You Tube
So what do you think? Did you enjoy learning How to Create a Vision Board in 5 Easy Steps? Are you going to make a Vision Board for your 2018 goals? I hope so and let me know if you do. I'd love to hear from you!