This is a sponsored post written by me on behalf of Royal Canin for IZEA Worldwide. All opinions are 100% mine.
Did you know that it's National Take Your Cat to the Vet Month? If you're a cat lover like me, this is a great reminder to take your cat in for a check up which is so important.
We have three cats at my house and they bring us so much joy. They've been such a comfort during the pandemic and always a welcome distraction. Our cat's health is a top priority for us. Believe it or not, many cats aren't being taken in to the vet regularly. Did you know that 6 in 10 said they only take their cat to the vet when they notice something is wrong, versus taking them for check up? Surprising but true.
How often do you take your cat to the vet?
Our local animal clinic sends us reminders in the mail when it's time for our pet's check up or when they are due for their shots which I find so helpful. Our kitties are part of the family and we want them to be with us for as long as possible. One time we took our cat, Oscar (top picture with flowers), in for a check-up and found out that he had a very high fever which was scary. The vet said he could've died if we hadn't brought him in. Yikes! We had no idea. They can't tell us when something's wrong.
It's also important to provide your cat with good nutrition.
We recently started using Royal Canin cat food and our kitties really love it. It makes me feel good to know that they are eating good quality food. There are so many varieties too. If your cat is experiencing a health issue, then you're sure to find a Royal Canin cat food that will be right for them. They have food designed for their age, whether they are outdoor or indoor, weight control, urinary tract issues, hair/skin issues, stomach problems, renal support, calming food, dental care and so much more. I found it at my local vet but you can also find it at pet stores. Check the website to find a store near you.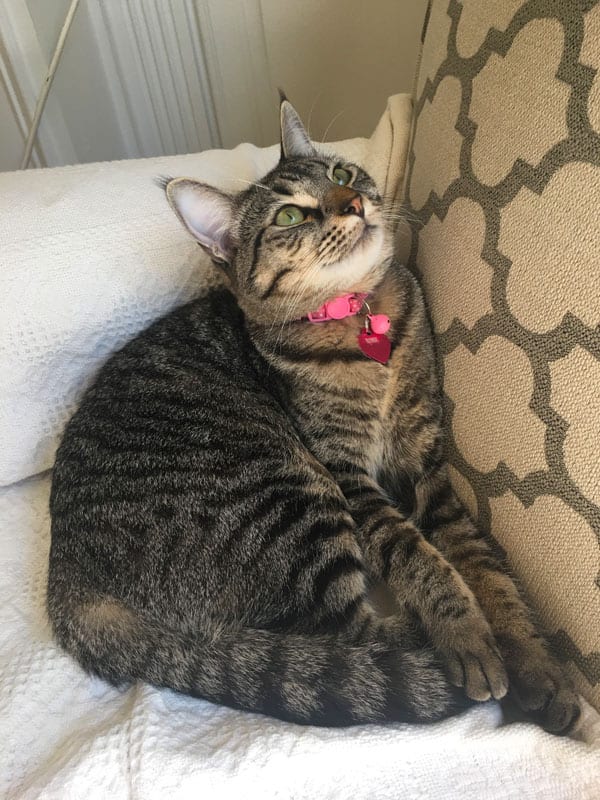 How to Tell if Your Cat Isn't Well
1) Changes in appetite or water intake
2) Coughing or sneezing
3) Acting lethargic or not like herself
4) Vomiting
5) Changes in stool quality – either softer or harder than usual
6) More or less urine in the litter box
A little Bit About our Cats
Coconut (we call her Coco) is eight and is the shy type. She's a Tabby cat with white patches (photo above). She's a bit on the chunky side but we're working on that.
Oscar - a black tuxedo cat with beautiful green eyes - is four. He's very loving to us and likes to "play" with the female cat next door every day. Mostly chasing her as she escapes up the tree. He and Coco are both indoor/outdoor cats.
Rosie is the newest addition to the family - a little over a year old. She is the sweetest kitty and still loves to play every day (see her photo below). We use a laser for her to chase around and she also loves to chase after ping pong balls. We throw the ball and she runs to chase it. Over and over for a good 5 minutes or so until she gets bored with it. But then she'll be ready to play again 10 minutes later. So cute!!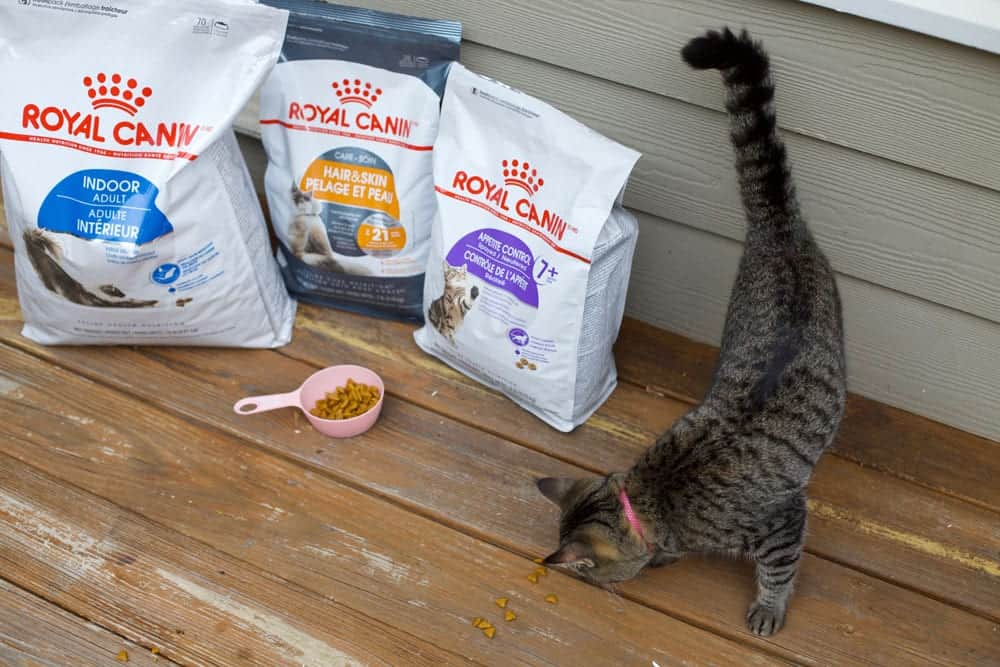 More Information About #Cats2Vet Month
Watch – A new cat-centric web series: Catology Presents Kitten Lady and Friends, covering everything cat…from behavior to health and nutrition.
Learn – Ready to learn more about cats and their specific needs? The best way to keep your cat healthy is to learn more about them. Stay Curious.
Chat – Be curious about your cat's health – receive a complimentary chat with a veterinarian 24/7, brought to you by Royal Canin and Ask.Vet.
Shop – Purchase your favorite Royal Canin cat food from PetSmart and receive a free vet visit from Banfield.
Donate – Your Royal Canin cat food purchase from Chewy.com supports veterinary care for shelter cats through GreaterGood.org.
Win – Enter the #Cat2Vet sweepstakes to win a prize pack to help you get ready for your cat's next vet visit. Every entry will also receive a free sample of Royal Canin Hematuria Detection by Blücare.
Enter the sweepstakes now - the #Cat2Vet sweepstakes can be entered here: www.royalcanin.com/cathealth
Good luck and don't forget to take your cat to the vet today or call and make your appointment asap!
Are you a cat lover too? How many cats do you have? What are their names and what is something unique about your pet? I'd love to hear from you in the comments below.