No-Bake Strawberry Cream Pie is light and airy with a delightful crust made of gluten free Honey Bunches of Oats Chocolate cereal.
You might also like Sugar Free Strawberry Pie or Lime Cream & Strawberry Pie.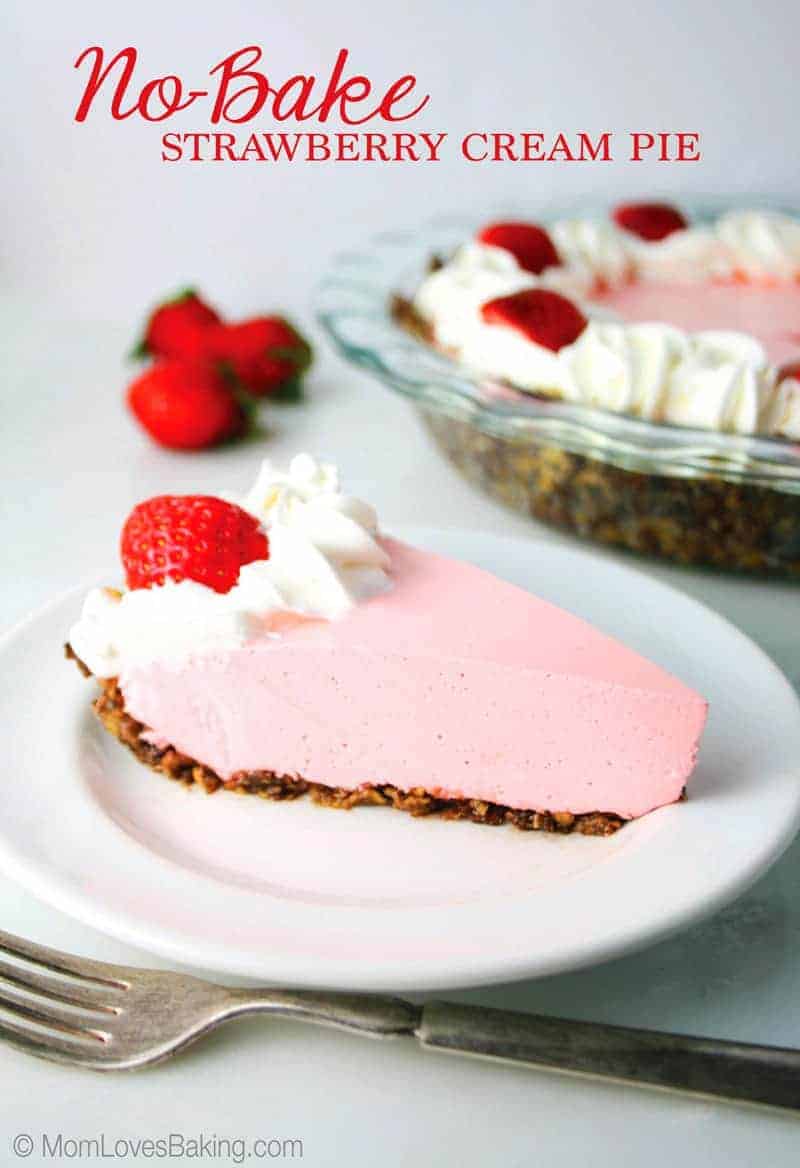 Today I'm sharing a pie recipe which I've been making for a very long time. I think I was about ten year's old the first time I made it. It's one of my all time favorite pies and reminds me of my childhood. The only difference is, this time I tried it with a new crust. It's chocolate and it's also gluten free.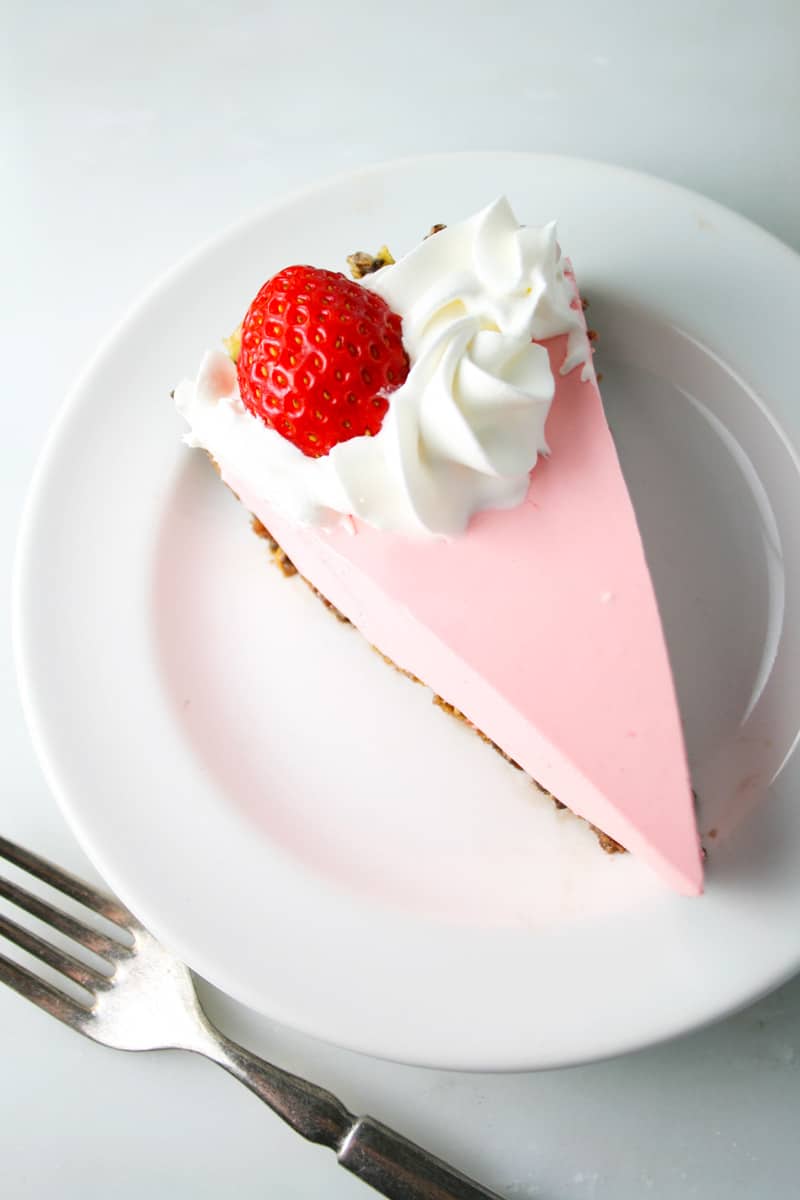 Eating this pretty pink pie really takes me back in time. I guess I'm a total foodie because my memories are always connected to food. Do you do that too?
I started collecting recipes when I was about 9 years old. It was way before the internet or the Food Network, so I got most of my recipes back then by asking people and writing the recipe on a card.
I also loved to get recipes from magazines. That was where you could actually see a full color photograph of the recipe which was special because even cookbooks back then didn't have many photographs. I think it's so awesome that we can share recipe photos on the internet now. Food blogs are the best, right? Anyhoo... the inspiration for this pie comes from a recipe I found in a magazine in the 1970s.
The original recipe, however, was not gluten free. And the original crust wasn't chocolate either. Enter Honey Bunches of Oats Chocolate which makes for the perfect base for a very tasty and gluten free crust.
I'm always interested in developing gluten free recipes because my mom can't have gluten and she's my number one reader on Mom Loves Baking. (Hi, mom.) And it's also nice to have a gluten free option to serve when she comes for a visit.
How to make No-Bake Strawberry Cream Pie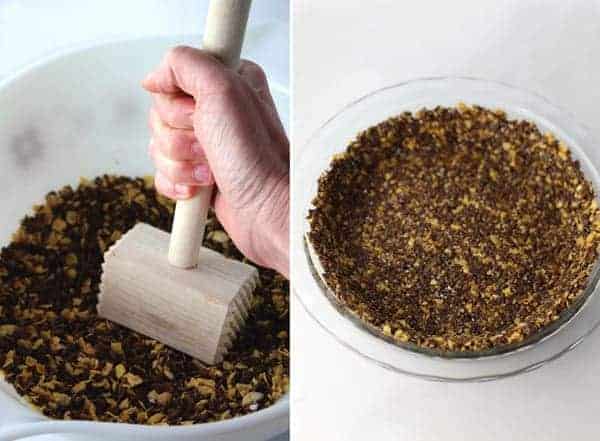 Making the crust for this pie is very simple. Place 3 cups of the cereal in a large bowl and crush into small pieces. Stir in a little bit of corn syrup and melted butter. Press into a 9-inch pie plate.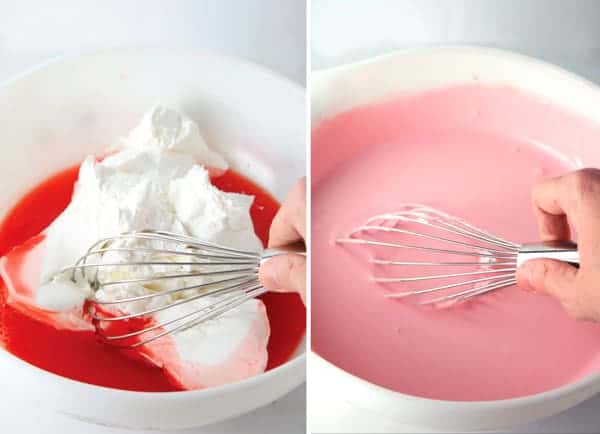 Meanwhile, make the filling. Prepare strawberry flavored gelatin, then whisk in non-dairy whipped topping.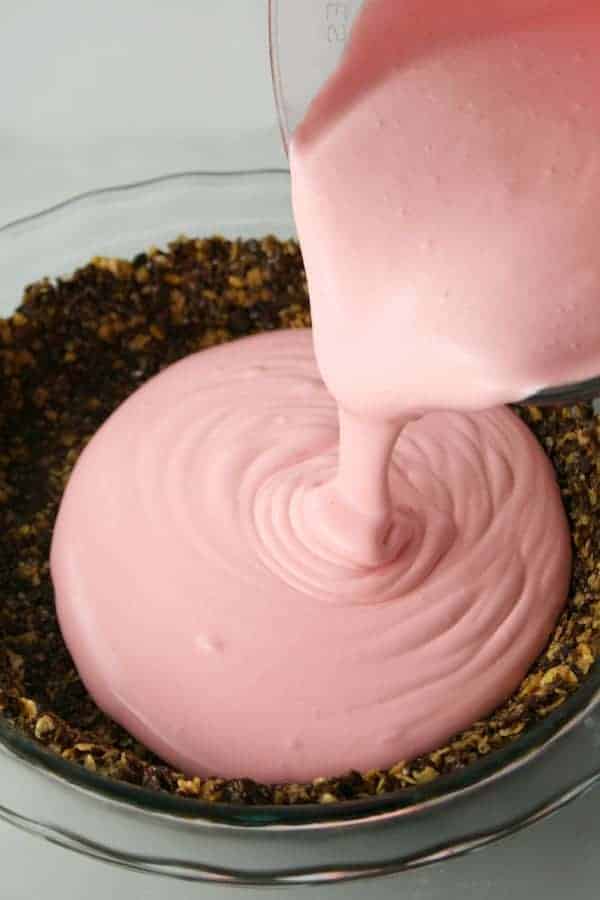 Pour filling into crust and chill for 4 hours.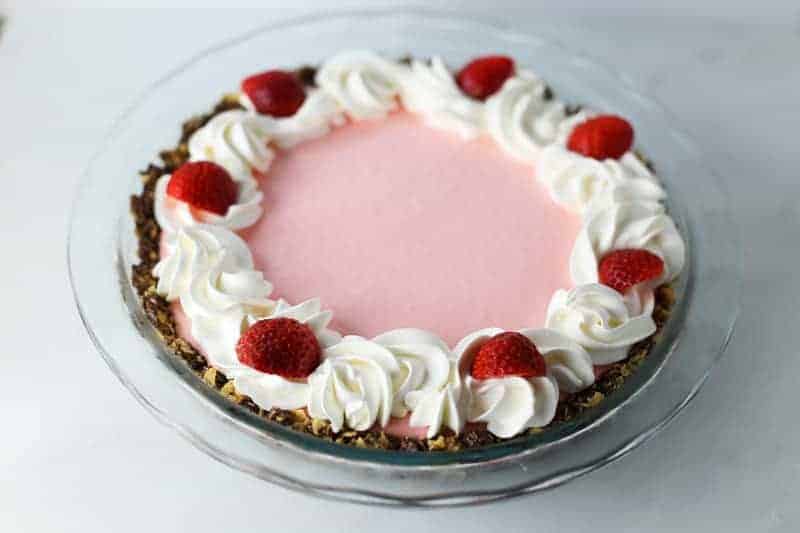 Garnish with more whipped topping and fresh strawberries.
I love this pie! And the crust is extra special. The Honey Bunches of Oats Chocolate gives it so much flavor.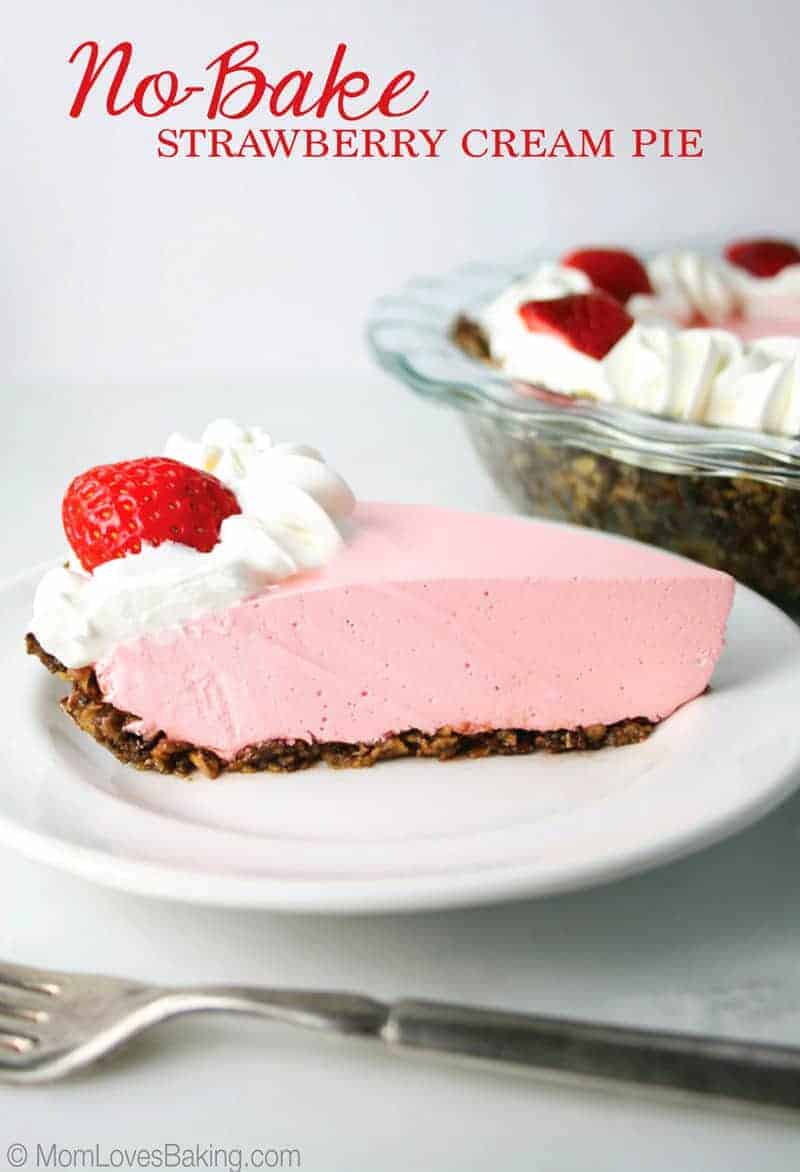 Serve No-Bake Strawberry Cream Pie for your family or for your next party. They'll love it!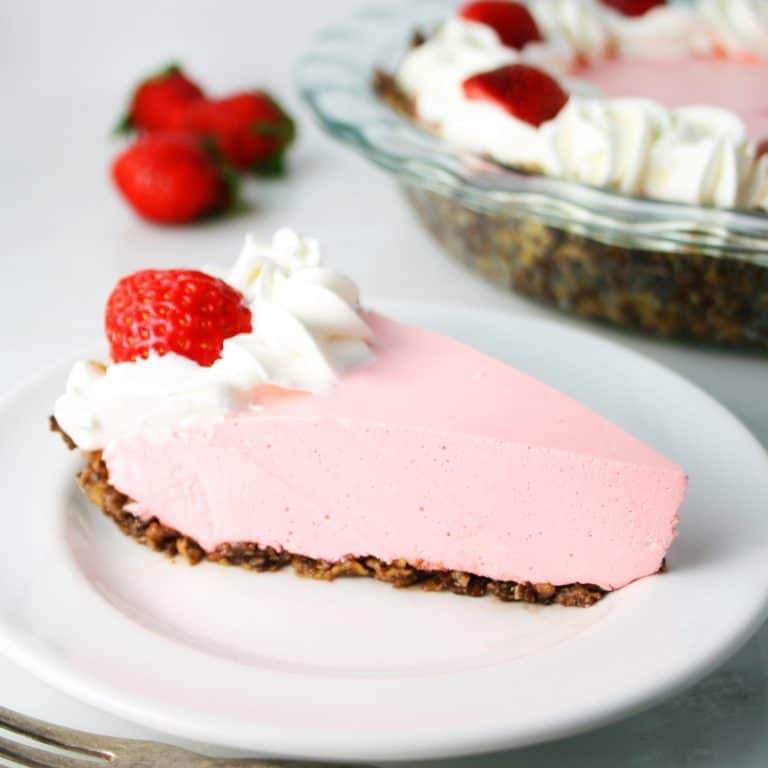 Ingredients
For the crust
3

cups

Honey Bunches of Oats Chocolate

⅓

cup

corn syrup

4

tablespoons

unsalted butter

melted
For the filling
⅔

cup

boiling water

1

box

strawberry flavored gelatin

4 serving size

½

cup

ice water

16

ounces

frozen non-dairy whipped topping, thawed

Garnish with fresh strawberries
Instructions
Place cereal in a large bowl. Crush cereal into smaller pieces. Stir in corn syrup and melted butter. Pour into a 9-inch pie plate. Press on bottom and up the sides. Place in refrigerator to chill.

Meanwhile, stir the boiling water and gelatin together in a medium bowl. Add ice water. Stir until slightly thickened. Remove remaining ice cubes. Whisk in one container of thawed whipped topping. Whisk until smooth. Pour into chilled crust. Chill in refrigerator for 4 hours. Place remaining whipped topping in a pastry bag fitted with a 1M pastry tip. Pipe topping on pie or you can scoop it onto the pie and spread around. Add strawberries, if desired.
Nutrition
Calories:
472
kcal
|
Carbohydrates:
65
g
|
Protein:
8
g
|
Fat:
21
g
|
Saturated Fat:
11
g
|
Polyunsaturated Fat:
2
g
|
Monounsaturated Fat:
5
g
|
Trans Fat:
1
g
|
Cholesterol:
16
mg
|
Sodium:
117
mg
|
Potassium:
237
mg
|
Fiber:
2
g
|
Sugar:
43
g
|
Vitamin A:
217
IU
|
Vitamin C:
1
mg
|
Calcium:
84
mg
|
Iron:
2
mg
Disclaimer: While Honey Bunches of Oats Chocolate complies with FDA Gluten Free labeling requirements, it is not manufactured in a dedicated facility. All ingredients, ingredient suppliers and production lines are thoroughly tested at multiple levels of production and evaluated to assure there is no risk of cross-contact contamination. As gluten intolerances and sensitivities vary from person to person, we encourage you to use your best discretion when choosing foods safe for you. Honey Bunches of Oats Chocolate aims to provide a delicious cereal for all members of the family to enjoy, including those with gluten sensitivities or allergies. Enjoy!