Paleo Banana Bread is total comfort food that's also gluten, grain and dairy free. Just like grandma used to make. Very ripe bananas make this bread extra moist and delicious. Sweetened with dates and honey, so there is no refined sugar as well.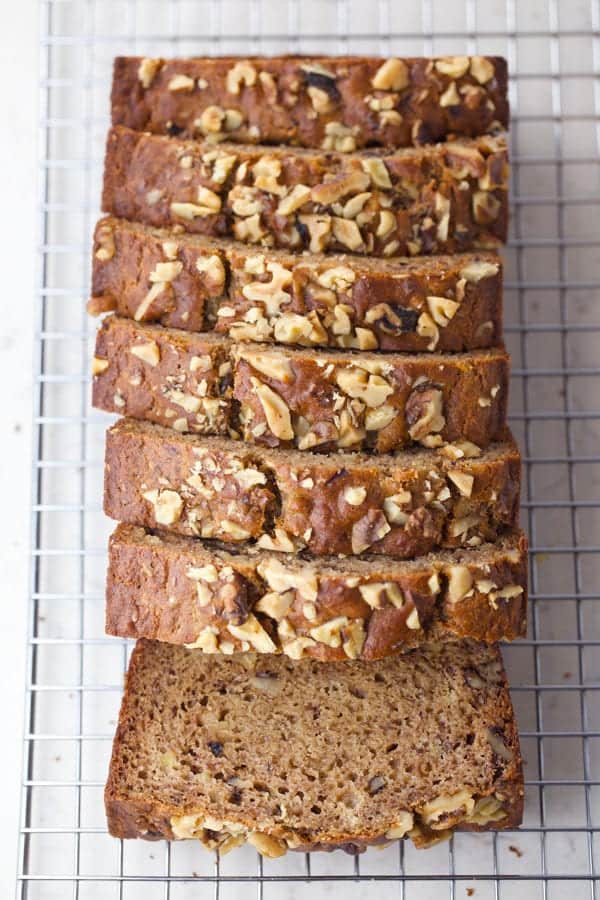 We have a divided household. And I'm not talking about football. Half of us eat "regular" food and the other half eats gluten free/paleo. My husband and son don't have any food allergies, so they only want to eat all the traditional foods. While my daughter has food allergies and can NOT have any gluten or dairy. It's not by choice, these foods actually make her very sick when she eats them. And I'm just over here doing the best I can to stay healthy and finally lose that 15 pounds of baby weight I've been carrying for so long (my "baby" just turned 14).
I've discovered lately that a Paleo diet works well for me. It's basically eating whole foods, no grains, no sugar and no legumes. I've been eating this way for about 6 months now and I feel so much better. I can't say that I've lost much weight but I'm definitely less bloated and have an overall sense of well being. It's helped with my anxiety a lot as well. And I'm sleeping better.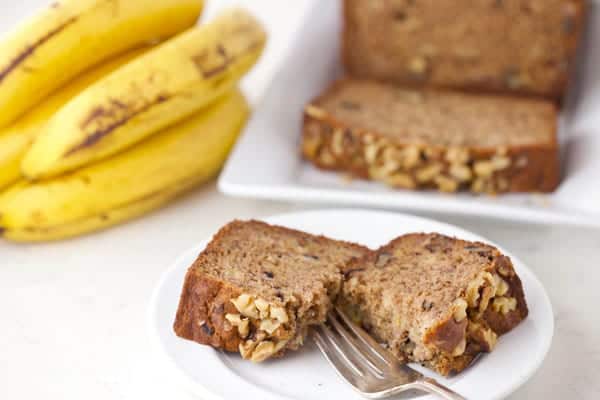 Just because I'm eating paleo doesn't mean I'm going to stop baking. Oh no! I will always bake. That's just what I do. So now I'm on a quest to develop paleo versions of some of my favorite baking recipes. This is one of the first ones that I've perfected and I'm excited to share it with you.
Paleo Banana Bread is not as sweet as traditional, although you can adjust the amount of sweetener to your liking. I used date sugar and honey to sweeten this gluten free bread. I ordered the date sugar online. If you can't find it, you can substitute honey and it will work just fine.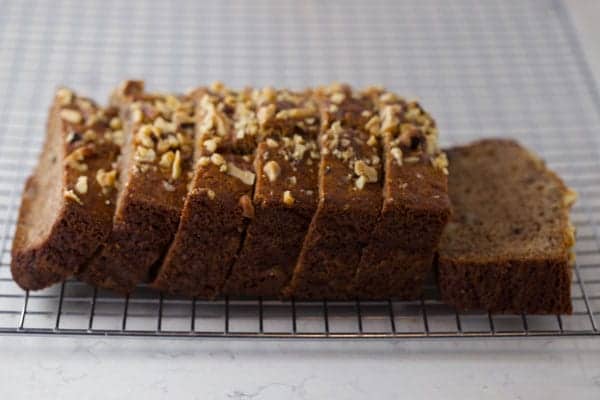 My daughter gives her approval too. The bread itself is nicely browned on the outside and has a moist texture on the inside that is very similar to traditional banana bread. I like to slice it up in very thick slices. The walnuts add crunch and a bit of protein, plus they look nice baked into the crust.
The key to the success of this recipe is using VERY RIPE bananas. I mean dark brown. What I like to do is wait for the bananas to be covered in brown spots, then I put them in the refrigerator (or even the freezer) to let them ripen longer. Up to a week in the fridge or months in the freezer. The bananas turn completely dark brown on the outside. Then when you're ready to use them, they will look quite unappetizing when you peel them but trust me, it's WORTH it. They are so much sweeter and give your bread more moisture and a stronger banana flavor.
I learned this tip from the winner of the most recent Top Chef - Kelsey Barnard Clark. She's from my dad's (small) hometown, Dothan, AL, where I still have lots of family. Thanks, Kelsey!
The very ripe bananas help to make this batter smooth as satin, while adding extra sweetness.
How to Make Paleo Banana Bread
1) Beat coconut oil, date sugar, honey, vanilla and bananas until smooth.
2) Add dry ingredients and mix well. (This recipe uses almond flour and tapioca flour.)
3) Stir in walnuts, pour batter into greased loaf pan and sprinkle with more nuts.
4) Bake for 40-45 minutes. Let cool and serve.
5) Scroll down for complete recipe.
What is a Paleo Diet
A paleo diet is based on what early man might have eaten in the Paleolithic era.
This includes the foods that were available before farming.
The idea behind the paleo diet is that farming introduced foods that humans weren't intended to consume.
Farming introduced dairy, grains and legumes.
Lean meat, fish, nuts, fruits and vegetables are typically eaten on a paleo diet.
Eggs are also allowed on a paleo diet.
With that said, I'm not eating a paleo diet because I want to eat like a caveman. I'm just eating this way because I have discovered that it works well with my body. I feel so much healthier.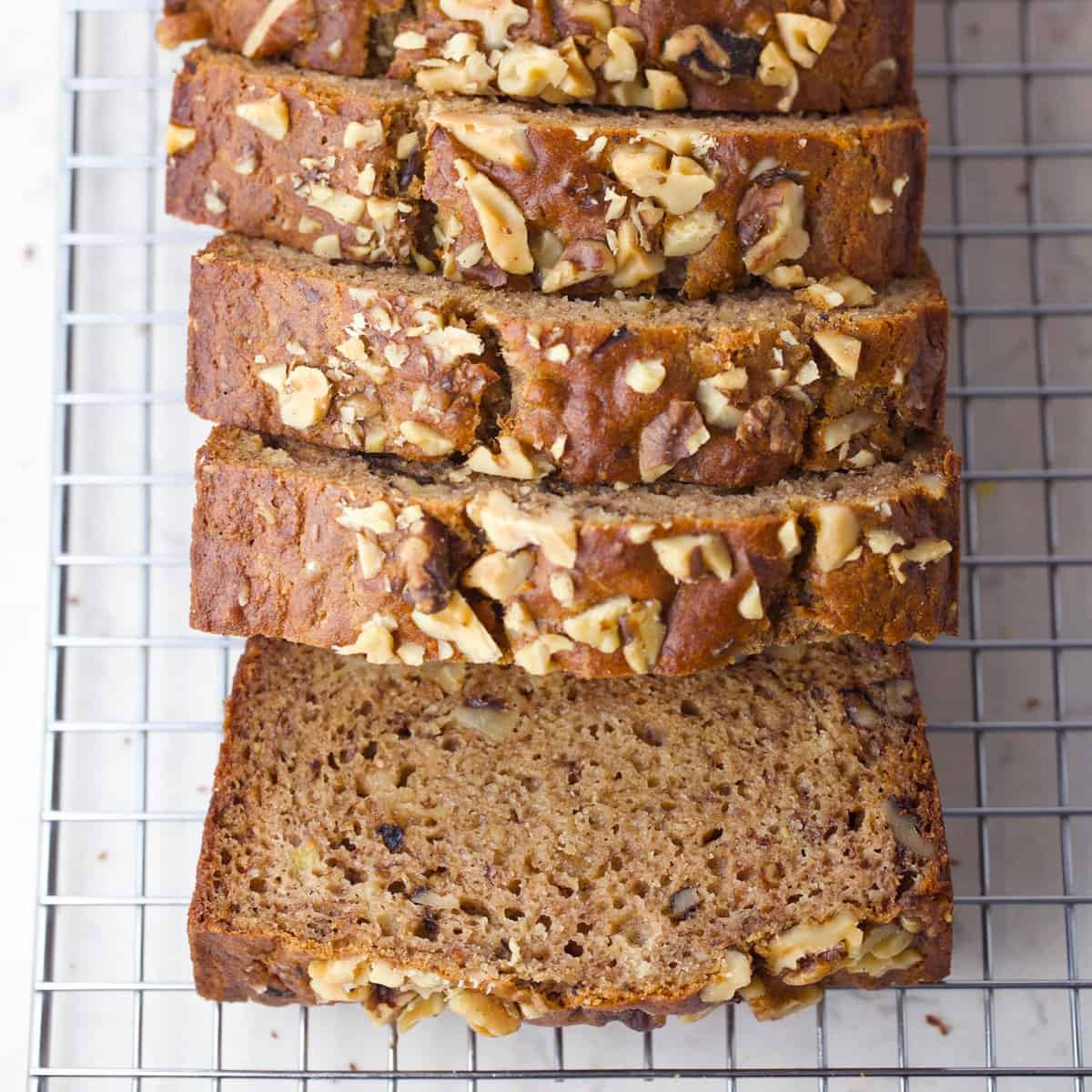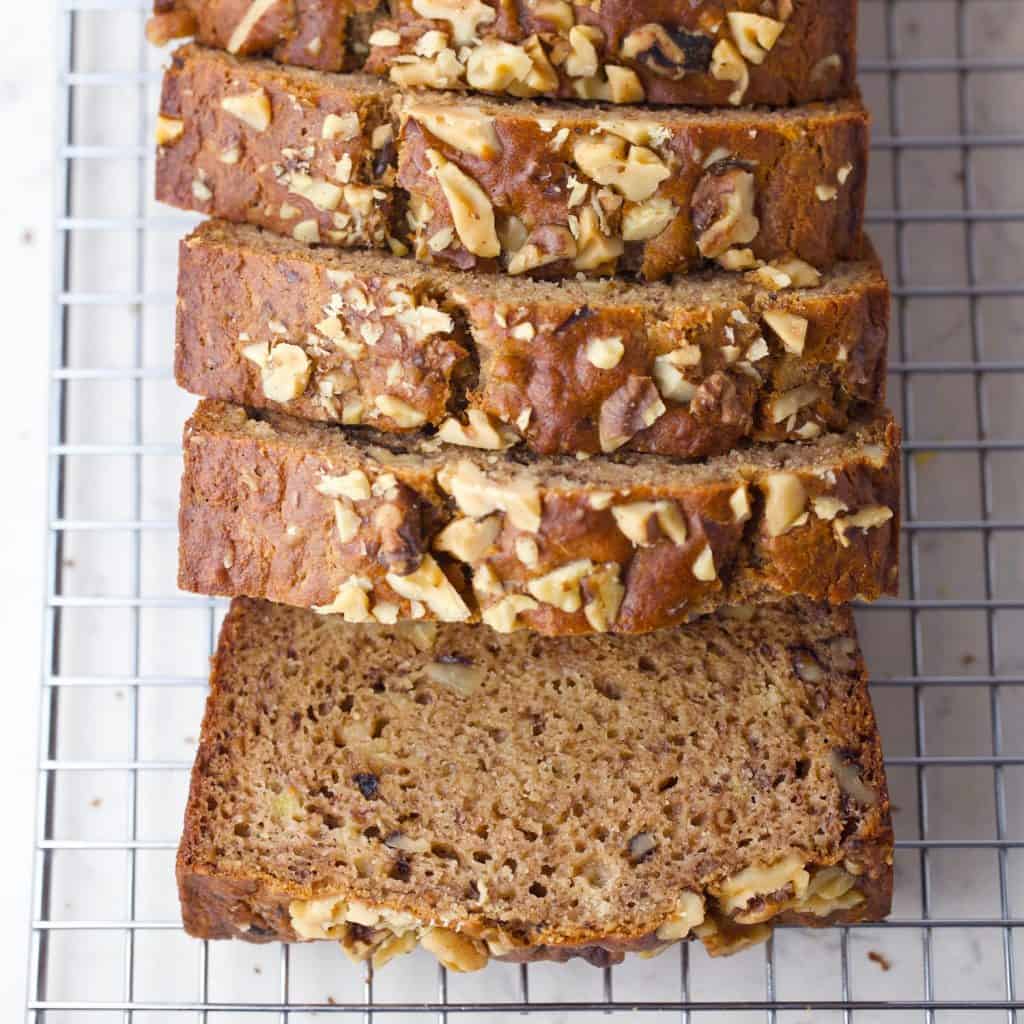 Tools for success
Note: The above items are affiliate links.
Want even more? Subscribe to Mom Loves Baking to get new recipes and a newsletter delivered to your inbox. And stay in touch on Facebook, Pinterest, Twitter, and Instagram for all my latest updates. If you make this recipe, share a photo on social media tagging @momlovesbaking and using the hashtag #momlovesbaking.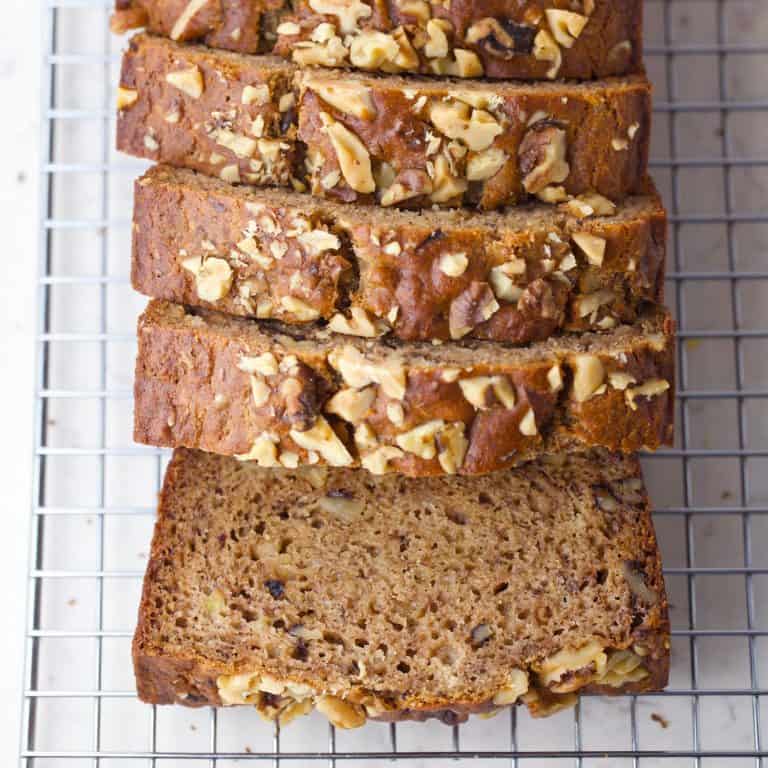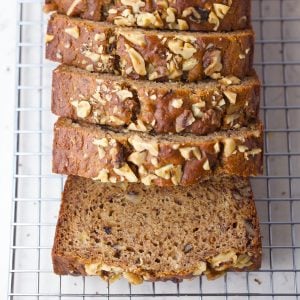 Paleo Banana Bread
Paleo Banana Bread is total comfort food that's also gluten, grain and dairy free. Just like grandma used to make. Very ripe bananas make this bread extra moist and delicious. Sweetened with dates and honey, so there is no refined sugar as well.
Print
Pin
Rate
Instructions
Preheat oven to 350°F and spray a 9"x5" loaf pan non-stick cooking spray. Set aside.

In a medium bowl, add banana, eggs, coconut oil, vanilla, date sugar and honey. Beat with a hand mixer on medium until smooth. Add all of the dry ingredients and mix until completely combined, being careful not to overmix. Stir in ½ cup of chopped walnuts.

Pour batter into prepared loaf pan. Sprinkle with remaining nuts. Bake for 40-45 minutes or until a toothpick inserted in the middle comes out clean. Let cool.

Store covered in the refrigerator for up to a week, or freeze for months.
Nutrition
Calories:
309
kcal
|
Carbohydrates:
32
g
|
Protein:
7
g
|
Fat:
19
g
|
Saturated Fat:
6
g
|
Cholesterol:
63
mg
|
Sodium:
259
mg
|
Potassium:
236
mg
|
Fiber:
3
g
|
Sugar:
12
g
|
Vitamin A:
118
IU
|
Vitamin C:
4
mg
|
Calcium:
72
mg
|
Iron:
1
mg
You might also like:
Paleo No-Bake Chocolate Chip Cookies

All text and images © Lise Ode for Mom Loves Baking. Please do not use my images without prior permission. If you want to republish this recipe, please re-write the recipe in your own words, or link back to this post for the recipe. Disclaimer: Nutrition information shown is not guaranteed to be accurate. This post may contain affiliate links.