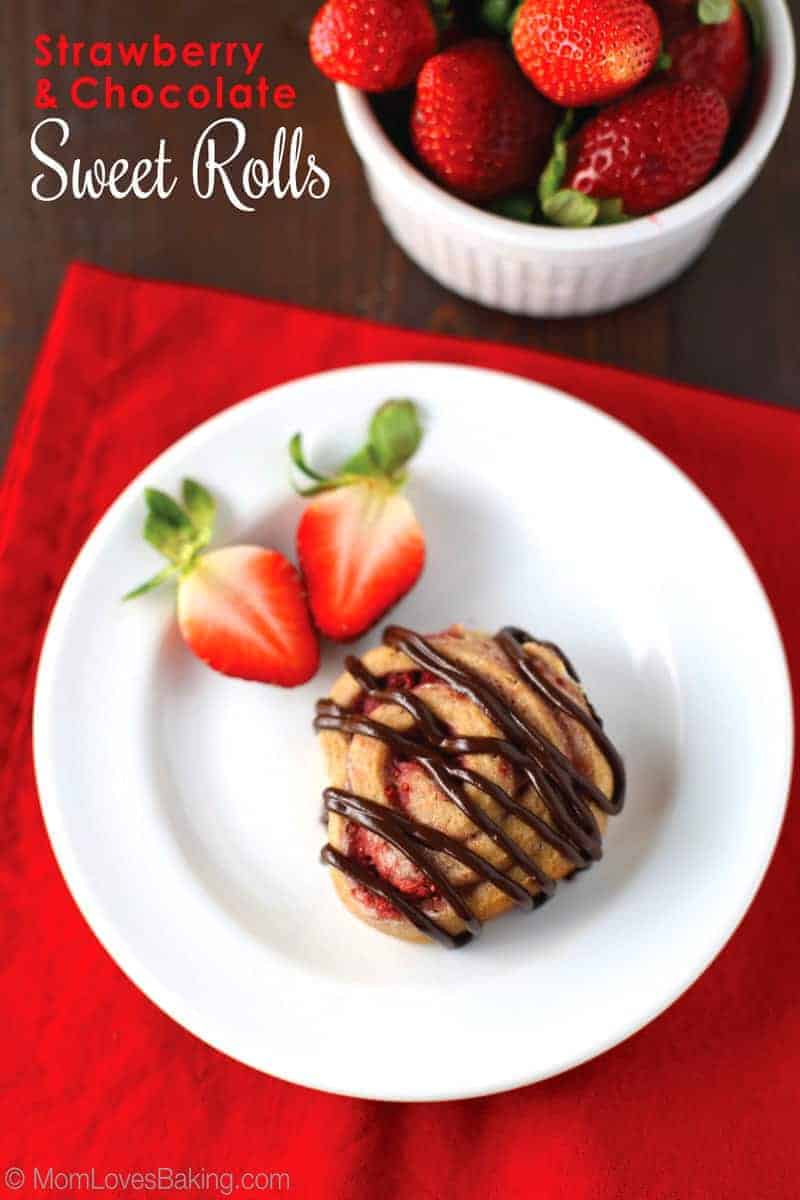 I'm still trying to eat low carb, but this girl still loves to bake. These Strawberry & Dark Chocolate Sweet Rolls are definitely on the healthier side though. They contain no butter, no eggs and no refined sugar. Plus they're made with whole wheat flour, so they've got some fiber too. At 152 calories per roll, they're not too hard on the waistline.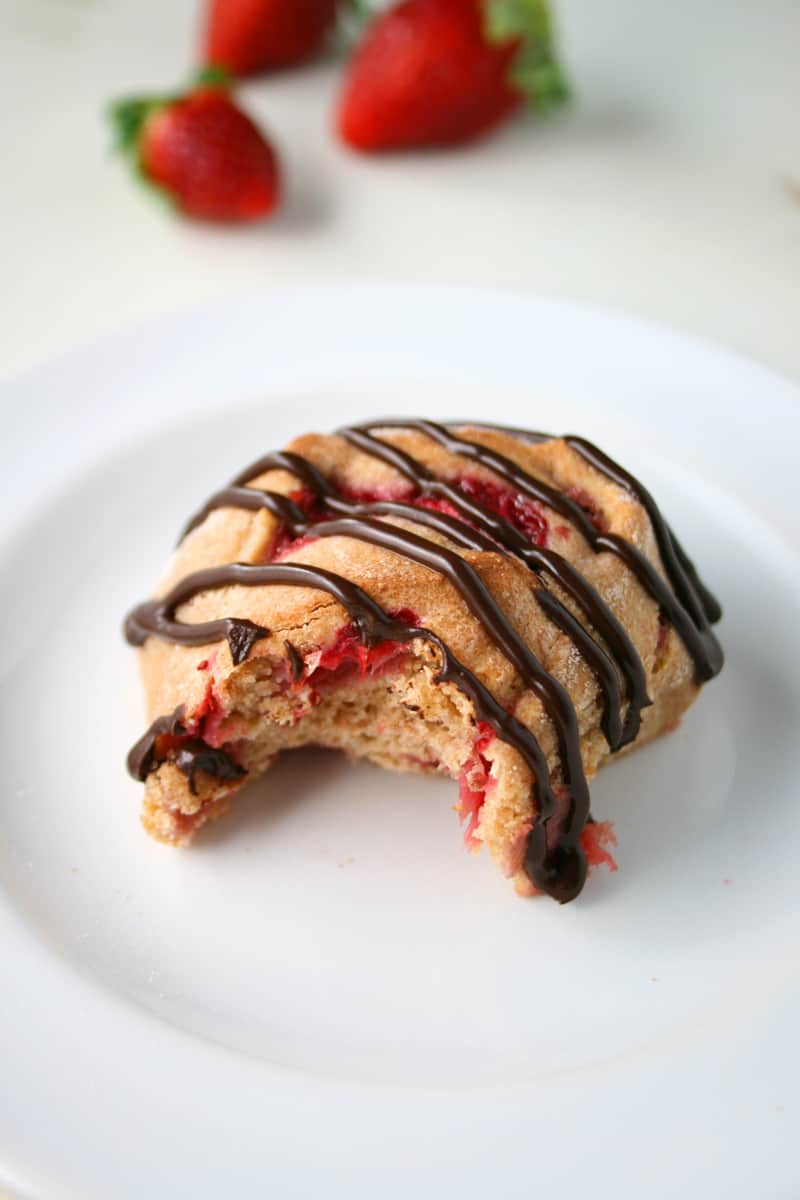 Strawberry & Dark Chocolate Sweet Rolls are a delicious way to satisfy your sweet tooth when you're counting calories!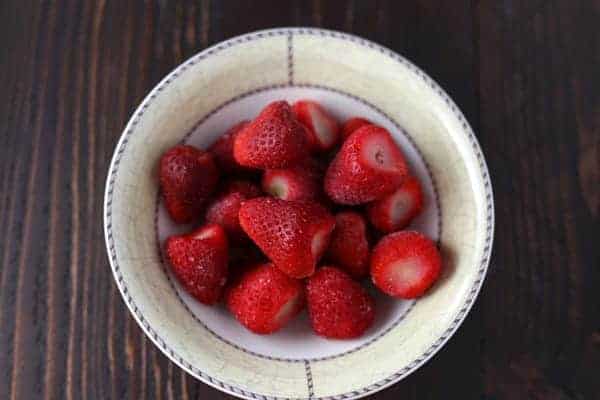 Start by thawing unsweetened frozen strawberries, then chop into small pieces.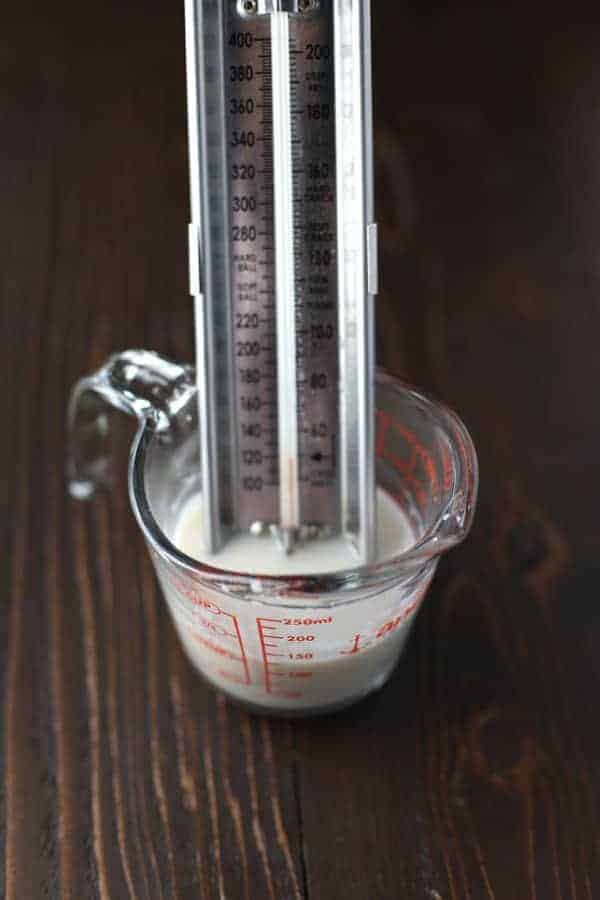 Heat cashew milk for about 20 seconds in the microwave. Use a food thermometer to make sure it's about 110°F.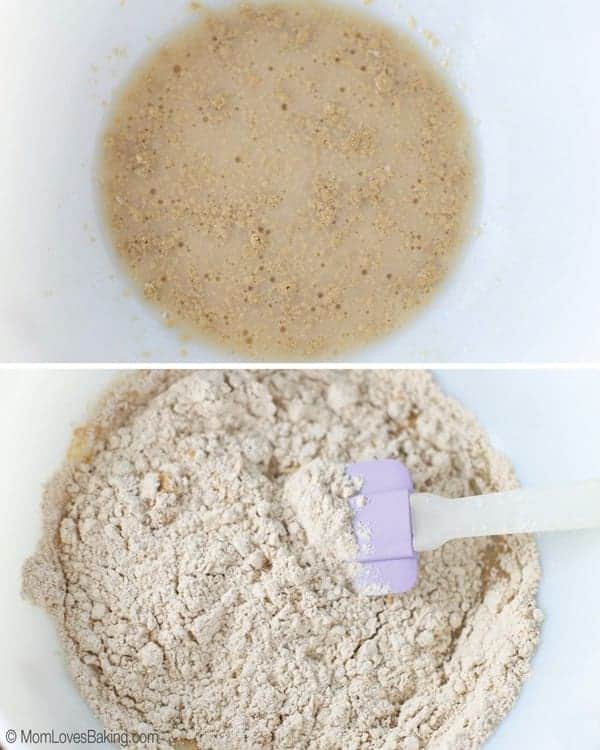 Pour warm milk into a large bowl, then add yeast, agave, coconut oil, vanilla and salt. Stir to combine. Then add 1 3/4 cup of whole wheat flour. Stir.
Knead the dough for a few minutes on a floured surface. Let it rest.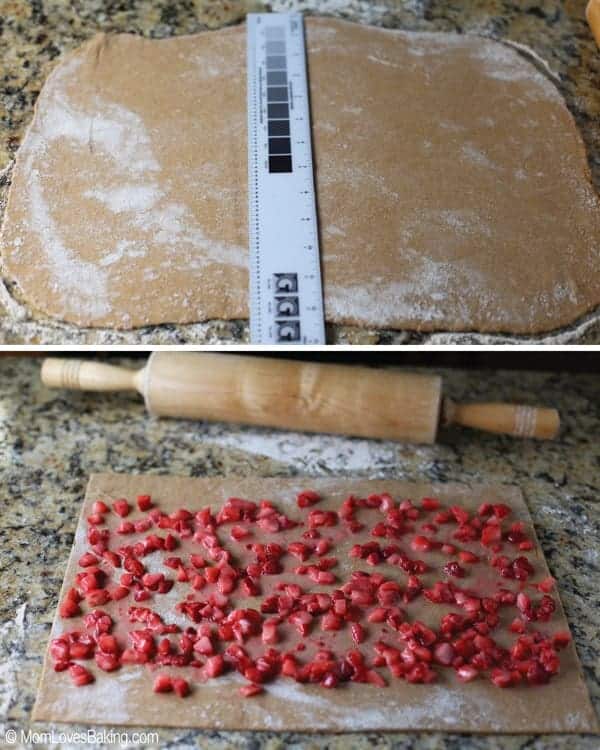 Roll it into a rectangle, then trim, if necessary, so that it's 12″x16″. Add chopped strawberries mixed with cornstarch. Roll it up, starting from the long end and seal it with a bit of water.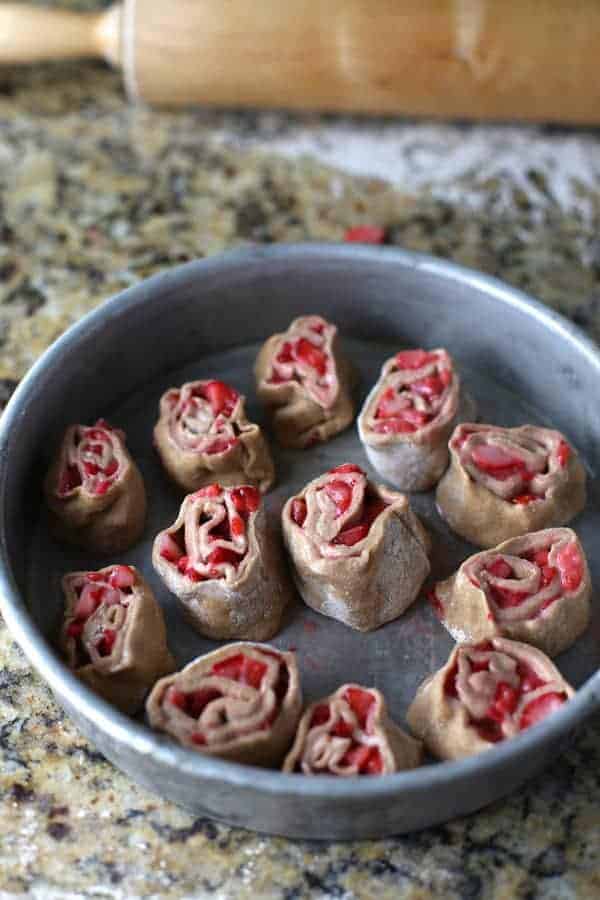 Cut into 12 rolls and place in a 9″ round cake pan, greased.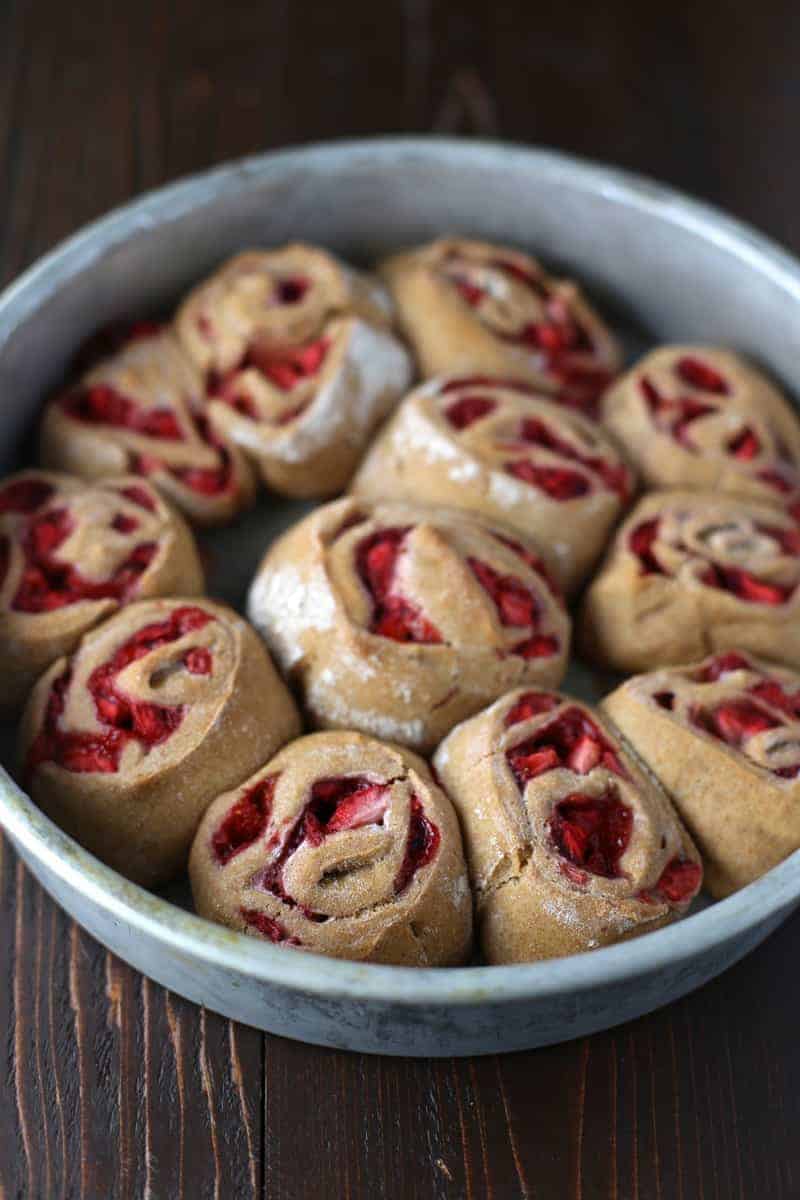 Bake for about 30 minutes at 350°F.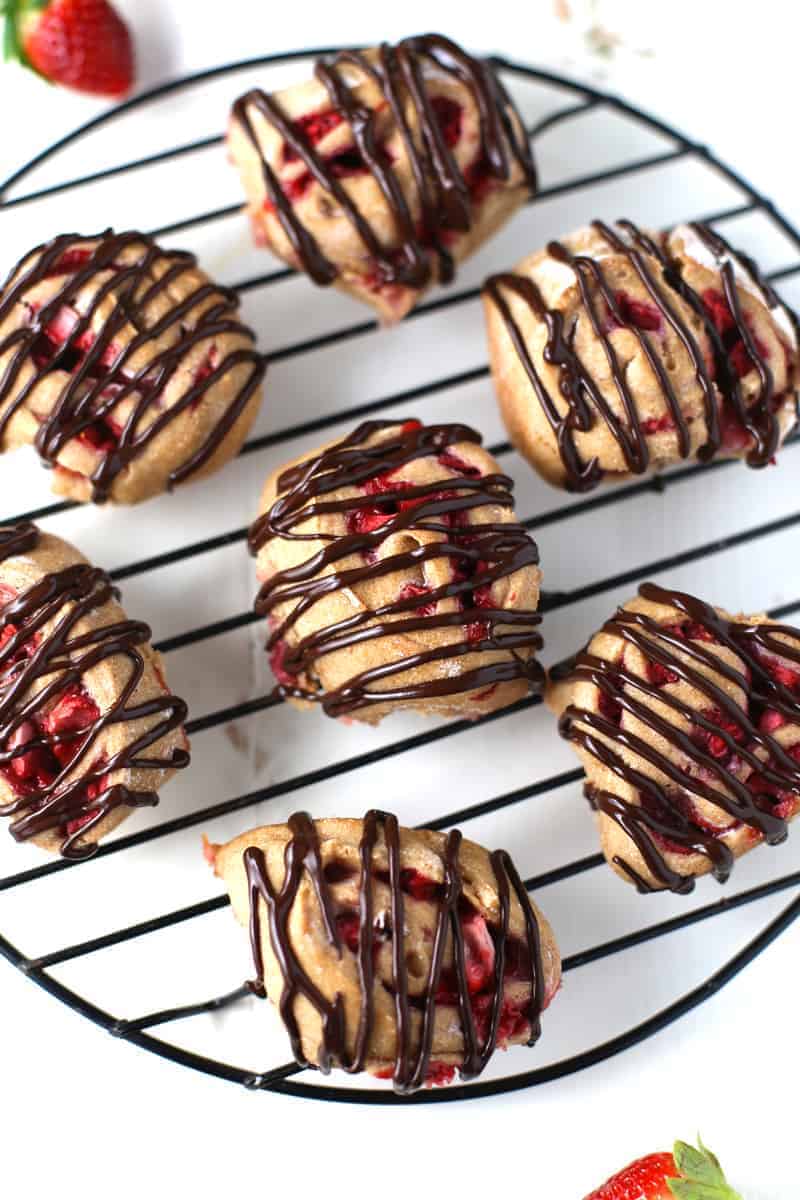 Make your chocolate drizzle with cocoa powder, agave and cashew milk. Drizzle over cooled sweet rolls.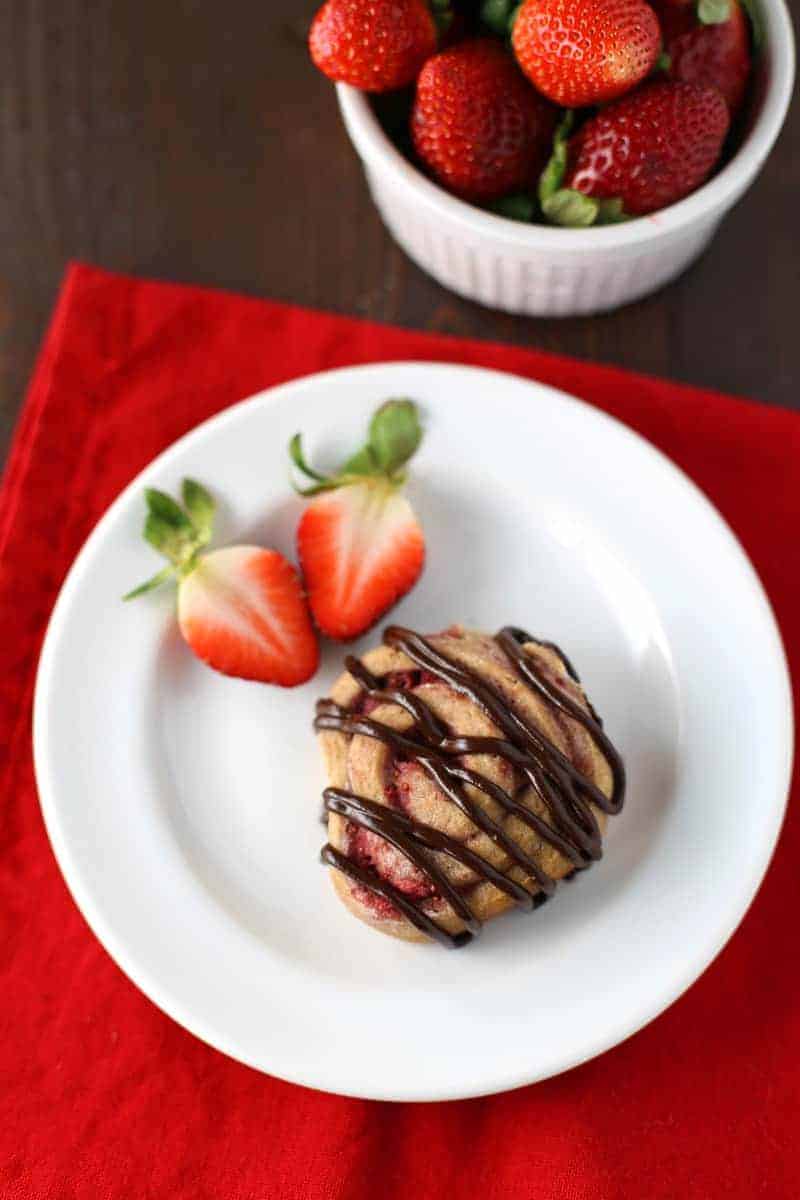 Serve with fresh strawberries, if desired.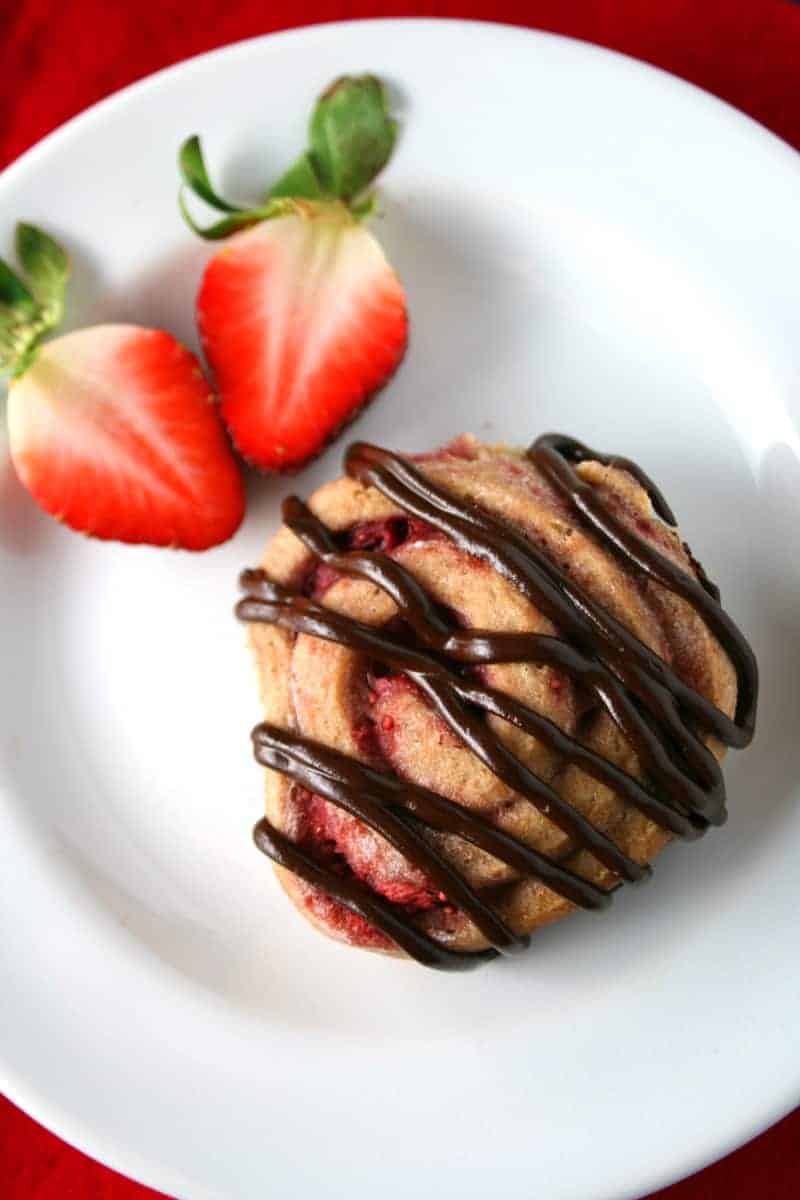 Enjoy!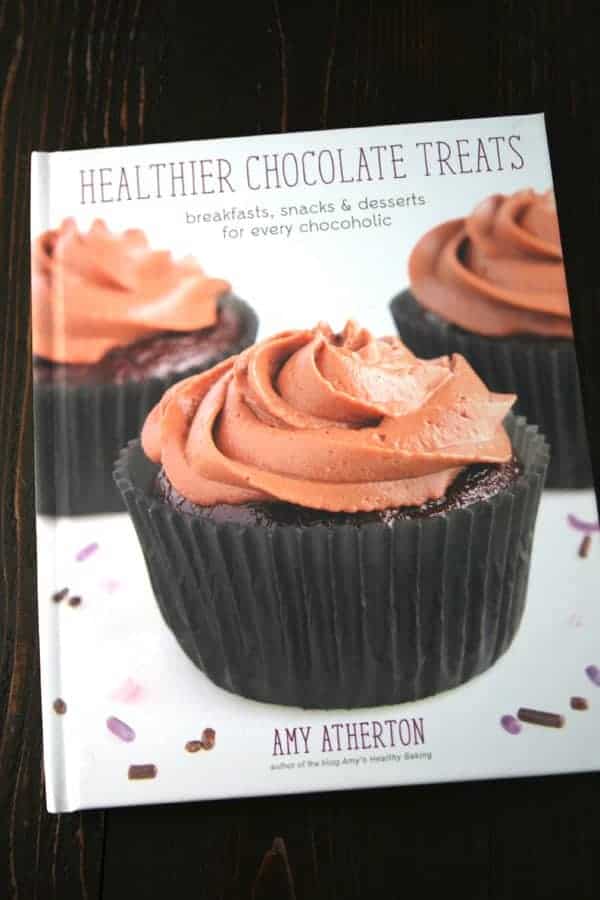 I found this recipe in my friend, Amy Atherton's, new cookbook called Healthier Chocolate Treats. I got the book for Christmas (thanks, hubby) and I love it. So many yummy and healthy treats. Amy is the author of the blog: Amy's Healthy Baking.
Strawberry & Dark Chocolate Sweet Rolls
Ingredients
For the rolls

1/2

cup

120mL warm unsweetened cashew milk (100°-110°F)

6

tablespoons

90mL agave

1

teaspoon

coconut oil

melted

1

teaspoon

vanilla extract

1/2

teaspoon

salt

2 1/4

teaspoon

one 1/4 oz. envelope yeast

2 1/4 - 3 1/2

cups

270-420g whole wheat flour

2 1/2

cups

210g frozen unsweetened strawberries, thawed slightly

1

tablespoon

cornstarch

small bowl of water

For the drizzle

3

tablespoons

15g unsweetened cocoa powder

1

tablespoon

15mL agave

5

teaspoons

cashew milk
Instructions
Lightly coat a 9" round cake pan with cooking spray.

Stir together the warm cashew milk, agave, coconut oil, vanilla, salt, and yeast in a large bowl. Add 1 3/4 cups of flour, and stir until it's completely incorporated. Continue adding flour, 2-3 tablespoons at a time, until the dough no longer sticks to the sides of the bowl. Turn the dough out onto a clean well-floured surface, and knead for a few minutes or until it springs back when you gently press your index finger into it. Let the dough rest for at least 10 minutes.

While waiting, prepare the filling. Dice the strawberries, and toss them with the cornstarch in a medium bowl until they're evenly coated.

Re-flour the work surface if necessary, and lightly flour a rolling pin. Roll out the dough into a 12"x16" rectangle. Spread the strawberries into a single layer on top of the dough leaving a 1 " border on the two longer edges. Starting at one longer edge, carefully roll up the dough into a log towards the opposite longer edge, trying not to squash the strawberries too much. Brush water onto the second longer edge where it meets the dough log before pinching the dough shut to seal.

Slice the dough log into 12 equal portions using dental floss or a sharp serrated knife. Place them cut side down into the prepared pan.

Preheat the oven to 350°F. while letting the rolls rest in the pan. Bake at 350°F. for 32-35 minutes or until the spirals of the rolls in the center feel mostly firm. Cool in the pan for at least 5 minutes before removing.

To prepare the drizzle, stir together the cocoa powder, agave, and cashew milk in a bowl. Drizzle on top of the rolls just before serving.

Recipe from the book Healthier Chocolate Treats by Amy Atherton
Recipe Notes
29.2 carbohydrates (4.5g fiber, 13.3g sugar), 5.2g protein
Nutrition Facts
Strawberry & Dark Chocolate Sweet Rolls
Amount Per Serving (1 g)
Calories 152
Calories from Fat 33
% Daily Value*
Fat 3.7g6%
* Percent Daily Values are based on a 2000 calorie diet.