A quick and easy recipe for traditional Chicken Parmesan with pasta.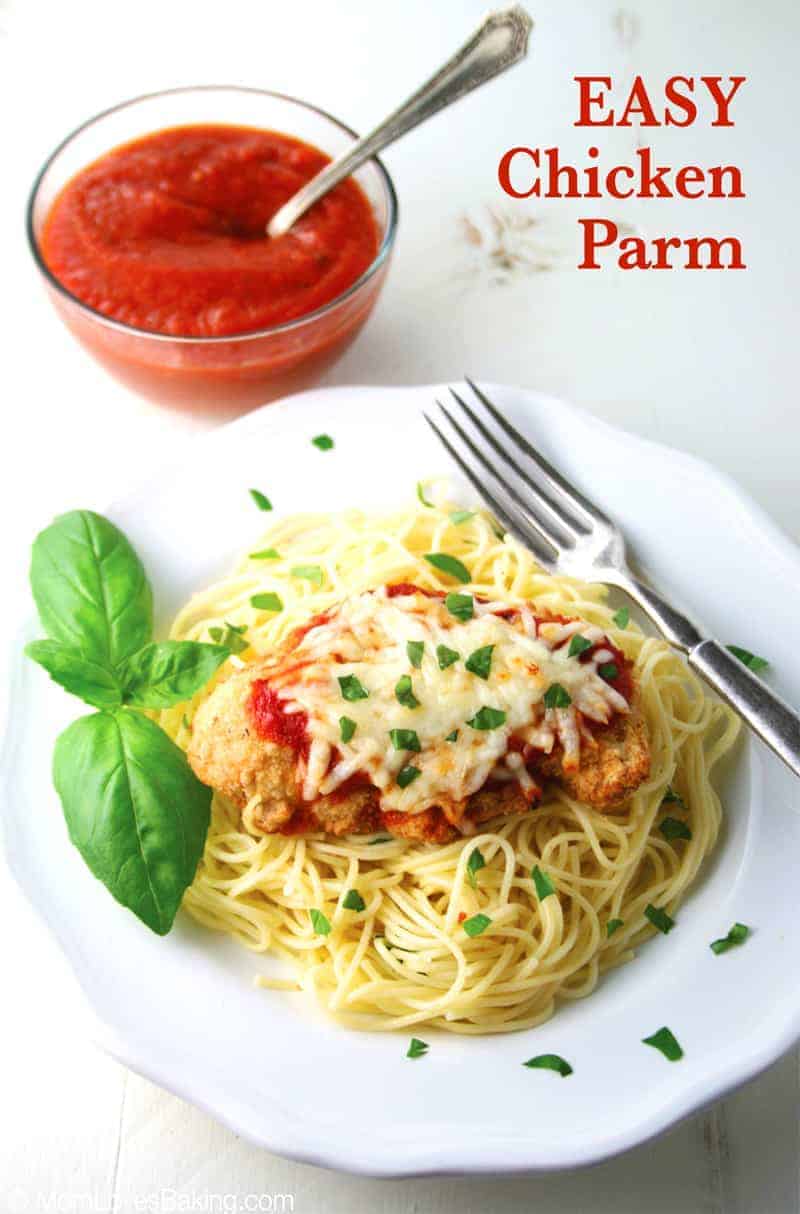 Do you ever have one of those hard days where you come home and you really need some comfort food, but don't have the time or energy to put it together? Boy did I have one of those days and this Easy Chicken Parm was the perfect meal for us last night.
Before I tell you about the recipe, can I tell you what happened? Let me just say that we had to make an unexpected trip to the ER with my daughter. Yesterday morning, I was in a yoga class and got a text from her that her head was really hurting and she couldn't focus. She wanted me to pick her up. I was worried!
The day before she had come home from a sleepover/indoor pool party. She casually mentioned that her friend jumped on her in the pool and their heads collided. She said it really hurt but now she was feeling fine. She did say she was acting weird and saying funny things and she didn't remember anything for about an hour after her head injury. I googled concussion symptoms but she assured me she was fine.
Long story short, we made a trip to the ER yesterday after calling the doctor with my daughter's symptoms. It was about 12 noon, so there weren't that many people there. We didn't have to wait long to see the doctor. He basically asked her a bunch of questions. No x-rays or cat scans. Her main symptoms were pain, feeling tired and having a hard time focusing at school. The diagnosis was that she has a concussion or a bruise to her brain. No school for a couple of days and no sports for 1-2 weeks.
My husband and I have never had a concussion in our life. She's 13 and she's already had one. After going to a birthday party. What a freak accident, but thank goodness it wasn't worse.
So having this delicious and simple meal for dinner last night was just what we needed. Everyone in the family loved my Easy Chicken Parm (and that alone is amazing because they're all very picky).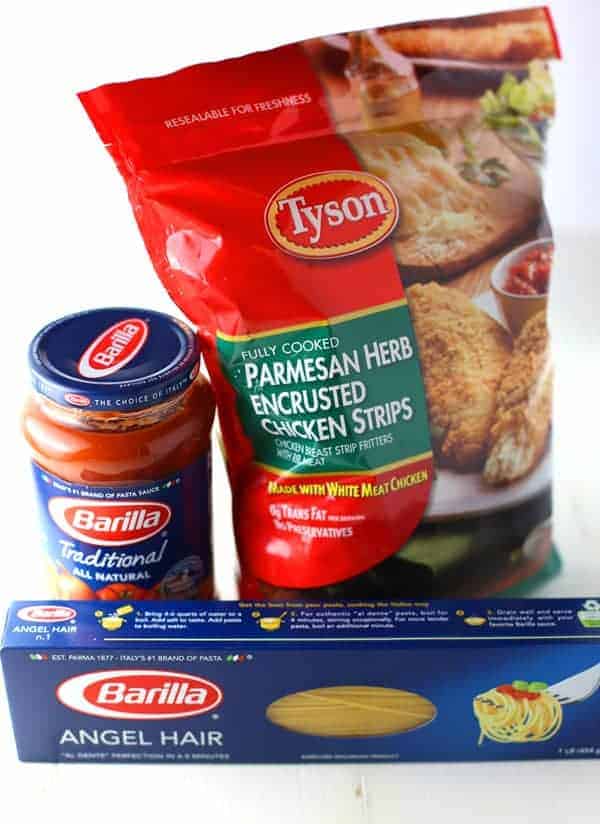 I found everything for this recipe at Publix. I used Tyson® Parmesan Herb Encrusted Chicken Strips, Barilla® Traditional Pasta Sauce, and Barilla® Angel Hair. And there's an awesome in-store coupon right now – $3.00 off when you buy any 1 Tyson® Chicken Strips, Tenderloins, or Fillets 25 oz (frozen) AND any 1 Barilla® Pasta Sauce 24 oz AND any 1 Barilla® Pasta 8-16 oz (combined purchase required) Coupon valid February 13 – March 4, 2016.
Easy Chicken Parm basically comes together in 3 easy steps. 1) Bake the Tyson® Chicken Strips. 2) Add pasta sauce. 3) Add cheese and bake until melted.
I added chopped, fresh basil for color and added flavor. I love fresh basil. It smells so good!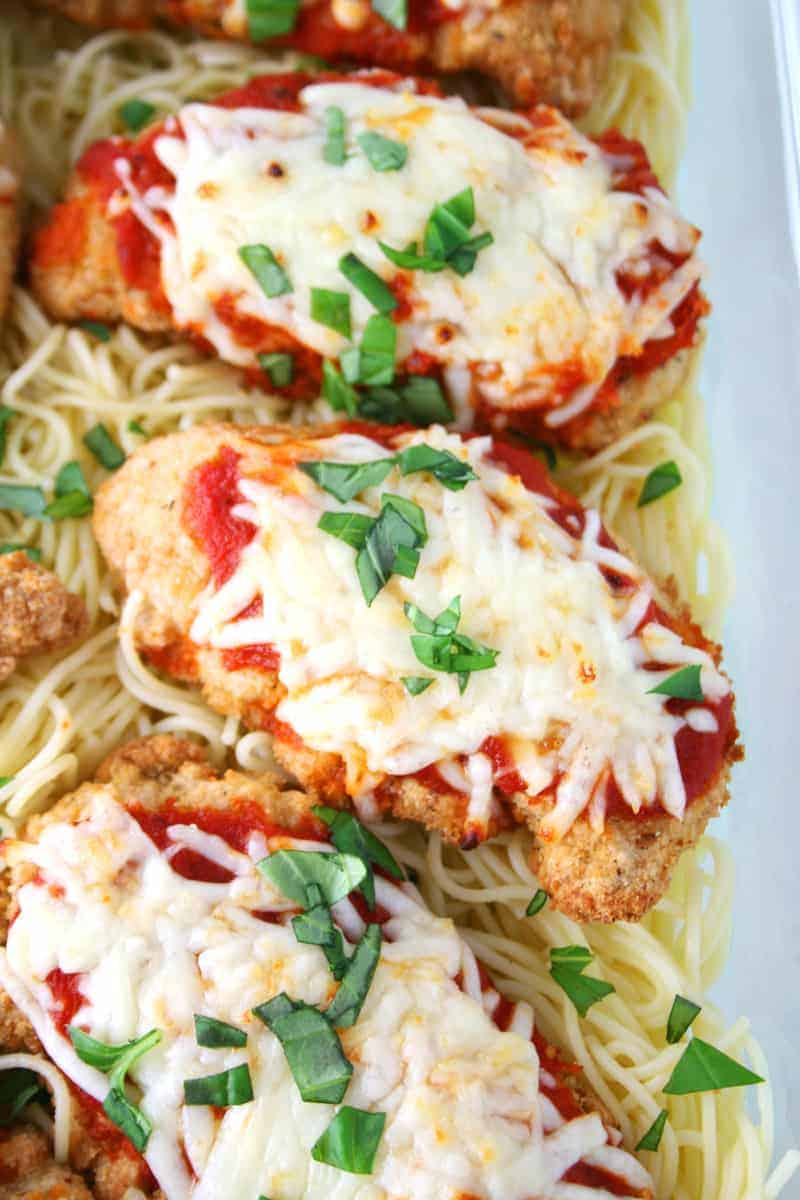 While the chicken strips are baking, make the pasta. Add angel hair to lightly salted, boiling water. Angel hair cooks up very quickly. Mine was done in about 6 minutes. Drain the pasta and stir in some butter. Pour the noodles into a casserole dish. Add prepared chicken strips with sauce and cheese. Sprinkle with fresh basil, if desired. Serve the Easy Chicken Parm with extra sauce on the side.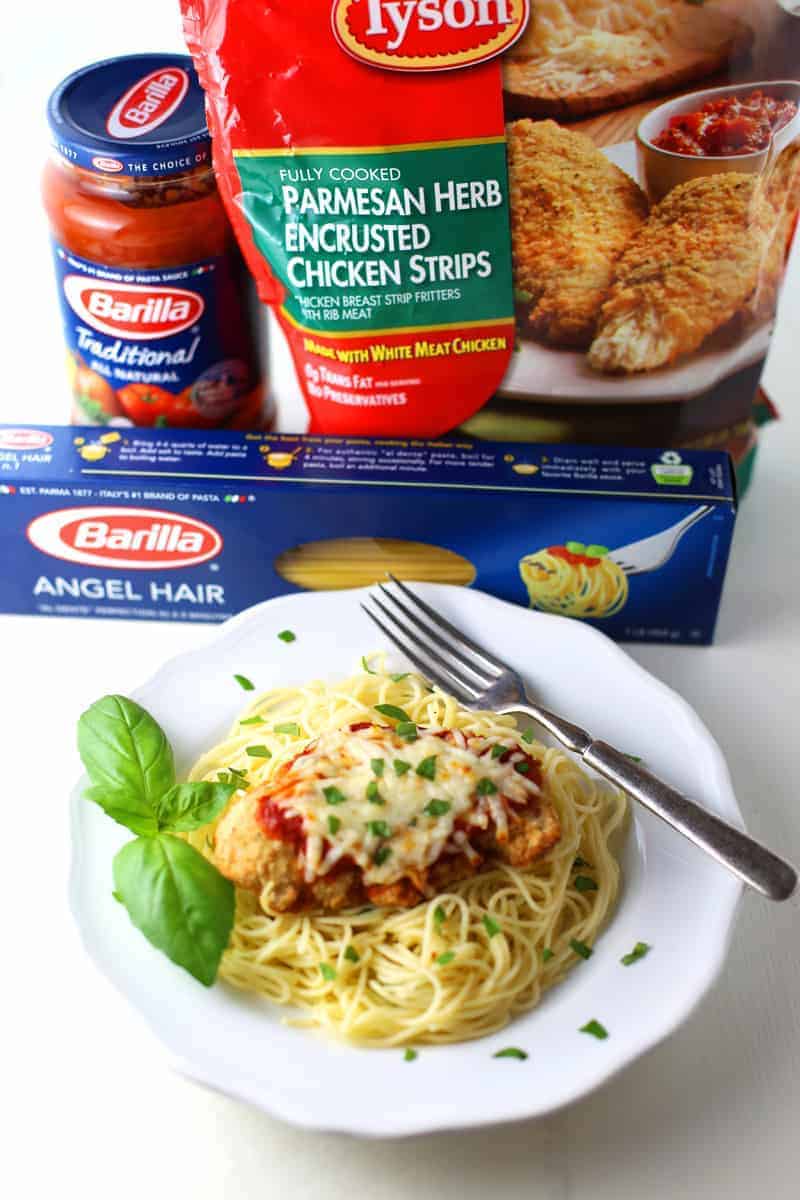 Using the Tyson® fully cooked chicken saved time on this recipe which is great, but I also love that Tyson® chickens are raised with no added hormones or steroids. And I love that Barilla® pasta sauce is made with all natural ingredients and contains no preservatives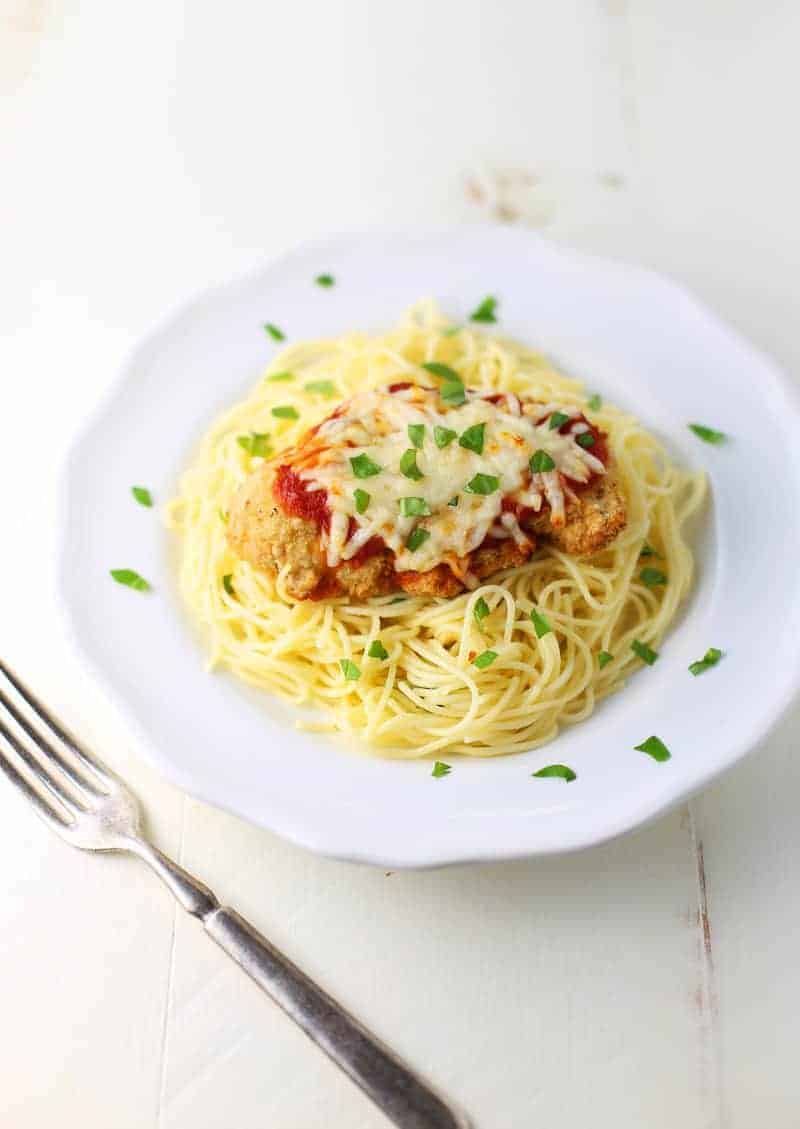 Chicken parmesan is my husband Jay's favorite meal. Hands down. He always orders it when we're at an Italian restaurant but I never make it because I thought it would be really hard to make. The other night, Jay had a really bad frozen meal version of chicken parm and he was disappointed.
He loved my Easy Chicken Parm and so did the children. Yay!
Find more tasty recipes at the Tyson® and Barilla® Pinterest board.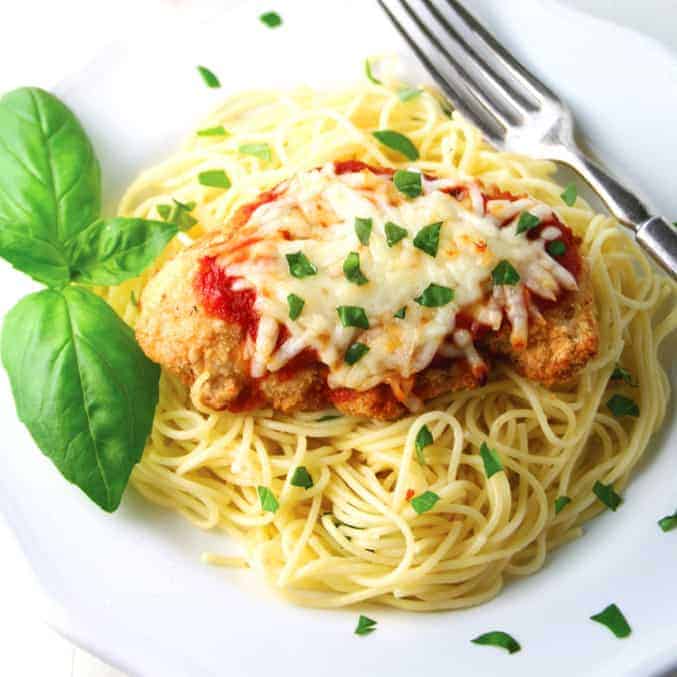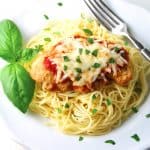 Print Recipe
Easy Chicken Parm
A quick and easy recipe for traditional Chicken Parmesan with pasta.
Ingredients
25

ounces

Tyson® Parmesan Herb Encrusted Chicken Strips

8

ounces

Barilla® Angel Hair Pasta

3

tablespoons

butter

16

ounces

Barilla® Traditional Pasta Sauce

1

cup

shredded mozzarella cheese

Optional garnish: fresh basil

chopped
Instructions
Bake chicken strips according to package instructions.

Meanwhile prepare the pasta according to package instructions. Drain and stir in butter. Pour into a 13"x9" casserole dish. Cover to keep warm.

When the chicken strips are done, spoon a few tablespoons of pasta sauce on top of each chicken strip. Add cheese on top. Return to oven and bake for 5-10 minutes or until cheese is melted. Place chicken on top of prepared pasta. Sprinkle chopped basil on top. Place remaining pasta sauce in a microwave safe bowl and heat for one minute or until heated through. Serve pasta and chicken with sauce on the side.
Nutrition
Calories:
299
kcal
|
Carbohydrates:
25
g
|
Protein:
26
g
|
Fat:
10
g
|
Saturated Fat:
5
g
|
Polyunsaturated Fat:
1
g
|
Monounsaturated Fat:
3
g
|
Trans Fat:
1
g
|
Cholesterol:
79
mg
|
Sodium:
527
mg
|
Potassium:
591
mg
|
Fiber:
2
g
|
Sugar:
3
g
|
Vitamin A:
498
IU
|
Vitamin C:
5
mg
|
Calcium:
90
mg
|
Iron:
1
mg
This is a sponsored conversation written by me on behalf of Tyson® and Barilla®. The opinions and text are all mine.
Comments submitted may be displayed on other websites owned by the sponsoring brand.