Graduation Cap Cupcakes are super cute and so easy to make with store bought brownie bites, chocolate squares, M&M candies and Air Head sour candy strips for the tassles. (Not an ad. This is just the candy that worked best for this recipe. Use your favorite brand, if you wish.)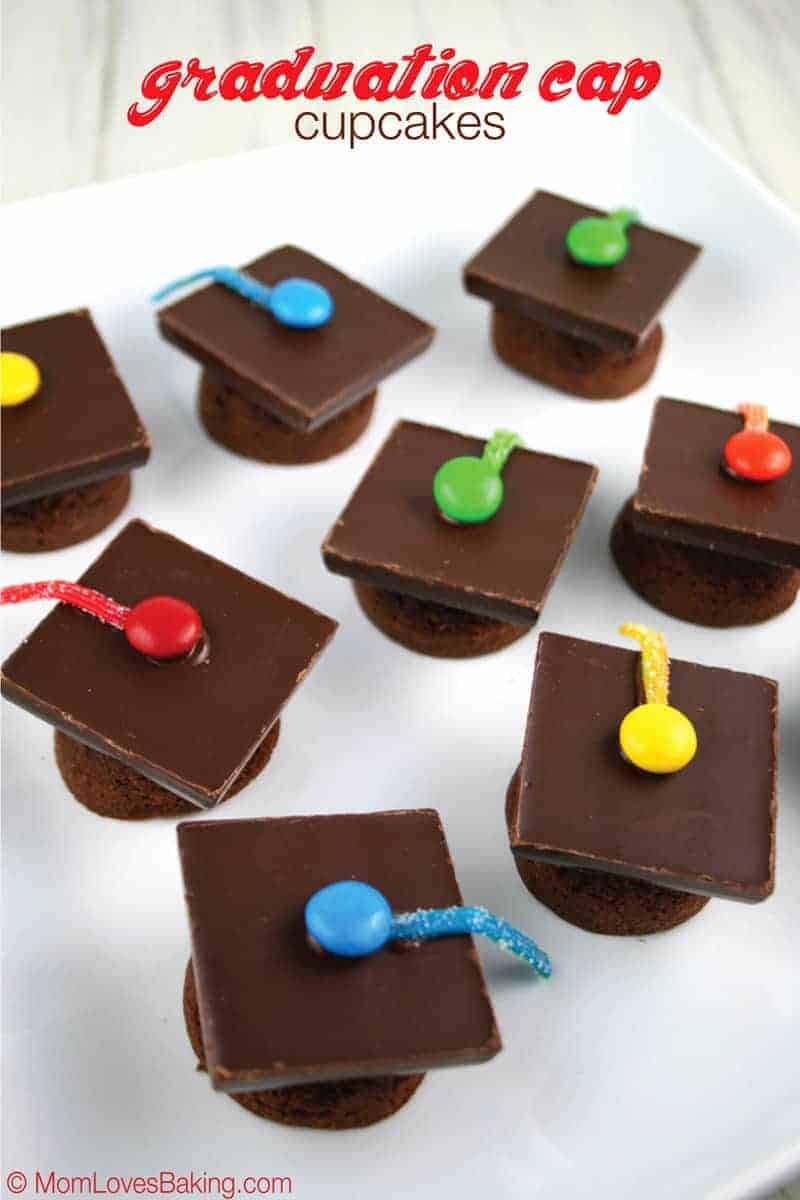 Today was the last day of school for my kids. My son "graduated" 3rd grade and my daughter "graduated" 6th grade. No cap and gown, but in the spirit of the season, I thought it would be fun to make these adorable Graduation Cap Cupcakes. No baking necessary. I used all store bought ingredients for this one, so it's super easy!
Graduation Cap Cupcakes are actually little brownies turned upside down. Then topped with a chocolate bar and candy. Yum!
Do your kids like Little Bites as much as mine? They go crazy for them! They are also big fans of M&Ms, Air Heads and Ghiradelli Squares. I chose the Dark Chocolate Squares with Raspberry but you could pick whatever flavor you like best.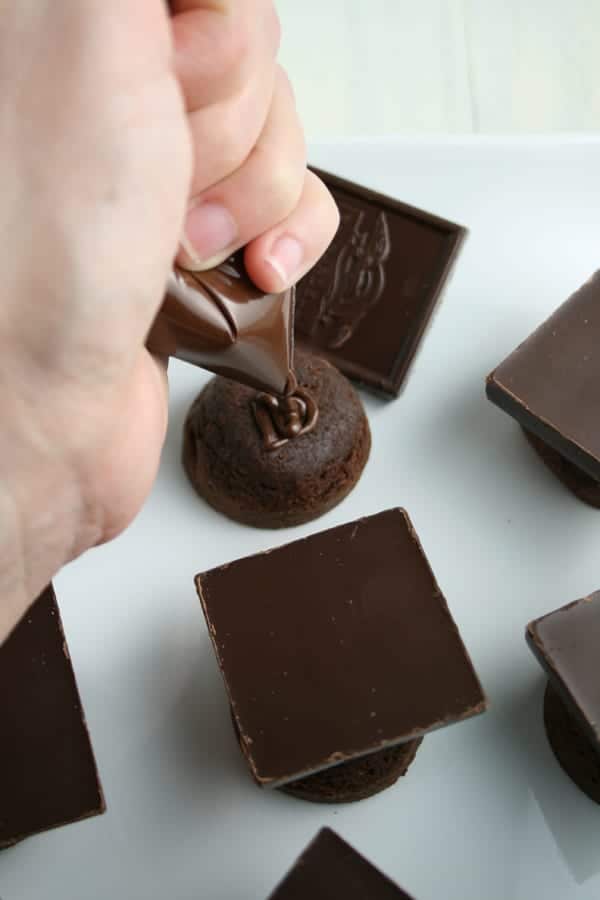 I melted 1/4 cup of semisweet chocolate chips and poured them into a resealable plastic bag, cut a tiny corner off and "glued" the chocolate bar to the upside down brownie to create the cap.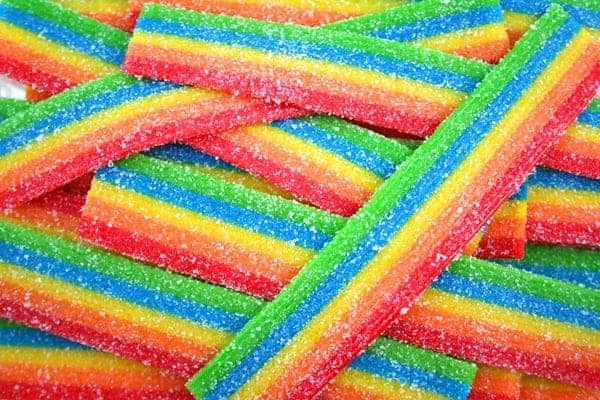 Then I cut strips of candy for the tassles.
Then "glued" the tassle and M&M on top.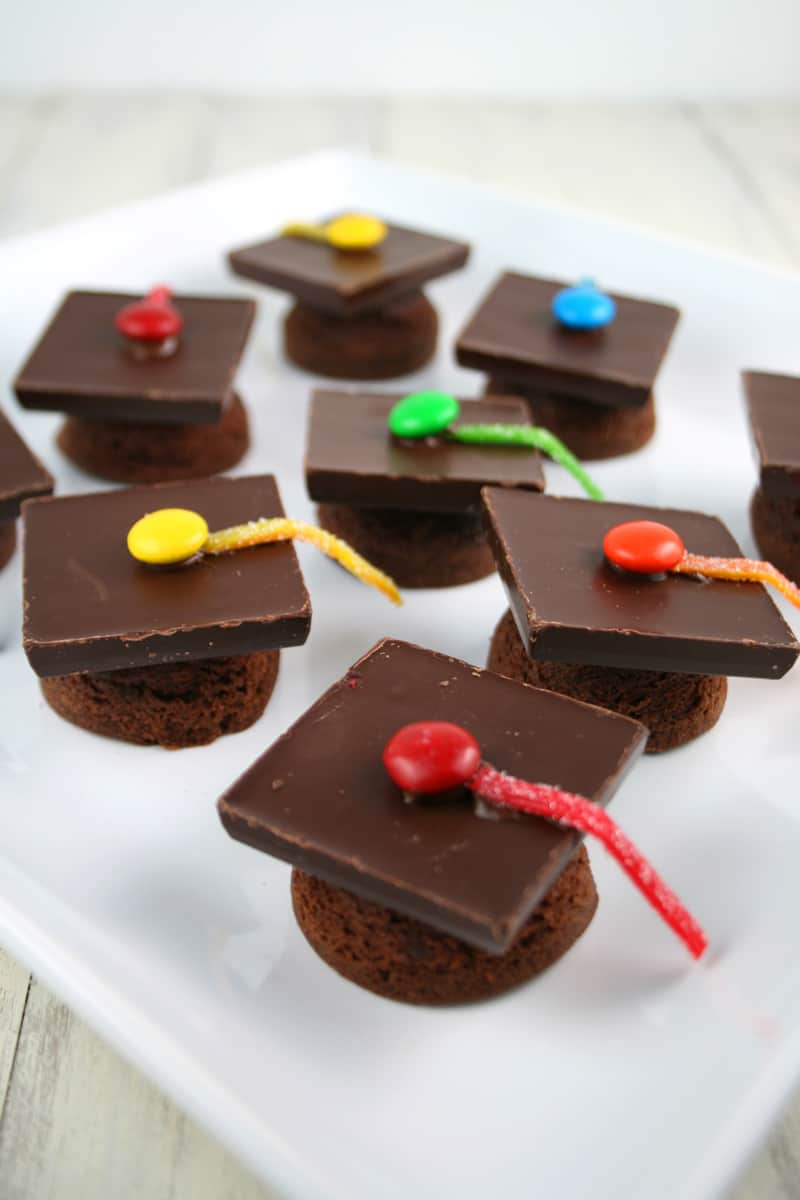 And that's all there is to it!
Now go make some Graduation Cap Cupcakes for your favorite graduate!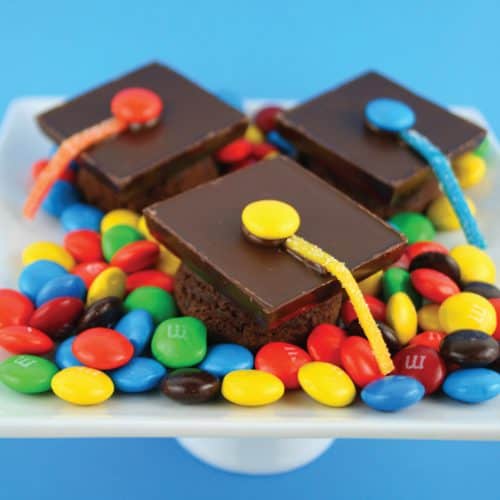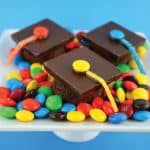 Print Recipe
Graduation Cap Cupcakes
Ingredients
20

Mini round brownies

such as Entenmann's Little Bites

20

Chocolate squares

such as Ghiradelli Chocolate Squares

20

M&M's chocolate candies

2

Air Heads Sour Candy

1/4

cup

Semisweet chocolate chips
Instructions
Cut the Air Heads into narrow strips about 1 1/2" long. You'll need 20 strips. Set aside.

In a small microwave safe bowl, melt the chocolate chips on high for 1 minute. Pour into a resealable plastic bag. Cut a tiny corner from the bag.

Place all the brownie bites on a tray. Turn upside down.

Squeeze a little bit of melted chocolate on the top of each brownie. Place a chocolate square on top.

Use the melted chocolate to "glue" 1 Air Head strip and 1 M&M candy on top of each chocolate square.