Mixed Berry Tart is a shortbread crust with custard filling that's topped with fresh raspberries and blueberries.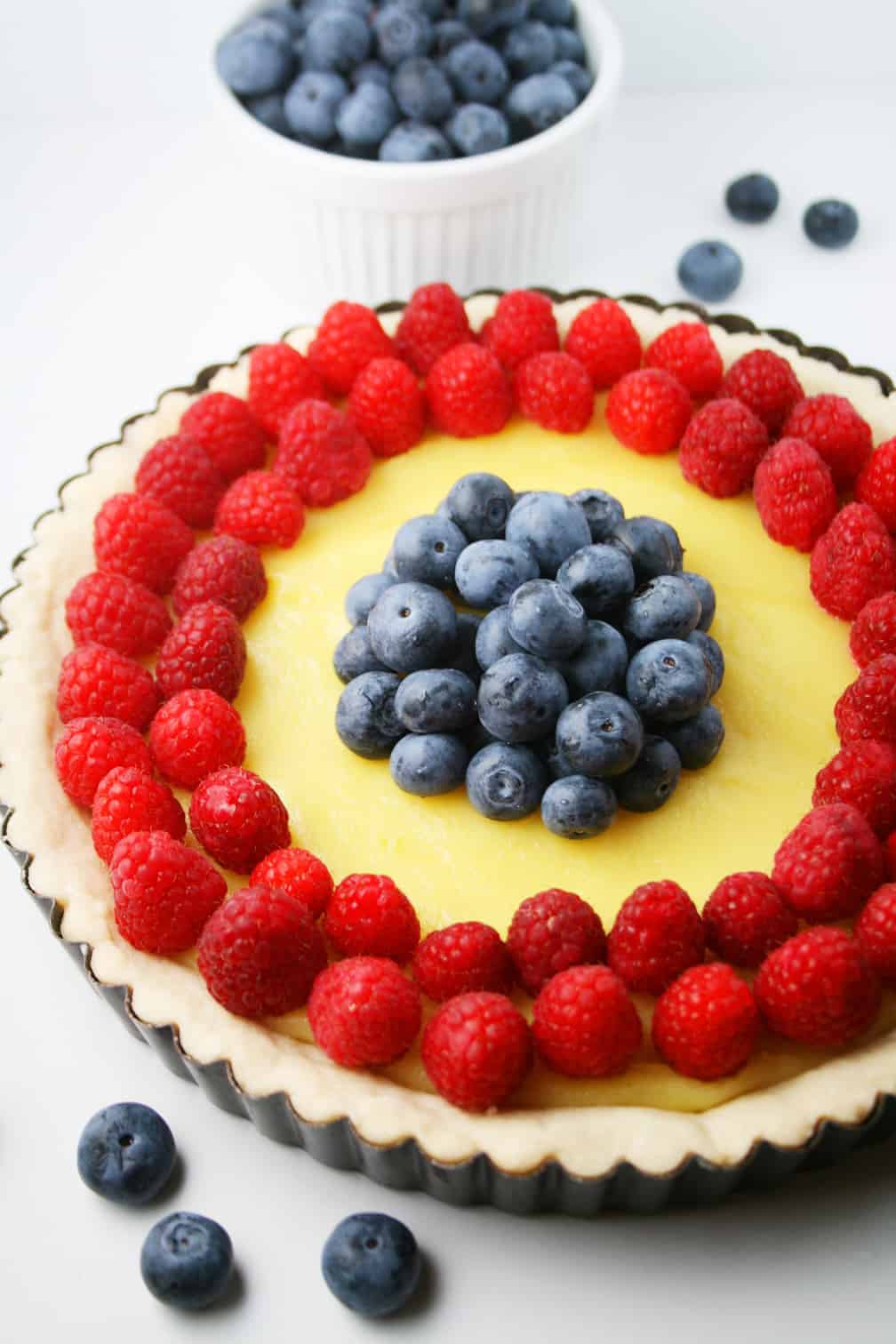 I saw this Berry Tart recipe at Creme De La Crumb last month and have been dying to try it ever since. It looked so beautiful and I was sure that it would be delicious.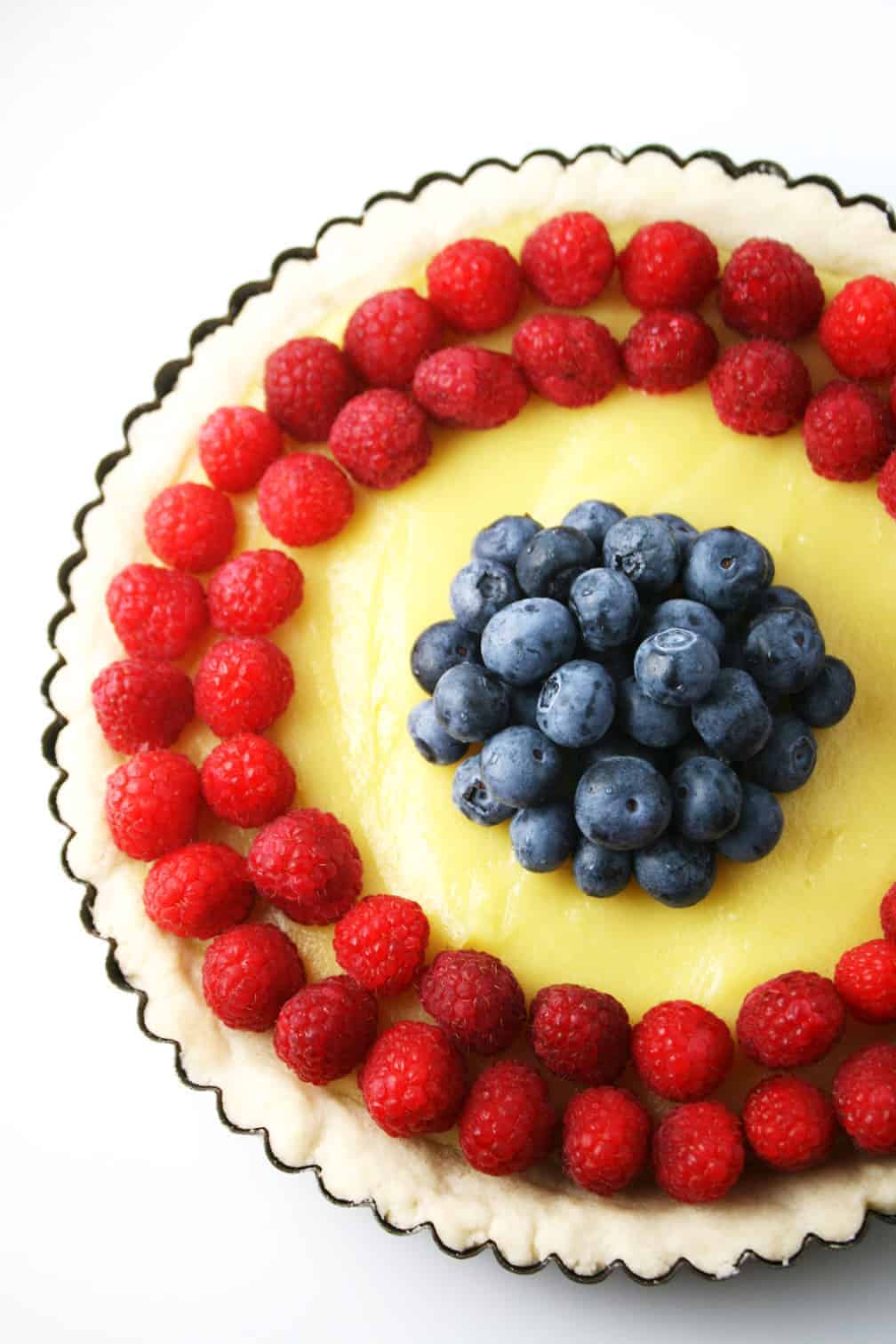 We had a few friends over on Saturday which was the perfect opportunity to finally make it. I should probably mention that my husband doesn't eat fruit and my son doesn't eat raspberries or blueberries. So I can't just make this any day or I would practically have to eat the whole thing by myself. The recipe didn't disappoint. It is a lovely fruit tart with a hint of almond flavoring in the custard filling. My 12 year old daughter liked it too and she's pretty picky.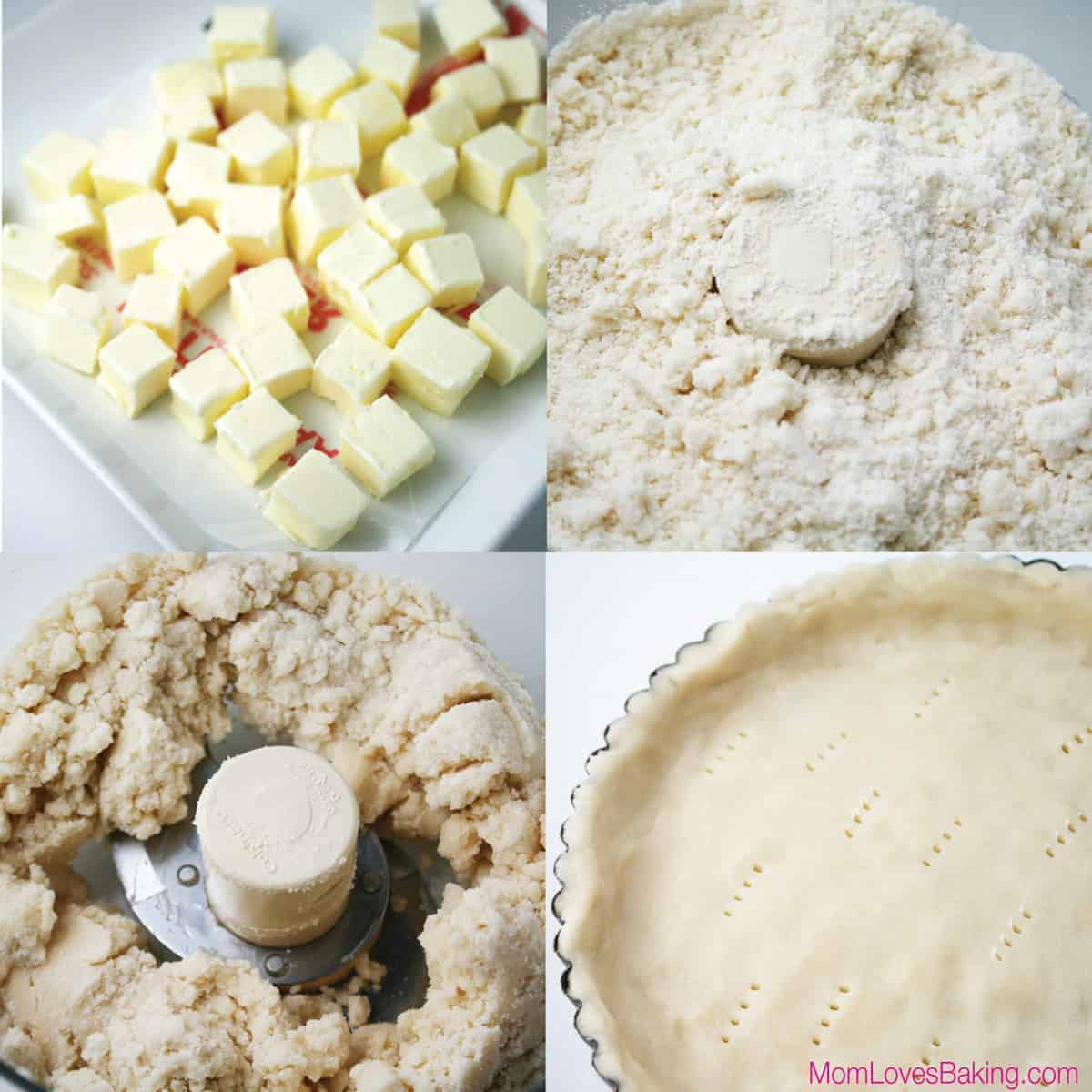 So you start by making the crust. The recipe called for making it in the food processor, so that's what I did. First you mix together your flour and sugar, then you add to the food processor. The complete recipe is at the end of this post. (Note: next time I make this, I will add 1/2 teaspoon of salt which I think it needed.) Add your cold, chopped butter and pulse a few times until you have a crumb like consistency. Then you add 1 tablespoon of very cold water and process until the dough forms (about 30 seconds). Press the dough into a tart pan with a removable bottom. Then prick it with a fork and bake on 350° for 15-20 minutes. The recipe calls for placing aluminum foil with beans on top of crust before baking but I skipped this step because I was in a hurry and it came out fine.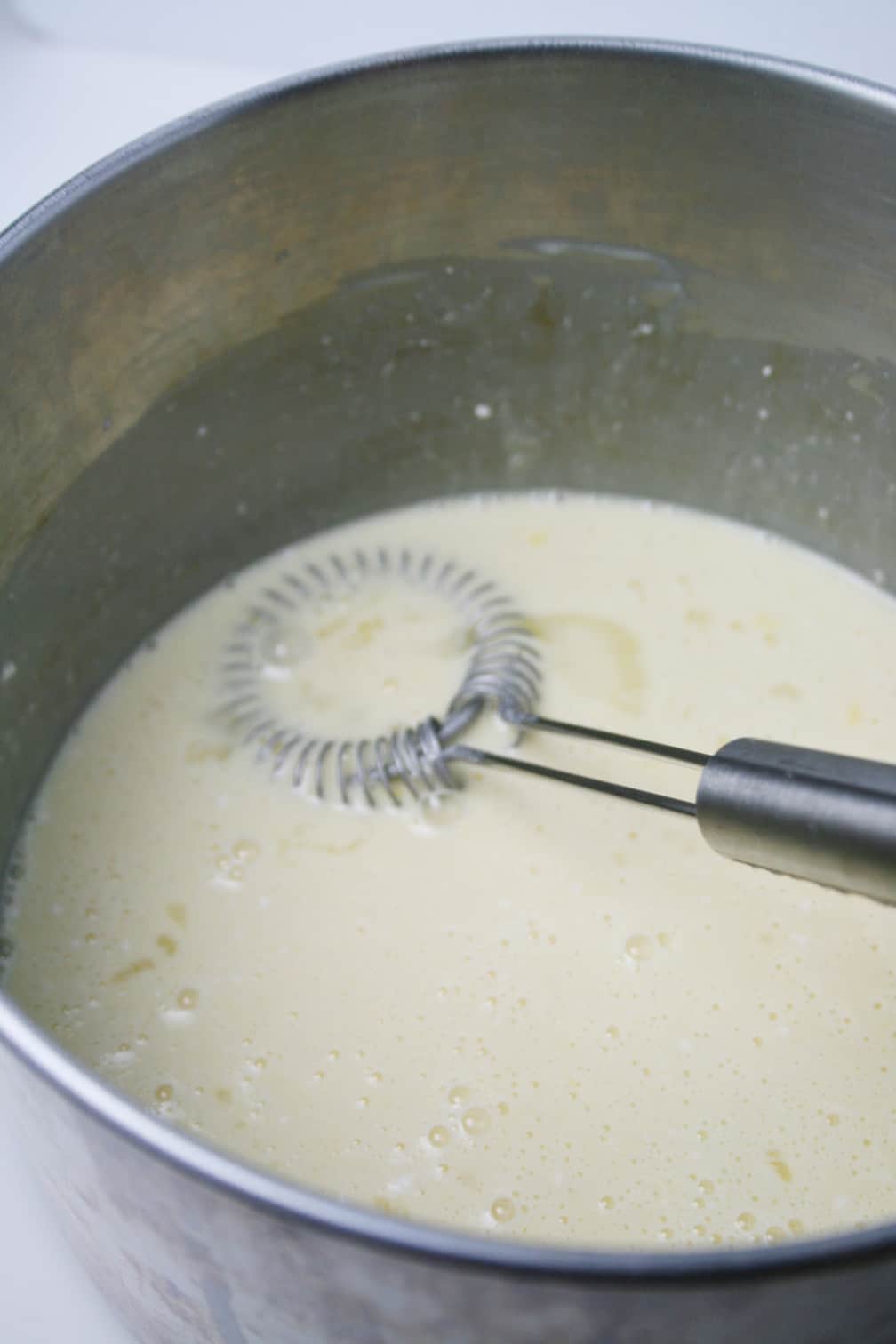 While the crust is baking, you can start on the filling. In a medium saucepan, combine the milk, sugar, flour and eggs. Over medium heat, stir constantly until it starts to thicken (about 8-10 minutes).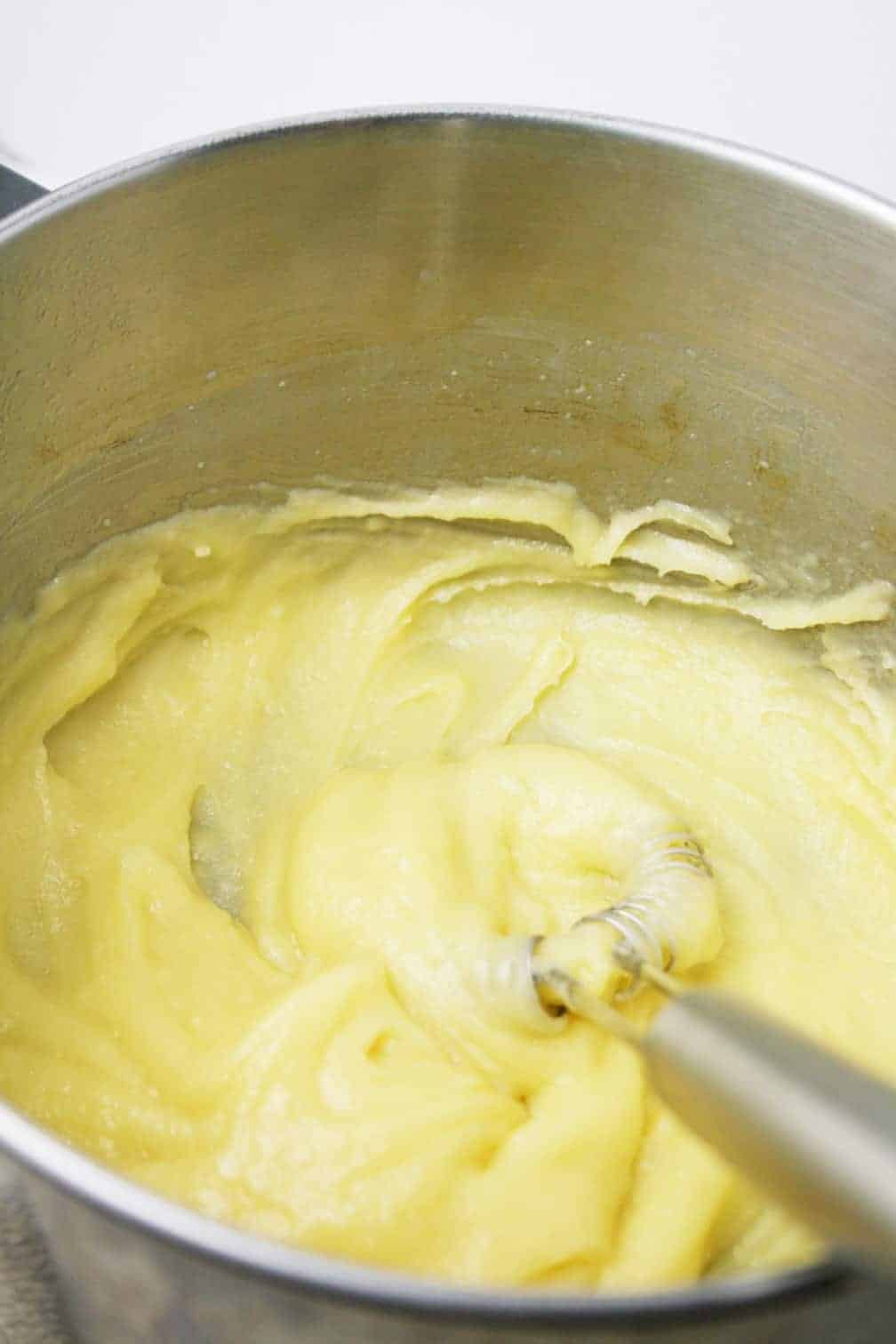 Here's what it looks like when it's thickened. Once it starts to thicken, then you remove it from the heat and whisk in the almond flavoring.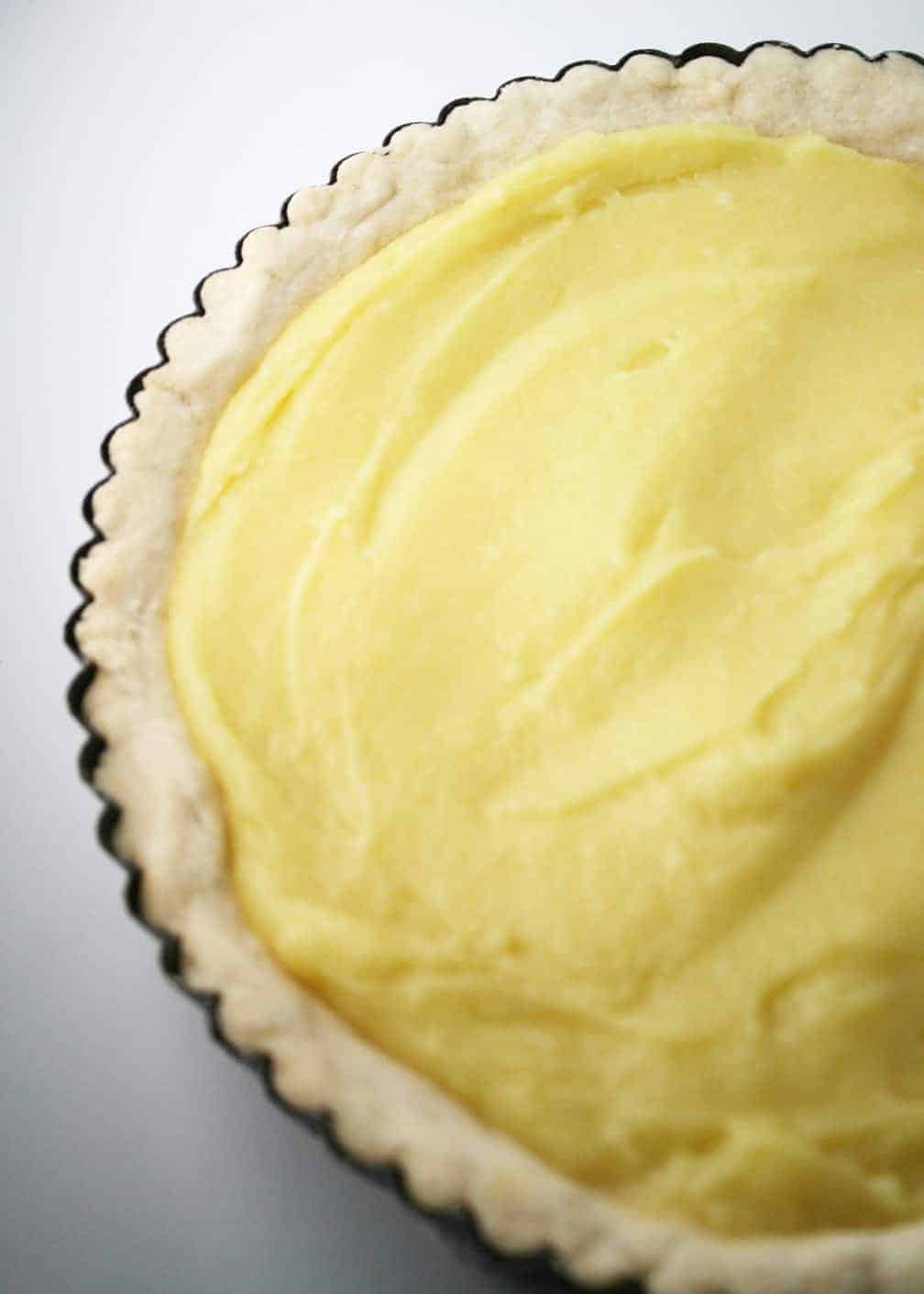 Pour into the baked crust and refrigerate for 4 hours or overnight. This was the hard part about the whole thing. Luckily, I started it early enough to let it chill for almost the whole 4 hours. Then you add your berries in a decorative way and you're ready to serve. Recipe calls for whipped cream as well. It would be a nice presentation if you added whipped cream on top of the custard and then placed the berries. I'll do that next time for sure.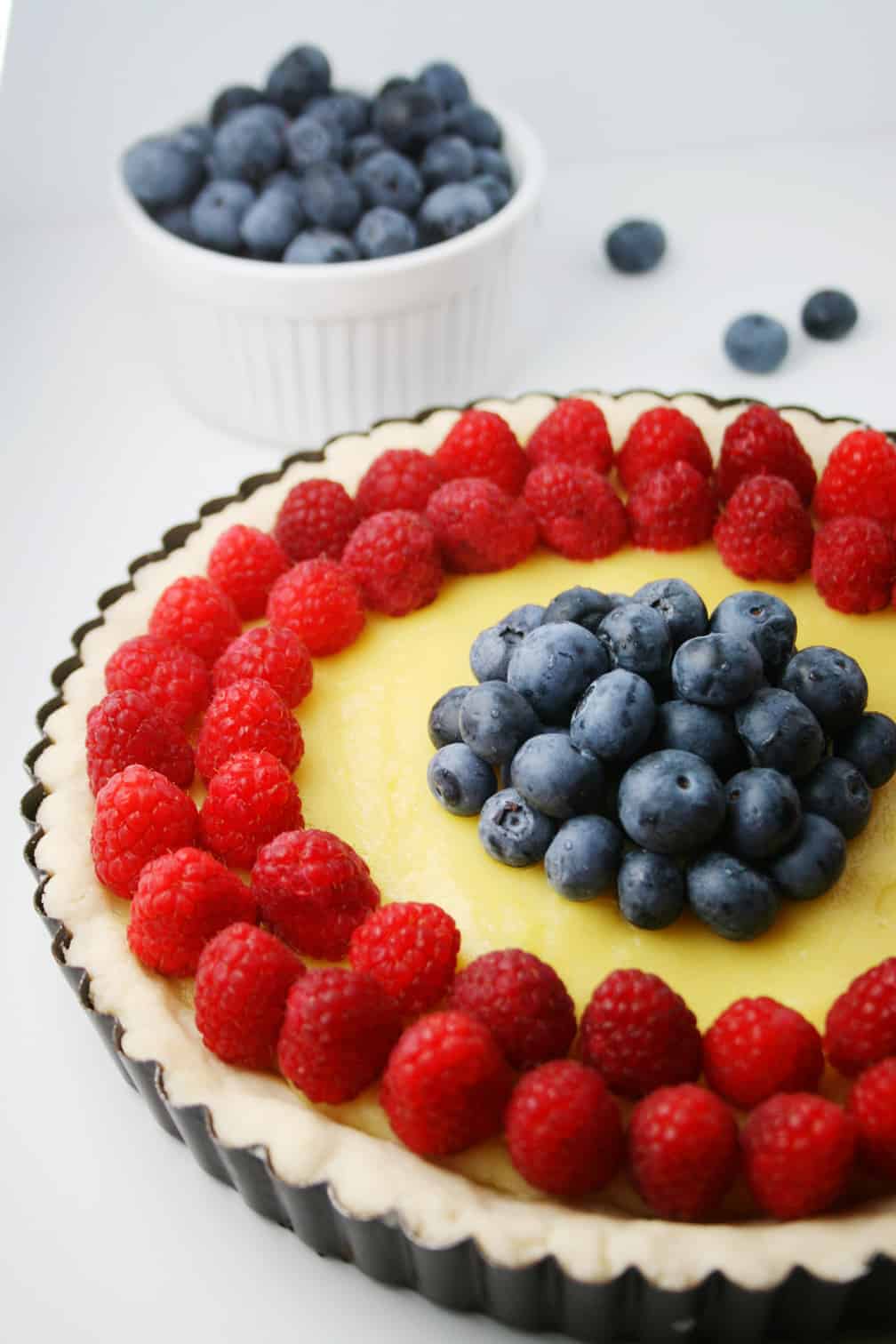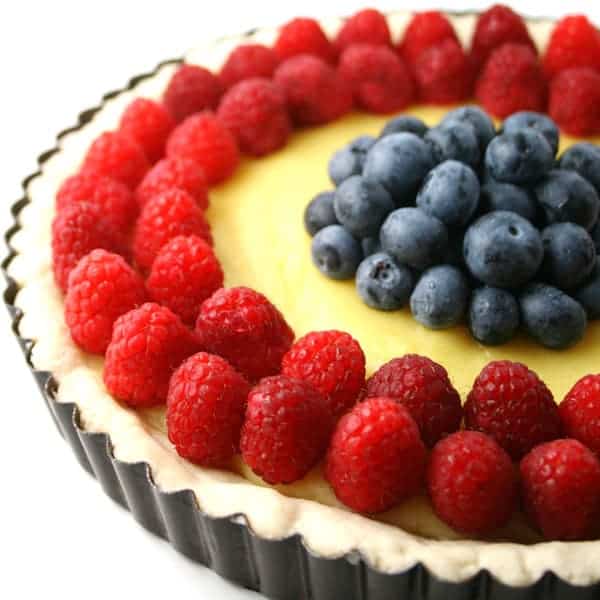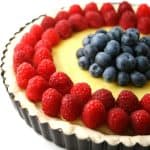 Print Recipe
Mixed Berry Tart
Ingredients
Recipe from LeCremeDeLaCrumb.com

Prep Time - 30 minutes

Cook Time - 20 minutes

Total Time - 50 minutes

Serves 6-8

Crust

1 1/2

cups

+ 2 tablespoons flour

3

tablespoons

sugar

12

tablespoons

butter

chilled and diced

1

tablespoon

cold water

Filling

1/2

cup

sugar

1

cup

milk

2

eggs

5

tablespoons

flour

1 1/2

teaspoons

almond extract

topping

1/2

cup

blueberries

1

cup

raspberries

Whipped cream
Instructions
Prepare the crust: whisk together flour and sugar. Add mixture to a food processor (see Note) with chilled butter and pulse until mixture is crumbly. Add water and pulse until mixture comes together (it's ok if it's still a little crumbly). Press dough into your pie or tart dish (see Note). Cover with plastic wrap and chill for 20 minutes.

Preheat oven to 350°. After dough has chilled, remove plastic wrap, place a piece of tin foil over the dust and fill it with dried beans or pie weights. Bake 10 minutes. Remove beans (or pie weights) and remove tin foil. Poke a few holes in the crust with a fork. Return to oven and bake another 5-10 minutes until crust looks dry and starts to brown very slightly.

While crust is baking, prepare the filling. In a large saucepan, combine sugar, milk, eggs, and flour and whisk over medium-low heat 8-10 minutes until mixture thickens and forms soft peaks when you lift the whisk (should be the consistency of chilled pudding). When mixture is thickened, whisk in almond extract. Pour mixture into baked crust Chill 4 hours or overnight.

Before serving, top with blueberries, raspberries, and whipped cream. Sprinkle with granulated sugar, if desired. Store covered in fridge up to 2 days.

Notes

*If you don't have a food processor, you can also prepare the crust in a large bowl by using your hands to mash in the chilled butter.

**Pro Tip: when pressing the crust into the dish, place the dough in the dish and place a piece of tin foil on top. Use a flat-bottomed measuring cup or liquid measuring cup to press the dough flat and to fill the dish.

***Cook and prep time do not include chilling time which is 4 hours or overnight.