Shamrock Cookie Press Cookies are green, butter cookies with a hint of almond and a candy stem.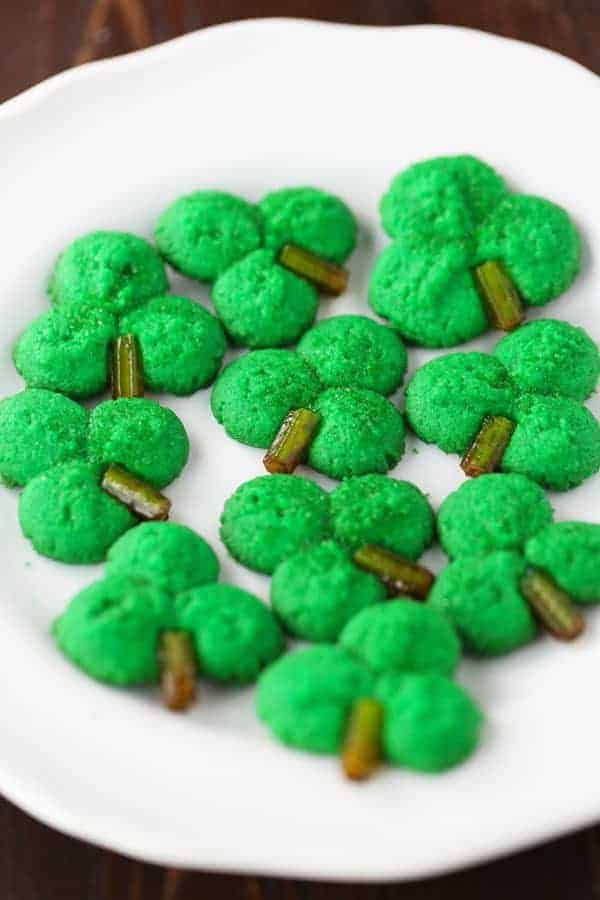 St. Patrick's Day is just a few days away. You know I love making holiday treats. These Shamrock Cookie Press Cookies are a tasty way to get your green on this Saint Paddy's Day!
Sullivan is my maiden name which is as Irish as you can get! My mom and I traveled to Ireland in 2000 and had a wonderful time. It's so GREEN! While we were there, I got a book on Irish names and learned that my surname is the third most common Irish name which was actually sort of surprising to me. Can you guess the number one most common Irish name?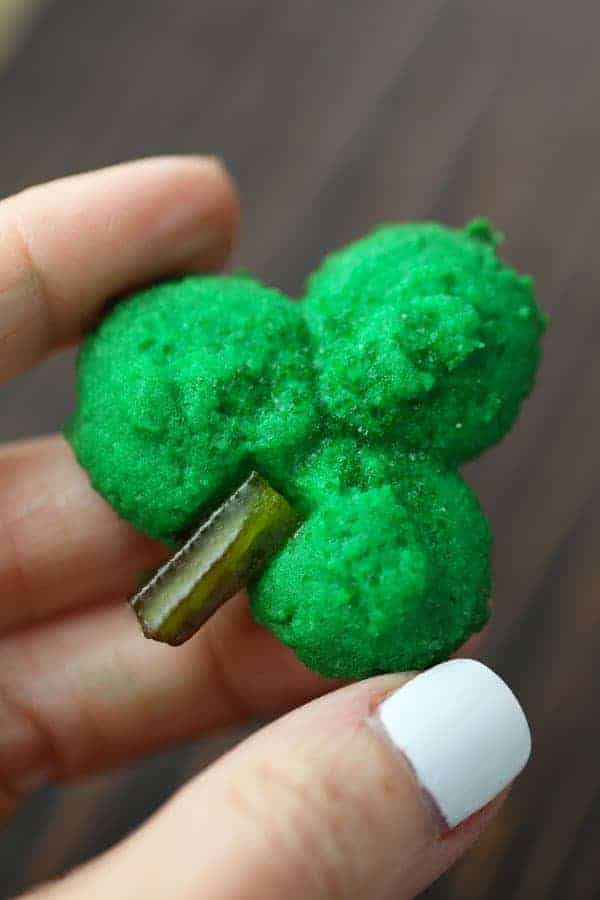 And that's just one of the reasons why I LOVE these Shamrock Cookie Press Cookies. Also, my granddaddy used to have a restaurant called The Shamrock and my mom used to be in a band called Na Seamroga which means The Shamrocks in Irish. Long story short, my family's really in to shamrocks!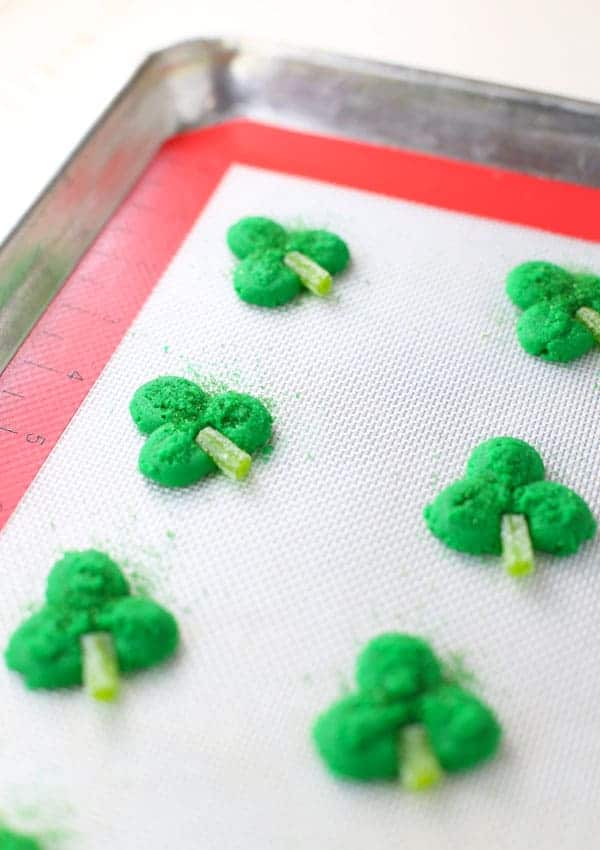 Making these cookies does require a cookie press. I demonstrated how to make them over on my Facebook page. Click here to check it out.
You can find the cookie press I used here (affiliate):

Here's the insert I used on the cookie press to create the three leaf clover.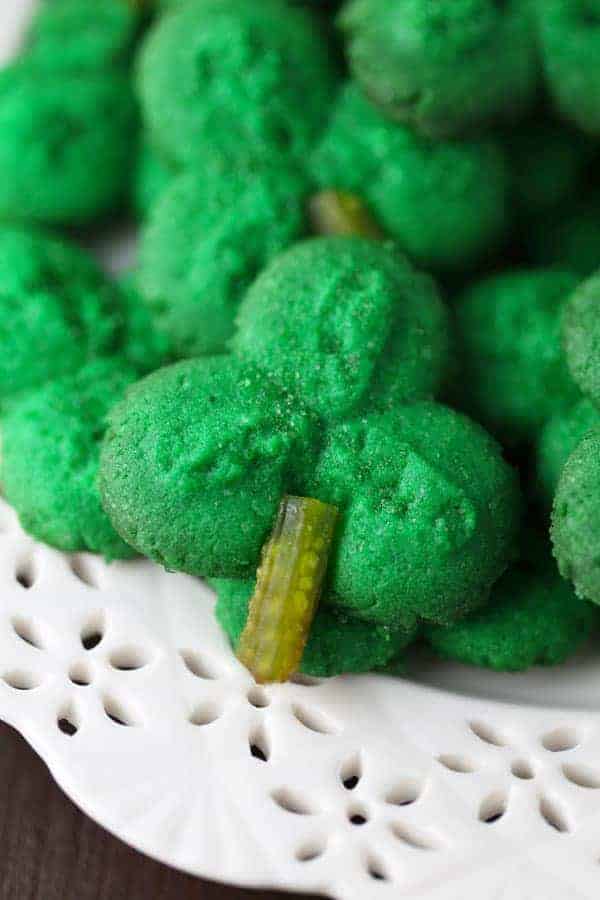 I added green sugar on top of the cookies before they baked and also a little piece of Sour Punch Rainbow Swirls candy for the stem. Then baked them at 375°F for 8-10 minutes. The less baking time the better because the candy might get too brown. 8 minutes would be better than 10.
Find the Sour Punch Rainbow Swirls candy here (affiliate):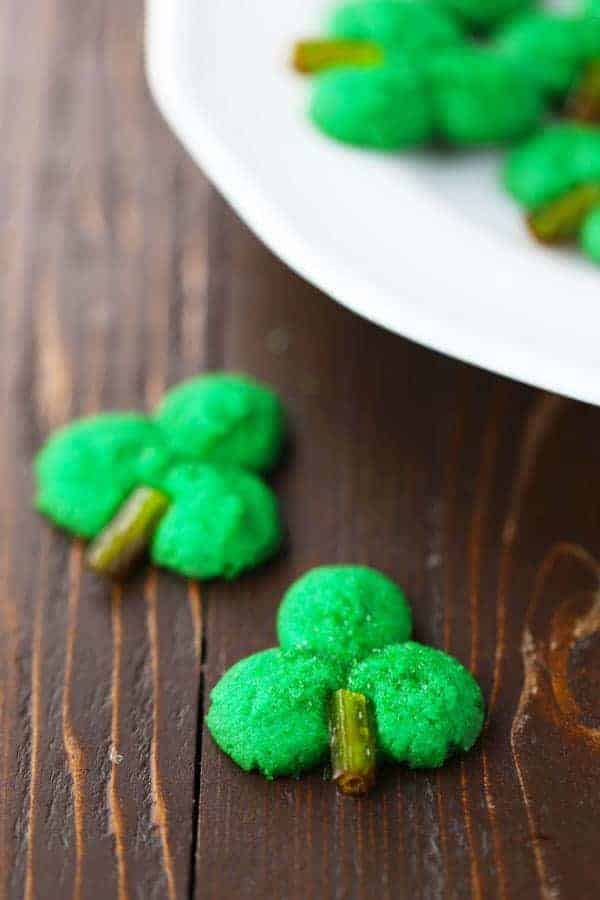 So what are y'all doing on March 17? Any fun plans? Eating or drinking something green maybe?
Hope you will try these cute Shamrock Cookie Press Cookies.
Happy Saint Patrick's Day everybody!
Print Recipe
Shamrock Cookie Press Cookies
Ingredients
1 1/2

sticks unsalted butter

softened

1/2

cup

sugar

1

egg yolk

room temperature

1

tablespoon

milk

room temperature

1/2

teaspoon

almond or vanilla extract

1 3/4

cup

all purpose flour

Green food coloring

Green sugar

Green Sour Punch Rainbow Swirls candy
Instructions
Beat butter and sugar in a large bowl with an electric mixer for 3 minutes on medium high. Add egg, milk and flavoring. Beat on medium for 20 seconds. Turn mixer to low and gradually add flour. Place as much cookie dough as you can in cookie press with shamrock shaped attachment. Press cookies onto greased cookie sheet or a cookie sheet lined with a silicone mat. Add green sugar and piece of candy for stem. Bake at 375°F for 8-10 minutes. (Note: Check the cookies at 8 minutes. They might be done already and you don't want the candy to brown.) Let cool and serve. Store covered for a few days or you can freeze them for several weeks in an airtight container.