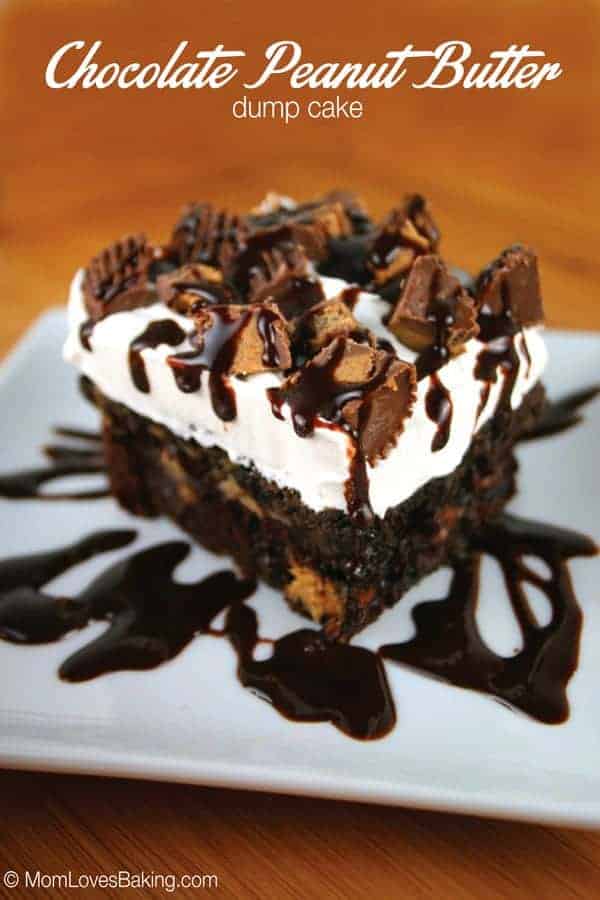 Have you ever made a dump cake? They're so easy. Usually they are fruit based. Dump in a can of pineapples, dump in the dry cake mix and melted butter on top. This one's a bit more kid friendly with the chocolate peanut butter combo. It was my turn to bake for my daughter's youth group last Sunday at church, so I wanted to make something the "tweens" would like. They definitely loved this. We offered cupcakes and brownies as well, but all the kids wanted this! Ooey, gooey, chocolate peanut buttery goodness with Reese's peanut cups baked right in and also sprinkled on top a pillow of creamy, dreamy Cool Whip. And don't forget the chocolate syrup drizzled on top.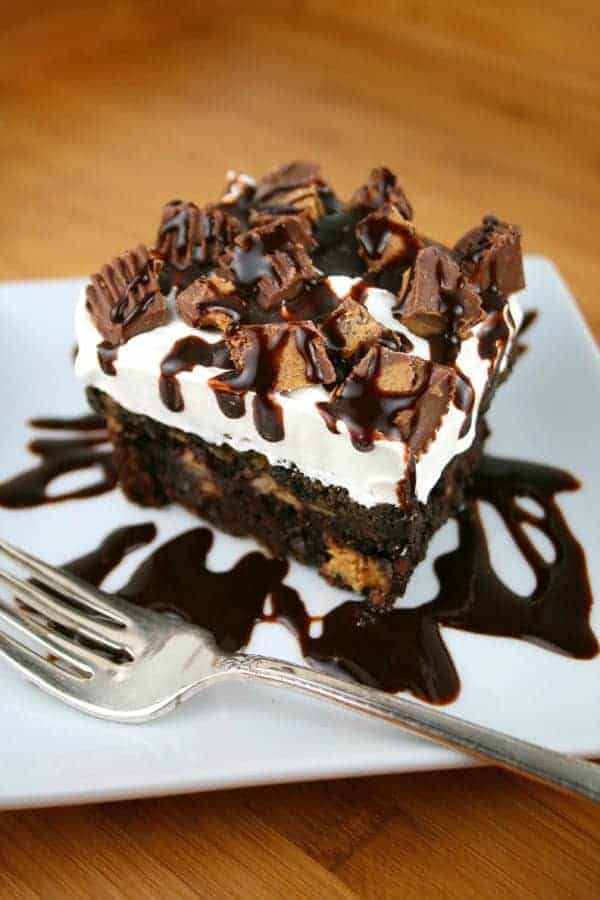 Chocolate Peanut Butter Dump cake is a combination of chocolate pudding, cake mix, peanut butter cheesecake and peanut butter cups. It's moist and delicious, topped with whipped topping, more peanut butter cups and drizzled with chocolate syrup. Yum!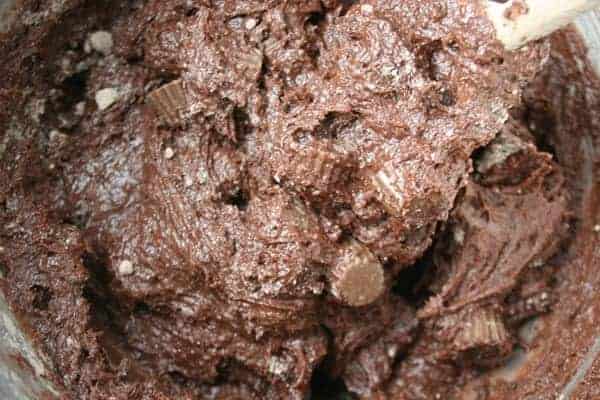 Let's discuss the dumping part. First you stir together a chocolate cake mix, chocolate pudding and milk. It will be thick. Fold in a bag of Reeses mini chocolate peanut butter cups. Then it's time to dump…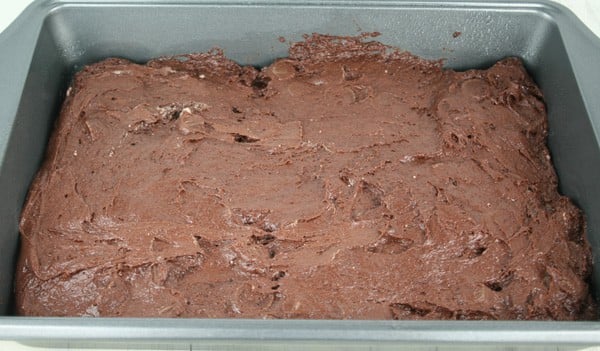 Dump it in a greased 13″x9″ pan. Spread to cover pan.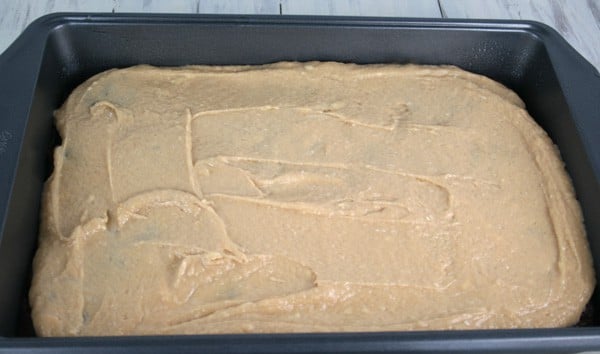 Mix up some cream cheese, powdered sugar, peanut butter and heavy cream. Pour that over the cake batter.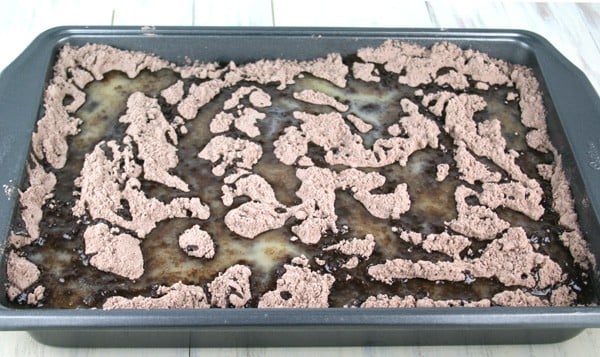 Now take another chocolate cake mix and you guessed it, dump it! Pour 1 stick of melted butter on top. That's it. You're ready to bake!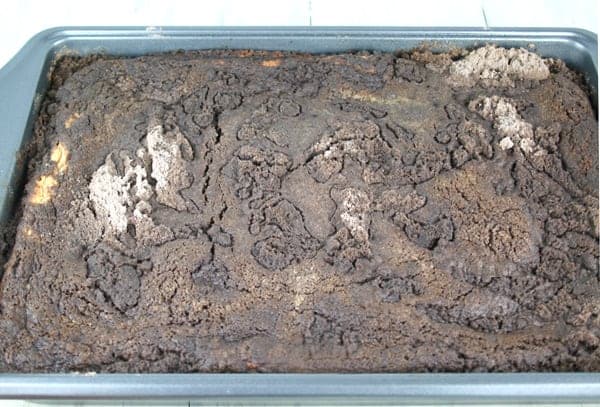 Bake at 350°F. for 35 minutes. Let it cool. Top with whipped topping such as Cool Whip and chopped Reeses peanut butter cups. Drizzle with chocolate syrup.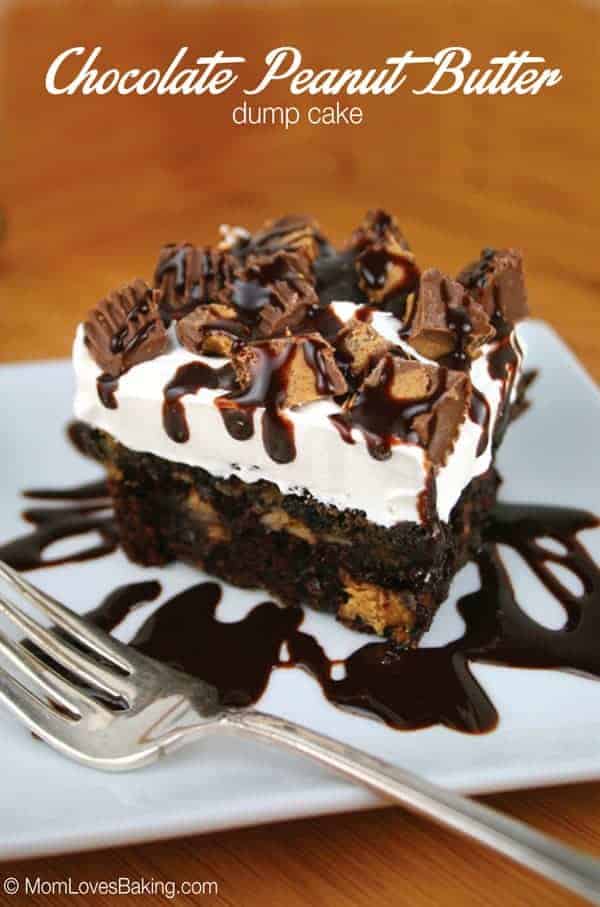 Watch it disappear.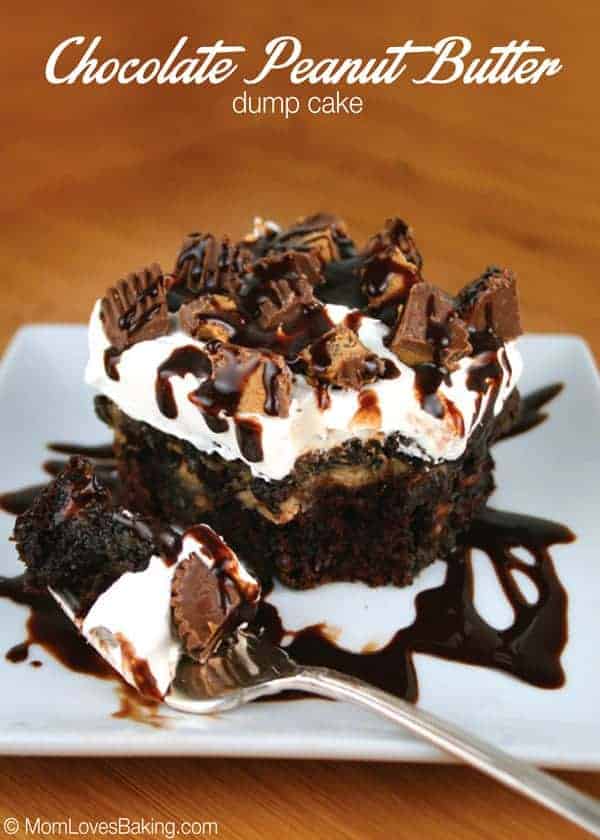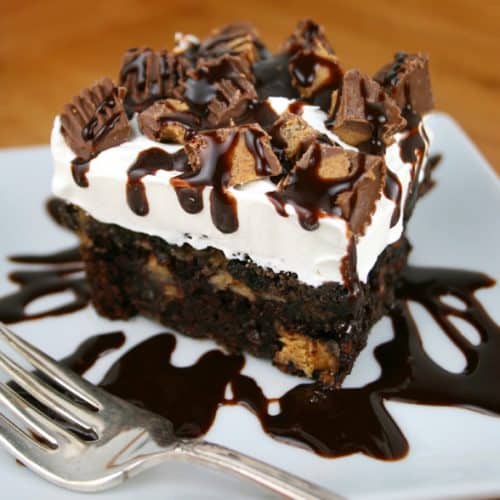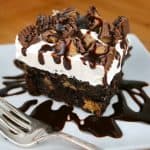 Print Recipe
Chocolate Peanut Butter Dump Cake
Ingredients
2

15.25 oz/432g chocolate cake mixes

1

3.9 oz/110g package instant chocolate pudding mix

1 1/2

cups

milk

375mL

1

8 oz/226g package Reese's peanut butter cups minis (unwrapped)

1/2

cup

creamy peanut butter

8

ounces

227g cream cheese, softened

1

cup

105g powdered sugar

1/4

cup

57g heavy whipping cream

1

stick

113g butter (melted)

1

8 oz/225g container of Cool Whip

1

12 oz/340g package of Reese's peanut butter cups miniatures (take out of wrappers and chop)

Chocolate syrup for garnish
Instructions
Preheat oven to 350°F. Coat a 13"x9" pan with non-stick cooking spray. Set aside.

In a large bowl, stir together 1 cake mix, chocolate pudding and milk. Fold in 1 (8 oz) bag of Reeses chocolate peanut butter cups minis. Pour into prepared pan and spread to cover bottom of pan.

In another large bowl, add cream cheese, peanut butter, powdered sugar and cream. Beat with an electric mixer on medium speed until smooth. Spread over cake batter.

Using the remaining box of cake mix, sprinkle the dry cake mix over cream cheese mixture. Pour melted butter on top.

Bake for 35-40 minutes. Let cool completely.

Spread Cool Whip over cooled cake. Sprinkle with chopped peanut butter cups. Serve with drizzled chocolate syrup on top. Store covered in refrigerator for 2-3 days. Best the first day.
You might also like…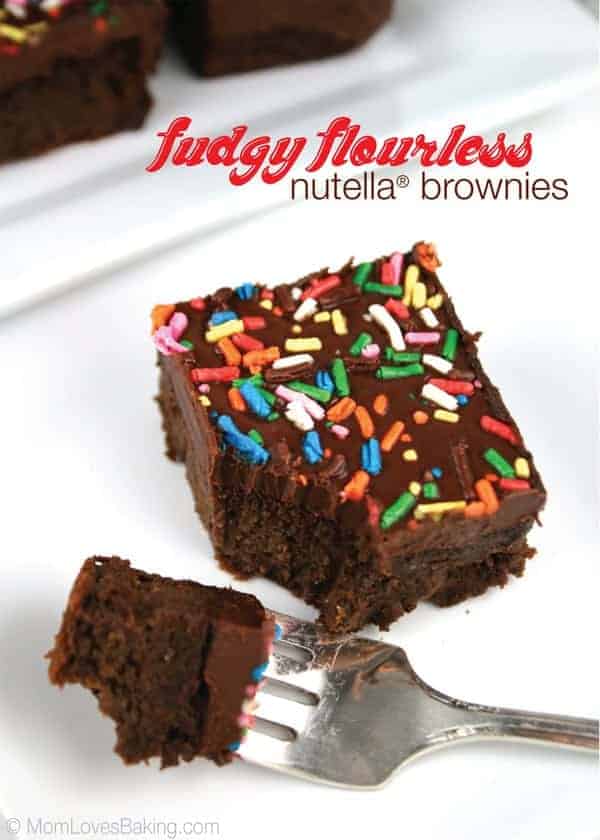 Fudgy Flourless Nutella Brownies