Make these adorable Teabag Sugar Cookies at your next tea party! Simple sugar cookies, cut into the shape of a teabag, dipped in chocolate. A string attached with a tea tag makes it even cuter.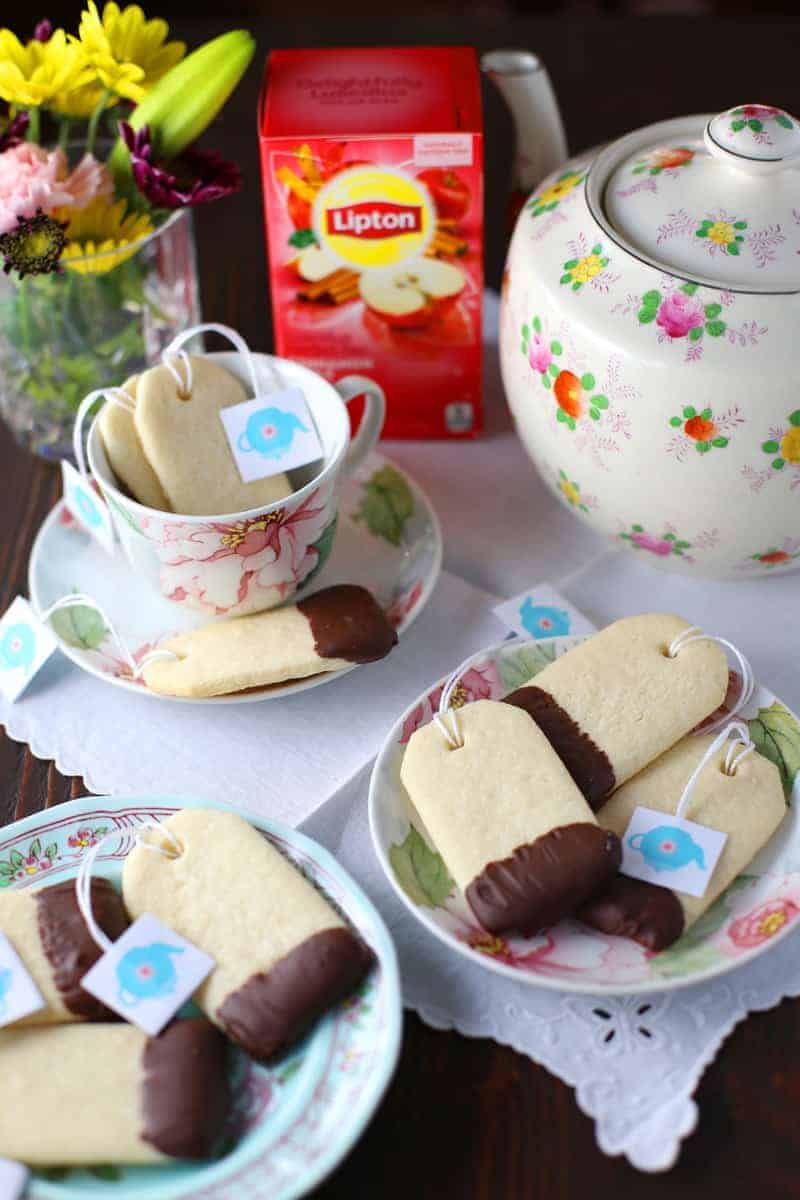 Tea parties are usually in the afternoon, but I thought it would be fun to have an evening with the girls. It was a combination tea party and white elephant party. I offered an assortment of delicious Lipton teas, along with some finger food including my homemade Teabag Cookies. I've included the step by step instructions below on how to make these cute cookies, but first let me tell you a little bit about the party.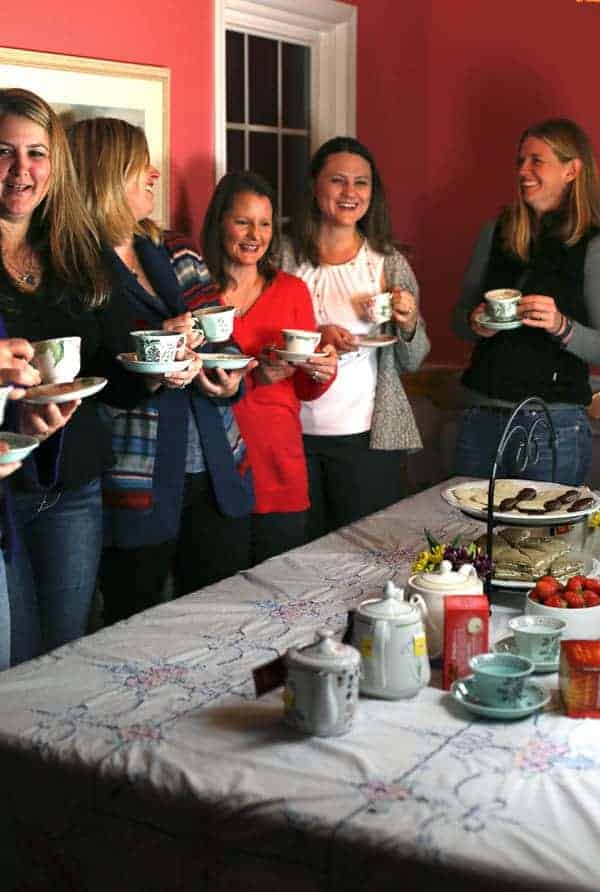 It was so fun to get together with the ladies and sample an assortment of Lipton tea flavors. I loved getting out the fine china and a pretty table cloth that belonged to my grandmother. Some of the cups and saucers we used were hers too. I'm not positive but I'm pretty sure she must have had a few tea parties herself because she had SO many cups and saucers.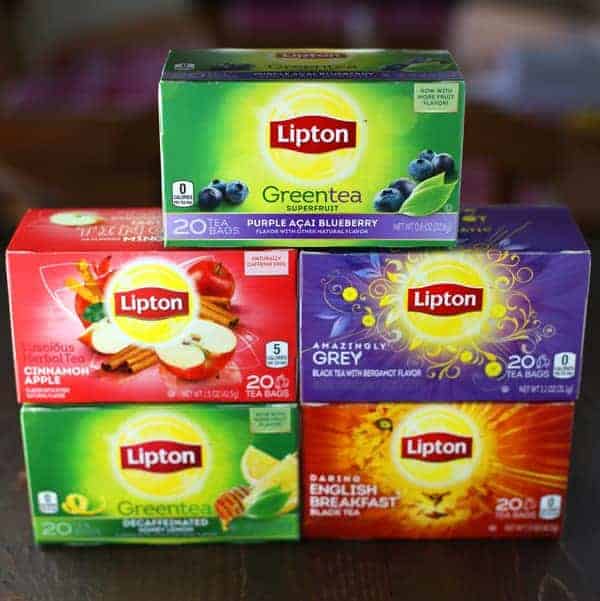 Here are the flavors that were on my tea party menu: Purple Acai Blueberry Green Tea, Cinnamon Apple Herbal Tea, Amazingly Grey Black Tea, Decaf Honey Lemon Green Tea, Daring English Breakfast Black Tea.
All of the flavors were really good! Purple Acai Blueberry Green Tea won the prize for the favorite tea of the night! Maybe that's because Lipton's updated green teas have a light, fresh taste, bright clearer color and delightful aroma. Also because it tasted great!
Check out the full line-up of Lipton Green, Black and Herbal tea flavors here.
Click here for coupon: $0.75 off any 1 Lipton Black, Green, or Herbal 20ct tea
We enjoyed the teas along with tea sandwiches, fruit and chocolate dipped sugar cookies shaped like teabags. The sandwiches were super easy to make. I used thin sliced whole wheat bread, then spread it with store-bought onion and chives cream cheese. Sliced cucumber went on top of the cream cheese. Placed another piece of bread on top, cut the crust off and sliced the sandwich in half on the diagonal. They were so good!
(Note: I'm sharing some great tea party tips at the end of this post.)
After chatting over tea and snacks, we played our little white elephant game.
Have you ever heard of a white elephant party? It's sort of a hand-me-down gift exchange. Everyone brings something they don't want anymore, maybe a gift they got for Christmas that they really don't like. Nobody buys anything to bring. It's a way to get rid of some stuff and have some fun. It could even be something sort of funny or ridiculous. Then you wrap it up and bring to the party.
To play the game, all the gifts are placed in the middle of the room. Everyone sits in a circle and draws numbers. We had 12 people, and 12 gifts, so the numbers to draw were between 1 and 12. The person that draws 1 goes first. They can pick any gift they want. Open the gift and keep it. The next person to go is number 2. They choose a gift and open it. Then they can either keep it or steal number two's gift. And so on. A gift can only be stolen twice.
One of the most popular gifts at the party was very large in size. It was probably about five feet long and about a foot tall and very narrow. The package took up my entire coffee table. Everyone was so curious about what it could be. It ended up being a wire shelf with pockets for files. It was something neat for organizing your house and it got stolen a couple of times. I ended up with a S'mores Making Kit which is pretty cool!
These Teabag Sugar Cookies were also a hit! A simple sugar cookie, cut into the shape of a teabag, dipped in chocolate. A string attached with a tea tag makes it even cuter. I've included a free printable for the tea tag, so you can make these at home.
Start by creaming butter and sugar together until fluffy, then mix in your dry ingredients (flour and baking powder). Divide dough in half and wrap in plastic. Refrigerate at least an hour, then roll out between two pieces of parchment paper. Cut cookies using a teabag shaped 3-inch cookie cutter.
Remove excess dough from around cookies but DO NOT MOVE the cookies or the shape will change. Use a straw to poke holes in the top. Bake at 350°F. for 8-10 minutes. Let cool. Melt chocolate chips and dip cookies. Let set on a parchment lined cookie sheet.
I've created a tea tag label printable for you to use. Click here to download printable. Cut out tea tags. Cut pieces of string ten inches long. Fold string in half and place through hole in cookie, thread the two ends of string through the loop and tighten. Attach double sided tape to back of label then fold over the ends of the string.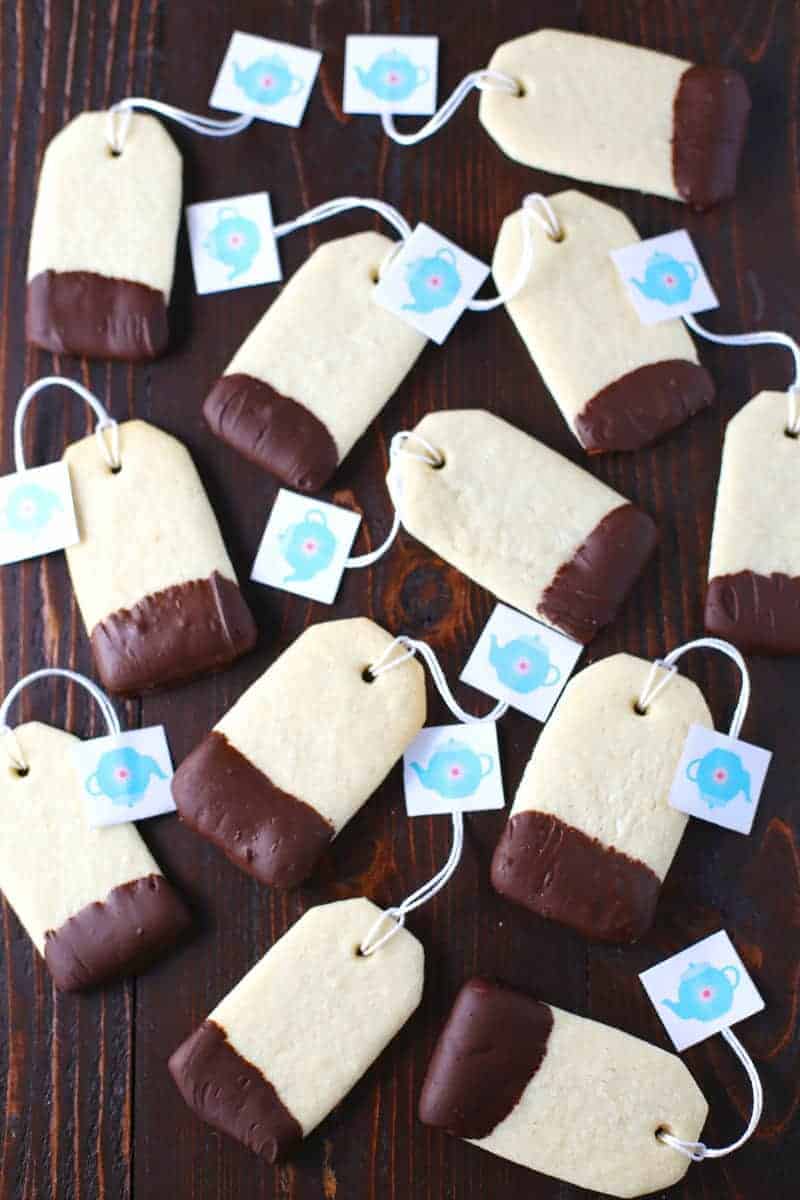 The cookies are tasty and so adorable!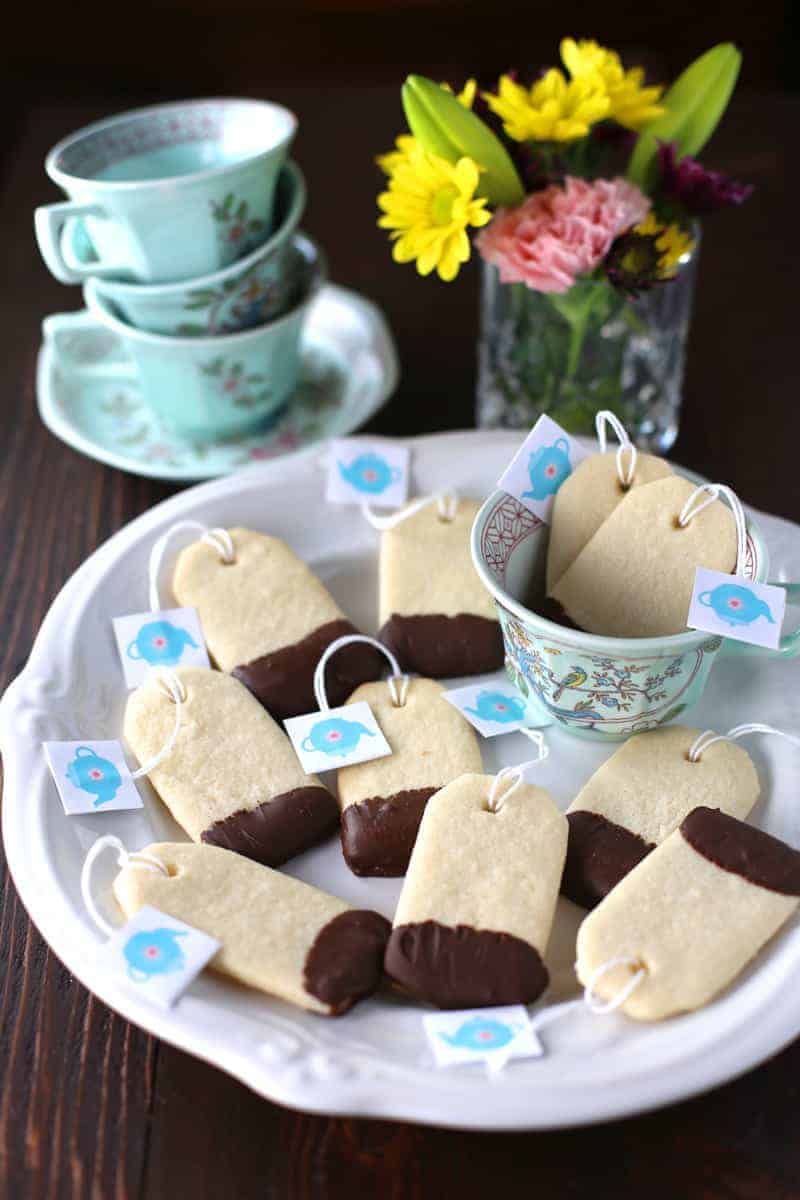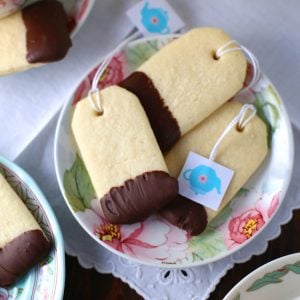 Teabag Sugar Cookies
Make these adorable Teabag Cookies at your next tea party! Simple sugar cookies, cut into the shape of a teabag, dipped in chocolate. A string attached with a tea tag makes it even cuter.
Print
Pin
Rate
Instructions
Preheat oven to 350°F.

Place the flour and baking powder in a medium bowl. Stir until combined. Set aside.

Place the butter and sugar in a large bow. With an electric mixer, beat on low until combined, then turn up to medium high. Beat for 3 minutes. Turn mixer off. Add the egg and vanilla, then beat for another minute.

With the mixer on low, gradually add the flour mixture. Then turn mixer up to medium and beat until a dough forms. This only takes about 30 seconds. Divide dough in half, kneading with your hands a little bit and wrap in plastic wrap. Refrigerate for one hour.

Roll each dough in between two sheets of parchment paper. Roll it out until it's about ⅛-inch thick. You should have a circle that's about 12 inches wide. Cut cookies using a 3-inch teabag shaped cookie cutter. (I bought mine online.) Use a straw to poke a hole in each cookie. Remove excess dough, then gently slide your parchment paper with the cookies on it on to cookie sheet (I used half sheet pans because there's an edge). Do not try to move the cookies because it will change their shape. Repeat process with remaining dough. Bake cookies for 8-10 minutes or until set. Let cool.

I made 30 cookies, but it depends on how big your cookie cutter is. Mine was 3 inches long. I used about 1 cup of semisweet chocolate chips and melted them in the microwave for 1 minute. Stir until smooth. Dip one end of the cookie (not the end with the hole) in the chocolate and place on a parchment lined cookie sheet to dry. Attach paper tea tags with string, if desired.
Nutrition
Calories:
128
kcal
|
Carbohydrates:
16
g
|
Protein:
2
g
|
Fat:
6
g
|
Saturated Fat:
4
g
|
Polyunsaturated Fat:
1
g
|
Monounsaturated Fat:
2
g
|
Trans Fat:
1
g
|
Cholesterol:
22
mg
|
Sodium:
134
mg
|
Potassium:
31
mg
|
Fiber:
1
g
|
Sugar:
7
g
|
Vitamin A:
198
IU
|
Calcium:
11
mg
|
Iron:
1
mg
Tips for hosting your own tea party:
Use an assortment of teapots, cups and saucers. You can find them at a thrift store or antique mall. Or you can borrow a few from your friends that are attending the party.
A white lace table cloth or table runner looks nice with floral teapots.
Make sure you put a trivet under a hot teapot if you have a wood table.
Offer a variety of tea flavors for your guests (4-6 flavors). Some decaf and some with caffeine.
To go with the tea, stock your table with sugar, sugar substitute (if desired), honey, lemon slices and milk or cream.
Don't forget the spoons, small serving plates and napkins.
Fresh flowers on the table are always lovely.
An assortment of tea sandwiches, cookies and fruit.
When it's time to make the tea, you will need to boil enough water for 4-6 pots of tea and you want them ready all at once. Use a tea kettle, pots of water on your stove and a large glass measuring cup with water in the microwave. Use all the heating elements you can.