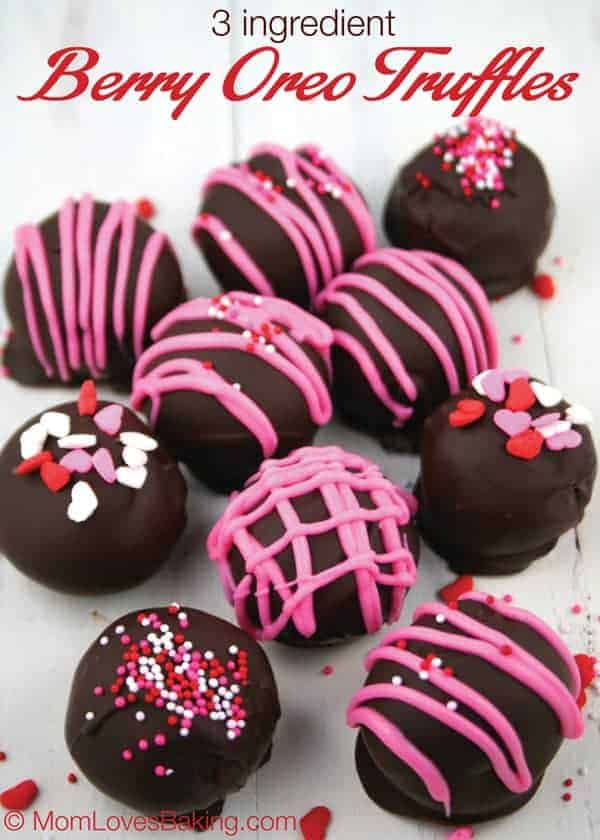 Have you ever had an Oreo truffle? I've known about them for a long time but never tried them until now. OMGosh! What took me so long? They are to die for! And so super easy. Just 3 ingredients. Oreos, cream cheese and chocolate. Hence the name – 3-Ingredient Berry Oreo Truffles. Where's the berry, you might ask. I used Berry flavored Oreos. When you bite into one, you could swear you were eating an expensive raspberry truffle from a fancy chocolatier in the mall. But these won't cost you five dollars each! I didn't calculate the price exactly but I'm guessing these will cost you about twenty five cents per truffle! Depending on how much it costs you to buy the cookies, cream cheese and chocolate chips (divided by 30).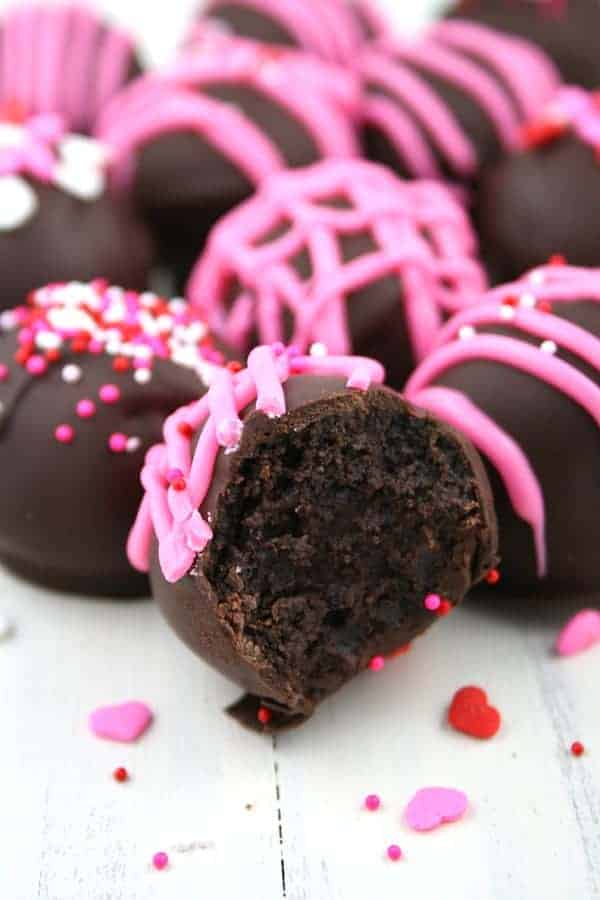 We had some old friends visiting us from South Florida over the weekend. As you may know, I used to have a little cake business down there. I made cakes from home for weddings and special occasions. I also had a mail order cupcake business. Let's just say I did a whole lot of baking in those days and our friends got to do a lot of sampling when they came by the house. Our good friends, David and Nancy, came to visit us in Georgia over the weekend, along with their two children. We had so much fun and while they were here, my daughter and I made these truffles. David said, "Out of all of the things you've made for us, this is by far the best I have ever tasted. So creamy and delicious."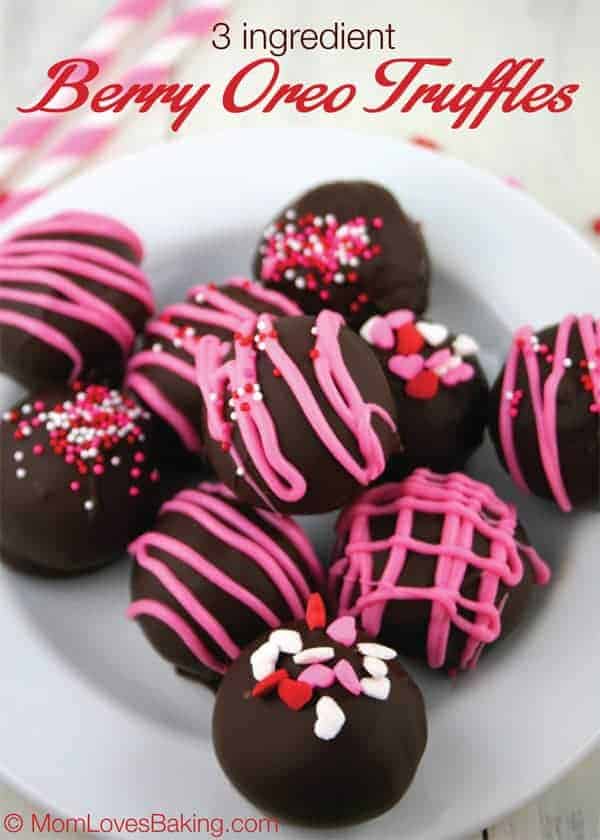 So are you ready to learn how to make 3-Ingredient Berry Oreo Truffles yet? Let's do it…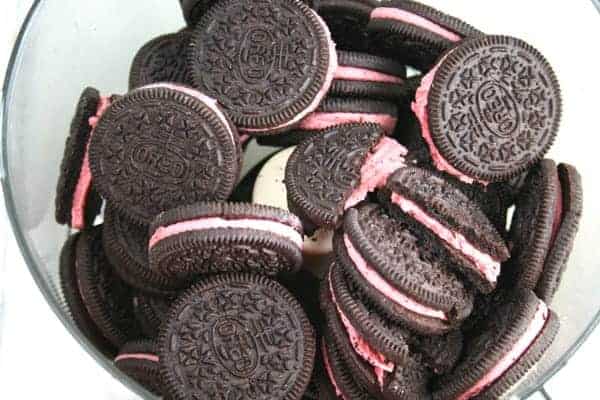 Start with one package of Berry Oreos. I crushed them in a food processor but you could also crush them by hand. Place them in a sealed plastic storage bag and pound like crazy with a rolling pin or can of soup. They need to be finely crushed, so if you do have a food processor, use it.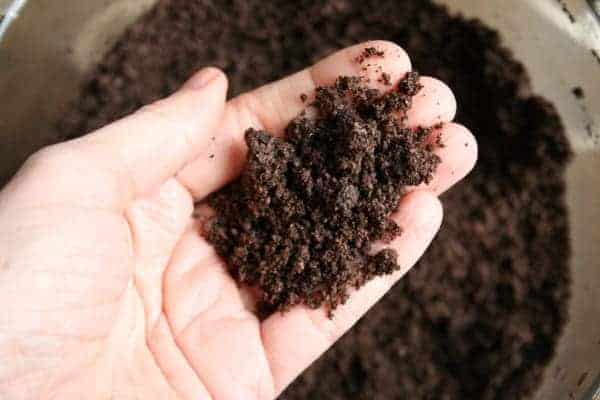 This is how the crushed oreos look when they're done in the food processor.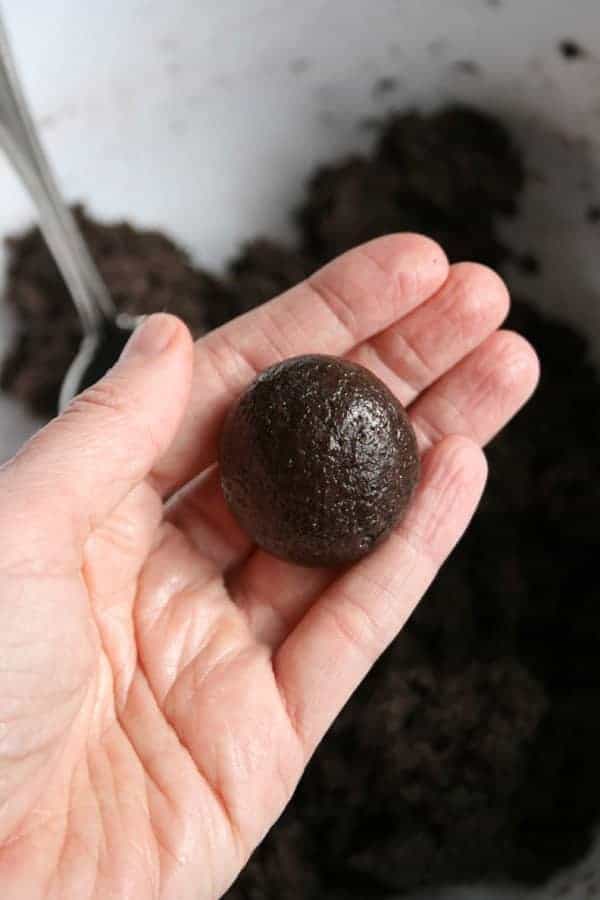 Place the crushed Oreos in a large bowl with 8 ounces of softened cream cheese. Beat with an electric mixer on medium speed until completely incorporated. You could also mix it by hand. Roll the mixture into balls, 1 tablespoon each.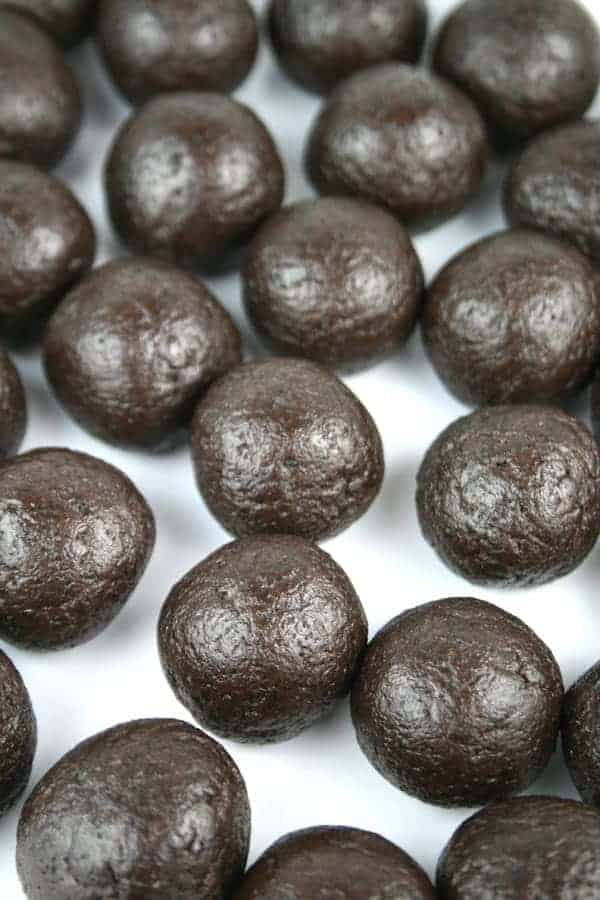 Place them in the freezer for about 30 minutes.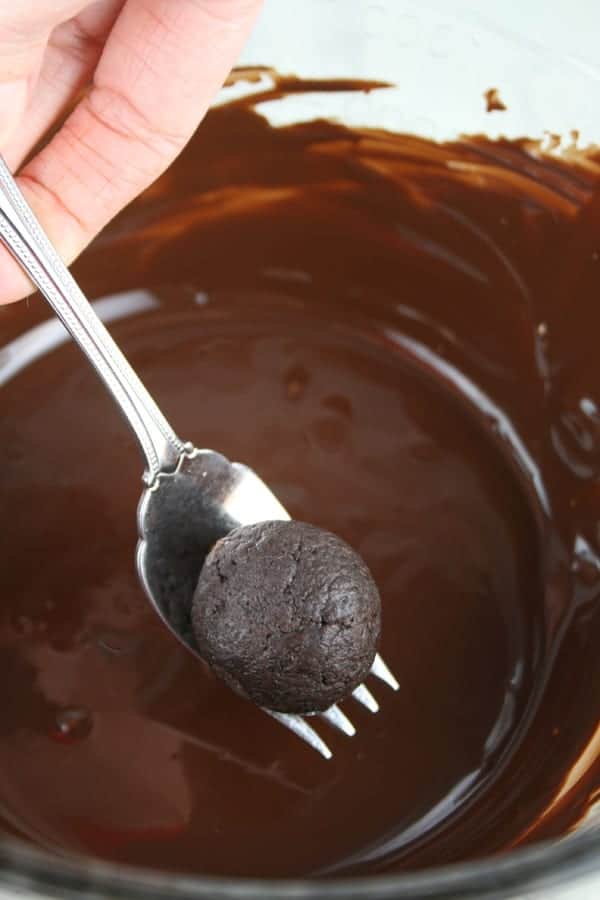 Melt 12 ounces of good quality bittersweet chocolate chips (I used Ghiradelli) in the microwave for a minute on high. Stir until it's completely melted. Heat another 30 seconds, if needed.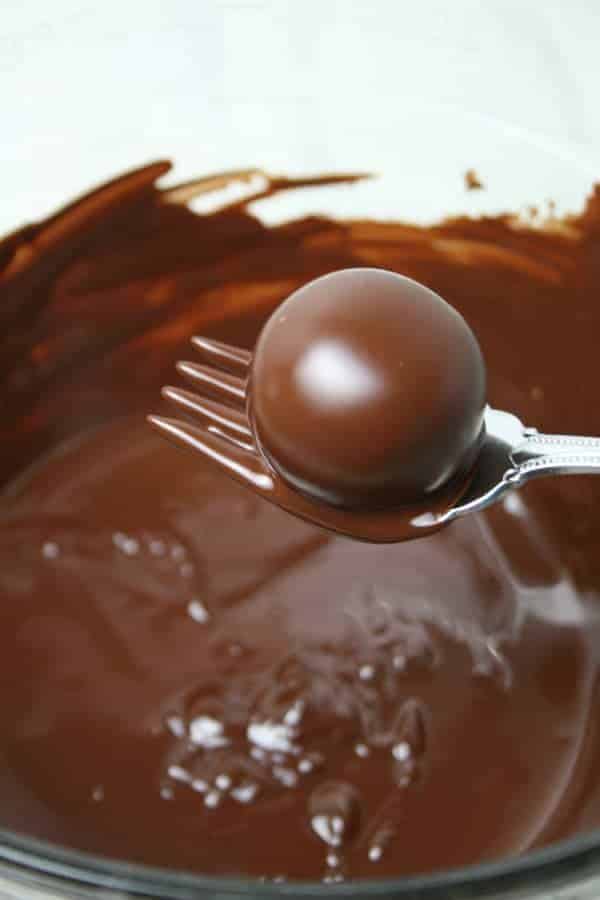 Using a fork, dip the truffle balls into the melted chocolate. Then place them on a large cookie sheet that's been lined with parchment paper. If you want to and because it's so festive, add sprinkles. If you're adding sprinkles, you will need to do it as soon as you place the chocolate dipped truffle on the cookie sheet. They dry fairly quickly.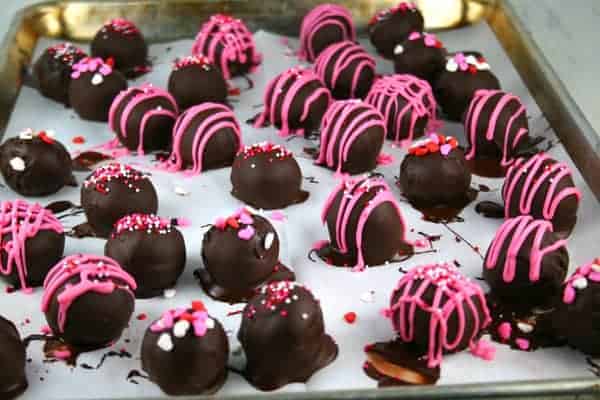 I also thought it would look really pretty if they were drizzled with pink melted chocolate. I used 1/2 cup of pink candy melts (Wilton brand). I microwaved the candy melts in a small microwave safe bowl for about 1 minute on high. Then poured it into a small plastic storage bag, sealed the top and cut a tiny corner off. Then squeezed it out into a zig zag pattern over the truffles. My 12 year old daughter, Savannah, helped me with these and she even took this photo. Nice job, Savannah!
I hope you will try these 3-Ingredient Berry Oreo Truffles. They would make an excellent gift for your sweetie on Valentine's Day. What says I love you better than homemade chocolates that are even better than the fanciest store bought candies in the pretty box.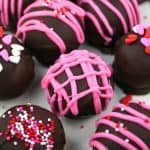 Print Recipe
3-Ingredient Berry Oreo Truffles
Have you ever had an Oreo truffle? I've known about them for a long time but never tried them until now. OMGosh! What took me so long? They are to die for! And so super easy. 
Ingredients
1

package

Berry flavored Oreos

15.25 oz/432g

8

ounces

Neufchatel cheese, softened to room temperature*

224g

12

ounces

good quality bittersweet chocolate chips (I used Ghiradelli)

340g
Optional:
1/2

cup

pink candy melts (I used Wilton)

82g

Sprinkles
Instructions
Line a large cookie sheet with parchment paper. Set aside.

Place the cookies in a food processor. Process until you achieve a fine crumb.

Pour the cookie crumbs into a large bowl. Add the softened Neufchatel cheese. With an electric mixer, mix on medium until completely combined. You can also mix by hand, if desired. Form the mixture into balls, about 1 tablespoon of batter per ball. You will have about 30 balls. Place on a plate and put them in the freezer for about 30 minutes.

Place the chocolate chips in a large microwave safe bowl. Microwave on high for 1 minute. Stir well. Microwave for another 30 seconds, if needed. Stir until completely smooth, with no lumps. Take truffle balls out of the freezer. Using a fork, dip each ball in the melted chocolate and place on prepared pan. Add sprinkles immediately, if using. Or you can let the chocolate set (about 15 minutes) and drizzle with melted candy melts. Place candy melts in a small microwave safe bowl. Microwave on high about 1 minute. Stir until completely smooth. Pour into a small resealable storage bag, seal the bag and cut off a tiny corner of the bag. Squeeze melted candy melts over truffles in a zig zag pattern. Put them in the refrigerator for about 15 minutes to set. Then they're ready to eat. Store them in an airtight container in the refrigerator for up to a week.

Recipe adapted from SallysBakingAddiction.com
Notes
*Neufchatel cheese is lowfat cream cheese
Recipe adapted from SallysBakingAddiction.com
Nutrition
Calories:
171
kcal
|
Carbohydrates:
20
g
|
Protein:
3
g
|
Fat:
9
g
|
Saturated Fat:
6
g
|
Polyunsaturated Fat:
1
g
|
Monounsaturated Fat:
2
g
|
Trans Fat:
1
g
|
Cholesterol:
6
mg
|
Sodium:
116
mg
|
Potassium:
124
mg
|
Fiber:
1
g
|
Sugar:
12
g
|
Vitamin A:
70
IU
|
Vitamin C:
1
mg
|
Calcium:
50
mg
|
Iron:
2
mg