Kit Kat Candy Bar Cake is a chocolate layer cake with chocolate buttercream frosting, surrounded by Kit Kat candy bars, then topped with M&M's and tied with a big bow for a festive, fun party cake!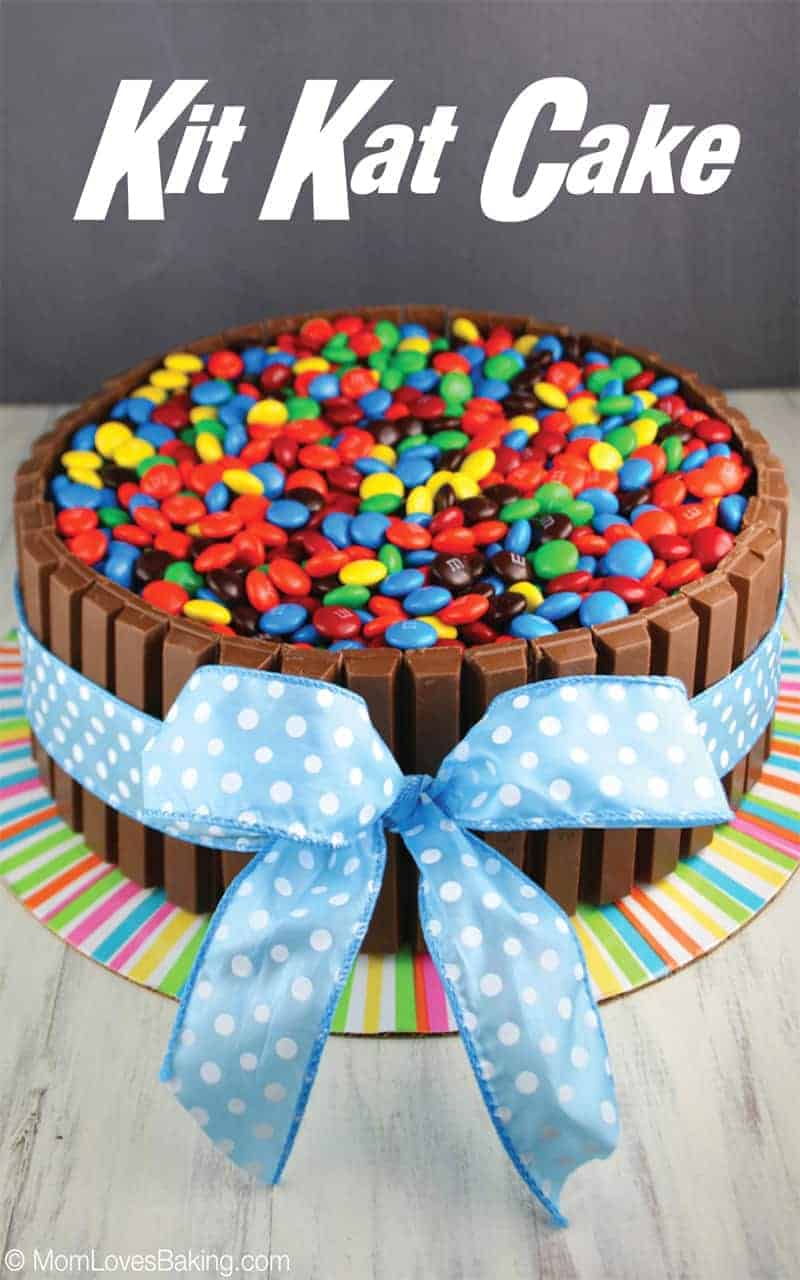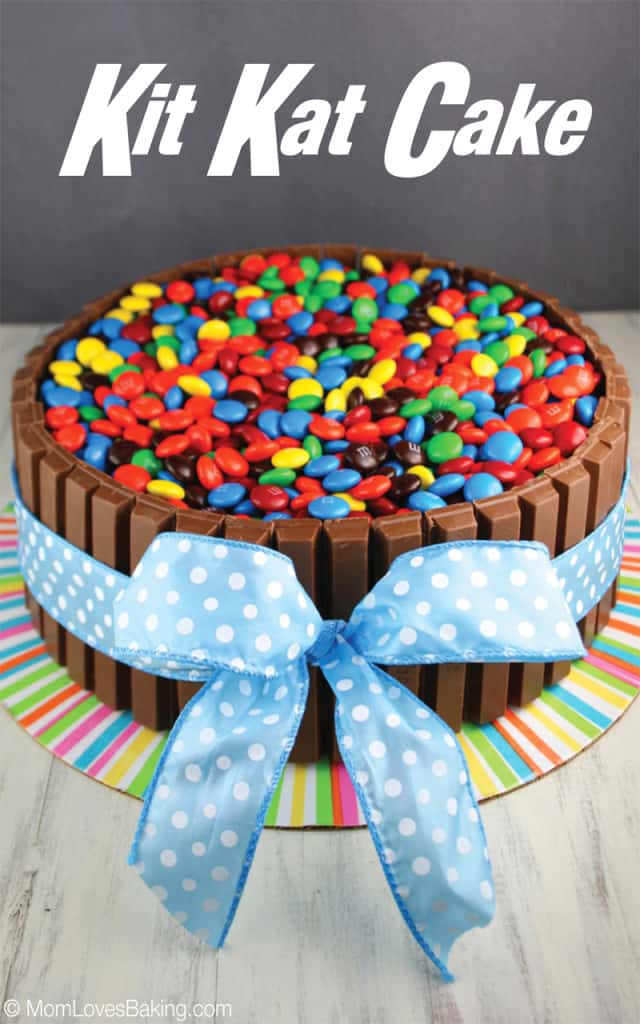 I have been wanting to make this cake for the longest time. And I finally had the perfect occasion.
I was asked to donate a cake for a charity golf tournament over the weekend. The cake would be auctioned off to raise money for a young man named Trent Jones who was in an automobile accident and is now a quadriplegic. (Click here to learn more about his story and donate to his injury fund.)
A cake that was extra special!
Kit Kat Candy Bar Cake is a chocolate frosted chocolate layer cake, surrounded by over 40 Kit Kat bars, topped with 2 large bags of M&M's and wrapped with a beautiful ribbon that's tied in a bow. Not only is it completely delicious, it also traveled well. Since the frosting was covered by the candy, it was easy to wrap it up in clear plastic (gift basket style) and display on the auction table.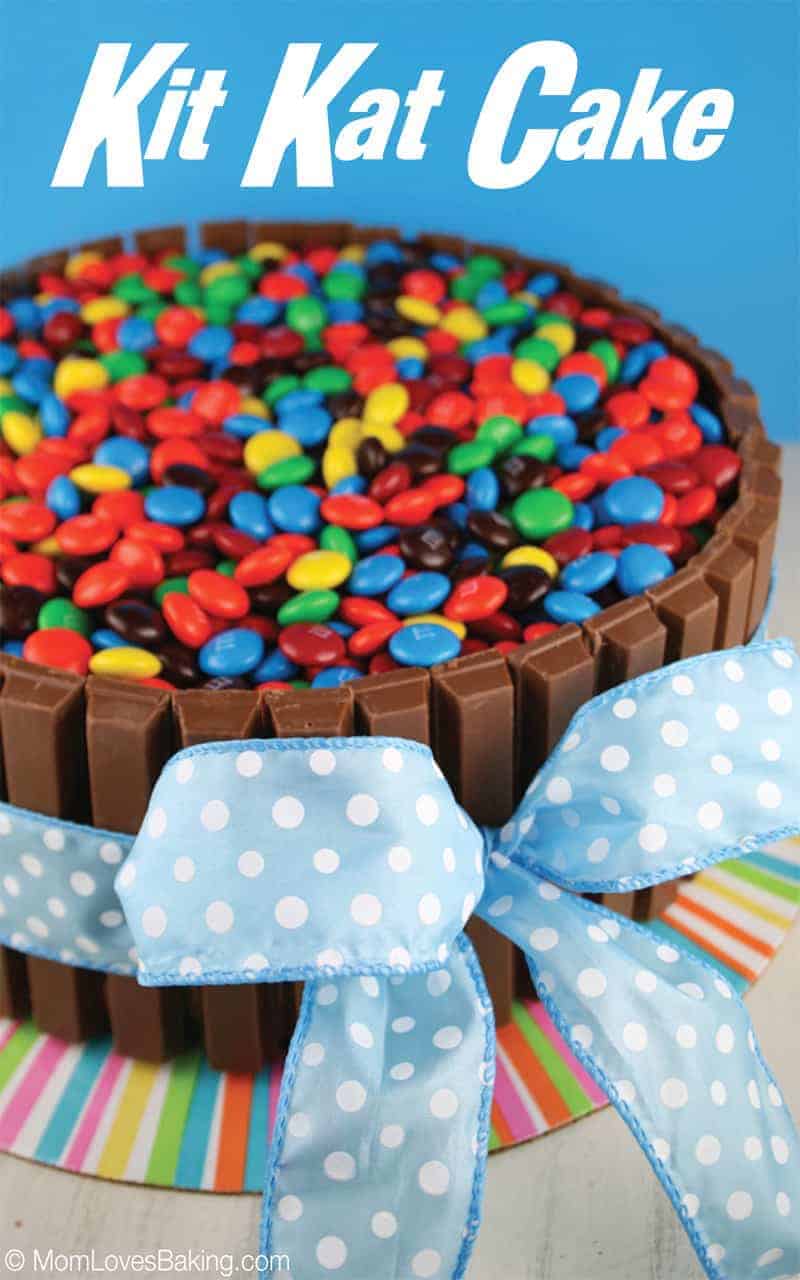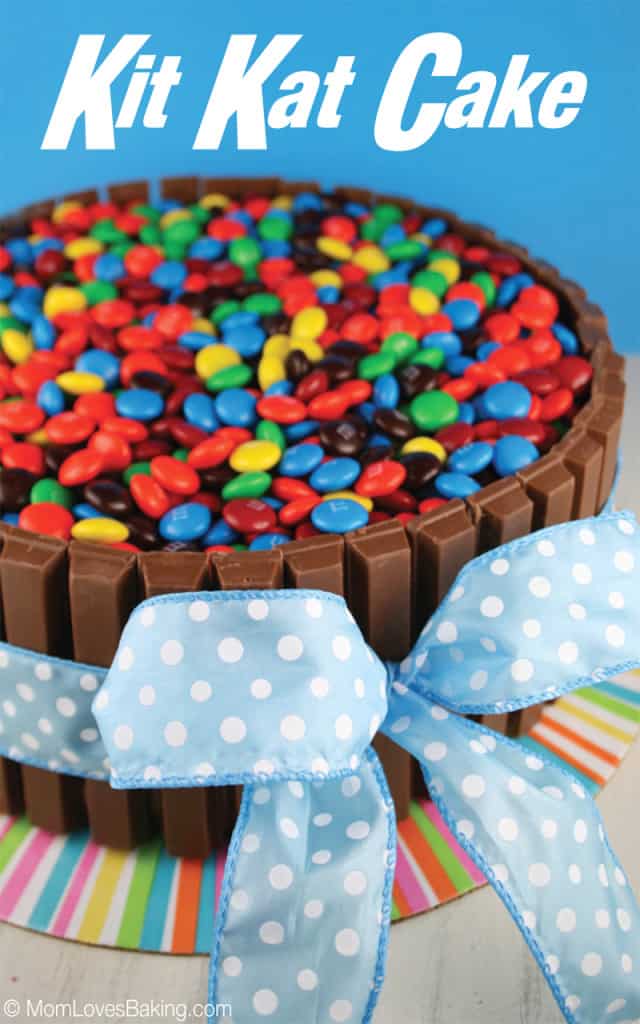 If you haven't noticed, I have a thing for M&M's. I love baking with them! They're so colorful. And not to mention, super yummy!
Needless to say, the cake was a hit! I will definitely be making a Kit Kat Candy Bar Cake again when I need to bake something festive. It would be perfect for any holiday. In fact, it would be so cute using limited edition M&M's for various holidays and adding coordinating ribbon colors. I'm already thinking Halloween, what do you think?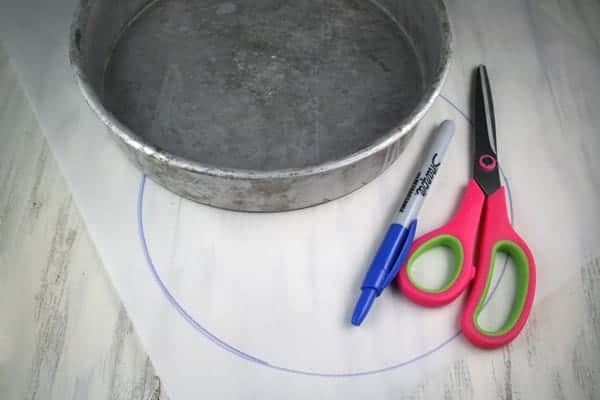 How to Make a Kit Kat Candy Bar Cake
Step 1: Line cake pans with parchment paper
The first thing I always do when baking a cake is cut parchment paper to line the bottom. I simply place the pan on top of the paper, trace the shape of the pan onto the paper with a permanent marker and cut it out. I cut about an ⅛" inside the line to make it fit perfectly. Then spray the pan with non-stick cooking spray. Spray on the bottom and sides of pan. Place the paper liner, then spray more on top of the liner. That baby will not be sticking to your pan. No way, no how!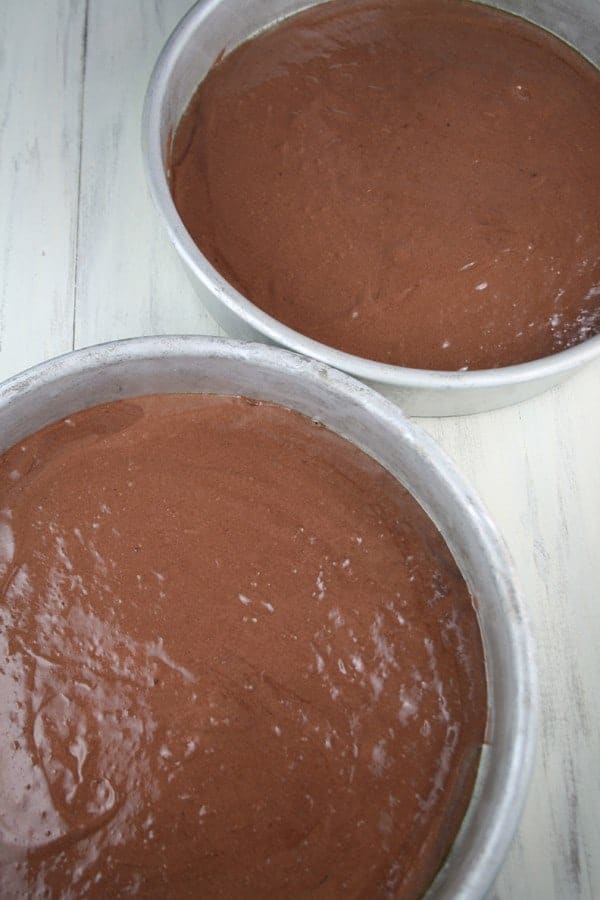 Step 2: Bake the cake
Since this cake is sort of umm... EPIC, I thought it would be a good idea to just use a cake mix. You know, to save some time. Feel free to use your favorite chocolate cake recipe, if you're feeling ambitious. I used two 9-inch round cake pans and divided the batter from one cake mix equally between the two pans. Then baked them according to the package instructions.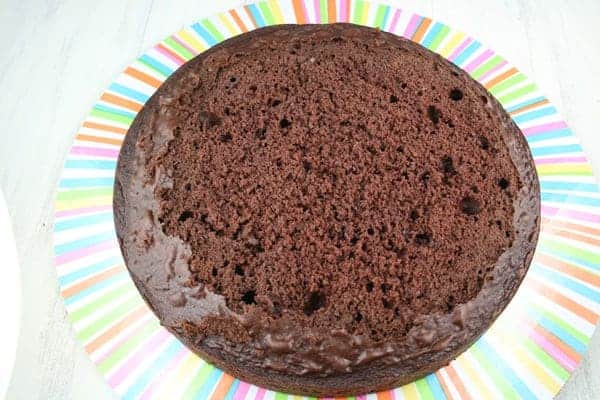 Step 3: Freeze the cakes
After the cakes are baked and cooled, cover and freeze for about an hour. They're easier to work with that way. Then they need to be leveled. Using a large bread knife, slice horizontally across the top of each cake, just so you can remove the dome like shape.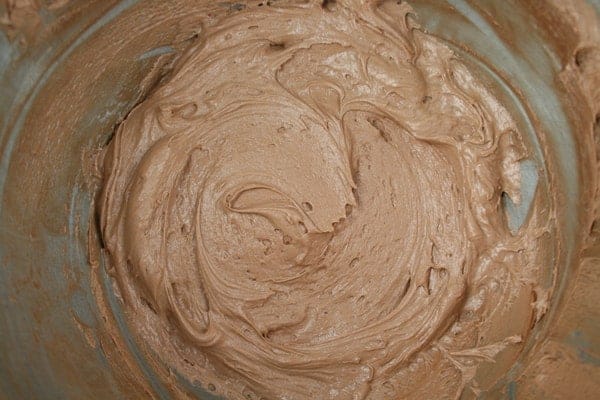 Step 4: Make the frosting
For the frosting, I used a little short cut. Let's call it semi-homemade chocolate frosting. Start by adding one can of chocolate fudge frosting (I used Pillsbury) to a large mixing bowl. Then add 1 stick of softened butter. Beat with an electric mixer on medium for about a minute. With the mixer on low, gradually add half a bag of powdered sugar and ¼ cup, plus 2 tablespoons of heavy cream. Once all is combined, turn up to medium and beat for 2 minutes.
Note: If you want to make homemade, try this recipe: The Best Chocolate Buttercream Frosting.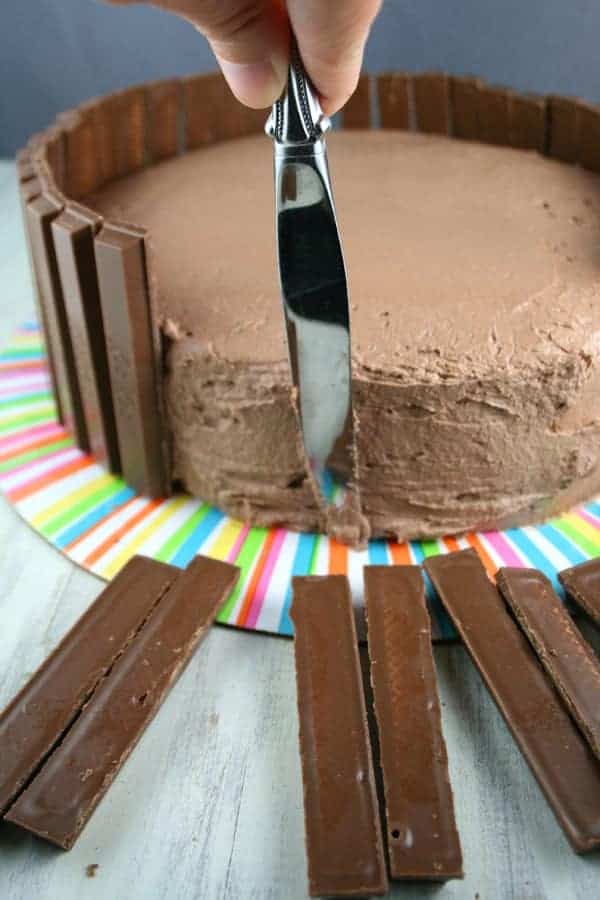 Step 5: Frost the cake & add the candy bars
Place one cake on a 12-inch cake board or large round plate. Frost the first layer, then add the second layer and spread frosting all over the cake. After you unwrap all of the Kit Kat bars (it takes a little bit of time, be patient), then you can start pressing them into the side of the cake. If the icing has formed a crust, then you will need to take a butter knife and rough up the edges a bit to get the candy bar to stick. Place the Kit Kat Bars side by side, all the way around the cake. I used about 11 Kit Kat bars or 42 sections.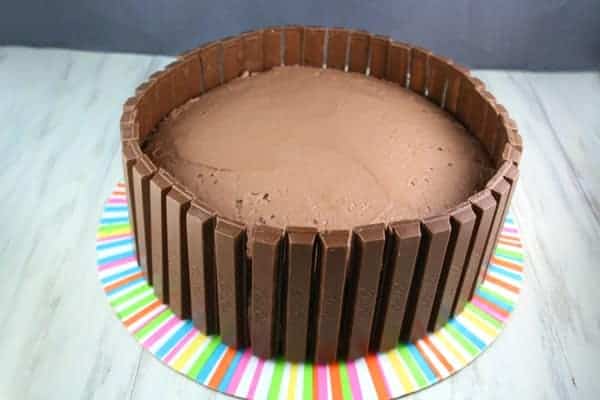 And voila! Your candy bar cake fence is complete. You should be left with about an inch and a half of vertical space to add your M&M's.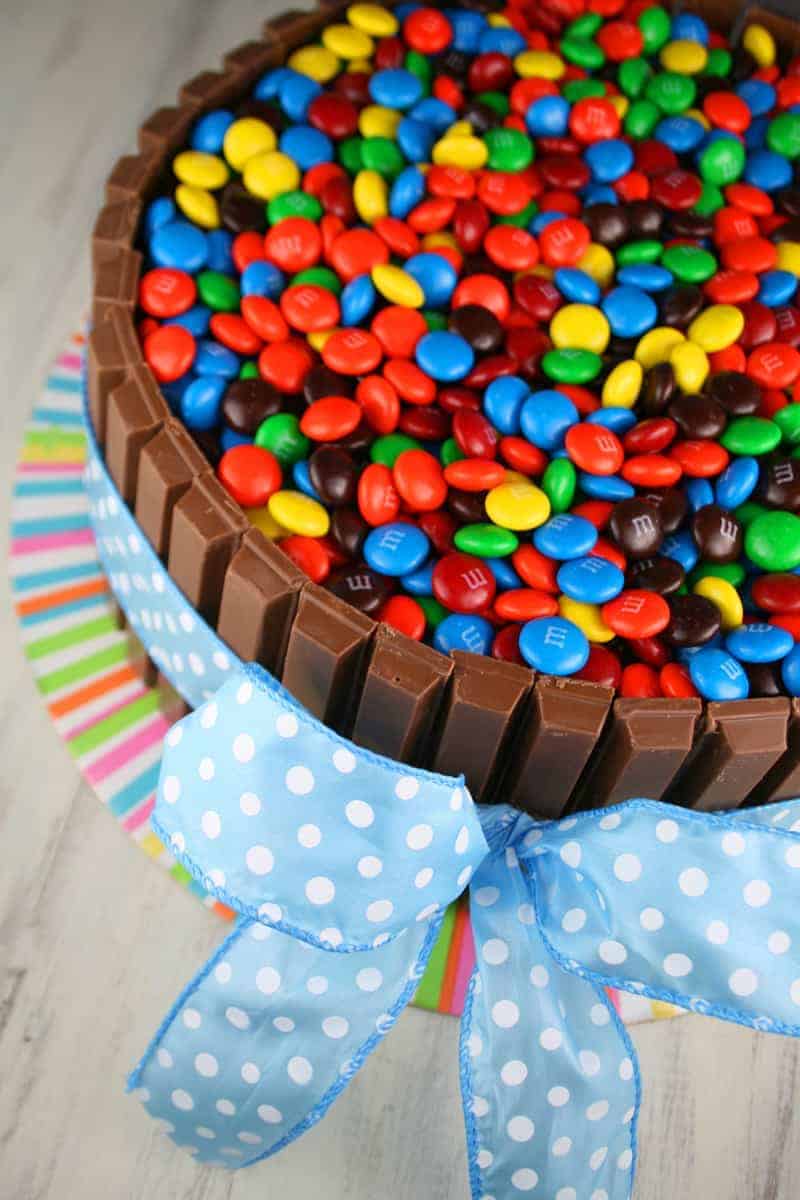 Step 6: Tie a ribbon around cake, add M&M's
Before adding the M&M's, carefully wrap a ribbon around the cake and tie in a bow. To measure the ribbon, I used a very technical method. I eyeballed it!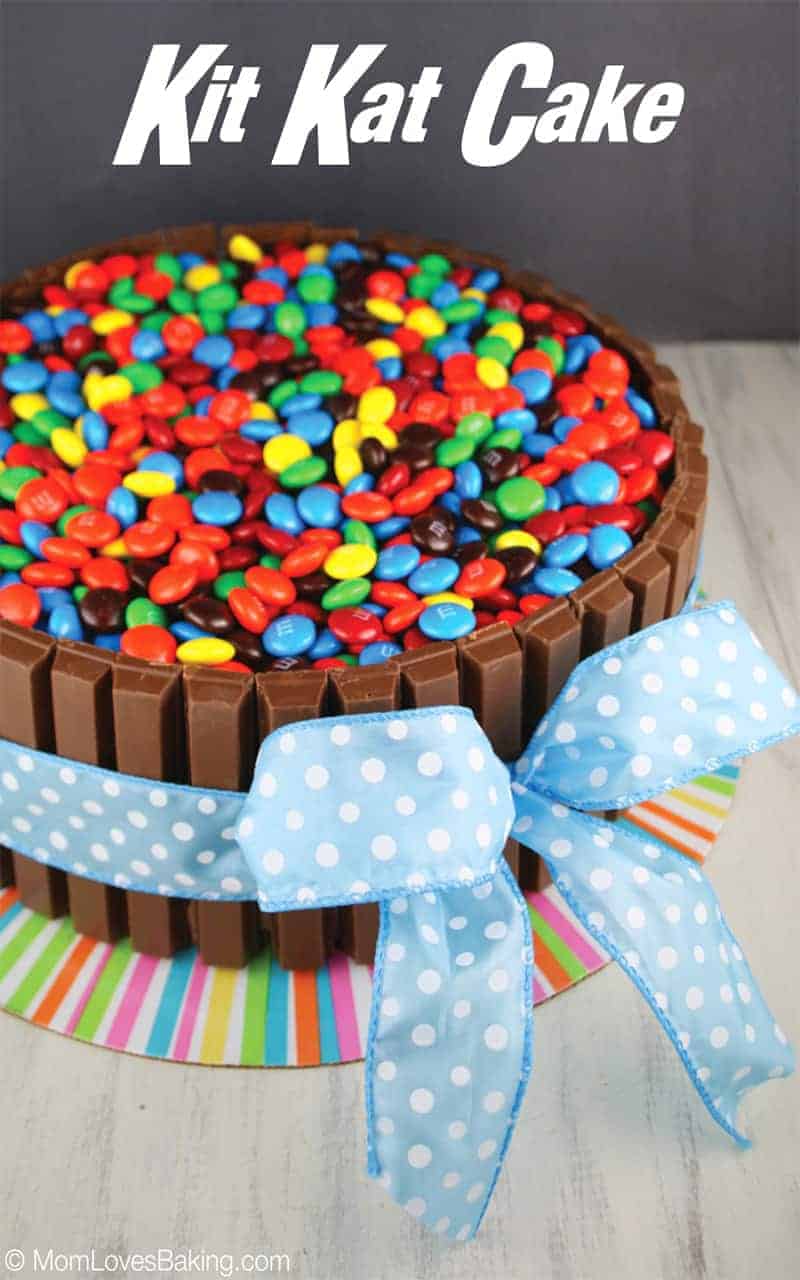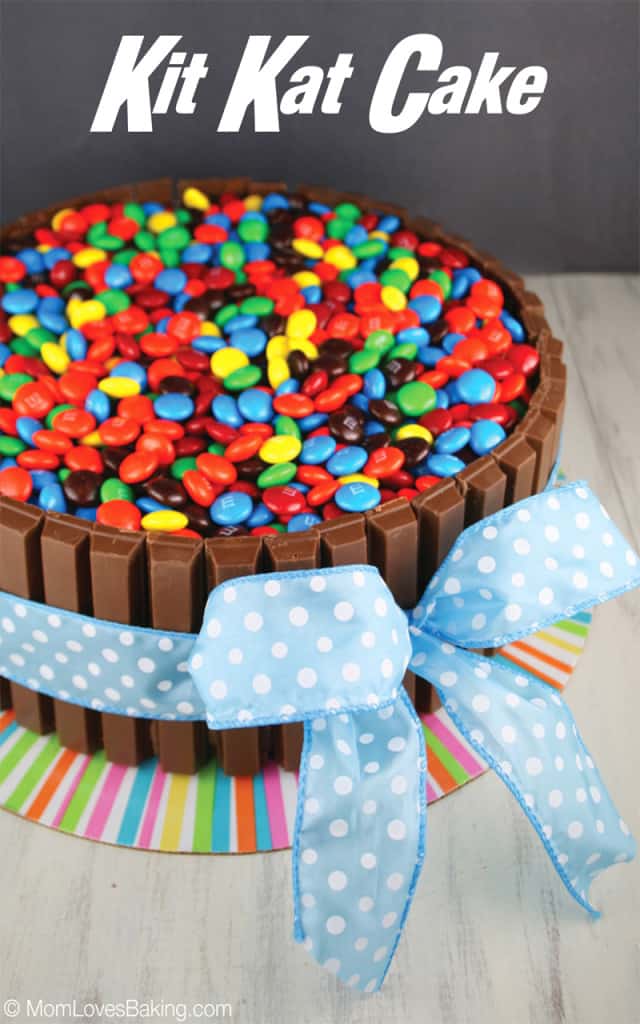 Then I used almost two entire large bags of M&M's to fill the cake. Each bag was 19.20 ounces. If you wanted to get fancy, you could color coordinate your ribbon and your M&M's by going to the candy store and picking out your own custom colors. Like for a baby girl shower, you could use pink ribbon and several shades of pink and white M&M's. Of course, the M&M's are more expensive that way.
What Kit Kat Candy Bar Cake color combination would you like best? Let me know in the comments. I love hearing from you! 🙂
Tools for success
Bench Scraper - For smoothing frosting on sides of cake.
Cake Turntable with Icing Spatula
Want even more? Stay in touch on Facebook, Pinterest, Twitter, and Instagram for all my latest updates. If you make this recipe, share a photo on social media tagging @momlovesbaking and using the hashtag #momlovesbaking.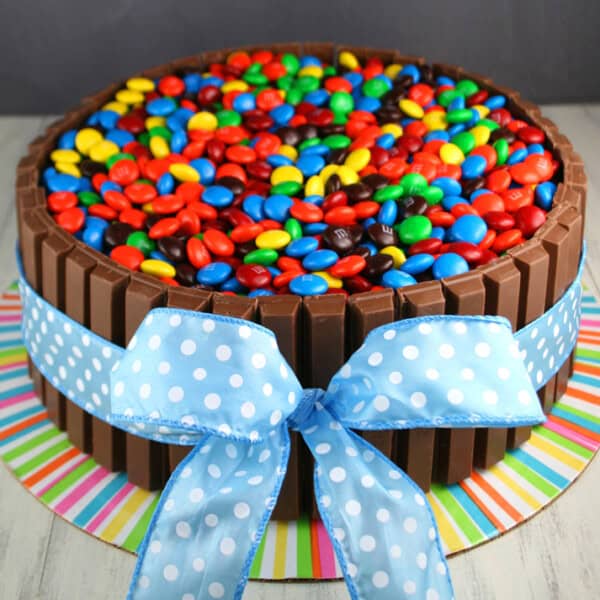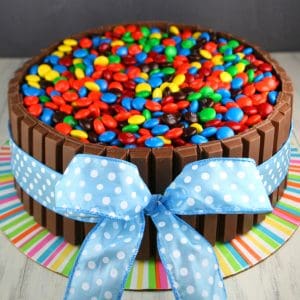 Kit Kat Candy Bar Cake
Chocolate layer cake with chocolate buttercream frosting, surrounded by Kit Kat candy bars, then topped with M&M's and tied with a big bow for a festive, fun party cake!
Print
Pin
Rate
Ingredients
For the cake
1

box

chocolate cake mix, prepared according to package instructions (I used Pillsbury)

15.25 ounce
For the frosting
½

cup

unsalted butter, softened

1 stick

16

ounces

chocolate fudge frosting

I used Pillsbury

3 ¾

cup

powdered sugar

1 pound

¼

cup

+ 2 Tablespoons heavy cream

more if needed
For the decorations
11

1.5 ounce Kit Kat candy bars

you'll need 42 sticks total

2

bags

M&M's

I used 19.20 ounce bags

12-

inch

cake board

Ribbon of your choice

(I found mine at the dollar store)
Instructions
Preheat oven to 350°F. Spray two 9-inch round cake pans with non-stick cooking spray. Line with pre-cut parchment paper (trace shape of pan onto paper and trim to fit in pan). Spray more cooking spray. Set aside.

Prepare cake mix according to package instructions. Fill prepared pans equally with cake batter. Bake according to package instructions. (I used Pillsbury and baked the cakes for 28-30 minutes.) Let them cool. Then cover and put in freezer for 1 hour. You can skip this step, but the cake is much easier to handle when it is chilled and firm.

Meanwhile, scoop the chocolate fudge frosting into a large bowl. Add the butter. With an electric mixer, beat on medium for a minute. Turn mixer to low and gradually add the sugar and cream. Beat for 2 minutes on medium. If it's too thick, add a little more cream. Stir to combine.

Place chilled cake on cake board or large plate. Using a large bread knife, slice horizontally to remove the dome shape of cake. You have a nice flat surface. Frost top of cake. Level second cake and place on top. Frost all over top and sides of cakes.

After unwrapping all of the candy bars, stick Kit Kat's to the sides of the cake, lining them up vertically, side-by-side. If the frosting has formed a crust, just use a butter knife to spread it again, making it sticky. Wrap a bow around the cake, securing the Kit Kat's. Fill the top of the cake with M&M's. You should have about 1 ½ inches of vertical space above the cake to add the M&M's. You might have a few extra left over. I had about ½ cup left over.

I think it's best to keep the cake at room temperature because when the candy gets cold, it will sweat when you take it out of the refrigerator. Store covered for up to 3 days. Or if you must refrigerate, it will last a few days longer. Remove bow before cutting the cake.
Nutrition
Calories:
907
kcal
|
Carbohydrates:
133
g
|
Protein:
7
g
|
Fat:
40
g
|
Saturated Fat:
22
g
|
Polyunsaturated Fat:
3
g
|
Monounsaturated Fat:
8
g
|
Trans Fat:
1
g
|
Cholesterol:
34
mg
|
Sodium:
391
mg
|
Potassium:
216
mg
|
Fiber:
3
g
|
Sugar:
113
g
|
Vitamin A:
415
IU
|
Vitamin C:
1
mg
|
Calcium:
165
mg
|
Iron:
3
mg
You might also like these recipes:
Perfect Vanilla Cake with the Best Chocolate Frosting Ever
Chocolate Vanilla Swirl Cupcakes

All text and images © Lise Ode for Mom Loves Baking. Please do not use my images without prior permission. If you want to republish this recipe, please re-write the recipe in your own words, or link back to this post for the recipe. Disclaimer: Nutrition information shown is not guaranteed to be accurate. This post may contain affiliate links.