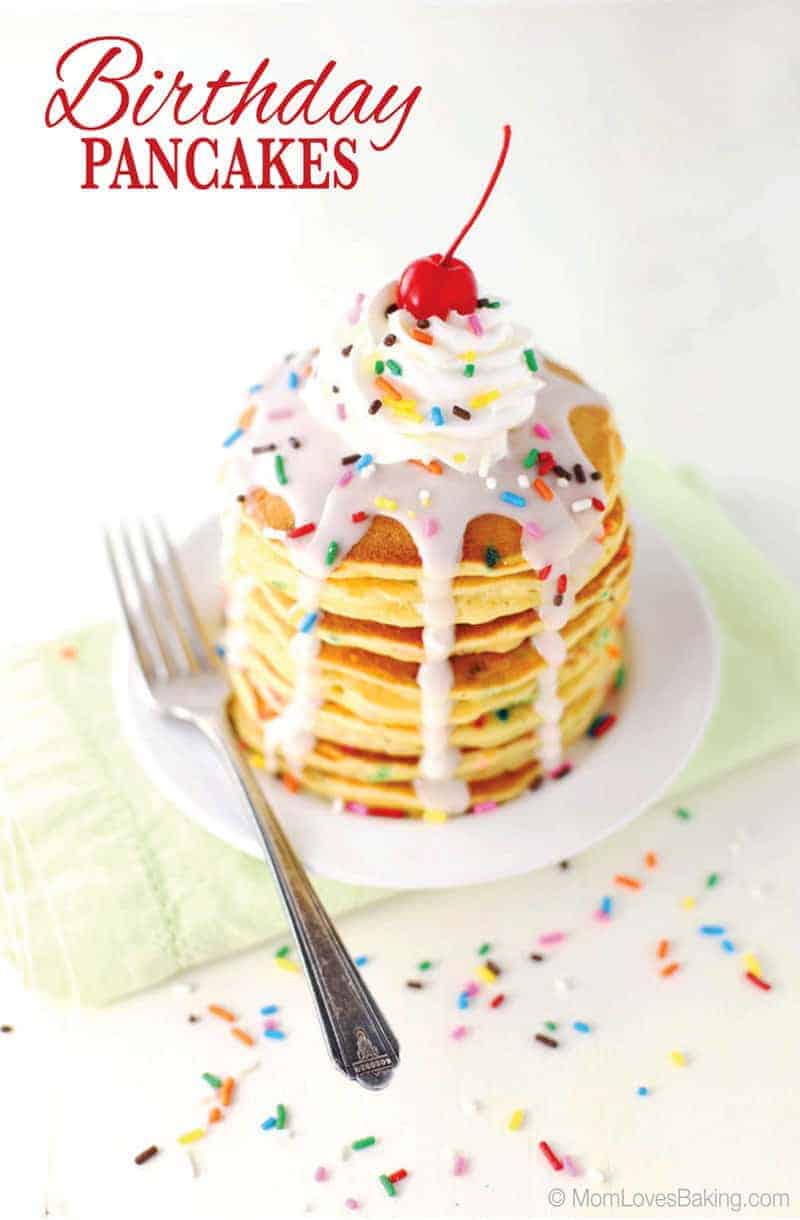 My daughter turned 14 this month and she wouldn't even let me make her a cake! Can you believe? Me! The mom that loves baking. Her mom! Sheesh! Let's just say I was a tad bit disappointed. Boo! But if I couldn't make the cake, I wanted to at least make breakfast for her birthday sleepover friends. So she let me make Birthday Pancakes as my baked contribution to her celebration.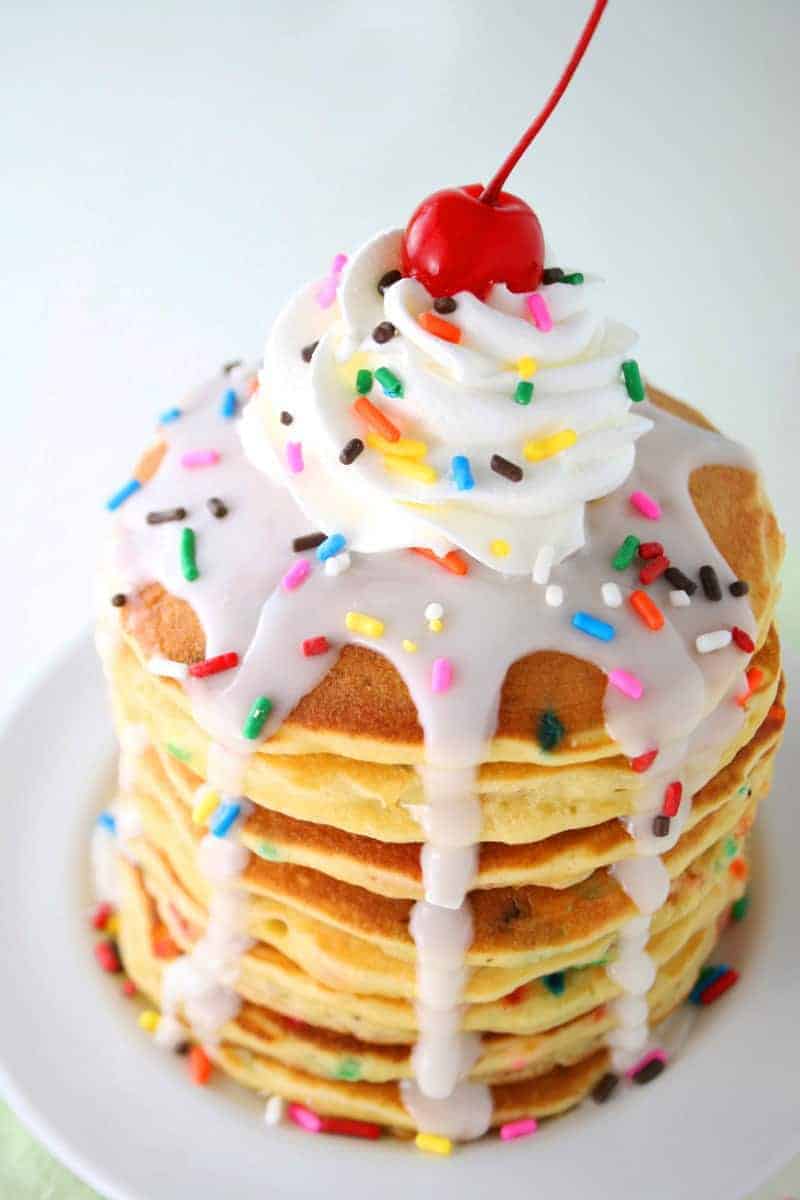 I got the idea from a well known pancake restaurant that we went to recently (IHOP). Theirs were called cupcake pancakes. I thought they were so cute! And a festive way to serve breakfast at a birthday party! I never actually tried the IHOP pancakes but these Birthday Pancakes came out great. They were super yummy!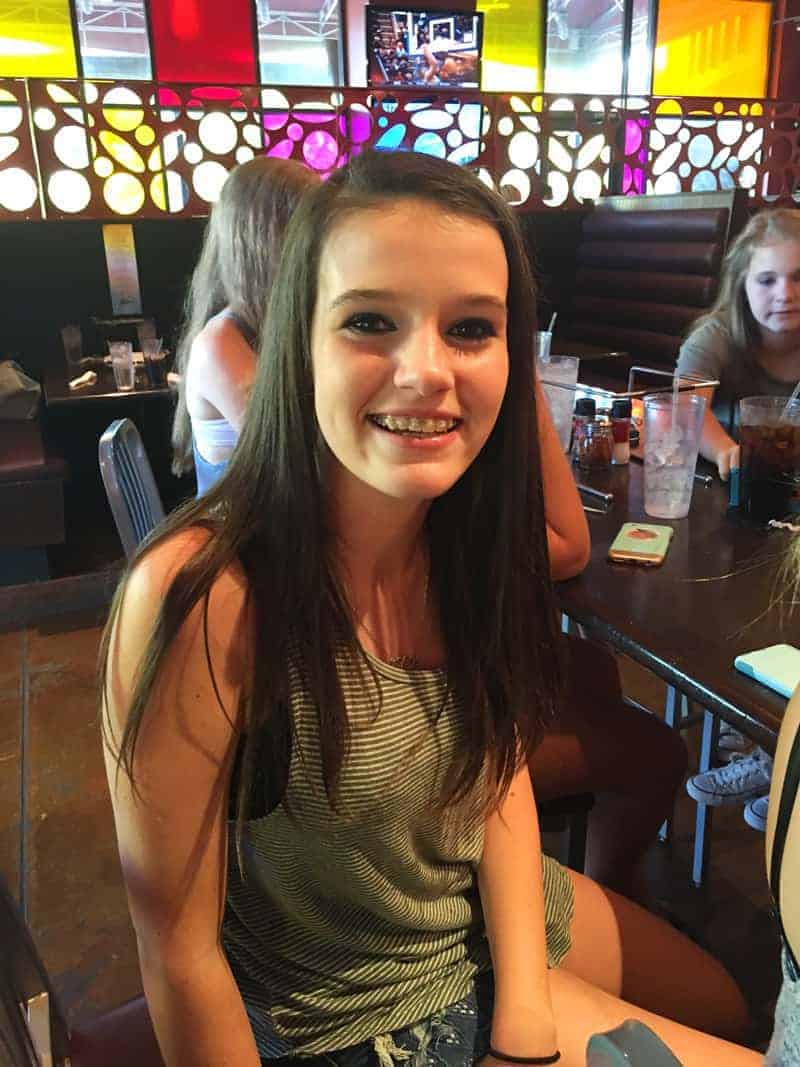 Here she is… my fourteen year old. I can't believe it. She's growing up too fast!
For her party, she wanted to have pizza at Mellow Mushroom, then back to our house for cake (not made by me – more on that later) and a sleepover. The girls had a lot of fun.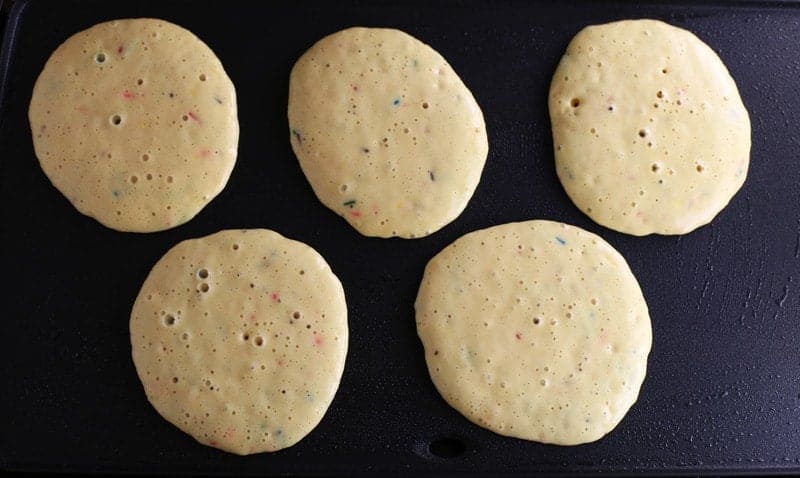 I woke up early the next morning to "bake" the Birthday Pancakes. Well, not that early. You know how teenage girls like to sleep late, right? That worked out quite well. I had plenty of time to make breakfast.
The batter for these Birthday Pancakes is super simple. First you whisk together equal parts cake mix and pancake mix. Then add eggs, milk and of course, SPRINKLES! What would a birthday party be without sprinkles!
Mix it all together until just combined. You don't want to over mix. Then set aside.
Before you make the pancakes, you will want to whip up your vanilla glaze. Mix together about 2 cups of powdered sugar and enough cream to make a glaze you can pour over the pancakes. Then stir in your vanilla. Set aside.
Pour batter onto a preheated, lightly greased griddle. (I used an electric griddle.)Measure about 1/3 cup for each pancake. For some reason, I have a hard time making perfect pancakes. I don't know why. I can make an elaborate wedding cake but I have a hard time flipping pancakes. Go figure! Anyway, this was as perfect as I could get them. I was going for round pancakes that were all about the same size.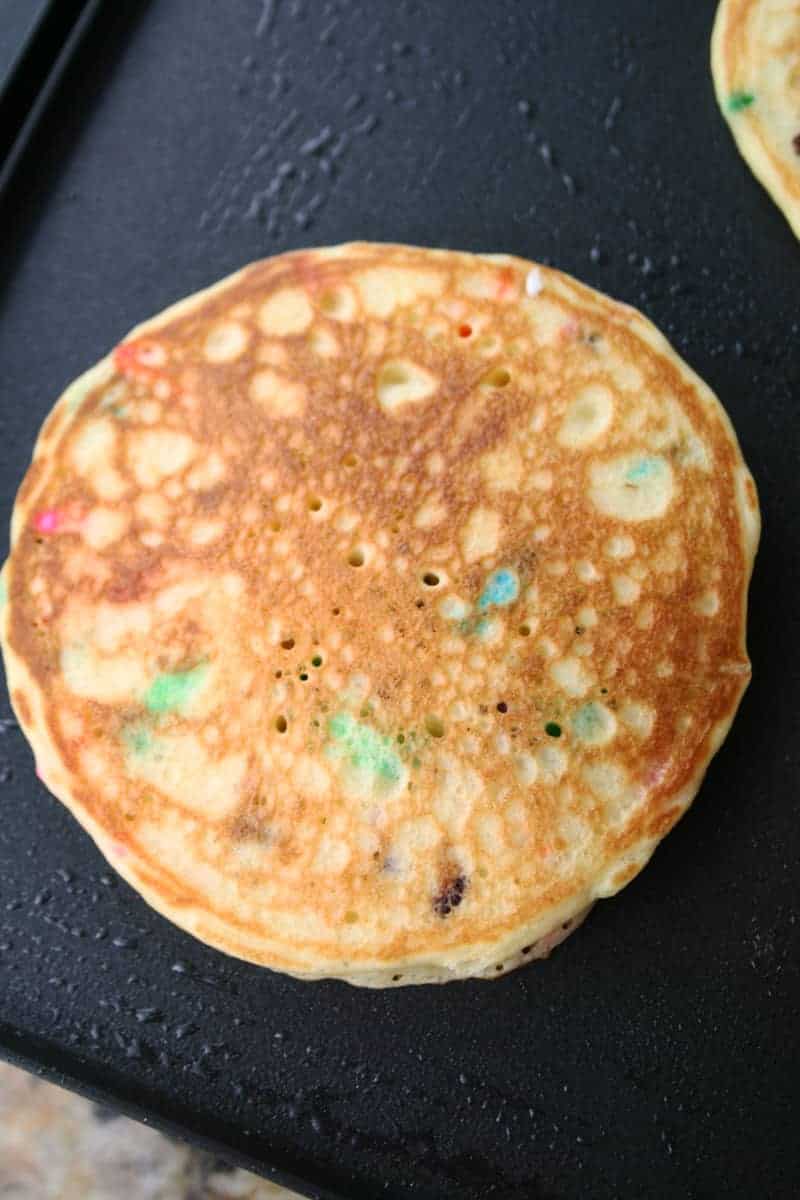 I found that I had to sort of spread the batter into a circle after pouring the batter onto the griddle. Of course, you don't have to make them perfect. I just thought it would look nicer in stacks if they were all of equal size.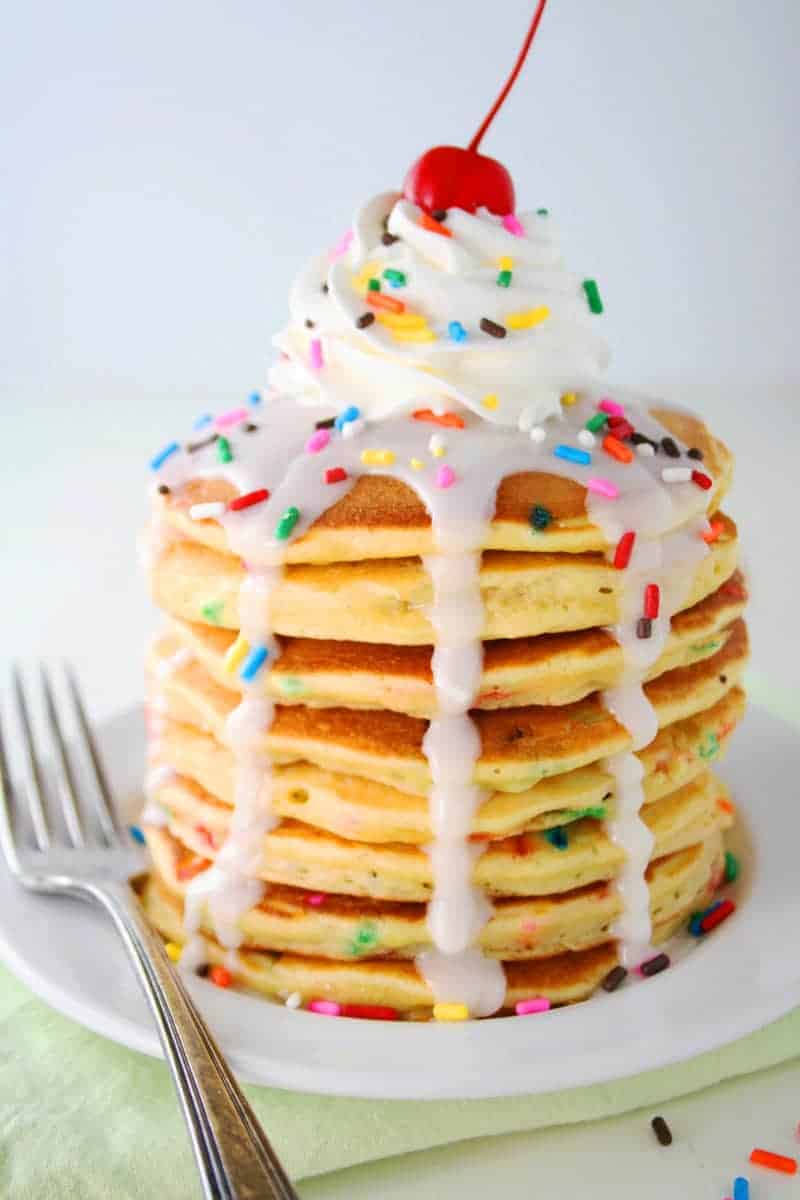 After the pancakes are done, drizzle them with some vanilla glaze. Then top with whipped topping (I used Cool Whip) and sprinkles. Don't forget the cherry!
The girls loved the pancakes and I did too. Such a fun breakfast. There wasn't ONE pancake left!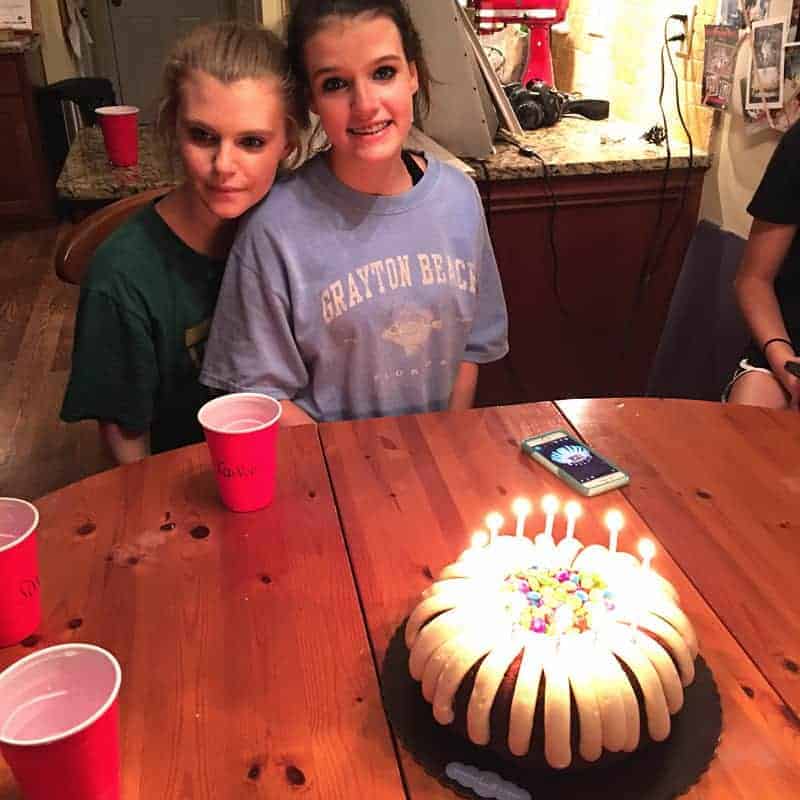 In case you were wondering, the reason she didn't want me to make her cake was because she wanted me to BUY her a Nothing Bundt cake. And I can't blame her. Their cakes are to die for!
She chose a Chocolate Chocolate Chip with their signature Cream Cheese Frosting. It was her idea to add the M&M's! It was so delish!
Print Recipe
Birthday Pancakes
Ingredients
For the pancakes

1

cup

pancake mix

I used Krusteaz

1

cup

yellow cake mix

I used Pillsbury

2

eggs

at room temperature

1

cup

milk

3-4

tablespoons

sprinkles

For the vanilla glaze

2

cups

powdered sugar

2

teaspoons

vanilla extract

1/2

cup

heavy whipping cream

or more if needed

Toppings

More sprinkles

Cool Whip

Cherries

if desired.
Instructions
Prepare vanilla glaze first. Stir together the sugar, cream and vanilla in a medium bowl. It should be of pouring consistency. Add more cream if it's too thick. Cover bowl and set aside.

Whisk together the pancake mix and cake mix in a large bowl. Add eggs and milk. Stir until just combined. It might be a little lumpy. (You don't want to over mix it.) Fold in sprinkles.

Pour 1/3 cup of batter onto a lightly greased, preheated griddle or nonstick frying pan. Swirl batter around to make it round, if needed. Repeat a several more times until you have no more room on the griddle or frying pan. When you see little bubbles form, flip the pancakes (about a minute). Fry the other side of the pancakes for 30-60 seconds or until golden brown.

Serve pancakes with vanilla glaze, Cool Whip and sprinkles. Add a cherry on top, if desired.

Recipe adapted from Six Sisters' Stuff
Nutrition
Happy Birthday to Savannah! xo