This is the Best St. Patrick's Day Sugar Cookie Bars Recipe - Super easy cookie bars with the perfect texture, topped with green buttercream.
So delicious to share at a party and celebrate St. Patrick's Day!
St. paddy's Day Cookie Bars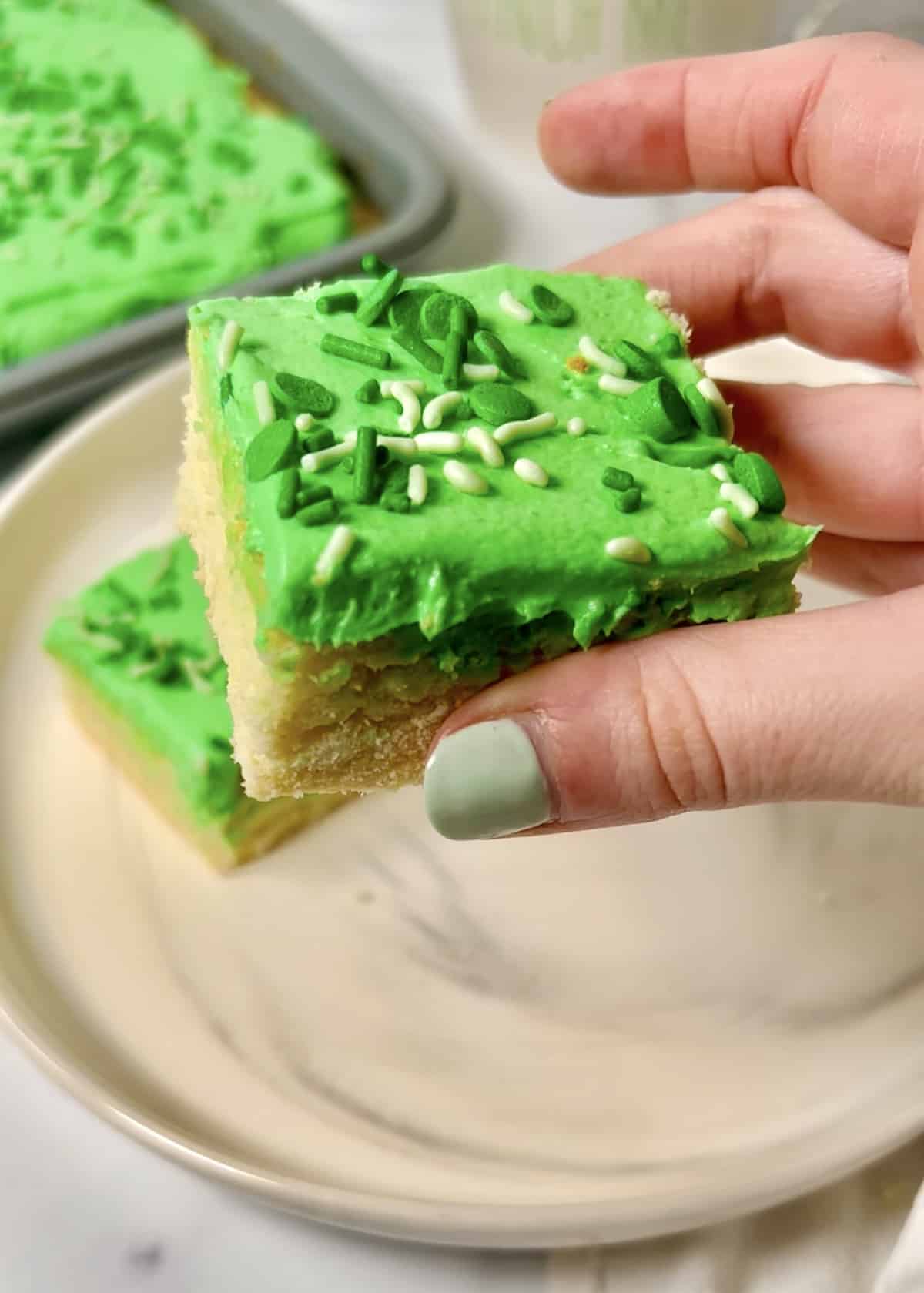 Happy St. Patrick's Day! Coming from an Irish family celebrating this holiday is special to me. This recipe uses an easy mixture of simple ingredients.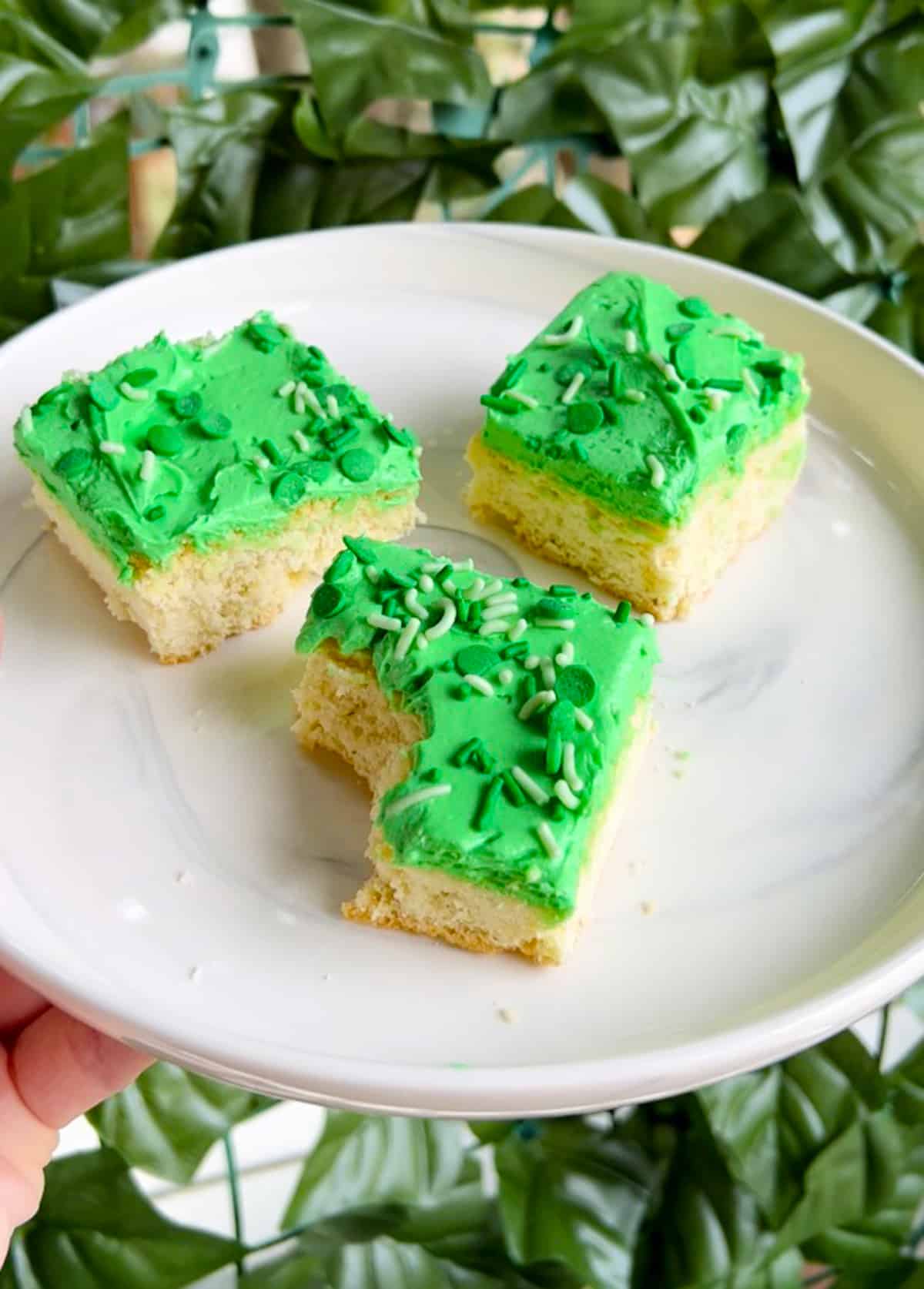 This batch of St Patrick's Day cookies makes lots of cookies and is a perfect dessert to share with your friends and family!
WHY I LOVE THESE SUGAR COOKIE BARS
• My family is Irish so I love anything St. Paddy's day themed!
• One of my favorite holidays and this recipe is a fun twist on traditional sugar cookies!
• This easy cookie recipe has the perfect texture and amazing flavor.
• Anyone can make these sugar cookie bars, a super easy cookie recipe.
• Everyone loves these! I have given so many away and only received good reviews
• I love eating green foods I mean, who doesn't love the color green?
• The perfect festive treat to make for your little leprechauns
What you need

INGREDIENT NOTES
• Butter: Softened unsalted butter at room temperature for both the batter and buttercream (If you prefer salted for the batter go for it!).
• Eggs: Use large eggs and ensure they are at room temperature. If you are out of eggs try flax seed eggs.
Combine one tablespoon of flax seed meal and two tablespoons of water and let it sit for 5 minutes. This recipe equals one egg.
• Flour: Use any flour you prefer as long as it is all-purpose flour. If you want this recipe to be gluten-free, substitute your favorite all purpose gluten free flour.
• Sugar: You will be using two types of sugars: Granulated sugar for the batter and powdered sugar for the buttercream.
• Extract: Vanilla extract for both the batter and the buttercream, but almond extract just for the batter.
You can find almond extract at any local grocery store. Substitute mint extract instead of almond extract, if you like.
• Food Coloring: For the food coloring use green food coloring. I recommend using Wilton's food coloring icing gel paste.
To get a nice lime green use the majority of the color "Kelly Green" and add a little bit of "Lemon Yellow" or until you like the color of the icing.
You can find this at Walmart, Amazon, or any craft store with a baking aisle.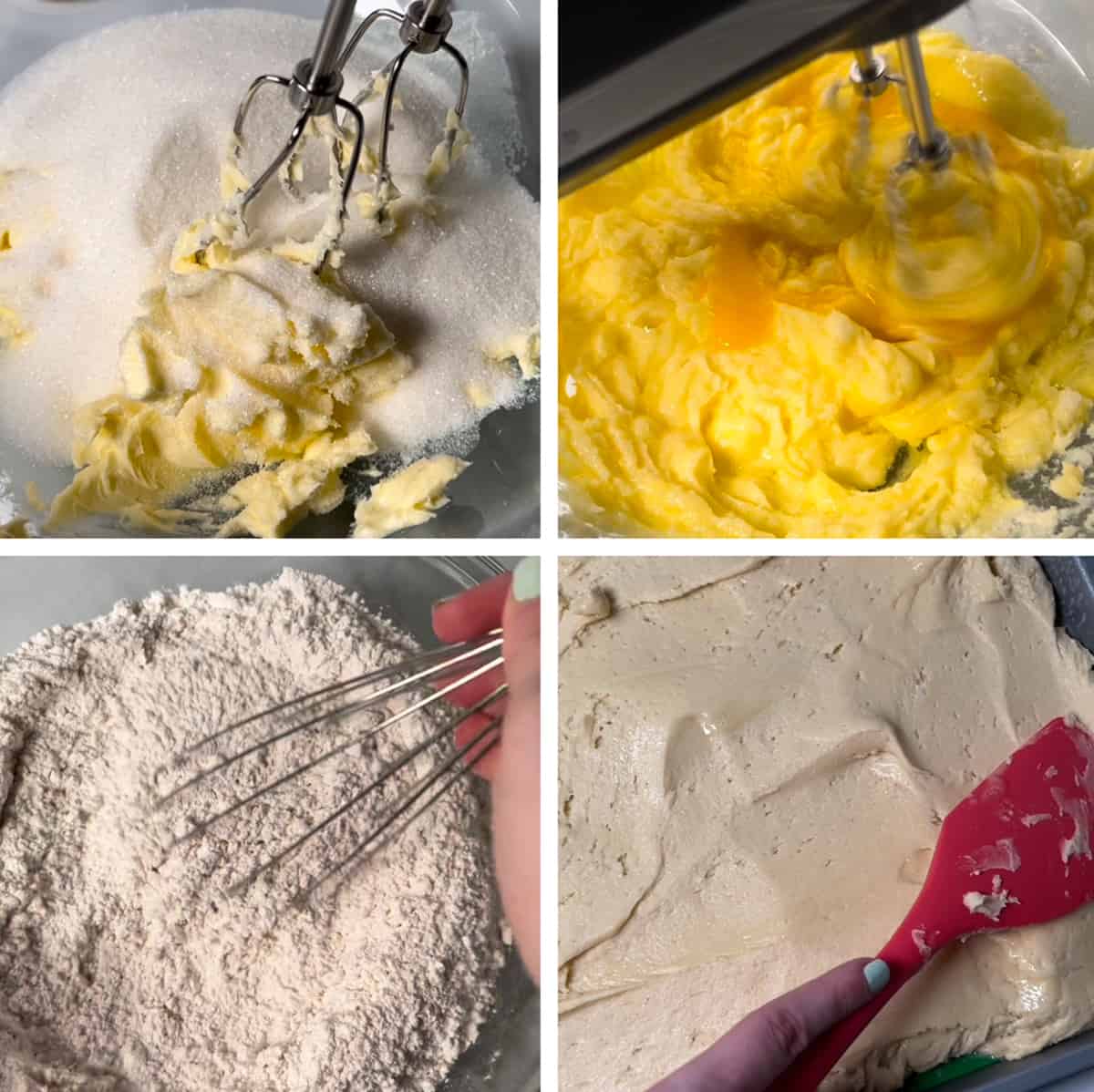 HOW TO MAKE SUGAR COOKIE BARS
Check out the full recipe below*
1. Preheat oven to 375 degrees and grease your standard cookie sheet, set aside.
2. In a large bowl or bowl of a stand mixer, beat softened butter and granulated sugar together on medium with an electric mixer or hand mixer until combined.
3. Add in your eggs one at a time, and mix on low/medium after each egg is added.
4. Add in your vanilla extract and almond extract.
5. In a separate medium bowl, add your flour, salt, and baking soda. Whisk together until combined.
6. Gradually add your dry ingredients flour mixture to the wet ingredients by slowly adding a little bit at a time until fully combined.
7. Gently press the sugar cookie dough evenly into your cookie sheet with a greased spatula or your hands.
8. Bake time for 15 minutes or until slightly golden brown. Remove from oven and let cool.
HOW TO MAKE Green VANILLA BUTTERCREAm
1. Cream butter, which needs to be softened in a large mixing bowl with an electric or stand mixer for about 3 minutes or until smooth and creamy.
2. Slowly and gradually add powdered sugar, heaving whipping cream, and vanilla with the mixer running on low.
3. After all the ingredients are combined, increase the speed to high and beat for 3 minutes or until it is a perfect consistency.
4. If the frosting is too thick, add more heavy whipping cream one tablespoon at a time until the perfect consistency that you like (be careful not to add too much! You don't want a runny buttercream!).
5. Add a good amount of green food coloring until you get the color you like.
6. Frost the giant cookie once cooled by plopping it all on or piping the buttercream with a large piping bag. Spread it evenly throughout the cookie sheet and top it with St Patrick's Day green sprinkles.
7. Cut into squares, serve, and enjoy!
EXPERT TIPS
• Ensure all of your ingredients are at room temperature for a smoother batter that won't cause any issues.
• Line your baking sheet with either a reusable non-stick mat or parchment paper and spray the sides of the cookie sheet with cooking spray.
• To make your St. Patrick's Day cookies even more festive, you can add some lucky charms on top! Or you can add green m&m candies on top.
• For an easier way to spread your dough across the cookie sheet, you can spray the palm of your hand with cooking spray and press down.
Or you can spray a spatula (therefore the dough does not stick while you are pressing it down).
• Don't overbake the cookies, ensure they are slightly golden brown that is when you will know they are done.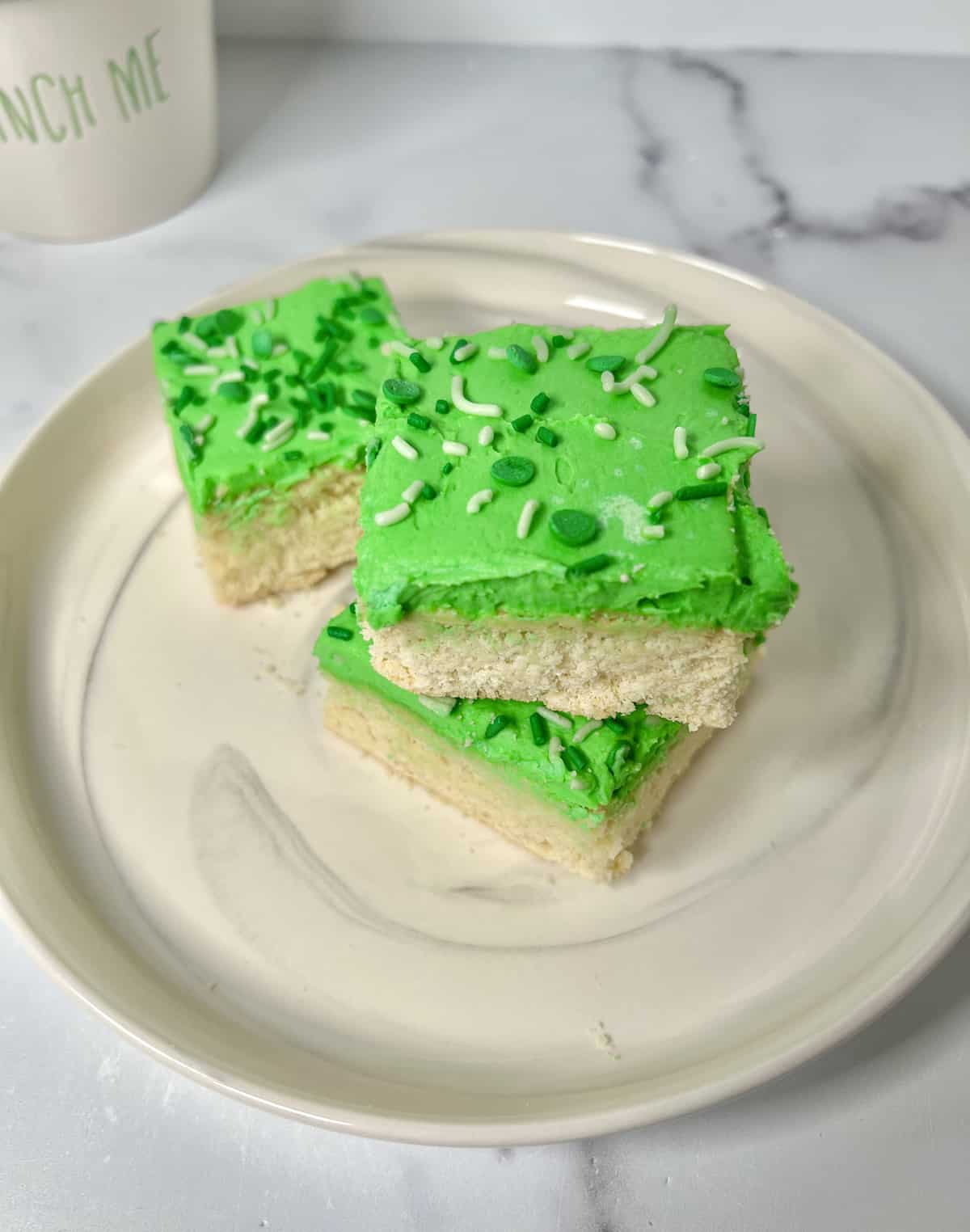 FREQUENTLY ASKED QUESTIONS
• How do I store these festive cookies? Store in an airtight container at room temperature for 2 to 3 days or store in the fridge for up to a week.
• Can I freeze these fun cookies? You can freeze the sugar cookie dough and the completed cookies. To store the cookie dough, tightly wrap the cookie dough in plastic wrap and store it in the freezer for up to 3 months.
Same with the completed cookies, but instead store in a freezer bag or an airtight container for up to 3 months.
• How do I store sugar cookies so they don't get hard? Throw in a slice of white bread to keep it fresh and will help these easy cookies stay soft.
• Do you decorate sugar cookies hot or cold? Always frost your cookies when cooled. If you were to frost these right out of the oven the buttercream would melt.
• How do I decorate the huge cookie? Once the cookie is cooled, scoop your cookie dough onto the massive cookie or you can pipe the green icing on the cookie.
After all your buttercream is on, spread the frosting all around the cookie with a spatula.
• Should I use a stand mixer or a hand mixer? You can use either, however, using a stand mixer with a paddle attachment is easier because the dough gets thick.
• How do I line the cookie sheet? I personally prefer using a reusable cookie sheet mat, but parchment or wax paper will work great too!
I also recommend spraying the sides of the baking sheet before pouring the cookie dough in.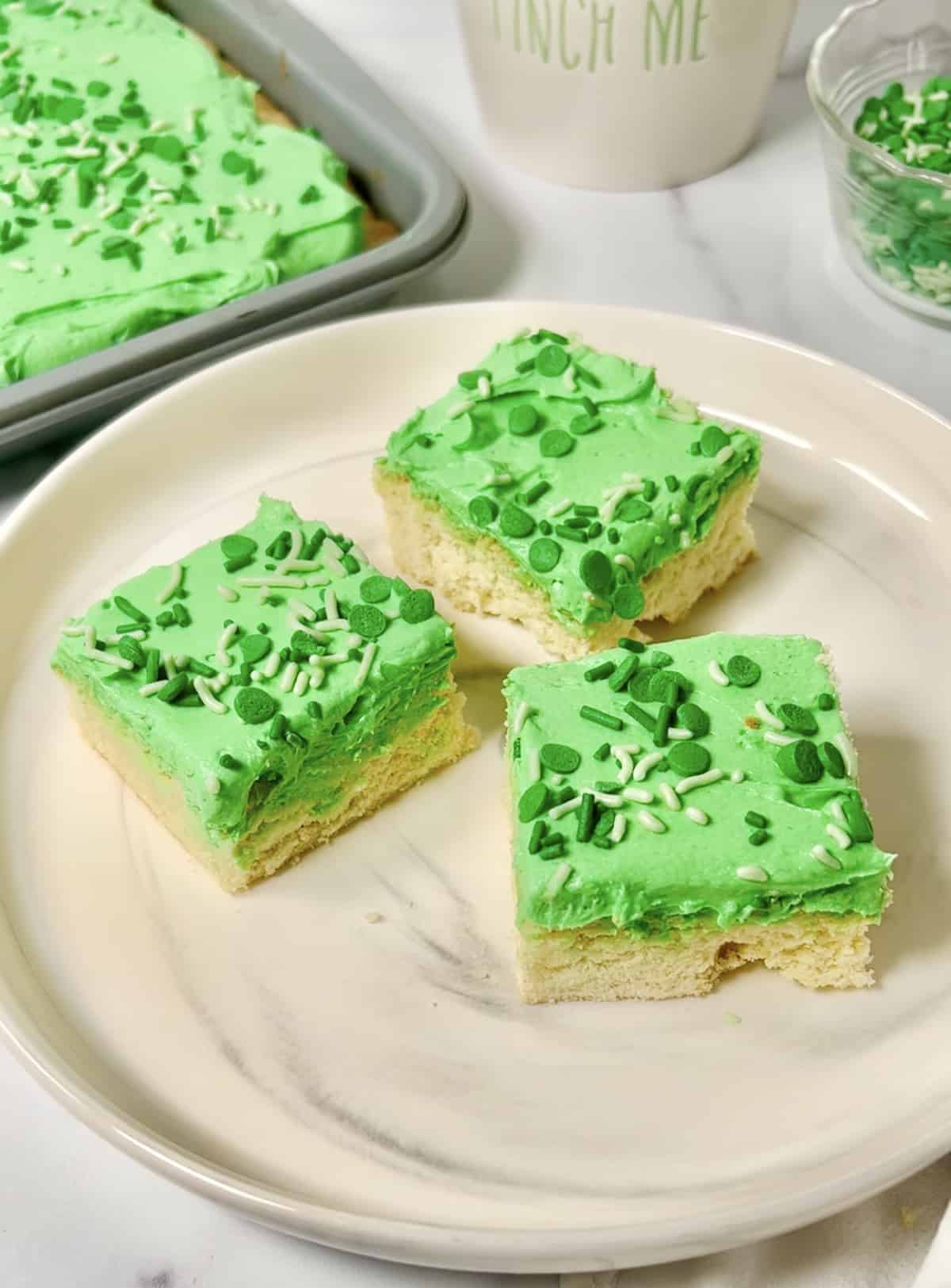 I hope you enjoy this St. Patrick's Day Cookie recipe! This sweet treat is so fun to make and share with family and friends!
There are a lot more Saint Patrick's day celebration recipes on my website for you to check out!
● Rainbow Sprinkle Sugar Cookie
● Easy Rainbow Buttercream Cupcakes
● Copycat Publix Sprinkles Sugar Cookies
● Shamrock Cookie Press Cookies
● Mint Chocolate French Macarons
● Peek-A-Boo St. Patrick's Day Cake
● The Best Gluten Free St. Patrick's Day Cookies - Yummy cookies are from Fearless Dining.
RELATED RECIPES
Love this recipe? If you try it, be sure to tag me on @Instagram! You can also find me on Pinterest, YouTube and Facebook.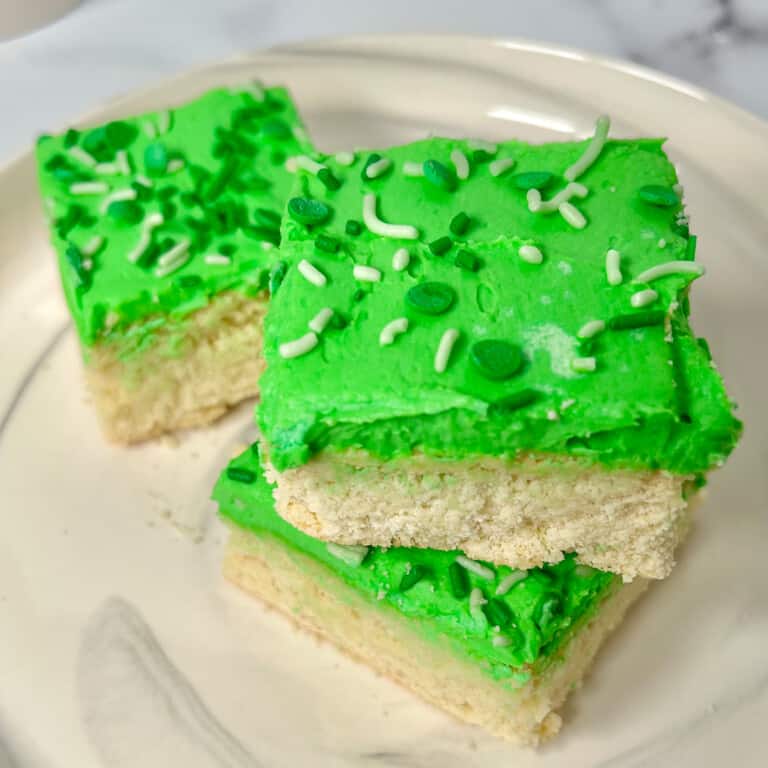 Best St. Patrick's Day Sugar Cookie Bars Recipe
This an easy and quick sugar cookie recipe with perfect texture and topped with my classic vanilla buttercream.
Print
Pin
Rate
Instructions
For the cookie bars
Grease a sheet pan (about 12x17) and set aside. In a large bowl, cream butter and sugar on medium speed. Add eggs one at a time. Then scrape down sides of bowl and add both vanilla and almond extract; mix well.

In a medium bowl, whisk together salt, baking soda, and flour. Then slowly add to the butter/sugar mixture until just combined.

Press dough evenly into the prepared sheet pan. Bake at 375° for 15 minutes or until very lightly golden. Remove from oven and set aside to cool.
For the buttercream
Beat softened butter on medium speed with an electric mixer or stand mixer. Beat for 3 minutes until smooth and creamy.

Add powdered sugar, cream, and vanilla extract with the mixer running on low. Increase to high speed and beat for 3 minutes. If the frosting is too thick, you can add a little more cream. Just add one tablespoon at a time, then mix thoroughly until you get the consistency you like.

Add green food coloring gel until you get the color you like. Add a little bit of yellow food coloring gel if you want to. Frost the giant cookie once cooled by plopping it all on. Spread it evenly and top with St Patrick's Day green sprinkles. Cut into squares, serve, and enjoy! Store covered at room temperature for 24 hours, then in the refrigerator for up to 5 days.
Notes
For the frosting, i

f you don't have heavy cream, you can use milk or water instead. If using milk or water, I would try 3 tablespoons instead of ¼ cup. If it's too thick, add another tablespoon.
Nutrition
Calories:
315
kcal
|
Carbohydrates:
45
g
|
Protein:
3
g
|
Fat:
14
g
|
Saturated Fat:
8
g
|
Polyunsaturated Fat:
1
g
|
Monounsaturated Fat:
4
g
|
Trans Fat:
0.5
g
|
Cholesterol:
60
mg
|
Sodium:
204
mg
|
Potassium:
38
mg
|
Fiber:
1
g
|
Sugar:
29
g
|
Vitamin A:
443
IU
|
Vitamin C:
0.01
mg
|
Calcium:
12
mg
|
Iron:
1
mg