If you've ever wondered How to Make Foolproof Flaky Pie Crust, then you've come to the right place. After many years of baking, I've finally figured out a foolproof way to make the best-tasting and easy-to-work-with crust for any pie you can dream of.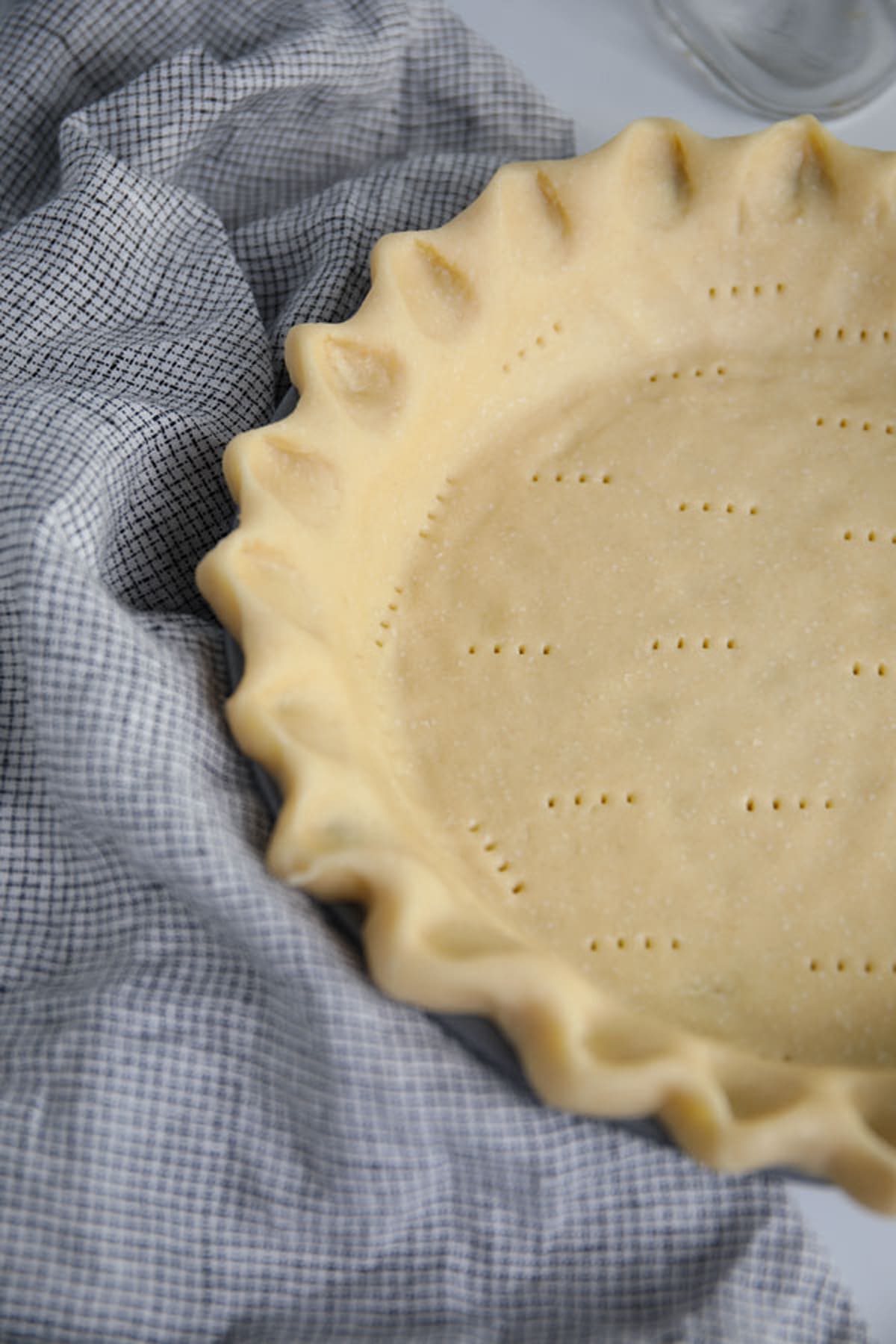 It's October 3rd as I write this post and the air has turned cooler. Thankfully, the sun is still shining though. Since we are approaching everyone's favorite baking season, I wanted to share this extremely good homemade pie crust recipe. It's so great that you might just want to memorize it because it's the beginning to an endless number of pie creations.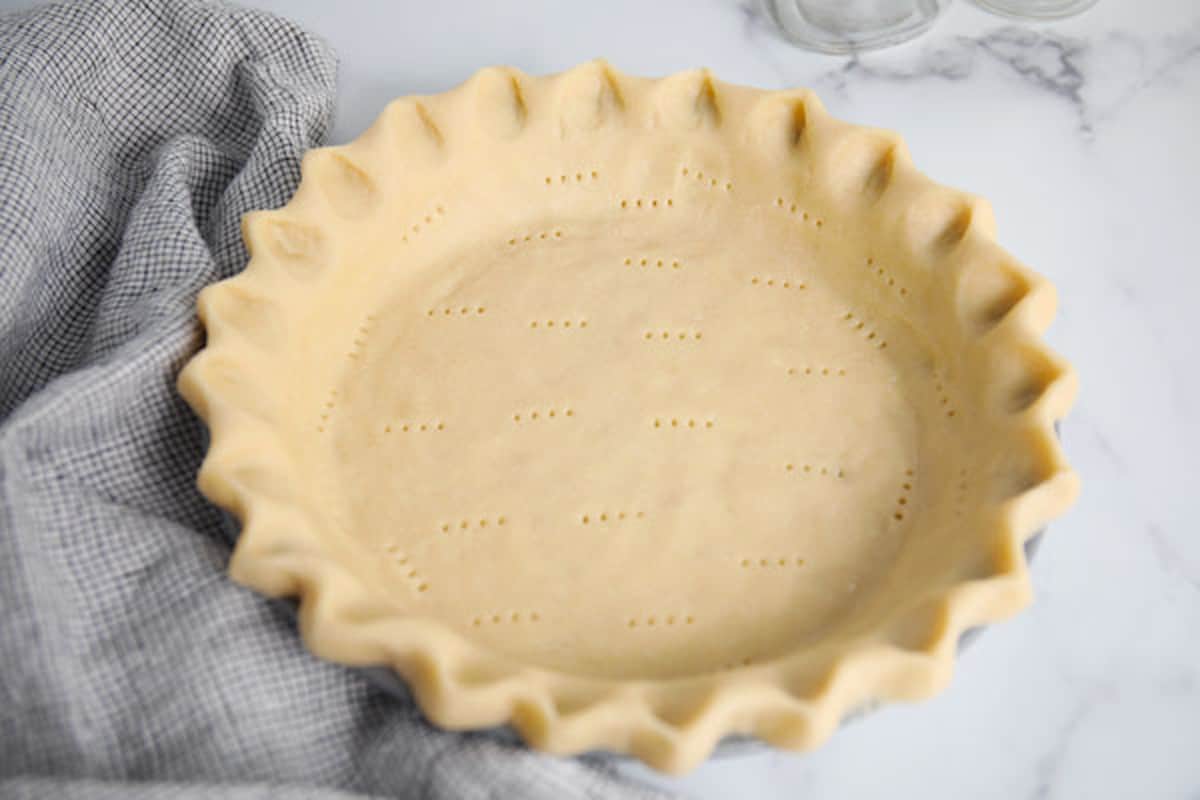 WHAT I LOVE ABOUT THIS FLAKY PIE CRUST RECIPE
• This pie crust recipe is incredibly versatile, making it suitable for both sweet and savory pies. Whether you're crafting a mouthwatering fruit pie or a savory quiche, this crust serves as the perfect canvas for your culinary creativity.
• The use of a food processor ensures that the crust turns out consistently excellent every time you make it. Say goodbye to the uncertainties of manual mixing; with this method, you can count on a flawless result.
• The magic happens when you bite into the finished pie. The dough's soft, slightly sweet, and buttery texture beautifully complements the flaky, golden-brown layers. It's a harmonious blend of flavors and textures that elevates every pie you create.
• Working with this pie crust is a pleasure. Its soft and pliable nature means you won't struggle with cracking or tearing when rolling it out. Whether you're a seasoned baker or a novice, you'll appreciate how effortlessly it comes together.
• Ultimately, what sets this pie crust apart is its ability to enhance the flavors of your favorite pie fillings. It's like a delicious hug for your chosen ingredients, providing the perfect foundation for a memorable pie-eating experience.
What you need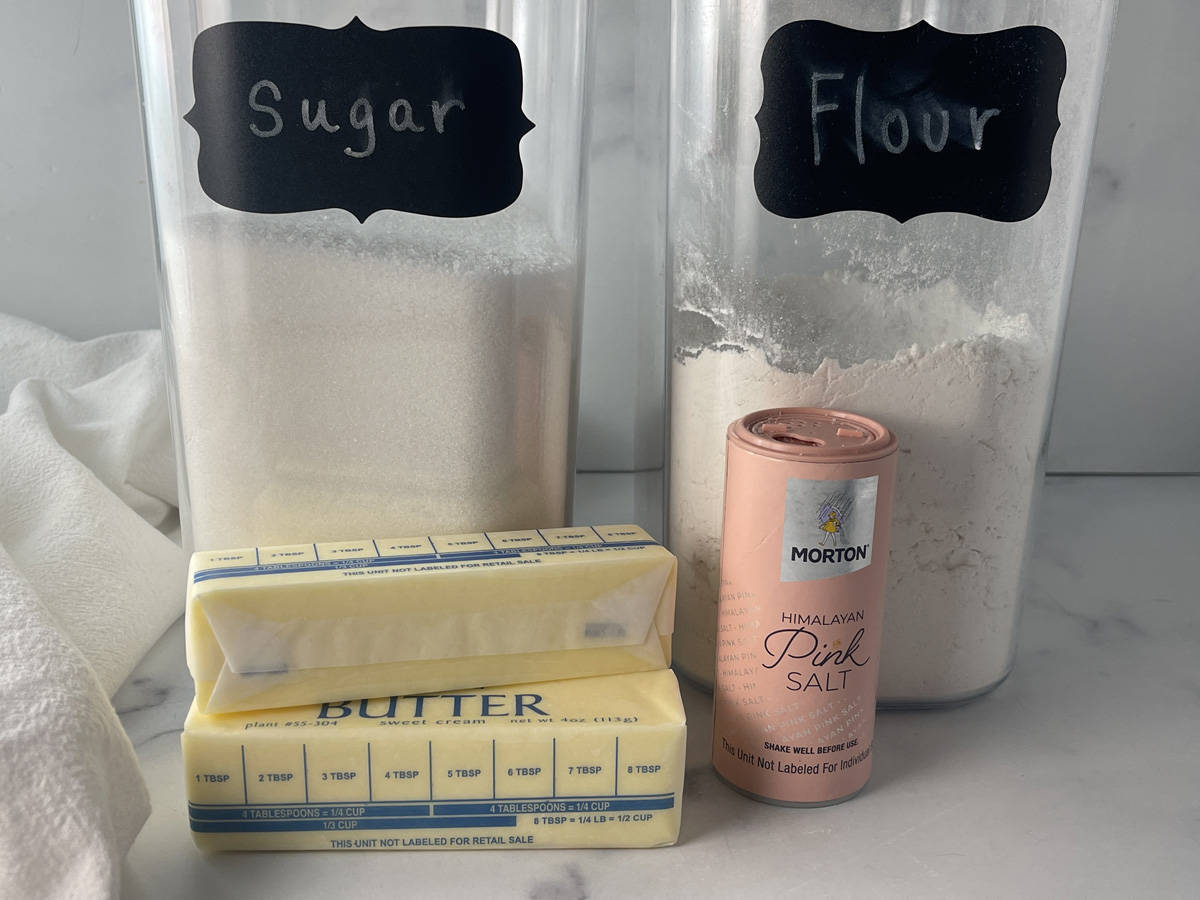 INGREDIENT NOTES
• Butter: Cold, unsalted butter is ideal for pie crusts. It creates a flaky texture when it melts during baking. If using salted butter, reduce the amount of added salt in the recipe accordingly. Cut the cold butter into small cubes before adding it to the flour mixture. This makes it easier to distribute evenly. Keep the butter in the refrigerator until the moment you're ready to use it.
• Flour: All-purpose flour is typically used for pie crusts. It provides the right balance of structure and tenderness. You can experiment with whole wheat flour or other specialty flour. Keep in mind that different flours may yield slightly different textures and flavors.
• Cold Water: Using ice-cold water is crucial as it helps keep the butter cold and prevents it from melting prematurely. You can even chill a small bowl of water in the freezer for a few minutes before using it.
• Granulated Sugar: Use white granulated sugar as specified in the recipe. Avoid substituting with powdered or brown sugar unless directed, as they have different properties. Sugar adds a touch of sweetness and can enhance the flavor of the crust. It's particularly complementary in desserts with sweet fillings. Adjust the sugar quantity based on your preference and the sweetness of your filling.
• Pastry Blender (Optional): A pastry blender is a handy tool for cutting the butter into the flour evenly. It simplifies the process and helps maintain the dough's texture.
• Salt: Salt enhances the flavor of the crust and helps in gluten formation. Use fine-grain table salt or kosher salt. Avoid using coarse sea salt, as it may not be distributed evenly.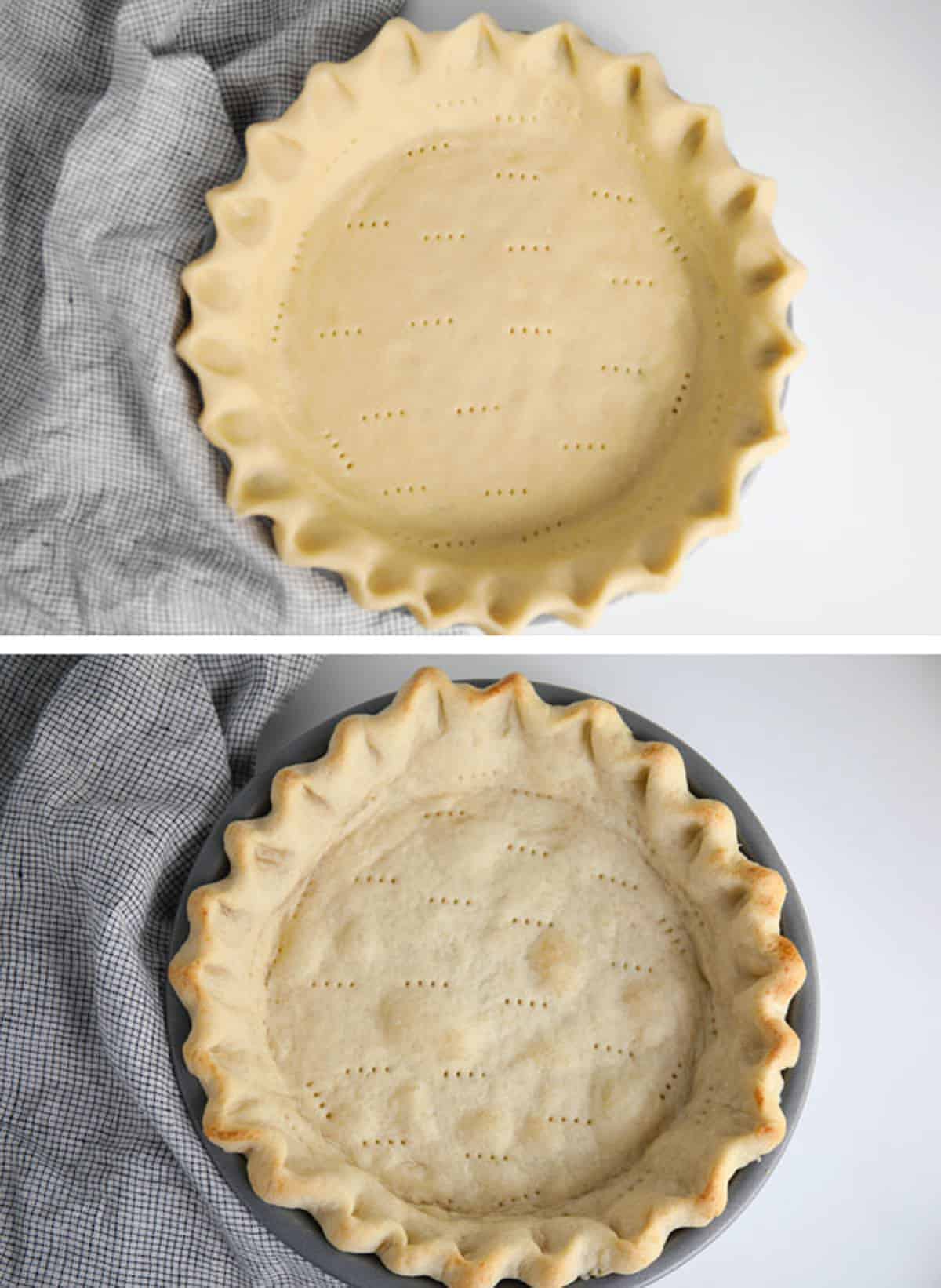 HOW TO MAKE A FOOLPROOF FLAKY PIE CRUST (Food Processor Method)
Step 1: Prepare Your Ingredients: Gather your dry ingredients - flour, salt, and sugar.
Step 2: Load the Food Processor: Place the dry ingredients into your food processor.
Step 3: Pulse to Combine: Put the lid on your food processor and give it a few quick pulses to combine the dry ingredients.
Step 4: Add Cold Butter: While the food processor is running, slowly add the cold butter through the opening at the top. Continue until the mixture resembles coarse crumbs.
Step 5: Incorporate Cold Water: With the food processor still running, pour in tablespoons of ice water a little bit at a time. Keep it going until a cohesive ball of dough forms. This should take less than a minute.
Step 6: Transfer and Roll: Turn off the food processor and carefully remove and divide dough into two parts. Transfer dough onto a floured surface. Placing parchment paper on a clean work surface and taping it down can contain some of the mess.
Step 7: Roll Out: Using a lightly floured rolling pin, roll out the dough as instructed in the recipe. Place flattened dough into your pie pan.
Note: This recipe makes two 9-inch pie crusts, good for a double crust pie that has a bottom crust and a top crust.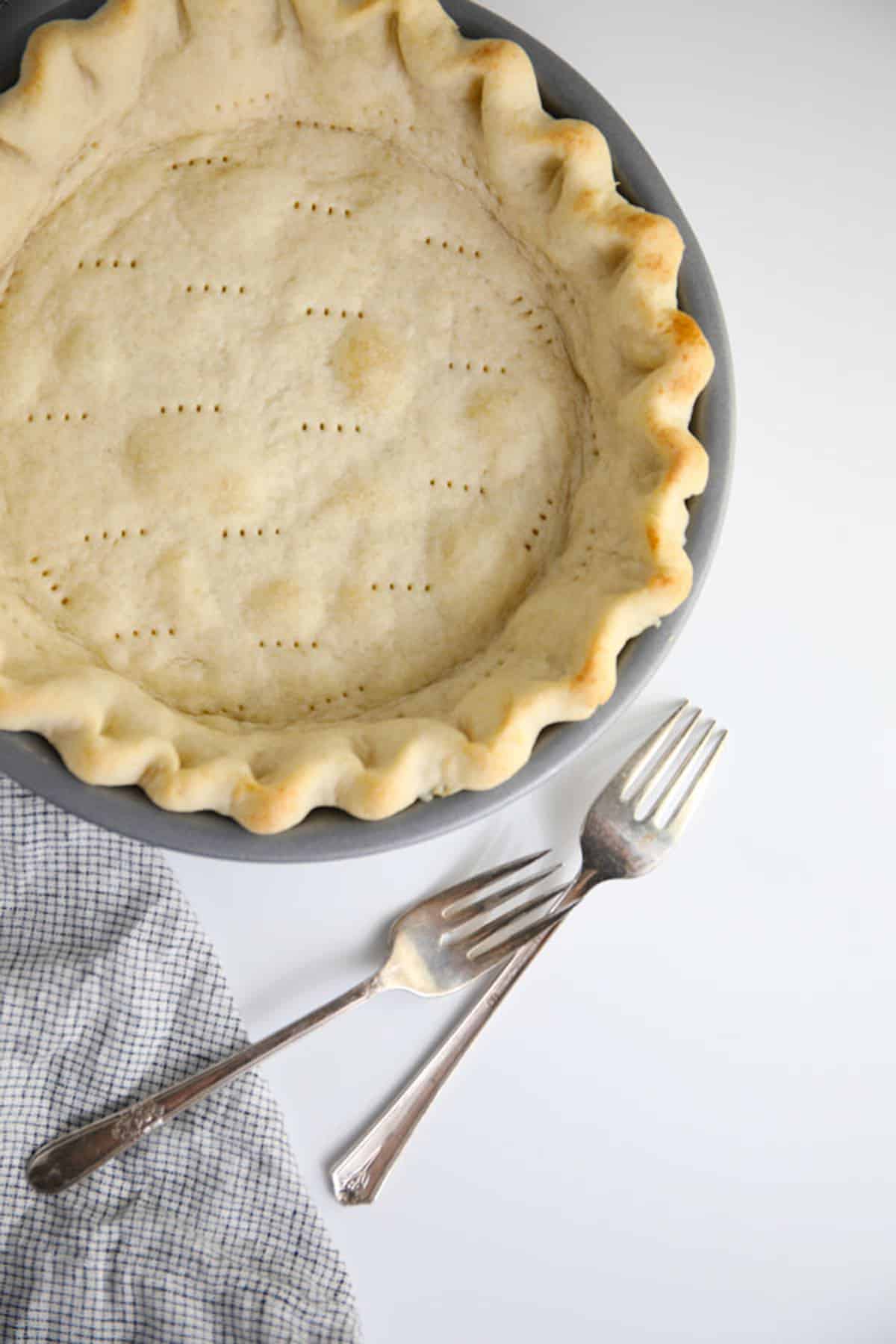 WHAT IF I DON'T HAVE A FOOD PROCESSOR
Step 1: Gather Your Equipment Firstly, if you don't already have a food processor, consider acquiring one as it can be incredibly useful for various recipes.
Step 2: Mixing Dry Ingredients If getting a food processor isn't an option, don't worry; you can still make the crust by hand. Begin with a large bowl. Add your dry ingredients - flour, salt, and sugar. Whisk them together to ensure they're evenly combined.
Step 3: Adding Cold Butter Next, take your cold butter cubes, and add them to the bowl with the dry ingredients. To incorporate the butter, you have a few options:
Option A: Fork and Knife: Use a fork and knife to "cut in" the cold butter. Continue until you achieve pea-sized crumbs in the mixture.
Option B: Pastry Blender: Alternatively, you can use a pastry blender. This tool is particularly effective for cutting in the butter and can simplify the process. If you're looking for recommendations, I really like this one.
Step 4: Adding Cold Water and Forming Dough Sprinkle the cold water over your crumb mixture. Stir the mixture until a dough begins to form. You might find it necessary to use your hands to bring the dough together. Be cautious not to overmix; you want the dough to just hold together.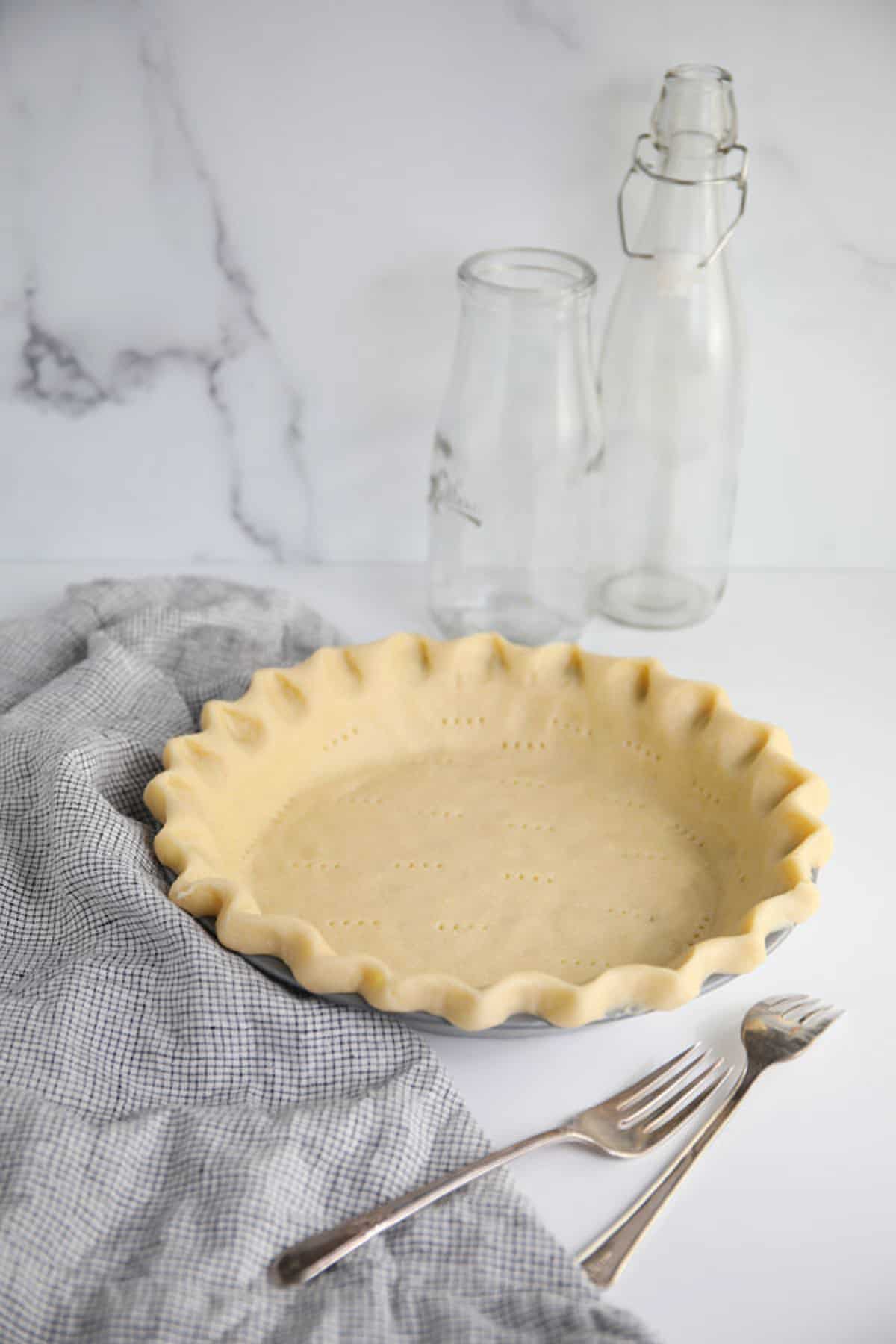 EXPERT TIPS
• Keep Ingredients Cold: Use ice-cold water and keep your butter or shortening cold until it's time to incorporate them. This ensures a flaky pie crust as the fat doesn't melt too soon.
• Don't Overwork the Dough: Mix the dough just until it comes together. Overworking the dough can lead to a tough crust. It's okay if it looks a bit shaggy; it will come together while chilling.
• Roll with Care: When rolling out the dough, start from the center and roll outward. This ensures even thickness. Use a light touch and minimal flour to prevent the dough from becoming tough.
• Experiment with Flavors: Add a hint of flavor to your crust by incorporating herbs, spices, or citrus zest into the dough for a unique twist on classic pie crust.
• Practice Patience: Baking takes practice. Don't be discouraged if your first time isn't perfect. Each time you make a pie crust, you'll learn and improve.
• Egg Wash for Shine: For a golden, glossy finish, brush the top crust with an egg wash (a beaten egg mixed with a little water) before baking.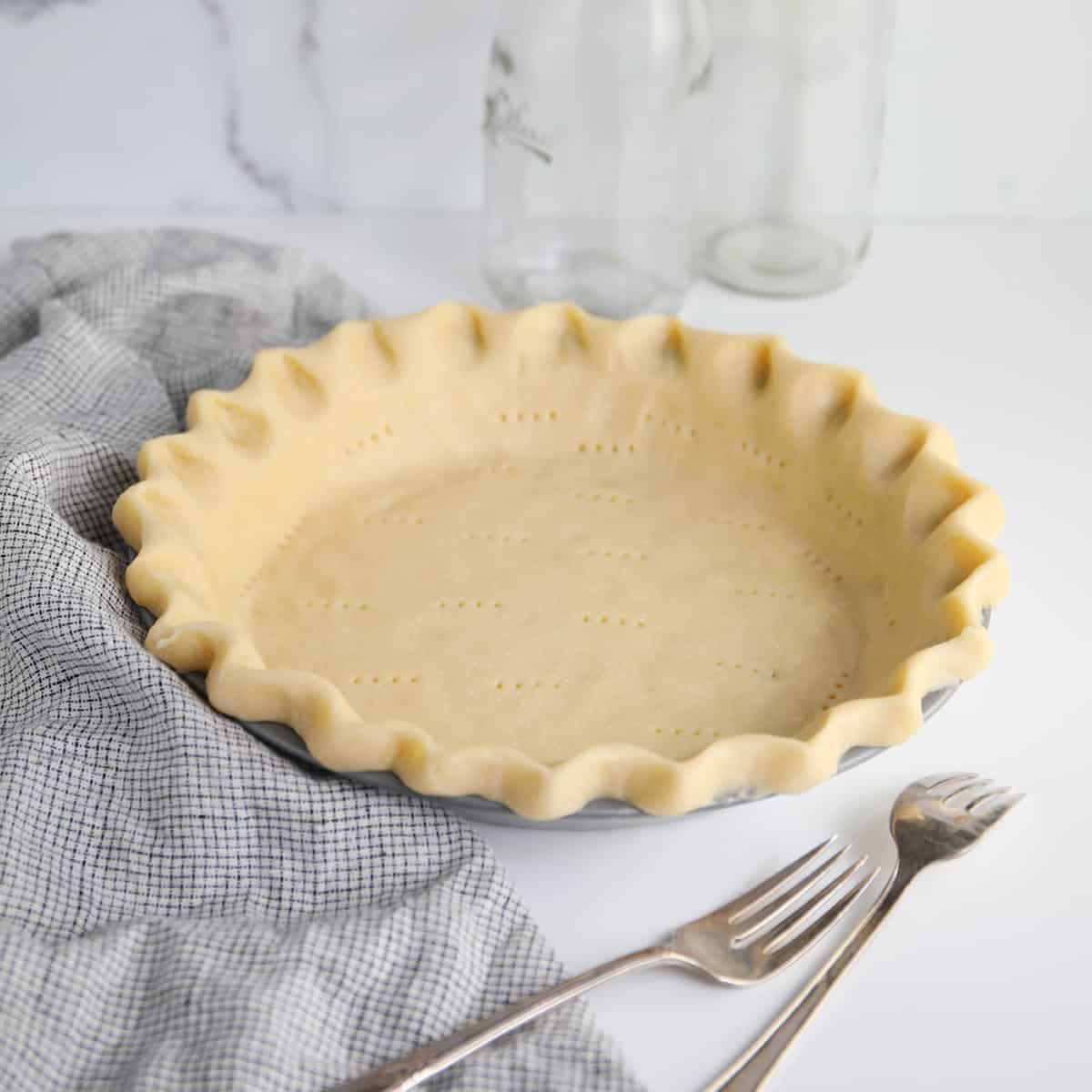 FREQUENTLY ASKED QUESTIONS
• What's the best way to store leftover pie crust dough? Wrap any excess dough tightly in plastic wrap and refrigerate it for a few days. You can also freeze it for longer storage. Just be sure to label and date it.
• My dough is too crumbly. What should I do? If the dough is crumbly and doesn't hold together, try adding a little cold water, a teaspoon at a time, until it comes together. Be cautious not to overmix.
• How thick should I roll out the pie crust? The thickness can vary depending on personal preference and the recipe. A general guideline is about ⅛ to ¼ inch (3-6 mm) thick.
• Can I make the dough ahead of time and freeze it? Yes, you can make the dough ahead of time and freeze it. Wrap it tightly in plastic wrap or foil and store it in the freezer for up to a few months. Thaw it in the refrigerator before using it.
• Can I use a different fat, like vegetable shortening or lard, instead of butter? Yes, you can use different fats like vegetable shortening or lard. They can yield a flaky crust. Experiment with different fat combinations for unique flavors and textures.
• How can I prevent my crust from shrinking during baking? To prevent the shrinking of your baked crust, make sure you don't stretch the dough when placing it on the pie plate. Also, chill the dough before baking, and consider using pie weights or beans when blind baking.
• Can I make a vegan version of this pie crust? Of course! You can make a vegan pie crust by using plant-based margarine or coconut oil instead of butter and ensuring all ingredients are vegan-friendly.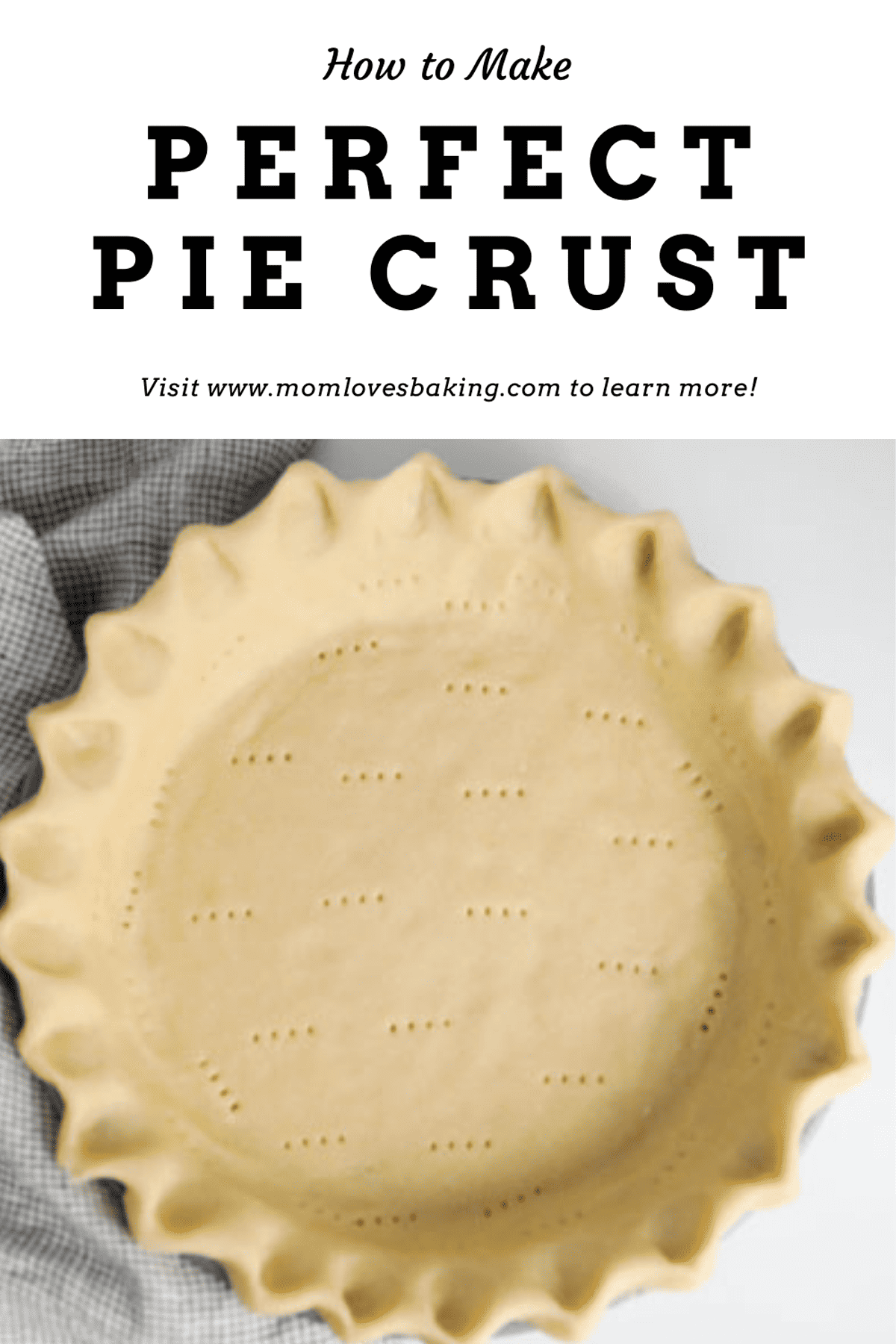 What tools did you use for this recipe? (Note: These are affiliate links.) 9-Inch Non-stick Pie Pan, Cuisinart 13-Cup Food Processor and Dicing Kit, Silver, King Arthur Unbleached All Purpose Flour, 5 Pound (Pack of 2), Glass Mixing Bowls – Set of 10 (I used the medium sized bowl to melt the chocolate in the microwave), Classic Wood Rolling Pin - this is a must!
Whether you're a seasoned baker with a collection of well-worn recipe cards or just starting on your culinary journey, this homemade pie crust recipe is a gem worth treasuring. It's so great that you might just want to memorize it because it's the beginning of an endless number of pie creations. Ready to start making pies for fall?
Here are some pie recipes for you!
Pumpkin Pie with Toasted Meringue
Aunt Nancy's Peach Pie with Streusel
Grandma's Quick Easy Blueberry Pie
Chicken Pot Pie with Cheddar Dill Biscuits
Coconut Cream Pie with Meringue from Delightful E Made
Related Recipes
Love this recipe? If you try it, be sure to tag me on @Instagram! You can also find me on Pinterest, YouTube and Facebook.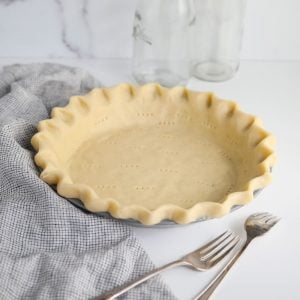 Perfect Homemade Pie Crust
A foolproof way to make the best tasting and easy to work with crust for any pie you can dream of.
Print
Pin
Rate
Instructions
Preheat oven to 450°F. Place the flour, sugar and salt in a food processor. Close lid and pulse a few times. With the processor on, gradually add the cubed butter. Then add the ice water. As soon as a dough ball forms, turn off the machine. (If you don't have a food processor, you can cut the butter into the flour mixture in a bowl with a pastry blender or a fork. Then stir in the water until completely combined. Knead with hands to form the dough.)

Roll out half of the dough on a lightly floured surface to create a 12-inch disk, about ⅛" thick. Gently lift dough and place in a 9" pie pan or glass dish. Press down in the middle and up sides. Fold edges under, then crimp edges with fingers or use a fork, pressing down all around the edge. Use a fork to prick the bottom and sides of dough. Depending on what kind of pie you're making, you can either fill it, then bake or bake it now for a pie that has a no-bake filling.
For a no-bake pie
Bake the pie shell in preheated oven for 10-12 minutes or until light golden brown on edges. Let cool. It's ready for your no-bake filling.
For a baked pie (like apple or berry)
If you're making a filled and baked pie (like apple or berry) with a double crust, pour filling into pie shell, then top with latticed pie dough strips (using the remaining half of the dough). Place pie on a cookie sheet with raised edges in case it bubbles over (I used a half sheet pan) and put in preheated 450°F oven for 10 minutes. Turn oven down to 350°F and continue baking for 40 minutes. Times may vary depending on the pie recipe you're using.

Note: If you're making just one pie crust, reserve the other half of the dough by wrapping in plastic wrap and storing in an airtight container in the refrigerator for a few days or in the freezer for up to two months.
Notes
Note: This recipe makes two 9-inch pie crusts, good for pies that have a crust on the bottom and the top. It also freezes well.
Nutrition
Calories:
220
kcal
|
Carbohydrates:
22
g
|
Protein:
3
g
|
Fat:
13
g
|
Saturated Fat:
8
g
|
Cholesterol:
35
mg
|
Sodium:
127
mg
|
Potassium:
33
mg
|
Fiber:
1
g
|
Sugar:
2
g
|
Vitamin A:
405
IU
|
Calcium:
8
mg
|
Iron:
1
mg