This 3-Ingredient Strawberry Cake Mix Cookies Recipe is so easy to make with just 3 simple ingredients.
Every bite is crumbly perfection that is stuffed with delicious white chocolate chips that melt in your mouth.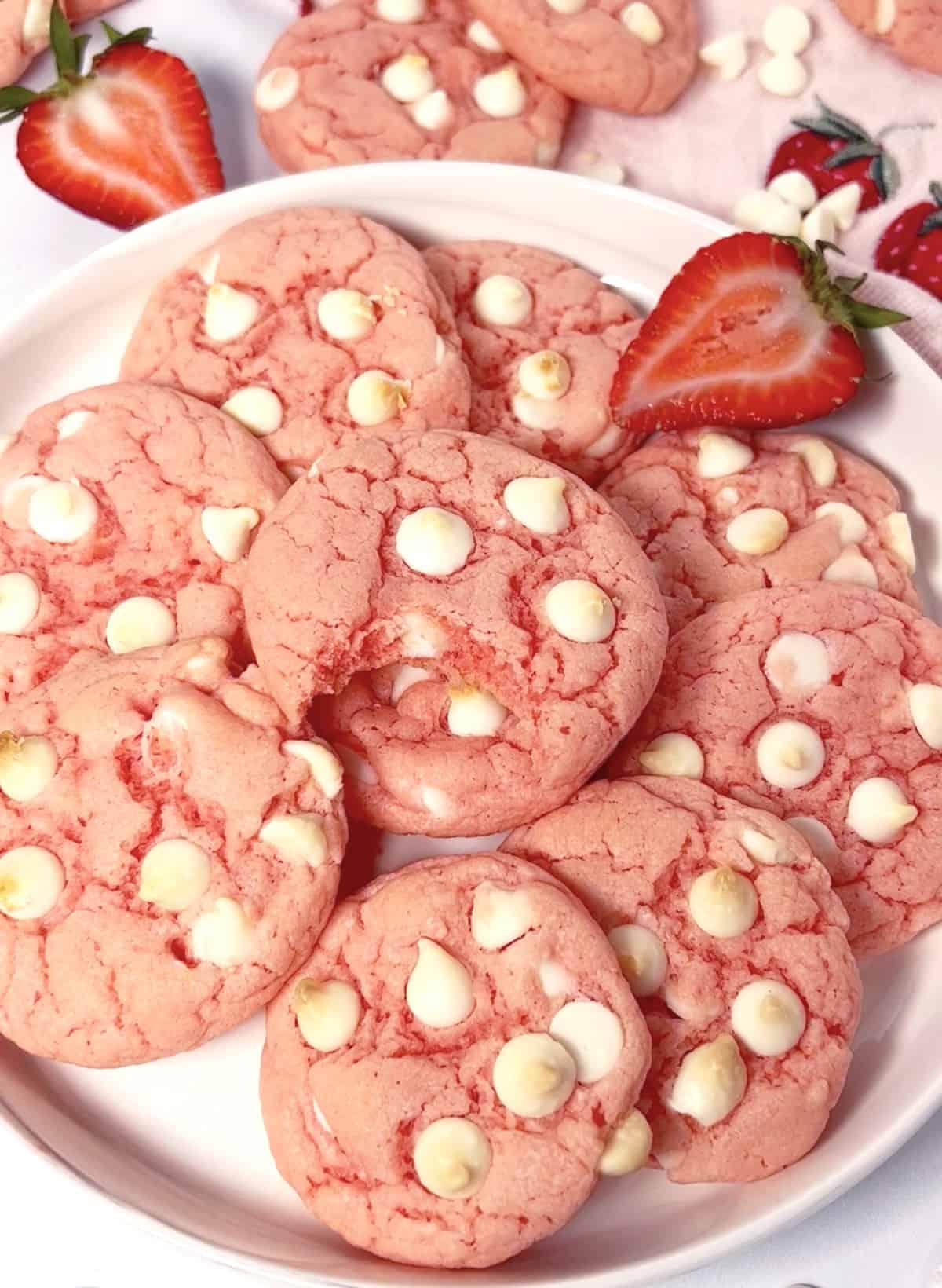 If you're a big fan of strawberry sweets check out my Strawberry Cool Whip Pie or try The Best Strawberry Buttercream Frosting. If you are interested in more easy cookie recipes try Red Velvet Cake Mix Cookies.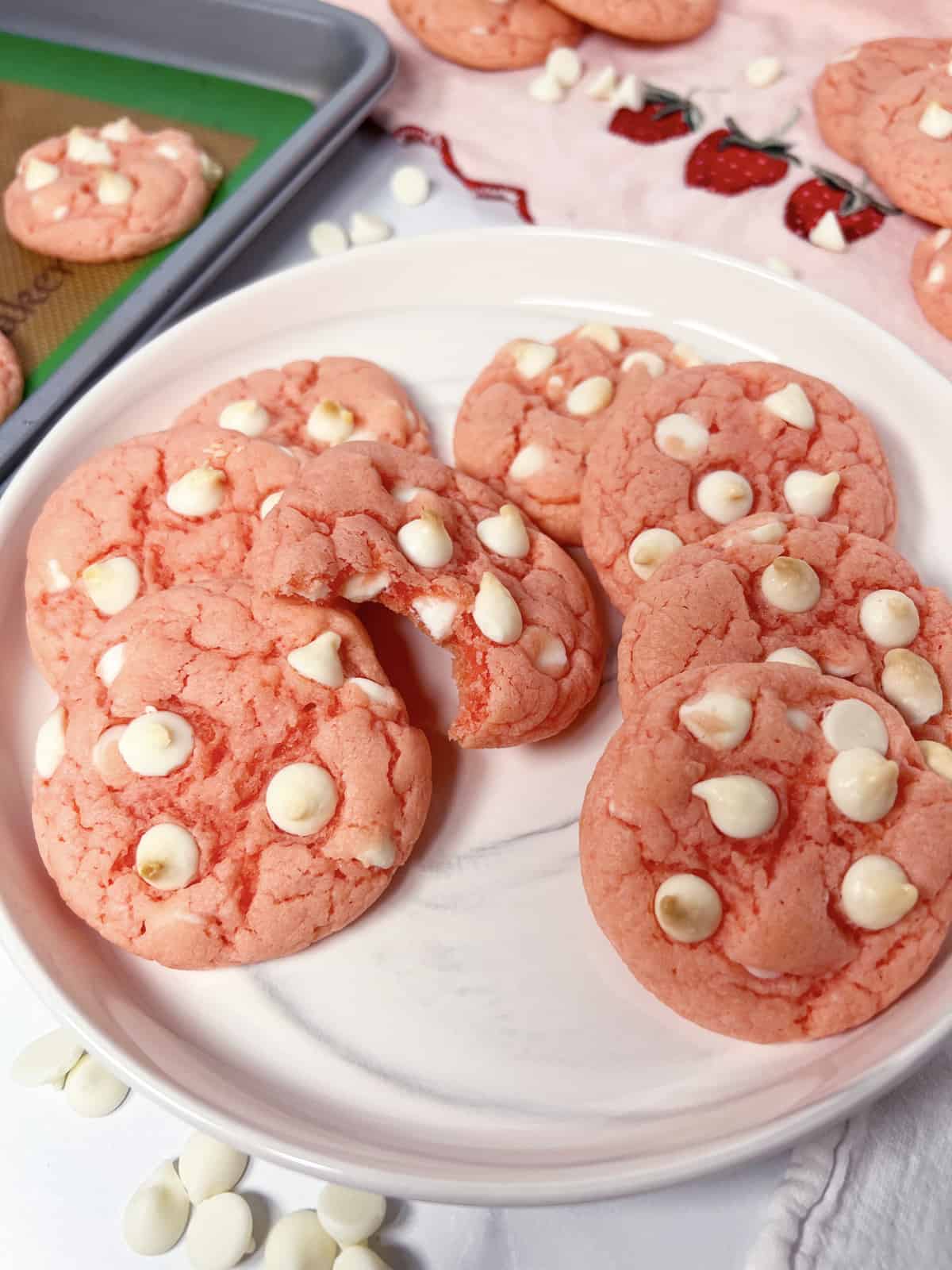 WHY I LOVE THIS 3-ingredient STRAWBERRY CAKE MIX COOKIEs RECIPE
• The easiest cookies you could ever make with only 3 simple ingredients plus white chocolate chips that bake in less than 10 minutes!
• A perfect easy treat to make if you love strawberry flavor sweets and the color pink!
• You can make these for Valentine's Day, birthdays, bachelorette parties, a baby shower, or really for any time of year!
• Need delicious cookies everyone will rave about in a hurry? These are easy strawberry cookies if you need to make lots of last minute.
WHAT YOU NEED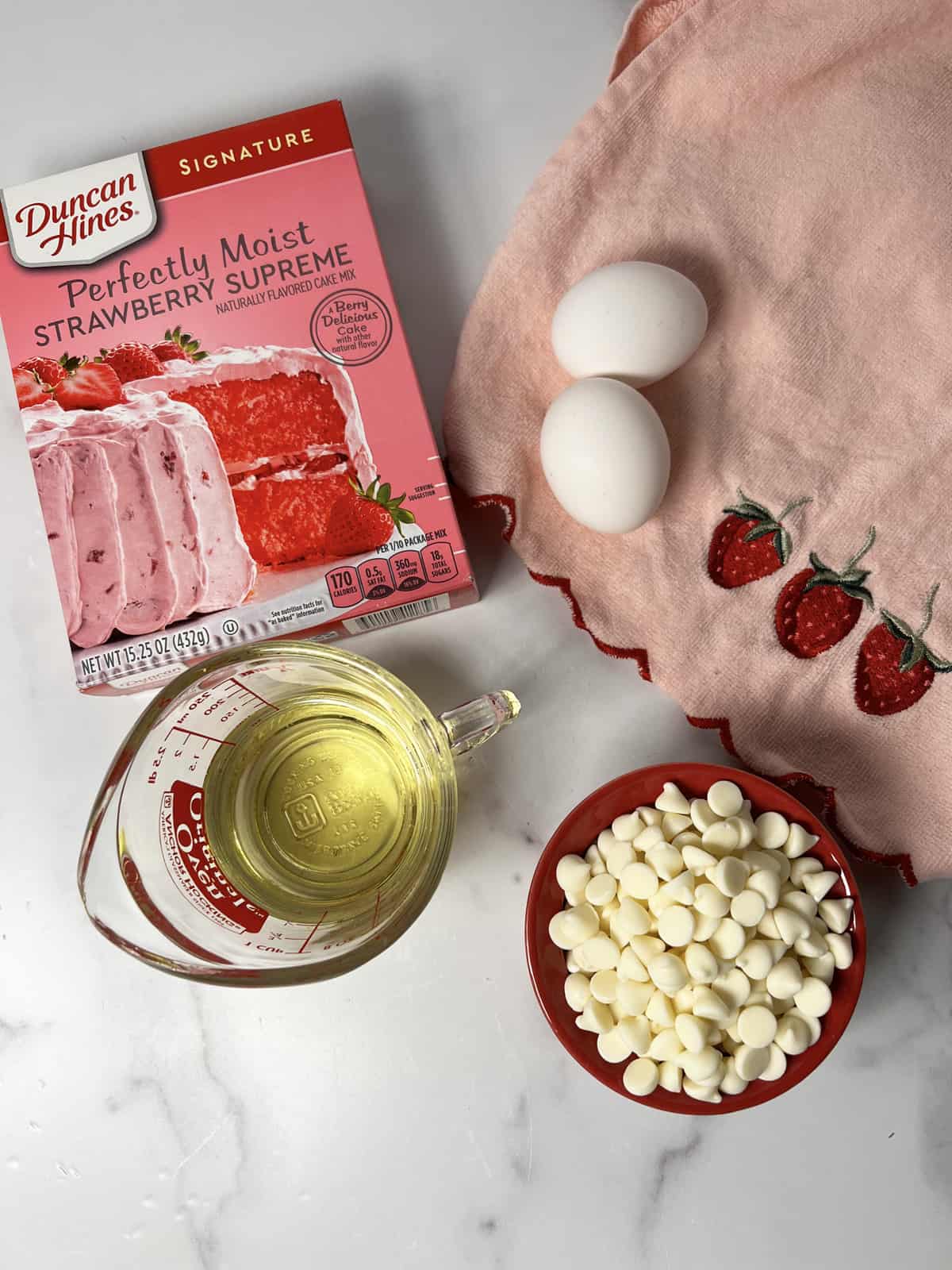 INGREDIENT NOTES
Box of strawberry cake mix: I used Duncan Hines Perfectly Moist Strawberry cake mix, but you could also you Betty Crocker strawberry cake mix or Pillsbury.
Eggs: You will need two large eggs at room temperature.
Vegetable oil: Use your favorite kind of oil, I used a generic brand (any works). Or you could substitute the oil for melted butter for a more buttery flavor.
White chocolate chips: I used the Nestle brand, but use any chocolate chips you like!
And that's all you need folks! Don't you love only seeing such few ingredients for these fluffy cookies?!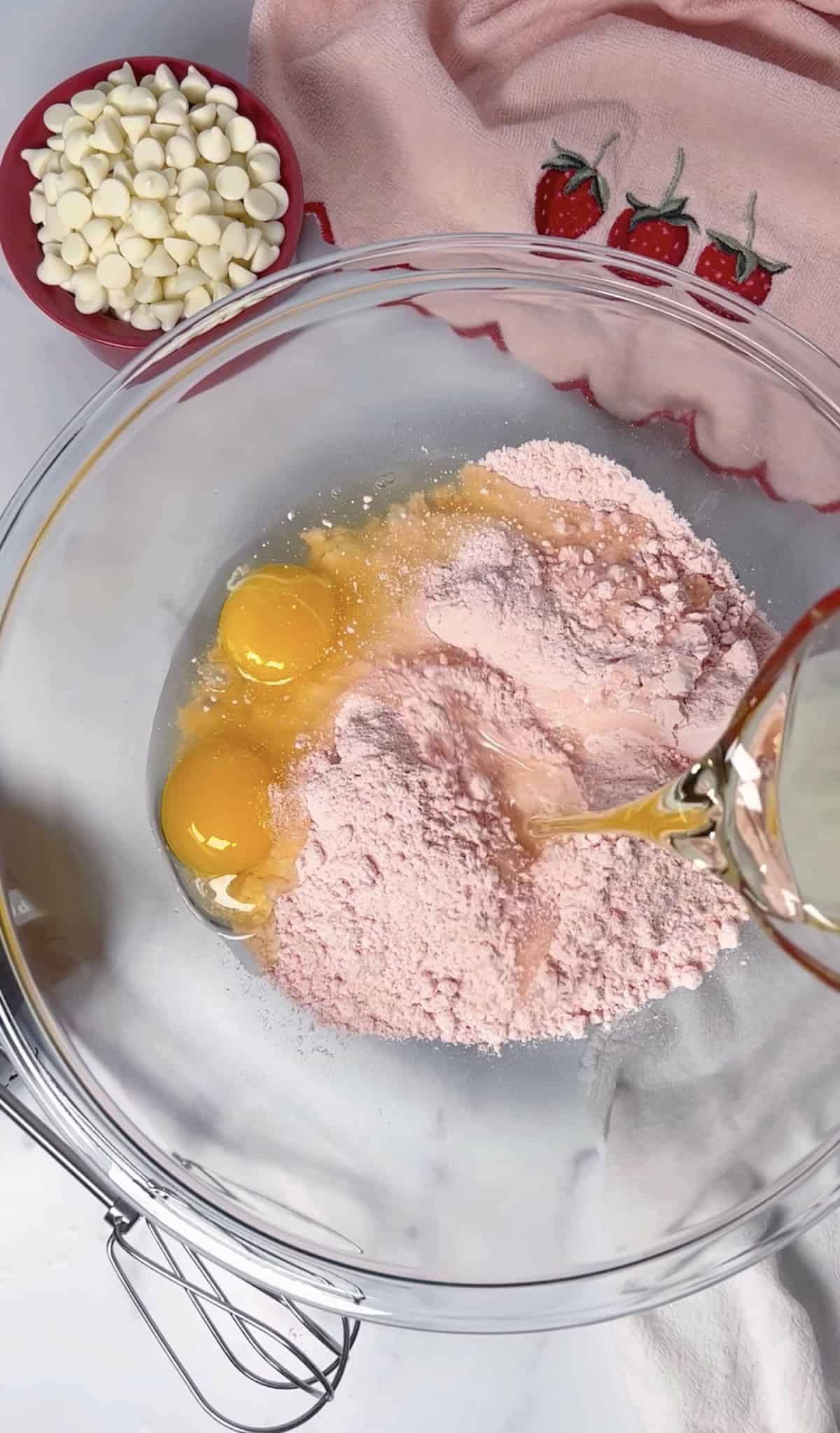 HOW TO MAKE CAKE MIX STRAWBERRY COOKIES
Preheat oven to 350 degrees Fahrenheit. Prepare a large baking sheet by lining it with parchment paper. Dump the strawberry box of cake mix into a large bowl. Add both of the room temperature eggs and ½ cup of vegetable oil.
Using an electric mixer, mix on low speed until completely combined and a dough forms. Should be mixed for about a minute. Stir in the white chocolate chips with a spatula.
Use a small to medium cookie scoop to scoop out cookie dough to make 1-inch cookie dough balls and place them on your lined baking sheet.
For perfect professional-looking cookies, place 4 white chocolate chips on each unbaked cookie. Place your cookie sheet in the oven and bake for 8-10 minutes. Place baked cookies on a wire rack to cool then enjoy!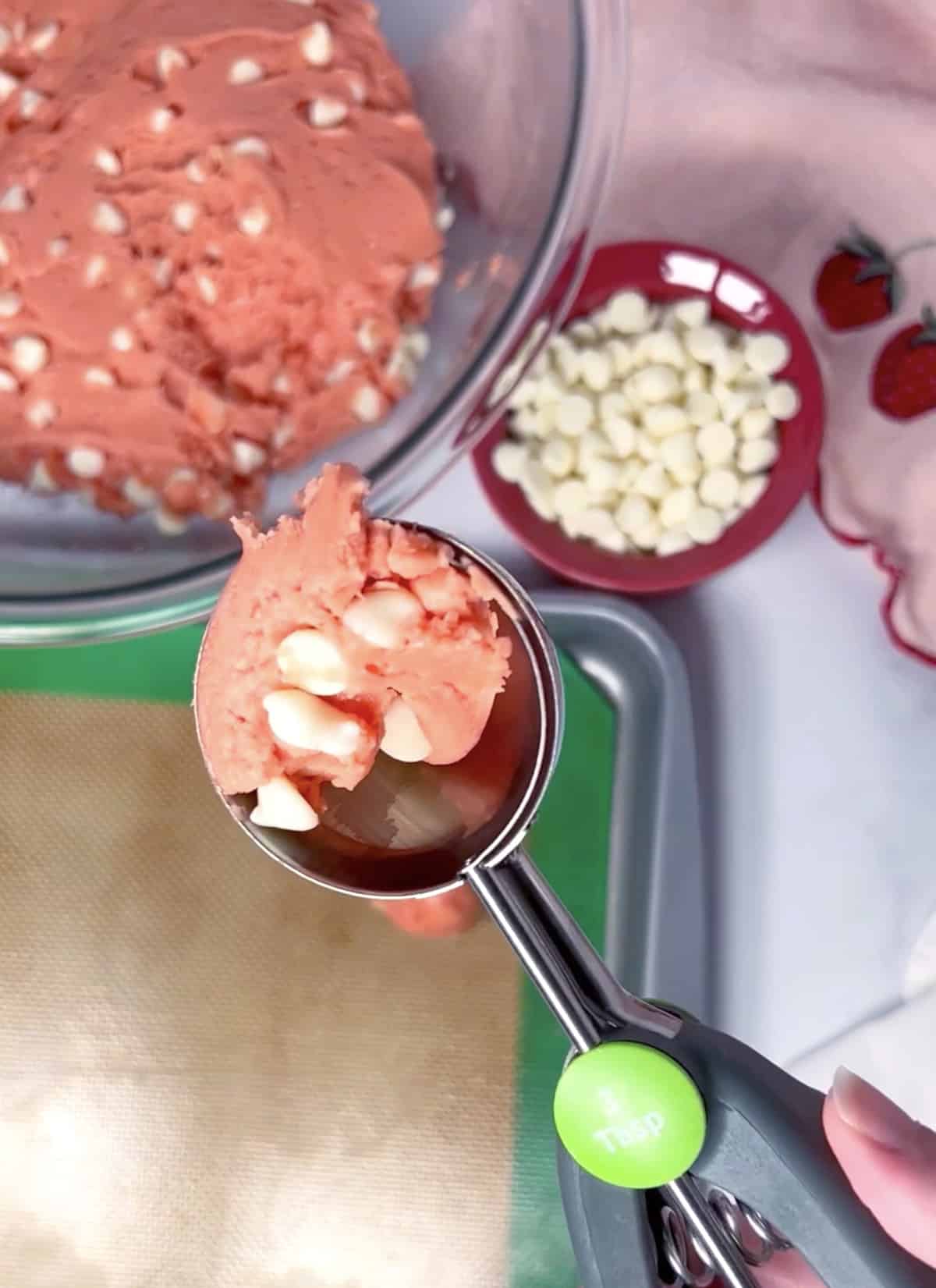 EXPERT TIPS
• Ensure all your ingredients are at room temperature-like your butter and eggs.
• Scoop your cookie dough with a small scoop.
• If you want soft,chewy, crumbly cookies do NOT over-bake them past 10 minutes. This also avoids browning the white chocolate chips on top. I baked mine for 9 minutes, but it depends on your oven!
• To add more chocolate to your bites and a more professional cookie, place extra white chocolate chips on top.
• Use a hand mixer to combine your ingredients in a large mixing bowl.
• For a more decadent cookie use high-quality chocolate like Ghirardelli white chocolate chips and one teaspoon of vanilla paste.
• To change up the recipe a bit, use dark chocolate chips instead of white chocolate chips to give you a "chocolate-covered strawberry" flavor.

FREQUENTLY ASKED QUESTIONS
How do I store these pink cookies? Store in an airtight container for up to a week at room temperature.
Can I freeze this perfect treat? Yes, you can freeze the batch of cookies in an airtight container or a freezer bag. Freeze for up to 2 months.
Can I make these gluten-free? Yes, you could but the recipe would be a little different. I have never seen gluten-free strawberry cake mix before so I would use a gluten-free vanilla cake mix you can find at your local grocery store and add strawberry flavoring to it.
Can I freeze the strawberry cake mix cookie dough? Yes, put some parchment paper in big ziplock freezer bags and place your one inch cookie balls in them for up to 2 months. Whenever you want to bake your cookies, let them thaw for one to two hours then bake them according to this recipe.
Can I use a different flavor of cake mix? Yes of course! To make Red Velvet Cake Mix Cookies follow my recipe linked. However, you can follow either this strawberry cake mix cookie recipe or the red velvet to swap it out for whatever cake mix you like!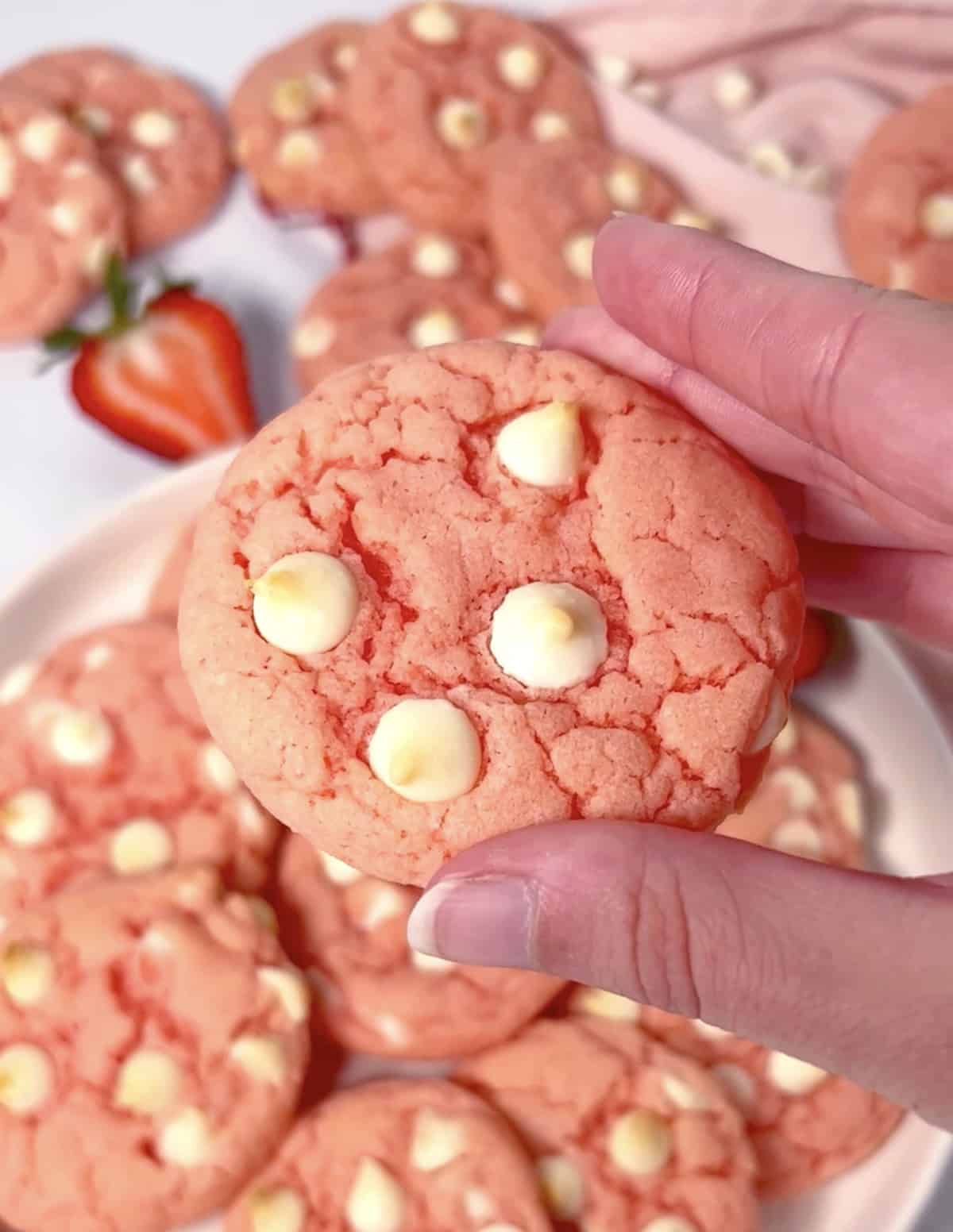 related recipeS
Love this recipe? If you try it, be sure to tag me on @Instagram! You can also find me on Pinterest, YouTube and Facebook.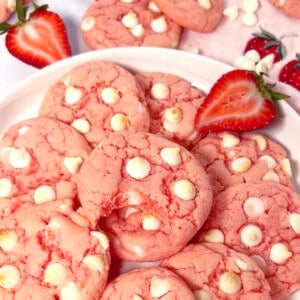 3-Ingredient Strawberry Cake Mix Cookies Recipe
These pretty pink cookies are so easy to make with just three simple ingredients, plus white chocolate chips.
Print
Pin
Rate
Ingredients
1

box

strawberry cake mix

18.25 oz/432 g

2

large

eggs, room temperature

½

cup

vegetable oil or melted butter

78 ML

1 ¼

cups

white chocolate chips

165 g
Instructions
Preheat oven to 350°F. Line large cookie sheets with parchment paper or silicone mat. Set aside.

In large bowl, place mix, eggs and oil. With electric mixer, mix on low speed until dough forms (about 1 minute).

Stir in 1 cup of the white chocolate chips. Cover and refrigerate for 30 minutes to 1 hour or until firm enought to shape into balls.

Drop rounded balls of dough, about 2 tablespoons each, onto prepared baking sheets. Using the remaining ¼ cup of chips, stick a few more chips on top of the dough balls (I used about 4 chips per cookies).

Bake for 10 minutes. Do not let cookies brown. Allow to cool on baking sheet for 3 minutes. They are soft at first, but firm up as they cool. Transfer to a wire rack to cool completely. Store in an airtight container for up to one week (if they last that long). Or freeze for several months.
Notes
• If the batter seems too dry, you can add 1-2 tablespoons more of oil. But if the batter is too sticky, just stick the cookie dough in the refrigerator for about an hour to firm it up.
• For best results, make sure all of your ingredients in this recipe are room temperature.
• This recipe works well with other cake mix flavors. Try it with a yellow cake mix and semi-sweet chocolate chips or strawberry cake mix with white chocolate chips. You could also substitute sprinkles instead of chocolate chips.
Nutrition
Calories:
173
kcal
|
Carbohydrates:
20
g
|
Protein:
1
g
|
Fat:
10
g
|
Saturated Fat:
3
g
|
Polyunsaturated Fat:
1
g
|
Monounsaturated Fat:
4
g
|
Trans Fat:
0.02
g
|
Cholesterol:
17
mg
|
Sodium:
136
mg
|
Potassium:
33
mg
|
Fiber:
0.02
g
|
Sugar:
14
g
|
Vitamin A:
25
IU
|
Vitamin C:
0.05
mg
|
Calcium:
54
mg
|
Iron:
0.4
mg