This No Bake Chocolate Peanut Butter Cereal Bars Recipe is so yummy and easy to make!
Just a few simple ingredients - honey, creamy peanut butter, chocolate chips, coconut oil and rice cereal.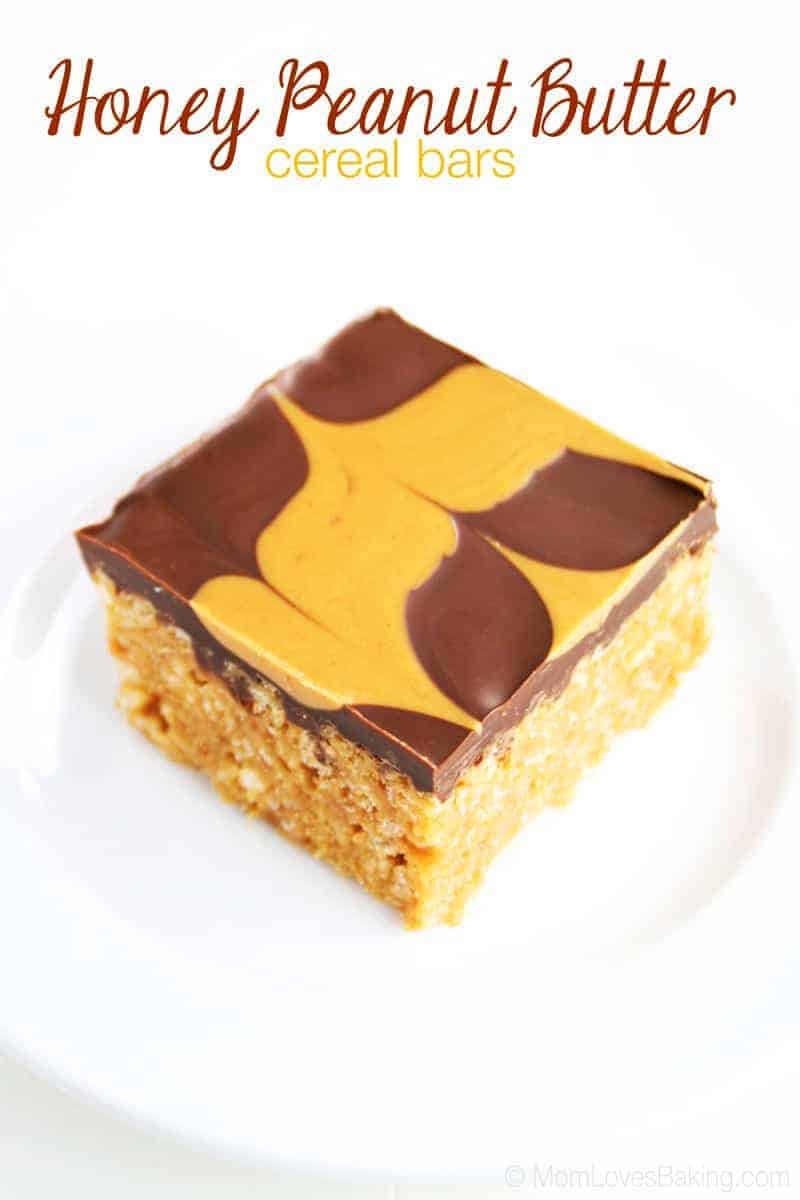 The Best No Bake Peanut Butter Bars
Obviously, chocolate and peanut butter go together. Have you ever added honey to the mix?
These cereal bars have an elevated look and taste!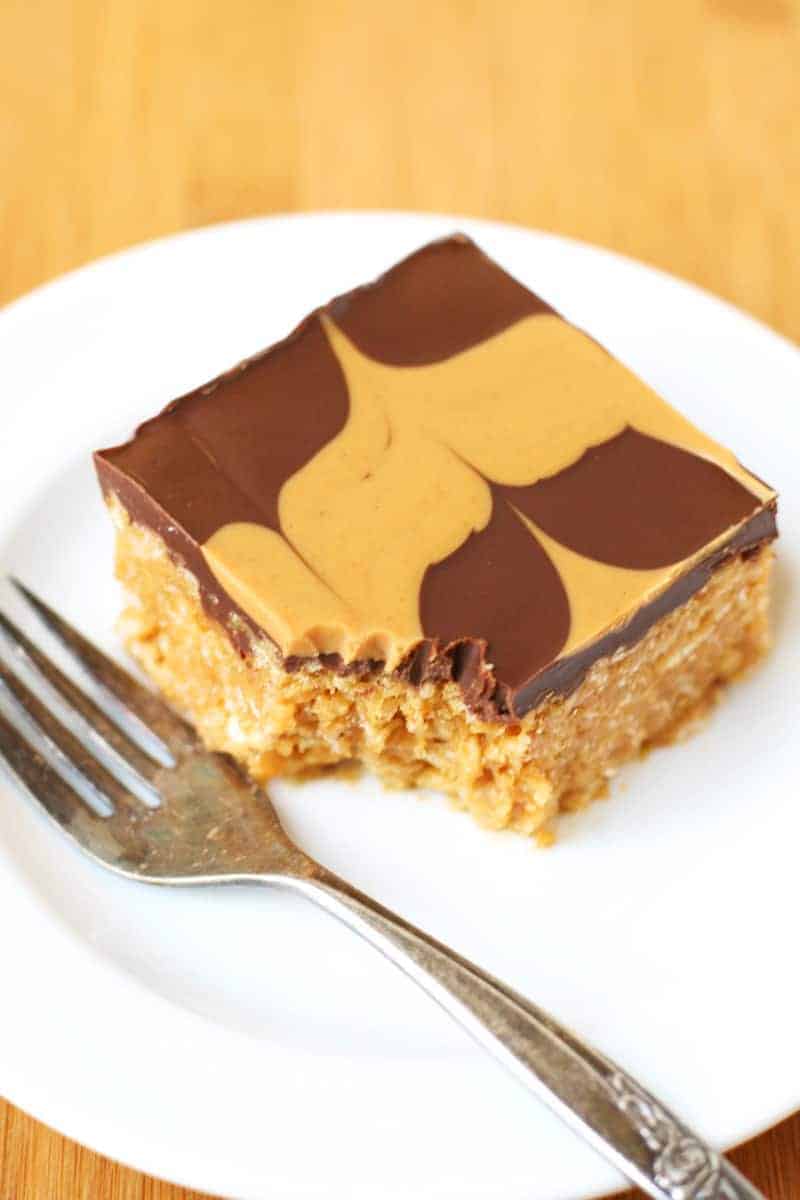 WHY I LOVE THIS CEREAL BAR RECIPE
• No Bake Peanut Butter Chocolate Cereal Bars are similar to the traditional rice cereal treats with a twist.
• Instead of marshmallows, our bars are stuck together with honey and peanut butter giving it a wonderful peanut butter flavor.
• I have a weakness for peanut butter and chocolate. Combine those two foods, and I'm in heaven.
• These no bake bars are perfect for breakfast or as an afternoon pick-me-up snack. They're also great for packing in lunches because they travel well without melting!
• This sweet treat gluten free and dairy free too (if you use dairy free chocolate chips).
WHAT you need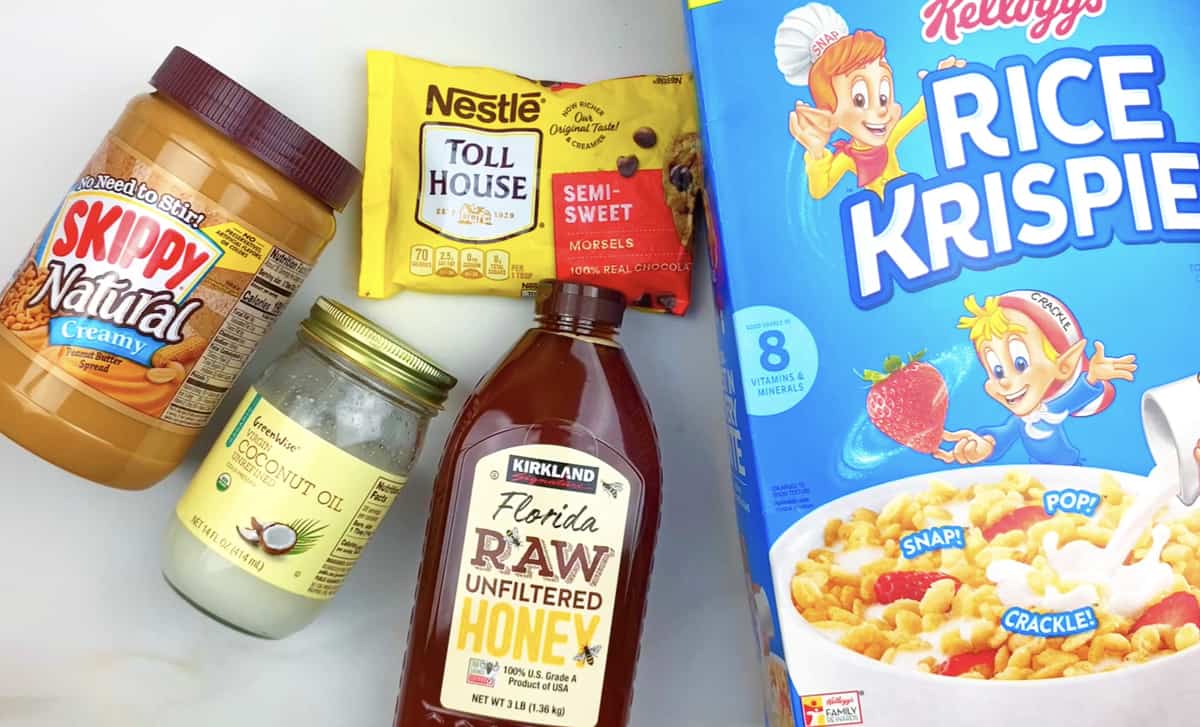 INGREDIENTS NOTES
• Honey - I chose a raw, filtered honey. This means after filtering out any impurities, it isn't heated or processed in any other way. The best part is how there is usually a piece of honeycomb inside. This is perfectly edible and absolutely delicious!
• Peanut Butter - This recipe works best if you use creamy peanut butter (not crunchy peanut butter). Use your favorite brand such as Jif or Skippy. I used the generic grocery store brand. I wouldn't recommend using natural peanut butter that has the oil separated.
• Chocolate chips – You can use milk chocolate chips, dark chocolate chips, or semi-sweet chocolate chips. They can be mini chocolate chips, regular chips, or chunks.
• Crisp Rice Cereal - Rice Krispies Cereal vs Generic Brand: I've found that most generic brands work just fine in this recipe. Choose your favorite brand of crispy rice cereal!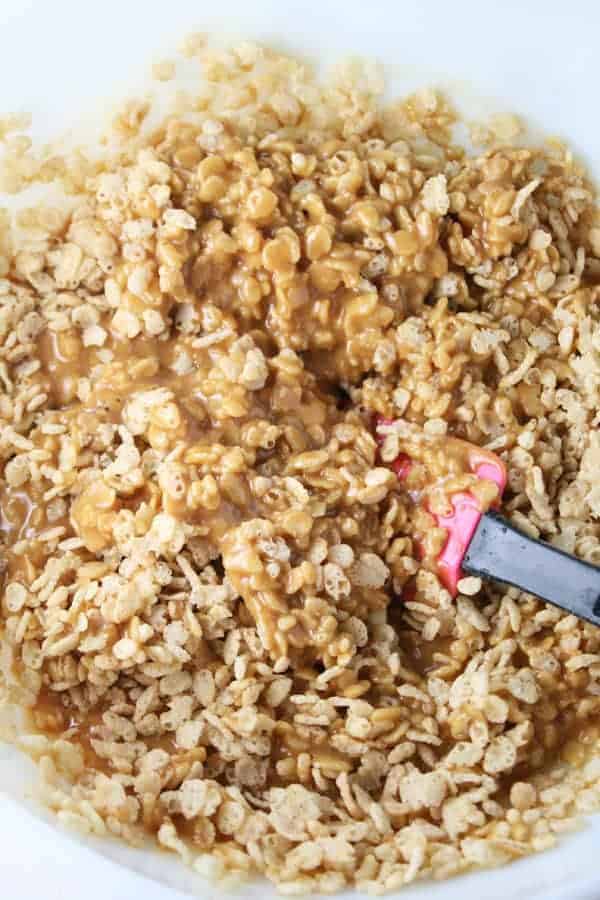 HOW To MAKE THIS RECIPE
*Note: The full recipe is in the recipe card at the bottom of this page.
1) The scrumptious topping is made of melted chocolate, coconut oil, and peanut butter. I'm sharing the step-by-step instructions on how to make these bars and the neat design on top.
2) For this easy recipe, I've included the honeycomb. You will be using one 16 oz jar of honey. Pour it into a large microwavable bowl and break up the honeycomb with your fingers.
3) Then add one cup of peanut butter. Microwave peanut butter mixture on medium high power for a couple minutes and stir until smooth. Fold in five cups of rice cereal.
4) Line bottom of a 8"x8" baking dish or square pan with aluminum foil. Spray foil with non- stick cooking spray. Press mixture into the prepared baking pan.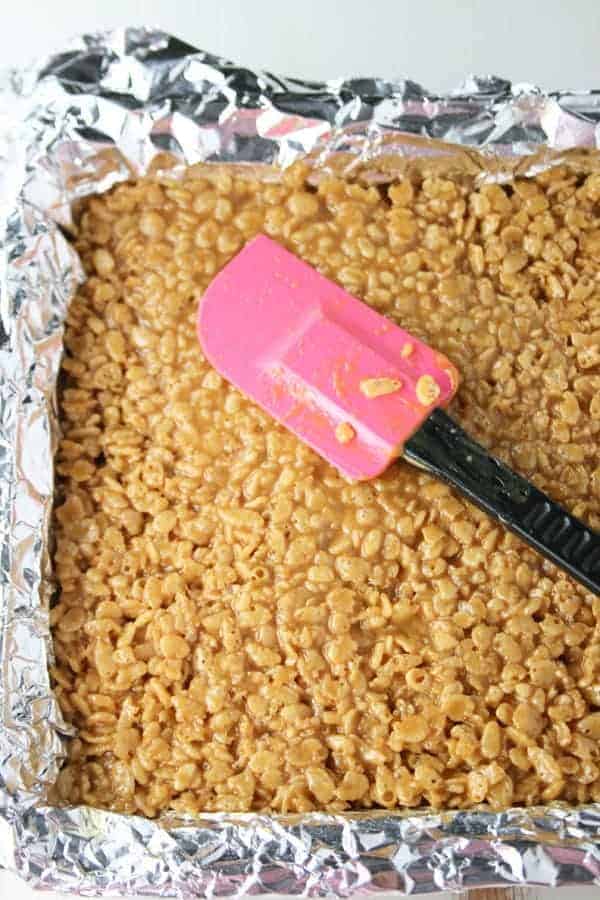 5) Next, melt chocolate. In a glass bowl, melt 1 ½ cups of chocolate chips with 2 tablespoons coconut oil in microwave according to package instructions. Stir until smooth. Pour melted chocolate over cereal mixture and spread with a spoon or rubber spatula in an even layer.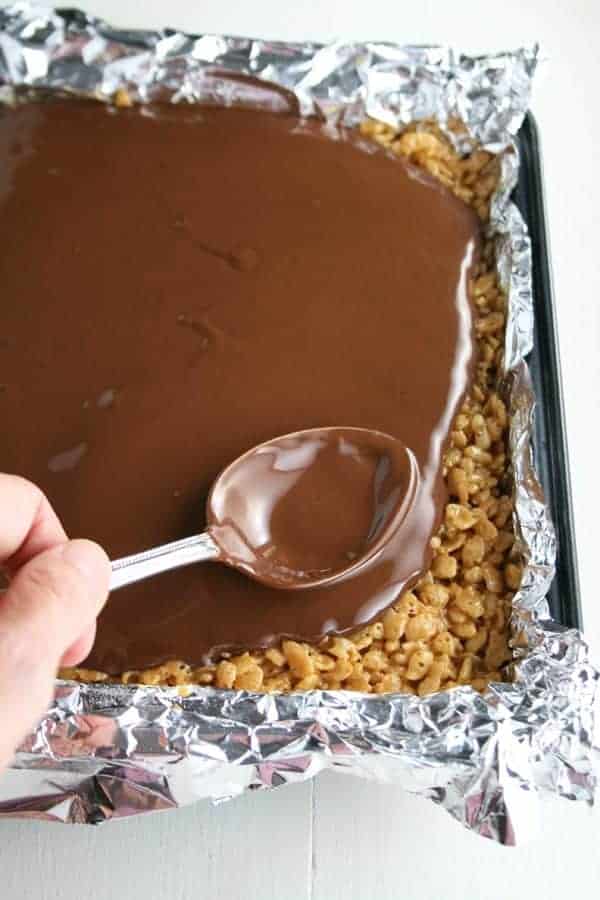 6) Melt ¼ cup peanut butter in a small microwave-safe bowl in the microwave for about a minute. Pour four lines onto chocolate. Use a toothpick to drag a line horizontally through the peanut butter stripes. Then drag the toothpick in the other direction. Repeat in alternating directions.
7) Refrigerate bars for 2-3 hours. Slice into squares and serve.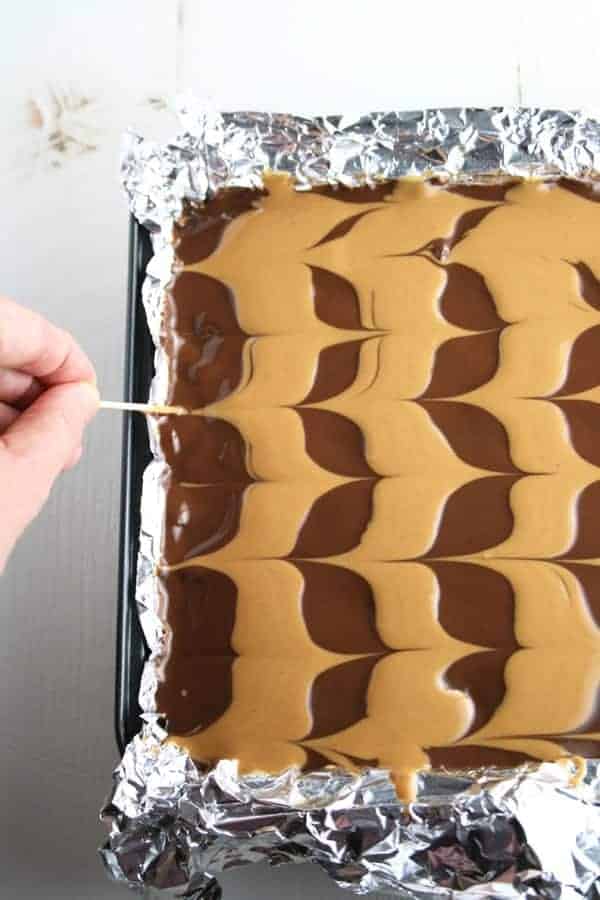 EXPERT TIPS
• Honey is a great substitute for marshmallows in rice krispy treats. Peanut butter replaces the butter.
• Using coconut oil with the chocolate chips gives it a nice rich texture, almost like ganache.
• Make sure to really compress the cereal mixture; that will make them easier to cut.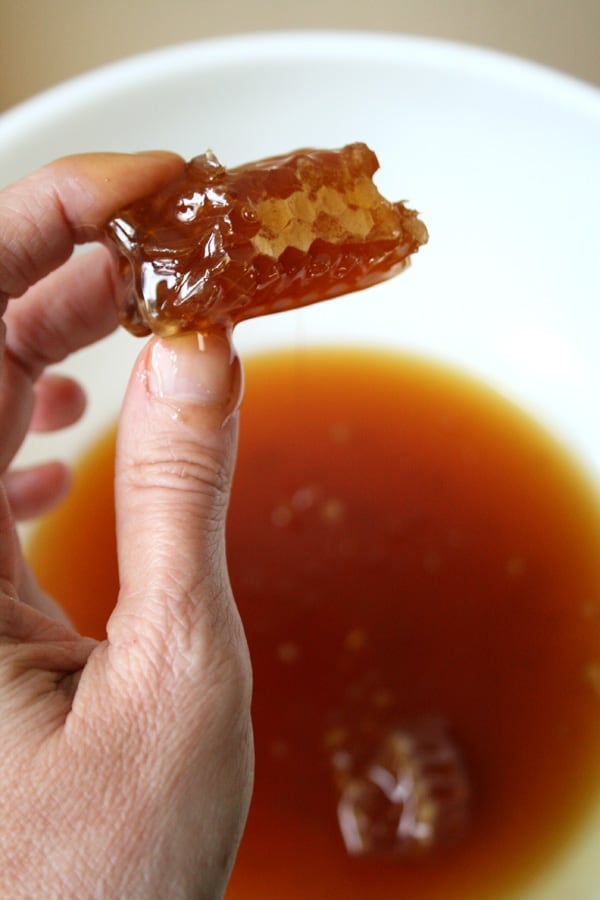 • There are lots of great uses for honeycomb. Here are a few:
1) Toast a piece of your favorite bread or an English muffin. While it is still very hot, spread it lightly with butter.
2) With a knife, cut a chunk of comb honey and spread it over the toast. You may have to mash it a bit, but the heat will soften the comb so it flattens into the toast along with the honey.
3) It doesn't melt, but becomes soft and aromatic, adding great flavor.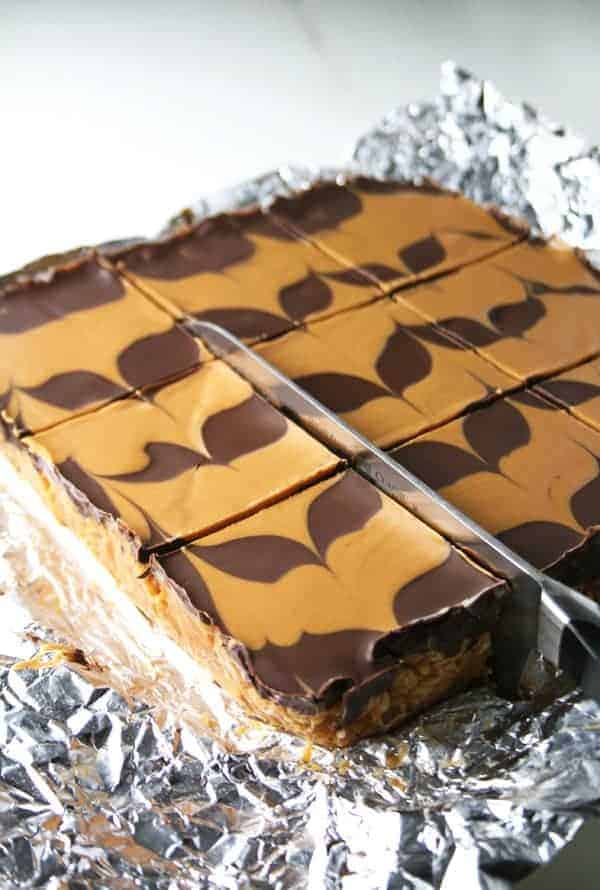 FREQUENTLY ASKED QUESTIONS
• How do I store my treats? If you are not serving your cereal bars right away, you'll need to store them so that they don't not get stale. Store them in an airtight container. They should last for 5-7 days this way.
• Can I freeze them? Yes, you can freeze these cereal bars. In fact, it is a great way to extend the shelf life of these treats. You can simply store them in an airtight container or freezer bag for up to one month.
• What is the best peanut butter substitute that tastes like peanut butter? The closest spread to peanut butter I've found in terms of flavor and texture is sunflower butter or sunflower seed butter. This is a useful substitute for someone with a peanut allergy. It's also relatively easy to find; I've seen it in large chain grocery stores right next to the peanut butter. Almond butter is another substitute but I don't like the flavor as much.
• Is this recipe dairy free? Yes, as long as you use dairy free chocolate chips.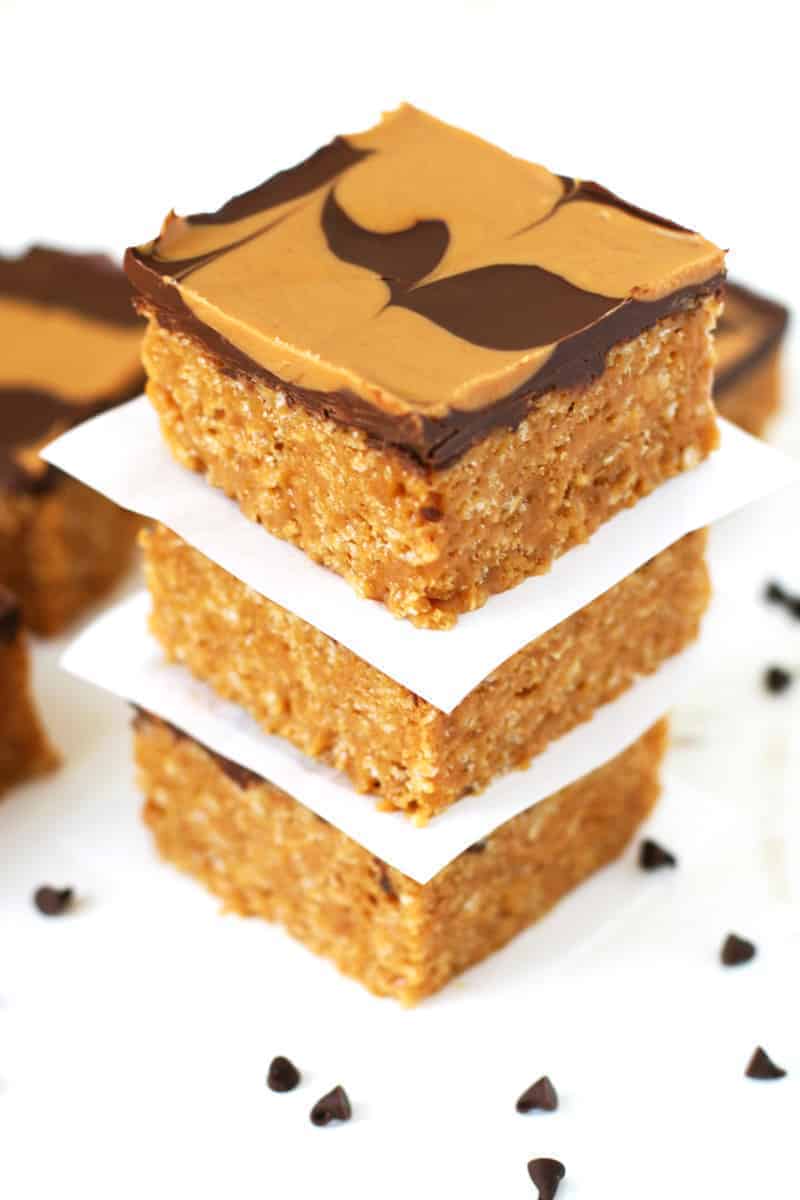 You might also like these no bake dessert recipes: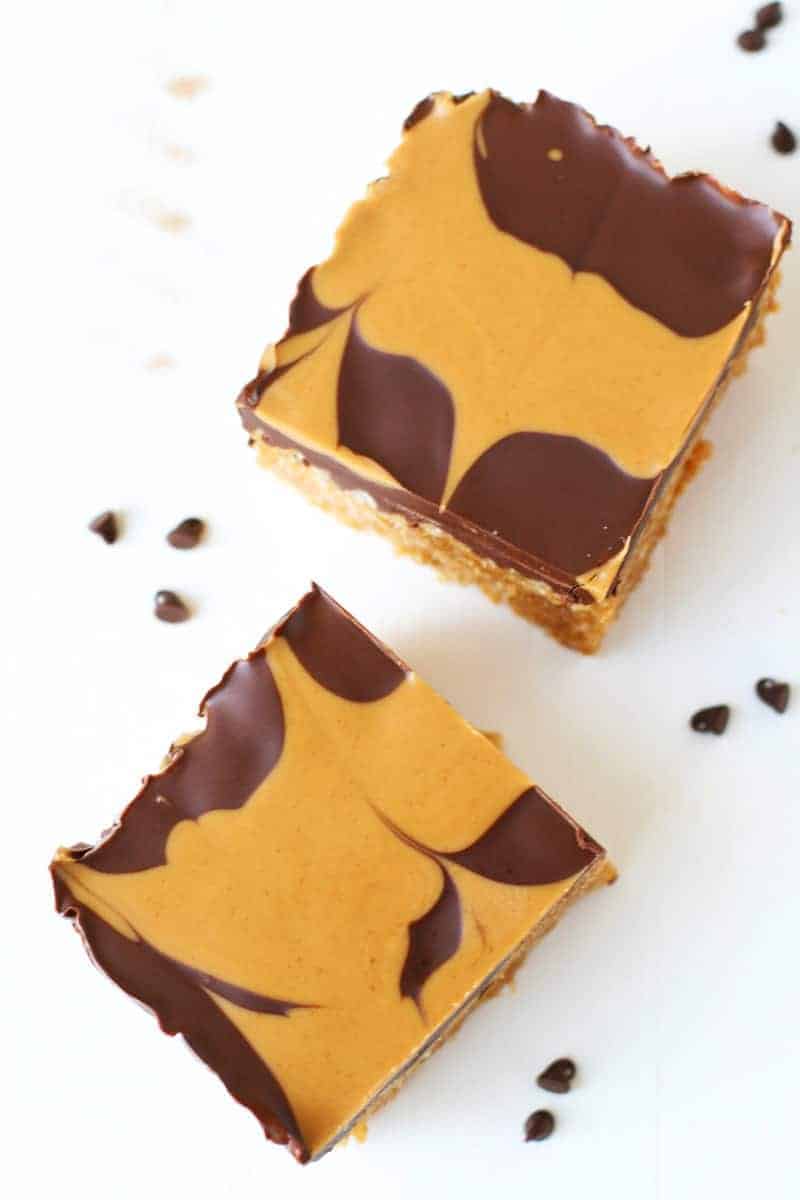 RELATED RECIPES
Love this recipe? If you try it, be sure to tag me on @Instagram! You can also find me on Pinterest, YouTube and Facebook.
Honey Peanut Butter Cereal Bars
Honey Peanut Butter Cereal Bars are so yummy and simple to make with just a few ingredients. The cereal bar part has just 3 ingredients; they're even gluten free.
Print
Pin
Rate
Instructions
Line an 8"x8" square baking pan with aluminum foil. Spray with non-stick cooking spray. Set aside.

Pour honey and honeycomb into a large bowl. Break up the honeycomb with your fingers. Add 1 cup peanut butter. Microwave on high for 1 minute. Stir. Microwave 1 more minute. Stir until smooth. Fold in rice cereal. Pour into prepared pan. Press down with the back of a spoon.

Meanwhile place chocolate chips and coconut oil in a medium microwave safe bowl. Microwave on high for 1 minute. Stir until smooth and completely melted. Pour over cereal. Smooth with back of a spoon. Melt remaining ¼ cup peanut butter in a small microwave safe bowl for 1 minute. Pour in lines on top of chocolate. Use a toothpick to drag across lines horizontally in alternating directions to create design.

Refrigerate for 2-3 hours. Slice into bars and serve. Store covered in refrigerator for up to one week.
Notes
If you can't find the honey with honeycomb, you can substitute your favorite brand of honey from the grocery store.

Nutrition
Calories:
349
kcal
|
Carbohydrates:
43
g
|
Protein:
7
g
|
Fat:
18
g
|
Saturated Fat:
7
g
|
Polyunsaturated Fat:
3
g
|
Monounsaturated Fat:
7
g
|
Trans Fat:
1
g
|
Cholesterol:
1
mg
|
Sodium:
171
mg
|
Potassium:
255
mg
|
Fiber:
3
g
|
Sugar:
32
g
|
Vitamin A:
165
IU
|
Vitamin C:
2
mg
|
Calcium:
52
mg
|
Iron:
4
mg
Footnote: I originally published this post back on November 16, 2015. I've updated it now to give you more recipe details but wanted to include the two personal paragraphs that were in the original post. Here they are...
I've been fighting a cold this week. It's really no fun. I can't remember the last time I was sick. Cough, stuffy nose, and sore throat. Plus, just feeling yucky in general. Of course, I caught it from the children. First my son, then my daughter and now me. I love a change of season, but could definitely do without the cold and flu part.
Thankfully, we're all on the road to recovery. Today I actually felt better for the first time in 5 days. I wanted to make something delicious but didn't feel like turning the oven on. The kids have been wanting a treat.