Easy M&M Cake Recipe for July 4th - Two layers of a boxed mix cake with homemade buttercream plus red, white, and blue M&M's candies on the side for a festive cake for the July 4th holiday!
Summer is here! Who's excited? Are you ready for lots of Summer parties and barbecues? I'm always happy about the 4th of July and love to create festive desserts for the occasion. Impress your guests with this adorable cake. This patriotic cake is easy to make with the Red, White, and Blue M&M'S® Milk Chocolate candies (available around the July 4th holiday in various stores such as Target, Walmart or Sam's Club).
Looking for more 4th of July-inspired desserts? I have a whole list of them here: 25+ Festive and Easy 4th of July Desserts
WHY I LOVE THIS Easy M&M Cake Recipe for July 4th
• Red, White & Blue M&M'S Candy Cake is the perfect addition to your Summer dessert table, especially on Independence Day.
• Simple to make with the basic ingredients of a box cake mix.
• This cake is excellent for any special occasion! Bring this cake to birthday parties or other family gatherings, just swap out the colors to coordinate with your M&M cake.
• The whole family can get in on the fun of making this easy cake.
• It's a beautiful centerpiece for your Summer party.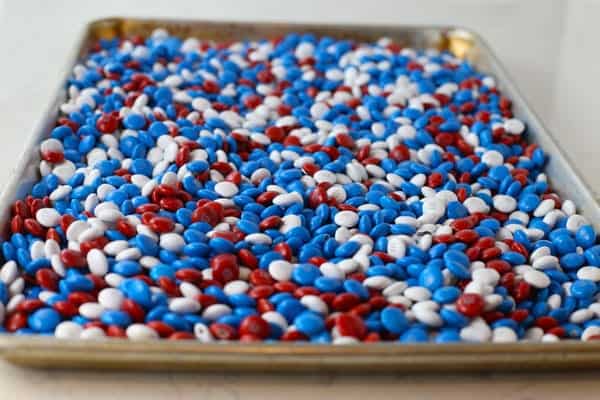 INGREDIENTS NOTES
M&M's - I used the Red, White, and Blue M&M'S Milk Chocolate Candies Pantry Jar to decorate this cake which was awesome because I had plenty of M&M'S candies for decoration, then extra M&M'S were left over to serve at my party. You can also find bags of the Red, White, and Blue M&M'S Milk Chocolate candies at most grocery stores during the Fourth of July holiday season. Or find them at candy stores that sell the colors separately (all year round).
Cake Mix - I used a gluten free yellow cake mix by Betty Crocker for this recipe, but you could use any kind of boxed cake mix you like such as yellow, chocolate, red velvet or funfetti.
Buttercream Frosting - Homemade buttercream frosting is the best. Scroll down for the recipe. If you're in a hurry, use canned frosting (but it doesn't taste as good). You can also substitute strawberry or chocolate frosting if that's more your style.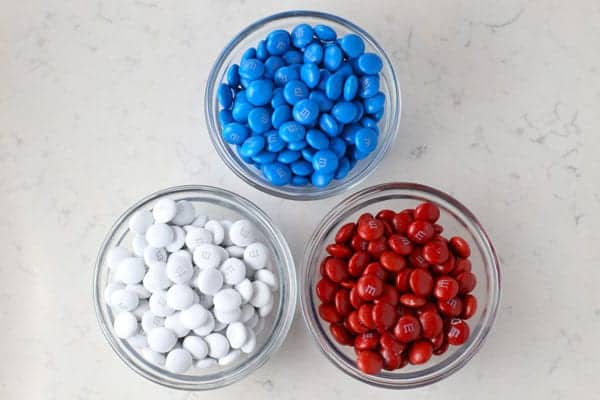 HOW TO MAKE Easy M&M Cake Recipe for July 4th
• Step 1 - Separate the M&M'S®
First things first, separate the candies by color into small bowls. Set aside.
• Step 2 - Line cake pans with parchment paper
The first thing I always do when baking a cake is cut parchment paper to line the bottom. I simply place the pan on top of the paper, trace the shape of the bottom of the pan onto the paper with a permanent marker and cut it out. I cut about an ⅛" inside the line to make it fit perfectly. Then spray the pan with nonstick cooking spray. Spray on the bottom and sides of the pan. Place the paper liner, then spray more on top of the liner. That baby will not be sticking to your pan. No way, no how!
• Step 3 - Bake the Cake
In a large mixing bowl, mix up the cake batter with an electric mixer for 2-3 minutes. Using two 6-inch round cake pans, divide the batter from one cake mix equally between the two pans and bake according to the package bake time and let cool.
Note: I used a yellow cake mix to save time. You can use your favorite recipe or other cake mixes.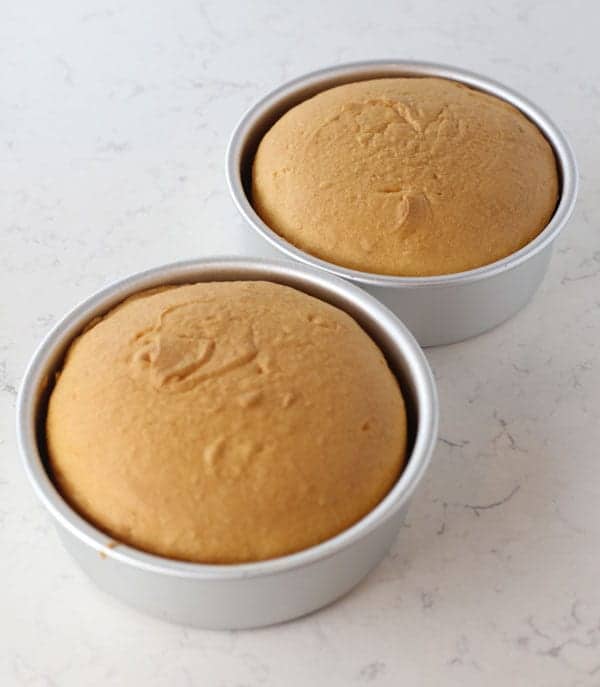 • Step 4 - Make your frosting
You can use store-bought frosting to speed up the process but it's way better with homemade buttercream Get my full recipe here --> Vanilla Buttercream Frosting Recipe
• Step 5 - Frost the cake & add the M&M's
Place one cake on a 12-inch cake board or large round plate. Frost the first of the cake layers. You can use an offset spatula or piping bag to do this. Then add the second layer and spread frosting all over the layers of cake. Place M&M'S® candies on the side of the cake in a diagonal striped pattern. Start with red, then blue and white. Repeat.
• Step 7 - Slice, serve and enjoy with your family members!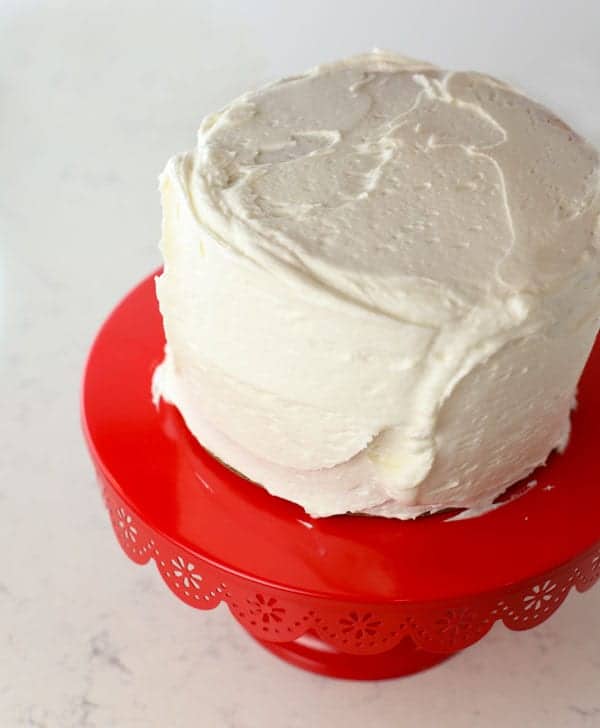 EXPERT TIPS
Room Temperature Ingredients - For best results, always use room temperature ingredients for most baking projects. Chilled ingredients mix differently and affect the consistency of the recipe.

Easy Cake Cutting - To easily cut your cake, dip your knife in hot water and wipe it dry, then quickly cut into the

cake

. When using a serrated knife, press into the cake and slice slowly using a gentle sawing motion while pressing down. Remove the slices with the help of a spatula.

Do not overbake your cake. Check it by inserting a toothpick into the cake. If the toothpick comes out clean, your cake is good.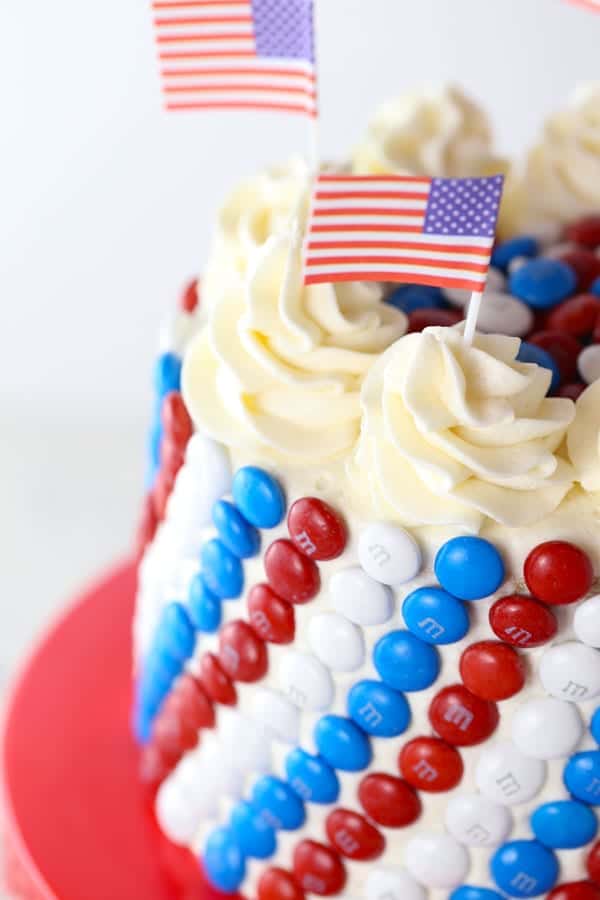 FREQUENTLY ASKED QUESTIONS
Can I make this recipe gluten-free? Yes! M&M candy-coated chocolates are gluten-free. You would need to get a gluten-free cake mix or use this recipe here; Gluten Free Vanilla Cake with Chocolate Buttercream
How to store? Keep in an airtight container. You can bake them 3 days ahead or even freeze them for up to 2 weeks.
Can I make the cake ahead of time and freeze it? If you need to store the cake for a longer period, you can freeze it. Wrap the chilled cake tightly with plastic wrap, followed by a layer of aluminum foil, or place it in an airtight container.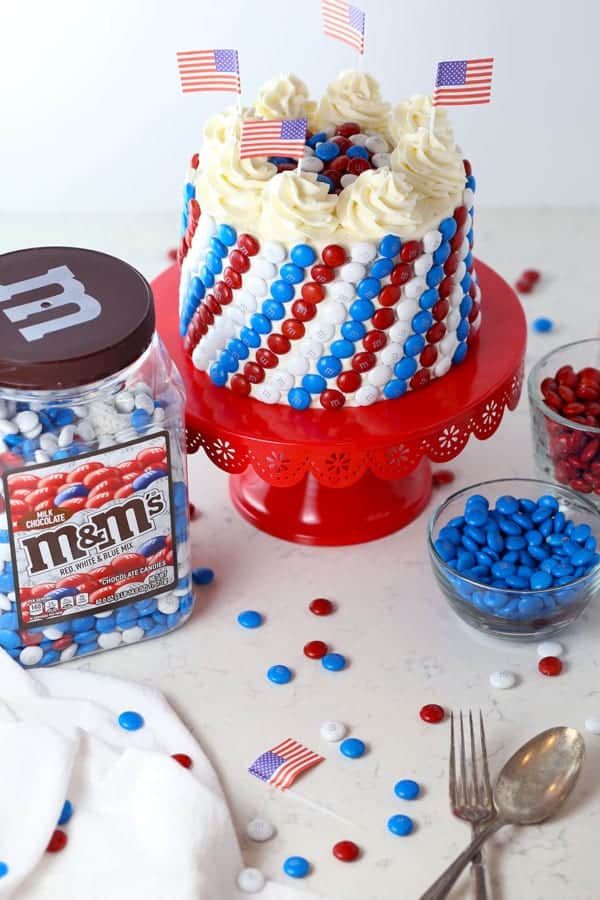 Are you just as obsessed with M&M's as I am?
Here are some more M&M-inspired recipes...
Buckets of M&M's Kit Kat Birthday Cake Recipe
Chewy Chocolate Chips M&M Cookies
Gluten Free Zucchini Monster Cookies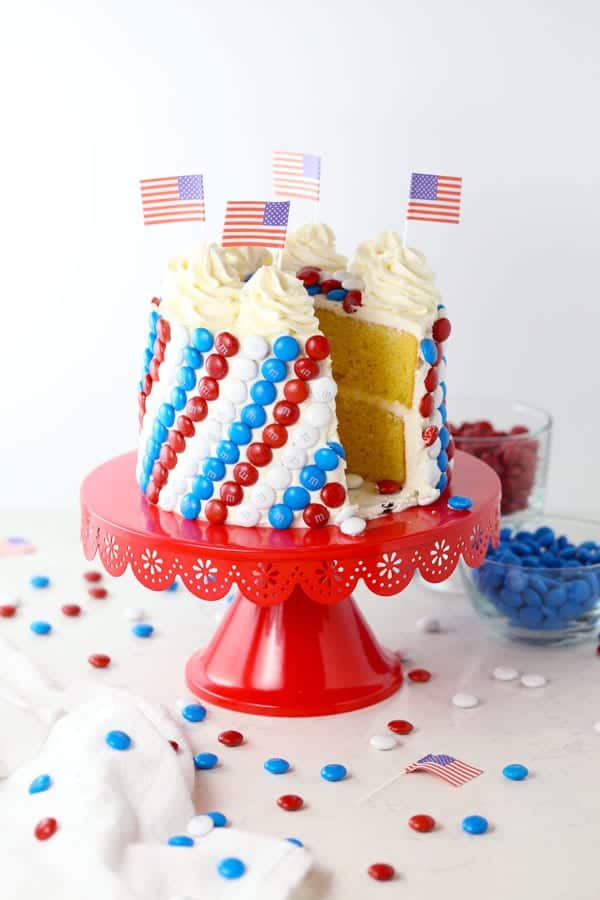 I hope you have fun making this patriotic cake! It's a wonderful centerpiece for your Summer party. Happy 4th!
You might also like these patriotic desserts:
Patriotic American Flag Layer Cake
Blueberry and Strawberry Ice Box Cake Recipe from Back to My Southern Roots.
related recipes
Love this recipe? If you try it, be sure to tag me on @Instagram! You can also find me on Pinterest, YouTube and Facebook.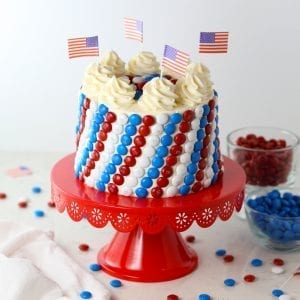 Easy M&M Cake Recipe for July 4th
Easy M&M Cake Recipe for July 4th - Two layers of a boxed mix cake with homemade buttercream plus red, white, and blue M&M's candies in a festive stripe pattern on the side.
Print
Pin
Rate
Ingredients
For the cake
1

yellow cake mix, prepared according to package

We used Betty Crocker Gluten Free Yellow Cake
Instructions
For the cake
Prepare cake mix according to package. Bake in 2 greased 6-inch round cake pans for approximately 35-40 minutes or until a toothpick inserted in center of cake comes out clean. Let cool. Fill and frost with buttercream
For the buttercream.
Beat softened butter on medium speed with an electric or stand mixer. Beat for 3 minutes until smooth and creamy.


Add powdered sugar, cream, and vanilla extract with the mixer running on low. Increase to high speed and beat for 3 minutes. Note: If the frosting is too thick, you can add a little more cream. Just add one tablespoon at a time, then mix thoroughly until you get the consistency you like.

*Note: If you don't have heavy cream, you can use milk or water instead. If using milk or water, I would try 3 tablespoons instead of ¼ cup. If it's too thick, add another tablespoon.

For the decoration, place M&M's on side of cake in a diagonal line in each color. Start with red, then white, then blue. Repeat until you have gone all around the cake. Pipe swirls of frosting on top using a 1M pastry tip. Add more M&M's to top of cake and paper flags, if desired.
Notes
Substitute your favorite colors on this cake if you want to make it for a sporting event or birthday party.
Nutrition
Serving:
1
slice
|
Calories:
155
kcal
|
Carbohydrates:
20
g
|
Protein:
1
g
|
Fat:
9
g
|
Saturated Fat:
5
g
|
Polyunsaturated Fat:
1
g
|
Monounsaturated Fat:
2
g
|
Trans Fat:
1
g
|
Cholesterol:
24
mg
|
Sodium:
69
mg
|
Potassium:
5
mg
|
Sugar:
20
g
|
Vitamin A:
273
IU
|
Vitamin C:
1
mg
|
Calcium:
4
mg
|
Iron:
1
mg